A 19th-century surveying mistake kept lumberjacks away from what is now Minnesota's largest patch of old-growth trees.
Credit
: U.S. Forest Service via Dan Alosso on Substack and licensed under CC-BY-SA
In 1882, Josias R. King made a mess of mapping Coddington Lake, making it larger than it actually is.
For decades, Minnesota loggers left the local trees alone, thinking they were under water.
Today, the area is one of the last remaining patches of old-growth forest in the state.
Vanishingly rare, but it exists: a patch of Minnesota forest untouched by the logger's axe.Credit: Dan Alosso on Substack and licensed under CC-BY-SA
The trees here tower a hundred feet above the forest floor — a ceiling as high as in prehistory and vanishingly rare today. That's because no logger's axe has ever touched these woods.

Pillars of the green cathedral
As you walk among the giant pillars of this green cathedral, you might think you're among the redwood trees of California. But those are 1,500 miles (2,500 km) away. No, these are the red and white pines of the "Lost Forty" in Minnesota. This is the largest single surviving patch of old-growth forest in the state and a fair stretch beyond. And it's all thanks to a surveying error.
Despite its name, the Lost Forty Scientific and Natural Area (SNA) is actually 144 acres (0.58 km2) in total. Still, it's an easily overlooked part of the Chippewa National Forest, which sprawls across 666,000 acres (2,700 km2) of north-central Minnesota. And that – being easily overlooked – is kind of this area's superpower.
In the 1820s, when European-Americans arrived in what is now Minnesota, they found about 20 million acres (80,000 km2) of prairie and 30 million acres (120,000 km2) of forest. Two centuries on, both ecosystems largely have been depleted. Fewer than 100,000 acres (400 km2) of natural prairie remain, and fewer than 18 million acres (73,000 km2) of forest.
And today's woods are different. They're not just younger; the original pine stands have been harvested and largely replaced with aspen and birch.
Can a place really be "lost" if it has a sign pointing toward it? Credit: Tony Webster via Flickr and licensed under CC BY-SA 2.0
To the moon and back

White pine especially was in heavy demand during the lumbering boom that had Minnesota in its grip by the 1840s — a boom driven by an insatiable demand for building materials and supercharged by the steam that powered the saws and the rails that transported the goods to market.
The two decades flanking the turn of the 20th century were the golden age of lumbering in Minnesota. At any given time, 20,000 lumberjacks were at work in the woods, a further 20,000 in the sawmills, and another 20,000 in other lumber-related industries.
Production peaked in the year 1900, with over 2.3 billion board-feet (5.4 million m3) of lumber harvested from the state's forests. That was enough to build 600,000 two-story houses or a boardwalk nine feet (2.7 m) wide, circling Earth along the equator. From then on, yields declined, albeit slightly at first. By 1910, however, the first lumber operations started packing up and moving on to the Pacific Northwest and elsewhere.
Minnesota's era of Big Timber symbolically came to an end with the closure of the Virginia and Rainy Lake Lumber Company in 1929. At that time, a century's worth of lumbering in Minnesota had produced 68 billion board-feet (160 million m3) of pine — enough to fill a line of boxcars all the way to the moon and halfway back again.
Now spool back a few decades. It's 1882, and the Public Land Survey is measuring, mapping, and quantifying the wilderness of northern Minnesota — and its as yet unharvested north woods. Setting out from the small settlement of Grand Rapids, Josias Redgate King leads a three-man survey team 40 miles north, into the backwoods.
Mapping error becomes cartographic fact
Their job, specifically, is to chart the area between Moose and Coddington Lakes. And they mess up. Perhaps it's the lousy November weather, the desolate swampy terrain, or both. But they make a serious mistake: their survey stretches Coddington Lake half a mile further northwest than it actually exists. As happens surprisingly often with mapping mistakes, the error becomes cartographic fact, undisputed for decades.

The area is marked on all maps as being under water and is therefore excluded from the considerations of logging companies. Only in 1960 is the area re-surveyed and the error corrected. But by then, as we have seen, Big Timber has moved on from the Gopher State.
Map of the "Lost Forty" SNA (top right). Bordering it on the south is the Chippewa National Forest Unique Biological Area. Credit: Minnesota Department of Natural Resources
Incidentally, Josias R. King was more than the mismapper of Coddington Lake. He has another, and rather better, claim to fame. When the Civil War broke out, Minnesota was the first state to offer volunteers to fight for the Union. At Fort Snelling, Mr. King rushed to the front of a line of men waiting to sign up.

So it was said, with some justification, that he was the first volunteer for the Union in all of the country. During the war, he attained the rank of lieutenant colonel. After, he returned to his civilian job, surveying. Because of his credentials as the Union's first volunteer, he was asked to pose for the face of the bronze soldier on the Civil War monument which was unveiled at St. Paul's Summit Park in 1903.
The loggers' loss is nature's gain
But back to the Lost Forty. The loggers' loss — hence the name — is actually nature's gain. The SNA's crowning glory, literally, is nearly 32 acres of designated old-growth red pine and white pine forest, in two stands, partially extending into the Chippewa National Forest proper. (In fact, much of the mismapped area seems to fall within the Chippewa National Forest Unique Biological Area adjacent to the Lost Forty.) Old-growth forests represent less than 2 percent — and designated old-growth forests less than 0.25 percent — of all of Minnesota's forests.
The oldest pine trees in the Lost Forty are between 300 and 400 years old, close to their maximum natural life span, which is up to 500 years. Similar pines in other parts of the National Forest are harvested at between 80 and 150 years for pulp and lumber. As a result, the pines in the Lost Forty are not only higher than most of the surrounding woods but also bigger with a diameter of between 22 and 48 inches (55 to 122 cm). One of the biggest has a circumference of 115 inches (2.9 m).
With their craggy bark, massive trunks, and dizzying height, these trees look like the ancient beings they are. And they exist in a cluster the size of which is unique for the Midwest. There's nothing lost about these trees; in fact, it's rather the reverse. Perhaps the area should more precisely be called the "Last Forty."
At 52 feet, only half as high as an old-growth white pine: Josias R. King's likeness atop the Soldier's Monument in Summit Park, St. Paul.Credit: Library of Congress
Get a good look at the Lost Forty in this video of the local hiking trail.

Strange Maps #1084
Got a strange map? Let me know at strangemaps@gmail.com.
Seawater is raising salt levels in coastal woodlands along the entire Atlantic Coastal Plain, from Maine to Florida.
Permanent flooding has become commonplace on this low-lying peninsula, nestled behind North Carolina's Outer Banks. The trees growing in the water are small and stunted. Many are dead.
Throughout coastal North Carolina, evidence of forest die-off is everywhere. Nearly every roadside ditch I pass while driving around the region is lined with dead or dying trees.
As an ecologist studying wetland response to sea level rise, I know this flooding is evidence that climate change is altering landscapes along the Atlantic coast. It's emblematic of environmental changes that also threaten wildlife, ecosystems, and local farms and forestry businesses.
Like all living organisms, trees die. But what is happening here is not normal. Large patches of trees are dying simultaneously, and saplings aren't growing to take their place. And it's not just a local issue: Seawater is raising salt levels in coastal woodlands along the entire Atlantic Coastal Plain, from Maine to Florida. Huge swaths of contiguous forest are dying. They're now known in the scientific community as "ghost forests."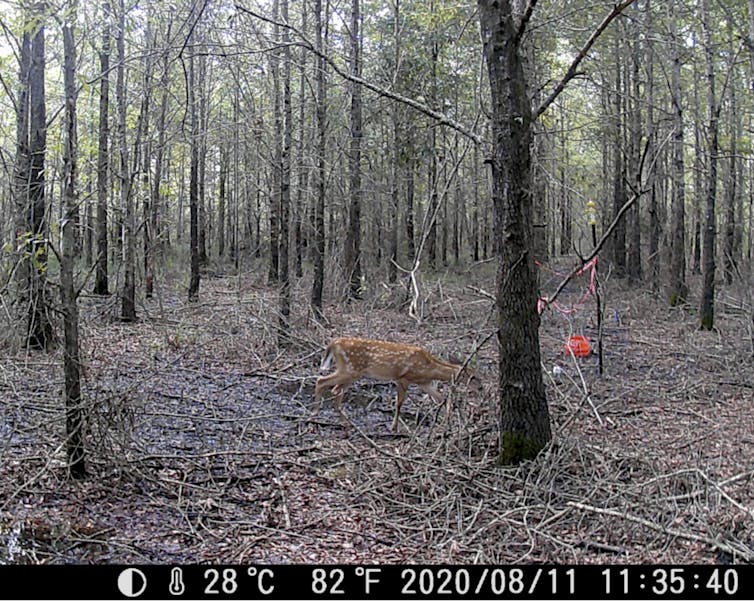 Deer photographed by a remote camera in a climate change-altered forest in North Carolina. Emily Ury, CC BY-ND
The insidious role of salt
Sea level rise driven by climate change is making wetlands wetter in many parts of the world. It's also making them saltier.
In 2016 I began working in a forested North Carolina wetland to study the effect of salt on its plants and soils. Every couple of months, I suit up in heavy rubber waders and a mesh shirt for protection from biting insects, and haul over 100 pounds of salt and other equipment out along the flooded trail to my research site. We are salting an area about the size of a tennis court, seeking to mimic the effects of sea level rise.
After two years of effort, the salt didn't seem to be affecting the plants or soil processes that we were monitoring. I realized that instead of waiting around for our experimental salt to slowly kill these trees, the question I needed to answer was how many trees had already died, and how much more wetland area was vulnerable. To find answers, I had to go to sites where the trees were already dead.
Rising seas are inundating North Carolina's coast, and saltwater is seeping into wetland soils. Salts move through groundwater during phases when freshwater is depleted, such as during droughts. Saltwater also moves through canals and ditches, penetrating inland with help from wind and high tides. Dead trees with pale trunks, devoid of leaves and limbs, are a telltale sign of high salt levels in the soil. A 2019 report called them "wooden tombstones."
As the trees die, more salt-tolerant shrubs and grasses move in to take their place. In a newly published study that I coauthored with Emily Bernhardt and Justin Wright at Duke University and Xi Yang at the University of Virginia, we show that in North Carolina this shift has been dramatic.
The state's coastal region has suffered a rapid and widespread loss of forest, with cascading impacts on wildlife, including the endangered red wolf and red-cockaded woodpecker. Wetland forests sequester and store large quantities of carbon, so forest die-offs also contribute to further climate change.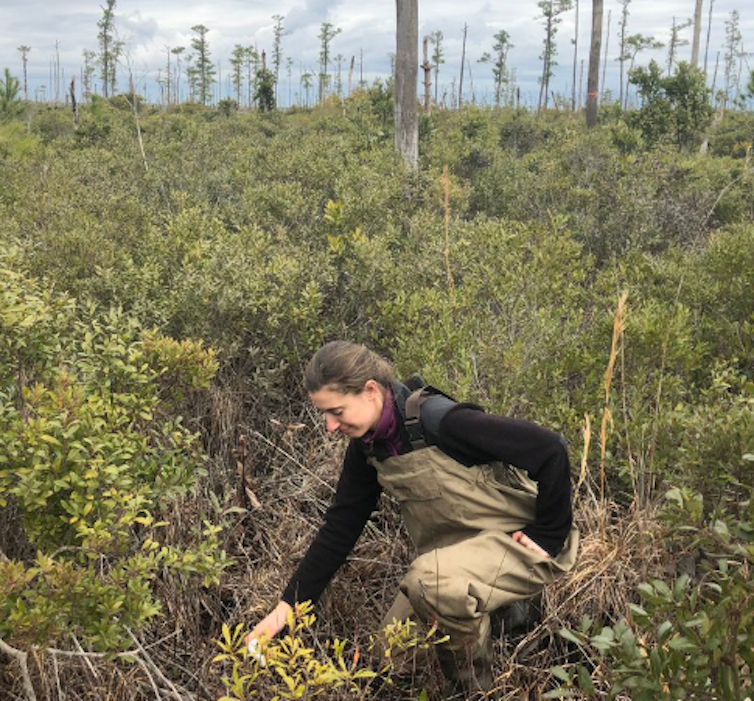 Researcher Emily Ury measuring soil salinity in a ghost forest. Emily Bernhardt, CC BY-ND
Assessing ghost forests from space
To understand where and how quickly these forests are changing, I needed a bird's-eye perspective. This perspective comes from satellites like NASA's Earth Observing System, which are important sources of scientific and environmental data.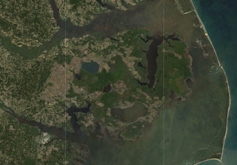 A 2016 Landsat8 image of the Albemarle Pamlico Peninsula in coastal North Carolina. USGS
Since 1972, Landsat satellites, jointly operated by NASA and the U.S. Geological Survey, have captured continuous images of Earth's land surface that reveal both natural and human-induced change. We used Landsat images to quantify changes in coastal vegetation since 1984 and referenced high-resolution Google Earth images to spot ghost forests. Computer analysis helped identify similar patches of dead trees across the entire landscape.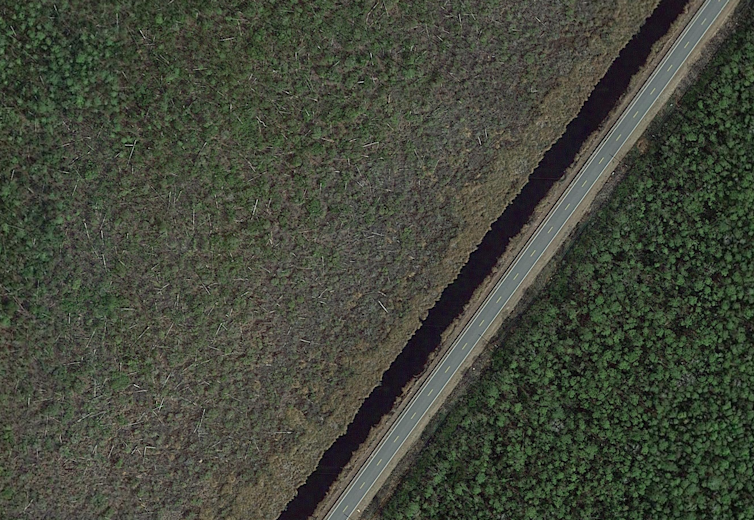 Google Earth image of a healthy forest on the right and a ghost forest with many dead trees on the left. Emily Ury
The results were shocking. We found that more than 10% of forested wetland within the Alligator River National Wildlife Refuge was lost over the past 35 years. This is federally protected land, with no other human activity that could be killing off the forest.
Rapid sea level rise seems to be outpacing the ability of these forests to adapt to wetter, saltier conditions. Extreme weather events, fueled by climate change, are causing further damage from heavy storms, more frequent hurricanes and drought.
We found that the largest annual loss of forest cover within our study area occurred in 2012, following a period of extreme drought, forest fires and storm surges from Hurricane Irene in August 2011. This triple whammy seemed to have been a tipping point that caused mass tree die-offs across the region.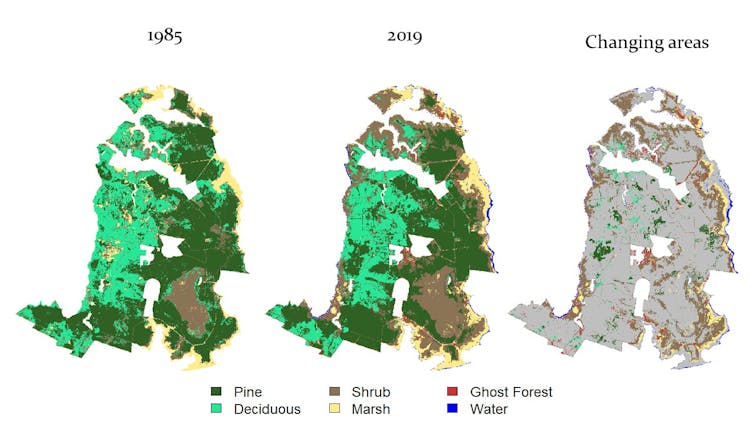 Habitat maps we created for the Alligator River National Wildlife Refuge showing the change over time and the prevalence of ghost forests. Ury et al, 2021., CC BY-ND
Should scientists fight the transition or assist it?
As global sea levels continue to rise, coastal woodlands from the Gulf of Mexico to the Chesapeake Bay and elsewhere around the world could also suffer major losses from saltwater intrusion. Many people in the conservation community are rethinking land management approaches and exploring more adaptive strategies, such as facilitating forests' inevitable transition into salt marshes or other coastal landscapes.
For example, in North Carolina the Nature Conservancy is carrying out some adaptive management approaches, such as creating "living shorelines" made from plants, sand and rock to provide natural buffering from storm surges.
A more radical approach would be to introduce marsh plants that are salt-tolerant in threatened zones. This strategy is controversial because it goes against the desire to try to preserve ecosystems exactly as they are.
But if forests are dying anyway, having a salt marsh is a far better outcome than allowing a wetland to be reduced to open water. While open water isn't inherently bad, it does not provide the many ecological benefits that a salt marsh affords. Proactive management may prolong the lifespan of coastal wetlands, enabling them to continue storing carbon, providing habitat, enhancing water quality and protecting productive farm and forest land in coastal regions.

Emily Ury, Ph.D. Candidate, Duke University
This article is republished from The Conversation under a Creative Commons license. Read the original article.
Researchers find that the coffee pulp is valuable in its own right.
When coffee is harvested, the skin and pulp surrounding the bean are often discarded.
Costa Rica, which had much of its tropical forests chopped down for agricultural use, is testing coffee pulp as a way to help reforest the country.
A new study finds that coffee pulp can help reforest land in just two years.
The coffee beans that keep us going don't grow on the vine in bean form. They grow as coffee "cherries," skin and pulp inside of which resides the precious beans. Before coffee beans can be fermented in water as many are, the cherries pass through a machine that extracts the bean from the skin and pulp. Miraculous as coffee beans are, new research suggests that their typically discarded pulp is even more amazing. It can restore tropical forests.
Researchers from ETH-Zurich and the University of Hawaii have found that this waste from coffee manufacturing is a fantastic growing agent after testing it out on some agriculturally depleted land in Costa Rica.
"The results were dramatic," reports lead author of the study Rebecca Cole. "The area treated with a thick layer of coffee pulp turned into a small forest in only two years while the control plot remained dominated by non-native pasture grasses."
Pulp non-fiction
Coffee pulp arrivesCredit: Rebecca Cole/British Ecological Society
The researchers delivered 30 dump trucks full of coffee pulp to a 35- by 40-meter parcel on Reserva Biológica Sabalito in Costa Rica's Coto Brus county. The land, previously part of a coffee plantation, is in the process of being reforested.
Starting in the 1950s, Costa Rica experienced rapid deforestation followed by coffee-growing and farming that resulted in a 25% loss of its natural forest cover by 2014.
Before spreading out the coffee pulp into a half-meter-thick layer for their test, the researchers measured the nutrients in the soil. They also catalogued the species living nearby, and made note of the size of woody stems present. The amount of forest ground cover was recorded, and drones were sent aloft to capture the amount of canopy cover.
Reforestation in the blink of an eye
(A) Coffee pulp layer; (B) control area after two years; (C) coffee pulp area after two years; (D) overhead view of canopy in control area, above the red line, and the coffee-pulp area, below the red lineCredits: A, B, and C: R. Cole. D: credit R. Zahawi/British Ecological Society
At the end of the two years, the control area had grown forest covering over 20% of its area. In contrast, 80% of the coffee-pulp section was canopied by trees, and these trees were four times the height of those in the control parcel.
The researchers analyzed the nutrients available in the soil and found significantly elevated levels of carbon, nitrogen, and phosphorous, all vital agricultural nutrients. Curiously, potassium, also important for growth, was lower in the coffee-pulp area than in the control section.
The researchers also found that the coffee pulp eliminated invasive pasture grasses that inhibit reforestation. Their removal facilitated the reemergence of tree species whose seeds were introduced by wind or animal dispersal.
A much-needed growth agent
According to Cole, "This case study suggests that agricultural by-products can be used to speed up forest recovery on degraded tropical lands. In situations where processing these by-products incurs a cost to agricultural industries, using them for restoration to meet global reforestation objectives can represent a 'win-win' scenario."
Promising as coffee pulp may be, Cole cautions: "This study was done at only one large site, so more testing is needed to see if this strategy works across a broader range of conditions. The measurements we share are only from the first two years. Longer-term monitoring would show how the coffee pulp affected soil and vegetation over time. Additional testing can also assess whether there are any undesirable effects from the coffee pulp application."
In addition, she notes, the experiment only documents the value of coffee pulp on flat land when delivery of the substance by truck is fairly simple. "We would like," Cole says, "to scale up the study by testing this method across a variety of degraded sites in the landscape."
Just as exciting is the possibility that other such agricultural waste products may be good for reforesting depleted areas. Cole mentions orange husks as a material worthy of investigation.
"We hope," Cole concludes, "our study is a jumping off point for other researchers and industries to take a look at how they might make their production more efficient by creating links to the global restoration movement."
Fractal patterns are noticed by people of all ages, even small children, and have significant calming effects.
A new study from the University of Oregon found that, by the age of three, children understand and prefer nature's fractal patterns.
A "fractal" is a pattern that the laws of nature repeat at different scales. Exact fractals are ordered in such a way that the same basic pattern repeats exactly at every scale, like the growth spiral of a plant, for example.
Separate studies have proven that exposure to fractal patterns in nature can reduce your stress levels significantly.
A new study from the University of Oregon found that, by the age of three, children understand (and prefer) nature's fractal patterns.
A "fractal" is a pattern that the laws of nature repeat at different scales. "Exact fractals" are ordered in such a way that the same basic pattern repeats exactly at every scale. An example of exact fractals can be found in the growth spiral of a plant. "Statistical fractals", on the other hand, repeat in a similar (but not identical) fashion across scales and do not possess spatial symmetry. An example of a statistical fractal can be seen in things like clouds and mountains, rivers, and trees.
In a forest, you can find hundreds of fractals, if you look for them—from seeds and pinecones to the similar replication of trees and ferns. Growth spirals on plants like the spiral aloe are among the most visually pleasing fractals in nature.
Fractal patterns have always been evident in nature, but now more than ever they are becoming apparent in man-made objects, including art. (An example of this would be this piece, "Ring of Fire" by Carl Jones.)
Kelly E. Robles, the leader of the study and a doctoral student in the Department of Psychology at the University of Oregon, explains: "Unlike early humans who lived outside on savannahs, modern-day humans spend the majority of their early lives inside these manmade structures. So, since children are not heavily exposed to these natural, low-to-moderate complexity fractal patterns, this preference must come from something earlier in development or perhaps it is innate."
Fractal patterns are evident in nature as well as in some man-made art, architecture and sculptures.
Credit: Anikakodydkova on Adobe Stock
The research team explored how individual differences in processing styles might account for trends in fractal fluency. Researchers exposed participants to images of fractal patterns (exact and statistical), ranging in complexity on computer screens.
The ages of the participants were:
82 adults (between the ages of 18-33)
96 children (between the ages of 3-10)
When viewing these patterns, the participants chose favorites between pairs of images that differed in complexity. When looking at exact fractal patterns, selections involved different pairs of snowflake-like or branch-like images. For statistical fractals, selections involved choosing between pairs of cloud-like images.
Although there were some differences in the preferences of adults and children, the overall trends were similar: exact patterns with greater complexity were more preferred. This study confirms that these preference trends are apparent in early childhood, suggesting that the appreciation for common fractal aesthetics is formed earlier in our development than previously thought.
Prior to this study, exposure to fractal patterns might have been expected to vary across the lifespan of a person due to environmental and developmental patterns. Instead, this study found a consistent preference across childhood and through adulthood which suggests a stable fractal aesthetic is established early in life. There is a possibility, according to this study, that an early biological or evolutionary mechanism optimizes our visual system for processing fractals.
Fractal patterns can be used to significantly reduce stress
Fractal patterns and designs can reduce your stress by up to 60%, according to research.
Credit: MNStudio on Adobe Stock
The term "fractal" was first coined in 1975 by Benoit Mandelbrot, who discovered that simple mathematic rules apply to a vast array of things that often looked visually complex. Since then, many studies have been conducted on what fractals are, where we find them, and even how they impact us.
The study above, mentioning the positive benefits that fractals have in even small children, becomes particularly interesting when you begin to understand the potential benefits we derive from even minimal exposure to fractal patterns.
Fractal patterns can reduce stress by up to 60 percent, according to Psychology Today.
Exposure to fractal patterns in nature can reduce your stress levels significantly. It seems this kind of stress reduction most often occurs because of a certain physiological resonance within the eye. While this effect is most prominent in nature's fractal patterns, some research indicates that certain types of artwork carrying fractal patterns can also promote relaxation.
How can you use fractals to feel happier?
A separate Psychology Today article focuses on how to use our knowledge of the positive benefits of fractals to our advantage. To take a walk in nature, visit a park or garden or sit and watch the clouds for a while, paying special attention to the patterns you see can help you include this kind of relaxation practice into your daily life. Alternatively, you can opt for a visually pleasing fractal plant (like the spiral aloe or a fern) to sit at your office desk.
Additionally, you can conduct some "research" of your own by placing yourself in fractal-rich environments for 20 minutes a day for one week and monitoring your stress levels before and after.
A study finds 1.8 billion trees and shrubs in the Sahara desert.
AI analysis of satellite images sees trees and shrubs where human eyes can't.
At the western edge of the Sahara is more significant vegetation than previously suspected.
Machine learning trained to recognize trees completed the detailed study in hours.
Satellite imagery of the Sahara desert presents an arid expanse, the endless rolling dunes we know from movies. The thing is, normal satellite images don't show individual trees, but that doesn't necessarily mean they're not there. Researchers from the University of Copenhagen and NASA taught artificial intelligence about trees and had them take another look. It turns out there is lots of vegetation in the Western Sahara: an estimated 1.8 billion trees and shrubs.
"We were very surprised to see that quite a few trees actually grow in the Sahara Desert, because up until now, most people thought that virtually none existed," says lead author Martin Brandt of the university's Department of Geosciences and Natural Resource Management. "We counted hundreds of millions of trees in the desert alone. Doing so wouldn't have been possible without this technology."
The research is published in the journal Nature.
Why this matters
Area in which trees were located
Credit: University of Copenhagen
As important as trees are in fighting climate change, scientists need to know what trees there are, and where, and the study's finding represents a significant addition to the global tree inventory.
The vegetation Brandt and his colleagues have identified is in the Western Sahara, a region of about 1.3 million square kilometers that includes the desert, the Sahel, and the sub-humid zones of West Africa.
These trees and shrubs have been left out of previous tabulations of carbon-processing worldwide forests. Says Brandt, "Trees outside of forested areas are usually not included in climate models, and we know very little about their carbon stocks. They are basically a white spot on maps and an unknown component in the global carbon cycle."
In addition to being valuable climate-change information, the research can help facilitate strategic development of the region in which the vegetation grows due to a greater understanding of local ecosystems.
Trained for trees
Credit: Martin Brandt/University of Copenhagen
There's been an assumption that there's hardly enough vegetation outside of forested areas to be worth counting in areas such as this one. As a result the study represents the first time a significant number of trees — likely in the hundreds of millions when shrubs are subtracted from the overall figure — have been catalogued in the drylands region.
Members of the university's Department of Computer Science trained a machine-learning module to recognize trees by feeding it thousands of pictures of them. This training left the AI be capable of spotting trees in the tiny details of satellite images supplied by NASA. The task took the AI just hours — it would take a human years to perform an equivalent analysis.
"This technology has enormous potential when it comes to documenting changes on a global scale and ultimately, in contributing towards global climate goals," says co-author Christian Igel. "It is a motivation for us to develop this type of beneficial artificial intelligence."
"Indeed," says Brandt says, "I think it marks the beginning of a new scientific era."
Looking ahead and beyond
The researchers hope to further refine their AI to provide a more detailed accounting of the trees it identifies in satellite photos.
The study's senior author, Rasmus Fensholt, says, "we are also interested in using satellites to determine tree species, as tree types are significant in relation to their value to local populations who use wood resources as part of their livelihoods. Trees and their fruit are consumed by both livestock and humans, and when preserved in the fields, trees have a positive effect on crop yields because they improve the balance of water and nutrients."
Ahead is an expansion of the team's tree hunt to a larger area of Africa, with the long-term goal being the creation of a more comprehensive and accurate global database of trees that grow beyond the boundaries of forests.