Big ideas.
Once a week.
Subscribe to our weekly newsletter.
What's the difference between A.I., machine learning, and robotics?
There's a lot of confusion as to what AI, machine learning, and robotics do. Sometimes, they can all be used together.
28 May, 2018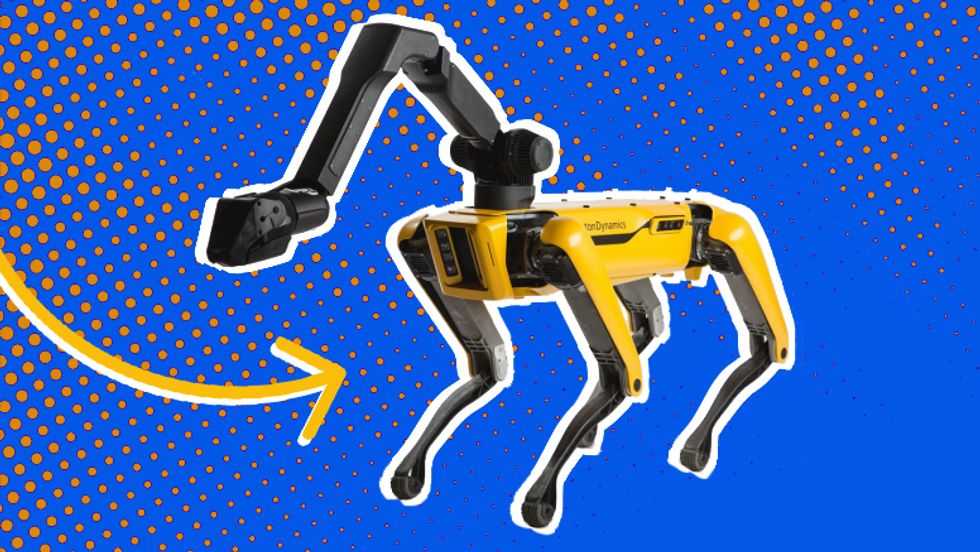 Boston Dynamics, Big Think
---
Artificial intelligence is everywhere. On your screens, in your pockets and one day may even be walking to a home near you. The headlines tend to group together this vast and diverse field into one subject. Robots emerging from the labs, algorithms playing ancient games and winning, AI and its promises are becoming a part of our everyday lives. While all of these instances have some relationship to AI, this is not a monolithic field, but one that has many separate and distinct disciplines.
A lot of the times we use the term Artificial intelligence as an all-encompassing umbrella term that covers everything. That's not exactly the case. A.I., machine learning, deep learning, and robotics are all fascinating and separate topics. They all serve as an integral piece of the greater future of our tech. Many of these categories tend to overlap and complement one another.
The broader AI field of study is an extensive place where you have a lot to study and choose from. Understanding the difference between these four areas are foundational to getting a grasp and seeing the whole picture of the field.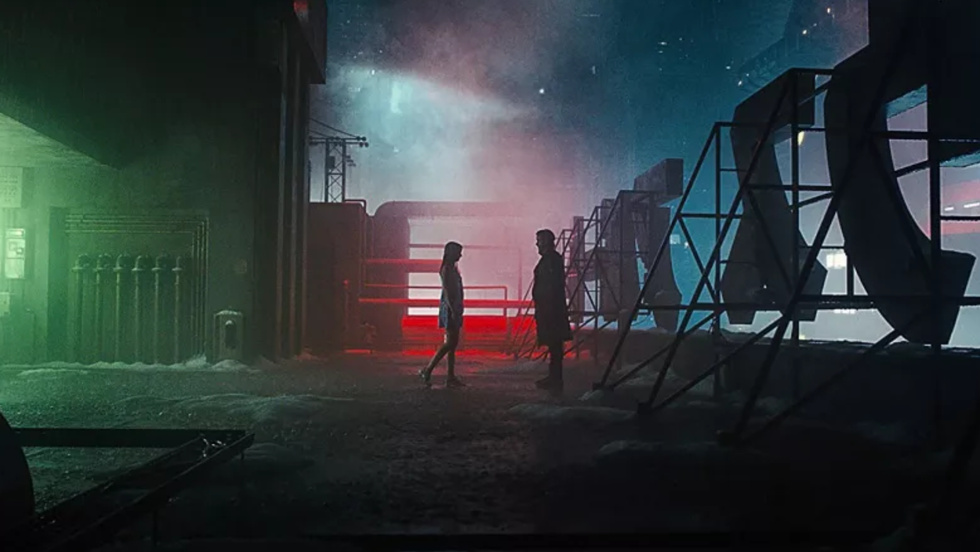 Artificial intelligence
At the root of AI technology is the ability for machines to be able to perform tasks characteristic of human intelligence. These types of things include planning, pattern recognizing, understanding natural language, learning and solving problems.  
There are two main types of AI: general and narrow. Our current technological capabilities fall under the latter. Narrow AI exhibits a sliver of some kind of intelligence – be it reminiscent of an animal or a human. This machine's expertise is as the name would suggest, is narrow in scope. Usually, this type of AI will only be able to do one thing extremely well, like recognize images or search through databases at lightning speed.  
General intelligence would be able to perform everything equally or better than humans can. This is the goal of many AI researchers, but it is a ways down the road.  
Current AI technology is responsible for a lot of amazing things. These algorithms help Amazon give you personalized recommendations and makes sure your Google searches are relevant to what you're looking for. Mostly any technologically literate person uses this type of tech every day.
One of the main differentiators between AI and conventional programming is the fact that non-AI programs are carried out by a set of defined instructions. AI on the other hand learns without being explicitly programmed.    
Here is when the confusion starts to take place. Often times – but not all the time – AI utilizes machine learning, which is a subset of the AI field. If we go a little deeper, we get deep learning, which is a way to implement machine learning from scratch.  
Furthermore, when we think about robotics we tend to think that robots and AI are interchangeable terms. AI algorithms are usually only one part of a larger technological matrix of hardware, electronics and non-AI code inside of a robot.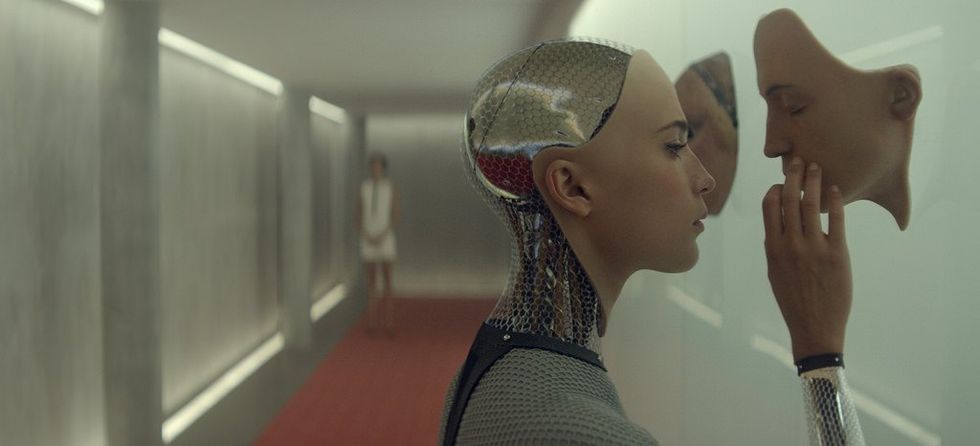 Robot... or artificially intelligent robot?
Robotics is a branch of technology that concerns itself strictly with robots. A robot is a programmable machine that carries out a set of tasks autonomously in some way. They're not computers nor are they strictly artificially intelligent.
Many experts cannot agree on what exactly constitutes a robot. But for our purposes, we'll consider that it has a physical presence, is programmable and has some level of autonomy. Here are a few different examples of some robots we have today:
Roomba (Vacuum Cleaning Robot)

Automobile Assembly Line Arm

Surgery Robots

Atlas (Humanoid Robot)    
Some of these robots, for example, the assembly line robot or surgery bot are explicitly programmed to do a job. They do not learn. Therefore we could not consider them artificially intelligent.
These are robots that are controlled by inbuilt AI programs. This is a recent development, as most industrial robots were only programmed to carry out repetitive tasks without thinking.  Self-learning bots with machine learning logic inside of them would be considered AI. They need this in order to perform increasingly more complex tasks.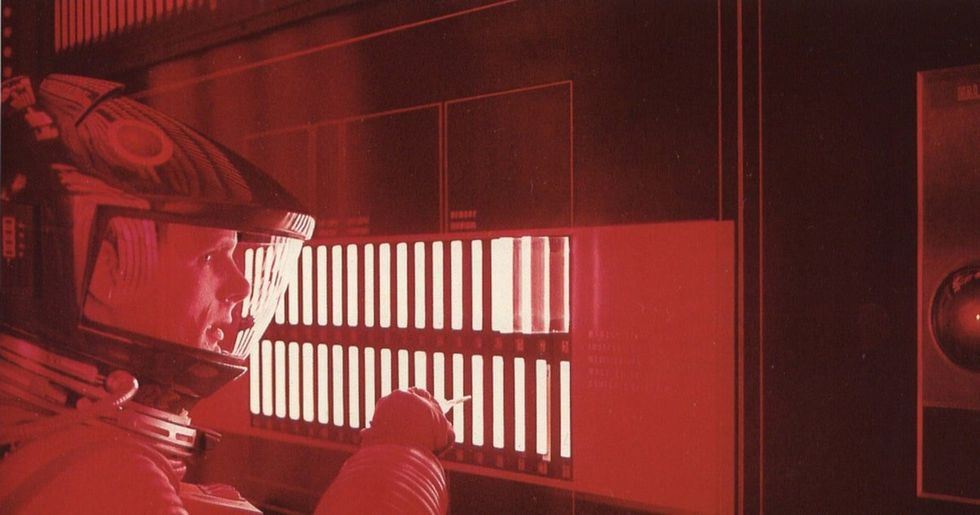 What's the difference between Artificial Intelligence and Machine Learning?
At its foundation, machine learning is a subset and way of achieving true AI. It was a term coined by Arthur Samuel in 1959, where he stated: "The ability to learn without being explicitly programmed." 
The idea is to get the algorithm to learn or be trained to do something without being specifically hardcoded with a set of particular directions. It is the machine learning that paves way for artificial intelligence.
Arthur Samuel wanted to create a computer program that could enable his computer to beat him in checkers. Rather than create a detailed and long-winding program that could do it, he thought of a different idea. The algorithm that he created gave his computer the ability to learn as it played thousands of games against itself. This has been the crux of the idea ever since. By the early 1960s, this program was able to beat champions in the game.  

Over the years, machine learning developed into a number of different methods. Those being:
Supervised

Semi-supervised

Unsupervised

Reinforcement  
In a supervised setting, a computer program would be given labeled data and then be asked to assign a sorting parameter to them. This could be pictures of different animals and then it would guess and learn accordingly while it trained. Semi-supervised would only label a few of the images. After that, the computer program would have to use its algorithm to figure out the unlabeled images by using its past data.   

Unsupervised machine learning doesn't involve any preliminary labeled data. It would be thrown into the database and have to sort for itself different classes of animals. It could do this based on grouping similar objects together due to how they look and then creating rules on the similarities it finds along the way.
Reinforcement learning is a little bit different than all of these subsets of machine learning. A great example would be the game of Chess. It knows a set amount of rules and bases its progress on the end result of either winning or losing.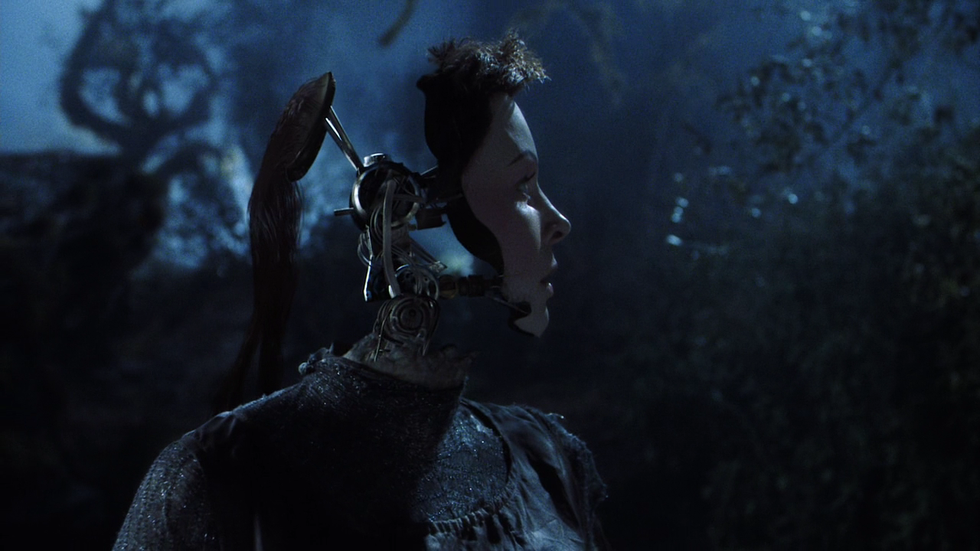 Deep learning
For an even deeper subset of machine learning comes deep learning. It's tasked with far greater types of problems than just rudimentary sorting. It works in the realm of vasts amounts of data and comes to its conclusion with absolutely no previous knowledge.
If it was to differentiate between two different animals, it would distinguish them in a different way compared to regular machine learning. First, all pictures of the animals would be scanned, pixel by pixel. Once that was completed, it would then parse through the different edges and shapes, ranking them in a differential order to determine the difference.  

Deep learning tends to require much more hardware power. These machines that run this are usually housed away in large data centers. Programs that use deep learning are essentially starting from scratch.
Of all the AI disciplines, deep learning is the most promising for one day creating a generalized artificial intelligence. Some current applications that deep learning has spurned have been the many chatbots we see today. Alexa, Siri and Microsoft's Cortana can thank their brains because of this nifty tech.   
A new cohesive approach
There have been many seismic shifts in the tech world this past century. From the computing age to the internet and to the world of mobile devices. These different categories of tech will pave the way for a new future. Or as Google CEO Sundar Pichai put it quite nicely:
"Over time, the computer itself—whatever its form factor—will be an intelligent assistant helping you through your day. We will move from mobile first to an A.I. first world."
Artificial intelligence in all of its many forms combined together will take us on our next technological leap forward.
The idea of 'absolute time' is an illusion. Physics and subjective experience reveal why.
ESA
Surprising Science
Since Einstein posited his theory of general relativity, we've understood that gravity has the power to warp space and time.
This "time dilation" effect occurs even at small levels.
Outside of physics, we experience distortions in how we perceive time — sometimes to a startling extent.
Place one clock at the top of a mountain. Place another on the beach. Eventually, you'll see that each clock tells a different time. Why? Time moves slower as you get closer to Earth, because, as Einstein posited in his theory of general relativity, the gravity of a large mass, like Earth, warps the space and time around it.
Scientists first observed this "time dilation" effect on the cosmic scale, such as when a star passes near a black hole. Then, in 2010, researchers observed the same effect on a much smaller scale, using two extremely precise atomic clocks, one placed 33 centimeters higher than the other. Again, time moved slower for the clock closer to Earth.
The differences were tiny, but the implications were massive: absolute time does not exist. For each clock in the world, and for each of us, time passes slightly differently. But even if time is passing at ever-fluctuating speeds throughout the universe, time is still passing in some kind of objective sense, right? Maybe not.
Physics without time
In his book "The Order of Time," Italian theoretical physicist Carlo Rovelli suggests that our perception of time — our sense that time is forever flowing forward — could be a highly subjective projection. After all, when you look at reality on the smallest scale (using equations of quantum gravity, at least), time vanishes.
"If I observe the microscopic state of things," writes Rovelli, "then the difference between past and future vanishes … in the elementary grammar of things, there is no distinction between 'cause' and 'effect.'"
So, why do we perceive time as flowing forward? Rovelli notes that, although time disappears on extremely small scales, we still obviously perceive events occur sequentially in reality. In other words, we observe entropy: Order changing into disorder; an egg cracking and getting scrambled.
Rovelli says key aspects of time are described by the second law of thermodynamics, which states that heat always passes from hot to cold. This is a one-way street. For example, an ice cube melts into a hot cup of tea, never the reverse. Rovelli suggests a similar phenomenon might explain why we're only able to perceive the past and not the future.
"Any time the future is definitely distinguishable from the past, there is something like heat involved," Rovelli wrote for the Financial Times. "Thermodynamics traces the direction of time to something called the 'low entropy of the past', a still mysterious phenomenon on which discussions rage."
He continues:
"Entropy growth orients time and permits the existence of traces of the past, and these permit the possibility of memories, which hold together our sense of identity. I suspect that what we call the "flowing" of time has to be understood by studying the structure of our brain rather than by studying physics: evolution has shaped our brain into a machine that feeds off memory in order to anticipate the future. This is what we are listening to when we listen to the passing of time. Understanding the "flowing" of time is therefore something that may pertain to neuroscience more than to fundamental physics. Searching for the explanation of the feeling of flow in physics might be a mistake."
Scientists still have much to learn about how we perceive time, and why time operates differently depending on the scale. But what's certain is that, outside of the realm of physics, our individual perception of time is also surprisingly elastic.
​The strange subjectivity of time
Time moves differently atop a mountain than it does on a beach. But you don't need to travel any distance at all to experience strange distortions in your perception of time. In moments of life-or-death fear, for example, your brain would release large amounts of adrenaline, which would speed up your internal clock, causing you to perceive the outside world as moving slowly.

Another common distortion occurs when we focus our attention in particular ways.
"If you're thinking about how time is currently passing by, the biggest factor influencing your time perception is attention," Aaron Sackett, associate professor of marketing at the University of St. Thomas, told Gizmodo. "The more attention you give to the passage of time, the slower it tends to go. As you become distracted from time's passing—perhaps by something interesting happening nearby, or a good daydreaming session—you're more likely to lose track of time, giving you the feeling that it's slipping by more quickly than before. "Time flies when you're having fun," they say, but really, it's more like "time flies when you're thinking about other things." That's why time will also often fly by when you're definitely not having fun—like when you're having a heated argument or are terrified about an upcoming presentation."
One of the most mysterious ways people experience time-perception distortions is through psychedelic drugs. In an interview with The Guardian, Rovelli described a time he experimented with LSD.
"It was an extraordinarily strong experience that touched me also intellectually," he said. "Among the strange phenomena was the sense of time stopping. Things were happening in my mind but the clock was not going ahead; the flow of time was not passing any more. It was a total subversion of the structure of reality."

It seems few scientists or philosophers believe time is completely an illusion.
"What we call time is a rich, stratified concept; it has many layers," Rovelli told Physics Today. "Some of time's layers apply only at limited scales within limited domains. This does not make them illusions."
What
is
an illusion is the idea that time flows at an absolute rate. The river of time might be flowing forever forward, but it moves at different speeds, between people, and even within your own mind.
A new study suggests that reports of the impending infertility of the human male are greatly exaggerated.
Sex & Relationships
A new review of a famous study on declining sperm counts finds several flaws.
The old report makes unfounded assumptions, has faulty data, and tends toward panic.
The new report does not rule out that sperm counts are going down, only that this could be quite normal.
Several years ago, a meta-analysis of studies on human fertility came out warning us about the declining sperm counts of Western men. It was widely shared, and its findings were featured on the covers of popular magazines. Indeed, its findings were alarming: a nearly 60 percent decline in sperm per milliliter since 1973 with no end in sight. It was only a matter of time, the authors argued, until men were firing blanks, literally.
Well… never mind.
It turns out that the impending demise of humanity was greatly exaggerated. As the predicted infertility wave crashed upon us, there was neither a great rush of men to fertility clinics nor a sudden dearth of new babies. The only discussions about population decline focus on urbanization and the fact that people choose not to have kids rather than not being able to have them.
Now, a new analysis of the 2017 study says that lower sperm counts is nothing to be surprised by. Published in Human Fertility, its authors point to flaws in the original paper's data and interpretation. They suggest a better and smarter reanalysis.
Counting tiny things is difficult
The original 2017 report analyzed 185 studies on 43,000 men and their reproductive health. Its findings were clear: "a significant decline in sperm counts… between 1973 and 2011, driven by a 50-60 percent decline among men unselected by fertility from North America, Europe, Australia and New Zealand."
However, the new analysis points out flaws in the data. As many as a third of the men in the studies were of unknown age, an important factor in reproductive health. In 45 percent of cases, the year of the sample collection was unknown- a big detail to miss in a study measuring change over time. The quality controls and conditions for sample collection and analysis vary widely from study to study, which likely influenced the measured sperm counts in the samples.
Another study from 2013 also points out that the methods for determining sperm count were only standardized in the 1980s, which occurred after some of the data points were collected for the original study. It is entirely possible that the early studies gave inaccurately high sperm counts.
This is not to say that the 2017 paper is entirely useless; it had a much more rigorous methodology than previous studies on the subject, which also claimed to identify a decline in sperm counts. However, the original study had more problems.
Garbage in, garbage out
Predictable as always, the media went crazy. Discussions of the decline of masculinity took off, both in mainstream and less-than-reputable forums; concerns about the imagined feminizing traits of soy products continued to increase; and the authors of the original study were called upon to discuss the findings themselves in a number of articles.
However, as this new review points out, some of the findings of that meta-analysis are debatable at best. For example, the 2017 report suggests that "declining mean [sperm count] implies that an increasing proportion of men have sperm counts below any given threshold for sub-fertility or infertility," despite little empirical evidence that this is the case.
The WHO offers a large range for what it considers to be a healthy sperm count, from 15 to 250 million sperm per milliliter. The benefits to fertility above a count of 40 million are seen as minimal, and the original study found a mean sperm concentration of 47 million sperm per milliliter.
Healthy sperm, healthy man?
The claim that sperm count is evidence of larger health problems is also scrutinized in this new article. While it is true that many major health problems can impact reproductive health, there is little evidence that it is the "canary in the coal mine" for overall well-being. A number of studies suggest that any relation between lifestyle choices and this part of reproductive health is limited at best.
Lastly, ideas that environmental factors could be at play have been debunked since 2017. While the original paper considered the idea that pollutants, especially from plastics, could be at fault, it is now known that this kind of pollution is worse in the parts of the world that the original paper observed higher sperm counts in (i.e., non-Western nations).
There never was a male fertility crisis
The authors of the new review do not deny that some measurements are showing lower sperm counts, but they do question the claim that this is catastrophic or part of a larger pathological issue. They propose a new interpretation of the data. Dubbed the "Sperm Count Biovariability hypothesis," it is summarized as:
"Sperm count varies within a wide range, much of which can be considered non-pathological and species-typical. Above a critical threshold, more is not necessarily an indicator of better health or higher probability of fertility relative to less. Sperm count varies across bodies, ecologies, and time periods. Knowledge about the relationship between individual and population sperm count and life-historical and ecological factors is critical to interpreting trends in average sperm counts and their relationships to human health and fertility."
Still, the authors note that lower sperm counts "could decline due to negative environmental exposures, or that this may carry implications for men's health and fertility."
However, they disagree that the decline in absolute sperm count is necessarily a bad sign for men's health and fertility. We aren't at civilization ending catastrophe just yet.
A year of disruptions to work has contributed to mass burnout.
Mark Wilson/Getty Images
Politics & Current Affairs
Junior members of the workforce, including Generation Z, are facing digital burnout.
41 percent of workers globally are thinking about handing in their notice, according to a new Microsoft survey.
A hybrid blend of in-person and remote work could help maintain a sense of balance – but bosses need to do more.
More than half of 18 to 25 year-olds in the workforce are considering quitting their job. And they're not the only ones.
In a report called The Next Great Disruption Is Hybrid Work – Are We Ready?, Microsoft found that as well as 54% of Generation Z workers, 41% of the entire global workforce could be considering handing in their resignation.
Similarly, a UK and Ireland survey found that 38% of employees were planning to leave their jobs in the next six months to a year, while a US survey reported that 42% of employees would quit if their company didn't offer remote working options long term.
New work trends
Based on surveys with over 30,000 workers in 31 countries, the Microsoft report – which is the latest in the company's annual Work Trend Index series – pulled in data from applications including Teams, Outlook and Office 365, to gauge productivity and activity levels. It highlighted seven major trends, which show the world of work has been profoundly reshaped by the pandemic:
Flexible work is here to stay
Leaders are out of touch with employees and need a wake-up call
High productivity is masking an exhausted workforce
Gen Z is at risk and will need to be re-energized
Shrinking networks are endangering innovation
Authenticity will spur productivity and wellbeing
Talent is everywhere in a hybrid world
"Over the past year, no area has undergone more rapid transformation than the way we work," Microsoft CEO Satya Nadella says in the report. "Employee expectations are changing, and we will need to define productivity much more broadly – inclusive of collaboration, learning and wellbeing to drive career advancement for every worker, including frontline and knowledge workers, as well as for new graduates and those who are in the workforce today. All this needs to be done with flexibility in, when, where and how people work."
Organizations have become more siloed
While the report highlights the opportunities created by increased flexible and remote working patterns, it warns that some people are experiencing digital exhaustion and that remote working could foster siloed thinking. With the shift to remote working, much of the spontaneous sharing of ideas that can take place within a workplace was lost. In its place are scheduled calls, regular catch-ups and virtual hangouts. The loss of in-person interaction means individual team members are more likely to only interact with their closest coworkers.
"At the onset of the pandemic, our analysis shows interactions with our close networks at work increased while interactions with our distant network diminished," the report says. "This suggests that as we shifted into lockdown, we clung to our immediate teams for support and let our broader network fall to the wayside. Simply put, companies became more siloed than they were pre-pandemic."
Burnout or drop out
One of the other consequences of the shift to remote and the reliance on tech-based communications has been the phenomenon of digital burnout. And for those who have most recently joined the workforce, this has been a significant challenge.
The excitement of joining a new employer, maybe even securing a job for the first time, usually comes with meeting lots of new people, becoming familiar with a new environment and adapting to new situations. But for many, the pandemic turned that into a daily routine of working from home while isolated from co-workers.

"Our findings have shown that for Gen Z and people just starting in their careers, this has been a very disruptive time," says LinkedIn Senior Editor-at-Large, George Anders, quoted in the report. "It's very hard to find their footing since they're not experiencing the in-person onboarding, networking and training that they would have expected in a normal year."
But it is perhaps the data around quitting that is one of the starkest indications that change is now the new normal. Being able to work remotely has opened up new possibilities for many workers, the report found. If you no longer need to be physically present in an office, your employer could, theoretically, be located anywhere. Perhaps that's why the research found that "41% of employees are considering leaving their current employer this year".
In addition to that, 46% of the people surveyed for the Microsoft report said they might relocate their home because of the flexibility of remote working.
A hybrid future
In looking for ways to navigate their way through all this change, employers should hold fast to one word, the report says – hybrid. An inflexible, location-centred approach to work is likely to encourage those 41% of people to leave and find somewhere more to their tastes. Those who are thinking of going to live somewhere else, while maintaining their current job, might also find themselves thinking of quitting if their plans are scuppered.
But remote working is not a panacea for all workforce ills. "We can no longer rely solely on offices to collaborate, connect, and build social capital. But physical space will still be important," the report says. "We're social animals and we want to get together, bounce ideas off one another, and experience the energy of in-person events. Moving forward, office space needs to bridge the physical and digital worlds to meet the unique needs of every team – and even specific roles."

Bosses must meet challenges head on
Although the majority of business leaders have indicated they will incorporate elements of the hybrid working model, the report also found many are out of touch with workforce concerns more widely.
For, while many workers say they are struggling (Gen Z – 60%; new starters – 64%), and 54% of the general workforce feels overworked, business leaders are having a much better experience. Some 61% said they were 'thriving', which is in stark contrast to employees who are further down the chain of command.
Jared Spataro, corporate vice president at Microsoft 365, writes in the report: "Those impromptu encounters at the office help keep leaders honest. With remote work, there are fewer chances to ask employees, 'Hey, how are you?' and then pick up on important cues as they respond. But the data is clear: our people are struggling. And we need to find new ways to help them."

Reprinted with permission of the World Economic Forum. Read the original article.
Technology & Innovation
Buildings don't have to be permanent — modular construction can make them modifiable and relocatable.
Scroll down to load more…