Big ideas.
Once a week.
Subscribe to our weekly newsletter.
Like autism, ADHD lies on a spectrum, and some children should not be treated.
Photo: NDABCREATIVITY / Adobe Stock
ADHD is an extremely contentious disorder in terms of diagnosis and treatment.
A research team examined 334 studies on ADHD published between 1979 and 2020.
The team concluded that ADHD is being overdiagnosed and overtreated in children with milder symptoms.
Attention deficit hyperactivity disorder (ADHD) has long been a controversial topic. While the term "mental restlessness" dates back to 1798, English pediatrician George Still described the disorder in front of the Royal College of Physicians of London in 1902. The condition is attributed to both nature and nurture, with a recent study suggesting the disorder is 75 percent genetic.
According to DSM-IV criteria, ADHD affects five to seven percent of children; but according to ICD-10, only between one and two percent are afflicted. Global estimates state that nearly 85 million people suffer from ADHD, which, like autism, exists on a spectrum.
Treatment is perhaps the most contentious issue. While a holistic approach includes counseling, lifestyle changes, and medication, due to insurance requirements and other factors, many children only receive the latter. And now a new systematic scoping review published in the journal JAMA Network Open that investigated 334 studies conducted between 1979 and 2020 found that ADHD is being both overdiagnosed and overtreated in children and adolescents.
ADHD: An epidemic of overdiagnosis
Researchers from the University of Sydney and the Institute for Evidence-Based Healthcare in Australia initially retrieved 12,267 relevant studies before using a set of criteria that whittled the list down to 334. Only five studies critically investigated the costs and benefits of treating milder cases of ADHD, prompting the team to focus on knowledge gaps in side effects.
The team writes that public scrutiny has increased along with the increase in diagnoses. The numbers are startling: between 1997 and 2016, the number of children reported to be suffering from ADHD doubled. While the symptoms of ADHD include fidgeting, inattention, and impulsivity, Dr. Stephen Hinshaw compared this disorder to depression, as neither condition has "unequivocal biological markers." He continues, "It's probably not a true epidemic of ADHD. It might be an epidemic of diagnosing it."
The Australian researchers write that ambiguous or mild symptoms might contribute to diagnostic inflation and the subsequent rise in the prevalence of ADHD. They compare this to cancer, a field that has established protocols for overdiagnosis. ADHD is still understudied in this regard.
Photo: fizkes / Adobe Stock
Overdiagnosis is harmful
This has contributed to an increase in potential harm, not just to children's health (such as the long-term pharmacological impact on developing brains) but to parents' finances. As of 2018, ADHD is a $16.4 billion global industry, with continued revenue growth predicted — ensured by future ADHD diagnoses.
The costs and benefits of ADHD treatment are mixed. The authors write:
"We found evidence of benefits for academic outcomes, injuries, hospital admissions, criminal behavior, and quality of life. In addition, harmful outcomes were evident for heart rate and cardiovascular events, growth and weight, risk for psychosis and tics, and stimulant misuse or poisoning."
For most of these studies, the benefits outweighed the risks in children suffering from more severe ADHD. But this is not true for children with milder symptoms.
Across the studies, the team noticed that four themes emerged. The first two were positive, and the second two were negative:
For some people, an ADHD diagnosis was shown to create a sense of empowerment because a biological explanation provided a sense of legitimacy.
Feelings of empowerment enabled help-seeking behavior.
For others, a biomedical explanation led to disempowerment because it served as an excuse and provided a way to shirk responsibility.
An ADHD diagnosis was linked to stigmatization and social isolation.
The unfortunate reality is that ADHD is a real condition that should be treated in some children. But for many, the harm of treatment outweighs the benefits.
--
Stay in touch with Derek on Twitter and Facebook. His most recent book is "Hero's Dose: The Case For Psychedelics in Ritual and Therapy."
Linguists discover 30 sounds that may have allowed communication before words existed.
What did the first person who wanted to speak say?
New research suggests that there are lots of sounds that everyone understands.
These sounds may have allowed the first exchanges that gave birth to language.
As hard as it is sometimes to get a conversation started, imagine how difficult it must have been before words existed. Linguists have long wondered how verbal language began. Some form of communication must have been in place to get the whole thing going. Maybe it was gestures.
Now, a new study published in Scientific Reports by linguists at the University of Birmingham (UBir) in the UK and the Leibniz-Centre General Linguistics in Berlin proposes another idea: Verbal communication may have begun at least partly with "iconic" mouth-produced sounds whose meanings were inherently obvious to anyone who heard them. (The researchers use the word "iconic" to mean that these sounds represent things.)
The importance of these sounds may also extend beyond their role as the ultimate conversation starters, says co-author Marcus Perlman of UBir. "Our study fills in a crucial piece of the puzzle of language evolution, suggesting the possibility that all languages — spoken as well as signed — may have iconic origins."
30 iconic sounds
Credit: Alexander Pokusay /
The researchers have posted a few of these iconic sounds: "cut," "tiger," "water," and "good." (Note: These audio files won't play in Apple's Safari browser.) The study reveals that there are a lot more of these sounds than previously appreciated, and likely enough to form a bridge to language development.

Co-author UBir's Bodo Winter explains:
"Our findings challenge the often-cited idea that vocalizations have limited potential for iconic representation, demonstrating that in the absence of words people can use vocalizations to communicate a variety of meanings — serving effectively for cross-cultural communication when people lack a common language."
The researchers compiled a list of 30 iconic-sound candidates that likely would have been of use to the earliest speakers. These included mouth noises that could represent:
animate beings — "child," "man," "woman," "snake," "tiger," "deer"
inanimate objects — "fire," "rock," "meat," "water," "knife," "fruit"
activities — "eat," "sleep," "cut," "cook," "gather," "hunt," "hide"
descriptors — "good," "bad," "small," "big" "dull," "sharp"
quantities — "one," "many"
demonstrative words — "this," "that"
Was "nom, nom" the sound for eating?
Credit: Aleksandra Ćwiek, et al. / Scientific Reports
Making a list — and making noises — is one thing; finding out if anyone understands them is another. The researchers tested out their iconic sounds in two different experiments.

In an online experiment, speakers of 25 different languages were asked to match the meaning of iconic sounds to six written labels. They listened to three performances for each of the 30 candidates, 90 recordings in all.
Participants correctly identified the sounds' meaning roughly 65 percent of the time.
Some meanings were more readily understood than others. "Sleep" was correctly identified by almost 99 percent, as opposed to "that," understood by only 35 percent. The most often understood sounds were "eat," "child," "sleep," "tiger," and "water." The least? "That," "gather," "sharp," "dull," and "knife."
The researchers next conducted field experiments to capture the meaningfulness of the sounds in oral cultures with inconsistent literacy levels. For these people, researchers played twelve iconic sounds for animals and inanimate objects as listeners identified each from a grid of pictures. The volunteers correctly identified the sounds' meanings about 56 percent of the time, again above the level of chance.
The universal roots of language
In addition to being the sounds that facilitated the birth of language, the authors of the study wonder if such commonly understood sounds may also be a factor in the similarities that exist between different modern languages that don't share a common root language. They cite other research that found "vocalizations for 25 different emotions were identifiable across cultures with above-chance accuracy."
"The ability to use iconicity to create universally understandable vocalizations," says Perlman, "may underpin the vast semantic breadth of spoken languages, playing a role similar to representational gestures in the formation of signed languages."
New studies stretch the boundaries of physics, achieving quantum entanglement in larger systems.
Credit: Aalto University.
New experiments with vibrating drums push the boundaries of quantum mechanics.
Two teams of physicists create quantum entanglement in larger systems.
Critics question whether the study gets around the famous Heisenberg uncertainty principle.
Recently published research pushes the boundaries of key concepts in quantum mechanics. Studies from two different teams used tiny drums to show that quantum entanglement, an effect generally linked to subatomic particles, can also be applied to much larger macroscopic systems. One of the teams also claims to have found a way to evade the Heisenberg uncertainty principle.
One question that the scientists were hoping to answer pertained to whether larger systems can exhibit quantum entanglement in the same way as microscopic ones. Quantum mechanics proposes that two objects can become "entangled," whereby the properties of one object, such as position or velocity, can become connected to those of the other.
An experiment performed at the U.S. National Institute of Standards and Technology in Boulder, Colorado, led by physicist Shlomi Kotler and his colleagues, showed that a pair of vibrating aluminum membranes, each about 10 micrometers long, can be made to vibrate in sync, in such a way that they can be described to be quantum entangled. Kotler's team amplified the signal from their devices to "see" the entanglement much more clearly. Measuring their position and velocities returned the same numbers, indicating that they were indeed entangled.
Tiny aluminium membranes used by Kotler's team.Credit: Florent Lecoq and Shlomi Kotler/NIST
Evading the Heisenberg uncertainty principle?

Another experiment with quantum drums — each one-fifth the width of a human hair — by a team led by Prof. Mika Sillanpää at Aalto University in Finland, attempted to find what happens in the area between quantum and non-quantum behavior. Like the other researchers, they also achieved quantum entanglement for larger objects, but they also made a fascinating inquiry into getting around the Heisenberg uncertainty principle.
The team's theoretical model was developed by Dr. Matt Woolley of the University of New South Wales. Photons in the microwave frequency were employed to create a synchronized vibrating pattern as well as to gauge the positions of the drums. The scientists managed to make the drums vibrate in opposite phases to each other, achieving "collective quantum motion."
The study's lead author, Dr. Laure Mercier de Lepinay, said: "In this situation, the quantum uncertainty of the drums' motion is canceled if the two drums are treated as one quantum-mechanical entity."
This effect allowed the team to measure both the positions and the momentum of the virtual drumheads at the same time. "One of the drums responds to all the forces of the other drum in the opposing way, kind of with a negative mass," Sillanpää explained.
Theoretically, this should not be possible under the Heisenberg uncertainty principle, one of the most well-known tenets of quantum mechanics. Proposed in the 1920s by Werner Heisenberg, the principle generally says that when dealing with the quantum world, where particles also act like waves, there's an inherent uncertainty in measuring both the position and the momentum of a particle at the same time. The more precisely you measure one variable, the more uncertainty in the measurement of the other. In other words, it is not possible to simultaneously pinpoint the exact values of the particle's position and momentum.
Heisenberg's Uncertainty Principle Explained. Credit: Veritasium / Youtube.com
Quantum skepticism
Big Think contributor astrophysicist Adam Frank, known for the 13.8 podcast, called this "a really fascinating paper as it shows that it's possible to make larger entangled systems which behave like a single quantum object. But because we're looking at a single quantum object, the measurement doesn't really seem to me to be 'getting around' the uncertainty principle, as we know that in entangled systems an observation of one part constrains the behavior of other parts."
Ethan Siegel, also an astrophysicist, commented, "The main achievement of this latest work is that they have created a macroscopic system where two components are successfully quantum mechanically entangled across large length scales and with large masses. But there is no fundamental evasion of the Heisenberg uncertainty principle here; each individual component is exactly as uncertain as the rules of quantum physics predicts. While it's important to explore the relationship between quantum entanglement and the different components of the systems, including what happens when you treat both components together as a single system, nothing that's been demonstrated in this research negates Heisenberg's most important contribution to physics."
The papers, published in the journal
Science
, could help create new generations of ultra-sensitive measuring devices and quantum computers.
"The question is which are okay, which are not okay."
Videos
As the material that makes all living things what/who we are, DNA is the key to understanding and changing the world. British geneticist Bryan Sykes and Francis Collins (director of the Human Genome Project) explain how, through gene editing, scientists can better treat illnesses, eradicate diseases, and revolutionize personalized medicine.
But existing and developing gene editing technologies are not without controversies. A major point of debate deals with the idea that gene editing is overstepping natural and ethical boundaries. Just because they can, does that mean that scientists should be edit DNA?
Harvard professor Glenn Cohen introduces another subcategory of gene experiments: mixing human and animal DNA. "The question is which are okay, which are not okay, why can we generate some principles," Cohen says of human-animal chimeras and arguments concerning improving human life versus morality.
Seawater is raising salt levels in coastal woodlands along the entire Atlantic Coastal Plain, from Maine to Florida.
Surprising Science
Permanent flooding has become commonplace on this low-lying peninsula, nestled behind North Carolina's Outer Banks. The trees growing in the water are small and stunted. Many are dead.
Throughout coastal North Carolina, evidence of forest die-off is everywhere. Nearly every roadside ditch I pass while driving around the region is lined with dead or dying trees.
As an ecologist studying wetland response to sea level rise, I know this flooding is evidence that climate change is altering landscapes along the Atlantic coast. It's emblematic of environmental changes that also threaten wildlife, ecosystems, and local farms and forestry businesses.
Like all living organisms, trees die. But what is happening here is not normal. Large patches of trees are dying simultaneously, and saplings aren't growing to take their place. And it's not just a local issue: Seawater is raising salt levels in coastal woodlands along the entire Atlantic Coastal Plain, from Maine to Florida. Huge swaths of contiguous forest are dying. They're now known in the scientific community as "ghost forests."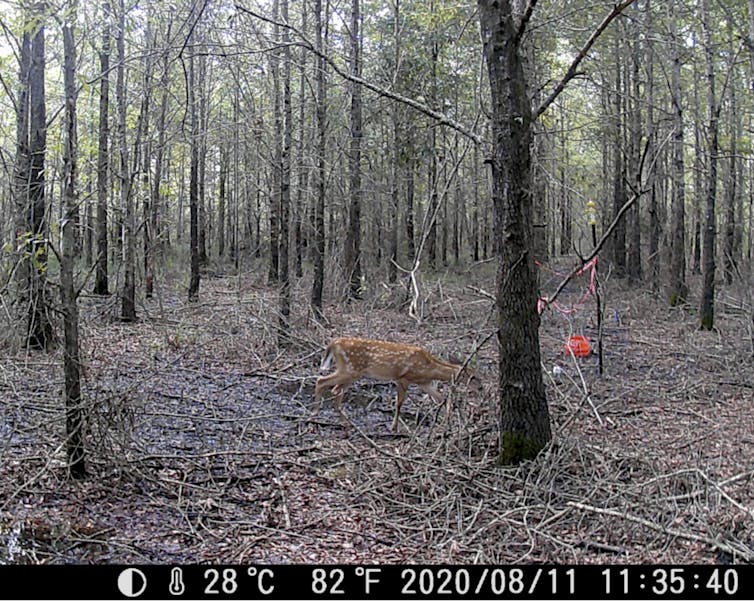 Deer photographed by a remote camera in a climate change-altered forest in North Carolina. Emily Ury, CC BY-ND
The insidious role of salt
Sea level rise driven by climate change is making wetlands wetter in many parts of the world. It's also making them saltier.
In 2016 I began working in a forested North Carolina wetland to study the effect of salt on its plants and soils. Every couple of months, I suit up in heavy rubber waders and a mesh shirt for protection from biting insects, and haul over 100 pounds of salt and other equipment out along the flooded trail to my research site. We are salting an area about the size of a tennis court, seeking to mimic the effects of sea level rise.
After two years of effort, the salt didn't seem to be affecting the plants or soil processes that we were monitoring. I realized that instead of waiting around for our experimental salt to slowly kill these trees, the question I needed to answer was how many trees had already died, and how much more wetland area was vulnerable. To find answers, I had to go to sites where the trees were already dead.
Rising seas are inundating North Carolina's coast, and saltwater is seeping into wetland soils. Salts move through groundwater during phases when freshwater is depleted, such as during droughts. Saltwater also moves through canals and ditches, penetrating inland with help from wind and high tides. Dead trees with pale trunks, devoid of leaves and limbs, are a telltale sign of high salt levels in the soil. A 2019 report called them "wooden tombstones."
As the trees die, more salt-tolerant shrubs and grasses move in to take their place. In a newly published study that I coauthored with Emily Bernhardt and Justin Wright at Duke University and Xi Yang at the University of Virginia, we show that in North Carolina this shift has been dramatic.
The state's coastal region has suffered a rapid and widespread loss of forest, with cascading impacts on wildlife, including the endangered red wolf and red-cockaded woodpecker. Wetland forests sequester and store large quantities of carbon, so forest die-offs also contribute to further climate change.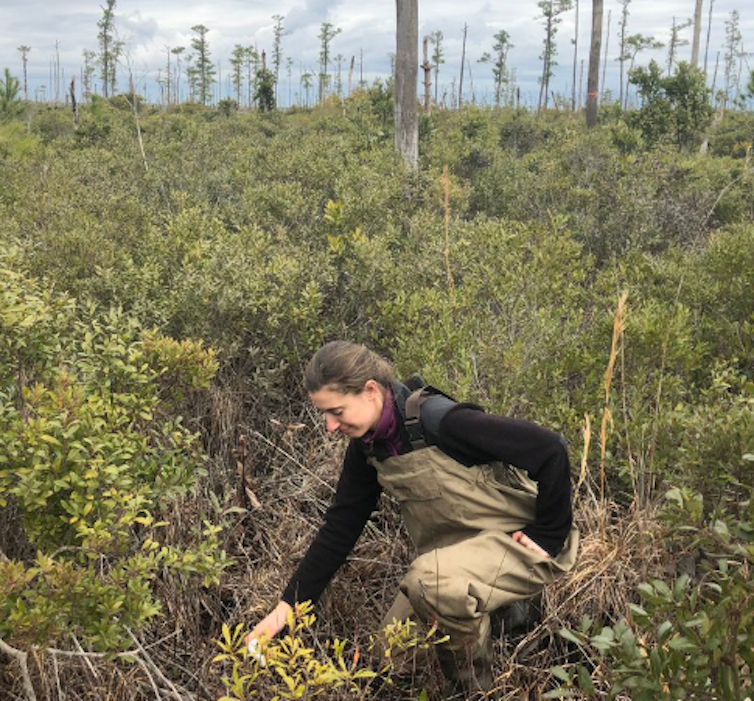 Researcher Emily Ury measuring soil salinity in a ghost forest. Emily Bernhardt, CC BY-ND
Assessing ghost forests from space
To understand where and how quickly these forests are changing, I needed a bird's-eye perspective. This perspective comes from satellites like NASA's Earth Observing System, which are important sources of scientific and environmental data.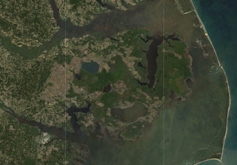 A 2016 Landsat8 image of the Albemarle Pamlico Peninsula in coastal North Carolina. USGS
Since 1972, Landsat satellites, jointly operated by NASA and the U.S. Geological Survey, have captured continuous images of Earth's land surface that reveal both natural and human-induced change. We used Landsat images to quantify changes in coastal vegetation since 1984 and referenced high-resolution Google Earth images to spot ghost forests. Computer analysis helped identify similar patches of dead trees across the entire landscape.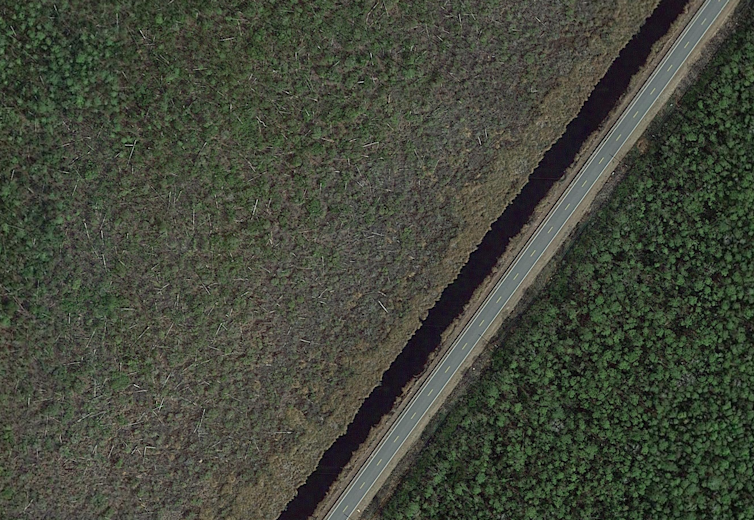 Google Earth image of a healthy forest on the right and a ghost forest with many dead trees on the left. Emily Ury
The results were shocking. We found that more than 10% of forested wetland within the Alligator River National Wildlife Refuge was lost over the past 35 years. This is federally protected land, with no other human activity that could be killing off the forest.
Rapid sea level rise seems to be outpacing the ability of these forests to adapt to wetter, saltier conditions. Extreme weather events, fueled by climate change, are causing further damage from heavy storms, more frequent hurricanes and drought.
We found that the largest annual loss of forest cover within our study area occurred in 2012, following a period of extreme drought, forest fires and storm surges from Hurricane Irene in August 2011. This triple whammy seemed to have been a tipping point that caused mass tree die-offs across the region.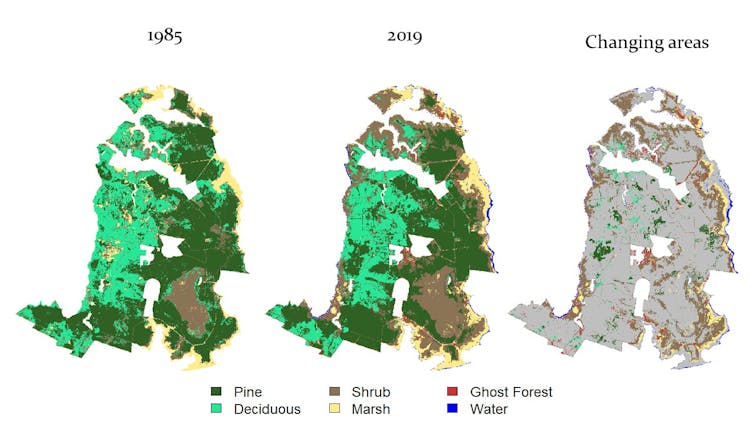 Habitat maps we created for the Alligator River National Wildlife Refuge showing the change over time and the prevalence of ghost forests. Ury et al, 2021., CC BY-ND
Should scientists fight the transition or assist it?
As global sea levels continue to rise, coastal woodlands from the Gulf of Mexico to the Chesapeake Bay and elsewhere around the world could also suffer major losses from saltwater intrusion. Many people in the conservation community are rethinking land management approaches and exploring more adaptive strategies, such as facilitating forests' inevitable transition into salt marshes or other coastal landscapes.
For example, in North Carolina the Nature Conservancy is carrying out some adaptive management approaches, such as creating "living shorelines" made from plants, sand and rock to provide natural buffering from storm surges.
A more radical approach would be to introduce marsh plants that are salt-tolerant in threatened zones. This strategy is controversial because it goes against the desire to try to preserve ecosystems exactly as they are.
But if forests are dying anyway, having a salt marsh is a far better outcome than allowing a wetland to be reduced to open water. While open water isn't inherently bad, it does not provide the many ecological benefits that a salt marsh affords. Proactive management may prolong the lifespan of coastal wetlands, enabling them to continue storing carbon, providing habitat, enhancing water quality and protecting productive farm and forest land in coastal regions.

Emily Ury, Ph.D. Candidate, Duke University
This article is republished from The Conversation under a Creative Commons license. Read the original article.
A simple trick allowed marine biologists to prove a long-held suspicion.
Surprising Science
It's long been suspected that sharks navigate the oceans using Earth's magnetic field.
Sharks are, however, difficult to experiment with.
Using magnetism, marine biologists figured out a clever way to fool sharks into thinking they're somewhere that they're not.
For some time, scientists have suspected that sharks belong among the growing number of animals known to navigate using Earth's magnetic field. Testing anything with a shark, though, requires some care.
"The reason this question has been withstanding for 50 years is because sharks are difficult to study," says Bryan Keller of the Save Our Seas Foundation. "To be honest, I am surprised it worked."
The key was selecting the right candidate. Keller and his colleagues chose the bonnethead shark, Sphyrna tiburo, a small critter that summers at Turkey Point Shoal off the coast of the Florida State University Coastal and Marine Laboratory with which Keller is affiliated.
Bonnetheads elsewhere have been known to complete 620-mile roundtrip migrations. As the lab's Dean Grubbs puts it, "That's not bad for a shark that is only two to three feet long. The question is how do they find their way back to that same estuary year after year." There's a report of a great white shark migrating between two locations, one in South Africa and another in Australia, year after year.
The research is published in Current Biology.
Shark tank
These are the three places the bonnethead sharks were magnetically fooled into thinking they were located.Credit: Keller et al. / Current Biology
Keller and his team rounded up 20 local juvenile bonnetheads and transported them into a holding tank at the marine lab. For the tests, the researchers simulated three real-world magnetic fields. As the various magnetic fields were activated, the sharks' movements were captured by GoPro cameras and their average swimming orientations calculated by software.

The first simulation, serving as a control, mimicked the magnetic field of the nearby shoal from which the sharks had been captured. When this field was activated, the sharks essentially acted like they were "home," just swimming around as they do.
A second field was the magnetic equivalent of a location 600 kilometers south of the lab within the Gulf of Mexico. When this field was activated, the sharks, apparently mistaking themselves for being far south in the Gulf, began swimming northward toward the shoal.
The opposite occurred with a field standing in for a location in continental North America 600 km north of their home shoal — the sharks began swimming southward.
Suspicion confirmed
"For 50 years," says Keller, "scientists have hypothesized that sharks use the magnetic field as a navigational aid. This theory has been so popular because sharks, skates, and rays have been shown to be very sensitive to magnetic fields. They have also been trained to react to unique geomagnetic signatures, so we know they are capable of detecting and reacting to variation in the magnetic field."
His team's experiments confirm what's long been suspected, Keller says: "Sharks use map-like information from the geomagnetic field as a navigational aid. This ability is useful for navigation and possibly maintaining population structure."