Vaccines can be grown in and extracted from the leaves of plants.
Vaccines are absolutely crucial to keeping the entire planet healthy. None of us is safe until all of us are safe.
But low- and middle-income countries have a difficult time acquiring and distributing them.
Plant-derived vaccines can be stored by harvesting and freeze-drying the leaves. They may help solve the problem of global vaccine distribution.
Vaccines are the mainstay of the efforts to quell the COVID-19 pandemic. The pace of their development and refinement has been astonishing, but the characteristics of many of the available vaccines will make getting them to poor countries challenging. We will need more heat-stable vaccines that can be easily transported and stored. One ongoing, promising approach to this is to produce them in plants.
Populations in many richer countries could return to a reasonable approximation of normal by the fourth quarter of this year if — a big if — they can vaccinate 80 percent or more of their populations against SARS-CoV-2. They will also need to perform constant surveillance for "variants of concern" that are more transmissible, cause more severe disease, or, especially, are better able to escape the immunity conferred by COVID-19 vaccines. An example is the coronavirus variant called "delta," first detected in India, which has become the dominant strain in the United Kingdom, despite that country's highly successful vaccination campaign. That variant now accounts for about 6 percent of infections in the United States, double its penetrance a month ago.
Vaccinating poorer countries is an enormous challenge
Prospects for poorer countries are very different, however, for every aspect of the pandemic — cases, hospitalization, deaths, and ability to suppress the pandemic with vaccines — which are, for many reasons, more elusive than for wealthier countries.
Some middle-income nations such as India and Brazil recently have experienced a devastating surge in cases after premature loosening of restrictions in their countries. Africa's toll of cases and deaths is surprisingly low, although the paucity of data makes the government-reported numbers suspect.
The task of rapidly manufacturing vast quantities of COVID-19 vaccines that are safe, efficacious, inexpensive, and transportable without stringent cold chain requirements is daunting.
Especially in lower- and middle-income countries, vaccines will be a lifeline, but providing sufficient COVID-19 vaccines for their populations will take years at current trajectories. At India's current vaccination rate of 1.8 million doses a day, for example, it would take more than three years to vaccinate 80 percent of its 1.4 billion people. Likewise, over 24 million people — less than two percent of the population — have been fully vaccinated in Africa (according to the Africa C.D.C.). Currently, a meager 0.3 percent of the vaccine doses that have been administered around the world have been provided to the 29 poorest countries. By contrast, in the United States, over 60 percent of adults have by now received at least one shot of vaccine.
Although the U.S. has purchased more than enough vaccines for its entire population, it may choose to hold onto some of its excess in case booster shots of existing vaccines are required this fall or early next year. It is also possible that the U.S. will be poised to divert domestic production to making new vaccines that will overcome "immune evasiveness" in subjects vaccinated with current vaccines.
This development could compromise the capacity to scale up manufacturing to provide global access to vaccines, further widening the gap between vaccine haves and have-nots, particularly in low resource settings where scaling access, distribution, refrigeration, and affordability are problematic. The Pfizer-BioNTech and Moderna mRNA vaccines, for example, which have cold chain limitations (an uninterrupted series of refrigerated production, storage, and distribution requirements), would be difficult to distribute in resource-poor settings such as rural India or Africa.
Advances have been made in the formulations of some vaccines so that the need for refrigeration can be avoided. Past successes include a freeze-dried version of the smallpox vaccine, which was critical for eradication of that deadly disease. Making a freeze-dried version of mRNA vaccines such as Pfizer and Moderna may be feasible but could be cost-prohibitive for a global market. The estimated costs of the global vaccination effort could reach $74 billion, according to a study published in The Lancet.
These challenges together could stymie our efforts to control the pandemic for years to come, bringing to mind the often-heard mantra: "None of us is safe until all of us are safe." Our inability to manufacture large quantities of vaccines rapidly would extend the pandemic, resulting in stress on healthcare and national economies, and increased mortality, all the while enabling more SARS-CoV-2 variants to emerge and gain a foothold.
The task of rapidly manufacturing vast quantities of COVID-19 vaccines that are safe, efficacious, inexpensive, and transportable without stringent cold chain requirements is daunting. These challenges may be insuperable unless we try to replicate with plant-based COVID-19 vaccines the recent clinical successes with mRNA vaccines.
Plant-based vaccines are a potential solution
Credit: THOMAS LOHNES via Getty Images
Plant-based vaccines are likely the promise of the future for mass vaccination in lower- and middle-income countries. For millennia, plants have not only been sources of food, fiber, and fuel, but also, more recently, an important component of our medicine cabinet as well. The identification and application of bioactive molecules from medicinal plants is nothing new; examples include the active ingredient of aspirin, salicylic acid, derived from willow and used as a painkiller; taxol from yew trees to treat cancer; digitalis from the foxglove plant; and the malaria drug artemisinin from sweet wormwood; among others.

But those examples are yesterday's successes. Our newly-acquired ability to genetically engineer plants that express novel biologics, such as vaccines to combat pandemic flu or antibodies to block Ebola virus infection, shows how far we have come. These new pharmaceuticals are easily scalable, inexpensive to produce, and have no cold chain requirements. Plant-based vaccines to prevent COVID-19 are certainly within our grasp.
While much of the initial research concerning plant made vaccines has been conducted by stably expressing the protein of interest in genetically engineered plant tissue, plant viruses can also be harnessed to generate biopharmaceutical proteins rapidly (within a matter of days) and at low cost. Plant viruses can also act as scaffolds, displaying vaccine epitopes on the surface of self-assembled virus-like particles (VLPs). These VLPs lack nucleic acid and are, therefore, non-infectious and harmless to animals or plants.
Plant-derived vaccines can be stored by harvesting and freeze-drying the leaves, or merely by isolating the plant virus, if one was used as the antigen carrier. Moreover, a number of plant viruses have been shown to behave as adjuvants and help to stimulate a stronger immune response overall. This technology is currently being employed by several plant "molecular pharming" companies to produce vaccines for COVID-19 that would be suitable for India, Africa, and other places in need.
Plant-based COVID vaccines
Quebec plant molecular pharming company Medicago announced in a press release last month the successful completion of a phase 2 clinical trial of their plant-derived COVID-19 vaccine candidate, which contains an adjuvant obtained from GlaxoSmithKline (GSK). The titer of neutralizing antibody and the degree of cell mediated immunity the vaccine elicited were robust, and no severe adverse effects were reported.
The vaccine is based on the virus-like particle technology mentioned above. These VLPs assemble in plants with the spike protein displayed on their surface, so that the end product looks just like the real thing but is non-infectious. Medicago is currently moving their vaccine through a stage 3 clinical trial and has "fast track" designation from the FDA. The company estimates that they will be able to produce up to 80 million annual doses beginning this year, and by 2023, over a billion doses of COVID-19 vaccine doses per year. That could be just what low- and middle-income countries will need to suppress the COVID-19 pandemic.
Other plant molecular pharming companies are not far behind. Kentucky BioProcessing (KBP), a member of British American Tobacco group, uses a technology similar to Medicago's to produce COVID-19 vaccines in plants. KBP's previous claim to fame was producing antibodies in plants to block Ebola infection, and KBP's plant-based COVID-19 vaccine has successfully elicited an immune response to the virus in animals and is currently moving into clinical trials. The company also uses a virus-based technology. Attaching the vaccine antigen to the plant virus provides the vaccine with greater stability at room temperature. This plant virus is also non-infectious to humans but can be taken up by immune cells to elicit a strong response.
A third company that is making headway is Texas-based iBio, which is working on several vaccine candidates. These include a virus-like particle, a subunit vaccine, and a second-generation vaccine that targets the SARS-CoV-2 virus's N protein, which is more conserved than the spike protein. The N protein is, therefore, less likely to mutate, even when virus variants emerge and circulate, thus making the vaccine more likely to be successful against variants. These vaccines have performed well in pre-clinical and toxicology studies.
As microbes mutate, we must innovate
The current pandemic is far from over, and scaled up vaccination programs are needed immediately to reduce the spread of COVID and decrease the emergence of new variants of concern. While vaccine distribution certainly remains a significant obstacle for many countries, simply ramping up vaccine manufacturing is currently our greatest challenge. At least some of this burden could be alleviated by adding plant-made vaccines to our global arsenal. They are safe, inexpensive, efficacious, easy to produce in large amounts, and are less susceptible to cold chain requirements for distribution and administration. The rapid scale-up of COVID-19 plant-made vaccines could be a significant step toward suppressing or even ending the pandemic, as well as offering an important new technology for the future.
Kathleen Hefferon, Ph.D., teaches microbiology at Cornell University. Find Kathleen on Twitter @KHefferon. Henry Miller, a physician and molecular biologist, is a senior fellow at the Pacific Research Institute. He was a Research Associate at the NIH and the founding director of the U.S. FDA's Office of Biotechnology. Find Henry on Twitter @henryimiller.
Counterintuitively, directly combating misinformation online can spread it further. A different approach is needed.
Like the coronavirus, engaging with misinformation can inadvertently cause it to spread.
Social media has a business model based on getting users to spend increasing amounts of time on their platforms, which is why they are hesitant to remove engaging content.
The best way to fight online misinformation is to drown it out with the truth.
A year ago, the Center for Countering Digital Hate warned of the parallel pandemics — the biological contagion of COVID-19 and the social contagion of misinformation, aiding the spread of the disease. Since the outbreak of COVID-19, anti-vaccine accounts have gained 10 million new social media followers, while we have witnessed arson attacks against 5G masts, hospital staff abused for treating COVID patients, and conspiracists addressing crowds of thousands.
Many have refused to follow guidance issued to control the spread of the virus, motivated by beliefs in falsehoods about its origins and effects. The reluctance we see in some to get the COVID vaccine is greater amongst those who rely on social media rather than traditional media for their information. In a pandemic, lies cost lives, and it has felt like a new conspiracy theory has sprung up online every day.
How we, as social media users, behave in response to misinformation can either enable or prevent it from being seen and believed by more people.
The rules are different online
Credit: Pool via Getty Images
If a colleague mentions in the office that Bill Gates planned the pandemic, or a friend at dinner tells the table that the COVID vaccine could make them infertile, the right thing to do is often to challenge their claims. We don't want anyone to be left believing these falsehoods.
But digital is different. The rules of physics online are not the same as they are in the offline world. We need new solutions for the problems we face online.
Now, imagine that in order to reply to your friend, you must first hand him a megaphone so that everyone within a five-block radius can hear what he has to say. It would do more damage than good, but this is essentially what we do when we engage with misinformation online.
Think about misinformation as being like the coronavirus — when we engage with it, we help to spread it to everyone else with whom we come into contact. If a public figure with a large following responds to a post containing misinformation, they ensure the post is seen by hundreds of thousands or even millions of people with one click. Social media algorithms also push content into more users' newsfeeds if it appears to be engaging, so lots of interactions from users with relatively small followings can still have unintended negative consequences.
The trend of people celebrating and posting photos of themselves or loved ones receiving the vaccine has been far more effective than any attempt to disprove a baseless claim about Bill Gates or 5G mobile technology.
Additionally, whereas we know our friend from the office or dinner, most of the misinformation we see online will come from strangers. They often will be from one of two groups — true believers, whose minds are made up, and professional propagandists, who profit from building large audiences online and selling them products (including false cures). Both of these groups use trolling tactics, that is, seeking to trigger people to respond in anger, thus helping them reach new audiences and thereby gaming the algorithm.
On the day the COVID vaccine was approved in the UK, anti-vaccine activists were able to provoke pro-vaccine voices into posting about thalidomide, exposing new audiences to a reason to distrust the medical establishment. Those who spread misinformation understand the rules of the game online; it's time those of us on the side of enlightenment values of truth and science did too.
How to fight online misinformation
Of course, it is much easier for social media companies to take on this issue than for us citizens. Research from the Center for Countering Digital Hate and Anti-Vax Watch last month found that 65% of anti-vaccine content on social media is linked to just twelve individuals and their organizations. Were the platforms to simply remove the accounts of these superspreaders, it would do a huge amount to reduce harmful misinformation.
The problem is that social media platforms are resistant to do so. These businesses have been built by constantly increasing the amount of time users spend on their platforms. Getting rid of the creators of engaging content that has millions of people hooked is antithetical to the business model. It will require intervention from governments to force tech companies to finally protect their users and society as a whole.
So, what can the rest of us do, while we await state regulation?
Instead of engaging, we should be outweighing the bad with the good. Every time you see a piece of harmful misinformation, share advice or information from a trusted source, like the WHO or BBC, on the same subject. The trend of people celebrating and posting photos of themselves or loved ones receiving the vaccine has been far more effective than any attempt to disprove a baseless claim about Bill Gates or 5G mobile technology. In the attention economy that governs tech platforms, drowning out is a better strategy than rebuttal.
Imran Ahmed is CEO of the Center for Countering Digital Hate.
People may be more willing to get vaccinated when told how popular it is.
Hugh Hastings/Getty Images
Public health officials have issued plenty of warnings about people who are reluctant to get vaccinated for Covid-19.
But an MIT research team centered at MIT's Initiative on the Digital Economy (IDE) says this may be counterproductive: When shown basic numbers about how popular Covid-19 vaccines are, the fraction of people reluctant to get the vaccine drops by 5 percent. To reach these conclusions, the researchers drew on a massive international survey about the pandemic, including 1.8 million responses from 67 countries, and developed an experiment covering 300,000 people in 23 countries. The group has described their findings in a working paper and a recent LA Times op-ed.
The MIT team consists of Alex Moehring, a PhD candidate at the MIT Sloan School of Management; Avinash Collis PhD '20, an assistant professor at the University of Texas at Austin; Kiran Garimella, a postdoc at the MIT Institute for Data, Systems, and Society (IDSS); M. Amin Rahimian, a postdoc at IDSS; Sinan Aral, the David Austin Professor of Management at MIT Sloan, co-director of IDE, and author of the recent book "The Hype Machine"; and Dean Eckles, the Mitsubishi Career Development Professor and an associate professor of marketing at MIT Sloan. MIT News talked to Aral and Eckles about the findings.
Q: You have written that there is a "dangerous irony" in public health officials and other people highlighting those who are reluctant to get a Covid-19 vaccine. Why is that?
Eckles: It makes sense for public health officials and others to be worried about vaccine hesitancy, because we need a very high level of vaccine acceptance. But a lot of the time, officials make it seem as if more people are hesitant than is really the case.
Many people who say they're unsure if they'll get the vaccine may be pretty easy to sway, and one way is by telling them, "Actually, a large fraction of people in your country say they're going to accept the vaccine." We found that simply by giving people accurate information about the percentage of people in their country who say they will accept a vaccine, it increased vaccine-acceptance intentions across 23 countries. Part of what's exciting is how consistent this finding is.
Aral: I'd like to add three points. Before this study, there were at least two plausible countervailing hypotheses. One is that if more people heard that others would take the vaccine, the more they [themselves] would be inclined to take the vaccine. The other is that people would free-ride on the vaccine intentions of others: "Well, if they're going to take it, they can create herd immunity and I can avoid taking a vaccine myself." Our research shows pretty clearly that the first is true, while the second is not true [on aggregate].
Second, it's interesting that the treatment most changes the behavior of those people who are most underestimating the amount of vaccine acceptance among others. And third, there's an overarching theme here: Simply providing people the truth, the accurate information, is also very effective at swaying people to accept the vaccine.
Q: What does this teach us about human behavior, at least in these kinds of situations?
Aral: One really important thing is [the power of] social proof. When you see large portions of people behave in a certain way, it legitimizes that behavior. And there are countless examples of this. When a lot of people say a restaurant is good, you're swayed. This is another instance of that.
Eckles: There's an informational process of social learning. People are trying to figure out: What's the quality of this thing? It might seem weird to some of us following the news more, or watching what's happening with [vaccine] trials, but a lot of people are not paying attention. They may know there are these vaccines, but even so, other people's choices can be quite informative to them.
Q: What should be the core of good messaging about vaccination programs, based on your research over the last year?
Aral: As recently as February, a coronavirus task force started its communications by focusing on vaccine hesitancy. That is not, per our findings, as effective as leading with the vast and growing majority who are accepting. That's not to say we think public health officials shouldn't talk about vaccine hesitancy, or that people who are hesitant shouldn't be targeted with outreach to convince them of the safety and efficacy of vaccines — we believe that should all happen. But neglecting to emphasize the vast and growing majorities who are accepting vaccines doesn't increase vaccine acceptance as much.
Eckles: What we're saying is one part of a broader messaging strategy. Giving people this information is enough to shift their motivation to get the vaccine in a lot of cases. Though, getting them motivated is not enough if they don't know what website to go to, or if it's hard to get an appointment. It's good to couple motivational messages with actionable information.
Aral: To our knowledge this is the largest global survey of Covid-19 behaviors, norms, and perceptions. We've been running it since July. We've also done many published studies, whether about social spillovers [during the pandemic], vaccines, vaccine misinformation — all of this is part of a very forceful effort by the Initiative on the Digital Economy to make meaningful contributions to changing the trajectory of this pandemic.
Reprinted with permission of MIT News. Read the original article.
The vaccine will shorten the "shedding" time.
Fredrik Lerneryd/Getty Images
Editor's note: So you've gotten your coronavirus vaccine, waited the two weeks for your immune system to respond to the shot and are now fully vaccinated.
Does this mean you can make your way through the world like the old days without fear of spreading the virus? Deborah Fuller is a microbiologist at the University of Washington School of Medicine working on coronavirus vaccines. She explains what the science shows about transmission post-vaccination – and whether new variants could change this equation.
1. Does vaccination completely prevent infection?
The short answer is no. You can still get infected after you've been vaccinated. But your chances of getting seriously ill are almost zero.
Many people think vaccines work like a shield, blocking a virus from infecting cells altogether. But in most cases, a person who gets vaccinated is protected from disease, not necessarily infection.
Every person's immune system is a little different, so when a vaccine is 95% effective, that just means 95% of people who receive the vaccine won't get sick. These people could be completely protected from infection, or they could be getting infected but remain asymptomatic because their immune system eliminates the virus very quickly. The remaining 5% of vaccinated people can become infected and get sick, but are extremely unlikely to be hospitalized.
Vaccination doesn't 100% prevent you from getting infected, but in all cases it gives your immune system a huge leg up on the coronavirus. Whatever your outcome – whether complete protection from infection or some level of disease – you will be better off after encountering the virus than if you hadn't been vaccinated.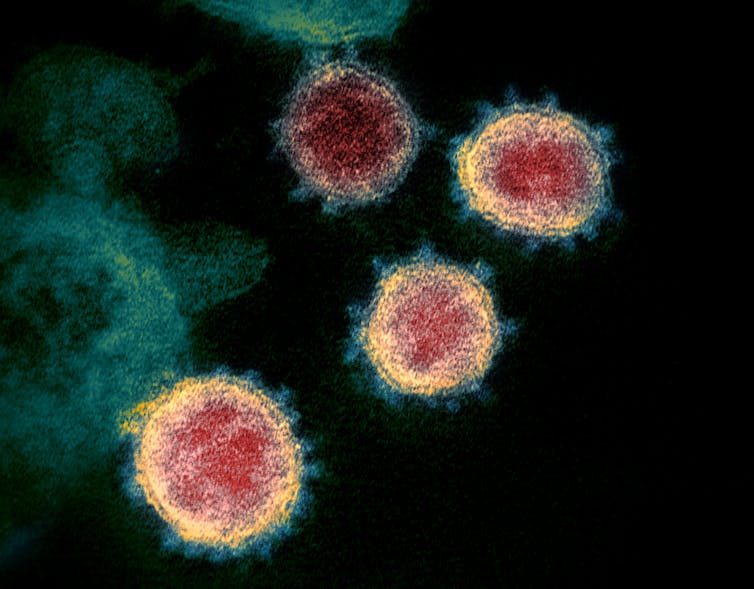 Vaccines prevent disease, not infection. (National Institute of Allergy and Infectious Diseases, CC BY)
2. Does infection always mean transmission?
Transmission happens when enough viral particles from an infected person get into the body of an uninfected person. In theory, anyone infected with the coronavirus could potentially transmit it. But a vaccine will reduce the chance of this happening.
In general, if vaccination doesn't completely prevent infection, it will significantly reduce the amount of virus coming out of your nose and mouth – a process called shedding – and shorten the time that you shed the virus. This is a big deal. A person who sheds less virus is less likely to transmit it to someone else.
This seems to be the case with coronavirus vaccines. In a recent preprint study which has yet to be peer reviewed, Israeli researchers tested 2,897 vaccinated people for signs of coronavirus infection. Most had no detectable virus, but people who were infected had one-quarter the amount of virus in their bodies as unvaccinated people tested at similar times post-infection.
Less coronavirus virus means less chance of spreading it, and if the amount of virus in your body is low enough, the probability of transmitting it may reach almost zero. However, researchers don't yet know where that cutoff is for the coronavirus, and since the vaccines don't provide 100% protection from infection, the Centers for Disease Control and Prevention recommends that people continue to wear masks and social distance even after they've been vaccinated.
3. What about the new coronavirus variants?
New variants of coronavirus have emerged in recent months, and recent studies show that vaccines are less effective against certain ones, like the B1351 variant first identified in South Africa.
Every time SARS-CoV-2 replicates, it gets new mutations. In recent months, researchers have found new variants that are more infective – meaning a person needs to breathe in less virus to become infected – and other variants that are more transmissible - meaning they increase the amount of virus a person sheds. And researchers have also found at least one new variant that seems to be better at evading the immune system, according to early data.
So how does this relate to vaccines and transmission?
For the South Africa variant, vaccines still provide greater than 85% protection from getting severely ill with COVID–19. But when you count mild and moderate cases, they provide, at best, only about 50%-60% protection. That means at least 40% of vaccinated people will still have a strong enough infection – and enough virus in their body – to cause at least moderate disease.
If vaccinated people have more virus in their bodies and it takes less of that virus to infect another person, there will be higher probability a vaccinated person could transmit these new strains of the coronavirus.
If all goes well, vaccines will very soon reduce the rate of severe disease and death worldwide. To be sure, any vaccine that reduces disease severity is also, at the population level, reducing the amount of virus being shed overall. But because of the emergence of new variants, vaccinated people still have the potential to shed and spread the coronavirus to other people, vaccinated or otherwise. This means it will likely take much longer for vaccines to reduce transmission and for populations to reach herd immunity than if these new variants had never emerged. Exactly how long that will take is a balance between how effective vaccines are against emerging strains and how transmissible and infectious these new strains are.
Deborah Fuller, Professor of Microbiology, School of Medicine, University of Washington
This article is republished from The Conversation under a Creative Commons license. Read the original article.
A deeper appreciation for science and less unnecessary spending could be in our future.
Photo: olezzo / Adobe Stock
The "Fauci effect" has helped produce a record number of medical school applications.
We'll soon no longer be able to avoid the reality of climate change, prompting more decisive action.
Work from home trends are likely to continue and, in many cases, become permanent.
That was either the longest or shortest year in history. Most people are happy to say goodbye to 2020, but what does 2021 hold in store? Given how woefully inaccurate we were rolling into 2020, let's not be too sure of ourselves. That said, a few predictions can't hurt. Let's see what we can create.
These five predictions offer big-picture views of potential societal shifts in America. There are many other trends to take note of: Is this the beginning of the end of the movie theater? Are travel subscriptions the future of tourism? Are millennials ready to step up and rule the world? Will antitrust suits finally put a dent in Big Tech? Will we finally have more women leaders in C-level positions? Given the horror of Christmas Day, is a third Wonder Woman really necessary?
Let's be honest: We don't know what's going to happen in January, much less the duration of 2021. We can consciously help shape the five trends below, however. Here's to a prosperous and progressive New Year.
A deeper appreciation for science
As we're well aware, the media focuses on the tragic and boisterous far too often, stories that consume the most oxygen and frighten us most. There's no indication that this will change; fear and uncertainty draw our attention, and attention is its own economy. Nowhere has this been more apparent than in coverage of the pandemic in America, which Brown University researchers showed to be far more pessimistic than in any other nation.
While anti-vaxxers tend to grab headlines and dominate social media, there are signs that Americans appreciate medicine and science more than ever. The "Fauci effect" has resulted in a record number of medical school applications being submitted this year. The intent to get a vaccine is also rising, up to 60 percent this month (one poll claims 73 percent)—nowhere near the 90 percent Dr. Fauci says might be needed to reach herd immunity, but still moving in the right direction.
While many Americans are rightly suspicious of pharmaceutical companies—the rollout of these vaccines require transparency and accountability, as evidenced by
problems with the Astra Zeneca trials
—the reason a vaccine was created in record time is due to good science. Consumers rarely complain when chip processors speed up their phones, which is how R&D is supposed to work. The same can be said for medicine: Researchers have more tools and knowledge at their disposal than ever. This is cause for cautious celebration, not fear-mongering.
A renewed focus on climate change
Speaking of sucking all the oxygen out of the room, the last four years have been dominated by Trump. Coverage of climate change has been cut. That must change. The pandemic is a wake-up call that we're not as in control of nature as we thought, with one-third of the global population predicted to become climate refugees by 2070.
Climate change continues to ravage the planet even as we pay less attention. We're not going to have that option much longer, especially as warming temperatures and biodiversity loss contribute to the proliferation of viruses.
Interestingly, the congressional spending bill (currently being held up) includes key provisions to help curb climate change, including funding for carbon capture storage and a drawdown on HFCs. Joe Biden has vowed to make climate change an immediate focus of his administration. He's staying true to his word by appointing key staff members to senior positions to address the environment on day one.
International businesses and governments are already addressing such issues: The first zero-carbon social housing project is underway in Italy while the Dutch government is replacing 10 percent of asphalt roads with green spaces (more is planned). Here in America, engineers are creating concrete variants out of bacteria in hopes of promoting more sustainable architecture. A marriage between public and private efforts is going to be needed.
Letting go of the unnecessary
As with climate change, consumer spending is down out of necessity more than desire. While online shopping is up since the pandemic began, overall average spending is down in food and beverages, digital entertainment, media and books, fashion, household products, and online education. The travel industry has been hit especially hard.
These trends have created even more outsized economic imbalances, with centibillionaires (people worth more than $100 billion)
adding trillions of dollars
to their already unimaginable wealth. For most, however, the pandemic has forced people to reconsider their spending habits by focusing only on the necessary. While the initial pain point of such an exercise is emotionally challenging, this is a net positive, especially given the fact that
man-made stuff now outweighs natural biomass
. Humans can't continue to produce so many goods without consequences; this spending slowdown is a wake-up call to that fact.
Photo: dottedyeti / Adobe Stock
Remote working is our new reality
The work-from-home (WFH) phenomenon has been expedited thanks to the pandemic. Now that half of the US labor force is accustomed to remote work, it's going to be difficult to convince many employees of an imminent return to the office.
WFH is not without its challenges. The social aspect of many workplaces is irreplaceable; Zoom just doesn't cut it. Social comforts aside, WFH is a positive trend in many aspects. Commercial real estate is taking a hit—well, some cities are merely seeing a shift, not an exodus—but benefits include no commute time (which has a positive impact on carbon emissions) and spending more time with your family.
Not every career will allow for WFH. Tech, finance, and media companies will allow continued WFH or at least flex time between home and office. Supply chain companies will have no such luck, at least not on the ground. For many businesses, it's up to C-level executives, with some believing that communing together in a shared space is essential for the health of the company and others happy to save on office costs. The future of remote work will be decided on a case-by-case basis, but one thing is certain: More companies will choose to try out this model.
Remembering that community matters
In the most fractured time in modern history, will Americans come together? While there's no clear answer, we can hope.
"Calling in" is one sign that we're progressing. Instead of the famous (some would say infamous) trend of calling people out, women like Smith college professor Loretta J Ross are helping create a call-in culture. Instead of alienating people, they're looking to empower them.
This follows up decades of business research by Hungarian-American psychologist Mihaly Csikszentmihalyi, who coined the terms "flow" and "flow states" in 1975. In his 2003 book, Good Business, he points out that managers are more successful in implementing better work habits when inspiring employees, not chastising them for flubbing a duty. Extrapolating from this research, we can apply such a mindset broadly. Shame certainly has a place in society, just not as dominant a one as we currently believe.
This is no easy task in an age governed by quick trigger fingers on social media. That said, perhaps necessity will once again inspire us; many people are tired and frustrated by the constant bickering and call-outs. A time when everyone is called in is unlikely given our tribal nature, but any uptick in attempts of creating genuine community is worthwhile.
--
Stay in touch with Derek on Twitter and Facebook. His new book is "Hero's Dose: The Case For Psychedelics in Ritual and Therapy."