As droughts threaten water supplies across the planet, some municipalities aim to utilize an untapped resource: sewage water.
Water recycling, or water reclamation, involves cleaning water with filters and chemicals to make it environmentally safe.
In Texas, El Paso's water utility is taking this a step further by building a closed-loop system that will directly convert sewage water into drinkable water.
Unsurprisingly, surveys show that most people don't like the idea of drinking recycled water, but public outreach programs seem able to change minds.
Of all the projects aiming to make the world more sustainable, none is less appealing than toilet to tap, a water recycling process where wastewater is converted into potable water.
But despite the gross-out factor, a handful of governments have already invested in the technology, including those in Singapore, South Africa, Belgium, California, and Texas. Soon, others may have few other options. El Paso is leading the way.
The case for drinking treated wastewater. (Yes, from the toilet.) | Just Might Work by Freethink www.youtube.com
Depletion of resources and climate change are threatening to dry up parts of the global water supply. By the late 21st century, the number of people impacted by extreme droughts is projected to double, a shortage that would not only affect the health of millions of people but also potentially create catastrophic socioeconomic problems and geopolitical conflicts.

The U.S. is already feeling the heat. In May, California declared a drought emergency in 39 counties. It wasn't really a shock to the state, which has endured severe droughts over the 20th century, including a historical five-year drought from 2012 to 2016. The U.S. Forest Service has warned that droughts like these could render half of the nation's freshwater basins unable to consistently meet monthly water demand by 2071.
The causes are twofold. One is a growing population that will demand more water. The other is that global warming is evaporating more water from soil, lakes, reservoirs, and rivers, while climate change alters patterns of precipitation and snowmelt, which feed the rivers and lakes from which we get much of our drinking water.
Facing a dry future, some municipalities have accepted the crappy-sounding reality: Converting sewage water into drinking water through water recycling may be the best way to prevent a crisis.
Water recycling
The average adult flushes about 320 pounds of poop down the toilet every year. Where does it all go?
When you flush your toilet, the water swirls through a U-shaped pipe, called a trap, that prevents sewage gases from entering your home. That toilet water — along with other wastewater from your sinks, washer, and shower — flows into a sewer line, which is connected to the buildings and homes in the immediate area. These sewer lines can be big. In New York City, for example, combined sewer lines can span more than 12 feet wide, enough space for a subway car.
These pipes carry wastewater to municipal water treatment plants for cleaning. In the U.S., the water treating process typically involves steps like:
Odor control: Chemicals help mute foul odors.
Screening: Wastewater is moved through screens to separate larger solids and trash.
Primary treatment: Water sits in large tanks, allowing solid material to settle at the surface. Material is scraped off and disposed of.
Aeration: Water is stirred to release gases, and air is pumped through the water to allow bacteria to act on organic matter, which helps it decay.
Remove sludge: Solid material settles to the bottom and is removed.
More filtration: Water is filtered through sand to reduce bacteria, odors, iron, and other solids.
"Digest" the solid material: Solid material is heated to break it down to nutrient-rich biosolids and methane gas.
Disinfection: Water is treated with chlorine to kill bacteria.
After wastewater is treated and deemed clean enough for the environment, it's used for crop irrigation, or it's discharged back into streams, rivers, and lakes. But some municipalities take water reclamation several steps further, purifying wastewater to the point where it's safe to drink.
Wastewater treatment facilitySongkhla Studio via Adobe Stock
Today, drinking water in places like Northern Virginia, Phoenix, and Southern California is, at least in part, reclaimed wastewater. But in some parts of the U.S., climate change poses such a severe threat to the water supply that more drastic measures are required.

A closed-loop water recycling system
El Paso, Texas, is an exceptionally dry city. Located in the Chihuahuan Desert where only nine inches of rain falls per year, it's drier than some parts of sub-Saharan Africa. The city has historically received half of its water supply from the Rio Grande, but the river has been steadily drying up, forcing officials to turn to other solutions, like building the nation's largest inland desalination plant and establishing incentives that encourage residents to use less water.
In recent years, El Paso has been working on what officials call the next logical step: Creating a closed-loop water recycling system that purifies wastewater and sends it right back into the drinking water supply.
El Paso and other U.S. cities already clean wastewater and pump it back into the aquifer, an underground layer of rock. But while this water reclamation process is environmentally safe, it can take years for the recycled water to make its way back into the drinking supply. A closed-loop system would speed things up.
The process will begin at El Paso's conventional water treatment facility, which cleans water according to long-established standards. But then the water will be piped nearby to the city's Advanced Water Purification Facility to undergo several additional cleaning steps:
Water is filtered through thin sheets of material that remove salts, viruses, and contaminants, in a process known as reverse osmosis.
Water is treated with hydrogen peroxide and UV light, both of which deactivate or destroy pathogens.
Finally, the water is passed through granular-activated carbon that's been superheated to help trap any remaining particles.
As El Paso's reclaimed water goes through these additional purification stages, technicians at El Paso Water will monitor the water in real-time to ensure it meets safety standards.
"The water we're going to produce out of the Advanced Water Purification plant is the safest water that could be produced through treatment processes these days," Gilbert Trejo, EPWater's chief technician officer, told Freethink.
Freethink recently visited El Paso Water to get an up-close look at what is set to be the first closed-loop water recycling system in a major U.S. city. (See video above.)
In addition to cleaner water, water recycling facilities like El Paso's would also be cheaper and more practical than solutions like desalination. After all, not every city lives close to the ocean, and even those that do have to pay to transport saltwater to the treatment plants. But practical benefits aside, toilet to tap is tough to sell to the public.
Clean but spiritually contaminated?
The prospect of drinking recycled water unsurprisingly elicits a disgust response in many people, some more so than others. A 2015 survey of more than 2,000 U.S. residents across the nation found that: "Approximately 13% of our adult American sample definitely refuses to try recycled water, while 49% are willing to try it, with 38% uncertain," the researchers wrote. "Both disgust and contamination sensitivity predict resistance to consumption of recycled water."
For a minority of people, it seems no amount of purification through technical means will render the water potable. That's because of "spiritual contagion," which the researchers said is "conceived of in terms of the entrance into the target of some spiritual essence which does not resemble standard physical entities. It does not respond to washing, boiling or filtering, but remains as a permanent essence."
But even though water reclamation is generally unpopular, and some people may always resist it, research suggests that people become more accepting of water recycling as they learn more about the process.
That's why El Paso has aimed to be transparent and proactive in explaining the process to residents through public outreach programs. In 2016, nearly 90 percent of El Pasoans supported the idea of producing more drinking water through the city's Advanced Water Purification Facility.
Trejo said it's about establishing trust with residents:
"I think it's very exciting for El Pasoans to know that what we're doing here in El Paso is going to change the water industry. The engineering community and the water community knows and understands that these treatment processes treat the water and produce a very high-quality water. It's a matter of which community is going to be the first one to have absolute trust in their water utility, and in the water, and that's what we're about to do here in El Paso.
There were at least four major climate catastrophes that reshaped global religion. It could be happening again.
Climate-related catastrophes have struck the world in several previous eras, such as gigantic volcanic eruptions.
From the 1300s to the 1800s, four major climate catastrophes reshaped global religion.
We must be wary that religion or ideology combined with external shocks like climate change can cause war or revolution.
We presently hear a great deal about global climate change and the disasters it threatens in the imminent future. Within a few decades, large sections of the human race, chiefly in nations of the global South, will regularly be suffering widespread hunger and acute water shortages, as dramatic environmental changes threaten the survival of state mechanisms in many nations. Together, these changes will drive mass migrations, and create refugee crises on a dreadful scale. So much is familiar enough. But with fair confidence, we can also predict that such changes are all but certain to have religious consequences, in terms of driving conflicts between faiths, and also by sparking new movements, and conceivably even whole new faiths.
How can anyone make such an assertion? Because in different ways, climate-related catastrophes have struck the world in several previous eras, whether because of gigantic volcanic eruptions or else sudden shifts in the intensity of the energy being released by the sun. In contrast to the climate change we are now living through, those past experiences were transient and temporary. But whatever the causes, such events have been deeply traumatic, and in every case, they have resulted in massive and wide-ranging religious transformations. How could they not?
It is difficult to imagine that catastrophic climatic changes might not inspire religious responses and even revolutions.
Time and again, climate convulsions have been understood in religious terms, through the language of apocalypse, millennium, and judgment. Often too, such eras have been marked by far-reaching changes in the nature of religion and spirituality. This does not mean that climatic conditions directly caused such outbreaks or currents; rather, they created an atmosphere in which those changes could manifest themselves, and in historical terms, this happened very suddenly. Depending on the circumstances, the response to climatic variations might include explosions in religious passion and commitment, the stirring of mystical and apocalyptic expectations, waves of religious scapegoating and persecution, or the spawning of new religious movements and revivals. In many cases, such responses have had lasting impacts to the point of fundamentally reshaping particular faith traditions.
From those eras have emerged passionate sects — some political and theocratic, some revivalist and enthusiastic, others millenarian and subversive. The movements and ideas emerging from such conditions might last for many decades and even become a familiar part of the religious landscape, although with their origins in particular moments of crisis, they often are increasingly consigned to remote memory. By stirring conflicts and provoking persecutions that defined themselves in religious terms, such eras have redrawn the world's religious maps and created the global concentrations of believers that we know today.
Four climatic catastrophes that transformed religion
Credit: OLIVER BUNIC via Getty Images
In my current book Climate, Catastrophe, and Faith, I particularly highlight four such transformational eras, which combined to create so many of the religious realities we know today. The first of these is the early fourteenth century, especially the years between 1310 and 1325, a time of abrupt global cooling that marked the onset of the Little Ice Age. Societies around the world suffered times of shocking paranoia and conspiracy-mongering. They responded with murderous persecutions of minorities and dissidents, leading to purges and expulsions on an appalling scale. Whole populations suffered bitter times of exile and diaspora, and those changes did much to create our familiar maps of the great faiths and their geographical concentrations. This was the time when large portions of the Jewish population were driven from Western Europe to the eastern fringes of the continent, where their descendants were concentrated until the last century. In the Middle East, meanwhile, Christians were reduced to the status of a despised minority.

About 1560, the Little Ice Age entered a new and brutally cold era, when social strains threatened the survival of social and political orders. The resulting unrest and disaffection took multiple forms, but it especially manifested in one notorious form of social paranoia: the witch-hunts, which reached their peak in Europe. At the same time, the 1560s witnessed a dramatic religious transformation within Christianity, affecting both its Catholic and Protestant dimensions. The fast-growing Calvinist movement represented a revolutionary current that threatened the near-overnight razing of ancient religious ways. On the other side, reformed and restructured Catholicism became equally hard-edged and confrontational — a comparable faith of crisis. The Christian world entered a new and much harsher period of polarization as revolutionary religious change detonated savage wars.
The third era stretches from 1675 through the end of the 17th century, which constituted one of the very coldest and most ruinous periods of the Little Ice Age, an era of lethal famines. Rebellions, revolutions, and civil wars proliferated, inciting larger struggles that led to the dramatic reduction of Islam as a force in Europe. Meanwhile, the cumulative crises generated savage persecution of religious minorities. But unlike the 14th century, Europeans now lived in a world of sea travel and far-flung colonial possessions, and persecuted populations amply exploited these opportunities to seek safe haven. Religious dissidents from Germany and the British Isles flocked to the new world, as a generation of climate refugees built new homes, especially in Pennsylvania. Settlements in foreign lands far from the motherland offered the prospect of new concepts of religious liberty, opening a dramatic new phase in attitudes to religious freedom and spiritual experimentation.

The fourth era of extraordinary Arctic cold struck the North Atlantic world between 1739 and 1742, and this created the desperate conditions that formed the backdrop of the revivals of the Great Awakening and the emergence of Anglo-American evangelicalism. And the story can be carried into the 19th century, when disasters like the Tambora volcanic eruption of 1815 sparked new apocalyptic expectations.
Climate + Religion = Revolution?
If the role of climate change on Christian history is obvious enough, the same factors likewise had their impact on important movements within other traditions, including Buddhism and Islam. Any historical account that ignores or underplays that climate dimension is lacking.
That history must come to mind when we contemplate the global climatic pressures that are predicted for the coming decades. Based on extensive past experience, we can imagine many ways in which the response to those circumstances might take religious forms. We could foresee the rise of new apocalyptic movements, as well as the spread of bitter religiously based animosity and conflict. When we look at contemporary developments in both Islam and Christianity, and at interfaith conflicts across Africa and Asia, it is difficult to imagine that catastrophic climatic changes might not inspire religious responses and even revolutions.
When we trace the historical impact of climate-related change in the religious realm, we see auguries of our likely futures.
Philip Jenkins was educated at Cambridge University and for many years taught at Penn State. He is presently Distinguished Professor of History at Baylor University, where his main appointment is in the Institute for Studies of Religion. His latest book, Climate, Catastrophe, and Faith: How Changes in Climate Drive Religious Upheaval, was just published by Oxford University Press.
Seawater is raising salt levels in coastal woodlands along the entire Atlantic Coastal Plain, from Maine to Florida.
Permanent flooding has become commonplace on this low-lying peninsula, nestled behind North Carolina's Outer Banks. The trees growing in the water are small and stunted. Many are dead.
Throughout coastal North Carolina, evidence of forest die-off is everywhere. Nearly every roadside ditch I pass while driving around the region is lined with dead or dying trees.
As an ecologist studying wetland response to sea level rise, I know this flooding is evidence that climate change is altering landscapes along the Atlantic coast. It's emblematic of environmental changes that also threaten wildlife, ecosystems, and local farms and forestry businesses.
Like all living organisms, trees die. But what is happening here is not normal. Large patches of trees are dying simultaneously, and saplings aren't growing to take their place. And it's not just a local issue: Seawater is raising salt levels in coastal woodlands along the entire Atlantic Coastal Plain, from Maine to Florida. Huge swaths of contiguous forest are dying. They're now known in the scientific community as "ghost forests."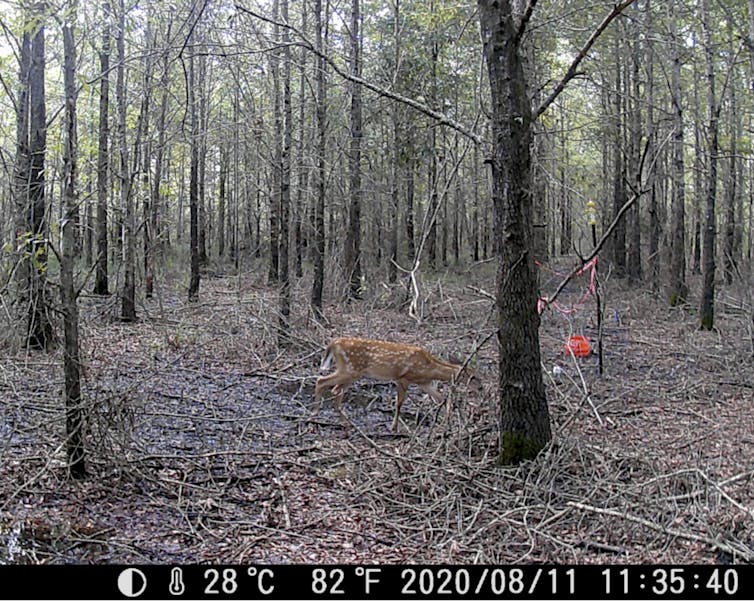 Deer photographed by a remote camera in a climate change-altered forest in North Carolina. Emily Ury, CC BY-ND
The insidious role of salt
Sea level rise driven by climate change is making wetlands wetter in many parts of the world. It's also making them saltier.
In 2016 I began working in a forested North Carolina wetland to study the effect of salt on its plants and soils. Every couple of months, I suit up in heavy rubber waders and a mesh shirt for protection from biting insects, and haul over 100 pounds of salt and other equipment out along the flooded trail to my research site. We are salting an area about the size of a tennis court, seeking to mimic the effects of sea level rise.
After two years of effort, the salt didn't seem to be affecting the plants or soil processes that we were monitoring. I realized that instead of waiting around for our experimental salt to slowly kill these trees, the question I needed to answer was how many trees had already died, and how much more wetland area was vulnerable. To find answers, I had to go to sites where the trees were already dead.
Rising seas are inundating North Carolina's coast, and saltwater is seeping into wetland soils. Salts move through groundwater during phases when freshwater is depleted, such as during droughts. Saltwater also moves through canals and ditches, penetrating inland with help from wind and high tides. Dead trees with pale trunks, devoid of leaves and limbs, are a telltale sign of high salt levels in the soil. A 2019 report called them "wooden tombstones."
As the trees die, more salt-tolerant shrubs and grasses move in to take their place. In a newly published study that I coauthored with Emily Bernhardt and Justin Wright at Duke University and Xi Yang at the University of Virginia, we show that in North Carolina this shift has been dramatic.
The state's coastal region has suffered a rapid and widespread loss of forest, with cascading impacts on wildlife, including the endangered red wolf and red-cockaded woodpecker. Wetland forests sequester and store large quantities of carbon, so forest die-offs also contribute to further climate change.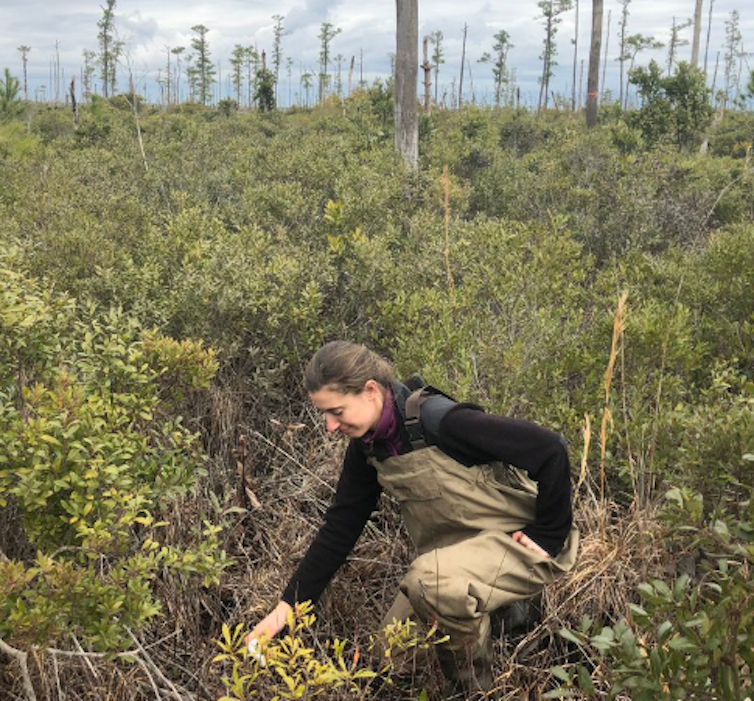 Researcher Emily Ury measuring soil salinity in a ghost forest. Emily Bernhardt, CC BY-ND
Assessing ghost forests from space
To understand where and how quickly these forests are changing, I needed a bird's-eye perspective. This perspective comes from satellites like NASA's Earth Observing System, which are important sources of scientific and environmental data.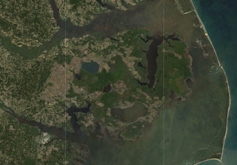 A 2016 Landsat8 image of the Albemarle Pamlico Peninsula in coastal North Carolina. USGS
Since 1972, Landsat satellites, jointly operated by NASA and the U.S. Geological Survey, have captured continuous images of Earth's land surface that reveal both natural and human-induced change. We used Landsat images to quantify changes in coastal vegetation since 1984 and referenced high-resolution Google Earth images to spot ghost forests. Computer analysis helped identify similar patches of dead trees across the entire landscape.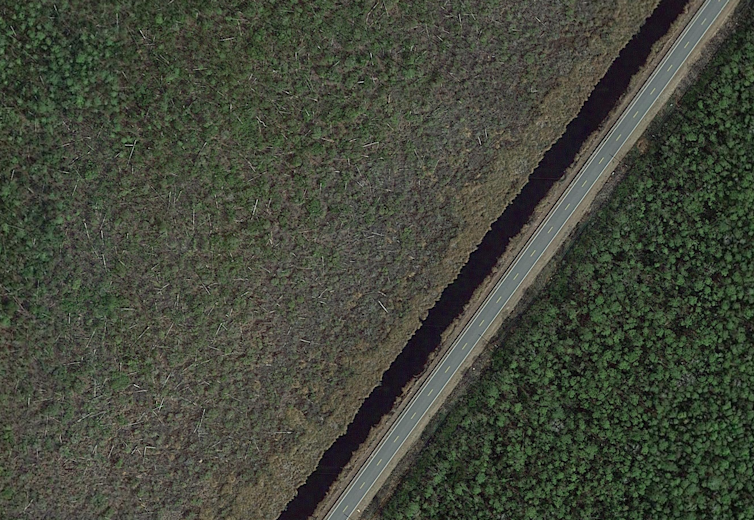 Google Earth image of a healthy forest on the right and a ghost forest with many dead trees on the left. Emily Ury
The results were shocking. We found that more than 10% of forested wetland within the Alligator River National Wildlife Refuge was lost over the past 35 years. This is federally protected land, with no other human activity that could be killing off the forest.
Rapid sea level rise seems to be outpacing the ability of these forests to adapt to wetter, saltier conditions. Extreme weather events, fueled by climate change, are causing further damage from heavy storms, more frequent hurricanes and drought.
We found that the largest annual loss of forest cover within our study area occurred in 2012, following a period of extreme drought, forest fires and storm surges from Hurricane Irene in August 2011. This triple whammy seemed to have been a tipping point that caused mass tree die-offs across the region.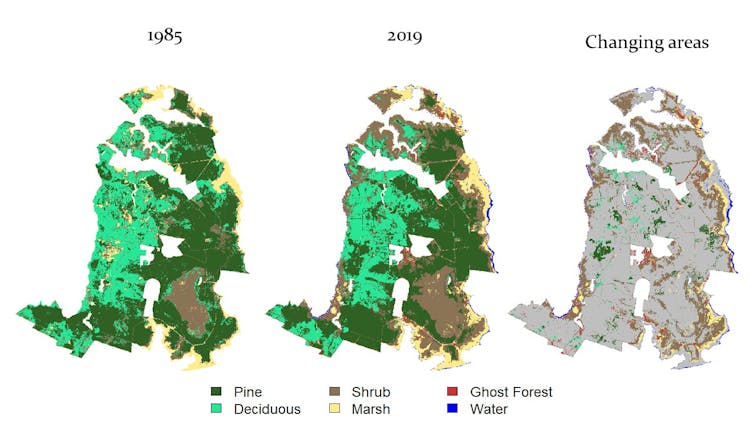 Habitat maps we created for the Alligator River National Wildlife Refuge showing the change over time and the prevalence of ghost forests. Ury et al, 2021., CC BY-ND
Should scientists fight the transition or assist it?
As global sea levels continue to rise, coastal woodlands from the Gulf of Mexico to the Chesapeake Bay and elsewhere around the world could also suffer major losses from saltwater intrusion. Many people in the conservation community are rethinking land management approaches and exploring more adaptive strategies, such as facilitating forests' inevitable transition into salt marshes or other coastal landscapes.
For example, in North Carolina the Nature Conservancy is carrying out some adaptive management approaches, such as creating "living shorelines" made from plants, sand and rock to provide natural buffering from storm surges.
A more radical approach would be to introduce marsh plants that are salt-tolerant in threatened zones. This strategy is controversial because it goes against the desire to try to preserve ecosystems exactly as they are.
But if forests are dying anyway, having a salt marsh is a far better outcome than allowing a wetland to be reduced to open water. While open water isn't inherently bad, it does not provide the many ecological benefits that a salt marsh affords. Proactive management may prolong the lifespan of coastal wetlands, enabling them to continue storing carbon, providing habitat, enhancing water quality and protecting productive farm and forest land in coastal regions.

Emily Ury, Ph.D. Candidate, Duke University
This article is republished from The Conversation under a Creative Commons license. Read the original article.
In paint form, the world's "whitest white" reflects so much light that surfaces become cooler than the surrounding air.
Scientists at Purdue University announce the whitest white ever developed. It will be available as paint and a nanofilm.
The new paint can actually cool surfaces on which it's applied, potentially reducing the need for climate-unfriendly air conditioners.
This is the second whitest white to come from these researchers, and they believe this is about as white as any material could ever be.
A few years ago, researchers announced the development of the blackest black ever, a place where colors go to die. It was called Vantablack®, and it was so absorptive of visible light that only the tiniest amount escaped its surface to reflect back to our eyes. (All of that light energy is dissipated into the surrounding substrate, so Vantablack doesn't become hot.)
In a new paper published in the journal ACS Applied Materials & Interfaces, scientists at Purdue University announced BaSO4 (barium sulfate), the whitest white ever. BaSO4 is practically impervious to the colors of the visible spectrum. Even better, while it's a very cool invention in the colloquial sense, it's also cool in the thermal sense.
The coolest white
The infrared image on the right shows how a square of the super-white paint and the board on which it's painted — shown in a normal image on the left — are cooler than the surrounding materials.Credit: Purdue University/Joseph Peoples
Most outside paints actually warm the surfaces to which they're applied. While there are already some reflective paints on the market, they only reflect 80 to 90 percent of sunlight, not enough for a cooling effect.
By contrast, BaSO4 results in 98.1 percent of sunlight bouncing off. According to senior investigator Xuilin Ruan, "If you were to use this paint to cover a roof area of about 1,000 square feet, we estimate that you could get a cooling power of 10 kilowatts. That's more powerful than the central air conditioners used by most houses."
Ruan and his colleagues tested BaSO4 using thermocouples, high-accuracy devices that measure voltage to determine temperature. They found that at night, BaSO4 surfaces are 19° F. cooler than surrounding air. Under strong sunlight the effect is not quite so extreme, but still dramatic: 8° of cooling.
The researchers even found the paint works in cold weather. Testing it on a 43° F. day, the surface on which BaSO4 was painted was a brisk 25° F. Their tests also indicate that BaSO4 is hardy enough for outdoor conditions.
How the new white was developed
Xuilin Ruan and a square of BaSO4Credit: Purdue University/Jared Pike
Research in the field of radiative paint for cooling goes back to the 1970s, though Ruan's team has been working toward BaSO4 for only six years. Along the way, they analyzed over 100 reflective materials, trying them out in about 50 experimental formulations.
Lead author, postdoc Xiangyu Li explains, "We looked at various commercial products, basically anything that's white. We found that using barium sulfate, you can theoretically make things really, really reflective, which means that they're really, really white."
The whitest white paint before — developed by the same team just last autumn — depended on calcium carbonate, a compound commonly found in seashells, rocks, and blackboard chalk.
The team crammed as many tiny BaSO4 particles into the paint as possible. Says Li: "Although a higher particle concentration is better for making something white, you can't increase the concentration too much. The higher the concentration, the easier it is for the paint to break or peel off."
Another factor that makes the team's BaSO4 formulation so reflective is that the researchers used barium sulfate particles of many different sizes. When it comes to reflecting light, size matters.
Co-author and PhD student Joseph Peoples said, "A high concentration of particles that are also different sizes gives the paint the broadest spectral scattering, which contributes to the highest reflectance."
The team's formulation method, they report, is compatible with commercial paint production.
Cool support for the planet
Purdue has applied for patents relating to BaSO4, though there are as yet no plans to make it commercially available.
However, the sooner they release it, the better. Air conditioning currently accounts for 12% of U.S. energy consumption. Also, many air conditioners use hydrofluorocarbons (HFCs). While HFCs constitute just a small percentage of greenhouse gases, they trap thousands of times the amount of heat as carbon dioxide.
Therefore, BaSO4 can play a role in combating global warming by reducing energy consumption and the emission of HFCs.
The uptick in Arctic lightning could cause more wildfires, potentially triggering a feedback loop that releases massive amounts of carbon into the atmosphere.
In recent years, researchers have recorded unusually high numbers of lightning strikes and wildfires in Arctic regions.
A new study explored how increased lightning could cause a "lightning-fire-vegetation feedback loop" that could accelerate permafrost loss.
To better monitor changing conditions in the Arctic, the researchers called for more high-quality lightning monitoring systems.
Lighting strikes in the Arctic may increase by approximately 100 percent by the end of the 21st century, according to a new study published in Nature Climate Change. If that happens, places like Alaska could suffer significantly higher rates of wildfires and permafrost loss, both of which could accelerate warming in the Arctic.
Some evidence suggests these changes are already underway. In 2015, Alaska suffered the second-most wildfires on record, burning more than 5.1 million acres across the state's northern region. Although it's difficult to measure, lightning likely started many of these fires.
Still, lightning is relatively rare in the Arctic. That's because lightning occurs when warm, moist air rises to meet cold air, which builds up electrical charge. When that charge exceeds a certain threshold, lightning strikes. Because places like Alaska have relatively cold, dry air, thunderstorms only form occasionally.
But climate change may be changing that. In 2019, the National Weather Service's office in Fairbanks, Alaska, reported an unusually high number of lightning strikes within 300 miles of the North Pole. The uptick in lighting may be no surprise, considering the Arctic is warming by more than twice the global average.
In the recent study, researchers used satellite observations and climate data to explore how increasingly frequent lightning could transform the Arctic through changes like increased wildfires and permafrost loss.
"We projected how lightning in high-latitude boreal forests and Arctic tundra regions will change across North America and Eurasia," Yang Chen, study author and research scientist in the UCI Department of Earth System Science, said in a press release. "The size of the lightning response surprised us because expected changes at mid-latitudes are much smaller."
What's especially concerning about the uptick in Arctic lightning is that it could start a "lightning-fire-vegetation feedback loop."
The researchers explained how more lightning could cause more wildfires, which would burn away many of the shrubs, mosses, and other low-lying plants covering the Arctic terrain. Without those plants covering the ground, soil temperatures would rise, making it easier for deciduous trees to grow.
That might sound like a good thing. But expanding forests could also cause regional temperatures to rise because they would absorb more sunlight than the reflective, snow-covered Arctic terrain currently does. What's more, wildfires would melt Arctic permafrost, which stores massive amounts of organic carbon.
The end result of the lightning-fire-vegetation feedback loop would be the release of carbon into the atmosphere.
Forest-fire helicopters in actionCredit: Karsten via Adobe Stock
Still, the variability in climate modeling and lightning monitoring makes it difficult to predict future changes with a high degree of accuracy.

"This phenomenon is very sporadic, and it's very difficult to measure accurately over long time periods," James T. Randerson, study co-author and professor in the Department of Earth System Science at the University of California, Irvine, said in the press release. "It's so rare to have lightning above the Arctic Circle."
The researchers concluded the study by calling for more high-quality lightning monitoring systems, based on the ground and in space.
"Given the large amount of permafrost soil carbon stored in northern ecosystems, this analysis highlights the importance of improving lightning monitoring in the Arctic and the need to develop better models of lightning, fire dynamics, and feedback with vegetation and soils," they wrote.