The Vertebrate Genomes Project may spell good news for the kakapo and the vaquita.
The flightless kakapo of New Zealand is in trouble.
The world's heaviest parrot—representing one of the most ancestral branches of the parrot family tree—is nearly extinct, with barely 200 adults plodding the underbrush of four small islands. Whether the last of the kakapos have the genetic resilience to survive has long been unknown, and a question that only high-quality genomic analysis could answer.
But a high-quality genome assembly does not exist for the kakapo—nor for most of the 70,000 vertebrate species alive today. As a result, questions abound about how best to prevent the extinction of species like flightless kakapos and adorable vaquita dolphins.
Answers may come from the Vertebrate Genomes Project, which aims to generate high-quality reference genomes for every extant vertebrate species. In a flagship study in the journal Nature, the team presents methods and principles for sequencing and assembling high-quality reference genomes.
The team has applied this approach and principles to produce 16 high-quality reference genomes, one of which was the endangered kakapo, to help reveal if it is hardy enough to rebuild its population. The researchers found that extremely small populations of the endangered kakapo and vaquita have been able to survive their low numbers in the past since the last ice age over 10,000 years ago, by purging deleterious mutations that cause disease from inbreeding.
As long as humans do not kill off more of the last remaining animals, findings from the high-quality reference genomes give hope that these species could survive even with less than 100 individuals each.
"We call it the 'kitchen sink approach'—combining tools from several biotech companies to make this one high-quality genome assembly pipeline," says Rockefeller University's Erich D. Jarvis, chair of the Vertebrate Genomes Project. "Endangered species were the first to benefit from the new technology because, even though conservation is not my area of research, I felt it was a moral duty."
Genomes full of errors
High-quality reference genomes only exist for the celebrities of laboratory science—mice, fruit flies, zebrafish, and, of course, humans. For less popular species, there is often no reference genome or, perhaps worse, messy genomes stitched together from sequences obtained via quick and dirty methods. Compared to the new VGP genomes, up to 60% of the genes in such genomes have missing sequences, are entirely missing, or incorrectly assembled, the researchers found. It can take years to untangle the thousands of assembly errors per species.
Many false gene duplications were found, most caused by algorithms that do not properly separate out maternal and paternal chromosome sequences and instead interpret them as two separate sister genes. "We have thousands of genes in the literature that are false duplications. The genes are not actually there!" Jarvis says. "It is unconscionable to be working with some of these genomes."
The Vertebrate Genomes Project arose from the frustrations of hundreds of scientists working in its parent organization, the Genome 10K consortium, whose mission was to generate genome assemblies of 10,000 vertebrate species. The initial genome assemblies that the G10K and other groups generated were based on short 35 to 200 base pair reads, but these assemblies were highly incomplete. The VGP goal is to build a library of error-free reference genomes for all vertebrate species, which researchers and conservationists will be able to use readily, without dedicating months or years to fixing individual genes.
"We said, let's do some hard work on the front end, so that we can get high quality data on the back end," Jarvis says.
Vertebrate Genomes Project rollout
Many companies approached the Vertebrate Genomes Project, promising a single sequencing technology that would solve every problem with messy reference genomes. The Vertebrate Genomes Project assembly team tested each method on a single hummingbird, chosen both for its relatively small genome and because of Jarvis's research interests in vocal learning among bird species ("two birds with one stone," he quips). But every technology fell short. "None had all of the necessary components to make a high-quality assembly," Jarvis says. "So we combined many tools into one pipeline."
Their approach works. Organizations including the Earth Biogenome Project, the Darwin Tree of Life Project, and the New Zealand Genome Sequencing Project are already using the most advance version of the novel pipeline. Reference genomes that once took years to generate are now rolling out in weeks and months—all without the false duplications and other errors endemic to previous assemblies.
Scientists are already using the new data to study genes that render bats immune to COVID-19, and question long-standing conventions in basic science, such as whether there are meaningful differences among oxytocin and its receptors found in humans, birds, reptiles, and fish.
All told, 20 studies and 25 high-quality vertebrate genomes accompany the rollout of the novel pipeline. "The first high-quality genomes that we sequenced taught us so much about the technology and the biology that we decided to publish in these initial papers," Jarvis says. But plenty of work still lies ahead. "The next step is to sequence all 1,000 vertebrate genera, and then all 10,000 vertebrate families, and eventually every single vertebrate species."
Source: Rockefeller University
Original Study DOI: 10.1038/s41586-021-03451-0
Reprinted with permission of Futurity. Read the original article.
Seawater is raising salt levels in coastal woodlands along the entire Atlantic Coastal Plain, from Maine to Florida.
Permanent flooding has become commonplace on this low-lying peninsula, nestled behind North Carolina's Outer Banks. The trees growing in the water are small and stunted. Many are dead.
Throughout coastal North Carolina, evidence of forest die-off is everywhere. Nearly every roadside ditch I pass while driving around the region is lined with dead or dying trees.
As an ecologist studying wetland response to sea level rise, I know this flooding is evidence that climate change is altering landscapes along the Atlantic coast. It's emblematic of environmental changes that also threaten wildlife, ecosystems, and local farms and forestry businesses.
Like all living organisms, trees die. But what is happening here is not normal. Large patches of trees are dying simultaneously, and saplings aren't growing to take their place. And it's not just a local issue: Seawater is raising salt levels in coastal woodlands along the entire Atlantic Coastal Plain, from Maine to Florida. Huge swaths of contiguous forest are dying. They're now known in the scientific community as "ghost forests."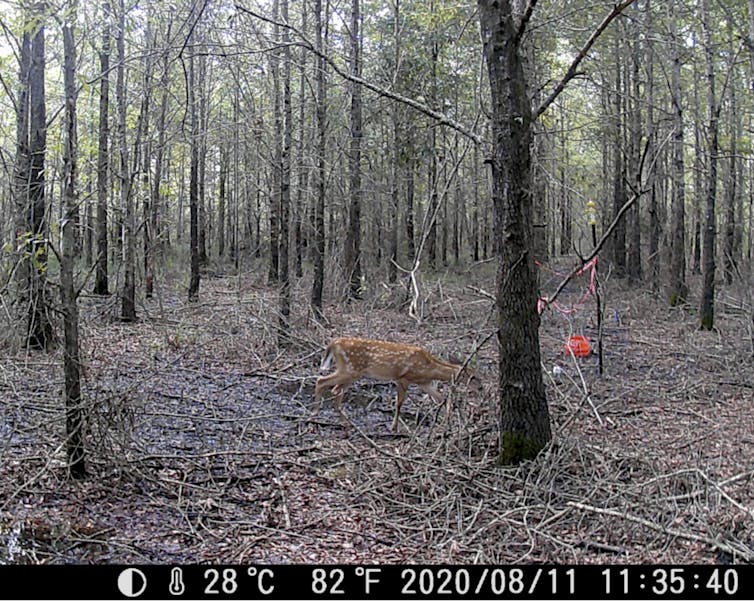 Deer photographed by a remote camera in a climate change-altered forest in North Carolina. Emily Ury, CC BY-ND
The insidious role of salt
Sea level rise driven by climate change is making wetlands wetter in many parts of the world. It's also making them saltier.
In 2016 I began working in a forested North Carolina wetland to study the effect of salt on its plants and soils. Every couple of months, I suit up in heavy rubber waders and a mesh shirt for protection from biting insects, and haul over 100 pounds of salt and other equipment out along the flooded trail to my research site. We are salting an area about the size of a tennis court, seeking to mimic the effects of sea level rise.
After two years of effort, the salt didn't seem to be affecting the plants or soil processes that we were monitoring. I realized that instead of waiting around for our experimental salt to slowly kill these trees, the question I needed to answer was how many trees had already died, and how much more wetland area was vulnerable. To find answers, I had to go to sites where the trees were already dead.
Rising seas are inundating North Carolina's coast, and saltwater is seeping into wetland soils. Salts move through groundwater during phases when freshwater is depleted, such as during droughts. Saltwater also moves through canals and ditches, penetrating inland with help from wind and high tides. Dead trees with pale trunks, devoid of leaves and limbs, are a telltale sign of high salt levels in the soil. A 2019 report called them "wooden tombstones."
As the trees die, more salt-tolerant shrubs and grasses move in to take their place. In a newly published study that I coauthored with Emily Bernhardt and Justin Wright at Duke University and Xi Yang at the University of Virginia, we show that in North Carolina this shift has been dramatic.
The state's coastal region has suffered a rapid and widespread loss of forest, with cascading impacts on wildlife, including the endangered red wolf and red-cockaded woodpecker. Wetland forests sequester and store large quantities of carbon, so forest die-offs also contribute to further climate change.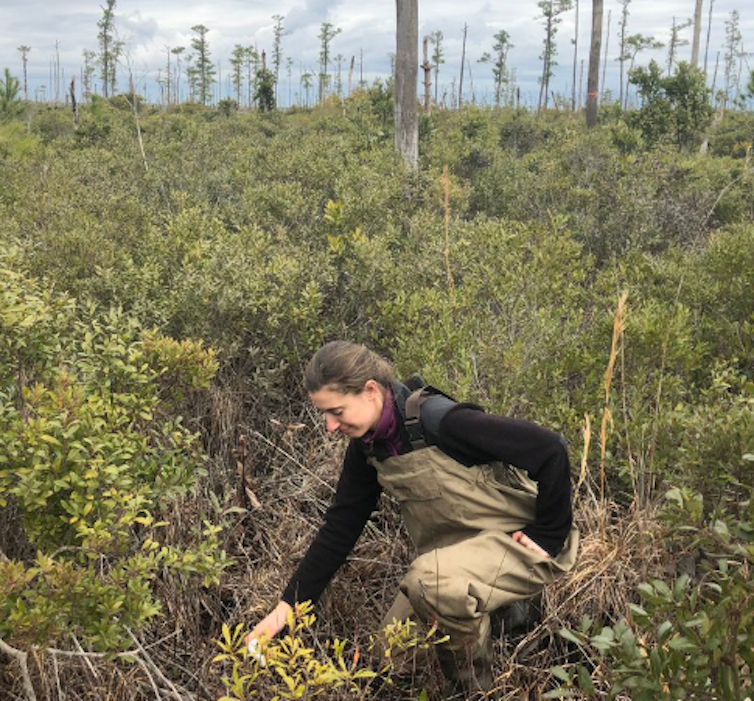 Researcher Emily Ury measuring soil salinity in a ghost forest. Emily Bernhardt, CC BY-ND
Assessing ghost forests from space
To understand where and how quickly these forests are changing, I needed a bird's-eye perspective. This perspective comes from satellites like NASA's Earth Observing System, which are important sources of scientific and environmental data.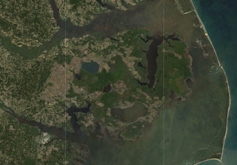 A 2016 Landsat8 image of the Albemarle Pamlico Peninsula in coastal North Carolina. USGS
Since 1972, Landsat satellites, jointly operated by NASA and the U.S. Geological Survey, have captured continuous images of Earth's land surface that reveal both natural and human-induced change. We used Landsat images to quantify changes in coastal vegetation since 1984 and referenced high-resolution Google Earth images to spot ghost forests. Computer analysis helped identify similar patches of dead trees across the entire landscape.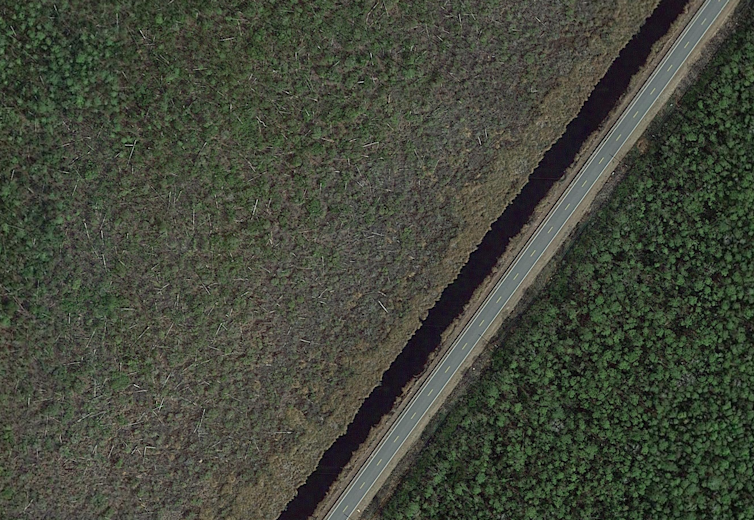 Google Earth image of a healthy forest on the right and a ghost forest with many dead trees on the left. Emily Ury
The results were shocking. We found that more than 10% of forested wetland within the Alligator River National Wildlife Refuge was lost over the past 35 years. This is federally protected land, with no other human activity that could be killing off the forest.
Rapid sea level rise seems to be outpacing the ability of these forests to adapt to wetter, saltier conditions. Extreme weather events, fueled by climate change, are causing further damage from heavy storms, more frequent hurricanes and drought.
We found that the largest annual loss of forest cover within our study area occurred in 2012, following a period of extreme drought, forest fires and storm surges from Hurricane Irene in August 2011. This triple whammy seemed to have been a tipping point that caused mass tree die-offs across the region.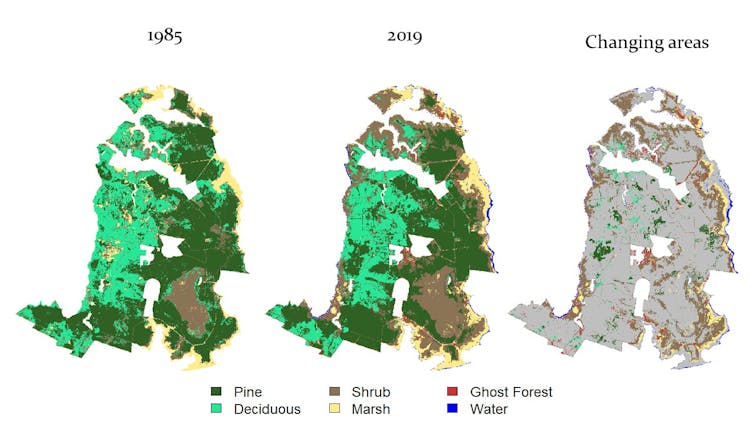 Habitat maps we created for the Alligator River National Wildlife Refuge showing the change over time and the prevalence of ghost forests. Ury et al, 2021., CC BY-ND
Should scientists fight the transition or assist it?
As global sea levels continue to rise, coastal woodlands from the Gulf of Mexico to the Chesapeake Bay and elsewhere around the world could also suffer major losses from saltwater intrusion. Many people in the conservation community are rethinking land management approaches and exploring more adaptive strategies, such as facilitating forests' inevitable transition into salt marshes or other coastal landscapes.
For example, in North Carolina the Nature Conservancy is carrying out some adaptive management approaches, such as creating "living shorelines" made from plants, sand and rock to provide natural buffering from storm surges.
A more radical approach would be to introduce marsh plants that are salt-tolerant in threatened zones. This strategy is controversial because it goes against the desire to try to preserve ecosystems exactly as they are.
But if forests are dying anyway, having a salt marsh is a far better outcome than allowing a wetland to be reduced to open water. While open water isn't inherently bad, it does not provide the many ecological benefits that a salt marsh affords. Proactive management may prolong the lifespan of coastal wetlands, enabling them to continue storing carbon, providing habitat, enhancing water quality and protecting productive farm and forest land in coastal regions.

Emily Ury, Ph.D. Candidate, Duke University
This article is republished from The Conversation under a Creative Commons license. Read the original article.
Roughly the size of a thumbnail, this newly discovered toadlet has some anatomical surprises.
A new species of "pumpkin toadlet" is discovered skittering along the forest floor in Brazil.
It's highly poisonous and brightly colored, and some if its bones glow under UV light.
An analysis of the toadlets' chirp song helped scientists establish that it's something new.
It's tiny, just a little bigger than a thumbnail. It's partially fluorescent. It's orange. And it's very poisonous.
Led by herpetologist Ivan Nunes, scientists have reported in the journal PLOS ONE the discovery of a new "pumpkin toadlet" species of the genus Brachycephalus. Found in the Mantiqueira mountain range along Brazil's Atlantic coast, it joins 35 other Brachycephalus species. The newcomer's official name is Brachycephalus rotenbergae, named after Brazilian conservationist Elise Laura K. Rotenberg.
Distinguishing one Brachycephalus species from another isn't straightforward, as there's no telltale identifying mark. Instead, a more holistic profile has to be developed to tell one species from another.
In this case, scientists considered the toad's genes, natural history, gross anatomy (including its skeletal structure), and even its songs. Brachycephalus toadlets emit what's considered an "advertisement call" — as in "Hey, I'm here!" — consisting of long sequences of chirps.
A find on the forest floor
The toadlet was studied on the forest floor in two areas.Credit: Nunes, et al. / PLOS ONE
Between October 2017 and September 2019, 76 field surveys were conducted in Brazil's Atlantic forests as researchers studied B. rotenbergae, whose turf is the forest floor in the São Francisco Xavier Government Protected Area. Among the new species' distinguishing features are a rounded snout and dark spots on its head. Additionally, it's a bit smaller than its similar-looking cousin B. ephippium, and its chirps are not quite like those of any other Brazilian pumpkin toadlet.

Glow-in-the-dark bones
Some of the toadlets' bones glow under UV lightCredit: Nunes, et al. / PLOS ONE
When B. rotenbergae is exposed to UV light, some of the bones just underneath their skin emit a green glow. "There's an idea," Nunes tells Smithsonian Magazine, "that fluorescence acts as signals for potential mates, to signal to rival males or some other biological role."

As for the brilliant orange color, it may be one of nature's warnings, a "don't eat me" signal of extreme toxicity. Indeed, other Brachycephalus toadlets have tetrodoxins in their skin, and the researchers suspect this toadlet does, too. (Pufferfish and blue-ringed octopi also carry tetrodoxins.) Ingestion of these neurotoxins can cause a number of progressively nasty things, from a pins-and-needles sensation to convulsions, heart attacks, and even death.
Currently, there is neither an indication that the species is endangered, nor is it especially rare. The only concern the researchers have for the species' survival is the growing population of wild boars in the area. The boars are tearing up the habitat of B. rotenbergae, rooting around for tasty seeds, nuts, acorns, and roots.
However, accidentally gobbling up a toadlet probably would be bad news for the boar.
The organisms were anchored to a boulder 900 meters beneath the ice, living a cold, dark existence miles away from the open ocean.
Credit: Huw Griffiths/British Antarctic Survey
A new study details the discovery of sessile organisms living under the Antarctic's Filchner-Ronne Ice Shelf.
In recent years, scientists have discovered more creatures living in environments once thought inhospitable to life.
It's currently unknown how these new organisms find food in such an environment, nor how plentiful they are beneath the continent's ice-blanketed coastlines.
Life finds a way. That way may be uncomfortable, brimming with struggle, and demand an unsightly appendage or two, but as Jeff Goldblum reminds us, "Life will not be contained, life breaks free, it expands to new territories, and it crashes through barriers painfully, maybe even dangerously, but, uh, there it is."
To crash through those barriers, however, creatures must find the requirements for life waiting on the other side: namely, liquid water, a source of energy, and biogenic elements such as carbon and nitrogen. While terrestrial life has found some environments too hostile to call home, it's also evolved mind-boggling adaptations that allow it to access those three essentials in some bizarre places.
For example, the denizens of hydrothermal vents—such as the yeti crabs, scaly-foot gastropods, and Pompeii worms—dwell too deep in the ocean for sunlight to reach. Because their food chains can't rely on photosynthesis, they're supported by microbes that utilize a process called chemosynthesis, which converts chemicals from the vents into sugars and, in turn, useable energy.
Similarly, the Atacama Desert is a place so dry and barren that scientists compared it to the rusty dunes of Mars. Yet, even here, life has found a way in the form of microbes who wait patiently for those fleeting spits of rainfall to replicate.
And a new study, published in Frontiers in Marine Science, has proven Goldblum correct, uh, yes, once again. The study details the discovery of unusual creatures in one of the most unsympathetic environments on Earth's most inhospitable continent.
A cold dark place to call home
The Antarctic sessile creatures photographed on their home boulder.
Credit: Frontiers in Marine Science
Researchers made the discovery while drilling boreholes on the Filchner-Ronne Ice Shelf. Antarctica's ice shelves are giant, permanent floating ice sheets connected to the continent's coastlines, with the Filchner-Ronne shelf being one of the largest. Using a hot-water drill system, they bore through roughly 900 meters of the ice looking for sediment samples. Instead, they discovered a boulder. Two hundred sixty kilometers away from the ice front, the rock was nestled in a world of complete darkness at -2.2°C. And on it, they found sessile organisms.
"This discovery is one of those fortunate accidents that pushes ideas in a different direction and shows us that Antarctic marine life is incredibly special and amazingly adapted to a frozen world," Dr Huw Griffiths, the study's lead author and a biogeographer of the British Antarctic Survey, said in a press release.
Sessile creatures are defined by their inability to move freely. They live their lives anchored to a substrate—in this case, the aforementioned boulder. Common sessile animals found in coastal tide pools include mussels, barnacles, and sea anemones, yet none of these were present beneath the Antarctic shelf. Instead, the researchers discovered a stalked sponge, roughly a dozen non-stalked sponges, and 22 unidentifiable stalked organisms.
Previous boreholes had revealed creatures living in these murky waters, but they had always been free-moving predators and scavengers such as jellyfish and krill. It's not too surprising to find such animals under the ice shelves as their mobility allows them to seek out food that may drift beneath.
But sessile organisms depend on their food to be delivered to them. That's why they are so bountiful in tide pools; tides and currents are the DoorDash of the ocean world. It's also why the researchers found the sponge's Antarctic lodgings so astounding. Because they live 1,500 kilometers upstream from the nearest source of photosynthesis, it's unknown how a food supply reaches these sponges or whether they generate nutrients from some other means, such as glacial melt or carnivorous noshing.
"Our discovery raises so many more questions than it answers, such as how did they get there? What are they eating? How long have they been there? How common are these boulders covered in life? Are these the same species as we see outside the ice shelf or are they new species? And what would happen to these communities if the ice shelf collapsed?" Griffiths added.
To answer those questions, researchers will need to revisit the sponges to collect samples and study them in more depth. We'll also need to explore further the vast reaches of the Antarctic continental shelf. According to the release, counting the previous boreholes, scientists have only studied an area roughly the size of a tennis court to date.
Life will not be contained
As science discovers life in more and more unusual places, it's also considering more and more that life has not been contained to our pale blue dot. For example, the recent discovery of microbial life in the Atacama Desert has reignited hope that evidence of past life will be found on Mars. NASA's Perseverance Rover recently land on Mars to begin analyzing soil samples from the Jezero Crater to test that hypothesis.
Looking to the future, NASA's Dragonfly rotorcraft aims to explore the Saturn moon of Titan. The icy moon has a makeup similar to early Earth's, so the vehicle will study the moon's atmosphere and surface for signs of chemical evidence for life. And the ice-covered surface of Europa could hold twice as much water as Earth and a bevy of hydrothermal activity that could harbor life within our solar system.
Here life is, uh, and there it may be.
The island rule hypothesizes that species shrink or supersize to fill insular niches not available to them on the mainland.
Credit: Frank Glaw
Brookesia nana, the nano-chameleon, may be the smallest vertebrate ever discovered.
The "island rule" states that when new species migrate to islands, they may shrink or grow as they evolve to fill new ecological niches.
It remains unclear whether the island rule can explain the nano-chameleon or nature's other extreme miniaturizations.
The newly discovered nano-chameleon (Brookesia nana) is the latest contender for the title of the world's smallest reptile and amniote vertebrate. Found in a mountainous region in northern Madagascar, the males of this diminutive species sport a body size of 13.5 mm, meaning one could comfortably stand on the end of your finger.
Its wee challenger is the Jaragua dwarf gecko (Sphaerodactylus ariasae). These pocket-change-sized geckos—the genus is often pictured snogging the minted portraits of past presidents—come in at 16 mm from nose to tail. They were discovered in 2001 on Isla Beata, a small, forested Caribbean island just south of the Dominican Republic.
The title of the world's smallest, however, is difficult to award thanks to sexual size dimorphism. As Dr. Mark Scherz, herpetologist and evolutionary biologist, pointed out on his blog, nano-chameleon females are significantly larger than their male counterparts or Jaragua dwarf gecko females. "As a result, whether or not the new species is considered the smallest amniote in the world depends on whether we define that based on the male or female body size, or the midpoint of the two. It turns out this is quite a common problem in other species with size dimorphism as well, such as frogs," Scherz writes.
Beyond their shrimpy stature, these and other miniaturized species have another thing in common: They live on islands. That fact may explain why evolution has pushed them to shrink in a world full of giant competition.
Bigger isn't always better
The New Zealand little spotted kiwi evolved to be small to fill an ecological niche. Before the arrival of humans, its island ecosystem contained no land mammals to prey on these flightless birds.
Credit: Wikimedia Commons
Because of their geographic isolation, islands can have powerful effects on the evolution of their residential species. The massive Komodo dragon prowls its namesake island. The Barbados threadsnake is thin enough to slither through a straw. And the fossil record recounts a history of unusually sized and bedecked creatures who established homes far from the mainland, such as the Hoplitomeryx of the Mikrotia fauna.
One hypothesis for evolution's insular experimentation is "the island rule." The rule states that after establishing themselves on an island, smaller species will tend to evolve into oversized versions of their mainland ancestors. Meanwhile, larger species will tend to evolve into smaller variations. These processes are known as insular gigantism and insular dwarfism, respectively. They do this to fill the ecological niches available to them, which often differ from those they filled on the mainland.
The rule was first formulated by evolutionary biologist Leigh Van Valen and based on a 1964 study by mammologist J. Bristol Foster—which is why it is also known as Foster's rule. Since then, many observational studies have corroborated the island rule, and there is even evidence to suggest that new species introduced to islands will, for a time, evolve more rapidly to fill available niches.
A flock of migrant birds, for example, may find an island's lack of mammalian and reptilian predators opens the ground-living niche once forbidden to them. Such birds would then be free to grow larger, forage below the canopies, and lose the ability of flight.
This appears to be the origin story for New Zealand's flightless birds including the giant moa, which, at six-feet tall, is the tallest bird on record. This megafauna enjoyed all the benefits of being large and in charge: fewer predators, wider ranges, access to more and varied foods, and the ability to better survive trying times. The species enjoyed island life until roughly 600 years ago, when humans arrived on the scene and hunted them to extinction.
Conversely, large species may find island living restrictive as there's less room or food when compared to their mainland nurseries. Because of this, evolution may select for smaller body sizes as such bodies require less energy, and therefore fewer resources, to survive and reproduce.
This is the theory behind the miniaturization of the Channel Islands pygmy mammoths. As the story goes, in the search for food, a herd of Columbian mammoths embarked on a journey to the super island Santaroasae. Over time, the island was cut off from the mainland. Food became scarce, and smaller mammoths had an easier time surviving and reproducing, thus passing on their Shrinky-Dink genes. Thanks to a lack of oversized predators, such evolution proved fruitful, and in less than 20,000 years, the giant Columbian mammoths evolved into a new species—the (relatively) pint-sized, 6.5-foot-tall pygmy mammoths.
To be clear, the island rule doesn't state that any species that washes ashore must go either Lilliputian or Brobdingnag. It only states that if an ecological niche becomes available and improves survival and reproductive success, then such a change is likely.
Thanks to that island living?
Such constrained growth may be the cause of the Jaragua dwarf gecko's bantam evolution. The gecko eats tiny insects and may be filling a niche that's unavailable on the North American continent with its many, many insectivores. In fact, the island rule may explain why islands are so rich with endemic species—particularly the Caribbean, which is considered a biodiversity hotspot.
Of course, scientific rules are only provisional, and scientists are prepared to revise or completely disregard a hypothesis should new evidence appear. In a field as new as biogeography, the question of whether the island rule is truly a "rule" remains an open and hotly debated question.
One systematic review found empirical support for the island rule to be low, while another analysis argued the rule is simply a recognition of "a few clade-specific patterns." The latter's authors conclude that "[i]nstead of a rule, size evolution on islands is likely to be governed by the biotic and abiotic characteristics of different islands, the biology of the species in question and contingency."
That brings us back to the newly discovered nano-chameleon. While it seems to follow the island rule—Madagascar being an island known for its rich biodiversity—there is a wrinkle. The species' closest relative lives right next door. Brookesia karchei is near twice the size of the nano-chameleon but ranges in the same mountains on mainland Madagascar.
If the nano-chameleon evolved to fill an ecological niche, why didn't those same environmental pressures miniaturize the karchei chameleon? If not the island rule, what did lead to the nano-chameleon's smaller size? As is often the case in science, further evidence may one day answer these questions.