This spring, a U.S. and Chinese team announced that it had successfully grown, for the first time, embryos that included both human and monkey cells.
Getty Images
In Aldous Huxley's 1932 novel "
Brave New World
," people aren't born from a mother's womb. Instead, embryos are grown in artificial wombs until they are brought into the world, a process called ectogenesis.
In the novel, technicians in charge of the hatcheries manipulate the nutrients they give the fetuses to make the newborns fit the desires of society. Two recent scientific developments suggest that Huxley's imagined world of functionally manufactured people is no longer far-fetched.
On March 17, 2021, an Israeli team announced that it had grown mouse embryos for 11 days – about half of the gestation period – in artificial wombs that were essentially bottles. Until this experiment, no one had grown a mammal embryo outside a womb this far into pregnancy. Then, on April 15, 2021, a U.S. and Chinese team announced that it had successfully grown, for the first time, embryos that included both human and monkey cells in plates to a stage where organs began to form.
As both a philosopher and a biologist I cannot help but ask how far researchers should take this work. While creating chimeras – the name for creatures that are a mix of organisms – might seem like the more ethically fraught of these two advances, ethicists think the medical benefits far outweigh the ethical risks. However, ectogenesis could have far-reaching impacts on individuals and society, and the prospect of babies grown in a lab has not been put under nearly the same scrutiny as chimeras.
Mouse embryos were grown in an artificial womb for 11 days, and organs had begun to develop.
Growing in an artificial womb
When in vitro fertilization first emerged in the late 1970s, the press called IVF embryos "test-tube babies," though they are nothing of the sort. These embryos are implanted into the uterus within a day or two after doctors fertilize an egg in a petri dish.
Before the Israeli experiment, researchers had not been able to grow mouse embryos outside the womb for more than four days – providing the embryos with enough oxygen had been too hard. The team spent seven years creating a system of slowly spinning glass bottles and controlled atmospheric pressure that simulates the placenta and provides oxygen.
This development is a major step toward ectogenesis, and scientists expect that it will be possible to extend mouse development further, possibly to full term outside the womb. This will likely require new techniques, but at this point it is a problem of scale – being able to accommodate a larger fetus. This appears to be a simpler challenge to overcome than figuring out something totally new like supporting organ formation.
The Israeli team plans to deploy its techniques on human embryos. Since mice and humans have similar developmental processes, it is likely that the team will succeed in growing human embryos in artificial wombs.
To do so, though, members of the team need permission from their ethics board.
CRISPR – a technology that can cut and paste genes – already allows scientists to manipulate an embryo's genes after fertilization. Once fetuses can be grown outside the womb, as in Huxley's world, researchers will also be able to modify their growing environments to further influence what physical and behavioral qualities these parentless babies exhibit. Science still has a way to go before fetus development and births outside of a uterus become a reality, but researchers are getting closer. The question now is how far humanity should go down this path.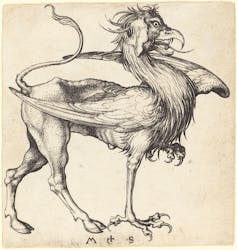 Chimeras evoke images of mythological creatures of multiple species – like this 15th-century drawing of a griffin – but the medical reality is much more sober. (Martin Schongauer/WikimediaCommons)
Human-monkey hybrids
Human–monkey hybrids might seem to be a much scarier prospect than babies born from artificial wombs. But in fact, the recent research is more a step toward an important medical development than an ethical minefield.
If scientists can grow human cells in monkeys or other animals, it should be possible to grow human organs too. This would solve the problem of organ shortages around the world for people needing transplants.
But keeping human cells alive in the embryos of other animals for any length of time has proved to be extremely difficult. In the human-monkey chimera experiment, a team of researchers implanted 25 human stem cells into embryos of crab-eating macaques – a type of monkey. The researchers then grew these embryos for 20 days in petri dishes.
After 15 days, the human stem cells had disappeared from most of the embryos. But at the end of the 20-day experiment, three embryos still contained human cells that had grown as part of the region of the embryo where they were embedded. For scientists, the challenge now is to figure out how to maintain human cells in chimeric embryos for longer.
Regulating these technologies
Some ethicists have begun to worry that researchers are rushing into a future of chimeras without adequate preparation. Their main concern is the ethical status of chimeras that contain human and nonhuman cells – especially if the human cells integrate into sensitive regions such as a monkey's brain. What rights would such creatures have?
However, there seems to be an emerging consensus that the potential medical benefits justify a step-by-step extension of this research. Many ethicists are urging public discussion of appropriate regulation to determine how close to viability these embryos should be grown. One proposed solution is to limit growth of these embryos to the first trimester of pregnancy. Given that researchers don't plan to grow these embryos beyond the stage when they can harvest rudimentary organs, I don't believe chimeras are ethically problematic compared with the true test–tube babies of Huxley's world.
Few ethicists have broached the problems posed by the ability to use ectogenesis to engineer human beings to fit societal desires. Researchers have yet to conduct experiments on human ectogenesis, and for now, scientists lack the techniques to bring the embryos to full term. However, without regulation, I believe researchers are likely to try these techniques on human embryos – just as the now-infamous He Jiankui used CRISPR to edit human babies without properly assessing safety and desirability. Technologically, it is a matter of time before mammal embryos can be brought to term outside the body.
While people may be uncomfortable with ectogenesis today, this discomfort could pass into familiarity as happened with IVF. But scientists and regulators would do well to reflect on the wisdom of permitting a process that could allow someone to engineer human beings without parents. As critics have warned in the context of CRISPR-based genetic enhancement, pressure to change future generations to meet societal desires will be unavoidable and dangerous, regardless of whether that pressure comes from an authoritative state or cultural expectations. In Huxley's imagination, hatcheries run by the state grew a large numbers of identical individuals as needed. That would be a very different world from today.

Sahotra Sarkar, Professor of Philosophy and Integrative Biology, The University of Texas at Austin College of Liberal Arts
This article is republished from The Conversation under a Creative Commons license. Read the original article.
Roughly the size of a thumbnail, this newly discovered toadlet has some anatomical surprises.
A new species of "pumpkin toadlet" is discovered skittering along the forest floor in Brazil.
It's highly poisonous and brightly colored, and some if its bones glow under UV light.
An analysis of the toadlets' chirp song helped scientists establish that it's something new.
It's tiny, just a little bigger than a thumbnail. It's partially fluorescent. It's orange. And it's very poisonous.
Led by herpetologist Ivan Nunes, scientists have reported in the journal PLOS ONE the discovery of a new "pumpkin toadlet" species of the genus Brachycephalus. Found in the Mantiqueira mountain range along Brazil's Atlantic coast, it joins 35 other Brachycephalus species. The newcomer's official name is Brachycephalus rotenbergae, named after Brazilian conservationist Elise Laura K. Rotenberg.
Distinguishing one Brachycephalus species from another isn't straightforward, as there's no telltale identifying mark. Instead, a more holistic profile has to be developed to tell one species from another.
In this case, scientists considered the toad's genes, natural history, gross anatomy (including its skeletal structure), and even its songs. Brachycephalus toadlets emit what's considered an "advertisement call" — as in "Hey, I'm here!" — consisting of long sequences of chirps.
A find on the forest floor
The toadlet was studied on the forest floor in two areas.Credit: Nunes, et al. / PLOS ONE
Between October 2017 and September 2019, 76 field surveys were conducted in Brazil's Atlantic forests as researchers studied B. rotenbergae, whose turf is the forest floor in the São Francisco Xavier Government Protected Area. Among the new species' distinguishing features are a rounded snout and dark spots on its head. Additionally, it's a bit smaller than its similar-looking cousin B. ephippium, and its chirps are not quite like those of any other Brazilian pumpkin toadlet.

Glow-in-the-dark bones
Some of the toadlets' bones glow under UV lightCredit: Nunes, et al. / PLOS ONE
When B. rotenbergae is exposed to UV light, some of the bones just underneath their skin emit a green glow. "There's an idea," Nunes tells Smithsonian Magazine, "that fluorescence acts as signals for potential mates, to signal to rival males or some other biological role."

As for the brilliant orange color, it may be one of nature's warnings, a "don't eat me" signal of extreme toxicity. Indeed, other Brachycephalus toadlets have tetrodoxins in their skin, and the researchers suspect this toadlet does, too. (Pufferfish and blue-ringed octopi also carry tetrodoxins.) Ingestion of these neurotoxins can cause a number of progressively nasty things, from a pins-and-needles sensation to convulsions, heart attacks, and even death.
Currently, there is neither an indication that the species is endangered, nor is it especially rare. The only concern the researchers have for the species' survival is the growing population of wild boars in the area. The boars are tearing up the habitat of B. rotenbergae, rooting around for tasty seeds, nuts, acorns, and roots.
However, accidentally gobbling up a toadlet probably would be bad news for the boar.
For every good idea in evolution, there is an unintended consequence. Disease is often one of them.
A new essay suggests that evolution both dooms us to certain diseases and provides ways to help improve medical care.
Technology like polygenic risk scores already allow us to use genetics to predict and improve health outcomes.
Future treatment options may begin with a review of your genetics.
For every great evolutionary innovation, there is a new way for things to go wrong.
Multicellularity allowed for more complex organisms, but those organisms became susceptible to cancer. The evolution of asymmetric cell division was a boon that prevented damaged cells from proliferating but also created the mechanisms which cause us to age. Blood cell traits that help prevent malaria can also cause sickle cell anemia. Improvements in our brain power can lead to mental illnesses that no other animal can get. In short, it seems that our own genetics can be both a blessing and a curse.
While this is interesting in and of itself, a team of researchers led by Dr. Mary Benton of Baylor University recently published an essay in Nature Reviews Genetics on the influence of evolutionary history on human health and disease and possible new approaches to treating ailments caused by our own genetics. Their essay considers how evolution accidentally made us susceptible to certain diseases and how genomics might be used to improve health outcomes.
No good idea goes unpunished
Credit: Benton et al.
As the above chart shows, evolutionary advances that impact our health occurred at various points in history. As the environment, both natural and social, changes, traits and adaptations that worked really well in the past can become a source of problems. Consider, for example, the tendency of humans to want sweet foods that were once rare. This was likely a useful trait to have when it evolved, but the surplus of sweets we have these days has resulted in an obesity epidemic. Outside of its original context, a once adaptive trait can become maladaptive.
Understanding the context within which certain traits entered the human genome can shed light on why they are now causing problems. This can yield further insights on population genetics and even personalized medicine. As the authors put it:
"Much like a family's medical history over generations, the genome is fundamentally a historical record. Decoding the evolution of the human genome provides valuable context for interpreting and modeling disease."
"While most of the variations that impact disease risk evolved recently, they are part of more complex systems that go much further back. With our improving understanding of how these variations interact with our modern environment, society, and cultures, doctors can potentially begin to use a patient's genetic history to help craft personal care plans."

An evolutionary understanding of disease
While evolutionary takes on disease are not currently used for most conditions, the capacity for medical professionals to do so is increasing. The authors mention the potential of polygenic risk scores, a recently developed technology that estimates the effect of a subject's genetics on their health, as a possible application of evolutionary history on individual health.
While not everyone can get a full genome record at this moment, the possibilities of using our evolutionary history in medicine are tremendous. Dr. Benton spoke to these possibilities with the Baylor University News Service:
"If we can better understand our genomes, then we can better understand risk for disease broadly, but also for specific people. Understanding how genetic variants relate to disease can help us tailor treatments, preventative measures, or drugs. Evolution plays into what variants we have, which variants have stuck around, which people they are present in, and why. I think evolution gives us context for what we want to use in the clinic moving forward."
A lab identifies which genes are linked to abnormal repetitive behaviors found in addiction and schizophrenia.
Image: Jill Crittenden
These behaviors, termed stereotypies, are also apparent in animal models of drug addiction and autism.
In a new study published in the European Journal of Neuroscience, researchers at the McGovern Institute for Brain Research have identified genes that are activated in the brain prior to the initiation of these severe repetitive behaviors.
"Our lab has found a small set of genes that are regulated in relation to the development of stereotypic behaviors in an animal model of drug addiction," says MIT Institute Professor Ann Graybiel, who is the senior author of the paper. "We were surprised and interested to see that one of these genes is a susceptibility gene for schizophrenia. This finding might help to understand the biological basis of repetitive, stereotypic behaviors as seen in a range of neurologic and neuropsychiatric disorders, and in otherwise 'typical' people under stress."
A shared molecular pathway
In work led by Research Scientist Jill Crittenden, scientists in the Graybiel lab exposed mice to amphetamine, a psychomotor stimulant that drives hyperactivity and confined stereotypies in humans and in laboratory animals and that is used to model symptoms of schizophrenia.
They found that stimulant exposure that drives the most prolonged repetitive behaviors led to activation of genes regulated by Neuregulin 1, a signaling molecule that is important for a variety of cellular functions including neuronal development and plasticity. Neuregulin 1 gene mutations are risk factors for schizophrenia.
The new findings highlight a shared molecular and circuit pathway for stereotypies that are caused by drugs of abuse and in brain disorders, and have implications for why stimulant intoxication is a risk factor for the onset of schizophrenia.
"Experimental treatment with amphetamine has long been used in studies on rodents and other animals in tests to find better treatments for schizophrenia in humans, because there are some behavioral similarities across the two otherwise very different contexts," explains Graybiel, who is also an investigator at the McGovern Institute and a professor of brain and cognitive sciences at MIT. "It was striking to find Neuregulin 1 — potentially one hint to shared mechanisms underlying some of these similarities."
Drug exposure linked to repetitive behaviors
Although many studies have measured gene expression changes in animal models of drug addiction, this study is the first to evaluate genome-wide changes specifically associated with restricted repetitive behaviors.
Stereotypies are difficult to measure without labor-intensive direct observation, because they consist of fine movements and idiosyncratic behaviors. In this study, the authors administered amphetamine (or saline control) to mice and then measured with photobeam-breaks how much they ran around. The researchers identified prolonged periods when the mice were not running around (i.e., were potentially engaged in confined stereotypies), and then they videotaped the mice during these periods to observationally score the severity of restricted repetitive behaviors (e.g., sniffing or licking stereotypies).
They gave amphetamine to each mouse once a day for 21 days and found that, on average, mice showed very little stereotypy on the first day of drug exposure but that, by the seventh day of exposure, all of the mice showed a prolonged period of stereotypy that gradually became shorter and shorter over the subsequent two weeks.
"We were surprised to see the stereotypy diminishing after one week of treatment. We had actually planned a study based on our expectation that the repetitive behaviors would become more intense, but then we realized that this was an opportunity to look at what gene changes were unique to that day of high stereotypy," says first author Jill Crittenden.
The authors compared gene expression changes in the brains of mice treated with amphetamine for one day, seven days, or 21 days. They hypothesized that the gene changes associated specifically with high-stereotypy-associated seven days of drug treatment were the most likely to underlie extreme repetitive behaviors and could identify risk-factor genes for such symptoms in disease.
A shared anatomical pathway
Previous work from the Graybiel lab has shown that stereotypy is directly correlated to circumscribed gene activation in the striatum, a forebrain region that is key for habit formation. In animals with the most intense stereotypy, most of the striatum does not show gene activation, but immediate early gene induction remains high in clusters of cells called striosomes. Striosomes have recently been shown to have powerful control over cells that release dopamine, a neuromodulator that is severely disrupted in drug addiction and in schizophrenia. Strikingly, striosomes contain high levels of Neuregulin 1.
"Our new data suggest that the upregulation of Neuregulin-responsive genes in animals with severely repetitive behaviors reflects gene changes in the striosomal neurons that control the release of dopamine," Crittenden explains. "Dopamine can directly impact whether an animal repeats an action or explores new actions, so our study highlights a potential role for a striosomal circuit in controlling action-selection in health and in neuropsychiatric disease."
Patterns of behavior and gene expression
Striatal gene expression levels were measured by sequencing messenger RNAs (mRNAs) in dissected brain tissue. mRNAs are read out from "active" genes to instruct protein-synthesis machinery in how to make the protein that corresponds to the gene's sequence. Proteins are the main constituents of a cell, thereby controlling each cell's function. The number of times a particular mRNA sequence is found reflects the frequency at which the gene was being read out at the time that the cellular material was collected.
To identify genes that were read out into mRNA before the period of prolonged stereotypy, the researchers collected brain tissue 20 minutes after amphetamine injection, which is about 30 minutes before peak stereotypy. They then identified which genes had significantly different levels of corresponding mRNAs in drug-treated mice than in mice treated with saline.
A wide variety of genes showed modest mRNA increases after the first amphetamine exposure, which induced mild hyperactivity and a range of behaviors such as walking, sniffing, and rearing in the mice.
By the seventh day of treatment, all of the mice were engaged for prolonged periods in one specific repetitive behavior, such as sniffing the wall. Likewise, there were fewer genes that were activated by the seventh day relative to the first treatment day, but they were strongly activated in all mice that received the stereotypy-inducing amphetamine treatment.
By the 21st day of treatment, the stereotypy behaviors were less intense, as was the gene upregulation — fewer genes were strongly activated, and more were repressed, relative to the other treatments. "It seemed that the mice had developed tolerance to the drug, both in terms of their behavioral response and in terms of their gene activation response," says Crittenden.
"Trying to seek patterns of gene regulation starting with behavior is correlative work, and we did not prove 'causality' in this first small study," explains Graybiel. "But we hope that the striking parallels between the scope and selectivity of the mRNA and behavioral changes that we detected will help in further work on the tremendously challenging goal of treating addiction."
This work was funded by the National Institute of Child Health and Human Development, the Saks-Kavanaugh Foundation, the Broderick Fund for Phytocannabinoid Research at MIT, the James and Pat Poitras Research Fund, The Simons Foundation, and The Stanley Center for Psychiatric Research at the Broad Institute.
Reprinted with permission of MIT News. Read the original article.
A study from Carnegie Mellon University tracks the travels of tarantulas since the Cretaceous period.
Scary-looking tarantulas actually prefer to keep to themselves and stay in their burrows.
Their sedentary nature makes a puzzle of their presence in so many places around the world.
Researchers discover that this is because they've been around a very long time and rode drifting continental land masses to their contemporary positions.
Whenever a movie script calls for the protagonist to be menaced by a spider, central casting typically places a call to a tarantula wrangler. Tarantulas, or theraphosids, are hairy and big — they're the largest spiders in the world — and for many people, the ultimate spider nightmare.
Reality is much tamer. Tarantulas are not actually aggressive. They're homebodies, preferring to spend their time in their burrows with their families. Females and their young hardly ever leave home, and males only go out to mate. Stay away from them, and they'll stay away from you.
This makes tarantulas' presence on six out of seven continents something of a mystery. How did such non-adventurous creatures end up in so many places? A new study published in the journal PeerJ from a team of international researchers provides the answer: They walked there as they rafted across the earth atop drifting continental masses.
Ancestry.com for tarantulas
Credit: Foley, et al./ PeerJ
The lead author of the study is Carnegie Mellon University's Saoirse Foley, whose team included researchers from Universität Trier in Germany and Yale-NUS College in Singapore. Together, they conducted a wide-ranging analysis of 48 spider transcriptomes, a compilation of RNA transcripts inside of cells. The researchers used the transcriptomes to construct a "family tree."

The tarantula family tree was then time-calibrated using fossil data. (Tarantula fossils are rare, so the team used software to assist in the calculation using the ages of fossils from other types of spiders.)
Combined, the data allowed the researchers to construct a tarantula family tree dating back about 120 million years to the Cretaceous period. Around this time, giant crocodiles were walking — yes walking on legs — in South Korea.
Landmasses on the move
A map of Godwana 240 million years ago.Fama Clamosa/Wikimedia Commons
Tarantulas are Americans from a time when the Americas were part of the supercontinent Gondwana and still attached to Australia, Africa, Antarctica, and India.
The researchers tracked tarantulas' migration atop pieces of Gondwana as the landmasses slowly assumed their current positions.
A few detours along the way
The study identifies tarantulas' ancestral ranges.Credit: Foley, et al. /PeerJ/ Map credit: https://mapchart.net, 2021. Licensed under CC BY 4.0 SA.
The research revealed that tarantula migration wasn't just a matter of riding the continents.
Researchers discovered that the spiders may have done some dispersing through the areas in which they found themselves. Their arrival into Asia was, for example, two-pronged. Once the tarantulas were in India, they split into two groups — one group stayed on the ground while the other took to the trees — before that landmass collided with Asia and the spiders moved northward. The two groups arrived in Asia 20 million years apart from each other.
This is a bit of a surprise says Foley, noting that the two Indian variants demonstrate tarantula adaptability at work:
"Previously, we did not consider tarantulas to be good dispersers. While continental drift certainly played its part in their history, the two Asian colonization events encourage us to reconsider this narrative. The microhabitat differences between those two lineages also suggest that tarantulas are experts at exploiting ecological niches, while simultaneously displaying signs of niche conservation."