Here's why you may want to opt-out of Amazon's new shared network.
Tanja Esser via AdobeStock
Speaking at Web Summit 2020, David Limp, the senior vice president of Devices and Services at Amazon, suggested that the company is aiming to build smart devices that would operate in neighborhoods.
Amazon recently began rolling out Sidewalk, which aims to create a shared, intermediate-range network powered by Amazon devices.
Sidewalk, which lets nearby devices access your Wi-Fi, raises numerous privacy and security concerns.
If you say "Alexa" right now, there's a decent chance you'll activate one of the more than 100 million Amazon Echo devices the company has sold since 2014. Today, one in four adults in the U.S. own a smart speaker and surveys suggest a majority of American households now own at least one smart-home product. Globally, the smart-home market is projected to nearly double from $78 billion in 2020 to $135 billion in 2025.

As these devices become fixtures in homes, are neighborhoods next?
When asked about the future of Amazon devices at Web Summit 2020, here was the response from David Limp, the senior vice president of Devices and Services at Amazon:
"I won't outline the complete roadmap, but I will tell you, we start seeing extending outward from the home," Limp said.
The two "most obvious" places Amazon has its sights on: neighborhoods and cars, according to Limp. What might the neighborhood aspect look like? It's unclear exactly how Amazon sees the future of devices in public or private-community spaces, but Amazon's new Sidewalk network provides clues.
Amazon Sidewalk
Sidewalk, which began rolling out in the U.S. in November, aims to create a shared network powered by Amazon devices. It's something like a community of Wi-Fi hotspots to which compatible devices can automatically connect.
Amazon Echo and Ring devices would serve as so-called Sidewalk Bridges that "share a small portion of your internet bandwidth which is pooled together to provide these services to you and your neighbors," Amazon writes.
Say you have a security camera in your detached garage that's not working because it's just out of your router's range. With Sidewalk, it'd be able to siphon off some of the Wi-Fi connection emitted from your neighbor's devices (if they enable Sidewalk). But that also means you'd be offering up some of your Wi-Fi bandwidth (500mb monthly maximum) to any compatible devices within about a half-mile.
Amazon frames Sidewalk as a sort of first step toward creating smart neighborhoods that utilize the so-called internet of things:
"When your device is connected to the Sidewalk network, you can connect to Alexa and offer more experiences for customers like keeping track of the things they care about most, whether it's their puppy, their keys, or their bicycle. Later this year, Tile devices will be supported on the Sidewalk network, enabling customers to keep track of their things by asking Alexa questions like 'Alexa, where are my keys?'"
Amazon
When Amazon first announced Sidewalk in 2019, CEO Jeff Bezos told reporters the system would fill a gap in wireless connectivity:
"It's a completely new way of thinking about intermediate-range wireless. There are a lot of things where Bluetooth is way too short-range, WiFi is way too high power, and so to have something that's still low-power, but that has much longer range is really a gap in the marketplace. [...] People don't even realize yet how important that intermediate range is going to be."
On the neighborhood level, this could prove convenient for people with compatible devices, as Jonathan Collins, research director at ABI Research, told Cities Today:
"Amazon Sidewalk has the potential to deliver low-cost, low-data, citywide mesh connectivity. It could certainly benefit from adoption within smart-city projects. For example, integrating Sidewalk into parking meters would bring low-cost network access for the city, but it will also provide more mesh nodes to strengthen network coverage and capacity."
​Security concerns
Sidewalk raises no shortage of red flags in terms of security and privacy.

"The initial concern is really about what all the devices connected to Sidewalk collect," Forrester security analyst Jeff Pollard told CNET. "If use cases like home automation or IoT devices make use of this technology, they generate telemetry data. Connected devices -- especially in the home -- give vast amounts of information about your behaviors and activities, which could also go to Amazon with this connectivity."
I'm freaking out about this Amazon Sidewalk mesh network stuff. Here's why: 1. Amazon is pushing WiFi so you have… https://t.co/E0S9EMT4KD

— Liz O'Sullivan (@Liz O'Sullivan)1569511661.0
In addition to Amazon potentially learning more about your behaviors, Sidewalk could create vulnerabilities for outside parties to exploit. After all, hackers have already been able to gain access to Echo speakers and Ring cameras, and in 2019 Gizmodo reporters were able to map the "potential locations of up to tens of thousands of Ring cameras."
Illustration from Amazon's Sidewalk security white paper
Amazon
Anticipating concerns, Amazon published a white paper describing how Sidewalk uses three layers of encryption, doesn't reveal users' identities, and makes "it difficult for anyone, including Amazon, to piece together [a user's] activity history over time."
Difficult, but not impossible. Amazon said it's automatically enabling Sidewalk on Echo and Ring devices, though users can opt-out of the system. If you'd rather not serve as a guinea pig in Amazon's new shared network, here's how to disable it:
Who needs student loans, health care and mortgages?
Mark Wilson/Getty Images
A billionaire's spending power is difficult to grasp, both because most people do not correctly intuit large numbers, and because a billion dollars far outstrips most people's experience.
What does a household budget look like to a billionaire? To find out, let's scale down a billionaire's income to $50,000, the median American income, adjusting budget items proportionally.
A year in the life of Joe Billionaire
To start, we need to estimate a billionaire's annual income.
In the 30 years from 1987 to 2016, Bill and Melinda Gates amassed about $120 billion. This figure represents $80 billion in net worth and $40 billion controlled by their charitable foundation. The Gates' average annual income for these years is $120 billion divided by 30, or $4 billion. (The Bill and Melinda Gates Foundation is a strategic partner of The Conversation US and provides funding for The Conversation internationally.)
According to Forbes, the wealth of Amazon CEO Jeff Bezos increased last year from $72.8 billion to $108.7 billion. Despite billion-dollar hiccups caused by daily stock price fluctuations, Bezos' 2017 wealth increase was at least $32 billion, over $1,000 per second around the clock.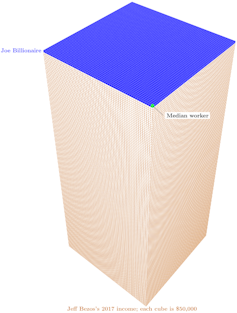 One cube represents the median U.S. worker's income. (Andrew D. Hwang, CC BY-SA)
The Gates and Bezos are extremes. But what about a more typical billionaire's income?
Let's assume a new fortune has been acquired over about one decade. Since the median worth on Forbes' list is about $2 billion, a ballpark estimate of annual income is one-tenth of this, or $200 million.
In absolute terms, $200 million per year is over $6 per second around the clock, equal to the global median annual income every eight minutes. Each year, Joe Billionaire amasses 4,000 median American incomes.
In 2017, Jeff Bezos raked in 150 times more than Joe Billionaire – the equivalent of 600,000 median incomes.
A billionaire's household budget
Because Joe Billionaire accumulates 4,000 median American incomes, a $4,000 expenditure for Joe Billionaire is the same fraction of income as $1 for a median American earner.
Let's call $4,000 one "Joe buck," or J$1. Joe Billionaire's annual income is J$50,000. Thus, a $2,000-vacation package costs J$0.50, proportional to a half-dollar from a middle-class income.
At this scale, a generous annual food budget comes to J$3. One year's tuition at a prestigious university costs J$15. An extended stay in a top-quality hospital might run J$50. For J$150, Joe Billionaire can pick up a large middle-class home in most parts of the United States. If that's too modest, a week's income buys a mansion in Rancho Palos Verdes, California. Who needs student loans, health care and mortgages?
Joe Billionaire can and does purchase goods and services not available to the rest of us. J$2,500 builds a media mouthpiece. Comparable political donations may be followed by a Cabinet appointment.
Unlike a tithing purchase for you or me, a one-time J$5,000 donation for Joe Billionaire has no effect on spending power. We're speaking of a scale where lavish living costs a few hundred Joe bucks. Next year will bring another J$50,000.
Matters of perspective
Ronald Reagan fomented outrage at one welfare recipient cheating the government of $8,000, or J$2. Unfortunately, we are not proportionally outraged by theft and losses dwarfing the human scale.
By comparison, the Reagan-era savings and loan scandal, the Enron scandal, the mortgage-backed securities crisis and the annual losses to offshore tax havens cost ordinary taxpayers hundreds of billions of dollars, tens of millions of times more than one welfare cheat. That's enough to drain or break even Jeff Bezos' bank.
Public services are inexpensive by comparison. The 2017 budget for the National Institutes of Health was about $33 billion; for the National Science Foundation, $7.5 billion; for the National Endowment for the Arts, $150 million. The 2017 Boston city budget was just under $3 billion, including about $1 billion for public schools, $200 million for pensions and $78 million for the Public Health Commission.
Most Americans don't understand how inequitably American wealth is distributed. Worldwide, wealth inequality is even more stark.
We live in a world where two dozen of the wealthiest individuals could collectively fund health and science research for the United States, where any of the thousand billionaires could individually fund the NEA with no practical impact to their purchasing power. Participatory government may remain, but only the ultra-wealthy need apply.

Andrew D. Hwang, Associate Professor of Mathematics, College of the Holy Cross
This article is republished from The Conversation under a Creative Commons license. Read the original article.
COVID-19 may strengthen the case for universal basic income, or an idea like it.
The COVID-19 pandemic has thrown millions of Americans into unemployment, highlighting the impracticality of living paycheck to paycheck, which a shocking number of Americans must do. Yet pandemic unemployment is just a glimpse of the fallout the US can expect in a future where more and more jobs are automated.
Is universal basic income the answer? In this video, a range of experts from economists to entrepreneurs and historians explore different facets of basic income, like why we need it, how it's different to welfare, and how we'll pay for it.
Yanis Varoufakis, Greece's former Minister of Finance, explains why he's not in favor of a UBI tax, but rather the creation of a public equity fund: "[T]hese days capital is socially produced ... Take for instance ... the capital stock of Google. To a large extent it is produced by all of us. Every time we search something on the Google search engine, we are adding to the capital stock of Google. This is not just a consumer transaction. So, if capital is socially produced why are the returns to capital privatized? On what basis?"
What's your favorite argument for (or against) UBI? Let us know in the comments!
The space station sector has exciting potential as more private companies enter the conversation.
The International Space Station is the most expensive public project ever built in the history of humanity.
Companies like NanoRacks, SpaceX, and Blue Origin have already entered the conversation of what the future will look like for the ISS.
Now, it's important to entertain only the serious contenders in the space race.
When it comes new PR disasters, NASA isn't taking any risks.
Tragedies at NASA, such as Challenger and Columbia disasters, have impeded the organization from taking risks, critics say. Indeed, in terms of PR, these tragedies were particularly baleful.
Although NASA was once a contractor, its staff spearheading missions, today they are more a client. SpaceX is basically selling NASA a ride to the ISS.
Essentially, NASA has put the risk on private companies — if anything bad happens, it's on SpaceX, for example. This switch may better further space colonization goals, though, because the private sector has more flexibility, in terms of how business is conducted. Also, NASA, as a national entity, avoids the pall of a possible disaster.
The Consequential Frontier: Challenging the Privatization of Space