Learn from 100+ of the world's best athletes, sleep coaches, and psychologists with a subscription to Ultrahuman.
Instead of powering through basic workouts and meditation routines and getting nothing out of it, upgrade to something much better.

A lifetime subscription Ultrahuman gives you access to over 100 of the

world's best psychologists, athletes, and sleep coaches.

For a limited time, a lifetime subscription to the award-winning platform is discounted to just $79.99.
Practicing meditation, working out, and getting good sleep can all make a difference in the quality of your daily life. But sometimes, you may not know exactly where to start. That's why a lifetime subscription to the Ultrahuman Holistic Fitness App couldn't be more valuable.
This award-winning platform has it all and offers everything from HIIT classes to bedtime stories — and everything in between. Beyond its extensive library, Ultrahuman also provides carefully crafted and progressive programs all designed to help you sleep better, eliminate stress, and work out more efficiently.
However, the biggest reason why this app stands out is the range of experts users have access to on the app. You can learn from leading athletes and fitness stars like Crossfit champion Kara Saunders, influencer Amanda Cerny, Coach Johannes Barti, and a whole lot more. In addition, Ultrahuman includes innovative biofeedback technology that gives people real-time insights into their heart rate, calories burned, the effectiveness of each meditation, and the list goes on, all within the app.
All in all, this platform will well exceed your expectations. A lifetime subscription to the Ultrahuman Holistic Fitness App won't break the bank either. Regularly going for $399, this online deal offersnew subscribers an 80% discount, dropping the final price all the way down to just $79.99. Don't hesitate to sign up and be on your way to having a well-rounded lifestyle.
Prices subject to change.
When you buy something through a link in this article or from our shop, Big Think earns a small commission. Thank you for supporting our team's work.
This online course collection will help you become a more efficient learner, speed reader, and ultimately better student.
There's so much value in becoming an efficient learner, but it's a lot easier said than done, especially if you have to do all of your studying at home.
You can master speed reading, memorization strategies, and more to be the super student you've always wanted to be with the right training.
This Become a Super-Learner and Speed Reading Bundle can train your brain and make you a more efficient learner for just $29.99.
Whether you're in college struggling with online classes or about to take the bar exam, you could probably benefit from some solid speed reading and learning strategies. Don't fall behind just because your mind isn't in it. Enroll in this Become a Super-Learner and Speed Reading Bundle and develop valuable skills you've never even thought of.
The bundle is broken down into seven courses totaling 15 hours worth of training. Within each course, you'll gain access to 225 lessons focusing on memory mastery, brain fitness, speed reading, study skills, and the list goes on.
You'll also be taught by education experts such as Jonathan Levi, Natalie Riviera, and more, so rest assured that you'll be in good hands. It's all about getting in the right mindset, which is why the training explores everything from the psychology of learning to brain fitness — all with the end goal of making you more productive. By the end, you'll be a wizard in whatever topic or test you're studying.
On regular days, the Become a Super-Learner and Speed Reading Bundle is valued at $1,400, but you won't have to worry about that hefty price tag. The cost of being a student is already high enough, we don't want to add more to your plate. For a limited time, this bundle will only cost an extra-low $29.99. Happy learning!
Prices subject to change.
When you buy something through a link in this article or from our shop, Big Think earns a small commission. Thank you for supporting our team's work.
Get a lifetime subscription to the AI-based Rezi software, 100 different resume templates, and career-building courses for just $40.
Finding a new job can be a full-time gig in itself and lead to many dead ends.
This bundle combines a variety of tools and techniques, including an AI-based software, to create the perfect resume and cover letter.
The 2021 Complete Resume Builder Bundle will help you stand out as a candidate and land your dream job.
Are you tired of filling out job application after job application, only to get rejected or not even hear back? To avoid all that stress, try the 2021 Complete Resume Builder Bundle and get ready for it to make a major difference.
The bundle consists of two resume and cover letter-builder subscriptions alongside two job hunter-focused training courses, all guaranteed to separate you from the rest of the applicants. First up, each purchase includes a lifetime subscription to Rezi, a software that uses AI to perfectly tailor your resume and cover letter to the job description at hand.
Take a closer look at Rezi's next-level software:
Following that is the Resume Inventor, a platform that provides an array of resume templates to ensure yours doesn't just blend in with the rest of them. There's no landing an interview without a next-level resume and cover letter, so it's possible this is what you've been doing wrong.
You'll also get the chance to learn from award-winning professor Chris Haroun about developing an eye-catching LinkedIn profile and all the tips and tricks for properly formatting a resume. In three hours, he'll have you beating out other job seekers left and right.
A second course from Haroun is in the books, except this time it focuses on what you do during the job interview. It includes five hours of useful information, such as knowing what words to never use, understanding how to think like the interviewer, and plenty more. Soon enough, you'll be acing every job interview that comes your way.
Originally, a lifetime subscription to the 2021 Complete Resume Builder Bundle is worth $3,115 and if that doesn't get you the job, we don't know what will. The good thing is, you'll only have to pay a fraction of that price, as the bundle is on sale for just $39.99. Get a fresh start for this low price and be one step closer to making your professional dreams a reality.
Prices subject to change.
When you buy something through a link in this article or from our shop, Big Think earns a small commission. Thank you for supporting our team's work.
More than 70% of college students procrastinate
Photo by Callum T on Unsplash
If you take classes online, chances are you probably procrastinate from time to time.
Research shows that more than 70% of college students procrastinate, with about 20% consistently doing it all the time.
Procrastination is putting off starting or finishing a task despite knowing that it will seriously compromise the quality of your work – for instance, putting off a major class project until the last minute.
In fact, research has shown that procrastination can be a harmful behavior that lowers a student's grades.
Now that so many colleges and universities are operating remotely because of the COVID-19 pandemic, we worry that students are more prone to procrastinate because they have less access to campus facilities and structured support from instructors. We raise these concerns as researchers who study students' motivation and engagement and their procrastination in online learning.
As professors, we've also heard our fair share of explanations and excuses for why students missed deadlines. Everything from "my computer doesn't work" to "my Wi-Fi went dead." We even had one student claim that "Grandma died" in one course and that "Grandpa died" in another course. We also have had students claim that their roommate deleted their homework.
Whether you see those reasons as valid or not, none of them really gets at why students procrastinate and end up in those kinds of situations in the first place. With that in mind, here are four tips that can help students deal better with the root causes of procrastination when it comes to online coursework.
It's not the caffeine, it's the people.
Kiran Ridley/Getty Images
While the pandemic has caused thousands of small businesses to temporarily close or shutter for good, the disappearance of the corner coffee shop means more than lost wages.
It also represents a collective loss of creativity.
Researchers have shown how creative thinking can be cultivated by simple habits like exercise, sleep and reading. But another catalyst is unplanned interactions with close friends, casual acquaintances and complete strangers. With the closure of coffee shops – not to mention places like bars, libraries, gyms and museums – these opportunities vanish.
Of course, not all chance meetings result in brilliant ideas. Yet as we bounce from place to place, each brief social encounter plants a small seed that can gel into a new idea or inspiration.
By missing out on chance meetings and observations that nudge our curiosity and jolt "a-ha!" moments, new ideas, big and small, go undiscovered.
It's not the caffeine, it's the people
Famous artists, novelists and scientists are often seen as if their ideas and work come from a singular mind. But this is misleading. The ideas of even the most reclusive of poets, mathematicians or theologians are part of larger conversations among peers, or are reactions and responses to the world.
As author Steven Johnson wrote in "Where Good Ideas Come From," the "trick to having good ideas is not to sit around in glorious isolation and try to think big thoughts." Instead, he recommends that we "go for a walk," "embrace serendipity" and "frequent coffeehouses and other liquid networks."
Just as today's freelance writers might use coffee shops as a second office, it was the tea- and coffeehouses of London in the 18th century that spurred the Age of Enlightenment. Then, as now, people intuitively knew they were "more productive or more creative when working from coffee shops," according to David Burkus, author of "The Myths of Creativity." As research shows, it's not the caffeine; it's the people. Simply being around other people who are working can motivate us to do the same.
In other words, creativity is social.
It's also contextual. The built environment plays a hidden but crucial role. Architectural researchers in the U.K., for instance, found that classroom design impacts the speed at which students learn. They found that classroom features, such as furniture and lighting, have as much impact on learning as teachers. Similar aspects of cafe design can enhance creativity.
Designing for creativity
Buildings influence a wide range of human functions. Temperature and humidity, for example, affect our ability to concentrate. Daylighting is positively linked to productivity, stress management and immune functions. And air quality, determined by HVAC systems as well as the chemical composition of furnishings and interior materials like carpet, affects both respiratory and mental health. Architectural design has even been connected to happiness.
Likewise, a well-designed coffee shop can facilitate creativity – where the unplanned friction between people can ignite sparks of innovation.
Two newly completed coffee shops, the Kilogram Coffee Shop in Indonesia and Buckminster's Cat Cafe in Buffalo, New York, were designed with this kind of interactivity in mind.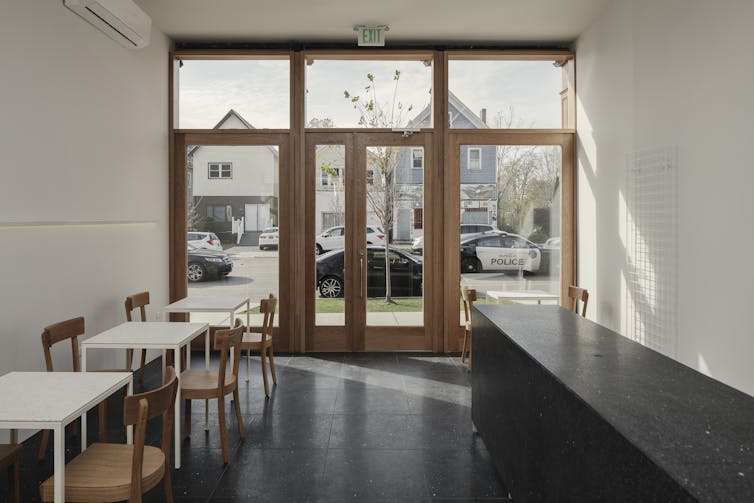 Buckminster's Cat Cafe in Buffalo, N.Y. (Florian Holzherr, Author provided)
Each has open, horizontal layouts that actually encourage congestion, which fosters chance encounters. Lightweight and geometric furniture enables occupants to rearrange seating and accommodate groups of various size, such as when a friend unexpectedly arrives. There are views outside, which promote calmness and offer more opportunities to daydream. And there is a moderate level of ambient noise – not too high or low – which induces cognitive disfluency, a state of deep, reflective thinking.
Restoring the soul of the coffee shop
Of course, not all coffee shops have closed. Many shops have reduced indoor seating capacity, limited patrons to exterior seating or have restricted services to takeout only as a means to stay open. All of them have faced the difficult task of implementing safeguards while retaining the atmosphere of their establishments. Some design elements, like lighting, can easily be retained amidst social distancing and other safety measures. Others, like movable seating for collaboration, are harder to achieve safely.
While these tweaks allow businesses to stay open and ensure the safety of customers, they sap spaces of their souls.
Philosopher Michel de Certeau said that the spaces we occupy are a backdrop on which the "ensemble of possibilities" and "improvisation" of everyday life occur.
When social life fully transitions into the digital realm, these opportunities become limited. Conversations become prearranged, while the side chats that take place before or after a meeting or event have been quashed. In video meetings, participants speak to either the whole room or no one.
For cafe owners, employees and customers, the post-pandemic era can't come soon enough. After all, while customers ostensibly stop by their local coffee shop for a jolt of caffeine, the true draw of the place is in its haptic and hectic spirit.

Korydon Smith, Professor of Architecture and Co-Founder of Global Health Equity, University at Buffalo; Kelly Hayes McAlonie, Adjunct Instructor of Architecture, University at Buffalo, and Rebecca Rotundo, Associate Director of Instructional Design, University at Buffalo
This article is republished from The Conversation under a Creative Commons license. Read the original article.