It marks a breakthrough in using gene editing to treat diseases.
Credit
: National Cancer Institute via Unsplash
This article was originally published by our sister site, Freethink.
For the first time, researchers appear to have effectively treated a genetic disorder by directly injecting a CRISPR therapy into patients' bloodstreams — overcoming one of the biggest hurdles to curing diseases with the gene editing technology.
The therapy appears to be astonishingly effective, editing nearly every cell in the liver to stop a disease-causing mutation.
The challenge: CRISPR gives us the ability to correct genetic mutations, and given that such mutations are responsible for more than 6,000 human diseases, the tech has the potential to dramatically improve human health.
One way to use CRISPR to treat diseases is to remove affected cells from a patient, edit out the mutation in the lab, and place the cells back in the body to replicate — that's how one team functionally cured people with the blood disorder sickle cell anemia, editing and then infusing bone marrow cells.
Bone marrow is a special case, though, and many mutations cause disease in organs that are harder to fix.
Another option is to insert the CRISPR system itself into the body so that it can make edits directly in the affected organs (that's only been attempted once, in an ongoing study in which people had a CRISPR therapy injected into their eyes to treat a rare vision disorder).
Injecting a CRISPR therapy right into the bloodstream has been a problem, though, because the therapy has to find the right cells to edit. An inherited mutation will be in the DNA of every cell of your body, but if it only causes disease in the liver, you don't want your therapy being used up in the pancreas or kidneys.
A new CRISPR therapy: Now, researchers from Intellia Therapeutics and Regeneron Pharmaceuticals have demonstrated for the first time that a CRISPR therapy delivered into the bloodstream can travel to desired tissues to make edits.
We can overcome one of the biggest challenges with applying CRISPR clinically.

—JENNIFER DOUDNA

"This is a major milestone for patients," Jennifer Doudna, co-developer of CRISPR, who wasn't involved in the trial, told NPR.
"While these are early data, they show us that we can overcome one of the biggest challenges with applying CRISPR clinically so far, which is being able to deliver it systemically and get it to the right place," she continued.
What they did: During a phase 1 clinical trial, Intellia researchers injected a CRISPR therapy dubbed NTLA-2001 into the bloodstreams of six people with a rare, potentially fatal genetic disorder called transthyretin amyloidosis.
The livers of people with transthyretin amyloidosis produce a destructive protein, and the CRISPR therapy was designed to target the gene that makes the protein and halt its production. After just one injection of NTLA-2001, the three patients given a higher dose saw their levels of the protein drop by 80% to 96%.
A better option: The CRISPR therapy produced only mild adverse effects and did lower the protein levels, but we don't know yet if the effect will be permanent. It'll also be a few months before we know if the therapy can alleviate the symptoms of transthyretin amyloidosis.
This is a wonderful day for the future of gene-editing as a medicine.

—FYODOR URNOV

If everything goes as hoped, though, NTLA-2001 could one day offer a better treatment option for transthyretin amyloidosis than a currently approved medication, patisiran, which only reduces toxic protein levels by 81% and must be injected regularly.
Looking ahead: Even more exciting than NTLA-2001's potential impact on transthyretin amyloidosis, though, is the knowledge that we may be able to use CRISPR injections to treat other genetic disorders that are difficult to target directly, such as heart or brain diseases.
"This is a wonderful day for the future of gene-editing as a medicine," Fyodor Urnov, a UC Berkeley professor of genetics, who wasn't involved in the trial, told NPR. "We as a species are watching this remarkable new show called: our gene-edited future."
In the near-term, gene editing is not likely to be useful. Even in the long-term, it may not be very practical.
Once perfected, gene editing is likely to be useful only under limited conditions.
Multigenic diseases like schizophrenia and cardiovascular disease are probably too complicated to be fixed by gene editing.
Embryo screening is a far more effective way to achieve the same objective.
The following is an adapted excerpt from the new book CRISPR People, reprinted with permission of the author.
I see no inherent or unmanageable ethical barriers to human germline genome editing. On the other hand, I see very few good uses for it. That is mainly because other technologies can attain almost all the important hoped-for benefits of human germline genome editing, often with lower risk. Two such technologies are particularly noteworthy: embryo selection and somatic genome editing.
Gene editing vs. embryo selection
The most obvious potential benefit would be to edit embryos, or the eggs and sperm used to make embryos, to avoid the births of children whose genetic variations would give them a certainty or high risk of a specific genetic disease. And here it is time to explain the ways genetic diseases or other traits get inherited. If the disease or trait depends on just one gene, we call it a Mendelian condition or trait, named after Gregor Mendel, the Austrian monk who first discovered this kind of inheritance. If more than one gene is involved, we cleverly call them non-Mendelian conditions or traits. Most of the discussion below is about Mendelian conditions for the simple reason that there is more to say about them.
Mendelian conditions can largely be put into five main categories, depending on where the relevant DNA is found and how many copies of the disease-causing variant are needed to lead to the disease: autosomal dominant, autosomal recessive, X-linked, Y-linked, or mitochondrial. Autosomal dominant diseases require only one copy of the disease-causing genetic variation; autosomal recessive diseases require two copies, one from each parent. X-linked diseases typically require two copies in women (one from each parent) but only one in men (who have only one X chromosome, always inherited from the mother). Y-linked diseases, which are unusual, are found only in men and require only one copy — because only men have a Y chromosome and normally they have only one copy of it. Mitochondrial diseases are inherited only from the mother and any mother with the disease will necessarily pass it on to all her children.
Why take the new, riskier — and, to many people, disconcerting — path of gene editing rather than just selecting embryos?
So, if an embryo has 47 CAG repeats in the relevant region of its huntingtin gene, it is doomed (if born) to have autosomal dominant Huntington's disease. One might use germline editing to reduce those 47 repeats to a safe number, of under 37, and thus prevent the disease. Or if an embryo has two copies of the genetic variation for the autosomal recessive Tay-Sachs disease, it could be edited so that the embryo had one or no copies and would be safe. The same is true of X-linked, Y-linked, or mitochondrial diseases.
If this is safe and effective, it may make sense. But another technology that has been in clinical practice for about 30 years is known to be (relatively) safe and effective and can do the same thing — PGD [preimplantation genetic diagnosis]. PGD involves taking one or a few cells from an ex vivo embryo, testing the DNA in those cells, and using the results to determine whether or not to transfer that particular embryo to a woman's uterus for possible implantation, pregnancy, and birth. The first PGD baby was born in 1990. In 2016, the last year for which data are available, the U.S. Centers for Disease Control and Prevention (CDC) reported that about 22 percent of the roughly 260,000 IVF cycles performed that year in the United States involved PGD (or a version called preimplantation genetic screening, or PGS). That was up from about 5 percent the year before. Anecdotally, from conversations with people working in IVF clinics, it sounds as though PGD or PGS usage in 2019 may well be above 50 percent, at least in some areas of the United States.
If a couple wants to avoid having a child with a nasty Mendelian genetic disease or condition, they could, in a decade or more, use CRISPR or other gene-editing tools to change an embryo's variants into a safer form or, today, they could use PGD to find out which embryos carry, or do not carry, the dangerous variants. For an autosomal recessive condition, on average 25 percent of the embryos will be affected; for an autosomal dominant one, 50 percent will be. Even for dominant conditions, if one looks at 10 embryos, the chance that all 10 will have the "bad" version is one in 1,024. If you have 20 embryos to examine, it becomes one in 1,048,576.
So, why take the new, riskier — and, to many people, disconcerting — path of gene editing rather than just selecting embryos?
Credit: JAAFAR ASHTIYEH via Getty Images
Gene editing in somatic cells vs. germline cells

Somatic cell therapy does not change the germline, and it comprises a technology much closer to being shown safe and effective than human germline genome editing. Arguably, the fact that the change is only being made in one or a few of the many tissues of the body would improve its safety over a change that exists in every cell, including cells where a particular off-target change has harmful effects.
On the other hand, genome editing of an egg, a sperm, or a zygote needs to change only one cell. This might prove more effective than changing, say, 100 million blood-forming stem cells or several billion lung cells. Furthermore, somatic cell editing would not necessarily work for all conditions. For some, too many different cells or tissues may have to be targeted. For others, the damage may begin before birth, or even before the stage of fetal development where in utero somatic editing becomes plausible. For diseases with very early consequential effects, somatic cell therapy may be inferior to embryo editing or embryo selection.
Even when somatic editing is possible, human germline genome editing retains one advantage: the process would not have to be repeated in the next generation. If somatic editing is used, that person would still have eggs or sperm that could pass on the disease. If she or he wanted to avoid a sick child, PGD or somatic cell gene therapy might be necessary. If germline editing is used, that child's children will be free from the risk of inheriting the disease from their edited parents. But is this a bug or a feature? It adds a choice — not a choice for the embryo that is, or isn't, edited but for the parents of that embryo. Somatic cell editing continues the possibility of a disease in the next generation — but allows that generation's parents to make the decision. One might — or might not — see that as a benefit.
Gene editing in multigenic diseases
In non-Mendelian (sometimes called multigenic) diseases, no one variant plays a powerful role in causing the disease. Variations in two, or twenty, or two hundred genes may influence the condition. Collectively, those influences might be 100 percent, though the cases we know now add up to much lower certainties. We do not yet know of many good examples, though at least one paper claims to have found strong evidence of that variations of different genes, working together, increase the risk for some cases of autism. And, more generally, we know of many combinations of shared genomic regions that (slightly) increase or lower the risk for various diseases or traits in particular, studied populations. (These have led to the hot area of "polygenic risk scores," whose ultimate significance remains to be seen.)
The biggest problem with human germline genome editing for non-Mendelian conditions is that we do not know nearly enough about the conditions. We believe that many conditions are non-Mendelian, but how many genes are involved? Which genomic variations add or subtract risk? How do the effects of variations from different genes combine to create risks? In a simple world, they would be additive: if having a particular variation of one gene increases a person's risk of a disease by 10 percentage points and having a particular variation of a different gene increases that person's risk by 5 percentage points, then having both would increase the risk by 15 percent. But there is no inherent reason nature has to work that way; the combined effects may be greater or less than their sum. It is even conceivable that having two variations that each, individually, raise a person's risk might somehow lower the overall risk. We know almost nothing about the structure of these non-Mendelian, or multigenic, risks.

It is clear, though, that, in general, PGD would be much less useful for non-Mendelian diseases than for Mendelian ones. The chances of finding an embryo with "the right" set of genetic variations at five different spots along the genome will be much smaller than of finding an embryo with just one "right" variation. If the odds for any one variation are 50/50, the overall odds for any five variations in one embryo are one in 32. If gene editing could safely and effectively edit five places in an embryo's genome (or in two gametes' genomes), it could deliver the preferred outcome. On the other hand, if we can use genome editing to do that in an embryo or gamete, we may well be able to do the same in a fetus, a baby, a child, or an adult through somatic cell gene therapy — unless the condition begins to cause harm early in development, or broadly enough in the body that it needs to be delivered to all the body's cells.
Is gene editing practical?
Right now, there is no non-Mendelian condition for which we are confident we know the exact set of genes involved. Neither do we know the negative and positive effects of different combinations of genetic variants. Until these uncertainties are adequately resolved, human germline genome editing, though in theory better than PGD, will not be safe or effective enough for use. Once they are resolved, in many situations it will be no better than somatic cell genome editing, except for the possible absence of needing to hit targets in multiple tissues or cell types and the absence of a need to repeat the editing for the next generation.
Adapted from CRISPR PEOPLE: The Science and Ethics of Editing Humans by Henry Greely. Copyright 2021. Reprinted with Permission from The MIT PRESS.
Image: Biswarup Ganguly
The eggs contain an antiviral protein called human interferon beta.
This protein is known to combat some forms of cancer and other conditions.
The unusual technique could one day provide cheaper and more effective treatments.
Scientists in Japan have genetically modified chickens to lay eggs containing an extremely valuable protein that helps treat cancer, hepatitis and multiple sclerosis in humans.
The cost of one of these so-called 'golden eggs' is estimated to be between $535,995 and $2.6 million. However, researchers described their work as still being in the early steps and on the road toward cheaper cancer treatment.
"This is a result that we hope leads to the development of cheap drugs," Hironobu Hojo, professor at Osaka University, told The Japan News. "In the future, it will be necessary to closely examine the characteristics of the agents contained in the eggs and determine their safety as pharmaceutical products."
The researchers, working out of Japan's Biomedical Research Institute at the National Institute of Advanced Industrial Science and Technology, recently described their findings in a paper published in Nature.
The 'golden eggs' contain high amounts of human interferon beta, an antiviral protein thought to combat some forms of cancer and hepatitis, and to slow the progression of multiple sclerosis.
How it works
To get hens to lay the valuable eggs, the team used genome-editing technology to modify cells from cockerel embryos so that the animal's protein-producing DNA would go on to produce human interferon beta in eggs instead of normal egg whites. These cells were then reinserted into the embryos and the cockerels later mated with hens.
After two generations, hens were laying eggs with visibly cloudier whites that contained human interferon beta.
Image: Oishi et al.

The researchers are working with Cosmo Bio, a Japanese reagent maker, to potentially produce the drug for the commercial market.

"For interferon-beta protein, we have about 20 hens in-house," Mika Kitahara, a spokesperson for Cosmo Bio, told The Telegraph. "So far our hens produce the eggs constantly, just like normal hens."
Kitahara noted that the process doesn't seem to harm the chickens. "These hens can produce eggs constantly, so we can obtain recombinant proteins in large amounts and with stability," she said. "In addition, this system doesn't involve killing hens."
Granted, genetic manipulation has been a dream for decades. Here's what is different now.
Learning childcare at Beijing's Nanny University. (Photo by Kevin Frayer/Getty Images)
Would you pay to give your child a genetic advantage, to make them smarter than their peers, taller, or more beautiful? This is a question that will become relevant within a few decades — if not sooner.
Gene sequencing will cost only a couple of dollars per human. A new generation of genetic editing tools, most notably CRISPR, have made it ridiculously easy to edit the human genome. Rapid advances in computing power will make it easier to understand the minute interplays between the dozens — if not hundreds — of genes that impact complex but valuable characteristics such as intelligence and patience. And, frankly, as artificial intelligence lets machines take on more and more complicated human tasks, we humans may need a genetic boost.
Unfortunately, the rich will likely be able to buy access to better genetics sooner than the rest of us — unless society intervenes. Do we really want a world where money can buy genetic superiority?
Granted, genetic manipulation has been a dream for decades. Here's what is different now.
To start with, the cost of sequencing and mapping genes has plummeted. The initial Human Genome Project cost over $1 billion. It is presently below $1,000 for a human genome to be sequenced and should fall below $100 over the next few years. That cost will continue to drop rapidly. Within five years, having your genes sequenced will cost less than a fancy cup of coffee.
Also importantly, the available computing power to analyze these sequences has never been greater. The rise of cloud computing, pioneered by Amazon's Elastic Compute Cloud, and increases in processing power have made it possible to build on-demand analytics systems that researchers can use to unravel the minute interactions of genes. In other words, they have access to supercomputing power but at a fraction of the cost of building a supercomputer — and without all the wires, cables, real estate, and technicians required.
The real breakthrough and missing piece, however, is CRISPR. The acronym is short for Clustered Regularly Interspaced Short Palindromic Repeats. CRISPR is actually an ancient self-defense mechanism of bacteria that modern scientists repurposed for laser-targeted gene editing. It is not a huge overstatement to say that CRISPR has made genetic manipulation a backyard hobby. In fact, DIY geneticists are using CRISPR to modify the genes of pure-bred dogs to try to improve their health. And a DIY CRISPR kit called the Odin is on sale online.  In the very near future, CRISPR editing will be akin to cutting and pasting characters in a Microsoft Word document.
Combined, these three changes have ushered in an entirely new era of genomics, one where we move from traditional empiricism — informed guesswork, really — to engineered systems where design is intentional and the workings of genes are understood and known.
The initial stage of this will be ability to handicap the likelihood of which embryo will have which traits. Called pre-implantation genetic diagnosis (PGD), this technique is practiced today to help couples identify embryos that might have high risks of major genetic diseases such as Tay-Sachs disease. In the next few years, parents with access to cash will also be to use this technique to more accurately analyze the pluses and minuses of multiple embryos and select the one that has the best combination of probabilities for in vitro fertilization (IVF). PGD remains expensive and inaccurate, but it will become a more attractive option as it improves. Insurance companies at present don't cover PGD or genetic improvement, only for disease prevention. That doesn't mean it can't be done.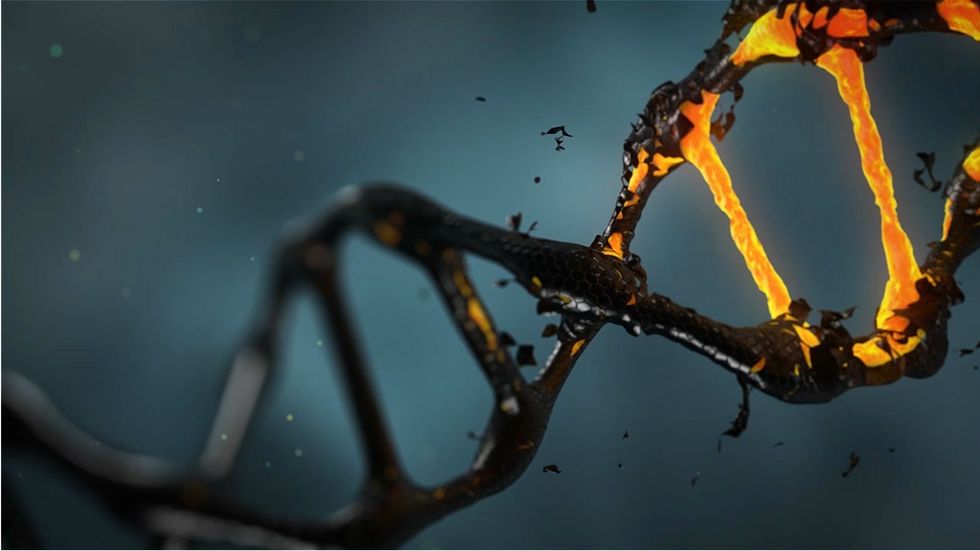 In addition, ongoing improvements in computing power should help scientists better understand the complex interplay of genes. Determining the relationship of genetic makeup to traits like intelligence is a math problem that will probably never have an exact answer, but can be improved to provide more accurate probabilities. The impending arrival of  powerful Quantum Computers could turbocharge this process by giving scientists new ways to analyze and simulate complex biological systems. That might make actual gene editing of humans or embryos viable and perhaps more economical than PGD.
CRISPR remains an experimental technique with many questions about the long-term safety of its editing process. Scientists and doctors fear that CRISPR may inadvertently impact non-target genes with unintended consequences.  That said, scientists are growing more and more comfortable using CRISPR. Initially, a consensus of scientists advocated banning CRISPR editing on human embryos, even if they were not viable and would never become babies. Today, a growing number of research teams are testing how to use CRISPR more effectively on human embryos.
The initial goal is to modify single genes that cause serious illnesses. In these cases, fixing the mutant form of the gene will cure or reduce the impact of the illness. However, single-gene modification is just the start; many diseases result from the interplay of multiple genes.
For today, PGD carries no obvious risk because no modification of genetic matter occurs. Rather, the parents will be able to pick an embryo with a higher probability, based on the best research, of exhibiting desirable traits. This is less precise than CRISPR but could significantly increase chances of babies having desired traits. But PGD costs a lot of money. So will early stage gene editing of human embryos with CRISPR, albeit not for the tech as for the expertise and the service.
This all prompts challenging ethical questions. To date, many national governments have banned gene editing of live human embryos. Governments have also outlawed editing genes of the human germline — the genes we pass on to our children -— to carry advantageous traits such as height or intelligence.
IVF combined with PGD, or well-tuned CRISPR interventions, could become a highly-sought pre-birth treatment for wealthy folks seeking a leg up for their unborn offspring. This might further exacerbate the already documented trend of increased assortative mating — where people of like backgrounds and positions tend to marry each other. Assortative mating further concentrates wealth or other benefits further in a society, augmenting inequality. Genetics are not destiny but they do help; every extra point of IQ is associated with X dollars more in salary.
Individual rights advocates argue that the government should not possess the right to legislate how parents handle their children's DNA. In their view, as long as these enhancements are safe and parents understand the risks, then the government should not regulate CRISPR editing on embryos any more than it should regulate whether the rich pay for pricey personal trainers to improve their physiques or expensive science and math tutors to improve chances that their children are accepted into Ivy League schools.
There is one key distinction in those analogies. Unlike personal trainers or tutors, genetic enhancements to embryos will confer benefits transferred from generation to generation. Over time, allowing subsequent generations to choose to gift their offspring with valuable traits via either CRISPR or PGD might generate even more inequality — driven by biology.  Given the high current level of global inequality, selective biology generating more inequality will have strong political implications on fairness and the very foundational concept of modern democracy — that all humans are created equal.
While genetic manipulation to save lives makes perfect sense, the process shouldn't be used to merely improve the chances of success of those already born with inherited socio-economic advantages. Designer babies must only be available if all in society can share the benefits. Equality of opportunity must extend to the realm of genetics and biology.
--
Vivek Wadhwa is a distinguished fellow at Carnegie Mellon University's College of Engineering. He is a globally syndicated columnist for the Washington Post and the co-author of  The Driver in the Driverless Car. You can follow him on Twitter @wadhwa.
Alex Salkever is the co-author of  The Driver In The Driverless Car: How Our Technology Choices Can Change the Future. You can follow him on Twitter @AlexSalkever. 
Researchers succeed in deleting key genes from ants, significantly modifying their behavior.
credit: Rockefeller University.
A staple of bad science fiction, mutant ants have been more of a figment of imagination rather than scientific reality. We've genetically altered mice and fruit flies, but growing mutant ants has eluded scientists due to the complex life cycle of the little critters. Now two teams announced that they managed to edit out certain genes from lab ants, altering their behavior.  
The team from Rockefeller University published a paper outlining how they removed orco - a gene that plays a key part in an ant's odor receptors. Deleting the gene by using the CRISPR-Cas9  technique resulted in the ants losing about 90% of their "olfaction". This made them unable to socialize. The ants also changed in other ways, showing affected behavior. They laid very few eggs, wandered aimlessly, and showed poor parenting.
The other team, including scientists from NYU, Vanderbilt University, University of Pennsylvania, and Arizona State University, also used CRISPR to delete the orco protein in ants to affect their communication through pheromones, causing an "aberrant social behavior and defective neural development."
You can read their paper here.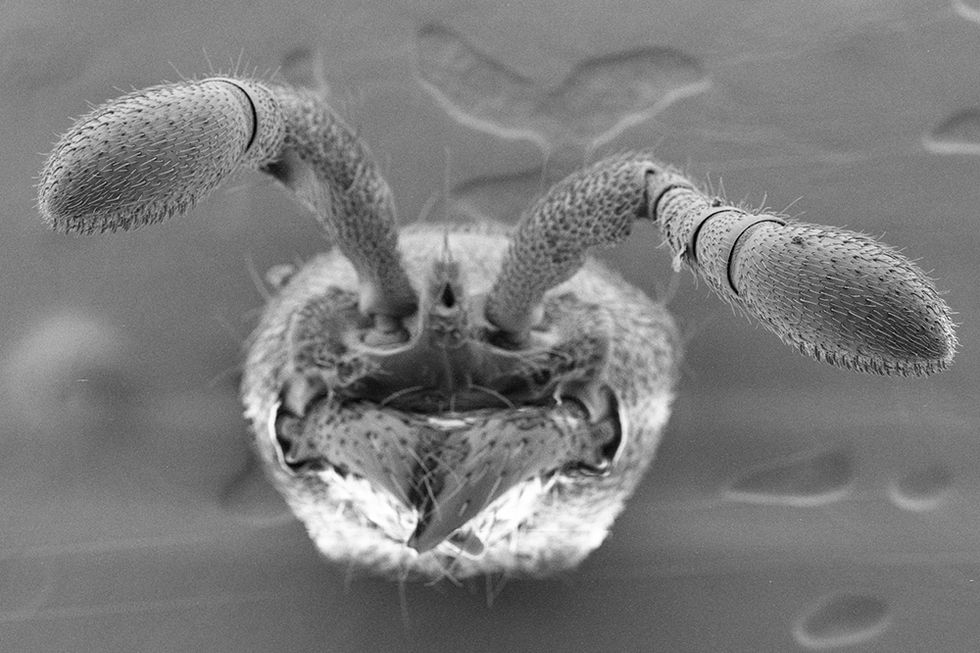 Researchers modified the ability of the ants to detect pheromones though porous hairs on their antennae. Credit: Rockefeller University.
This kind of interference with the social behavior of ants is considered a success because of the difficulty in altering the nature of insects with such a sophisticated social structure. NYU Professor Claude Desplan, who was involved in one of the studies called the modified ant they created "the first mutant in any social insect."
"While ant behavior does not directly extend to humans, we believe that this work promises to advance our understanding of social communication, with the potential to shape the design of future research into disorders like schizophrenia, depression or autism that interfere with it," said Desplan.
Why edit ant genes at all? Daniel Kronauer, author of the Rockefeller University study, says there are "interesting biologic questions" you can only study in ants. 
"It was well known that ant language is produced through pheromones, but now we understand a lot more about how pheromones are perceived," says Kronauer. "The way ants interact is fundamentally different from how solitary organisms interact, and with these findings we know a bit more about the genetic evolution that enabled ants to create structured societies."
Check out this animation of how Kronauer and his colleagues tracked color-coded ants, while using an algorithm to analyze the resulting behavior.