A theorhetical physicist returns to Penrose and Hameroff's theory of "quantum consciousness."
One of the most important open questions in science is how our consciousness is established.
In the 1990s, long before winning the 2020 Nobel Prize in Physics for his prediction of black holes, physicist Roger Penrose teamed up with anaesthesiologist Stuart Hameroff to propose an ambitious answer.
They claimed that the brain's neuronal system forms an intricate network and that the consciousness this produces should obey the rules of quantum mechanics – the theory that determines how tiny particles like electrons move around. This, they argue, could explain the mysterious complexity of human consciousness.
Penrose and Hameroff were met with incredulity. Quantum mechanical laws are usually only found to apply at very low temperatures. Quantum computers, for example, currently operate at around -272°C. At higher temperatures, classical mechanics takes over. Since our body works at room temperature, you would expect it to be governed by the classical laws of physics. For this reason, the quantum consciousness theory has been dismissed outright by many scientists – though others are persuaded supporters.
Instead of entering into this debate, I decided to join forces with colleagues from China, led by Professor Xian-Min Jin at Shanghai Jiaotong University, to test some of the principles underpinning the quantum theory of consciousness.
In our new paper, we've investigated how quantum particles could move in a complex structure like the brain – but in a lab setting. If our findings can one day be compared with activity measured in the brain, we may come one step closer to validating or dismissing Penrose and Hameroff's controversial theory.
Brains and fractals
Our brains are composed of cells called neurons, and their combined activity is believed to generate consciousness. Each neuron contains microtubules, which transport substances to different parts of the cell. The Penrose-Hameroff theory of quantum consciousness argues that microtubules are structured in a fractal pattern which would enable quantum processes to occur.
Fractals are structures that are neither two-dimensional nor three-dimensional, but are instead some fractional value in between. In mathematics, fractals emerge as beautiful patterns that repeat themselves infinitely, generating what is seemingly impossible: a structure that has a finite area, but an infinite perimeter.
This might sound impossible to visualise, but fractals actually occur frequently in nature. If you look closely at the florets of a cauliflower or the branches of a fern, you'll see that they're both made up of the same basic shape repeating itself over and over again, but at smaller and smaller scales. That's a key characteristic of fractals.
The same happens if you look inside your own body: the structure of your lungs, for instance, is fractal, as are the blood vessels in your circulatory system. Fractals also feature in the enchanting repeating artworks of MC Escher and Jackson Pollock, and they've been used for decades in technology, such as in the design of antennas. These are all examples of classical fractals – fractals that abide by the laws of classical physics rather than quantum physics.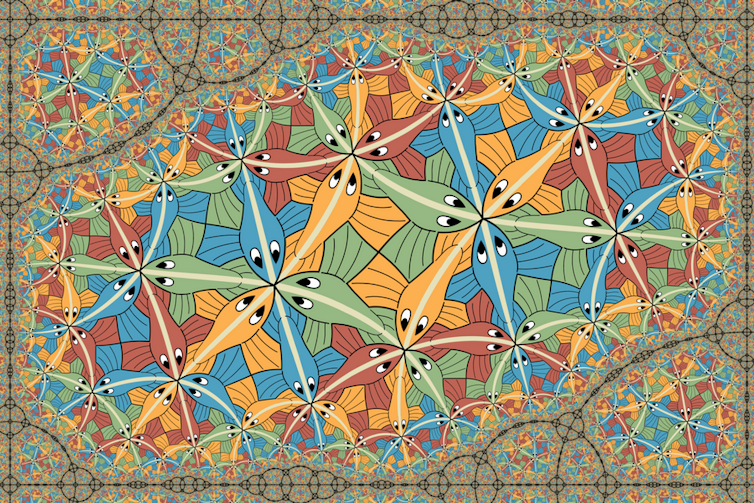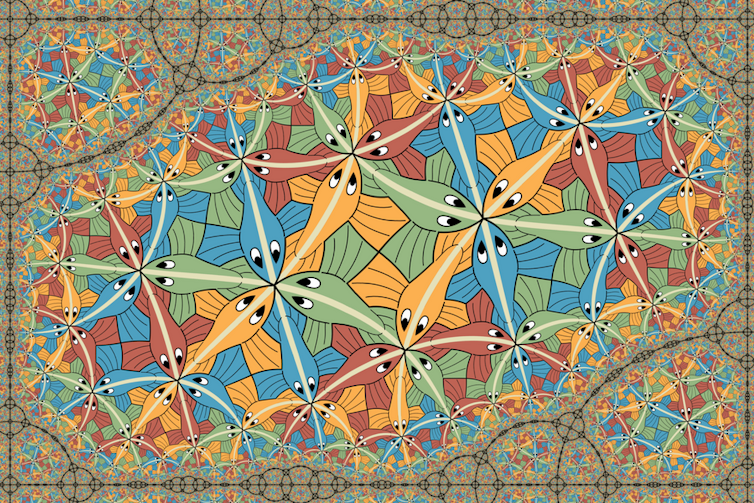 This extension of Escher's Circle Limit III shows its fractal, repeating nature. (Vladimir-Bulatov/Deviantart, CC BY-NC-SA)
It's easy to see why fractals have been used to explain the complexity of human consciousness. Because they're infinitely intricate, allowing complexity to emerge from simple repeated patterns, they could be the structures that support the mysterious depths of our minds.
But if this is the case, it could only be happening on the quantum level, with tiny particles moving in fractal patterns within the brain's neurons. That's why Penrose and Hameroff's proposal is called a theory of "quantum consciousness".
Quantum consciousness
We're not yet able to measure the behaviour of quantum fractals in the brain – if they exist at all. But advanced technology means we can now measure quantum fractals in the lab. In recent research involving a scanning tunnelling microscope (STM), my colleagues at Utrecht and I carefully arranged electrons in a fractal pattern, creating a quantum fractal.
When we then measured the wave function of the electrons, which describes their quantum state, we found that they too lived at the fractal dimension dictated by the physical pattern we'd made. In this case, the pattern we used on the quantum scale was the Sierpiński triangle, which is a shape that's somewhere between one-dimensional and two-dimensional.
This was an exciting finding, but STM techniques cannot probe how quantum particles move – which would tell us more about how quantum processes might occur in the brain. So in our latest research, my colleagues at Shanghai Jiaotong University and I went one step further. Using state-of-the-art photonics experiments, we were able to reveal the quantum motion that takes place within fractals in unprecedented detail.
We achieved this by injecting photons (particles of light) into an artificial chip that was painstakingly engineered into a tiny Sierpiński triangle. We injected photons at the tip of the triangle and watched how they spread throughout its fractal structure in a process called quantum transport. We then repeated this experiment on two different fractal structures, both shaped as squares rather than triangles. And in each of these structures we conducted hundreds of experiments.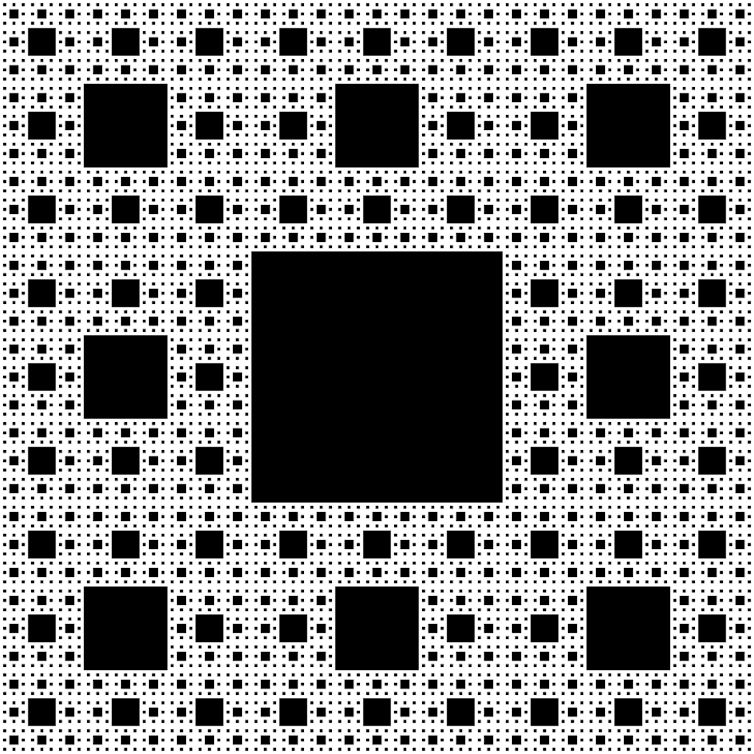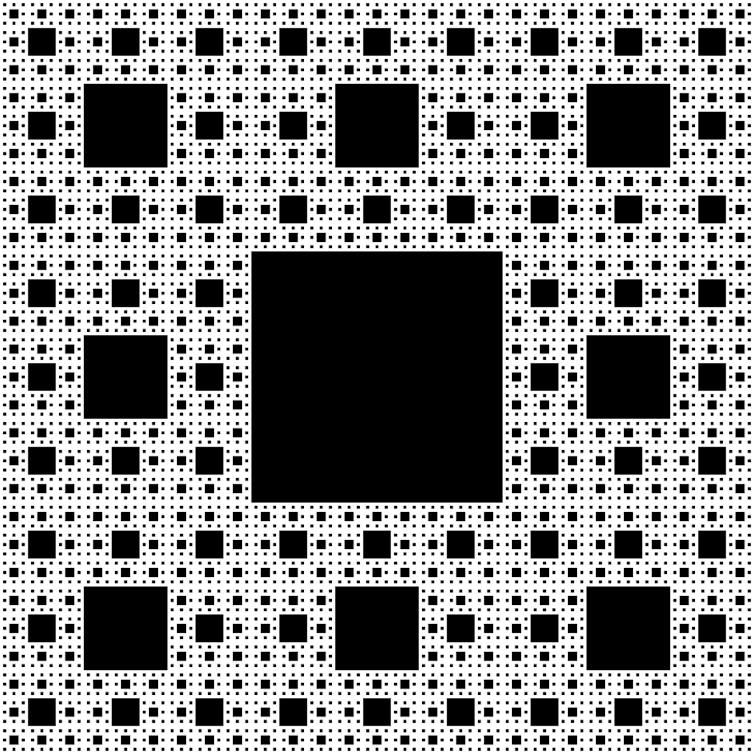 We also conducted experiments on a square-shaped fractal called the Sierpiński carpet. (Johannes Rössel/wikimedia)
Our observations from these experiments reveal that quantum fractals actually behave in a different way to classical ones. Specifically, we found that the spread of light across a fractal is governed by different laws in the quantum case compared to the classical case.
This new knowledge of quantum fractals could provide the foundations for scientists to experimentally test the theory of quantum consciousness. If quantum measurements are one day taken from the human brain, they could be compared against our results to definitely decide whether consciousness is a classical or a quantum phenomenon.
Our work could also have profound implications across scientific fields. By investigating quantum transport in our artificially designed fractal structures, we may have taken the first tiny steps towards the unification of physics, mathematics and biology, which could greatly enrich our understanding of the world around us as well as the world that exists in our heads.

Cristiane de Morais Smith, Professor, Theoretical Physics, Utrecht University
This article is republished from The Conversation under a Creative Commons license. Read the original article.
Some scientists believe that DMT could revolutionize the treatment of depression.
Psychedelic therapy shows promise where other mental health treatments have failed.
DMT, an incredibly powerful drug, may be particularly useful in conjunction with therapy.
The use of DMT is still highly experimental and possibly dangerous.
As psychedelic research returns to the mainstream of medical science, several lesser known drugs are being seen as possible therapies for mental illness. One of these is DMT, which is the subject of a slew of new studies about its potential use in treating depression.
What is DMT?
DMT is the common term for N,N-dimethyltryptamine, a powerful psychedelic drug. Its chemical structure is similar to that of serotonin and melatonin, and it is believed to bind to certain serotonin receptors in the brain.
Since the 1960s, scientists have thought that some mammals may produce DMT in their bodies. Its presence in the brains of rodents has been reported, and trace amounts have been found in the human body and cerebrospinal fluid. Exactly what naturally occurring DMT is doing remains a subject of investigation.
Because DMT is also found in a variety of plants, teas containing the drug have been consumed by many native peoples of South America for at least 1000 years, often for religious purposes. It only received serious scientific attention as a therapeutic drug beginning in the 1950s.
Dr. Stephen Szára, a Hungarian psychologist working in the mid-20th century, was denied access to LSD by the Western companies that then produced it. At the time, LSD was considered a powerful tool with applications in spycraft, so neither communist countries nor their biomedical scientists were allowed access to it. Unable to work with that psychedelic, he turned to DMT as an alternative.
Eventually moving to the U.S., he continued to work with DMT and explored its possible applications as well as those of other psychedelics.
What does DMT do?
Unlike the more famous LSD or psilocybin, DMT trips are often quite short, sometimes lasting as little as five minutes. The short duration is more than made up in its intensity, however, with users reporting extremely vivid hallucinations. Typical doses lead to visions of complex, multicolored geometric patterns, ego death, and altered thought patterns.
DMT has another unique feature: high doses of it can lead to an occurrence called a "breakthrough," at which point the user no longer perceives themself as being in the same plane of existence. The new location can be truly phantasmagoric, ranging from hyperspace to non-Euclidean realms. These strange places are often populated by even stranger creatures known as "machine elves."
The machine elves, named by the ethnobotanist Terence McKenna who popularized DMT in certain circles, have been reported by users since Dr. Szára's experiments. Reports of the elves can vary dramatically, especially in appearance, but users tend to agree that the hallucinated creatures are intelligent and benevolent. The frequency with which these beings are reported may explain the use of DMT as a religious tool for contacting the spirit world. Though some users have speculated if these beings are real, author and psychedelic authority James Kent stresses that they are hallucinations.
Is DMT legal?
Generally speaking, DMT is not legal. The Convention on Psychotropic Substances, an international treaty signed in 1971, bans the drug but not the plants that contain it. Many countries have their own bans on the substance or the plants from which it can be extracted. However, many jurisdictions have exemptions for the use of DMT-containing products (like ayahuasca) by certain religious groups as part of their rituals. Some American cities have recently decriminalized the drug.
What is ayahuasca?
Typically, DMT cannot be consumed orally. It must be smoked or, as is common in medical studies, injected. If it is combined with a monoamine oxidase inhibitor, it can be consumed in tea. Variations of this tea, some including different hallucinogenic substances, are often known as ayahuasca from one of the names given it by indigenous South Americans.
While the production and consumption of ayahuasca go back millennia, it has only recently become popular with Western psychonauts. An entire industry of ayahuasca tourism has formed in South America, focused around northeastern Peru, with more than a few psychedelic tourists and celebrities shelling out for a chance to drink the tea in a ritual setting.
By all accounts, a trip on ayahuasca is similar to a DMT trip but with a much longer duration. It also prominently features the purging of the contents of the participants' stomach and bowels. Some practitioners consider this part of the purification process. However, tourists looking for an "authentic" experience may be getting high on hype.
Can DMT be used as medicine?
Current studies focus on how the drug works in the brain and how it might be used to treat mental illness. As Dr. Carol Routledge of Small Pharma explained to Freethink, the extreme effects of this drug might be exactly what some patients need, especially when more common drugs like SSRIs have failed:
"A lot of the mental health disorders like depression, like post-traumatic stress disorder, even OCD, have this real negative cycling thought process which leads to ingrained neuronal processes. And it's almost impossible to get out of those, and I think that's why SSRIs don't really even attempt to do that. What psychedelics do is they break that pathway, they break those neuronal connections, and then they increase neuronal connectivity and synaptic connectivity."
Early reports from Small Pharma suggest that DMT, in conjunction with therapy, can be used to help break away from undesired behavioral patterns. Other studies also suggest that it could prove useful in helping with depression and anxiety. Dr. Routledge suggests that the stimulated connectivity among neurons allows the brain to "reset." As a result, these conditions can be more effectively treated. There is also discussion about how the mystical experiences triggered by the drug might help those with mental health problems to examine the root causes.
Whatever the outcome of this research, definitely don't try this at home. At least a dozen tourist deaths have been associated with the consumption of improperly brewed ayahuasca. These poor souls have permanently relocated to a different plane of existence.
Science has not yet reached a consensus on the nature of consciousness.
As individuals, we feel that we know what consciousness is because we experience it daily.
It's that intimate sense of personal awareness we carry around with us, and the accompanying feeling of ownership and control over our thoughts, emotions and memories.
But science has not yet reached a consensus on the nature of consciousness – which has important implications for our belief in free will and our approach to the study of the human mind.
Beliefs about consciousness can be roughly divided into two camps. There are those who believe consciousness is like a ghost in the machinery of our brains, meriting special attention and study in its own right. And there are those, like us, who challenge this, pointing out that what we call consciousness is just another output generated backstage by our efficient neural machinery.
Over the past 30 years, neuroscientific research has been gradually moving away from the first camp. Using research from cognitive neuropsychology and hypnosis, our recent paper argues in favour of the latter position, even though this seems to undermine the compelling sense of authorship we have over our consciousness.
And we argue this isn't simply a topic of mere academic interest. Giving up on the ghost of consciousness to focus scientific endeavour on the machinery of our brains could be an essential step we need to take to better understand the human mind.
Is consciousness special?
Our experience of consciousness places us firmly in the driver's seat, with a sense that we're in control of our psychological world. But seen from an objective perspective, it's not at all clear that this is how consciousness functions, and there's still much debate about the fundamental nature of consciousness itself.
One reason for this is that many of us, including scientists, have adopted a dualist position on the nature of consciousness. Dualism is a philosophical view that draws a distinction between the mind and the body. Even though consciousness is generated by the brain – a part of the body – dualism claims that the mind is distinct from our physical features, and that consciousness cannot be understood through the study of the physical brain alone.
MIT's Alex Byrne explains the philosophical underpinnings of the dualist position.
It's easy to see why we believe this to be the case. While every other process in the human body ticks and pulses away without our oversight, there is something uniquely transcendental about our experience of consciousness. It's no surprise that we've treated consciousness as something special, distinct from the automatic systems that keep us breathing and digesting.
But a growing body of evidence from the field of cognitive neuroscience – which studies the biological processes underpinning cognition – challenges this view. Such studies draw attention to the fact that many psychological functions are generated and carried out entirely outside of our subjective awareness, by a range of fast, efficient non-conscious brain systems.
Consider, for example, how effortlessly we regain consciousness each morning after losing it the night before, or how, with no deliberate effort, we instantly recognise and understand shapes, colours, patterns and faces we encounter.

Consider that we don't actually experience how our perceptions are created, how our thoughts and sentences are produced, how we recall our memories or how we control our muscles to walk and our tongues to talk. Simply put, we don't generate or control our thoughts, feelings or actions – we just seem to become aware of them.
Becoming aware
The way we simply become aware of thoughts, feelings and the world around us suggests that our consciousness is generated and controlled backstage, by brain systems that we remain unaware of.
Our recent paper argues that consciousness involves no separate independent psychological process distinct from the brain itself, just as there's no additional function to digestion that exists separately from the physical workings of the gut.
While it's clear that both the experience and content of consciousness are real, we argue that, from a science explanation, they are epiphenomenal: secondary phenomena based on the machinations of the physical brain itself. In other words, our subjective experience of consciousness is real, but the functions of control and ownership we attribute to that experience are not.
Future study of the brain
Our position is neither obvious nor intuitive. But we contend that continuing to place consciousness in the driver's seat, above and beyond the physical workings of the brain, and attributing cognitive functions to it, risks confusion and delaying a better understanding of human psychology and behaviour.
To better align psychology with the rest of the natural sciences, and to be consistent with how we understand and study processes like digestion and respiration, we favour a perspective change. We should redirect our efforts to studying the non-conscious brain, and not the functions previously attributed to consciousness.
This doesn't of course exclude psychological investigation into the nature, origins and distribution of the belief in consciousness. But it does mean refocusing academic efforts on what happens beneath our awareness – where we argue the real neuro-psychological processes take place.
Our proposal feels personally and emotionally unsatisfying, but we believe it provides a future framework for the investigation of the human mind – one that looks at the brain's physical machinery rather than the ghost that we've traditionally called consciousness.

Peter Halligan, Hon Professor of Neuropsychology, Cardiff University and David A Oakley, Emeritus Professor of Psychology, UCL
This article is republished from The Conversation under a Creative Commons license. Read the original article.
The most mental game in existence no longer requires fingers.
Photo: digilife / Adobe Stock
A brain-controlled interface implements a two-step process: Identify the chess piece, then place it on the board.
The program was 96 percent accurate at correctly moving chess pieces.
This research opens up opportunities for physically impaired people to express themselves in new ways.
By November 2020, The Queen's Gambit had been watched in over 62 million households, making it the most-watched scripted limited series in Netflix history. The thoughtful, stylized show on the patient pursuit of chess was perfectly timed for a world in lockdown. Viewers were enamored with Elizabeth Harmon's mental prowess as she envisioned dozens of potential moves on the ceiling in order to evade capture and declare victory.
Chess is one of the most intellectually stimulating games in existence. What if you could play it purely with your mind? Given how immersive chess is, can you imagine leaving the physical world behind and truly entering a mind palace?
A game of the mind
It turns out a number of researchers have had such a vision. In a paper published in IEEE Xplore, German professors David Hubner, Albrecht Schall, and Michael Tangermann discuss the evolution of brain-computer interfaces (BCIs) as applied to two-player chess games. Incredibly, 96 percent of moves were correct — and most errors were technical issues that they believe can be fixed.
Chess is played by an estimated 605 million people around the world. While face-to-face interactions will always be an integral component of the intimacy of chess, the game was adopted early on the internet. The ability to play at a distance increased its popularity and accessibility as players found suitable opponents across the planet.
Photo: Anusorn / Adobe Stock
The BCI is based on a two-step process: first, identifying the piece a player wants to move, then moving it on the board. In this study, six players used a BCI chess application (which was based on an open-source Java app) along with an electroencephalogram (EEG) equipped with 31 passive electrodes that detected the chess piece and board position in the player's mind.

Before the game, each player performed predefined chess moves to calibrate the BCI. During play, they also had a predefined amount of time for thinking about their next move. Specifically, they were given 15 seconds to consider the piece that they were going to move and five seconds to "move" the piece. If the player only had one possible move, the BCI automatically executed it.
Hands-free chess has real-world applications
Beyond the excitement of controlling a computer with your mind, the researchers recognize a variety of potential applications. For instance, BCI games aid in cognitive training and help motor-impaired people express themselves.
--
Stay in touch with Derek on Twitter and Facebook. His most recent book is "Hero's Dose: The Case For Psychedelics in Ritual and Therapy."
We can't ask them, so scientists have devised an experiment.
Humans have the capacity for conscious awareness of our visual world.
While all sighted animals respond to visual stimuli, we don't know if any of them consciously take note of what they're seeing in the way that we do.
Researchers from Yale have devised experiments that suggest that rhesus monkeys share this ability.
All day long, our brains are busy receiving sensory information: smells, sounds, sights, and so on. We absorb much of this without really thinking about it. However, every now and then something we see grabs our attention, maybe a stunning landscape or a beautiful sunset. We stop what we're doing and spend a moment taking it in. Are we the only animal that can stop and take conscious notice of what we see?
A study just published in the Proceedings of the National Academy of Sciences suggests that we're not. It appears that at least one other animal — the rhesus monkey, Macaca mulatta — shares our ability to pay deliberate attention to what it sees. The authors of the study infer this ability, paradoxically, from the manner in which the monkey deals with visual inputs it doesn't consciously notice.
Double disassociation
Credit: Amanda Dalbjörn/Unsplash
It has been known for some time that even when visual stimuli escape our conscious attention, we respond to it subliminally, says Yale psychologist Laurie Santos, co-senior author of the paper along with Yale psychologist Steve Chang and Ran Hassin of Hebrew University. Even so, she says, "We tend to show different patterns of learning when presented with subliminal stimuli than we do for consciously experienced, or supraliminal stimuli." ("Supraliminal" describes visual stimuli that are consciously noted.)

The authors of the study set out to see if rhesus monkeys exhibited a similar "double disassociation" in the way they respond to supraliminal vs. subliminal visual stimuli.
Ask a monkey a question
Credit: Jamie Haughton/Unsplash
Obviously, research on animals is hampered by our inability to question critters. As a result, scientists need to be creative in designing experimental methods that allow them to draw conclusions based strictly on empirical observation.

"People have wondered for a long time whether animals experience the world the way we do, but it's been difficult to figure out a good way to test this question empirically," says first author of the study, Moshe Shay Ben-Haim, a postdoctoral fellow at Yale University.
The researchers came up with a series of experiments in which both humans and rhesus monkeys could observably demonstrate how they process subliminal and supraliminal visual stimuli.
In the experiments, participants were tasked with predicting the side of a computer screen on which a target image would appear depending on the position of a visual cue, a small star symbol, provided by the researchers.
When the researchers displayed the cue on one side of the screen long enough to ensure that it was noticed — that is, it was a supraliminal signal — both humans and monkeys learned to look for the target image on the opposite side of the screen.
On the other hand, when the star flashed on the screen only very briefly, both humans and monkeys consistently looked to the side on which this subliminal signal had appeared, anticipating the target image's appearance there.
In the first case, the subjects learned the significance of the cue's position. In the second, their response simply mirrored the subliminal cue. This, say the authors, demonstrates the different ways in which humans — and monkeys apparently — react to visual stimuli that are consciously noticed or not.
Ben-Haim summarizes the authors' interpretation of the experiment:
"These results show that at least one non-human animal exhibits both non-conscious perception as well as human-like conscious visual awareness. We now have a new non-verbal method for assessing whether other non-human creatures experience visual awareness in the same way as humans."