"The question is which are okay, which are not okay."
As the material that makes all living things what/who we are, DNA is the key to understanding and changing the world. British geneticist Bryan Sykes and Francis Collins (director of the Human Genome Project) explain how, through gene editing, scientists can better treat illnesses, eradicate diseases, and revolutionize personalized medicine.
But existing and developing gene editing technologies are not without controversies. A major point of debate deals with the idea that gene editing is overstepping natural and ethical boundaries. Just because they can, does that mean that scientists should be edit DNA?
Harvard professor Glenn Cohen introduces another subcategory of gene experiments: mixing human and animal DNA. "The question is which are okay, which are not okay, why can we generate some principles," Cohen says of human-animal chimeras and arguments concerning improving human life versus morality.
This spring, a U.S. and Chinese team announced that it had successfully grown, for the first time, embryos that included both human and monkey cells.
Getty Images
In Aldous Huxley's 1932 novel "
Brave New World
," people aren't born from a mother's womb. Instead, embryos are grown in artificial wombs until they are brought into the world, a process called ectogenesis.
In the novel, technicians in charge of the hatcheries manipulate the nutrients they give the fetuses to make the newborns fit the desires of society. Two recent scientific developments suggest that Huxley's imagined world of functionally manufactured people is no longer far-fetched.
On March 17, 2021, an Israeli team announced that it had grown mouse embryos for 11 days – about half of the gestation period – in artificial wombs that were essentially bottles. Until this experiment, no one had grown a mammal embryo outside a womb this far into pregnancy. Then, on April 15, 2021, a U.S. and Chinese team announced that it had successfully grown, for the first time, embryos that included both human and monkey cells in plates to a stage where organs began to form.
As both a philosopher and a biologist I cannot help but ask how far researchers should take this work. While creating chimeras – the name for creatures that are a mix of organisms – might seem like the more ethically fraught of these two advances, ethicists think the medical benefits far outweigh the ethical risks. However, ectogenesis could have far-reaching impacts on individuals and society, and the prospect of babies grown in a lab has not been put under nearly the same scrutiny as chimeras.
Mouse embryos were grown in an artificial womb for 11 days, and organs had begun to develop.
Growing in an artificial womb
When in vitro fertilization first emerged in the late 1970s, the press called IVF embryos "test-tube babies," though they are nothing of the sort. These embryos are implanted into the uterus within a day or two after doctors fertilize an egg in a petri dish.
Before the Israeli experiment, researchers had not been able to grow mouse embryos outside the womb for more than four days – providing the embryos with enough oxygen had been too hard. The team spent seven years creating a system of slowly spinning glass bottles and controlled atmospheric pressure that simulates the placenta and provides oxygen.
This development is a major step toward ectogenesis, and scientists expect that it will be possible to extend mouse development further, possibly to full term outside the womb. This will likely require new techniques, but at this point it is a problem of scale – being able to accommodate a larger fetus. This appears to be a simpler challenge to overcome than figuring out something totally new like supporting organ formation.
The Israeli team plans to deploy its techniques on human embryos. Since mice and humans have similar developmental processes, it is likely that the team will succeed in growing human embryos in artificial wombs.
To do so, though, members of the team need permission from their ethics board.
CRISPR – a technology that can cut and paste genes – already allows scientists to manipulate an embryo's genes after fertilization. Once fetuses can be grown outside the womb, as in Huxley's world, researchers will also be able to modify their growing environments to further influence what physical and behavioral qualities these parentless babies exhibit. Science still has a way to go before fetus development and births outside of a uterus become a reality, but researchers are getting closer. The question now is how far humanity should go down this path.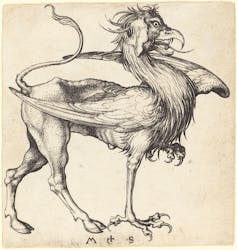 Chimeras evoke images of mythological creatures of multiple species – like this 15th-century drawing of a griffin – but the medical reality is much more sober. (Martin Schongauer/WikimediaCommons)
Human-monkey hybrids
Human–monkey hybrids might seem to be a much scarier prospect than babies born from artificial wombs. But in fact, the recent research is more a step toward an important medical development than an ethical minefield.
If scientists can grow human cells in monkeys or other animals, it should be possible to grow human organs too. This would solve the problem of organ shortages around the world for people needing transplants.
But keeping human cells alive in the embryos of other animals for any length of time has proved to be extremely difficult. In the human-monkey chimera experiment, a team of researchers implanted 25 human stem cells into embryos of crab-eating macaques – a type of monkey. The researchers then grew these embryos for 20 days in petri dishes.
After 15 days, the human stem cells had disappeared from most of the embryos. But at the end of the 20-day experiment, three embryos still contained human cells that had grown as part of the region of the embryo where they were embedded. For scientists, the challenge now is to figure out how to maintain human cells in chimeric embryos for longer.
Regulating these technologies
Some ethicists have begun to worry that researchers are rushing into a future of chimeras without adequate preparation. Their main concern is the ethical status of chimeras that contain human and nonhuman cells – especially if the human cells integrate into sensitive regions such as a monkey's brain. What rights would such creatures have?
However, there seems to be an emerging consensus that the potential medical benefits justify a step-by-step extension of this research. Many ethicists are urging public discussion of appropriate regulation to determine how close to viability these embryos should be grown. One proposed solution is to limit growth of these embryos to the first trimester of pregnancy. Given that researchers don't plan to grow these embryos beyond the stage when they can harvest rudimentary organs, I don't believe chimeras are ethically problematic compared with the true test–tube babies of Huxley's world.
Few ethicists have broached the problems posed by the ability to use ectogenesis to engineer human beings to fit societal desires. Researchers have yet to conduct experiments on human ectogenesis, and for now, scientists lack the techniques to bring the embryos to full term. However, without regulation, I believe researchers are likely to try these techniques on human embryos – just as the now-infamous He Jiankui used CRISPR to edit human babies without properly assessing safety and desirability. Technologically, it is a matter of time before mammal embryos can be brought to term outside the body.
While people may be uncomfortable with ectogenesis today, this discomfort could pass into familiarity as happened with IVF. But scientists and regulators would do well to reflect on the wisdom of permitting a process that could allow someone to engineer human beings without parents. As critics have warned in the context of CRISPR-based genetic enhancement, pressure to change future generations to meet societal desires will be unavoidable and dangerous, regardless of whether that pressure comes from an authoritative state or cultural expectations. In Huxley's imagination, hatcheries run by the state grew a large numbers of identical individuals as needed. That would be a very different world from today.

Sahotra Sarkar, Professor of Philosophy and Integrative Biology, The University of Texas at Austin College of Liberal Arts
This article is republished from The Conversation under a Creative Commons license. Read the original article.
Could a pill make you more moral? Should you take it if it could?
Moral enhancement is the idea that technology can be used to make us more moral people.
Proponents argue that we need to be better people in order to solve global problems.
Ideas on how to use this ethically abound, but no solid consensus exists yet.
People have been artificially enhancing themselves for a long time. Caffeine and other stimulants improve our cognitive performance and might have made the enlightenment possible. More controversially, some athletes use steroids to enhance their athletic performance beyond what would naturally be possible for them.
These aren't the only ways that we can use science and technology to improve our performance, of course. In the last few years, some philosophers have argued that we can, and perhaps should, use these tools to enhance our moral abilities to become a more cooperative, empathetic, or properly motivated species.
Moral enhancement explained
The term "moral enhancement" was first used in a 2008 essay by Tom Douglas. It generally refers to biomedical enhancements but can refer to any technological attempt to make humans more moral. While one could debate what "more moral" means, the literature on the subject focuses on ideas of making people more cooperative, altruistic, and the like.
I reached out to Dr. Joao Fabiano, a Visiting Fellow at Harvard University's Safra Center for Ethics, for more information. He expanded on the idea of moral enhancement and provided the motivation for it.
We all sometimes behave worse than we think we should but have a hard time improving. Moral enhancement would be a technological intervention that helps us behave as we should. There is often a certain pattern to our moral failures shared by most of us. As the neuroscience of morality progresses, we might be able to fix these failures with technology. In fact, we urgently need moral enhancement given the grave social problems these moral failures create and their ingrained biological nature...
...Many of these recurrent moral failures are connected to grave problems in society, such as our inability to tackle global threats (global warming, nuclear proliferation, and pandemics) and grave injustices. Often, these failures can be explained by evolutionary science; they are deep-seated adaptations hardwired in our brains which we can, sometimes, costly and partially control with improved social norms. For instance, many forms of group favoritism and discrimination, such as racism, are to some degree evolved adaptations to an ancestral environment where groups were small and at constant war, and long-distance trade was limited. As neuroscience continues to uncover the biological modulators of our moral behaviour, we might soon be able to reliably influence that behavior with technological interventions.
Ways to make people more moral
Several studies have demonstrated that the moral actions people take can be influenced with biomedical interventions. One found that people will be more aggressive and more likely to violate social norms when their serotonin levels are artificially lowered. Another found that increasing serotonin levels made people harm-averse and more likely to stick to ideas of fairness. Lowering the amount of tryptophan, a precursor to serotonin and melatonin, that people have in their system makes them less cooperative.
Outside of the laboratory, some commonly used drugs, such as painkillers and antidepressants, are also known to slightly modify moral decision-making. Remember that next time you try to make a decision after taking some acetaminophen. The painkiller Tylenol also kills empathy.
Dr. Fabiano points out that the widespread use of these drugs means that "technology is already interfering with our morality, sometimes in undesirable and unpredictable ways." He adds, "We should, at the very least, try to take control of that to produce desirable changes."

He also mentioned, however, that no drug that can reliably enhance moral behavior currently exists. So you shouldn't get the idea that you'll be able to enhance yourself tomorrow.
The ethics of making people more ethical

While philosophers have only been discussing this idea for the last decade or so, plenty of them have argued both for and against moral enhancement.
The basic argument for moral enhancement has been mentioned, namely, that we humans are inclined to certain moral failures, these failures can be corrected, and we have the ability to do so with technological interventions. Some thinkers, such as Julian Savulescu and Ingmar Persson, suggest that we have a moral imperative to do so, as the possibility for even a single person to cause widespread destruction is greater now than it has ever been.
On the other hand, some thinkers, like Allen Buchanan, suggest that while the problems that many proponents of moral enhancement want to solve are real, moral enhancement isn't likely to be a feasible solution to these problems.
Instead, these thinkers propose that non-medical interventions, such as adopting more progressive and accepting attitudes toward out-groups, have proven that our moral natures are not fixed and can be improved without technological intervention — even if the process is a little slow. They additionally have a few doubts about the feasibility or desirability of relying on technology to improve our morals and conclude that focusing on traditional methods is the better bet.

Of course, these are not mutually exclusive options, and it is possible that moral enhancement can be used in tandem with more traditional methods of making people more moral.
The many problems with moral enhancement

The problem of how to actually implement any technological solution remains unsolved. While some philosophers, including Dr. Fabiano, have developed frameworks to guide our use of this technology, there is no real consensus on it. This is a bit of a problem, as simplistic variations of moral enhancement, such as the use of chemical castration as a tool to try to reform sexual offenders, are already in use today in ways that are controversial.

Moral enhancement raises many other ethical questions. Which traits should be enhanced (or suppressed)? What are the side effects of taking a drug that alters your moral behavior? Should such treatments be required for some people, like violent criminals?

Ironically, there is even the chance that improving in-group cooperation, a possible excellent application of moral enhancement, could cause other problems. As Dr. Fabiano explains, "[T]here is a lot of empirical evidence indicating that a drug increasing cooperation between individuals would likely decrease cooperation between groups. Highly cooperative groups tend to be highly discriminatory. Such a drug would create more problems than it would solve."

On the other hand, the possible benefits of moral enhancement are obvious. People could become more cooperative, empathetic, or altusic without the years of work that our current moral improvement systems require. Problems we currently face could vanish in the face of an enhanced population. As Dr. Savulescu argues, this is enough of a benefit to make moral enhancement a worthwhile consideration.
If offered to you, would you take the pill?
How would the ability to genetically customize children change society? Sci-fi author Eugene Clark explores the future on our horizon in Volume I of the "Genetic Pressure" series.
A new sci-fi book series called "Genetic Pressure" explores the scientific and moral implications of a world with a burgeoning designer baby industry.
It's currently illegal to implant genetically edited human embryos in most nations, but designer babies may someday become widespread.
While gene-editing technology could help humans eliminate genetic diseases, some in the scientific community fear it may also usher in a new era of eugenics.
Imagine it's 2045. You start hearing rumors from your well-heeled friends about a mysterious corporation based on an undisclosed island that's offering an unprecedented service: the ability to genetically design your baby.
The baby will have some of your genetics, and some genetics from a sperm or egg donor, selected by you. But the rest of your child's genetic profile will be engineered by science. These changes will make it impossible for your child to develop genetic diseases. They'll also allow you to customize your child for dozens of traits, including intelligence level, emotional disposition, sexual orientation, height, skin tone, hair color, and eye color, to name a few.
This raises unsettling philosophical questions for some customers. "When does my child stop being my child?" they ask the corporate representatives. These wary customers are reminded of how risky it is to reproduce the old-fashioned way. The Better Genetics Corporation's motto sums it up: "Only God plays dice—humans don't have to."
This is the world described in a new science-fiction series by Eugene Clark titled "Genetic Pressure", which explores the moral and scientific implications of a future in which designer babies are becoming a major industry. The first book begins with the story of Rachel, a renowned horse breeder who befriends a billionaire client, and soon gets the funding to visit the tropical island on which the Better Genetics Corporation is headquartered.
There, corporate executives walk her through the process of designing a baby—an experience that feels like an uncanny mix between visiting a doctor and designing a luxury car. The series is told from multiple perspectives, serving as a deep dive into a complex moral web that today's scientists may already be weaving.
[T]he introduction of designer babies would create a labyrinth of philosophical dilemmas that society is only beginning to explore.
Case in point: In 2018, Chinese scientist He Jiankui announced that he had helped create the world's first genetically engineered babies. Using the gene-editing tool CRISPR on embryos, He Jiankui modified a gene called CCR5, which enables HIV to enter and infect immune system cells. His goal was to engineer children that were immune to the virus.
It's unclear whether he succeeded. But what's certain is that the experiment shocked the international scientific community, which generally agreed that it's unethical to conduct gene-editing procedures on humans, given that scientists don't yet fully understand the consequences.
"This experiment is monstrous," Julian Savulescu, a professor of practical ethics at the University of Oxford, told The Guardian. "The embryos were healthy. No known diseases. Gene editing itself is experimental and is still associated with off-target mutations, capable of causing genetic problems early and later in life, including the development of cancer."
Importantly, He Jiankui wasn't treating a disease, but rather genetically engineering babies to prevent the future contraction of a virus. These kinds of changes are heritable, meaning the experiment could have major downstream effects on future generations. So, too, would a designer-baby industry, even if scientists can do it safely.
With major implications on inequality, discrimination, sexuality, and our conceptions of life, the introduction of designer babies would create a labyrinth of philosophical dilemmas that society is only beginning to explore.
Tribalism and discrimination
One question the "Genetic Pressure" series explores: What would tribalism and discrimination look like in a world with designer babies? As designer babies grow up, they could be noticeably different from other people, potentially being smarter, more attractive and healthier. This could breed resentment between the groups—as it does in the series.
"[Designer babies] slowly find that 'everyone else,' and even their own parents, becomes less and less tolerable," author Eugene Clark told Big Think. "Meanwhile, everyone else slowly feels threatened by the designer babies."
For example, one character in the series who was born a designer baby faces discrimination and harassment from "normal people"—they call her "soulless" and say she was "made in a factory," a "consumer product."
Would such divisions emerge in the real world? The answer may depend on who's able to afford designer baby services. If it's only the ultra-wealthy, then it's easy to imagine how being a designer baby could be seen by society as a kind of hyper-privilege, which designer babies would have to reckon with.
Even if people from all socioeconomic backgrounds can someday afford designer babies, people born designer babies may struggle with tough existential questions: Can they ever take full credit for things they achieve, or were they born with an unfair advantage? To what extent should they spend their lives helping the less fortunate?
Sexuality dilemmas
Sexuality presents another set of thorny questions. If a designer baby industry someday allows people to optimize humans for attractiveness, designer babies could grow up to find themselves surrounded by ultra-attractive people. That may not sound like a big problem.
But consider that, if designer babies someday become the standard way to have children, there'd necessarily be a years-long gap in which only some people are having designer babies. Meanwhile, the rest of society would be having children the old-fashioned way. So, in terms of attractiveness, society could see increasingly apparent disparities in physical appearances between the two groups. "Normal people" could begin to seem increasingly ugly.
But ultra-attractive people who were born designer babies could face problems, too. One could be the loss of body image.
When designer babies grow up in the "Genetic Pressure" series, men look like all the other men, and women look like all the other women. This homogeneity of physical appearance occurs because parents of designer babies start following trends, all choosing similar traits for their children: tall, athletic build, olive skin, etc.
Sure, facial traits remain relatively unique, but everyone's more or less equally attractive. And this causes strange changes to sexual preferences.
"In a society of sexual equals, they start looking for other differentiators," he said, noting that violet-colored eyes become a rare trait that genetically engineered humans find especially attractive in the series.
But what about sexual relationships between genetically engineered humans and "normal" people? In the "Genetic Pressure" series, many "normal" people want to have kids with (or at least have sex with) genetically engineered humans. But a minority of engineered humans oppose breeding with "normal" people, and this leads to an ideology that considers engineered humans to be racially supreme.
Regulating designer babies
On a policy level, there are many open questions about how governments might legislate a world with designer babies. But it's not totally new territory, considering the West's dark history of eugenics experiments.
In the 20th century, the U.S. conducted multiple eugenics programs, including immigration restrictions based on genetic inferiority and forced sterilizations. In 1927, for example, the Supreme Court ruled that forcibly sterilizing the mentally handicapped didn't violate the Constitution. Supreme Court Justice Oliver Wendall Holmes wrote, "… three generations of imbeciles are enough."
After the Holocaust, eugenics programs became increasingly taboo and regulated in the U.S. (though some states continued forced sterilizations into the 1970s). In recent years, some policymakers and scientists have expressed concerns about how gene-editing technologies could reanimate the eugenics nightmares of the 20th century.
Currently, the U.S. doesn't explicitly ban human germline genetic editing on the federal level, but a combination of laws effectively render it illegal to implant a genetically modified embryo. Part of the reason is that scientists still aren't sure of the unintended consequences of new gene-editing technologies.
But there are also concerns that these technologies could usher in a new era of eugenics. After all, the function of a designer baby industry, like the one in the "Genetic Pressure" series, wouldn't necessarily be limited to eliminating genetic diseases; it could also work to increase the occurrence of "desirable" traits.
If the industry did that, it'd effectively signal that the opposites of those traits are undesirable. As the International Bioethics Committee wrote, this would "jeopardize the inherent and therefore equal dignity of all human beings and renew eugenics, disguised as the fulfillment of the wish for a better, improved life."
"Genetic Pressure Volume I: Baby Steps" by Eugene Clark is available now.
Thought expriments are great tools, but do they always do what we want them to?
Thought experiments are quite popular, though some get more time in the sun than others.
While they are supposed to help guide our intuition to help solve difficult problems, some are a bit removed from reality.
Can we trust the intuitions we have about problems set in sci-fi worlds or that postulate impossible monsters?
Despite the reported unpopularity of philosophy, its thought experiments are extremely popular tools for helping people understand how they look at the world. Famous examples, such as the Veil of Ignorance and the Trolley Problem, permeate popular culture, feature on memes, and help people clarify their thinking.
Not all thought experiments are created equal, though. Some of them are far less popular than others, some have fallen from being widely discussed to being historical curiosities, and others were always just restatements of Descartes.
A few of them, popular and unpopular, have pushed the limits of what a "good" thought experiment is. Philosopher and Big Think contributor Daniel Dennett suggests that many thought experiments venture into areas where we cannot have good intuitions, making them less than ideal experiments.
For example, while we can all think very clearly about the trolley problem—everything in it is straightforward enough to be grasped by everybody—an experiment that asks us to imagine sci-fi situations or the life choices of fantastic monsters might be too far out there to be effective.
Today, we'll look at five thought experiments that have been accused of being just a little too separated from reality to be useful. We'll consider what they're trying to shed light on, and review why they may or may not manage to do it.