ISS astronauts and NASA satellites capture amazing photos of the Raikoke volcano eruption.
NASA
Astronauts and satellites take memorable photos of the Raikoke volcano eruption in the Kuril Islands.
The eruption is the first in volcano since 1924.
The plume of the eruption got as high as 17 km (10 mi).
As far as out-of-this-world pictures go, NASA got an amazing opportunity to snap photos of an erupting volcano from the International Space Station. On June 22nd, 2019, the Raikoke Volcano on Russia's Kuril Islands, which last exploded in 1924, suddenly let out a giant plume of ash and gas from its 700-meter crater.
Astronauts were able to take pics of the narrow column of the plume as it rose and expanded over an area called the umbrella region. That's where the plume stops rising, its density equalizing with that of the surrounding air.
As Simon Carn, a volcanologist at Michigan Tech, explained about the picture below - "The ring of white puffy clouds at the base of the column might be a sign of ambient air being drawn into the column and the condensation of water vapor. Or it could be a rising plume from interaction between magma and seawater because Raikoke is a small island and flows likely entered the water."
Volcanic Ash Advisory Centers in Tokyo and Anchorage reported that the ash had reached as high as 13 kilometers (8 miles). Data from the CALIPSO satellite shows that some segments of the plume reached the altitude of 17 kilometers (10 miles).
Astronaut photograph ISS059-E-119250 was taken by the Expedition 59 crew on June 22, 2019.
Credit: NASA
Joshua Stevens/NASA
Joshua Stevens/NASA
Volcano eruption sound
If you're wondering what it sounds like when a volcano erupts, here's a video for you from 2015. Wait for it...
A network of devices called MERMAIDs is taking seismographs where they've never been.
(Princeton University)
Most of the ocean floor is inaccessible to seismologists.
Much can be learned about the interior of Earth by listening to earthquakes.
Ingenious new floating sensors are changing the ocean seismology game.
They're called MERMAIDs. They're drifting seismometers that listen to movements of Earth's crust pulsing through the waters of previously unmonitored reaches of the oceans, the two-thirds of the Earth that's inaccessible to stationary seismic detectors.
Scientists can glean a tremendous amount of information from seismic data about the inside of the planet. If they have that data, that is. The first results of their journeys were published this month in Scientific Reports (paywall). They offer an unprecedented peek at what's going on beneath the Galapagos.
9 MERMAIDs floating free
Image source: Yann Hello, University of Nice
The MERMAID project is the brainchild of Princeton geoscientist Frederik Simons. "Imagine a radiologist forced to work with a CAT scanner that is missing two-thirds of its necessary sensors," he tells Phys.org. He and colleague Guust Nolet have been developing their system for 15 years.
Each "MERMAID" is a floating seismometer/hydrophone set free to drift where it will, and together they form a seismographic network. "MERMAID" stands for "Mobile Earthquake Recording in Marine Areas by Independent Divers."
They generally float at a depth of 1,500 meters. But when they pick up audio that may signify the start of an earthquake, they rise to the surface, taking no longer than 95 minutes to get there, poke their heads out of the water to acquire their location via GPS, and transmit the data they've collected.
The nine MERMAIDs have just completed their first two-year tour of duty.
What the MERMAIDs found
This shows the speed of seismic waves moving through the Earth from the surface at the top of the cross-section down to about 2,890 km deep at its bottom edge. Darker colors signify slower wave movement. Image source: Princeton University
The MERMAIDs drifted through an area ranging from about 20° north to 20° south centered on the Galápagos Islands. Their data revealed the volcanoes on the islands are fed hot rock via a narrow conduit that extends downward to about 1,200 miles (1,900 km). Such a deep ocean "mantle plume," a phrase coined by geophysicist W. Jason Morgan, who hypothesized their existence in 1971, has never been imaged in detail prior to the deployment of the MERMAIDs.
The high temperatures they recorded is of special interest. Ever since observations have contradicted Lord Kelvin's 19th-century proposal that the Earth should be cooling quickly, scientists have wondered why the Earth has somehow managed to remain at a fairly constant temperature instead. The new research suggests an answer.
In a Princeton University press release, Nolet explained:
"These results of the Galápagos experiment point to an alternative explanation: the lower mantle may well resist convection, and instead only bring heat to the surface in the form of mantle plumes such as the ones creating Galápagos and Hawaii."
Next up is a new fleet of some 50 MERMAIDs to be released in the South Pacific with the aim of learning more about the plume region beneath Tahiti. That project will be led by Chen Yongshun of Southern University of Science and Technology, who enthuses, "Stay tuned! There are many more discoveries to come."
The eruption quickly killed those caught in its intense wake.
Wikimedia Commons/PLOS One Journal
The eruption occurred in the year 79 A.D.
New research suggests the people of the town of Herculaneum were killed nearly instantly by intense heat
According to recent findings, the victims' blood boiled, and their soft tissues were vaporized.
Archaeological dig
Residents of Herculaneum found in a "life-like" stance, rather than curled up, indicates near-instant death.
Imagine living next to Mount Vesuvius in the 1st century, four miles away in the ancient town of Herculaneum. And imagine not knowing that the volcano was about to erupt. What archaeologists are currently trying to piece together now is what happened next.
Hint: It's not pretty. The possible blessing for residents of the town, however, is that what happened was quick — quicker than being cremated, by far.
The seaside chambers
First Phase (Surge 1)
Vesuvius erupts about every 2000 years. When such a volcano erupts, there are at least two phases:
The initial fallout phase, called the pumice air-fall phase, was dispersed 70 km (about 44 miles). This is what buried Pompeii.
The "pyroclastic surges and flows" phase is next, which involves rapid, gravity-driven currents of hot gases mixed with volcanic ash, generated by the collapse of the eruptive column.
From what has been found in the archaeological exploration, the second phase is what the residents of Herculaneum found in this gathering endured, as well as the surviving residents of the initial phase in Pompeii. This particular set of 300 human remains were found in 12 seaside chambers, where undoubtedly they sought shelter after seeing the initial eruption.
However, unbeknownst to the asylum seekers, the temperatures in the ash/hot gas currents can reach from 200–300 degrees °C to a whopping 500 degrees °C. What archaeologists found upon unearthing the victims were all direct evidence that they died almost instantly, rather than over time as previously theorized.
And — here's where it gets rather macabre — the evidence strongly indicates they died from their blood boiling, skulls fracturing (and even exploding from said blood boiling). Their bodily fluids and soft tissues, the researchers say, experienced a "rapid vaporization."
In their words, the remains they discovered "strongly suggest a widespread pattern of heat-induced hemorrhage, intracranial pressure increase and bursting, most likely to be the cause of instant death of the inhabitants in Herculaneum."
Do volcanoes contribute a significant amount of CO2 to the atmosphere compared to humans?
Calbuco Volcano, Chile (FOTOSMONTT .COM)
One of climate-change deniers' favorites assertions to make is that it's not us throwing all that carbon dioxide into the atmosphere — it's those pesky volcanoes. While it's true that volcanoes spew tons of pollutants into the air when they erupt, do they really contribute more CO2 than we do? Or even the same amount as we do? Short answer: Hell, no. Astrophysicist, science communicator and NASA columnist Ethan Siegel explains how the comparison shakes out in an article for Medium.
Before getting into the numbers, though, it's worth noting that volcanic activity is the earth's way of getting needed carbon out of the crust and into the atmosphere in CO2. And for billions of years we believe this has been going on without resulting in the kinds of elevated CO2 levels we're seeing now: an estimated 3.2 trillion tons, of which 870 billion tons are carbon. What's changed? Us.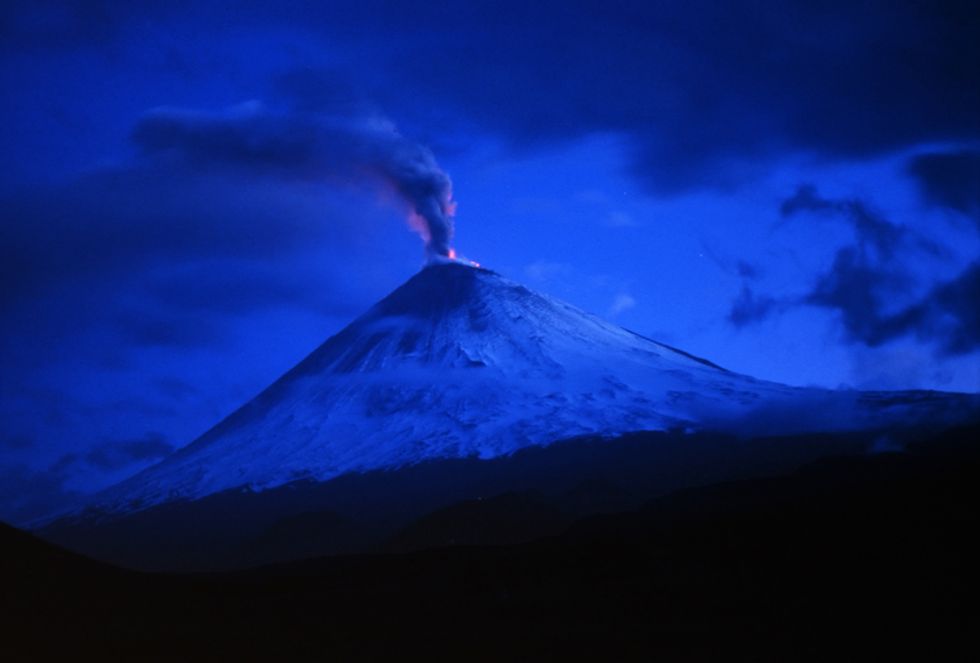 Klyuchevskaya Volcano, Kamchatka(GIORGIO GALEOTTI)
A 2013 study published in GeoScienceWorld tallied up all of the naturally occurring CO2 emissions per year. Siegel summarizes its findings in his Medium post:
33 measured degassing volcanoes emit a total of 60 million tons of CO2 per year.
There are a total of roughly 150 known degassing volcanoes, implying (based on the measured ones) that a total of 271 million tons of CO2 are released annually.
30 historically active volcanoes are measured to emit a total of 6.4 million tons of CO2 per year.
With roughly 550 historically active volcanoes total, they extrapolate this class of object contributes 117 million tons per year.
The global total from volcanic lakes is 94 million tons of CO2 per year.
Additional emissions from tectonic, hydrothermal and inactive volcanic areas contribute an estimated 66 million tons of CO2 per year, although the total number of emitting, tectonic areas are unknown.
And finally, emissions from mid-ocean ridges are estimated to be 97 million tons of CO2 annually.
This all adds up to a total average contribution to the atmosphere of 645 million tons of CO2 per year. Some years a little more and some years, less. But remember that number: Volcanoes add 645 million tons of CO2 to the atmosphere per year.
Now, us. Human activity, adds an average of 29 billion tons of CO2 each year to the atmosphere. Close? As we said at the top, nope. Not even.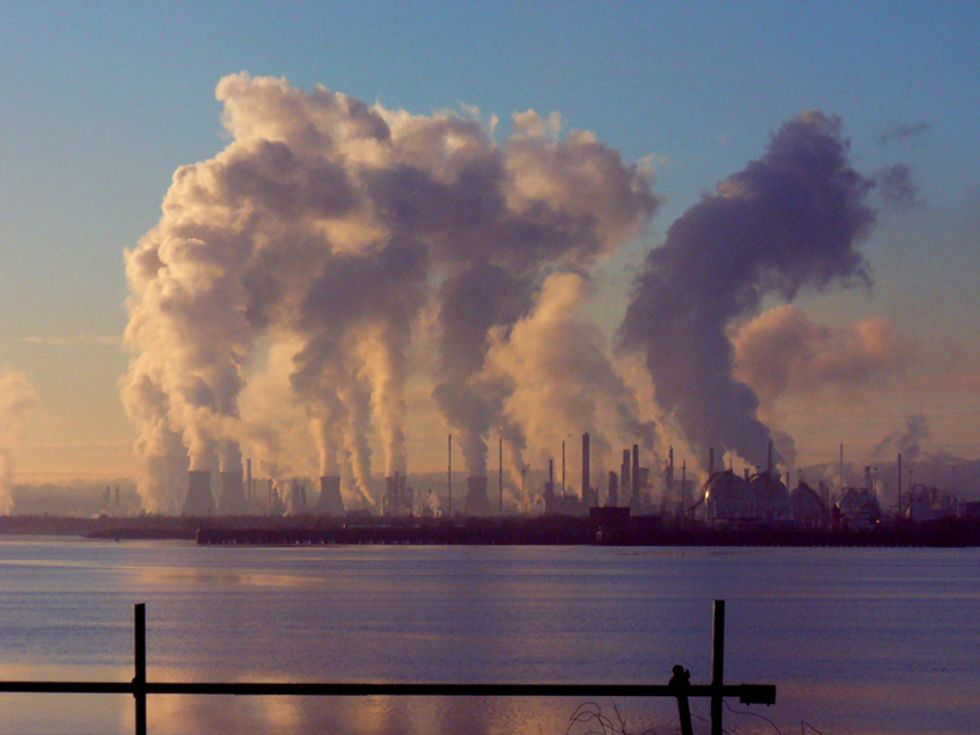 Grangemouth oil refinery in Scotland (GRAEME MACLEAN)
So the next time someone tries to let humankind off the climate-change hook, blaming volcanoes as part of a natural heating and cooling cycle, tell them no. If they try and play the alternate facts game with you, lay some of Siegel's math on them.
This is clearly our mess. The earth was doing just fine before we began making all this trouble.