According to this research, eight percent of Americans always refuse vaccines. Why?
Photo by Joseph Prezioso / AFP via Getty Images
New research found that 22 percent of Americans identify as somewhat or fully resistant to vaccination.
Researchers used two social psychology theories to explore the causes of vaccine resistance.
The more one identifies with an anti-vaccine group, the harder it is to dissuade them from their ideas.
Vaccine hesitancy is top of mind for global public health officials, and the reasons for this resistance are manifold. A group of American researchers recently focused on social identity as a motivating factor. Their study, published in the journal Politics, Groups, and Identities, found that group identification was an important factor for just over one-fifth of citizens.
Anti-vaxx social identification (AVSID) includes 22 percent of Americans — 14 percent of whom identify as "sometimes" resistant, while eight percent claim to "always" refuse vaccines. While on its face this appears to be a medical decision, the research team, led by Oklahoma State University political scientist Matt Motta, sought to discover the relevance of group acceptance.
Social psychology really matters
Previous research has found that anti-vaxxers conform to in-group norms by expressing skepticism against anyone that questions their autonomy and rejecting broader public health recommendations by out-group experts. Such resistance, they write, may result from identity protective cognition, that is, the avoidance of anything that challenges deeply held beliefs.
For this study, the team relied on the following two psychological theories:
Social identity theory (SIT). Coined by social psychologists Henri Tajfel and John Turner, this theory predicts in-group behavior is due to perceived status differences as well as the legitimacy and stability of such differences. SIT predominantly focuses on the psychological motivations for group membership and attachment.
Self-categorization theory (SCT). This social psychology theory is focused on the cognitive motivations for defining group membership. Also developed by John Turner, SCT investigates the consequences of perceiving people in group terms.
SIT argues that categorization can lead to identification depending on how personally each individual takes the content matter. In this case, when vaccine resistance provides self-esteem and personal meaning, then heightened group identification will merge with their identity. SCT steps in to cement the individual relationship to the content (vaccine resistance) and provides context for the group to flourish.
"Upon socially identifying with a group, people come to understand group membership in comparison to those not in the group, or to those in opposing groups. People then tend to favor members of the in-group and imbue positive characteristics onto them, whereas members of the out-group are viewed with suspicion and oftentimes are seen negatively."
Rally goers protest vaccines and the current administration during the "World Wide Rally for Freedom", an anti-mask and anti-vaccine rally, at the State House in Concord, New Hampshire, May 15, 2021.
Rally goers protest vaccines and the current administration during the "World Wide Rally for Freedom", an anti-mask and anti-vaccine rally, at the State House in Concord, New Hampshire, May 15, 2021. Photo by Joseph Prezioso / AFP via Getty Images
Following the herd, but not the immune kind

This mindset has profound social implications. While the U.S. has a goal to vaccinate 70 percent of American adults by July 4, public health officials are still concerned that another wave of COVID-19 will hit this summer due to millions of Americans refusing the jab.
While social psychology theories cannot explain all 22 percent of vaccine-hesitant individuals, the researchers are confident that they provide meaning for at least part of that population. People in this group often refuse to have their children vaccinated and also are more likely to express interest in "intuitive" thinking around health and medicine rather than accept empirical data offered by professionals.
Surveying over 5,000 Americans, the team discovered that full-blown anti-vaxxers (8 percent) were more likely to identify as a group than vaccine-hesitant respondents (14 percent). They also found that such respondents were more likely to engage in conspiratorial thinking. They write:
"People who embrace folk theories about medicine — i.e., inter-generationally transmitted beliefs about medicine that are widely held, but factually inaccurate — have been shown to be more likely to think about the world in conspiratorial ways, and less knowledgeable about basic scientific facts."
The power of tribalism
The team notes that this is more than a barrier to herd immunity. Individuals that score high on the AVSID scale are more likely to share misinformation about vaccines and disrupt important public health communications. The challenge of combating such trends, they note, is especially difficult when anti-vaxx identity is bound to the group.
Reaching the 14 percent of vaccine-hesitant individuals will prove easier than trying to convince the 8 percent of anti-vaxxers. As long as their identity is tied with the group, changing their minds will be nearly impossible.
--
Stay in touch with Derek on Twitter. His most recent book is "Hero's Dose: The Case For Psychedelics in Ritual and Therapy."
We may never have to get more than one flu shot again.
Flu Shot in Arm
Scientists have discovered immune cells that can fight all different kinds of the flu virus.
Depending on a patient's immune system, one shot could cover someone for 10 years or potentially life.
This breakthrough could save thousands worldwide.
A new treatment shows promise in becoming a one-time flu vaccine. In a recent study conducted by Professor Katherine Kedzierska at the University of Melbourne, researchers discovered a set of immune cells that have the ability to fight off all forms of the flu virus.
These "killer cells," can target Influenza A,B, and C strains.

What's the breakthrough with this vaccine?  
In the study, which was published in Nature, researchers identified parts of the virus that haven't changed within the past century. This is a novel and exciting approach for creating a one and done vaccine. The team started out by analyzing parts of the flu virus that were all common in each influenza strain. The goal was to find out which section would be the best target for a universal vaccine.
Professor Kedzierska states:
"It was really like finding a needle in a haystack. We started with 67,000 viral sequences and narrowed it down to three sequences that the killer T-cells can recognize."
Kedzierska says that although this is a major breakthrough, at this point the universal vaccine would only be effective for half of the world's population, because of the diversity of DNA, as in those who have the killer T-cells and those who have a different set.
"Now what we are working on is using similar cutting-edge technology is to find similar killer T-cells for the rest of the global population so we can protect everyone," she said.
When we are infected with a flu virus, our cells dissect the virus and extend a protein called HLA to the parts of our cells afflicted. By utilizing our common immune defense system against a universal aspect of the flu virus, we should be able to be totally immune from all future flu mutations.
How do flu vaccines currently work?
The flu virus
Flu vaccines create antibodies that are developed in the body about two weeks post vaccination. Once the antibodies get to work, we're provided protection by the viruses which are in the vaccine. Seasonal flu vaccines protect against that year's most prevalent and most researched common flu for the upcoming season.
Our body's killer immune cells will maintain a remembered immunity to an infection we were previously exposed to.
The problem is that there are new flu strains every year. That's why we keep getting sick and some people perish from the virus. The virus is constantly mutating in order to thwart our immune systems, which means new vaccinations must be created every year.
How many people have died from the flu last year?
The CDC reports that during the 2017–2018 flu season, there was a predominant mix of influenza A followed by influenza B viruses circulating around March of 2018. The season had an unusually high level of hospitalization rates and larger proportions of pneumonia and flu-associated deaths. As per the statistics:
An estimated 79,400 people died from influenza last year.
There were about 959,000 hospitalizations.
More than 22 million people went to a healthcare provider.
Highest since the 2009 H1N1 pandemic when 60 million were sick.
The flu can either be a nuisance or a life-threatening event. It's good to know that we're making progress on this virus and most likely one day throw it in the dustbin of old deadly diseases.
Nigeria, which accounted for more than half of all polio cases in 2012, reported zero new cases of the infectious disease in 2017.
UNICEF health consultant Hadiza Waya (R) tries to immunize a child during a vaccination campaign against polio in northwest Nigeria. (Photo: Pius Utomi Ekpei/AFP/Getty Images)
The Bill & Melinda Gates Foundation plans to pay off the $76 million debt that Nigeria owes Japan for resources used to eradicate polio.
It marks yet another investment by the Gates Foundation in the fight against the ancient disease. In 2017, the Gates Foundation reported it had so far spent a total of $3 billion on anti-polio efforts.
"You might be wondering why we're spending so much money when there's only 12 cases," said Jay Wenger, a medical doctor who leads the Gates Foundation's polio eradication effort, to CNBC. "We want to be sure we finish it off."
In the foundation's 2017 annual letter, Bill Gates was optimistic that the end of polio was near, adding:
"...ending polio will save lives—through the magic of zero. When polio is eradicated, the world can dedicate polio funds to improving child health, and the lessons from polio will lead to better immunization systems for other diseases."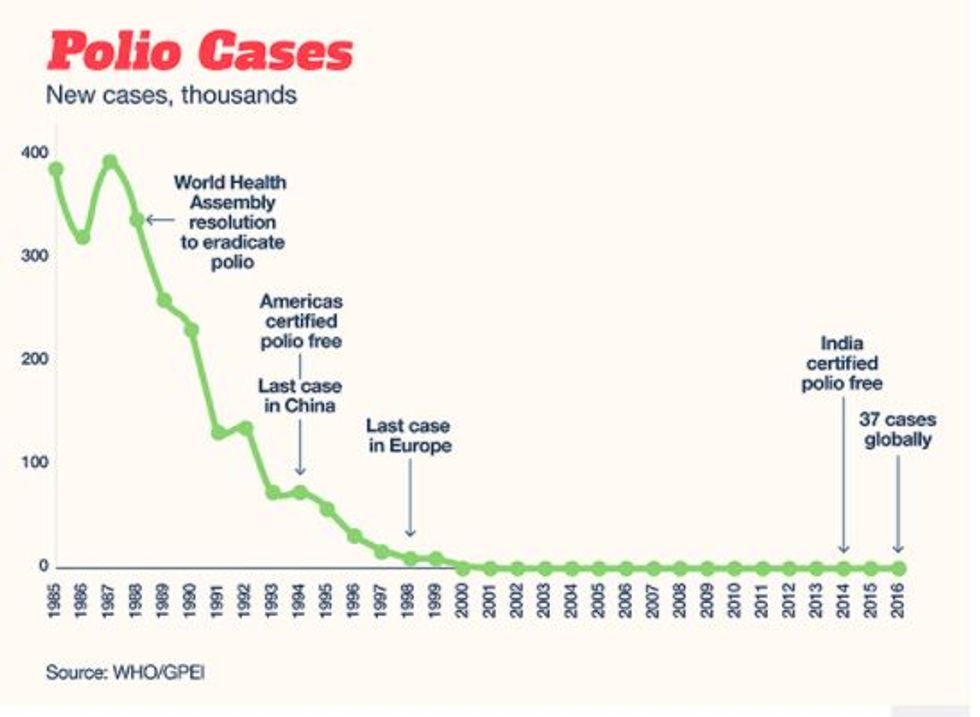 According to Quartz Africa, the Gates Foundation had agreed in 2014 to pay off Nigeria's debt over a 20-year period if the country could achieve "more than 80% vaccination coverage in at least one round each year in very high risk areas across 80% of the country's local government areas."
The efforts seem to have paid off. Nigeria, which accounted for more than half of all polio cases in 2012, reported zero new cases of the infectious disease in 2017. But achieving widespread immunization in the African nation has been difficult.
One major factor that has contributed to the lingering of polio in Nigeria has been cultural opposition to immunization. This sentiment can, in part, be traced back to 2003 when a physician on a Nigerian government committee said Western medicine was "corrupted and tainted by evildoers from America and their Western allies."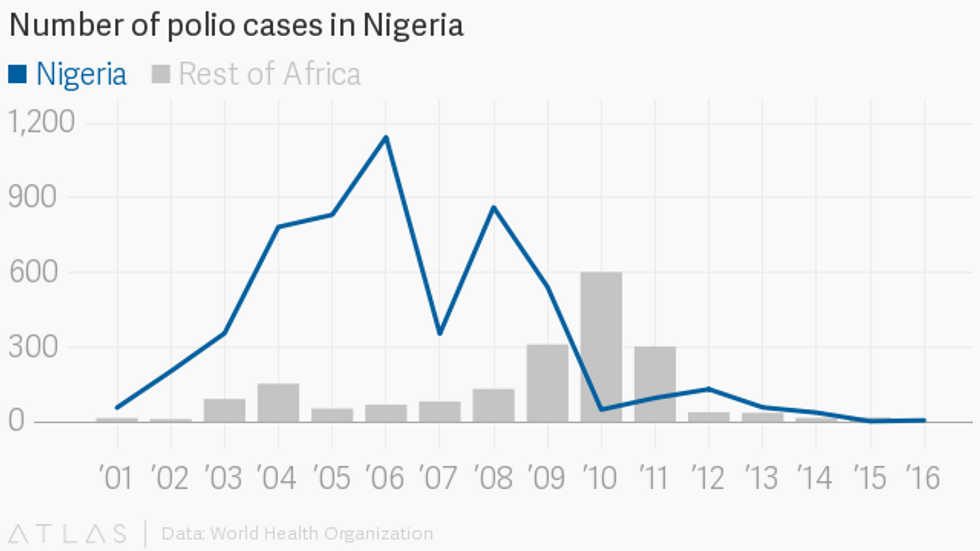 The Royal College of Veterinary Surgeons issued a statement to remind its members of their fundamental obligation to science-based medicine and animal welfare.
A vet and veterinary nurse prepare a dog for surgery. (Photo: Leon Neal/Getty Images)
In 1784, American inventor Benjamin Franklin and French chemist Antoine Lavoisier were tasked by the Académie des Sciences to study the efficacy of mesmerism, the notion that invisible forces exerted by animals provide therapeutic relief in humans. The claim, made by German physician Franz Mesmer, was quickly put to rest with this investigation. No, animal spirits do not influence human biology. 
During their studies Franklin and Lavoisier inadvertently discovered a peculiar aspect of human psychology and physiology: the placebo effect. As biographer Richard Holmes writes in The Age of Wonder regarding the increased health of patients who were not actually receiving active ingredients, "It was simply because the patients believed they would be cured." 
It wasn't until the 1970s that Rabi Simantov and Solomon Snyder discovered endorphins, endogenous opioid neuropeptides produced by our pituitary gland and hypothalamus that bind to morphine receptors, which is the cause of the placebo response. We've reaped the advantages of this natural pain and anxiety relief for eons. The placebo response is why many alternative therapies "work."
One such alternative therapy is homeopathy, which has recently been put to task by American governing agencies. In 2015, the FTC cracked down on speculative claims advertised on homeopathic packaging, while last month the FDA announced it would be regulating high-risk homeopathic products. 
The UK-based Royal College of Veterinary Surgeons (RCVS) also now recommends veterinarians use caution when employing homeopathic products. Considering there is no evidence of a placebo response in any other animal, and that so far the only means for homeopathy to work in humans is by this response, the council overwhelmingly felt using such products is not humane. The statement read:
Homeopathy exists without a recognised body of evidence for its use. Furthermore, it is not based on sound scientific principles. In order to protect animal welfare, we regard such treatments as being complementary rather than alternative to treatments for which there is a recognised evidence base or which are based in sound scientific principles. It is vital to protect the welfare of animals committed to the care of the veterinary profession and the public's confidence in the profession that any treatments not underpinned by a recognised evidence base or sound scientific principles do not delay or replace those that do.
The statement continues by reminding vets that the welfare of animals under their care should be foremost on their minds. Since there is no credible proof homeopathic remedies work, they should not be employing these substances in their treatments. 
While the council has not banned veterinary homeopathy, nor even suggests it, holistic vets responded by claiming an infringement on their rights. Chris Day, president of the The British Association of Homeopathic Veterinary Surgeons, called it a "de facto ban." 
This is an attack on freedom of choice for clients and on the clinical freedom of vets. We are deeply disappointed that the RCVS would seek to undermine its own members whose independence and livelihoods are at stake. 
It's challenging trying to make sense of homeopathy's efficacy as promoted to treat animals. Consider a concoction designed for diarrhea and gas in dogs and cats. Among the active ingredients are Nux Vomica, from the highly poisonous strychnine tree, which, diluted to the homeopathic rating of 6c means there's one part strychnine per ten trillion parts sugar water; Thuja Occidentalis, derived from the cedar tree, which, while rich in vitamin C, is predominantly used in insecticides, cleansers, disinfectants, and soaps, and contains a neurotoxic compound, thujone; and Argentum Nitricum, silver nitrate, a popular homeopathic remedy for anxiety with no proven health benefits and lethal in high doses. 
That's only one-third of the ingredient list for that particular concoction; the others do not hold up to scrutiny either. By aligning itself with the "natural" and "holistic" edge of healthcare, homeopathic products take advantage of our general ignorance of compounds and dilution rates. Most homeopathic remedies are quite safe because there's little to no active ingredients inside of the bottle. The leap to calling it "therapeutic," however, is inexcusable, a fact more governing agencies are acknowledging.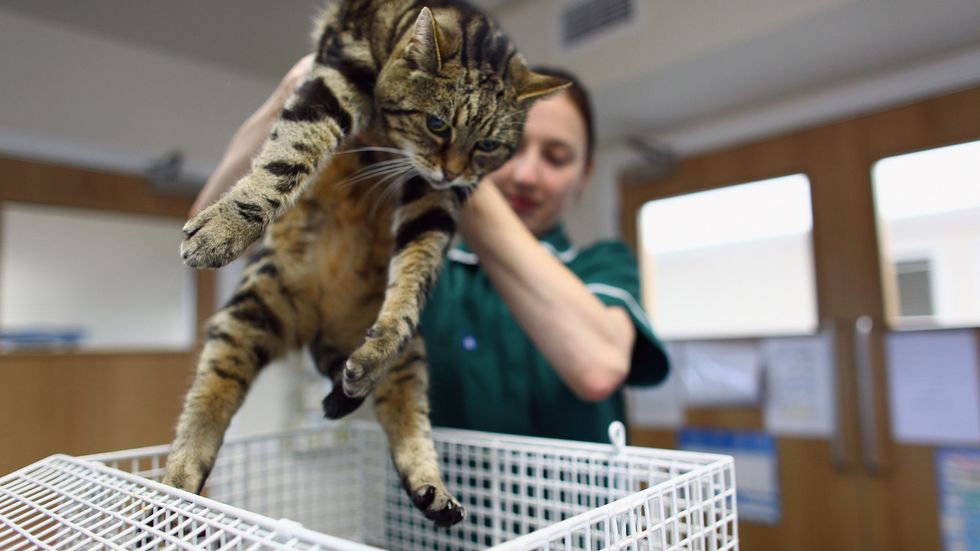 "Can I haz evidence plz?" (Photo: Jeff J Mitchell/Getty Images)
Senior Vice President of the RCVS Chris Tufnell is particularly concerned with the use of homeopathic nosodes which are sugar-coated homeopathic vaccination pills containing trace amounts of diseased tissue or discharge from a sick animal. "I have seen dogs die from completely preventable conditions such as parvovirus, which is extremely unpleasant and preventable," he said to The Sunday Telegraph. "It's entirely unnecessary." Homeopathic painkillers are another concern in the scientific community, as animals are often left in tremendous pain if their owners opt for alternatives to painkillers for their pets.
Our interaction with other species is always fraught with danger. For example, credible researchers always take studies on mice with a grain of salt. While their DNA is remarkably similar to ours, until tests are performed on humans there is no way to ensure efficacy on our biology. The reverse is also true: believing our remedies are applicable to other species is unsound.
Not that there aren't cross-species solutions. Recently, one of my cats was having bowel problems. My wife and I started mixing fiber into his diet; problem solved. Plant fibers do their job across many species; a lack of fiber in the human diet is creating serious problems. There are plenty of examples of such substances working in different animals. 
Homeopathy is not one of them. We've evolved an incredible healing system with natural opioids in which psychology and physiology work by unconscious processes. The RCVS recommendation isn't a civil rights issues; it's an animal welfare issue. Doctors treating animals should uphold the same oath demanded of human doctors. That starts with evidence. 
--
Derek Beres is the author of Whole Motion: Training Your Brain and Body For Optimal Health. Based in Los Angeles, he is working on a new book about spiritual consumerism. Stay in touch on Facebook and Twitter.
But if the campaign isn't successful, this scourge could return with a vengeance.
Bill Gates. Credit: Getty Images.
Polio (poliomyelitis) has plagued humankind throughout history. Ancient Egyptian records speak of its ravages as far back as 1403 BCE. Outbreaks struck many societies, leaving victims disabled or worse. One particularly bad epidemic in the US in 1916 took 6,000 lives. As the last century progressed, outbreaks burst onto the scene periodically.
Children are most often the ones who catch the virus. It wasn't unusual during the depression to see kids with leg braces or on crutches. Some even had their bodies put into a chamber called the "iron lung." This was a negative pressure ventilator used to aid a patient's breathing. Most patients were out in just a few weeks. But a slim few were relegated to one of these body-long chambers for the rest of their lives.  
Polio is passed from one person to the next. Symptoms include pain in the limbs, a stiff neck, nausea, fatigue, and muscle damage. 5-10% of all victims die due to deterioration of the breathing muscles, which is where the iron lung came in.
It wasn't until 1952 when Jonas Salk developed the first vaccine against polio. In 1961, a version more easily administered was invented. As a result, polio was wiped out in most developed countries by 1988. The wild poliovirus however was still active in 125 others. It left 350,000 paralyzed each year.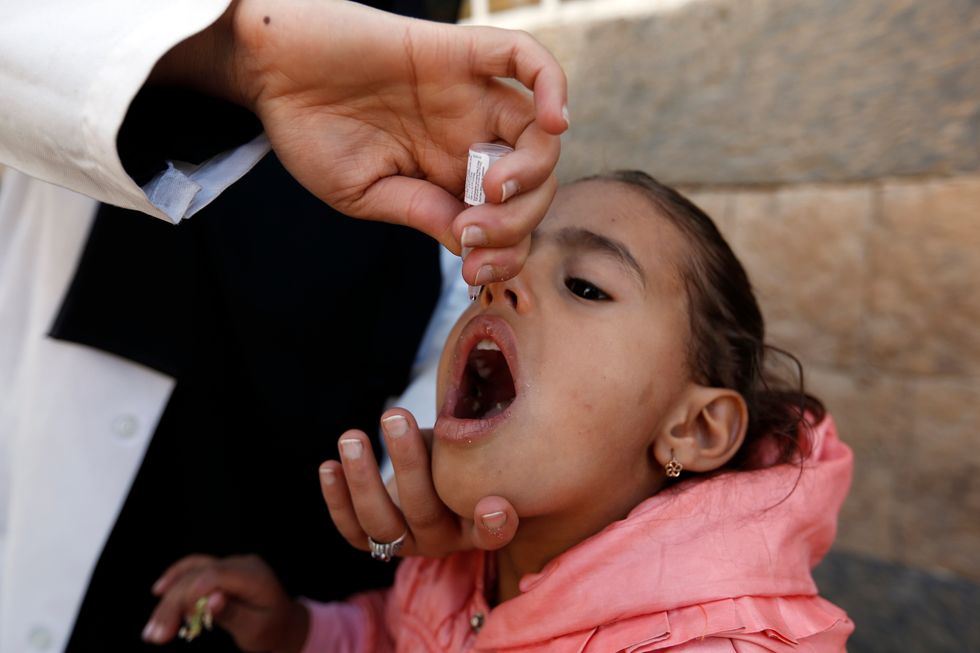 A health worker in Yemen administers the polio vaccine. Credit: Getty Images.
It was 1985 when Rotary International first put together a worldwide program to fight polio. In 2007, the World Health Assembly—part of the WHO, conceived of a time when the disease was eradicated and took steps to make it happen. It launched a campaign called the Global Polio Eradication Initiative (GPEI). The Bill & Melinda Gates Foundation and the Rotary Club together contributed a combined $3 billion to it. Recently, they reported some great news.
Sue Desmond Hellmann, Chief Executive Officer of the Bill & Melinda Gates Foundation, recently spoke at The Rotary Club's Fifth Annual World Polio Day Event on Oct. 24. There she announced that the number of cases worldwide had been reduced by over 99%. In 2016, only 12 cases exist in the entire world. These were concentrated in only three countries: Nigeria, Afghanistan, and Pakistan. All the cases are in conflict zones. In Nigeria it's in areas held by insurgency group Boko Haram and in the others, by the Taliban.  
Despite this, Hellmann reported that we may see the last human case of wild poliovirus by the end of the year, two years ahead of schedule. 16 million people have avoided polio and so disability due to their efforts, according to Hellmann. But a lot is on the line. If it isn't eliminated within the next 10 years, we could easily see a resurgence of 200,000 cases globally or more.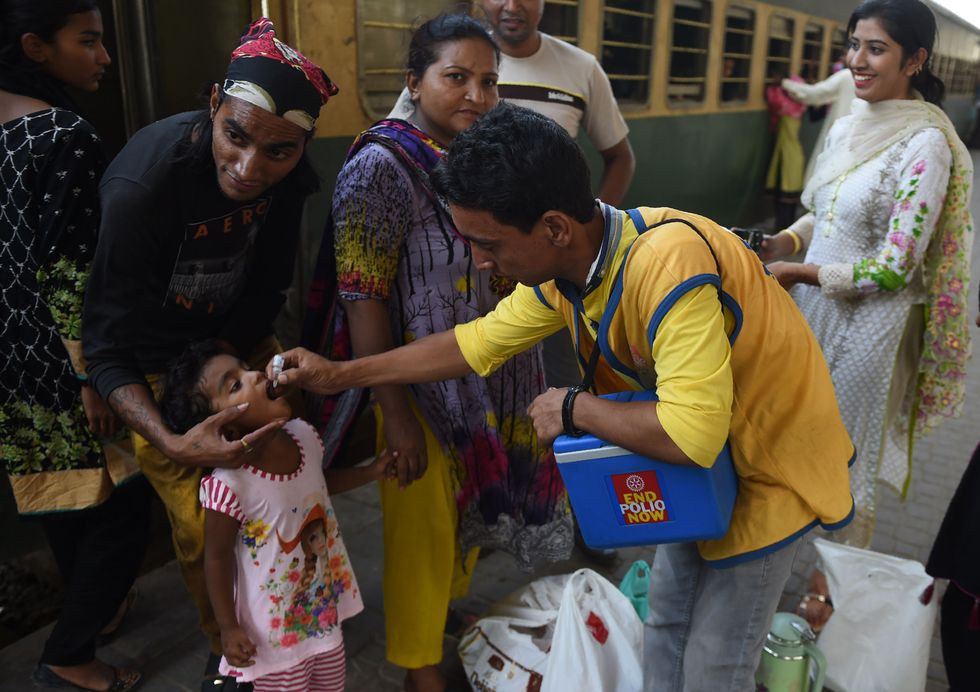 Pakistani health worker gives a child the polio vaccine. Credit: Getty Images.
Back in June, the foundation reported an initiative where they sent health workers to remote areas all over, including some of the most dangerous parts of the world, to get children vaccinated. The initiative has not been absent of danger.
For instance, in the remote, mountainous region of North Waziristan, Pakistan, Taliban forces have made vaccination forbidden, claiming it is un-Islamic. They may be reticent to allow it because in the CIA hunt for Osama bin Laden, the agency used vaccination as a cover story to try and discover the 9/11 mastermind's location.
In Syria, vaccination was at 90%, until the civil war swept through in 2011. While in parts of Africa, health workers have been attacked. Still, the Gates Foundation and Rotary International are upbeat. Both have committed a combined $450 million in this final push to end polio. That may seem like a lot to address just 12 cases. But as long as one single child is infected, according to the WHO, children in all countries run the risk of contracting polio.
Gates gave some context to this and other, similar initiatives in a foundation letter released back in June. "Polio will soon be history," he wrote. "In our lifetimes, malaria will end. No one will die from AIDS. Few people will get TB. Children everywhere will be well-nourished. And the death of a child in the developing world will be just as rare as the death of a child in the rich world."
It seems that what Salk started in his lab at the University of Pittsburgh decades ago, Gates is now finishing. But these two paragons share more than a humanitarian mission and a love for science. Remarkably, they have the same birthday, Oct. 28.
To learn more about the state of polio in the world today, watch this: