We are likely to see the first humans walk on Mars this decade.
NASA
Space agencies have successfully sent three spacecraft to Mars this year.
The independent missions occurred at around the same time because Earth and Mars were particularly close to each other last summer, providing an opportune time to launch.
SpaceX says it hopes to send a crewed mission to Mars by 2026, while the U.S. and China aim to land humans on the planet in the 2030s.
Spacecraft from three of the world's space agencies reached Mars this year.
In February, the United Arab Emirates' Hope space probe entered the Martian orbit, where it is studying the planet's weather cycles. That same month, NASA's Perseverance rover touched down on Mars, where it will soon begin collecting rock samples that could contain signs of ancient life. And in May, China successfully landed its Zhurong rover on the Martian surface, becoming the second nation to ever do so.
All three missions launched in the summer of 2020. The timing was no coincidence: once every two years, Earth and Mars come especially close together because their orbits are "at opposition," which is when the Earth-Mars distance is smallest during the 780-day synodic period. It is an opportune window to send spacecraft to Mars.
The handful of spacecraft currently exploring the Martian surface and atmosphere are scheduled to conduct their experiments for periods ranging from months to years. Some even plan to collect materials to return to Earth. For example, NASA's Perseverance will store its rock samples in protective tubes and leave them behind for a smaller "fetch rover" to pick up on a future mission.
Photo of Martian surface taken by the Perseverance roverNASA/JPL-Caltech
If all goes well, an Airbus spacecraft dubbed the Earth Return Orbiter (ERO) will carry the samples back to Earth in 2031. It would be the first time a space mission has returned Martian matter to Earth. But before the decade's end, space agencies have some other missions that aim to study the Red Planet.

Europe & Russia
NASA is not the only space agency aiming to find evidence of life on the Red Planet. In 2023, Roscosmos and the European Space Agency plan to land their Rosalind Franklin rover on the Martian surface, where it will drill into rock and analyze soil composition for signs of past — or possibly present — alien life.
The joint mission is part of a long-term Mars project that began in 2016. This second phase was initially planned for 2020, but due in part to the COVID-19 pandemic, the space agencies decided to postpone the launch to 2022.
"We want to make ourselves 100% sure of a successful mission. We cannot allow ourselves any margin of error. More verification activities will ensure a safe trip and the best scientific results on Mars," said ESA Director General Jan Wörner.
Japan
In 2022, the Japanese Aerospace Exploration Agency (JAXA) plans to send to Mars its TEREX lander, which will "precisely measure the amount of water molecules and oxygen molecules, and search for water resources and the possibility of life on Mars," JAXA wrote.
TEREX-1National Institution of Information and Communications Technology
In 2024, JAXA also plans to launch a uniquely bold interplanetary mission that will involve sending a probe to orbit Mars, landing on the Martian moon Phobos, collecting surface samples, and then returning those samples to Earth in 2029. JAXA says the mission has two main objectives: (1) to investigate whether the Martian moons are captured asteroids or fragments that coalesced after a giant impact with Mars; and (2) to clarify the mechanisms controlling the surface evolution of the Martian moons and Mars.

China
Following the successful landing of its Zhurong rover this year, China released a roadmap of its plans for additional Mars voyages. The first is an uncrewed mission scheduled for 2030, with crewed missions planned for 2033, 2035, 2037, and 2041. As the International Space Station project is coming to a close, China is in the process of building its own space station; earlier this year it launched into orbit the first part of its station, which will take 10 more missions to assemble.
SpaceX
Elon Musk's California-based aerospace company has its sights on two Mars voyages: a cargo-only mission in 2022 and a human mission by 2026. The crewed mission would involve building a propellant depot and preparing a site for future crewed flights. Getting to Mars will first require an orbital test of SpaceX's Starship rocket, which the company hopes to conduct this year.
Regarding the long-term future of humans on the Red planet, Musk once told Ars Technica:
"I'll probably be long dead before Mars becomes self-sustaining. But I'd like to at least be around to see a bunch of ships land on Mars."
India
In 2014, the Indian Space Research Organization executed its first interplanetary trip with its Mars Orbiter Mission. It marked the first time an Asian nation reached Martian orbit and also the first time a nation successfully reached the Red planet on its maiden voyage. India has plans for a follow-up Mars Orbiter Mission 2, but it remains unclear when that will occur and what the mission will entail.
In February, the chief of the Indian Space Research Organisation said the nation would only launch a Mars mission after Chandrayaan-3, India's upcoming mission to the Moon, which is expected to launch in 2022.
Scientists do not know what is causing the overabundance of the gas.
Credit: NASA
A new study looked to understand the source of methane on Saturn's moon Enceladus.
The scientists used computer models with data from the Cassini spacecraft.
The explanation could lie in alien organisms or non-biological processes.
Something is producing an overabundance of methane in the ocean hidden under the ice of Saturn's moon Enceladus. A new study analyzed if the source could be an alien life form or some other explanation.
The study, published in Nature Astronomy, was carried out by scientists at the University of Arizona and Paris Sciences & Lettres University, who looked at composition data from the water plumes erupting on Enceladus.
The particular chemistry, discovered by the Cassini spacecraft which flew through the plumes, suggested a high concentration of molecules that have been linked to hydrothermal vents on the bottom of Earth's oceans. Such vents are potential cradles of life on Earth, according to previous studies. The data from Cassini, which has been studying Saturn after entering its orbit in 2004, revealed the presence of molecular hydrogen (dihydrogen), methane, and carbon dioxide, with the amount of methane presenting a particular interest to the scientists.
"We wanted to know: Could Earthlike microbes that 'eat' the dihydrogen and produce methane explain the surprisingly large amount of methane detected by Cassini?"
shared
one of the study's lead authors Régis Ferrière, an associate professor in the department of Ecology and Evolutionary Biology at the University of Arizona.
Earth's hydrothermal vents feature microorganisms that use dihydrogen for energy, creating methane from carbon dioxide via the process of methanogenesis.

Searching for such microorganisms known as methanogens on the seafloor of Enceladus is not yet feasible. Likely, it would require very sophisticated deep diving operations that will be the objective of future missions.
So, Ferrière's team took a more available approach to pinpointing the origins of the methane, creating mathematical models that attempted to explain the Cassini data. They wanted to calculate the likelihood that particular processes were responsible for producing the amount of methane observed. For example, is the methane more likely the result of biological or non-biological processes?
They found that the data from Cassini was consistent with either microbial activity at hydrothermal vents or processes that have nothing to do with life but could be quite different from what happens on Earth. Intriguingly, models that didn't involve biological entities didn't seem to produce enough of the gas.
"Obviously, we are not concluding that life exists in Enceladus' ocean," Ferrière stated. "Rather, we wanted to understand how likely it would be that Enceladus' hydrothermal vents could be habitable to Earthlike microorganisms. Very likely, the Cassini data tell us, according to our models."

Still, the scientists think future missions are necessary to either prove or discard the "life hypothesis." One explanation for the methane that does not involve biological organisms is that the gas is the result of a chemical breakdown of primordial organic matter within Enceladus' core. This matter could have become a part of Saturn's moon from comets rich in organic materials.
A new government report describes 144 sightings of unidentified aerial phenomena.
The military has rebranded unidentified flying objects as unidentified aerial phenomena – UAPs – in part to avoid the stigma that has been attached to claims of aliens visiting the Earth since the Roswell incident in 1947. The report presents no convincing evidence that alien spacecraft have been spotted, but some of the data defy easy interpretation.
I'm a professor of astronomy who has written extensively on the search for life in the universe. I also teach a free online class on astrobiology. I do not believe that the new government report or any other sightings of UFOs in the past are proof of aliens visiting Earth. But the report is important because it opens the door for a serious look at UFOs. Specifically, it encourages the U.S. government to collect better data on UFOs, and I think the release of the report increases the chances that scientists will try to interpret that data. Historically, UFOs have felt off limits to mainstream science, but perhaps no more.
Three videos from the U.S. military sparked a recent surge in interest in UFOs.
What's in the UFO report?
The No. 1 thing the report focuses on is the lack of high-quality data. Here are the highlights from the slender nine-page report, covering a total of 144 UAP sightings from U.S. government sources between 2004 and 2021:
"Limited data and inconsistent reporting are key challenges to evaluating UAP."
Some observations "could be the result of sensor errors, spoofing, or observer misperception."
"UAP clearly pose a safety of flight issue and may pose a challenge to U.S. national security."
Of the 144 sightings, the task force was "able to identify one reported UAP with high confidence. In that case, we identified the object as a large, deflating balloon. The others remain unexplained."
"Some UAP many be technologies deployed by China, Russia, another nation, or non-governmental entity."
UFOs are taboo among scientists
UFO means unidentified flying object. Nothing more, nothing less. You'd think scientists would enjoy the challenge of solving this puzzle. Instead, UFOs have been taboo for academic scientists to investigate, and so unexplained reports have not received the scrutiny they deserve.
One reason is that most scientists think there is less to most reports than meets the eye, and the few who have dug deeply have mostly debunked the phenomenon. Over half of sightings can be attributed to meteors, fireballs and the planet Venus.
Another reason for the scientific hesitance is that UFOs have been co-opted by popular culture. They are part of a landscape of conspiracy theories that includes accounts of abduction by aliens and crop circles. Scientists worry about their professional reputations, and the association of UFOs with these supernatural stories causes most researchers to avoid the topic.
But some scientists have looked. In 1968, Edward U. Condon at the University of Colorado published the first major academic study of UFO sightings. The Condon Report put a damper on further research when it found that "nothing has come from the study of UFOs in the past 21 years that has added to scientific knowledge."
However, a review in 1998 by a panel led by Peter Sturrock, a professor of applied physics at Stanford University, concluded that some sightings are accompanied by physical evidence that deserves scientific study. Sturrock also surveyed professional astronomers and found that nearly half thought UFOs were worthy of scientific study, with higher interest among younger and more well-informed astronomers.
If astronomers are intrigued by UFOs – and believe some cases deserve study with academic rigor – what's holding them back? A history of mistrust between ufologists and scientists hasn't helped. And while UFO research has employed some of the tools of the scientific method, it has not had the core of skeptical, evidence-based reasoning that demarcates science from pseudoscience.
A search of 90,000 recent and current grants awarded by the National Science Foundation finds none addressing UFOs or related phenomena. I've served on review panels for 35 years, and can imagine the reaction if such a proposal came up for peer review: raised eyebrows and a quick vote not to fund.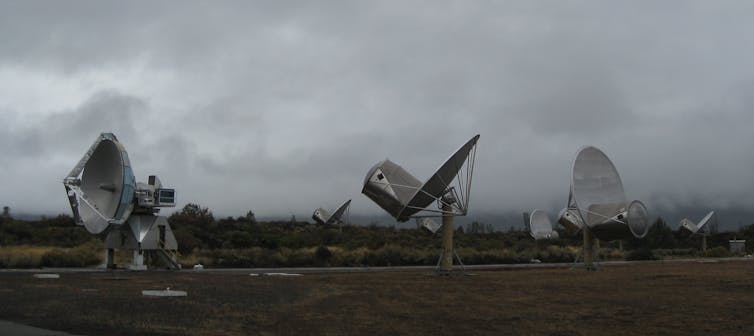 Radio telescopes like the Allen Telescope Array seen here scan the sky looking for signs of intelligent life in the universe. (Brewbooks/Wikimedia Commons, CC BY-SA)
A decadeslong search for aliens
While the scientific community has almost entirely avoided engaging with UFOs, a much more mainstream search for intelligent aliens and their technology has been going on for decades.
The search is motivated by the fact that astronomers have, to date, discovered over 4,400 planets orbiting other stars. Called exoplanets, some are close to the Earth's mass and at just the right distance from their stars to potentially have water on their surfaces – meaning they might be habitable.
Astronomers estimate that there are 300 million habitable worlds in the Milky Way galaxy alone, and each one is a potential opportunity for life to develop and for intelligence and technology to emerge. Indeed, most astronomers think it very unlikely that humans are the only or the first advanced civilization.
This confidence has fueled an active search for extraterrestrial intelligence, known as SETI. It has been unsuccessful so far. As a result, researchers have recast the question "Are we alone?" to "Where are the aliens?" The absence of evidence for intelligent aliens is called the Fermi paradox. First articulated by the physicist Enrico Fermi, it's a paradox because advanced civilizations should be spread throughout the galaxy, yet we see no sign of their existence.
The SETI activity has not been immune from scientists' criticism. It was starved of federal funding for decades and recently has gotten most of its support from private sources. However, in 2020, NASA resumed funding for SETI, and the new NASA administrator wants researchers to pursue the topic of UFOs.
In this context, the intelligence report is welcome. The report draws few concrete conclusions about UFOs and avoids any reference to aliens or extraterrestrial spacecraft. However, it notes the importance of destigmatizing UFOs so that more pilots report what they see. It also sets a goal of moving from anecdotal observations to standardized and scientific data collection. Time will tell if this is enough to draw scientists into the effort, but the transparency to publish the report at all reverses a long history of secrecy surrounding U.S. government reports on UFOs.
I don't see any convincing evidence of alien spacecraft, but as a curious scientist, I hope the subset of UFO sightings that are truly unexplained gets closer study. Scientists are unlikely to weigh in if their skepticism generates attacks from "true believers" or they get ostracized by their colleagues. Meanwhile, the truth is still out there.
This article has been updated to clarify that the report was produced by the Office of the Director of National Intelligence.
Chris Impey, University Distinguished Professor of Astronomy, University of Arizona
This article is republished from The Conversation under a Creative Commons license. Read the original article.
Jupiter's mysterious auroral events are caused by vibrating waves of plasma.
For 50 years, astronomers have known that Jupiter has frequent auroral displays, but not why.
The bursts are a combination of visible and invisible light.
The presence of NASA's Juno spacecraft around Jupiter allowed scientists to solve the mystery.
Here on Earth, an aurora borealis is a wondrous natural event that too few of us ever get a chance to see. Their occurrence remains unpredictable enough that a glimpse of one may remain elusive even for people who live in the United States' northern latitudes.
Imagine, though, that you could see one every few minutes. That's what happens at Jupiter's north and south poles every 27 minutes. Not only that, but each auroral event blasts out enough X-ray energy to power our entire civilization. A new study, from University College London and the Chinese Academy of Science and published in Science Advances, solves the mystery of how and why this occurs.
Surfing waves of plasma
Credit: ESA / NASA / Yao / Dunn
"We have seen Jupiter producing X-ray aurora for four decades," says the study's co-lead author William Dunn, "but we didn't know how this happened. We only knew they were produced when ions crashed into the planet's atmosphere."

To unravel the mystery behind what is happening, the researchers aligned observations made over a 26-hour period by NASA's Juno spacecraft (which orbits Jupiter) with X-ray measurements made by the European Space Agency's XMM-Newton Observatory (which orbits Earth). Having time-aligned the two sets of observations, computer modeling revealed the mechanics behind the auroral bursts.
Jupiter has a massive magnetic field — some 20,000 times stronger than Earth's — extending out around the planet. Plasma, or ionized gas whose atoms have been stripped of electrons as they collide with each other, races along these lines. Periodic vibrations in the magnetic field lines, the cause of which is still unknown but thought to involve interactions with the solar wind or magnetosphere, produce waves in the plasma.
Jupiter's moon Io releases ion particles from gigantic volcanoes, which get swept up and carried along by the plasma waves, eventually smashing into Jupiter's atmosphere. This results in the massive release of visible and invisible light, including X-rays.
Dunn says, "Now we know these ions are transported by plasma waves — an explanation that has not been proposed before, even though a similar process produces Earth's own aurora. It could, therefore, be a universal phenomenon, present across many different environments in space."
"Now we have identified this fundamental process, there is a wealth of possibilities for where it could be studied next," says co-lead author Zhonghua Yao. "Similar processes likely occur around Saturn, Uranus, Neptune, and probably exoplanets as well, with different kinds of charged particles 'surfing' the waves."
A black hole lab
Co-author Graziella Branduardi-Raymont says, "X-rays are typically produced by extremely powerful and violent phenomena such as black holes and neutron stars, so it seems strange that mere planets produce them too."
Jupiter thus represents a promising research opportunity.
"We can never visit black holes," says Branduardi-Raymont, "as they are beyond space travel, but Jupiter is on our doorstep. With the arrival of the satellite Juno into Jupiter's orbit, astronomers now have a fantastic opportunity to study an environment that produces X-rays up close."
A new artificial intelligence method removes the effect of gravity on cosmic images, showing the real shapes of distant galaxies.
Japanese astronomers train AI to differentiate between fake and real data from faraway galaxies.
The approach helps remove noise from astronomical observations.
The new technique will help more accurately reveal the large-scale structure of the universe.
A new AI-based tool developed by Japanese astronomers promises to remove unwanted noise in data to generate a cleaner view of the true shape of galaxies. The scientists successfully tried this approach on real data from Japan's Subaru Telescope and discovered that the distribution of mass produced by their technique corresponded to the established models.
The scientists from the National Astronomical Observatory of Japan (NAOJ) in Tokyo believe their method could be very useful in the analysis of big data from large astronomy surveys. These surveys help us study the structure of the universe by focusing on gravitational lensing patterns.
The trouble with gravitational lensing
Gravitational lensing refers to the phenomenon whereby massive space objects like a cluster of galaxies can distort or bend the light that comes from objects in their background. In other words, images of distant space bodies can be made to look strange by the gravitational pull of objects in the foreground.
One example of this is the "Eye of Horus" galaxy system, discovered by NAOJ astronomers in 2016. The striking images of the system, named in honor of the sacred eye of an ancient Egyptian sky god, are the byproduct of two distant galaxies being lensed by a closer galaxy.
The issue with gravitational lensing for astronomers is that it can make it hard to differentiate galaxy images that are distorted by gravity from galaxies that are actually distorted. This so-called "shape noise" undermines confidence in research into the universe's large structures.
Eye of Horus galaxy system. The yellow object at the center represents a galaxy about 7 billion light-years away that bends the light from two galaxies in the background that are even farther away.Credit: NAOJ
A new approach

The new study, published in the Monthly Notices of the Royal Astronomical Society, shows how the research team was able to counteract shape noise by utilizing ATERUI II, the most powerful astronomy supercomputer in the world. By feeding it pretend and real data from the Subaru Telescope, the scientists had the computer simulate 25,000 mock galaxy catalogs. They added realistic noise to these data sets while teaching their artificial intelligence network through deep learning to pick out the correct data from the noise.
"This research shows the benefits of combining different types of research: observations, simulations, and AI data analysis," shared team's leader Masato Shirasaki. He added, "In this era of big data, we need to step across traditional boundaries between specialties and use all available tools to understand the data. If we can do this, it will open new fields in astronomy and other sciences."
How the AI works
Employing a generative adversarial network (GAN), the Japanese astronomers' AI learned to find details that previously could not be seen, explained the observatory's press release. The GAN developed by the scientists actually uses two networks — one of them generates an image of a lens map without noise, while the other one compares it to the real noise-free lens map, tagging the created images as a fake. By running this system through a large number of noise and denoised map pairs, both of the networks are trained. The first one makes lens maps that are closer to the real ones, while the other network does a better job of identifying fakes.
The diagram of the AI (generative adversarial network) utilized in the study. Credit: NAOJ
To further test their method, the scientists turned their AI's attention to real data from 21 square degrees of the sky, showing that the distribution of foreground mass is in accordance with what is predicted by the standard cosmological model.