Big ideas.
Once a week.
Subscribe to our weekly newsletter.
The meaning of life according to Nietzsche
Having trouble finding the meaning of life? Nietzsche had the same problem. His philosophy offers us a few suggestions for finding the solution.
13 February, 2018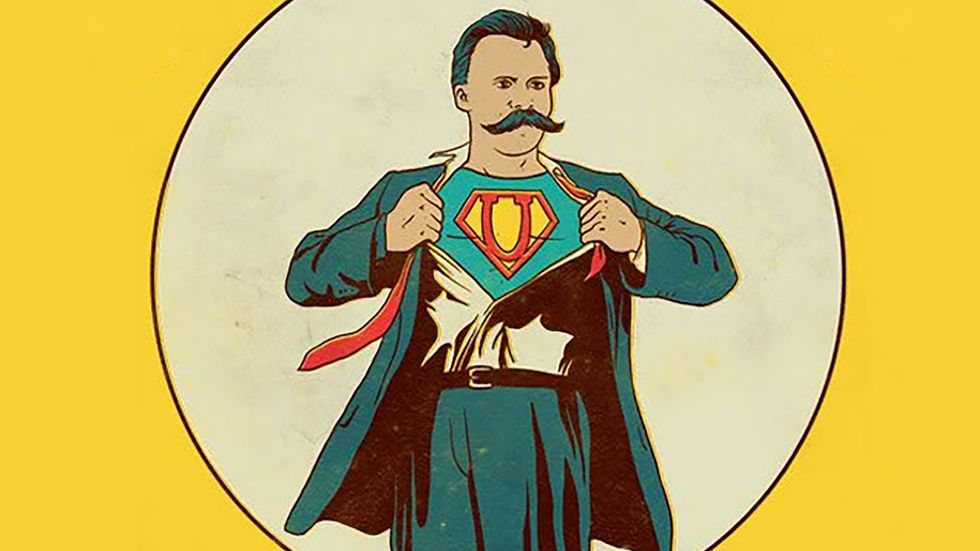 Friedrich Nietzsche
The question of what meaning our lives might have was a major one for Nietzsche. While he is often mistaken for a nihilist, he was in fact quite the opposite. Indeed, much of his work is concerned with the problem of overcoming nihilism despite the slew of problems that drive people towards it.
---
Interpretations of how Nietzsche proposed to overcome nihilism can vary. From taking up the life of a guru to more brutish images of becoming an all-powerful Superman (Übermensch), the (in)famous philosopher's ideas offer insight into how to find more meaning in our lives. Here's how Nietzsche approached the problem of the meaning of life and how you can use the same approach.
God is dead and we have killed him
For Nietzsche, the problem begins with the death of God. We've discussed this concept before, but in brief, it is Nietzsche's realization that an increasingly secular and scientific society can no longer turn to Christianity to find meaning. In ages past the meaning of everything was assured by God. Without the ability to turn to God, where could modern man find meaning?
Nietzsche found this concerning, as the typical person would be driven to nihilism without help. While mass movements would be able to provide another structure to find meaning in, Nietzsche, ever the individualist, rejected this notion as being a real solution. Instead, he offers us three solutions that we, as individuals, can try to use to find meaning in our post-God lives.
A cultural revolution
Nietzsche, who was an atheist, understood that religion was useful for providing meaning, community, and helping to deal with the problems of life. His first suggestion was to replace religion with philosophy, art, music, literature, theatre, and other parts of the humanities to provide similar benefits.
The void created by the death of God is a major one and one which we must strive to fill. The humanities offer us the ability to contextualize our sufferings, our efforts, and a chance to see our lives as not so different from those around us. They can offer insights into how we might tackle problems we all must face.
However, it is important to not just study them as bone-dry academic subjects. They must be seen as tools for living. Don't read history for facts; see it as a way to edify yourself. Tragic plays are not just for entertainment, they are to teach you how to see the beauty in sad events.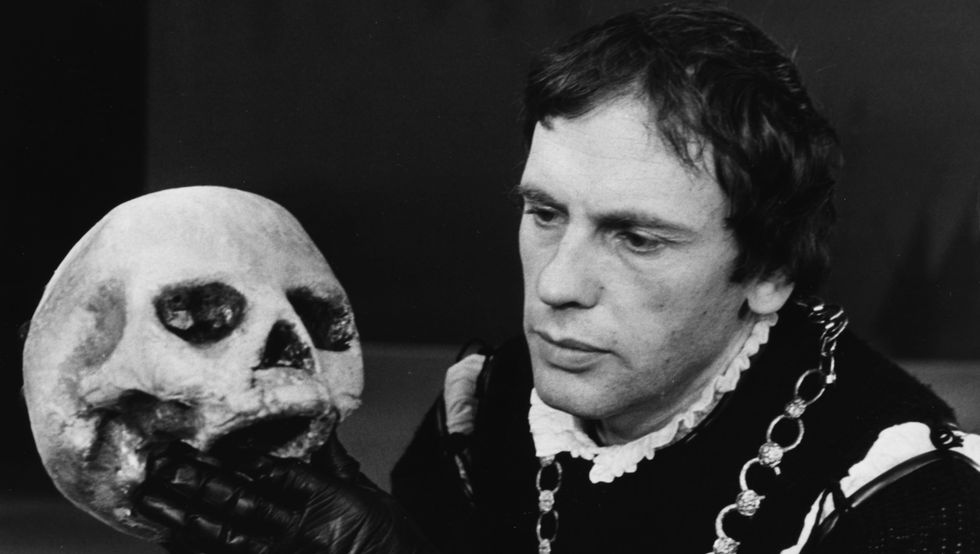 French actor Jean-Louis Trintignant holding the skull of Yorick during a scene from the Shakespeare play 'Hamlet', plays like Hamlet can help us deal with issues that religion used to tackle but can no longer handle. (Getty Images)
What if we don't like the humanities? Or they don't seem to help?
That's fine. He has other ideas. No discussion of Nietzsche is complete without reference to the Übermensch. The Superman that creates their own meaning and values without reference to outside influences. Such an individual can overcome the problem of the meaning of life by simply inventing their own meaning and taking full responsibility for it. Nietzsche offered us a few examples of men who came close to being an Ubermensch; Jesus, Julius Caesar, Napoleon, Buddha, and Goethe among them, but felt that none of them quite hit the mark.
The person who is able to actually able fully carry out this advice, it seems, it still yet to come. For those of us who remain typical humans, we can hope to find some meaning in looking towards the Superman and the evolution of humanity. "Man is something to be surpassed. What have ye done to surpass man?" Zarathustra asks the crowd of onlookers. He sees the psychological evolution of humanity as an ever-advancing story, one which we would do well to take part in.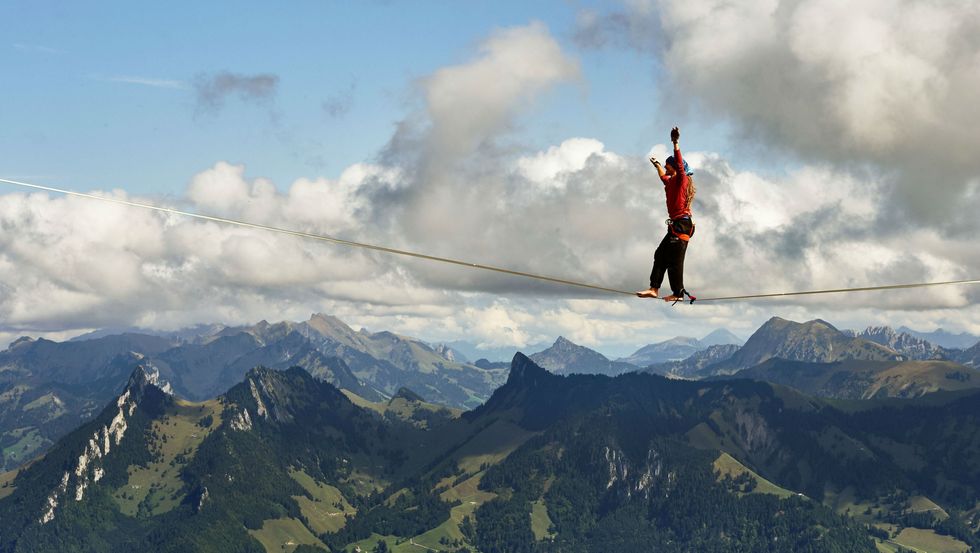 In the first part of Thus Spoke Zarathustra, Nietzsche makes reference to a tightrope walker to demonstrate the perilous journey of humanity from ape to Superman. (Getty Images)
The Übermensch seems like a little too much. What else is there?
If the Ubermensch isn't something you value, there is another way to find solace more immediately. Loving your life, no matter what it has in it, is another method to find meaning.  Amor Fati, the love of fate, is one of Nietzsche's most interesting ideas and one which can offer us a great deal of solace when we most need it. 
To love your fate is to know that everything that has happened in your life; the good, the bad, and the ugly, has contributed to who you are and what you are doing at this very moment. To embrace any part of life, says Nietzsche, thus necessitates that you embrace all of it. Trying to create yourself will lead to some failures, but embracing those failures alongside your successes can help re-spark a love of life and can help you see the meaning in even the worst moments.

In a The Gay Science he reveals to us the goal of loving fate more directly. "I want to learn more and more to see as beautiful what is necessary in things; then I shall be one of those who makes things beautiful. Amor fati: let that be my love henceforth! ..... And all in all and on the whole: someday I wish to be only a Yes-sayer." To say yes to life is one of the fundamentals of Nietzschian philosophy. 
But, what can I do today?
At the most basic level, you can set goals for yourself. Perhaps you should try reading the classic novels or go to more Shakespeare in the park to better see how some of the greatest characters ever written handle the problems of life, death, meaning, madness, and love.
Perhaps you should evaluate what things you really value and what things you only say you like because society tells you to. Or, perhaps you should reconsider the parts of your life you don't like and try to come and love them for the necessities they are. As, without them, you wouldn't be you.
There is one thing we must warn you about, however.
Nietzsche was not a happy person. He hated his family, was eternally lonely, women rejected him, his books didn't sell, he lost his mind, his sister hijacked his publishing rights, and then his ideas were taken up by a bunch of far-right ultra-nationalists who utterly missed the meaning of his individualistic philosophy. His ideas are not designed to make you "happy", they are designed to help you find meaning in your life. For Nietzsche, these things are going to be at odds, since anything worth doing is going to involve some level of suffering. In The Gay Science, he even explains, "Only great pain is the ultimate liberator of the spirit….I doubt that such pain makes us 'better'; but I know that it makes us more profound."
If your goal is happiness in the utilitarian sense, he does have an alternative for you. "The Last Man" is Nietzsche's caricature of the utilitarian ideal, a dull sort of person who lives an utterly boring life of maximized pleasure and minimized pain. However, since pain is required to do anything worth doing, the life of the Last Man is presented as a pathetic existence that leads to an utterly contented individual. This is a solution to nihilism, but not one that Nietzsche suggests you take.
The problem of how to live a life with meaning has puzzled philosophers since the days of ancient Greece, China, and India. For Nietzsche, the problem took on new meaning in the aftermath of the Enlightenment and the death of God. Even if you don't agree with his ideas, his contemporary co-founder of existentialism didn't, his offered solutions to the problem are still illumining for those of us who stay up at night looking for meaning in life.
--
"You dream about these kinds of moments when you're a kid," said lead paleontologist David Schmidt.
Surprising Science
The triceratops skull was first discovered in 2019, but was excavated over the summer of 2020.
It was discovered in the South Dakota Badlands, an area where the Triceratops roamed some 66 million years ago.
Studying dinosaurs helps scientists better understand the evolution of all life on Earth.
Are "humanized" pigs the future of medical research?
Surprising Science
In recent years, our team at Iowa State University has found a way to make pigs an even closer stand-in for humans. We have successfully transferred components of the human immune system into pigs that lack a functional immune system. This breakthrough has the potential to accelerate medical research in many areas, including virus and vaccine research, as well as cancer and stem cell therapeutics.
Existing biomedical models
Severe Combined Immunodeficiency, or SCID, is a genetic condition that causes impaired development of the immune system. People can develop SCID, as dramatized in the 1976 movie "The Boy in the Plastic Bubble." Other animals can develop SCID, too, including mice.
Researchers in the 1980s recognized that SCID mice could be implanted with human immune cells for further study. Such mice are called "humanized" mice and have been optimized over the past 30 years to study many questions relevant to human health.
Mice are the most commonly used animal in biomedical research, but results from mice often do not translate well to human responses, thanks to differences in metabolism, size and divergent cell functions compared with people.
Nonhuman primates are also used for medical research and are certainly closer stand-ins for humans. But using them for this purpose raises numerous ethical considerations. With these concerns in mind, the National Institutes of Health retired most of its chimpanzees from biomedical research in 2013.
Alternative animal models are in demand.
Swine are a viable option for medical research because of their similarities to humans. And with their widespread commercial use, pigs are met with fewer ethical dilemmas than primates. Upwards of 100 million hogs are slaughtered each year for food in the U.S.
Humanizing pigs
In 2012, groups at Iowa State University and Kansas State University, including Jack Dekkers, an expert in animal breeding and genetics, and Raymond Rowland, a specialist in animal diseases, serendipitously discovered a naturally occurring genetic mutation in pigs that caused SCID. We wondered if we could develop these pigs to create a new biomedical model.
Our group has worked for nearly a decade developing and optimizing SCID pigs for applications in biomedical research. In 2018, we achieved a twofold milestone when working with animal physiologist Jason Ross and his lab. Together we developed a more immunocompromised pig than the original SCID pig – and successfully humanized it, by transferring cultured human immune stem cells into the livers of developing piglets.
During early fetal development, immune cells develop within the liver, providing an opportunity to introduce human cells. We inject human immune stem cells into fetal pig livers using ultrasound imaging as a guide. As the pig fetus develops, the injected human immune stem cells begin to differentiate – or change into other kinds of cells – and spread through the pig's body. Once SCID piglets are born, we can detect human immune cells in their blood, liver, spleen and thymus gland. This humanization is what makes them so valuable for testing new medical treatments.
We have found that human ovarian tumors survive and grow in SCID pigs, giving us an opportunity to study ovarian cancer in a new way. Similarly, because human skin survives on SCID pigs, scientists may be able to develop new treatments for skin burns. Other research possibilities are numerous.

The ultraclean SCID pig biocontainment facility in Ames, Iowa. Adeline Boettcher, CC BY-SA
Pigs in a bubble
Since our pigs lack essential components of their immune system, they are extremely susceptible to infection and require special housing to help reduce exposure to pathogens.
SCID pigs are raised in bubble biocontainment facilities. Positive pressure rooms, which maintain a higher air pressure than the surrounding environment to keep pathogens out, are coupled with highly filtered air and water. All personnel are required to wear full personal protective equipment. We typically have anywhere from two to 15 SCID pigs and breeding animals at a given time. (Our breeding animals do not have SCID, but they are genetic carriers of the mutation, so their offspring may have SCID.)
As with any animal research, ethical considerations are always front and center. All our protocols are approved by Iowa State University's Institutional Animal Care and Use Committee and are in accordance with The National Institutes of Health's Guide for the Care and Use of Laboratory Animals.
Every day, twice a day, our pigs are checked by expert caretakers who monitor their health status and provide engagement. We have veterinarians on call. If any pigs fall ill, and drug or antibiotic intervention does not improve their condition, the animals are humanely euthanized.
Our goal is to continue optimizing our humanized SCID pigs so they can be more readily available for stem cell therapy testing, as well as research in other areas, including cancer. We hope the development of the SCID pig model will pave the way for advancements in therapeutic testing, with the long-term goal of improving human patient outcomes.
Adeline Boettcher earned her research-based Ph.D. working on the SCID project in 2019.

Christopher Tuggle, Professor of Animal Science, Iowa State University and Adeline Boettcher, Technical Writer II, Iowa State University
This article is republished from The Conversation under a Creative Commons license. Read the original article.
Satellite imagery can help better predict volcanic eruptions by monitoring changes in surface temperature near volcanoes.
Credit:
Ammit
via Adobe Stock
Surprising Science
A recent study used data collected by NASA satellites to conduct a statistical analysis of surface temperatures near volcanoes that erupted from 2002 to 2019.
The results showed that surface temperatures near volcanoes gradually increased in the months and years prior to eruptions.
The method was able to detect potential eruptions that were not anticipated by other volcano monitoring methods, such as eruptions in Japan in 2014 and Chile in 2015.
How can modern technology help warn us of impending volcanic eruptions?
One promising answer may lie in satellite imagery. In a recent study published in Nature Geoscience, researchers used infrared data collected by NASA satellites to study the conditions near volcanoes in the months and years before they erupted.
The results revealed a pattern: Prior to eruptions, an unusually large amount of heat had been escaping through soil near volcanoes. This diffusion of subterranean heat — which is a byproduct of "large-scale thermal unrest" — could potentially represent a warning sign of future eruptions.
Conceptual model of large-scale thermal unrestCredit: Girona et al.
For the study, the researchers conducted a statistical analysis of changes in surface temperature near volcanoes, using data collected over 16.5 years by NASA's Terra and Aqua satellites. The results showed that eruptions tended to occur around the time when surface temperatures near the volcanoes peaked.

Eruptions were preceded by "subtle but significant long-term (years), large-scale (tens of square kilometres) increases in their radiant heat flux (up to ~1 °C in median radiant temperature)," the researchers wrote. After eruptions, surface temperatures reliably decreased, though the cool-down period took longer for bigger eruptions.
"Volcanoes can experience thermal unrest for several years before eruption," the researchers wrote. "This thermal unrest is dominated by a large-scale phenomenon operating over extensive areas of volcanic edifices, can be an early indicator of volcanic reactivation, can increase prior to different types of eruption and can be tracked through a statistical analysis of little-processed (that is, radiance or radiant temperature) satellite-based remote sensing data with high temporal resolution."
Temporal variations of target volcanoesCredit: Girona et al.
Although using satellites to monitor thermal unrest wouldn't enable scientists to make hyper-specific eruption predictions (like predicting the exact day), it could significantly improve prediction efforts. Seismologists and volcanologists currently use a range of techniques to forecast eruptions, including monitoring for gas emissions, ground deformation, and changes to nearby water channels, to name a few.

Still, none of these techniques have proven completely reliable, both because of the science and the practical barriers (e.g. funding) standing in the way of large-scale monitoring. In 2014, for example, Japan's Mount Ontake suddenly erupted, killing 63 people. It was the nation's deadliest eruption in nearly a century.
In the study, the researchers found that surface temperatures near Mount Ontake had been increasing in the two years prior to the eruption. To date, no other monitoring method has detected "well-defined" warning signs for the 2014 disaster, the researchers noted.
The researchers hope satellite-based infrared monitoring techniques, combined with existing methods, can improve prediction efforts for volcanic eruptions. Volcanic eruptions have killed about 2,000 people since 2000.
"Our findings can open new horizons to better constrain magma–hydrothermal interaction processes, especially when integrated with other datasets, allowing us to explore the thermal budget of volcanoes and anticipate eruptions that are very difficult to forecast through other geophysical/geochemical methods."
Scroll down to load more…