Big ideas.
Once a week.
Subscribe to our weekly newsletter.
'God is dead': What Nietzsche really meant
The death of God didn't strike Nietzsche as an entirely good thing. Without a God, the basic belief system of Western Europe was in jeopardy.
12 August, 2016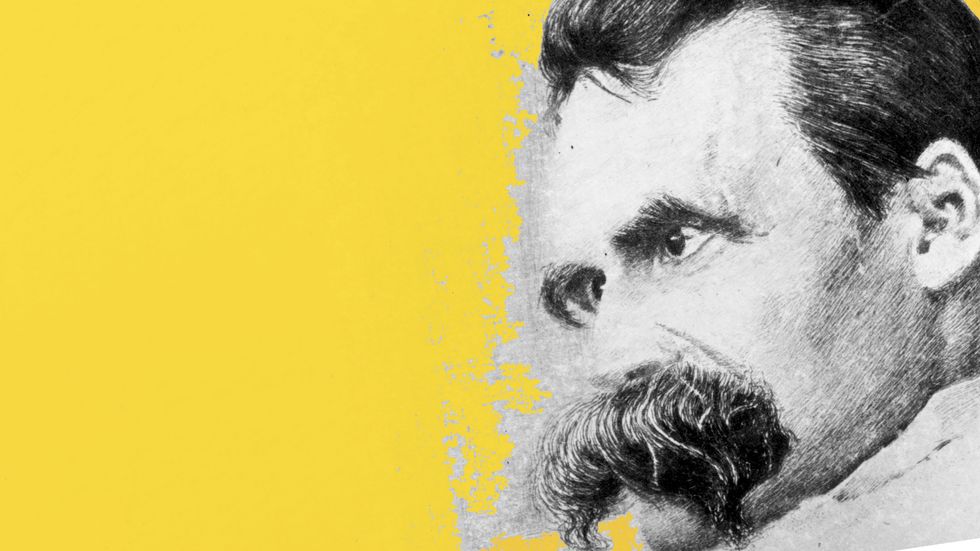 ---
It's been 134 years since Friedrich Nietzsche declared: "God is Dead" (or Gott ist tot, in German), giving philosophy students a collective headache that's lasted from the 19th century until today. It is, perhaps, one of the best known statements in all of philosophy, well known even to those who have never picked up a copy of The Gay Science, the book from which it originates. But do we know exactly what he meant? Or perhaps more importantly, what it means for us?
Nietzsche was an atheist for his adult life and didn't mean that there was a God who had actually died, rather that our idea of one had. After the Enlightenment, the idea of a universe that was governed by physical laws and not by divine providence was now reality. Philosophy had shown that governments no longer needed to be organized around the idea of divine right to be legitimate, but rather by the consent or rationality of the governed — that large and consistent moral theories could exist without reference to God. This was a tremendous event. Europe no longer needed God as the source for all morality, value, or order in the universe; philosophy and science were capable of doing that for us. This increasing secularization of thought in the West led the philosopher to realize that not only was God dead but that human beings had killed him with their scientific revolution, their desire to better understand the world.
The death of God didn't strike Nietzsche as an entirely good thing. Without a God, the basic belief system of Western Europe was in jeopardy, as he put it in Twilight of the Idols: "When one gives up the Christian faith, one pulls the right to Christian morality out from under one's feet. This morality is by no means self-evident… Christianity is a system, a whole view of things thought out together. By breaking one main concept out of it, the faith in God, one breaks the whole."
simon-critchley-examines-friedrich-nietzsche
Nietzsche thought this could be a good thing for some people, saying: "... at hearing the news that 'the old god is dead', we philosophers and 'free spirits' feel illuminated by a new dawn." A bright morning had arrived. With the old system of meaning gone a new one could be created, but it came with risks—ones that could bring out the worst in human nature. Nietzsche believed that the removal of this system put most people at the risk of despair or meaninglessness. What could the point of life be without a God? Even if there was one, the Western world now knew that he hadn't placed us at the centre of the universe, and it was learning of the lowly origin from which man had evolved. We finally saw the true world. The universe wasn't made solely for human existence anymore. Nietzsche feared that this understanding of the world would lead to pessimism, "a will to nothingness" that was antithetical to the life-affirming philosophy Nietzsche prompted.
His fear of nihilism and our reaction to it was shown in The Will to Power, when he wrote that: "What I relate is the history of the next two centuries. I describe what is coming, what can no longer come differently: the advent of nihilism... For some time now our whole European culture has been moving as toward a catastrophe." He would not have been surprised by the events that plagued Europe in the 20th century. Communism, Nazism, Nationalism, and the other ideologies that made their way across the continent in the wake of World War I sought to provide man with meaning and value, as a worker, as an Aryan, or some other greater deed; in a similar way as to how Christianity could provide meaning as a child of God, and give life on Earth value by relation to heaven. While he may have rejected those ideologies, he no doubt would have acknowledged the need for the meaning they provided.
Of course, as Nietzsche saw this coming, he offered us a way out. The creation of our own values as individuals. The creation of a meaning of life by those who live it. The archetype of the individual who can do this has a name that has also reached our popular consciousness: the Übermensch. Nietzsche however, saw this as a distant goal for man and one that most would not be able to reach. The Übermensch, which he felt had yet to exist on Earth, would create meaning in life by their will alone, and understand that they are, in the end, responsible for their selection. As he put it in Thus Spoke Zarathustra: "For the game of creation, my brothers, a sacred yes is needed: the spirit now wills his own will." Such a bold individual will not be able to point to dogma or popular opinion as to why they value what they do.
Having suggested the rarity and difficulty in creating the Übermensch, Nietzsche suggested an alternative response to Nihilism, and one that he saw as the more likely to be selected; The Last Man. A "most contemptible thing" who lives a quiet life of comfort, without thought for individuality or personal growth as: "'We have discovered happiness,' -- say the Last Men, and they blink." Much to the disappointment of Zarathustra, Nietzsche's mouthpiece, the people whom he preaches to beg him for the lifestyle of The Last Man, suggesting his pessimism on our ability to handle God's death. 
But you might ask, if God has been dead for so long and we are supposed to be suffering for knowing it, where are all the atheists? Nietzsche himself provided an answer: "God is dead; but given the way of men, there may still be caves for thousands of years in which his shadow will be shown." Perhaps we are only now seeing the effects of Nietzsche's declaration.
Indeed, atheism is on the march, with near majorities in many European countries and newfound growth across the United States heralding a cultural shift. But, unlike when atheism was enforced by the communist nations, there isn't necessarily a worldview backing this new lack of God, it is only the lack. Indeed, British philosopher Bertrand Russell saw Bolshevism as nearly a religion unto itself; it was fully capable and willing to provide meaning and value to a population by itself. That source of meaning without belief is gone.
As many atheists know, to not have a god without an additional philosophical structure providing meaning can be a cause of existential dread. Are we at risk of becoming a society struggling with our own meaninglessness? Are we as a society at risk for nihilism? Are we more vulnerable now to ideologies and conmen who promise to do what God used to do for us and society? While Americans are increasingly pessimistic about the future, the non-religious are less so than the religious. It seems Nietzsche may have been wrong in the long run about our ability to deal with the idea that God is dead.
As Alain de Botton suggests about our values, it seems that we have managed to deal with the death of God better than Nietzsche had thought we would; we are not all the Last Men, nor have we descended into a situation where all morality is seen as utterly relative and meaningless. It seems that we have managed to create a world where the need for God is reduced for some people without falling into collective despair or chaos.
Are we as individuals up to the task of creating our own values? Creating meaning in life by ourselves without aid from God, dogma, or popular choice? Perhaps some of us are, and if we understand the implications of the death of God we stand a better chance of doing so. The despair of the death of God may give way to new meaning in our lives; for as Jean-Paul Sartre suggested "life begins on the other side of despair."
--
Sources:
Abrams, Daniel, Haley Yaple, and Richard Wiener. "ArXiv.org Physics ArXiv:1012.1375v2." [1012.1375v2] A Mathematical Model of Social Group Competition with Application to the Growth of Religious Non-affiliation. N.p., n.d. Web. 04 Aug. 2016.
"Americans Overwhelmingly Pessimistic about Country's Path, Poll Finds." Mcclatchydc. N.p., n.d. Web. 04 Aug. 2016.
"America's Growing Pessimism." The Atlantic. Atlantic Media Company, 10 Oct. 2015. Web. 04 Aug. 2016.
"CNN/ORC Poll: 57% Pessimistic about U.S. Future, Highest in 2 Years." CNN. Cable News Network, n.d. Web. 04 Aug. 2016.
Nietzsche, Friedrich Wilhelm, and Walter Arnold Kaufmann. "The Meaning of Our Cheerfulness." The Gay Science: With a Prelude in Rhymes and an Appendix of Songs. New York: Vintage, 1974. N. pag. Print.
Press, Connie Cass Associated. "Gloom and Doom? Americans More Pessimistic about Future." Las Vegas Review-Journal. N.p., 03 Jan. 2014. Web. 04 Aug. 2016.
Russell, Bertrand. Bolshevism: Practice and Theory. New York: Arno, 1972. Print.
A new paper reveals that the Voyager 1 spacecraft detected a constant hum coming from outside our Solar System.
Credit: NASA / JPL - Caltech.
Surprising Science
Voyager 1, humankind's most distant space probe, detected an unusual "hum" in the data from interstellar space.
The noise is likely produced by interstellar gas.
Further investigation may reveal the hum's exact origins.
Voyager 1, humanity's most faraway spacecraft, has detected an unusual "hum" coming from outside our solar system. Fourteen billion miles away from Earth, the Voyager's instruments picked up a droning sound that may be caused by plasma (ionized gas) in the vast emptiness of interstellar space. Launched in 1977, the Voyager 1 space probe — along with its twin Voyager 2 — has been traveling farther and farther into space for over 44 years. It has now breached the edge of our solar system, exiting the heliosphere, the bubble-like region of space influenced by the sun. Now, the spacecraft is moving through the "interstellar medium," where it recorded the peculiar sound.
Stella Koch Ocker, a doctoral student in astronomy at Cornell University, discovered the sound in the data from the Voyager's Plasma Wave System (PWS), which measures electron density. Ocker called the drone coming from plasma shock waves "very faint and monotone," likely due to the narrow bandwidth of its frequency.
While they think the persistent background hum may be coming from interstellar gas, the researchers don't yet know what exactly is causing it. It might be produced by "thermally excited plasma oscillations and quasi-thermal noise."
The new paper from Ocker and her colleagues at Cornell University and the University of Iowa, published in Nature Astronomy, also proposes that this is not the last we'll hear of the strange noise. The scientists write that "the emission's persistence suggests that Voyager 1 may be able to continue tracking the interstellar plasma density in the absence of shock-generated plasma oscillation events."
Voyager Captures Sounds of Interstellar Space www.youtube.com
The researchers think the droning sound may hold clues to how interstellar space and the heliopause, which can be thought of as the solar's system border, may be affecting each other. When it first entered interstellar space, the PWS instrument reported disturbances in the gas caused by the sun. But in between such eruptions is where the researchers spotted the steady signature made by the near-vacuum.

Senior author James Cordes, a professor of astronomy at Cornell, compared the interstellar medium to "a quiet or gentle rain," adding that "in the case of a solar outburst, it's like detecting a lightning burst in a thunderstorm and then it's back to a gentle rain."
More data from Voyager over the next few years may hold crucial information to the origins of the hum. The findings are already remarkable considering the space probe is functioning on technology from the mid-1970s. The craft has about 70 kilobytes of computer memory. It also carries a Golden Record created by a committee chaired by the late Carl Sagan, who taught at Cornell University. The 12-inch gold-plated copper disk record is essentially a time capsule, meant to tell the story of Earthlings to extraterrestrials. It contains sounds and images that showcase the diversity of Earth's life and culture.
Milgram's experiment is rightly famous, but does it show what we think it does?
Mind & Brain
In the 1960s, Stanley Milgram was sure that good, law-abiding Americans would never be able to follow orders like the Germans in the Holocaust.
His experiments proved him spectacularly wrong. They showed just how many of us are willing to do evil if only we're told to by an authority figure.
Yet, parts of the experiment were set up in such a way that we should perhaps conclude something a bit more nuanced.
Holding a clipboard and wearing a lab coat makes you a very powerful person. Add in a lanyard and a confident voice, and you're pretty much in Ocean's Eleven.
Though we believe ourselves to be contrarians, most of us like to obey authority. We answer questions, help with any number of tasks, and obey commands unthinkingly. The vast majority of the time, this is relatively harmless and even requisite for a functioning society, but it can also lead humanity to very dark places.
It could happen here
As we've seen with Asch's experiments on conformity, the post-World War II community was determined to answer how and why the Holocaust took place. Just after the trial of Adolf Eichmann, the American media and public came to see German society as some special kind of monster in just how willing they were to follow orders unthinkingly, at odds with any sense of duty or morality.
Into this came Stanley Milgram. In 1961, Milgram set out a series of experiments to show, in his view, how the German people were more susceptible to authoritarianism than Americans. Milgram believed, as a lot of people did, that the American people would never be capable of such horrendous evil.
The experiment was to be set up in two stages: the first would be on American subjects, to gauge how far they would obey orders; the second would be on Germans, to prove how much they differed. The results stopped Milgram in his tracks.
Shock, shock, horror
Milgram wanted to ensure that his experiment involved as broad and diverse a group of people as possible. In addition to testing the American vs. German mindset, he wanted to see how much age, education, employment, and so on affected a person's willingness to obey orders.
So, the original 40 participants he gathered came from a wide spectrum of society, and each was told that they were to take part in a "memory test." They were to determine the extent to which punishment affects learning and the ability to memorize.
Milgram believed, as a lot of people did, that the American people would never be capable of such horrendous evil.
The experiment involved three people. First, there was the "experimenter," dressed in a lab coat, who gave instructions and prompts. Second, there was an actor who was the "learner." Third, there was the participant who thought that they were acting as the "teacher" in the memory test. The apparent experimental setup was that the learner had to match two words together after being taught them, and whenever they got the answer wrong, the teacher had to administer an electric shock. (The teachers (participants) were shocked as well to let them know what kind of pain the learner would experience.) At first, the shock was set at 15 volts.
The learner (actor) repeatedly made mistakes for each study, and the teacher was told to increase the voltage each time. A tape recorder was played that had the learner (apparently) make sounds as if in pain. As it went on, the learner would plead and beg for the shocks to stop. The teacher was told to increase the amount of voltage as punishment up to a level that was explicitly described as being fatal — not least because the learner was desperately saying he had a heart condition.
The question Milgram wanted to know: how far would his participants go?
Just obeying orders
Credit: Amos from Stockphotos.com via Unsplash
The results were surprising. Sixty-five percent of the participants were willing to give a 450-volt shock described as lethal, and all administered a 300-volt shock described as traumatically painful. It should be repeated, this occurred despite the learner (actor) begging the teacher (participant) to stop.

In the studies that came after, in a variety of different setups, that 60 percent number came up again and again. They showed that roughly two out of three people would be willing to kill someone if told to by an authority figure. Milgram proved that all genders, ages, and nationalities were depressingly capable of inflicting incredible pain or worse on innocent people.
Major limitations in Milgram's experiment
Milgram took many steps to make sure that his experiment was rigorous and fair. He used the same tape recording of the "learner" screaming, begging, and pleading for all participants. He made sure the experimenters used only the same four prompts each time when the participants were reluctant or wanted to stop. He even made sure that he himself was not present at the experiment, lest he interfere with the procedure (something Phillip Zimbardo did not do).
But, does the Milgram experiment actually prove what we think it does?
First, the experimenters were permitted to remind the participants that they were not responsible for what they did and that the team would take full blame. This, of course, does not make the study any less shocking, but it does perhaps change the scope of the conclusions. Perhaps the experiment reveals more about our ability to surrender responsibility and our willingness simply to become a tool. The conclusion is still pretty depressing, but it shows what we are capable of when offered absolution rather than when simply following orders.
Second, the experiment took place in a single hour, with very little time either to deliberate or talk things over with someone. In most situations, like the Holocaust, the perpetrators had ample time (years) to reflect on their actions, and yet, they still chose to turn up every day. Milgram perhaps highlights only how far we'll go in the heat of the moment.
Finally, the findings do not tell the whole tale. The participants were not engaging in sadistic glee to shock the learner. They all showed signs of serious distress and anxiety, such as nervous laughing fits. Some even had seizures. These were not willing accomplices but participants essentially forced to act a certain way. (Since then, many scientists have argued that Milgram's experiment is hugely unethical.)
The power of authority
That all being said, there's a reason why Milgram's experiment stays with us today. Whether it's evolutionarily or socially drilled into us, it seems that humans are capable of doing terrible things, if only we are told to do so by someone in power — or, at the very least, when we don't feel responsible for the consequences.
One silver lining to Milgram is in how it can inoculate us against such drone-like behavior. It can help us to resist. Simply knowing how far we can be manipulated helps allow us to say, "No."
Jonny Thomson teaches philosophy in Oxford. He runs a popular Instagram account called Mini Philosophy (@philosophyminis). His first book is Mini Philosophy: A Small Book of Big Ideas.
As the American population grows, fewer people will die of cancer.
Surprising Science
A new study projects that cancer deaths will decrease in relative and absolute terms by 2040.
The biggest decrease will be among lung cancer deaths, which are predicted to fall by 50 percent.
Cancer is like terrorism: we cannot eliminate it entirely, but we can minimize its influence.
As the #2 leading cause of death, cancer takes the lives of about 600,000 Americans each year. In comparison, heart disease (#1) claims more than 650,000 lives, while accidents (#3) take about 175,000 lives. (In 2020 and likely 2021, COVID will claim the #3 spot.)
Headlines are usually full of terrible news about cancer. Seemingly, you can't get away from anything that causes it. RealClearScience made a list of all the things blamed for cancer — antiperspirants, salty soup, eggs, corn, Pringles, bras, burnt toast, and even Facebook made the list.
The reality, however, is much more optimistic. We're slowly but surely winning the war on cancer.
Winning the war on cancer
How can we make such a brazen statement? A new paper published in the journal JAMA Network Open tracks trends in cancer incidence and deaths and makes projections to the year 2040. The authors predict that around 568,000 Americans will have died of cancer in 2020, but they project that number to fall to 410,000 by 2040. That's a drop of nearly 28 percent, despite the U.S. population being projected to grow from roughly 333 million today to 374 million in 2040, an increase of 12 percent. That means cancer deaths will decrease in both relative and absolute terms.
What accounts for this unexpected good news? The lion's share is the number of deaths attributable to lung cancer, which is projected to decrease by more than 50 percent, from 130,000 to 63,000. This drop is largely due to the decreasing use of tobacco products. Other deaths predicted to decline include those from colorectal, breast, prostate, and ovarian cancers, among others, such as leukemia and non-Hodgkin lymphoma (NHL).
The authors credit screening and biomedical advances for saving many of these lives. For instance, lead author Dr. Lola Rahib wrote in an email to Big Think that "colonoscopies remove precancerous polyps." She also noted that targeted therapies and immunotherapies have helped reduce the number of deaths from leukemia and NHL.
We'll never cure cancer
Now the bad news: We'll never cure cancer. There are at least three reasons for this. The first is obvious: We all die. The lifetime prevalence of death is 100 percent. The truth is that we are running out of things to die from. After a long enough period of time, something gives out — often your cardiovascular system or nervous system. Or you develop you cancer.
The second reason is that we are multicellular organisms and, hence, we are susceptible to cancer. (Contrary to popular myth, sharks get cancer, too.) The cells of multicellular organisms face an existential dilemma: they can either get old and stop dividing (a process called senescence) or become immortal but cancerous. For this reason, the problem of cancer may not have a solution.
Finally, there isn't really such a thing as a disease called "cancer." What we call cancer is actually a collection of several different diseases, some of which are preventable (like cervical cancer with the HPV vaccine) or curable (like prostate cancer). Unfortunately, some cancers probably never will be curable, not least because cancers can mutate and develop resistance to the drugs we use to treat them.
But the overall optimism still stands: We are slowly and incrementally winning the war on cancer. Like terrorism, it's not a foe that we can completely vanquish, but it is one whose influence we can minimize in our lives.
Scroll down to load more…