A team of scientists managed to install onto a smartphone a spectrometer that's capable of identifying specific molecules — with cheap parts you can buy online.
Spectroscopy provides a non-invasive way to study the chemical composition of matter.
These techniques analyze the unique ways light interacts with certain materials.
If spectrometers become a common feature of smartphones, it could someday potentially allow anyone to identify pathogens, detect impurities in food, and verify the authenticity of valuable minerals.
The quality of smartphone cameras has increased exponentially over the past decade. Today's smartphone cameras can not only capture photos that rival those of stand-alone camera systems but also offer practical applications, like heart-rate measurement, foreign-text translation, and augmented reality.
What's the next major functionality of smartphone cameras? It could be the ability to identify chemicals, drugs, and biological molecules, according to a new study published in the Review of Scientific Instruments.
The study describes how a team of scientists at Texas A&M turned a common smartphone into a "pocket-sized" Raman and emission spectral detector by modifying it with just $50 worth of extra equipment. With the added hardware, the smartphone was able to identify chemicals in the field within minutes.
The technology could have a wide range of applications, including diagnosing certain diseases, detecting the presence of pathogens and dangerous chemicals, identifying impurities in food, and verifying the authenticity of valuable artwork and minerals.
Raman and fluorescence spectroscopy
Raman and fluorescence spectroscopies are techniques for discerning the chemical composition of materials. Both strategies exploit the fact that light interacts with certain types of matter in unique ways. But there are some differences between the two techniques.
As the name suggests, fluorescence spectroscopy measures the fluorescence — that is, the light emitted by a substance when it absorbs light or other electromagnetic radiation — of a given material. It works by shining light on a material, which excites the electrons within the molecules of the material. The electrons then emit fluorescent light toward a filter that measures fluorescence.
The particular spectra of fluorescent light that's emitted can help scientists detect small concentrations of particular types of biological molecules within a material. But some biomolecules, such as RNA and DNA, don't emit fluorescent light, or they only do so at extremely low levels. That's where Raman spectroscopy comes into play.
Raman spectroscopy involves shooting a laser at a sample and observing how the light scatters. When light hits molecules, the atoms within the molecules vibrate and photons get scattered. Most of the scattered light is of the same wavelength and color as the original light, so it provides no information. But a tiny fraction of the light gets scattered differently; that is, the wavelength and color are different. Known as Raman scattering, this is extremely useful because it provides highly precise information about the chemical composition of the molecule. In other words, all molecules have a unique Raman "fingerprint."
Creating an affordable, pocket-sized spectrometer
To build the spectrometer, the researchers connected a smartphone to a laser and a series of plastic lenses. The smartphone camera was placed facing a transmission diffraction grating, which splits incoming light into its constituent wavelengths and colors. After a laser is fired into a sample, the scattered light is diffracted through this grating, and the smartphone camera analyzes the light on the other side.
Schematic diagram of the designed system.Credit: Dhankhar et al.
To test the spectrometer, the researchers analyzed a range of sample materials, including carrots and bacteria. The laser used in the spectrometer emits a wavelength that's readily absorbed by the pigments in carrots and bacteria, which is why these materials were chosen.

The results showed that the smartphone spectrometer was able to correctly identify the materials, but it wasn't quite as effective as the best commercially available Raman spectrometers. The researchers noted that their system might be improved by using specific High Dynamic Range (HDR) smartphone camera applications.
Ultimately, the study highlights how improving the fundamentals of a technology, like smartphone cameras, can lead to a surprisingly wide range of useful applications.
"This inexpensive yet accurate recording pocket Raman system has the potential of being an integral part of ubiquitous cell phones that will make it possible to identify chemical impurities and pathogens, in situ within minutes," the researchers concluded.
People may be more willing to get vaccinated when told how popular it is.
Hugh Hastings/Getty Images
Public health officials have issued plenty of warnings about people who are reluctant to get vaccinated for Covid-19.
But an MIT research team centered at MIT's Initiative on the Digital Economy (IDE) says this may be counterproductive: When shown basic numbers about how popular Covid-19 vaccines are, the fraction of people reluctant to get the vaccine drops by 5 percent. To reach these conclusions, the researchers drew on a massive international survey about the pandemic, including 1.8 million responses from 67 countries, and developed an experiment covering 300,000 people in 23 countries. The group has described their findings in a working paper and a recent LA Times op-ed.
The MIT team consists of Alex Moehring, a PhD candidate at the MIT Sloan School of Management; Avinash Collis PhD '20, an assistant professor at the University of Texas at Austin; Kiran Garimella, a postdoc at the MIT Institute for Data, Systems, and Society (IDSS); M. Amin Rahimian, a postdoc at IDSS; Sinan Aral, the David Austin Professor of Management at MIT Sloan, co-director of IDE, and author of the recent book "The Hype Machine"; and Dean Eckles, the Mitsubishi Career Development Professor and an associate professor of marketing at MIT Sloan. MIT News talked to Aral and Eckles about the findings.
Q: You have written that there is a "dangerous irony" in public health officials and other people highlighting those who are reluctant to get a Covid-19 vaccine. Why is that?
Eckles: It makes sense for public health officials and others to be worried about vaccine hesitancy, because we need a very high level of vaccine acceptance. But a lot of the time, officials make it seem as if more people are hesitant than is really the case.
Many people who say they're unsure if they'll get the vaccine may be pretty easy to sway, and one way is by telling them, "Actually, a large fraction of people in your country say they're going to accept the vaccine." We found that simply by giving people accurate information about the percentage of people in their country who say they will accept a vaccine, it increased vaccine-acceptance intentions across 23 countries. Part of what's exciting is how consistent this finding is.
Aral: I'd like to add three points. Before this study, there were at least two plausible countervailing hypotheses. One is that if more people heard that others would take the vaccine, the more they [themselves] would be inclined to take the vaccine. The other is that people would free-ride on the vaccine intentions of others: "Well, if they're going to take it, they can create herd immunity and I can avoid taking a vaccine myself." Our research shows pretty clearly that the first is true, while the second is not true [on aggregate].
Second, it's interesting that the treatment most changes the behavior of those people who are most underestimating the amount of vaccine acceptance among others. And third, there's an overarching theme here: Simply providing people the truth, the accurate information, is also very effective at swaying people to accept the vaccine.
Q: What does this teach us about human behavior, at least in these kinds of situations?
Aral: One really important thing is [the power of] social proof. When you see large portions of people behave in a certain way, it legitimizes that behavior. And there are countless examples of this. When a lot of people say a restaurant is good, you're swayed. This is another instance of that.
Eckles: There's an informational process of social learning. People are trying to figure out: What's the quality of this thing? It might seem weird to some of us following the news more, or watching what's happening with [vaccine] trials, but a lot of people are not paying attention. They may know there are these vaccines, but even so, other people's choices can be quite informative to them.
Q: What should be the core of good messaging about vaccination programs, based on your research over the last year?
Aral: As recently as February, a coronavirus task force started its communications by focusing on vaccine hesitancy. That is not, per our findings, as effective as leading with the vast and growing majority who are accepting. That's not to say we think public health officials shouldn't talk about vaccine hesitancy, or that people who are hesitant shouldn't be targeted with outreach to convince them of the safety and efficacy of vaccines — we believe that should all happen. But neglecting to emphasize the vast and growing majorities who are accepting vaccines doesn't increase vaccine acceptance as much.
Eckles: What we're saying is one part of a broader messaging strategy. Giving people this information is enough to shift their motivation to get the vaccine in a lot of cases. Though, getting them motivated is not enough if they don't know what website to go to, or if it's hard to get an appointment. It's good to couple motivational messages with actionable information.
Aral: To our knowledge this is the largest global survey of Covid-19 behaviors, norms, and perceptions. We've been running it since July. We've also done many published studies, whether about social spillovers [during the pandemic], vaccines, vaccine misinformation — all of this is part of a very forceful effort by the Initiative on the Digital Economy to make meaningful contributions to changing the trajectory of this pandemic.
Reprinted with permission of MIT News. Read the original article.
A psychologist and a doctor of emergency medicine explain.
Credit: Al Bello/Getty Images
People are eager to return to normal after a year of coronavirus, but is the U.S. there yet? Hardly. The ongoing psychological and spiritual damage caused by the pandemic is rising, too.
Guilt and shame are two prevailing emotions surrounding COVID-19. This guilt stems in part from the fact that anyone could be a potential carrier of the virus – so anyone, then, could unwittingly pass it to another person. Guilt can also arise when a person looks at the national and global death tolls and wonders how they were spared.
Guilt also happens when family members can't visit loved ones undergoing treatment at a hospital, or when someone with COVID-19 survives but reads about a infected stranger who died. A particular type of response called survivor's guilt can occur when people lose loved ones due to a traumatic event, or when they themselves experienced the threat but survived it.
As a psychologist and a doctor of emergency medicine, we have personal experience with patients suffering from survivor's guilt as they watched loved ones succumb to COVID-19. And as the pandemic continues, we expect to see more.
Survivor's guilt is complicated
Survivor's guilt can occur whether or not a person caused an event to occur. It can happen to a sole survivor of a plane crash who had nothing to do with the accident, or an intoxicated driver who crashed his car and killed his passenger. Either way, the person feels they were spared an event while others perished, and feelings of grief and anxiety result. Survivor's guilt can affect up to 90% of survivors of traumatic events. COVID-19 survivors in Bergamo, Italy, one of the world's hardest-hit towns, have experienced this on a widespread basis. Some people have reported a type of survivor guilt when they have been vaccinated, with many wondering why they have been so fortunate.
Conflicting messages from the federal and various state and local governments haven't helped. Because some leaders have suggested that COVID-19 is no worse than the flu, millions of Americans did not wear masks. By some estimates, not wearing masks could have contributed to 130,000 deaths.
Also, a person can spread COVID-19 without knowing they have the disease. This uncertainty combined with loneliness might have led to social gatherings that weren't the safest. Perhaps an elderly parent decides to risk illness rather than spend the holiday alone. Many parents, including our own, say they want to make the most out of the time they have right now; they cannot bank on being around next year.
In the world of palliative medicine, there is no shortage of examples of patients choosing quality of life over quantity, sometimes refusing lifesaving but invasive treatment so they can spend time engaged in activities they might not otherwise be able to enjoy. This is not unusual at any age – it's not at all uncommon for people to make choices that have potential tremendous costs, from smoking to skydiving.
So is someone who inadvertently passed along COVID-19 at fault? For example, how do we cope with the guilt when we know we passed the virus on to a family member? Generally people don't ascribe this kind of blame when they inadvertently pass the flu to someone who gets sick, or perhaps even dies. We do not see countless news stories assigning blame when someone with the common cold does not wear a mask at the grocery store. We believe that people should be forgiving of themselves should they accidentally transmit COVID-19. Self-forgiveness requires recognition we cannot control everything and that our motives were benign.
Dealing with survivor's guilt
Symptoms of survivor's guilt include anxiety, depression, headache, nausea, sleeplessness and fatigue. It can lead to post-traumatic stress disorder. Managing survivor's guilt is an individual process, and what works for one may not work for another. Interventions include deep breathing, meditation, relaxation, exercising, a healthy diet, journaling, adopting a hobby, getting a pet, watching comedies and reaching out – volunteering or engaging with family, friends and co-workers. For some, spirituality and faith are also important.
Nonreligious people may find comfort by connecting directly to nature, where life and death are part of a grand cycle, and nature itself may have a purpose that ordains when one person succumbs while another survives.
As people pass through the grieving process, healing comes by recognizing our interconnectedness to each other. But when the U.S. quarantined, many people lost that most basic and primal coping mechanism. Instead, Americans, sometimes alone, have had to explore existential truths that may have been painful, even devastating. Yet in many ways, the country has already prevailed. Through mourning our losses and suffering heartbreak, our medical, psychological and spiritual well-being remains a strength.
David Chesire, Associate Professor, College of Medicine, University of Florida and Mark S. McIntosh, Associate Professor of Emergency Medicine, University of Florida
This article is republished from The Conversation under a Creative Commons license. Read the original article.
The vaccine will shorten the "shedding" time.
Fredrik Lerneryd/Getty Images
Editor's note: So you've gotten your coronavirus vaccine, waited the two weeks for your immune system to respond to the shot and are now fully vaccinated.
Does this mean you can make your way through the world like the old days without fear of spreading the virus? Deborah Fuller is a microbiologist at the University of Washington School of Medicine working on coronavirus vaccines. She explains what the science shows about transmission post-vaccination – and whether new variants could change this equation.
1. Does vaccination completely prevent infection?
The short answer is no. You can still get infected after you've been vaccinated. But your chances of getting seriously ill are almost zero.
Many people think vaccines work like a shield, blocking a virus from infecting cells altogether. But in most cases, a person who gets vaccinated is protected from disease, not necessarily infection.
Every person's immune system is a little different, so when a vaccine is 95% effective, that just means 95% of people who receive the vaccine won't get sick. These people could be completely protected from infection, or they could be getting infected but remain asymptomatic because their immune system eliminates the virus very quickly. The remaining 5% of vaccinated people can become infected and get sick, but are extremely unlikely to be hospitalized.
Vaccination doesn't 100% prevent you from getting infected, but in all cases it gives your immune system a huge leg up on the coronavirus. Whatever your outcome – whether complete protection from infection or some level of disease – you will be better off after encountering the virus than if you hadn't been vaccinated.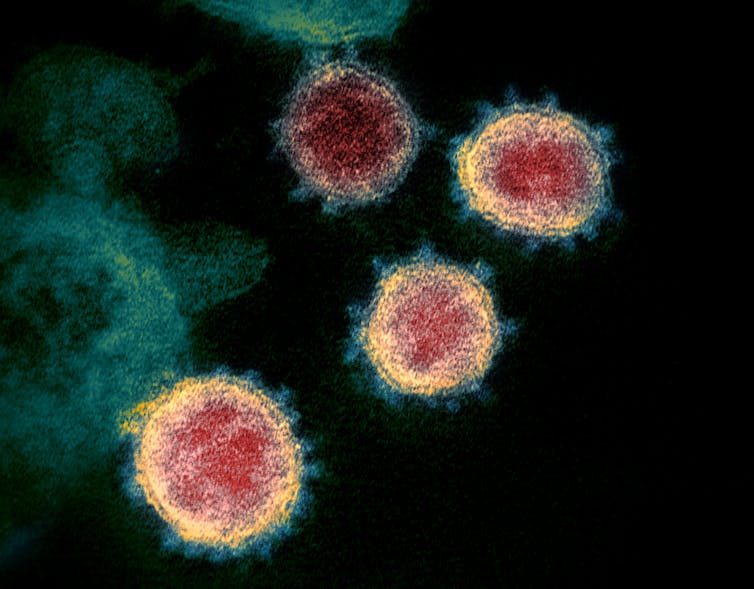 Vaccines prevent disease, not infection. (National Institute of Allergy and Infectious Diseases, CC BY)
2. Does infection always mean transmission?
Transmission happens when enough viral particles from an infected person get into the body of an uninfected person. In theory, anyone infected with the coronavirus could potentially transmit it. But a vaccine will reduce the chance of this happening.
In general, if vaccination doesn't completely prevent infection, it will significantly reduce the amount of virus coming out of your nose and mouth – a process called shedding – and shorten the time that you shed the virus. This is a big deal. A person who sheds less virus is less likely to transmit it to someone else.
This seems to be the case with coronavirus vaccines. In a recent preprint study which has yet to be peer reviewed, Israeli researchers tested 2,897 vaccinated people for signs of coronavirus infection. Most had no detectable virus, but people who were infected had one-quarter the amount of virus in their bodies as unvaccinated people tested at similar times post-infection.
Less coronavirus virus means less chance of spreading it, and if the amount of virus in your body is low enough, the probability of transmitting it may reach almost zero. However, researchers don't yet know where that cutoff is for the coronavirus, and since the vaccines don't provide 100% protection from infection, the Centers for Disease Control and Prevention recommends that people continue to wear masks and social distance even after they've been vaccinated.
3. What about the new coronavirus variants?
New variants of coronavirus have emerged in recent months, and recent studies show that vaccines are less effective against certain ones, like the B1351 variant first identified in South Africa.
Every time SARS-CoV-2 replicates, it gets new mutations. In recent months, researchers have found new variants that are more infective – meaning a person needs to breathe in less virus to become infected – and other variants that are more transmissible - meaning they increase the amount of virus a person sheds. And researchers have also found at least one new variant that seems to be better at evading the immune system, according to early data.
So how does this relate to vaccines and transmission?
For the South Africa variant, vaccines still provide greater than 85% protection from getting severely ill with COVID–19. But when you count mild and moderate cases, they provide, at best, only about 50%-60% protection. That means at least 40% of vaccinated people will still have a strong enough infection – and enough virus in their body – to cause at least moderate disease.
If vaccinated people have more virus in their bodies and it takes less of that virus to infect another person, there will be higher probability a vaccinated person could transmit these new strains of the coronavirus.
If all goes well, vaccines will very soon reduce the rate of severe disease and death worldwide. To be sure, any vaccine that reduces disease severity is also, at the population level, reducing the amount of virus being shed overall. But because of the emergence of new variants, vaccinated people still have the potential to shed and spread the coronavirus to other people, vaccinated or otherwise. This means it will likely take much longer for vaccines to reduce transmission and for populations to reach herd immunity than if these new variants had never emerged. Exactly how long that will take is a balance between how effective vaccines are against emerging strains and how transmissible and infectious these new strains are.
Deborah Fuller, Professor of Microbiology, School of Medicine, University of Washington
This article is republished from The Conversation under a Creative Commons license. Read the original article.
Beyond making up 70% of the world's health workers, women researchers have been at the cutting edge of coronavirus research.
Lisa Maree Williams/Getty Images
The gender gap persists, as only 33% of the world's researchers are women.
Here are just some of the women making lasting contributions in the fight against COVID-19.
They include Dr Özlem Türeci, co-founder of BioNTech, which helped produce the first vaccine.
Women across the world have made an enormous contribution to the global efforts to tackle COVID-19. Not only do women make up 70% of the world's health workers and first responders, women in STEM fields have been leading research into the virus, creating trackers and developing vaccines.
But the pandemic has had a disproportionate social and economic impact on women, as many have borne the brunt of childcare duties or lost jobs in sectors most affected – and this includes women scientists.
February 11th is UN International Day of Women and Girls in Science – and the theme this year is celebrating the women scientists at the forefront of the fight against COVID-19, including Dr Özlem Türeci, co-founder of BioNTech, which helped produce the first vaccine.