British doctors publish a study of a woman who cured herself of cancer with the aid of a household spice.
Credit: Pixabay
A British woman had a remarkable turnaround in her battle with cancer thanks to, she claims, a household spice. While the scientific jury is still out on turmeric, the spice she used, doctors have studied her case and concluded that there is no better explanation at the moment than that the spice did, in fact, help her defeat an illness that five years of chemotherapy and other treatments could not tackle.
Turmeric is a bright yellow spice that you can find in curries and mustards. It is widely used in Eastern medicine and has been celebrated as a superfood, for its supposed anti-inflammatory and anti-oxidant properties, helping your body stave off cancer and Alzheimer's disease.  
Dieneke Ferguson, 67, has been fighting the blood cancer myeloma from 2007. After three rounds of chemotherapy and four stem cell transplants, she still suffered a relapse, with little hope for recovery. 
'I have been on all sorts of toxic drugs and the side-effects were terrifying,' she said in an interview. 'At one point I lost my memory for three days, and in 2008 two of the vertebrae in my spine collapsed so I couldn't walk. They injected some kind of concrete into my spine to keep it stable.'
But nothing worked, with Ferguson feeling that all her "options were exhausted, and there was nothing else I could do."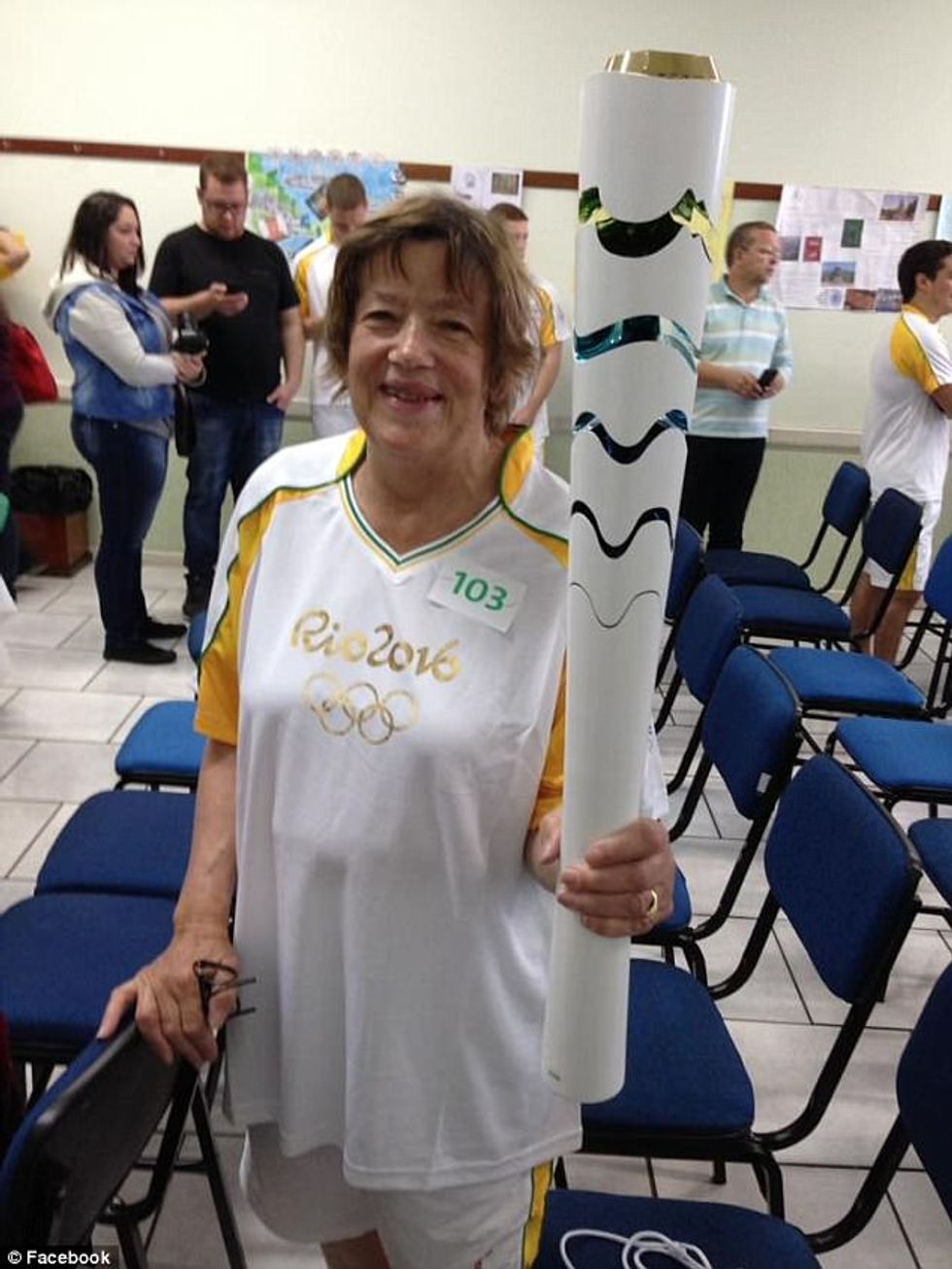 Dieneke Ferguson
That's when, inspired by information she read in an internet forum, she started to take 8 grams (2 teaspoons) of curcumin a day, with curcumin being one of turmeric's main components. This led to the fact that now her cancer cell count is negligible. 
Jamie Cavenagh, professor of blood diseases at London's Barts Hospital and co-author of the medical report on Ferguson, wrote that curcumin really does seem to have made a difference in her case. 
'When you review her chart, there's no alternative explanation [for her recovery] other than we're seeing a response to curcumin,' said Cavenagh.  
Dr. Abbas Zaidi, a haematologist at Barts NHS Health Trust, who co-authored the report on Ferguson, also expressed that curcumin is the answer to her improvement.
"Here we describe a myeloma patient who started a daily dietary supplement of curcumin when approaching her third relapse, " wrote Zaidi. In the absence of further antimyeloma treatment the patient plateaued and has remained stable for the last five years with good quality of life."
Ferguson's intriguing case notwithstanding, the scientific evidence for turmeric's healing properties has been spotty.
While there have been literally thousands of studies of turmeric, a 2017 review of such studies on curcumin concluded that the compound had limited scientific benefits. The researchers involved in the review stated that the stories of the spice's effectiveness are largely "blown out of proportion" and are more folklore than science. The scientists found that none of the studies and trials they reviewed were double-blind and placebo-controlled, and many seemed to be generated by self-serving interests, being originated by people who were also trying to sell turmeric. In fact, curcumin is not easily absorbed by the body, said the researchers.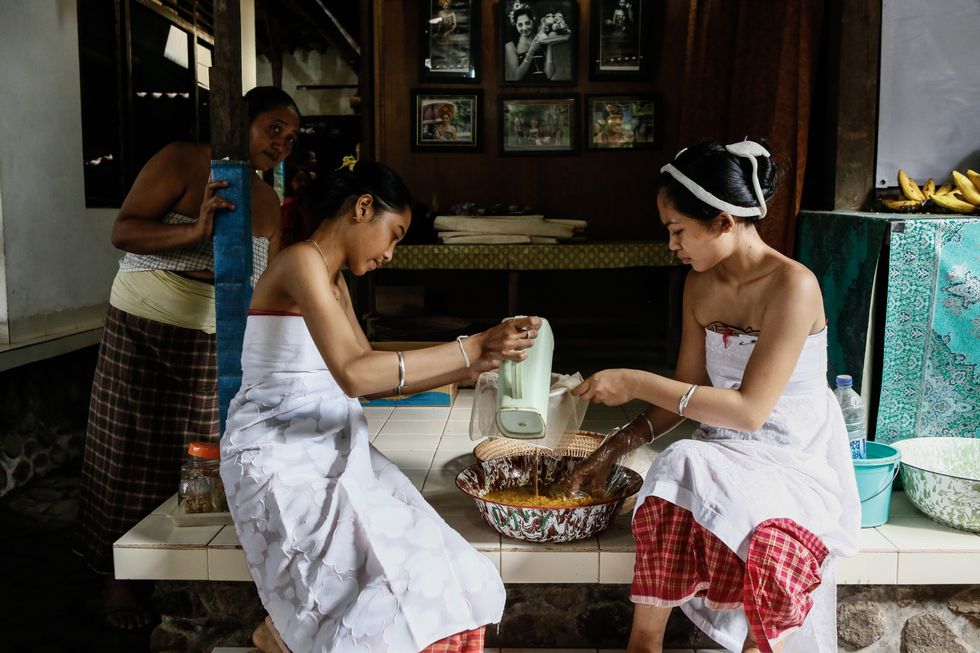 Tengananese girls make a traditional potion from turmeric and vinegar to cure the wound during padanus war ritual on June 8, 2015 in Tenganan Pagringsingan Village, Karangasem, Bali, Indonesia. (Photo by Putu Sayoga/Getty Images)
Kathryn M. Nelson, the scientist from the University of Minnesota who authored the study, explained that the amount of curcumin that actually makes it through the body is "dismal," making it unlikely the chemical is having much of an effect. 
"The compound itself is probably not doing anything," said Nelson in an interview with the Washington Post. "It falls apart in water. Think about how well it's going to survive your stomach and its acids."  
Nelson thinks that it's likely not curcumin but another compound in turmeric that offers any benefits. What that may be needs to be studied further. 
Despite such naysaying, there are scientists like Ajay Goel, a cancer researcher and director of Baylor University's Center for Gastrointestinal Research, who has conducted several studies of curcumin and found it to be effective. Goel saw the benefits of curcumin in the treatment of rheumatoid arthritis as well as improving the effectiveness of chemotherapy drugs and even helping a small group of people with major depression. 
Looking at the University of Minnesota review, Goel, who is also on the board of a company that sells curcumin, thought that the scientists involved did not really understand how to study turmeric properly. 
"Does this thing work? Absolutely. Does it work amazingly for every single person? No," Goel said, adding that the authors of the review "have no understanding of the topic." 
You can read the study of the London pensioner, who was helped by turmeric, here in a British medical journal. 
A team of researchers reverses the arrow of time in quantum experiments.
Credit: Pixabay
It's not quite time travel, but scientists appear to have reversed the arrow of time in quantum systems. The "arrow of time" is the concept that natural processes run forward, not in reverse. An international team of researchers was able to show that given specific conditions, heat can flow from a cold quantum particle to one that's hotter. 
The arrow of time is derived from the second law of thermodynamics, which says that entropy increases over time. Entropy is the measure of disorder. The law explains why it's hard to unbreak stuff or why a hot cup of tea will eventually turn cold. It just doesn't usually work the other way. 
What the scientists found is that "the arrow of time is not an absolute concept, but a relative concept," as says the study's co-author Eric Lutz, a theoretical physicist at the University of Erlangen-Nürnberg in Germany. His lab was able to reverse the flow of heat in two quantum particles. They were correlated, meaning that their properties were linked, similarly to quantum entanglement but less strong. The special quality of correlated particles is that they share some information with each other. This property is not possible for bigger objects. 
The researchers, led by the physicist Roberto Serra from the Federal University of ABC in Santo André, Brazil, manipulated molecules of chloroform. These are made of carbon, hydrogen and chlorine atoms.
The scientists heated up the nucleus of the hydrogen atom more than the nucleus of the carbon and observed how the energy flowed. In an uncorrelated state, the heat flowed as expected, from hot to cold. But when the nuclei became correlated, heat flowed backwards with the hotter hydrogen nucleus getting hotter and the cooler carbon getting cooler. 
The significance of the experiment lies in demonstrating an exception to the second law of thermodynamics, which doesn't take into account correlated particles.  
While odd behavior at the quantum level may be hard to grasp, what is more tangibly exciting is that the scientists are aiming to use these particle quirks to design super-small quantum engines.
You can read their study here.
Researchers create a new form of matter, first theorized 50 years ago.
Credit: Peter Abbamonte, U. of I. Department of Physics and Frederick Seitz Materials Research Laboratory
Excitonium, a strange form of matter that was first theorized almost 50 years ago, has now been discovered by researchers. 
What is excitonium? It is a rather exotic condensate that exhibits macroscopic quantum phenomena like a superconductor or a superfluid. It consists of excitons, particles formed from an unlikely pairing of an escaped electron and the hole it leaves behind. The hole actually behaves like a positively-charged particle itself. It attracts an electron and together they form the composite particle known as the exciton.
In their experiments on non-doped crystals of the transition metal dichalcogenide titanium diselenide (1T-TiSe2), the researchers were able to observe the material and its precursor soft plasmon phase, called "the smoking gun" that proves excitonium's existence. The precursor phase emerges as the material approaches its critical temperature.
The scientists reproduced their results 5 times on different cleaved crystals during the testing, adding more confidence to the study. 

What they achieved in particular is developing a new technique called momentum-resolved electron energy-loss spectroscopy (M-EELS) that is sensitive enough to distinguish the new material from Peierls phase, an unrelated substance that has the same symmetry.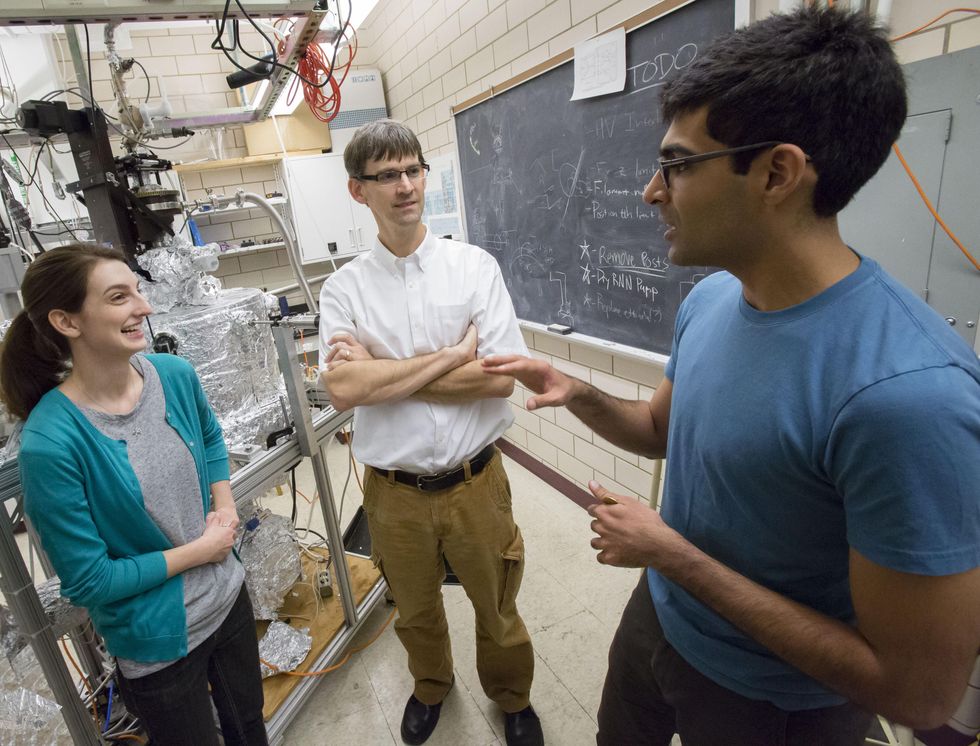 Professor of Physics Peter Abbamonte (center) works with graduate students Anshul Kogar (right) and Mindy Rak (left) in his laboratory at the Frederick Seitz Materials Research Laboratory. Photo by L. Brian Stauffer, University of Illinois at Urbana-Champaign.
The research was led by Peter Abbamonte from University of Illinois at Urbana-Champaign, working with the graduate students Anshul Kogar and Mindy Rak, and receiving input from colleagues at Illinois, University of California, Berkeley, and University of Amsterdam.
Abbamonte put their discovery in a historical context:
"This result is of cosmic significance," said Abbamonte. "Ever since the term 'excitonium' was coined in the 1960s by Harvard theoretical physicist Bert Halperin, physicists have sought to demonstrate its existence. Theorists have debated whether it would be an insulator, a perfect conductor, or a superfluid—with some convincing arguments on all sides. Since the 1970s, many experimentalists have published evidence of the existence of excitonium, but their findings weren't definitive proof and could equally have been explained by a conventional structural phase transition."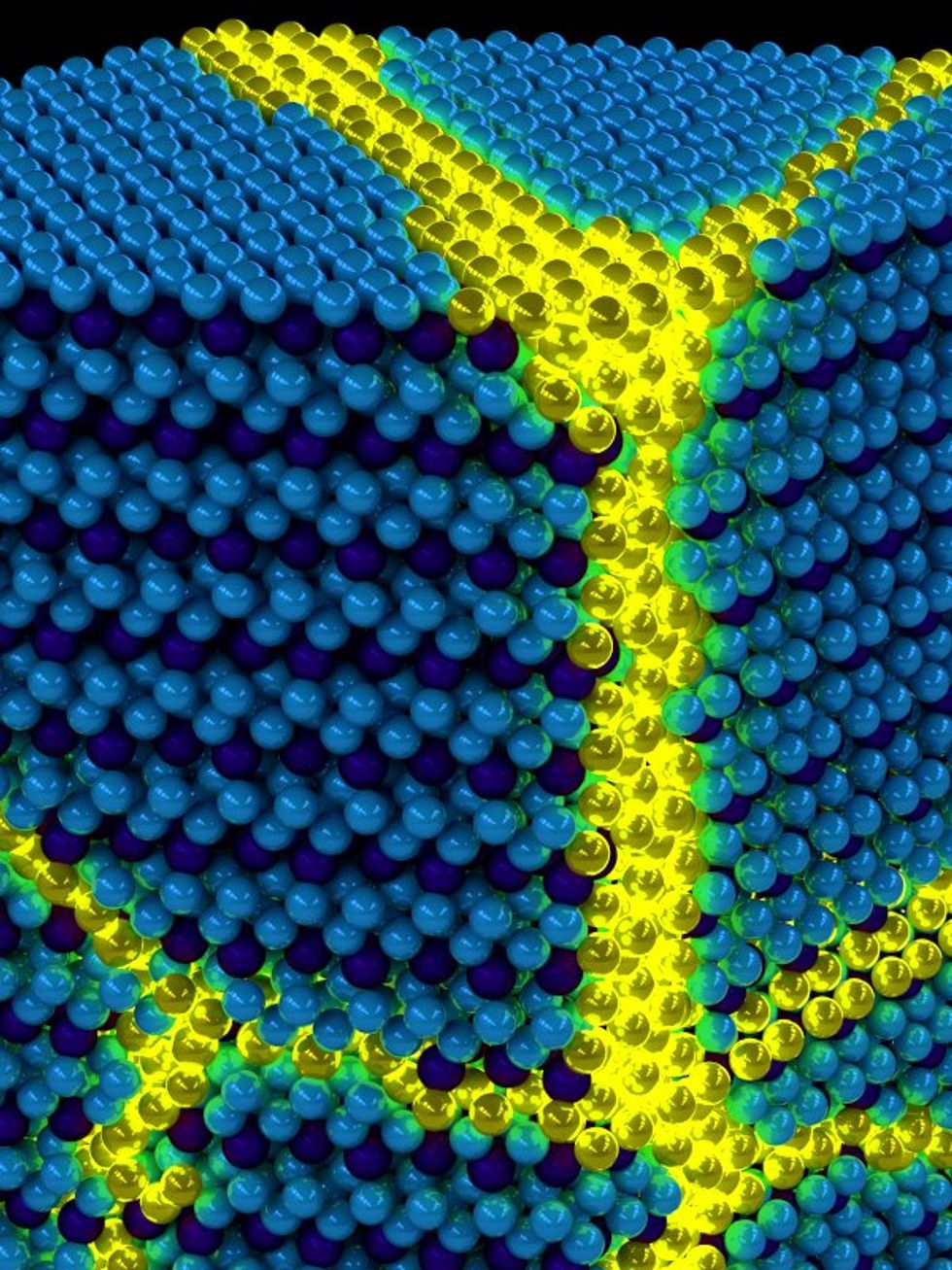 An artist's depiction of the collective excitons in an excitonic solid. These excitations are propagating domain walls (yellow) in an ordered solid exciton background (blue). Credit: Peter Abbamonte, University of Illinois at Urbana-Champaign Department of Physics and Frederick Seitz Materials Research Laboratory.
The graduate student Kogar explained that discovering excitonium was not the original aim of the project but they'll take it.
While the discovery gives us a more detailed understanding of another mystery of quantum mechanics, the practical applications of excitonium are currently in a speculative stage.
You can read the team's paper here.
Scientists discover a counterintuitive property of quantum particles called "backflow".
Bubble Chamber Baltay Experiment. Credit: Fermi National Accelerator Laboratory.
Quantum mechanics continues to provide brain-busting discoveries as mathematicians find that quantum mechanical particles can move in the opposite direction of where they are being pushed. That's like pushing a ball forward and having it roll back towards you instead.
Scientists at Universities of York, Munich and Cardiff showed that on microscopic levels, quantum particles can travel in reverse of their momentum, exhibiting a special property called "backflow".
Researchers were aware of such movement previously but in free" quantum particles that don't have any force acting on them. By using analysis and numerical methods, they found that backflow is always there, but as a small hard-to-measure effect. 
What's responsible for this surprising property? Wave-particle duality, which holds that every particle may behave as a particle or a wave, and the "probabilistic nature" of quantum mechanics where particle properties are not fixated until observed.
Dr. Henning Bostelmann from the University of York Department of Mathematics elaborated on the finding:
"This new theoretical analysis into quantum mechanical particles shows that this 'backflow' effect is ubiquitous in quantum physics," said Bostelmann in a press release. "We have shown that backflow can always occur, even if a force is acting on the quantum particle while it travels. The backflow effect is the result of wave-particle duality and the probabilistic nature of quantum mechanics, and it is already well understood in an idealised case of force-free motion."
Dr. Daniela Cadamuro from the Technical University of Munich explained that while the scientists were aware of the backflow effect, it was always observed when no outside forces were acting on a particle, and the researchers showed that backflow continues to occur even with external forces present, meaning that such forces "don't destroy the backflow effect, which is an exciting new discovery."
The practical implications of this discovery may lead to stronger computer encryption. The effect hasn't been lab-tested yet but scientists are working on setting up appropriate experiments, perhaps with Bose-Einstein condensates. They were used earlier this year to create a superfluid with "negative mass," where particles exhibited similarly counterintuitive behavior.
Notably, Albert Einstein remarked upon the weirdness one faces when confronted with quantum mechanics:
"It seems as though we must use sometimes the one theory and sometimes the other, while at times we may use either. We are faced with a new kind of difficulty. We have two contradictory pictures of reality; separately neither of them fully explains the phenomena of light, but together they do," wrote Einstein in a 1938 book with Leopold Infeld. 
You can read the new study here, in Physical Review A.
Want to learn more about wave particle duality?
A study on the strange Cold Spot in space may prove that we live in a multiverse.
Tarantula nebula. Credit: Pixabay.
A new study about one of the most inexplicable places in the cosmos may offer the first proof that we are living in a multiverse.
The idea of a "multiverse" proposes that an infinite amount of universes, including the one we are living in, exist in parallel to each other. These universes differ in a variety of physical properties, featuring multiple Big Bangs, space bubbles and maybe even an alternate version of you who is reading this article in a world run by slugs. The "multiverse" hypothesis has been so far been impossible to test but has supporters among such scientists as Stephen Hawking, Michio Kaku, Neil deGrasse Tyson and Leonard Susskind.
The study by British astronomers focuses on what's known as the "Cold Spot" - an especially cold area of space that has been observed in the microwave background radiation coming from the early Universe 13 billion years ago. Usually temperatures of the radiation vary throughout the universe, but this area of coolness is much larger than others (about 0.00015 degrees Celsius colder than its surroundings).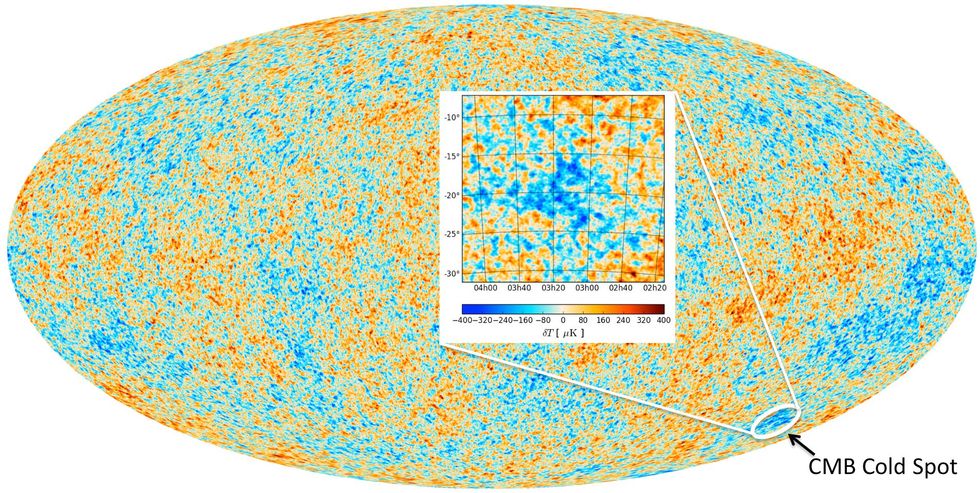 The map of the cosmic microwave background (CMB) sky produced by the Planck satellite. Red represents slightly warmer regions, and blue slightly cooler regions. Credit: ESA and Durham University.
The Cold Spot, first found by NASA in 2004, is a strange place 1.8 billion light years across that doesn't comfortably gel with existing cosmological models. One explanation is that it simply doesn't exist, being just an illusion created by the expansion of the universe. Spaces with lower amount of galaxies or "voids" form as the expansion accelerates. With 10,000 fewer galaxies, the Cold Spot would be a "supervoid".
But the study, published in UK's Royal Astronomical Society, claims to prove that the supervoid is not a valid solution to the Cold Spot's mystery. The researchers think that instead of one giant emptiness in that area, there are galaxy clusters gathered around smaller bubble-like voids. And, significantly, these would be too small to be responsible for lowering the temperature in the Cold Spot.
In fact, other answers must be sought. The scientists, led by postgraduate student Ruari Mackenzie and Professor Tom Shanks in Durham University's Centre for Extragalactic Astronomy, think one possible hypothesis is that the Cold Spot resulted from a collision between our universe during its early days and another universe. The energy release of such an impact would have created the Cold Spot.
"We can't entirely rule out that the Spot is caused by an unlikely fluctuation explained by the standard model. But if that isn't the answer, then there are more exotic explanations. Perhaps the most exciting of these is that the Cold Spot was caused by a collision between our universe and another bubble universe. If further, more detailed, analysis of CMB [Cosmic Microwave Background] data proves this to be the case then the Cold Spot might be taken as the first evidence for the multiverse – and billions of other universes may exist like our own," said Professor Tom Shanks.
The multiverse, while an exciting idea, has its detractors. Some physicists feel since it's not something observable or provable, then a discussion of it is pointless or even unscientific. But when more ordinary solutions come up empty, the doors of science open wider.
Check out this video by Michio Kaku for more ideas on multiverses: