We can't ask them, so scientists have devised an experiment.
Humans have the capacity for conscious awareness of our visual world.
While all sighted animals respond to visual stimuli, we don't know if any of them consciously take note of what they're seeing in the way that we do.
Researchers from Yale have devised experiments that suggest that rhesus monkeys share this ability.
All day long, our brains are busy receiving sensory information: smells, sounds, sights, and so on. We absorb much of this without really thinking about it. However, every now and then something we see grabs our attention, maybe a stunning landscape or a beautiful sunset. We stop what we're doing and spend a moment taking it in. Are we the only animal that can stop and take conscious notice of what we see?
A study just published in the Proceedings of the National Academy of Sciences suggests that we're not. It appears that at least one other animal — the rhesus monkey, Macaca mulatta — shares our ability to pay deliberate attention to what it sees. The authors of the study infer this ability, paradoxically, from the manner in which the monkey deals with visual inputs it doesn't consciously notice.
Double disassociation
Credit: Amanda Dalbjörn/Unsplash
It has been known for some time that even when visual stimuli escape our conscious attention, we respond to it subliminally, says Yale psychologist Laurie Santos, co-senior author of the paper along with Yale psychologist Steve Chang and Ran Hassin of Hebrew University. Even so, she says, "We tend to show different patterns of learning when presented with subliminal stimuli than we do for consciously experienced, or supraliminal stimuli." ("Supraliminal" describes visual stimuli that are consciously noted.)

The authors of the study set out to see if rhesus monkeys exhibited a similar "double disassociation" in the way they respond to supraliminal vs. subliminal visual stimuli.
Ask a monkey a question
Credit: Jamie Haughton/Unsplash
Obviously, research on animals is hampered by our inability to question critters. As a result, scientists need to be creative in designing experimental methods that allow them to draw conclusions based strictly on empirical observation.

"People have wondered for a long time whether animals experience the world the way we do, but it's been difficult to figure out a good way to test this question empirically," says first author of the study, Moshe Shay Ben-Haim, a postdoctoral fellow at Yale University.
The researchers came up with a series of experiments in which both humans and rhesus monkeys could observably demonstrate how they process subliminal and supraliminal visual stimuli.
In the experiments, participants were tasked with predicting the side of a computer screen on which a target image would appear depending on the position of a visual cue, a small star symbol, provided by the researchers.
When the researchers displayed the cue on one side of the screen long enough to ensure that it was noticed — that is, it was a supraliminal signal — both humans and monkeys learned to look for the target image on the opposite side of the screen.
On the other hand, when the star flashed on the screen only very briefly, both humans and monkeys consistently looked to the side on which this subliminal signal had appeared, anticipating the target image's appearance there.
In the first case, the subjects learned the significance of the cue's position. In the second, their response simply mirrored the subliminal cue. This, say the authors, demonstrates the different ways in which humans — and monkeys apparently — react to visual stimuli that are consciously noticed or not.
Ben-Haim summarizes the authors' interpretation of the experiment:
"These results show that at least one non-human animal exhibits both non-conscious perception as well as human-like conscious visual awareness. We now have a new non-verbal method for assessing whether other non-human creatures experience visual awareness in the same way as humans."
Research shows that sparrows and other animals use plants to heal themselves.
Researchers find that russet sparrows are among the many animals that self-medicate.
It's not clear whether this pervasive capability is learned behavior or instinctive.
It's likely animals have discovered some remedies we don't yet know about.
This week, researchers from China published a study in which an intriguing behavior of russet swallows was described. The birds apparently administer what amounts to preventative medicine to their offspring: wormwood that kills parasites and promotes growth. This suggests two things: that they understand the beneficial properties of the plant, and that they are aware of and invest in their chicks' future.
Remarkable as this may seem, the sparrows are just the latest addition to an already long list of animals that self-medicate, a capability that raises big questions. Is this behavior learned or is it instinctual? Is the knowledge shared among animal communities and families? Do animals try out different substances until they feel better? Does illness simply induce a physical taste for beneficial plants? Has natural selection favored the survival of animals who just happen to ingest medicinal substances?
The field of study that looks at animals who self-medicate is called zoopharmacognosy. "I believe every species alive today is self-medicating in one way or another," Michael Huffman of the Primate Research Institute at Kyoto University told the New York Times in 2017. "It's just a fact of life."
Animal pharmacists
Credit: karenkh/Adobe Stock
In that New York Times article, Huffman tells the story of a chimp he observed named Chausiku who treated a malaise by chewing the juice from the Vernonia amygdalina plant. According to a local ranger, the plant contains potent medicine but is also deadly at larger doses. Chausiku somehow knew just how much juice to ingest, and she recovered her energy in a few days. She recovered with a powerful appetite, suggesting the resolution of some manner of intestinal distress. Subsequent testing of the plant revealed it has multiple compounds with strong anti-parasitic qualities.
It seems clear that this sort of medicinal savvy is widespread throughout the animal kingdom. A PNAS article was shared by the National Center for Biotechnology Information in 2014. It noted, among other examples:
Reports of bears, deer, and elk consuming medical plants.
Elephants in Kenya that induce delivery of their calves by eating certain leaves.
Lizards that eat a particular anti-venom root when bit by a snake.
Red and green macaws that ingest clay that calms their digestion (dirt antacids!) and kills bacteria.
Female wooly spider monkeys in Brazil whose fertility is enhanced by eating certain plants.
It may be primates who are most adept at self-medicating. Chimpanzees, bonobos, and gorillas are often seen swallowing rough leaves that clear their digestive tracts of parasites. Chimps with roundworms will also eat terrible-tasting plants that cure such infestations.
Numerous animals—such as the sparrows noted earlier and certain caterpillars—eat plants that kill or repel parasites.
Those russet sparrows aren't the only ones who seem to be planning head, either. There are ants that use antibacterial spruce-tree resin to keep their nests germ free. Finches and sparrow line their nests with cigarette butts that keep mites under control.
Animal science, luck, and/or instinct?
Credit: Thaut Images/Adobe Stock
If science is the practice of making observations, particularly of cause and effect, it may be that these animals are practicing a science of their own. As psychologist Robin Dunbar tell the Times, this method is simply how people and other living beings work out the way things work: "Science is a genuine universal, characteristic of all advanced life-forms."
An animal's source of medical knowledge may be as simple as that which comes to an individual with digestive issues who just happens to eat a plant that makes them feel better, a bit of knowledge that will come in handy when it once again gets sick. Perhaps others nearby see what's happened and learn the trick to recovering from a stomach ache themselves. Perhaps offspring learn the medicine by observing their adults. Emory University's Jaap de Roode, speaking with NPR, says that "primates are not so different from us. They can learn from each other and they can make associations between ... taking medicinal plants and feeling better."
On the other hand, it could also be natural selection at work. An animal with a natural inclination toward this kind of plant may ingest it when its tummy hurts. It then survives to reproduce while other individuals with tummy aches don't. The animal uses the plant medicinally without any particular knowledge or understanding.
"People used to believe that you had to be very smart to [self-medicate]," says de Roode, but this may not be so. He cites the example of parasite-infected monarch butterflies who will lay their eggs in anti-parasitic milkweed, given the option. "I wouldn't say it's a conscious choice, but it's a choice," he says, since healthy monarchs don't exhibit such a preference.
However this works, experts say we would be wise to keep an eye on all these non-human practitioners — there may be cures they know about that human physicians haven't yet caught onto. As de Roode says, animals "have been studying medicine much longer than we have."
A new study finds evidence of an important neural speech pathway in macaques.
Researchers find traces of something like our arcuate fasciculus in macaque brains.
Since the last ancestor we shared with macaques was 25-30 million years ago, this would push speech way back.
The study suggests human speech began in the auditory cortex and eventually extended to include the executive-function areas of the brain.
Some fish evolved legs and walked onto the land. Right?
DEA PICTURE LIBRARY/De Agostini via Getty Images
Evolution explains how all living beings, including us, came to be. It would be easy to assume evolution works by continuously adding features to organisms, constantly increasing their complexity.
Some fish evolved legs and walked onto the land. Some dinosaurs evolved wings and began to fly. Others evolved wombs and began to give birth to live young.
Yet this is one of the most predominant and frustrating misconceptions about evolution. Many successful branches of the tree of life have stayed simple, such as bacteria, or have reduced their complexity, such as parasites. And they are doing very well.
In a recent study published in Nature Ecology and Evolution, we compared the complete genomes of over 100 organisms (mostly animals), to study how the animal kingdom has evolved at the genetic level. Our results show that the origins of major groups of animals, such as the one comprising humans, are linked not to the addition of new genes but to massive gene losses.
The evolutionary biologist Stephen Jay Gould was one of the strongest opponents of "the march of progress", the idea that evolution always results in increased complexity. In his book Full House (1996), Gould uses the model of the drunkard walk. A drunkard leaves a bar in a train station and clumsily walks back and forth over the platform, swinging between the bar and the train tracks. Given enough time, the drunkard will fall in the tracks and will get stuck there.
The platform represents a scale of complexity, the pub being the lowest complexity and the tracks the maximum. Life emerged by coming out of the pub, with the minimum complexity possible. Sometimes it randomly stumbles towards the tracks (evolving in a way that increases complexity) and other times towards the pub (reducing complexity).
No option is better than the other. Staying simple or reducing complexity may be better for survival than evolving with increased complexity, depending on the environment.
But in some cases, groups of animals evolve complex features that are intrinsic to the way their bodies work, and can no longer lose those genes to become simpler - they become stuck in the train tracks. (There are no trains to worry about in this metaphor.) For example, multicellular organisms rarely go back to become unicellular.
If we only focus on the organisms trapped in the train tracks, then we have a biased perception of life evolving in a straight line from simple to complex, mistakenly believing that older lifeforms are always simple and newer ones are complex. But the real path to complexity is more tortuous.
Together with Peter Holland from the University of Oxford, we looked into how genetic complexity has evolved in animals. Previously, we have shown that the addition of new genes was key to the early evolution of the animal kingdom. The question then became whether that was the case during the later evolution of animals.
Studying the tree of life
Most animals can be grouped into major evolutionary lineages, branches on the tree of life showing how the animals alive today evolved from a series of shared ancestors. In order to answer our question, we studied every animal lineage for which a genome sequence was publicly available, and many non-animal lineages to compare them against.
One animal lineage is that of the deuterostomes, which includes humans and other vertebrates, as well as sea stars or sea urchins. Another is the ecdysozoans, comprising the arthropods (insects, lobsters, spiders, millipedes), and other moulting animals such as roundworms. Vertebrates and insects are considered some of the most complex animals. Finally, we have one lineage, the lophotrochozoans, that includes animals such as molluscs (snails, for example) or annelids (earthworms), among many others.
We took this diverse selection of organisms and looked to see how they were related on the tree of life and what genes they shared and didn't share. If a gene was present in an older branch of the tree and not in a younger one, we inferred that this gene had been lost. If a gene wasn't present in older branches but appeared in a younger branch, then we considered it a novel gene that had been gained in the younger branch.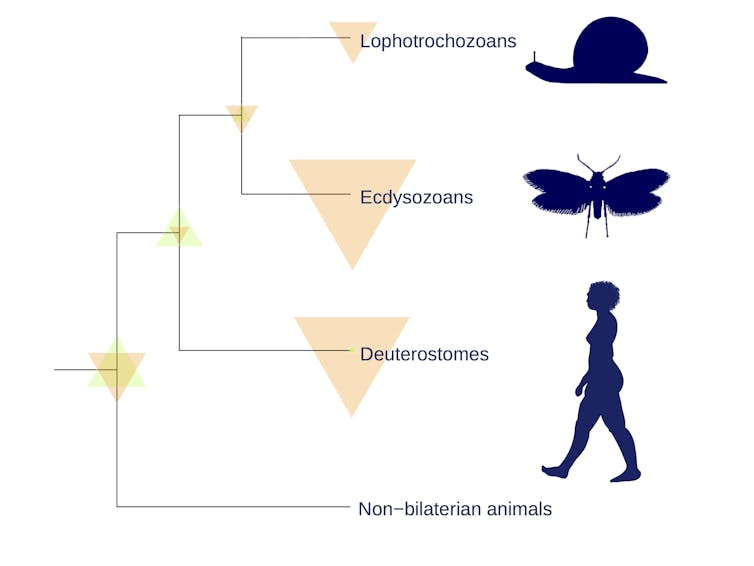 The results showed unprecedented numbers of genes lost and gained, something never seen before in previous analyses. Two of the major lineages, the deuterostomes (including humans) and the ecdysozoans (including insects), showed the largest number of gene losses. In contrast, the lophotrochozoans show a balance between gene novelties and losses.
Our results confirm the picture given by Stephen Jay Gould by showing that, at the gene level, animal life emerged by leaving the pub and making a large leap in complexity. But after the initial enthusiasm, some lineages stumbled closer to the pub by losing genes, while other lineages drifted towards the track by gaining genes. We consider this the perfect summary of evolution, a booze-induced random choice between the bar and the train track. Or, as the internet meme says, "go home evolution, you are drunk".

Jordi Paps, Lecturer, School of Biological Sciences, University of Bristol, University of Bristol and Cristina Guijarro-Clarke, PhD Candidate in Evolution, University of Essex.
This article is republished from The Conversation under a Creative Commons license. Read the original article.
It's possible to seek equality without seeking sameness.
Males and females as a population, on average, are different. Beyond obvious differences in reproductive systems, research has shown measurable differences between the sexes in areas such as linguistic capabilities.
Evolutionary biologist Heather Heying argues that while males and females should be equal under the law, that does not mean that their differences should be ignored. "We should seek equality without seeking sameness."
People should be given the freedom to make choices, not forced to engage in activities in the name of equality.