Neil deGrasse Tyson explains why Trump's Space Force is "not a crazy idea".
Credit: Getty Images
The astrophysicist and author Neil deGrasse Tyson discusses why he wanted a Space Force for decades.
He doesn't think just because Trump proposed it that the Space Force is "a crazy idea".
Tyson sees important non-military functions for the branch.
Showing a willingness to put his love and respect for space above politics, Neil deGrasse Tyson came out in support of the Space Force. This sixth branch of the U.S. Armed Forces was announced in July 2018 by President Trump. The goal is to create it by 2020.
On an episode of "The Takeout" where he was interviewed by the CBS News Chief White House Correspondent Major Garret, Neil deGrasse Tyson said he actually recommended a Space Force all the way back in 2001. That's when he was serving on a committee to which he was appointed by President George W. Bush.
Tyson thinks it makes sense to separate out the Space Force from the Air Force because activities in space are entirely different "regimes of military interest" and deserve their own organization. "One involves flying in a vacuum," he pointed out.
"So it's not a crazy idea," Tyson expounded. "A lot of Trump haters want to hate everything that comes out of Trump's mouth. I'm an academic; I analyze everything. And just because it came out of Trump's mouth doesn't automatically mean it's a crazy idea."
Besides its military functions, Tyson would like to see the Space Force protect us from rogue asteroids, saying "I call that defense." He added that it will "protect us from going extinct".
Another possible function of the Space Force - dealing with space debris, (preventing the Kessler Syndrome from becoming reality).
In a nod to the fact that supporting anything Trump-created might not be fashionable among a big part of the country, Tyson said that as an academic, his duty is to "analyze everything." And from that standpoint, the Space Force is "not a crazy idea".
Indeed, Trump is very serious about the Space Force. He is reportedly mulling over whether he should fire the Air Force Secretary Heather Wilson. She has expressed opposition to the Space Force and he been seen as "trying to undermine this part of the president's agenda from within," as reported Foreign Policy. That may be partially due to the perception that establishing the Space Force signifies that the Air Force's current handling of military space is not effective.
Maybe Trump should invite Neil deGrasse Tyson as an advisor to the Space Force. This might relieve the opposition of those who see such an enterprise as a political plot of little other consequence.
Check out Tyson talking about this here:
The U.S. government has shut down 18 times in the past four decades, but this most recent instance has proven unique.
Trump at the White House via Mark Wilson/Getty
The Senate voted to end the three-day government shutdown on Monday after Democrats agreed to extend government funding by three weeks in exchange for a pledge by Republicans to allow an immigration bill to reach the floor in February.
The agreement marks the first time Democrats have received a hard deadline for a vote on an immigration bill. Senate Majority Leader Mitch McConnell also promised to allow debate on the floor and an open amendment process.
But the vows of the majority leader fall short of what Democrats had initially demanded: an immediate vote on protections for Dreamers — undocumented immigrants brought to the U.S. as children. Some lawmakers seemed to express frustration at the compromise.
"Well I think the first thing he needs to do is strengthen his statement from last night," said Senator Angus King of Maine, an independent who typically votes with Democrats. "'I intend.' I would much rather he say, 'I commit' or 'I will move.'"
Among the Democratic senators who voted against extending government funding were potential 2020 presidential candidates like Cory Booker, Bernie Sanders, Elizabeth Warren, Kirsten Gillibrand, and Kamala Harris. 
The shutdown is the country's 18th since the modern budget era began with the passing of the Budget Act of 1974, and it's unique for a couple reasons.
For one, it's the first time we've seen a shutdown where one party has controlled the House, the Senate, and the White House, and federal employees were furloughed — sent home without pay.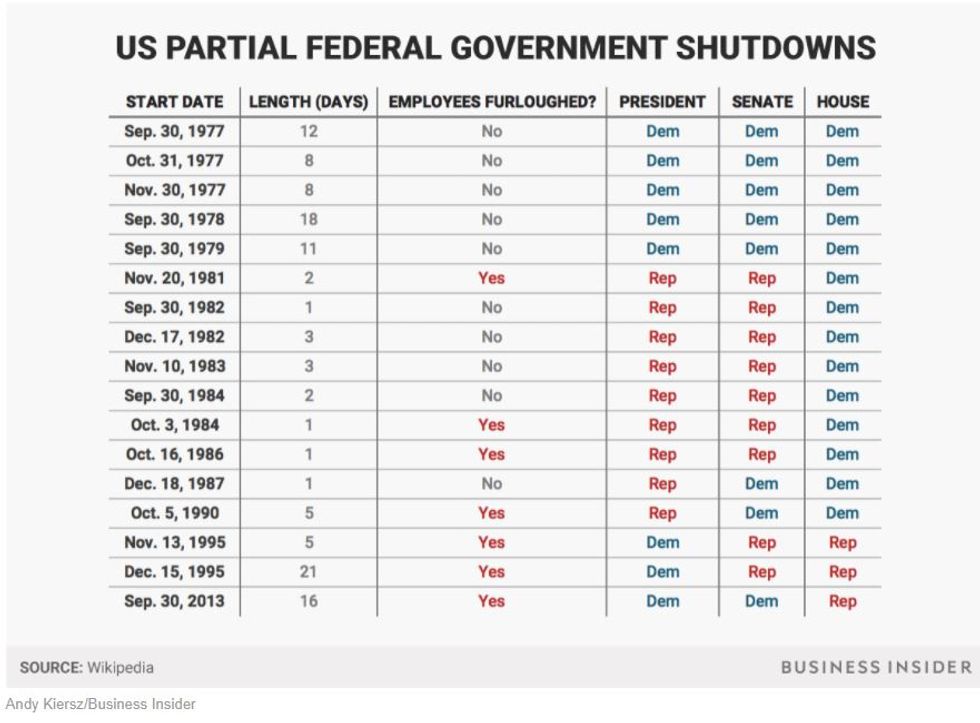 But more remarkable about the shutdown was the lack of involvement and clear direction from the White House. Prior to the shutdown, Republican leaders had attempted to force Democrats to choose between negotiating solutions for either DACA or CHIP, a health insurance program that provides services to 8.9 million children.
#Senate Democrats have a choice to make. This should be a no-brainer... pic.twitter.com/zdUFXxclZ9
— Leader McConnell (@SenateMajLdr) January 19, 2018
Richard Dawkins responds to the Alt-Right, Trump's policies, and discusses the evil potential of ideology.
What's it like to be worshipped by the Alt-Right? Not good, especially if you're a passionate rationalist like Richard Dawkins. He was very recently accused of Islamophobia by KPFA radio—which is why some of the Alt-Right have flocked toward him—however Dawkins released a statement calling any alleged "abusive speech" by him preposterous, and clarified his views: "I have indeed strongly condemned the misogyny, homophobia, and violence of Islamism, of which Muslims—particularly Muslim women—are the prime victims. I make no apologies for denouncing those oppressive cruelties, and I will continue to do so." Here he responds to how unpleasant it is to have your rational thoughts and your name hijacked by political extremists, and he expresses his disdain for President Trump's policies, specifically the 'Muslim ban'. With that as context, he proceeds to do what he does best: use science to investigate the idea of supernatural gods as the creators of the universe—which is a scientific hypothesis, he states, but one of the failed kind. Dawkins explains that we already have a superb theory of why living things have come into being—Darwinian evolution—and the evils that can come from too much faith. Richard Dawkins' most recent book is Science in the Soul: Selected Writings of a Passionate Rationalist.
Superfast hyperloop travel gets closer to reality as Elon Musk receives "verbal" government approval for a route linking NYC and Washington.
In news that may finally make us feel like we're living in the future, Elon Musk says he got a "verbal" approval from the government to build an underground Hyperloop between New York and Washington, D.C. A trip that would usually take three hours by train would be only 29 minutes in the 700 mph Hyperloop. The route would also cover Philadelphia and Baltimore. 
The announcement, of course, came as a tweet:
Just received verbal govt approval for The Boring Company to build an underground NY-Phil-Balt-DC Hyperloop. NY-DC in 29 mins.
— Elon Musk (@elonmusk) July 20, 2017
Elon Musk and many top CEOs condemned President Trump's decision to pull out of the Paris Agreement on climate change.
Elon Musk speaks at the 2015 Automotive News World Congress January 13, 2015 in Detroit, Michigan. (Photo by Bill Pugliano/Getty Images)
President Trump announcement that the U.S. is going to pull out of the Paris Agreement on climate change has prompted a strong backlash from business leaders. Many have urged Trump to stay in the environmental pact, like the other 194 nations that signed it, and are now expressing their disappointment. Elon Musk, the CEO of Tesla Motors, SpaceX and Neuralink, has previously warned that he would have to leave the President's councils if Trump pulled out of the Paris accord. And now that he did, Musk is out.
"Am departing presidential councils. Climate change is real. Leaving Paris is not good for America or the world," said Musk in his tweet.
Musk was part of an economic advisory board Strategic and Policy Forum and the Manufacturing Jobs Initiative. He has taken flak previously for seemingly legitimizing Trump's ideas by serving in such a capacity, a decision Musk defended by saying he used the access to the President in order to influence him not to leave the Paris Agreement and to institute a carbon tax to fight emissions.
Am departing presidential councils. Climate change is real. Leaving Paris is not good for America or the world.
— Elon Musk (@elonmusk) June 1, 2017