The Internet solves another mystery.
Image: Twitter @mycandacejean
When this photo hit social media in an effort to identify one black woman among a sea of white men, a lot of theories arose as to who she was. While every male was identified in a caption, the original photo listed her as "Unidentified". The photo surfaced thanks to artist and writer Candace Jean Andersen, who stumbled upon the mystery in her research for a picture book about the Marine Mammal Protection Act.
Hey Twitter I'm on a mission:

The woman in this photo was an attendee at a 1971 International Conference on Biology of Whales.

She is the only woman, & the only one captioned "not identified" in the article I found the photo in. All the men are named.

Can you help me know her? pic.twitter.com/MifZvdRXRr
— Candace Jean Andersen (@mycandacejean) March 9, 2018
The photo was taken at the 1971 International Conference on the Biology of Whales.
Margot Lee Shetterly, author of Hidden Figures: The American Dream and the Untold Story of the Black Women Mathematicians Who Helped Win the Space Race, even got involved.
Shetterly commented, "Here's a working scientist, contributing alongside her colleagues, and she's not even given the professional courtesy of having her name recorded at a scientific conference. The photo, with her brown face half obscured by the people around her, is a perfect metaphor for the larger issue of history's failure to record the work of women scientists, particularly women scientists of color."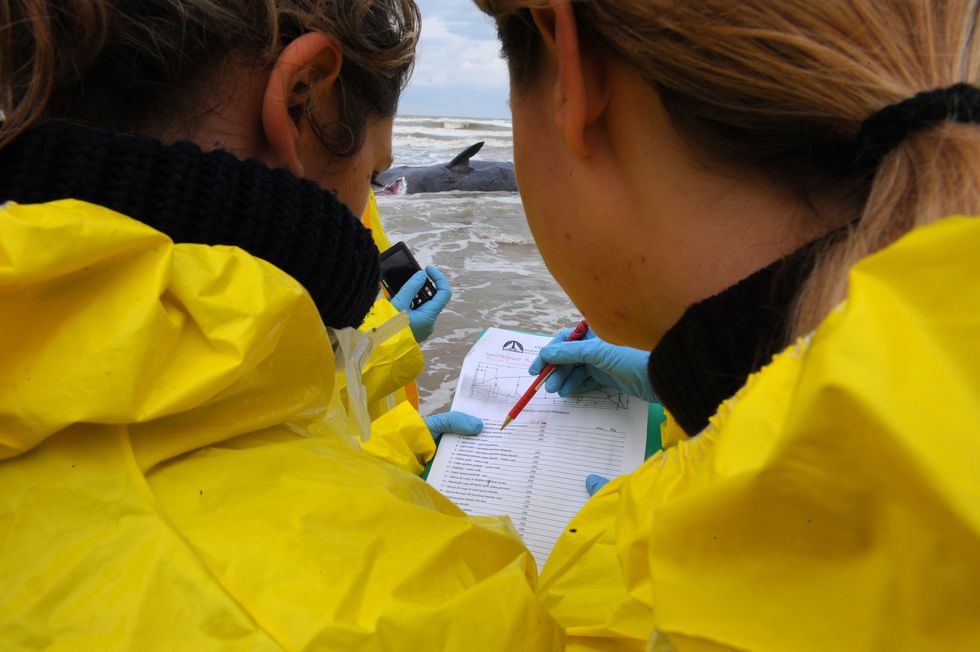 Eventually, the chase led to some folks who worked at the Smithsonian National Museum of Natural History at the time; because there were very few women—especially very few African American women—in the field back then, and because the Internet is what it is and loves a good mystery, the case was eventually solved.
The woman in the photograph is retired, belly-dancing, church-going, 71-year-old grandma and Biological Research Technician (and eventually, a biologist with a master's degree) Sheila Minor Huff.
According to Candace Jean Anderson, originator of the first Tweet with the photograph, she didn't disappear after that photo:
She participated in a two-island study of the mammals inhabiting the Poplar Islands in 1973–1974, and presented her findings at the 55th Annual American Society of Mammalogists Meeting in 1975.

This included her belief of natural extinctions of some species on the islands. pic.twitter.com/bV3aKVwWIP
— Candace Jean Andersen (@mycandacejean) March 15, 2018
Indeed, by the time Ms. Minor Huff retired at 58 she had become a GS-14 federal employee—one of the highest designations possible—at the Department of the Interior.
But she remains humble about the experience and the recent limelight. "It's kind of like, no big deal. When I try to do good, when I try and add back to this wonderful earth that we have, when I try to protect it, does it matter that anybody knows my name?"
And here's pioneering Marine Biologist and Oceanographer Sylvia Earle on what it was like to swim with singing whales:
Did Elon Musk invent Bitcoin? The mystery surrounding the creator of the world's most popular cryptocurrency deepens.
Credit: Getty Images
Bitcoin has taken investors for a ride in 2017, its price rising astronomically from less than a $1000 per coin earlier in the year to peaking at $20,000 by its end. It has its share of detractors and a recent price drop of 27% of its value underscores the unknowns and the volatility inherent to this 21-st century currency. Regardless, one person who probably benefited tremendously from the cryptocurrency's booming popularity is its inventor, becoming the world's 44th richest person on account of owning around a million bitcoins. The only problem is, we don't know who that person is, or if they even exist at all.
The mystery surrounding the creation of Bitcoin is one of its unique characteristics. In 2008, someone named Satoshi Nakamoto published a paper online titled "Bitcoin: A Peer-to-Peer Electronic Cash System". The paper, posted to a cryptography mailing list, described how the digital currency would work.
In 2009, Nakamoto released software for the currency, which utilized the concept of a blockchain as its core design component. The invention of the blockchain is an influential achievement in its own right as this technology, that uses a distributed ledger to record transactions between two parties in a verifiable and permanent way, has been adopted by other cryptocurrencies and is now even powering governments.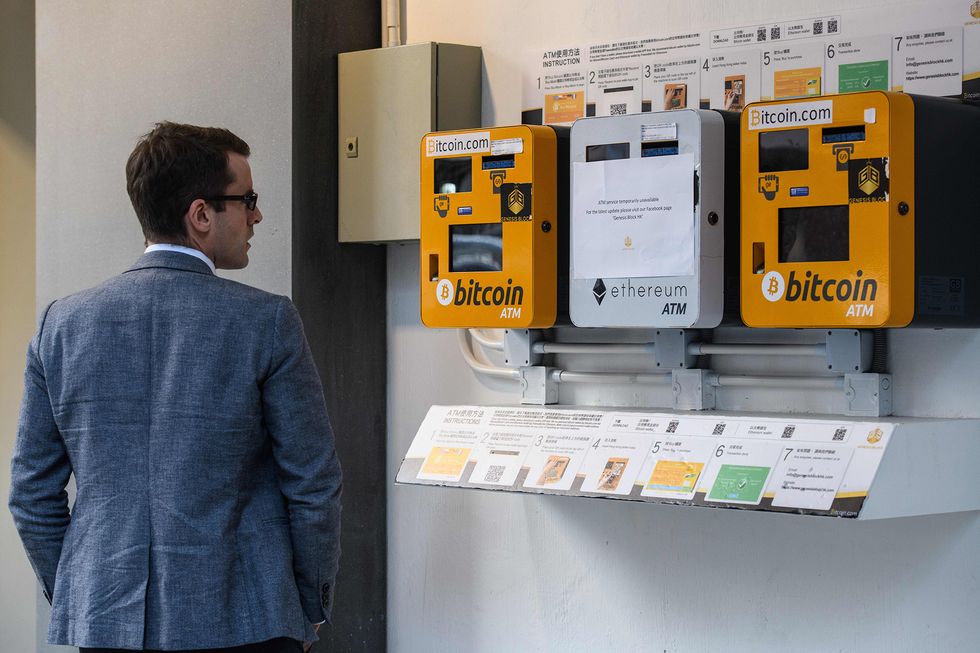 A man looks at ATM machines (L and R) for digital currency Bitcoin in Hong Kong on December 18, 2017. (Photo credit: ANTHONY WALLACE/AFP/Getty Images)
While he was so instrumental to the existence of bitcoin, also creating bitcoin.org in 2010, who Satoshi Nakamoto really was never became clear as all communication with him was online. In his profile, he claimed to be a Japanese man born in 1975, yet his perfect English had many doubting whether this identity was true. A number of people were pinned as being Satoshi Nakamoto over the years, like the Australian academic Craig Steven Wright but no one theory about him stuck permanently.
One person who could have created Bitcoin? Elon Musk. The notorious entrepreneur is so known for starting iconic and transformative tech businesses that eventually the internet pointed its finger at him. In fact, a Medium post by the former SpaceX intern Sahil Cupta pointed out a number of factors that could have connected Elon to Bitcoin. 
As proof of the fact that the SpaceX CEO could have done it, he cites Musk's polymath ways, with extensive knowledge in many varying fields like economics, cryptography and programming. Gupta also singles out the language of the original paper as similar to Elon's, even conjecturing that the name "Satoshi Nakamoto" sounds made-up and could really be an anagram for the phrase "So a man took a shit" - the kind of less-than-adult humor Elon is sometimes prone to.
Responding to Gupta, Elon Musk flatly denied he created Bitcoin, sounding quite dismissive of the whole thing. "A friend sent me part of a BTC a few years, but I don't know where it is," he claimed in a tweet, as if to say it's something that doesn't even cross the field of his attention.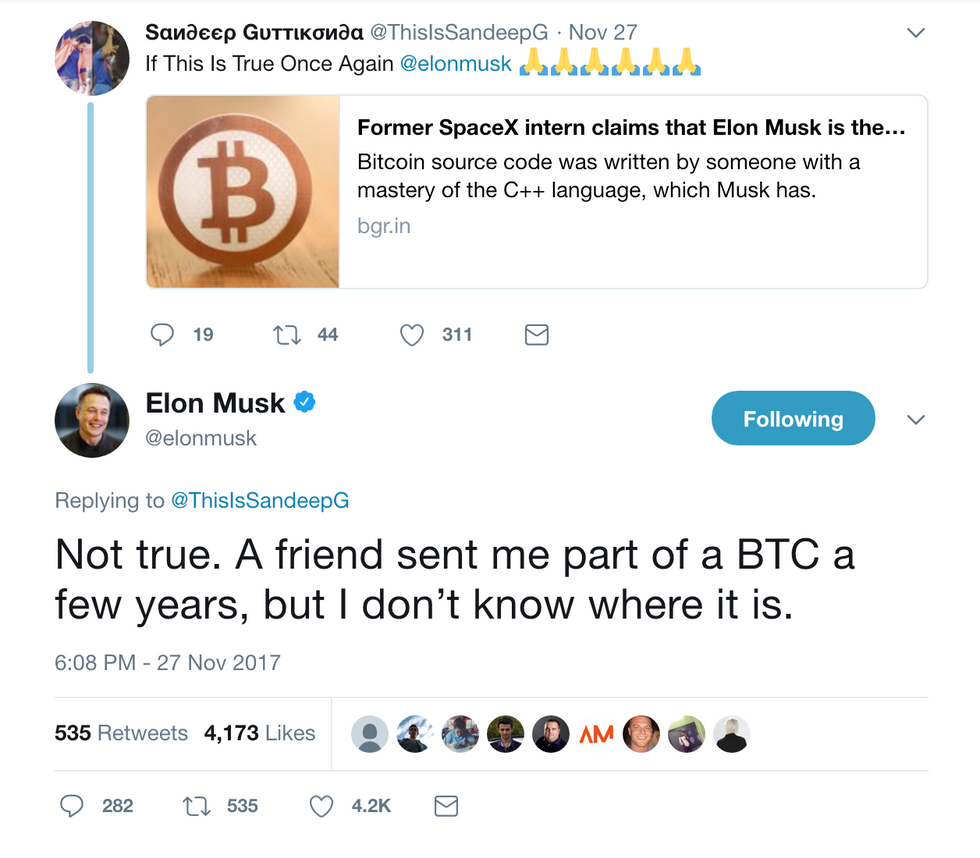 Surely, Musk is just the kind of person to create a world-changing technology on a lark and stay silent about it out of some conviction or simply because of not being sure if it would work. But for now, we'll have to live with his word that it's not him and wonder if the real Satoshi Nakamoto will ever stand up.
BASE particle physicists have discovered a very precise way to examine antimatter.
The Veil Nebula. Credit: By Jschulman555 - Own work, Wikipedia Commons.
Thank your lucky stars you're alive. It's truly a miracle of nature. This has nothing to do with spirituality or religion and everything to do with science. Life itself may not be the miracle. Although we haven't found it elsewhere yet, our galaxy alone is so replete with Earth-like planets that, mathematically speaking, one of them must hold life, even if it's just the microbial variety. Intelligent life may be another matter.
What CERN scientists say as a result of their latest experiment is: the universe itself is a miracle, as it shouldn't exist at all. This is of course taken in reference to the Big Bang theory. Though the prevailing one, it's not the only theory to explain how all and everything came into being. Still, in this view, it all starts with the singularity.
According to the Big Bang, the universe began as a point the size of a grain of sand that was unimaginably hot, unfathomably dense, and packed tight with matter and energy. Then of course it exploded, sending its contents sailing out and eventually, forming the universe as we know it. There's a few problems with this theory. For one, there's the increasing rate of universal expansion, known as the Hubble Constant. According to the Big Bang, things should be slowing down, or even contracting. Dark energy is the conventional explanation, even though we can't prove it exists.
There's another problem and here's where the CERN scientists come in. The environment that produced the particles that make up the universe, as we know them now, should have created equal parts matter and antimatter. Yet, the latter is surprisingly rare. Not only that, a 50-50 split would've seen each particle uniting with its polar opposite, creating a burst of unimaginable energy and leaving nothing behind, save a vast howling void of a cosmos. And yet, here we are.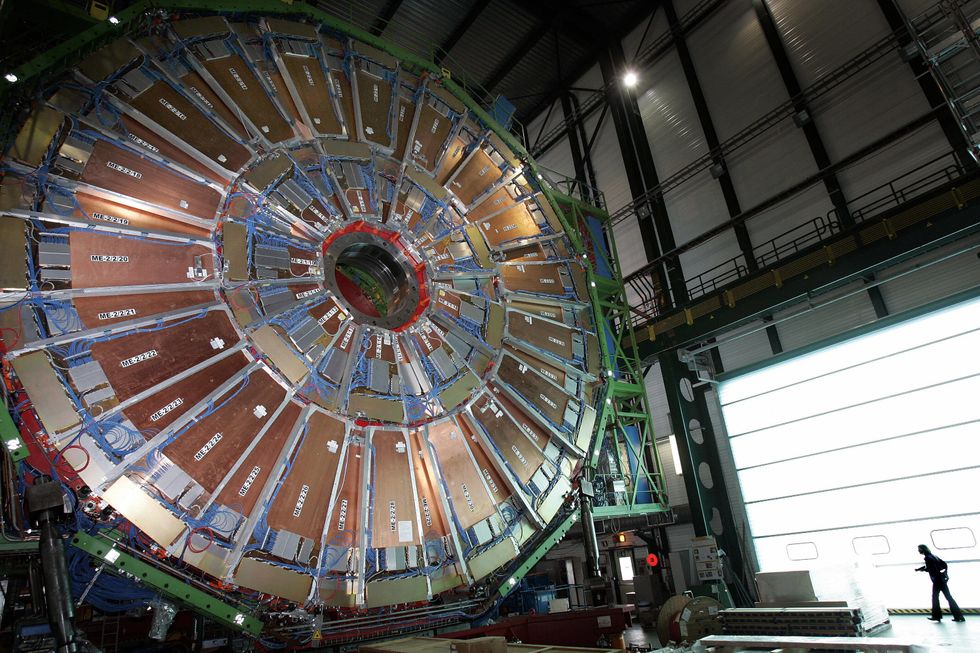 Particle physicists in the BASE collaboration at CERN have been investigating the matter-antimatter imbalance. Credit: Getty Images.
One theory is that matter and antimatter must in some way be radically different. But the latest CERN experiment does not find this is the case. According to the Standard Model of physics, a  manual for every known particle in the universe and how it operates, each type of atom has its polar opposite, its antiparticle, with the same mass, but with an opposite electrical charge.
In this study, CERN scientists tried to discern what fundamental difference such particles should have, to validate the existence of the cosmos. They came up empty. Physicists in the BASE collaboration at CERN, studied the magnetic properties of protons and antiprotons with uncanny precision. Some good news: the findings did support the Standard Model, as the particles behaved just as it predicts.
The matter-antimatter imbalance, as it's called, is a popular topic among particle physicists these days, with many teams around the world looking into it. CERN researcher Christian Smorra was on the team who conducted the most recent experiment. He told Science Alert, "All of our observations find a complete symmetry between matter and antimatter, which is why the Universe should not actually exist."
He added, "An asymmetry must exist here somewhere but we simply do not understand where the difference is. What is the source of the symmetry break?" He and his colleagues' findings were published in the journal Nature.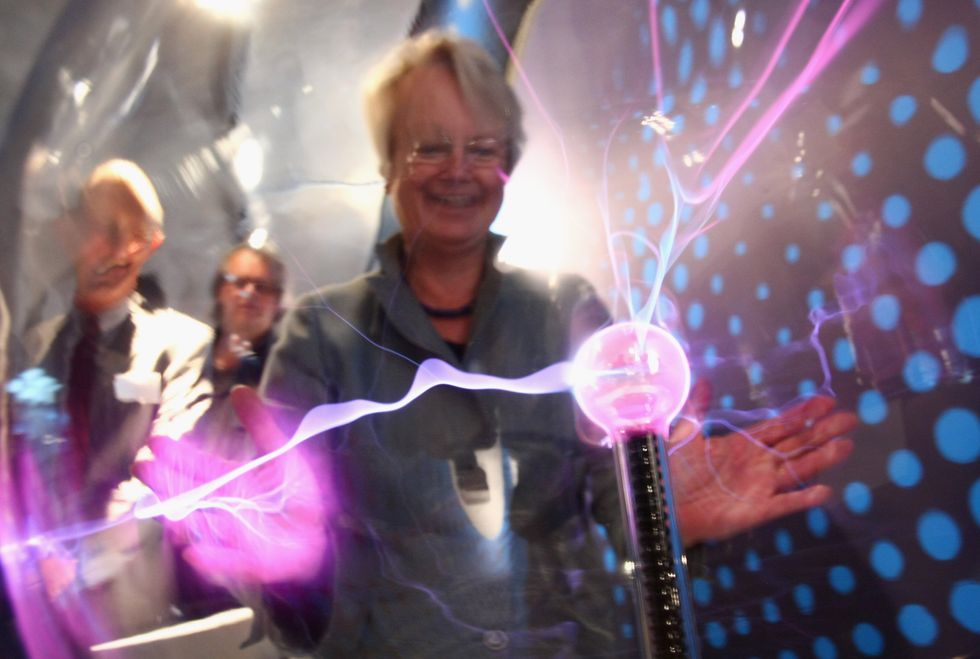 When matter and antimatter particles collide, a burst of pure energy is the result. If these were perfectly balanced in the early days of the universe, how could the cosmos exist at all?  Credit: Getty Images.
Protons and antiprotons were the last holdout when it came to particles which could explain the matter-antimatter imbalance. Scientists from Mainz University in Germany devised a manner to assess the magnetism of a particle of antimatter that is 350 times more precise than the previously method. The readout was incredible, to nine places!
-2.7928473441 nuclear magnetons. A proton has the same level of magnetism, only it's positive. Although the study failed to explain our universe's extreme prejudice towards matter, it did give us a far better understanding of an antiproton's magnetism.
Antimatter doesn't last long. As such, it needs to be contained. Researchers used two Penning traps, which are devices that retain antimatter particles using an electrical and a magnetic field. Stefan Ulmer, spokesperson for the BASE collaboration at CERN, said in the press release:
"The measurement of antiprotons was extremely difficult, and we had been working on it for ten years. The final breakthrough came with the revolutionary idea of performing the measurement with two particles. This result is the culmination of many years of continuous research and development, and the successful completion of one of the most difficult measurements ever performed in a Penning trap instrument."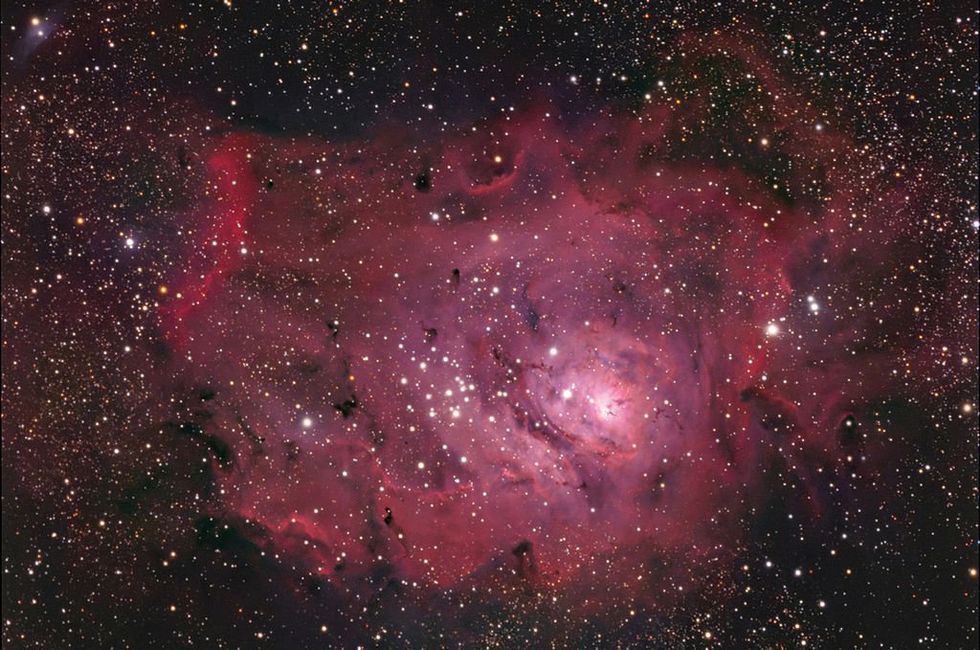 New plans in the works may unveil the secrets of the matter-antimatter imbalance. Pictured here: The Lagoon Nebula in Sagittarius. Credit: Hewholooks, Wikimedia Commons.
Up until now, scientists have probed the differences between particles and their opposites by comparing their electrical charge, magnetism, and mass. Next, this team plans to investigate them in terms of gravity, to see if a discrepancy exists there. Another international collaboration based at CERN, called ALPHA, will be studying what asymmetry, if any, exists between hydrogen and antihydrogen atoms. The BASE team meanwhile, also plans on further examining antiparticles magnetically.
Another important development at CERN, a new linear accelerator introduced at the facility in May, will allow the Large Hadron Collider (LHC) to reach greater luminosity by 2021. CERN Director General, Fabiola Gianotti, said at its unveiling, "This high-luminosity phase will considerably increase the potential of the LHC experiments for discovering new physics and measuring the properties of the Higgs particle in more detail." Perhaps discoveries made here will help unravel the secret behind the matter-antimatter imbalance.
To learn more about antimatter, click here:
Researchers create a new form of matter, first theorized 50 years ago.
Credit: Peter Abbamonte, U. of I. Department of Physics and Frederick Seitz Materials Research Laboratory
Excitonium, a strange form of matter that was first theorized almost 50 years ago, has now been discovered by researchers. 
What is excitonium? It is a rather exotic condensate that exhibits macroscopic quantum phenomena like a superconductor or a superfluid. It consists of excitons, particles formed from an unlikely pairing of an escaped electron and the hole it leaves behind. The hole actually behaves like a positively-charged particle itself. It attracts an electron and together they form the composite particle known as the exciton.
In their experiments on non-doped crystals of the transition metal dichalcogenide titanium diselenide (1T-TiSe2), the researchers were able to observe the material and its precursor soft plasmon phase, called "the smoking gun" that proves excitonium's existence. The precursor phase emerges as the material approaches its critical temperature.
The scientists reproduced their results 5 times on different cleaved crystals during the testing, adding more confidence to the study. 

What they achieved in particular is developing a new technique called momentum-resolved electron energy-loss spectroscopy (M-EELS) that is sensitive enough to distinguish the new material from Peierls phase, an unrelated substance that has the same symmetry.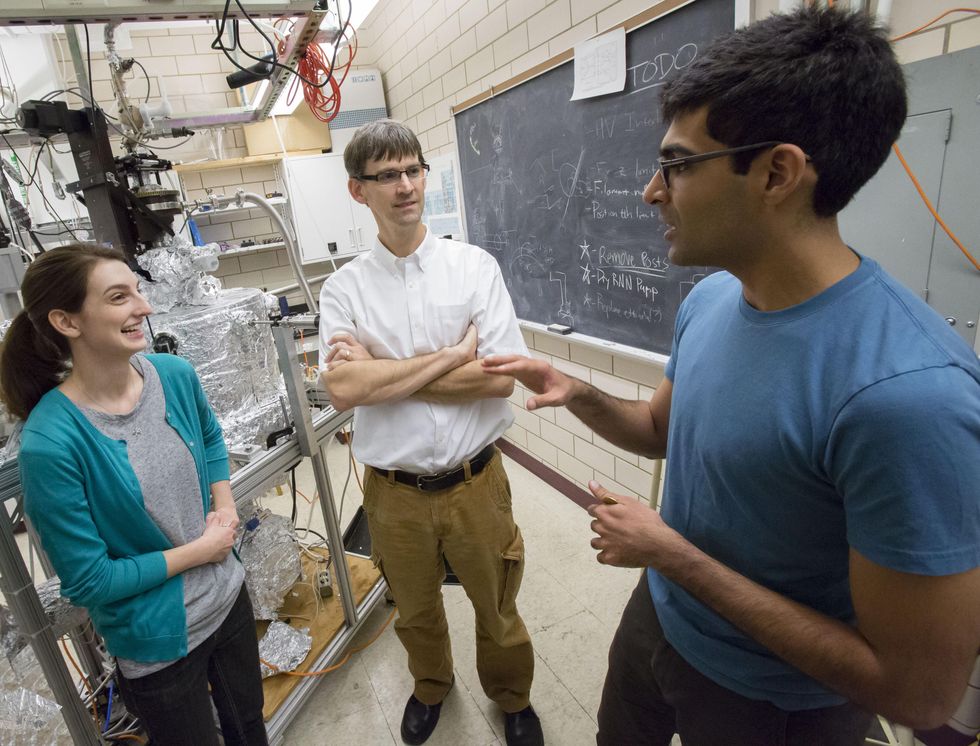 Professor of Physics Peter Abbamonte (center) works with graduate students Anshul Kogar (right) and Mindy Rak (left) in his laboratory at the Frederick Seitz Materials Research Laboratory. Photo by L. Brian Stauffer, University of Illinois at Urbana-Champaign.
The research was led by Peter Abbamonte from University of Illinois at Urbana-Champaign, working with the graduate students Anshul Kogar and Mindy Rak, and receiving input from colleagues at Illinois, University of California, Berkeley, and University of Amsterdam.
Abbamonte put their discovery in a historical context:
"This result is of cosmic significance," said Abbamonte. "Ever since the term 'excitonium' was coined in the 1960s by Harvard theoretical physicist Bert Halperin, physicists have sought to demonstrate its existence. Theorists have debated whether it would be an insulator, a perfect conductor, or a superfluid—with some convincing arguments on all sides. Since the 1970s, many experimentalists have published evidence of the existence of excitonium, but their findings weren't definitive proof and could equally have been explained by a conventional structural phase transition."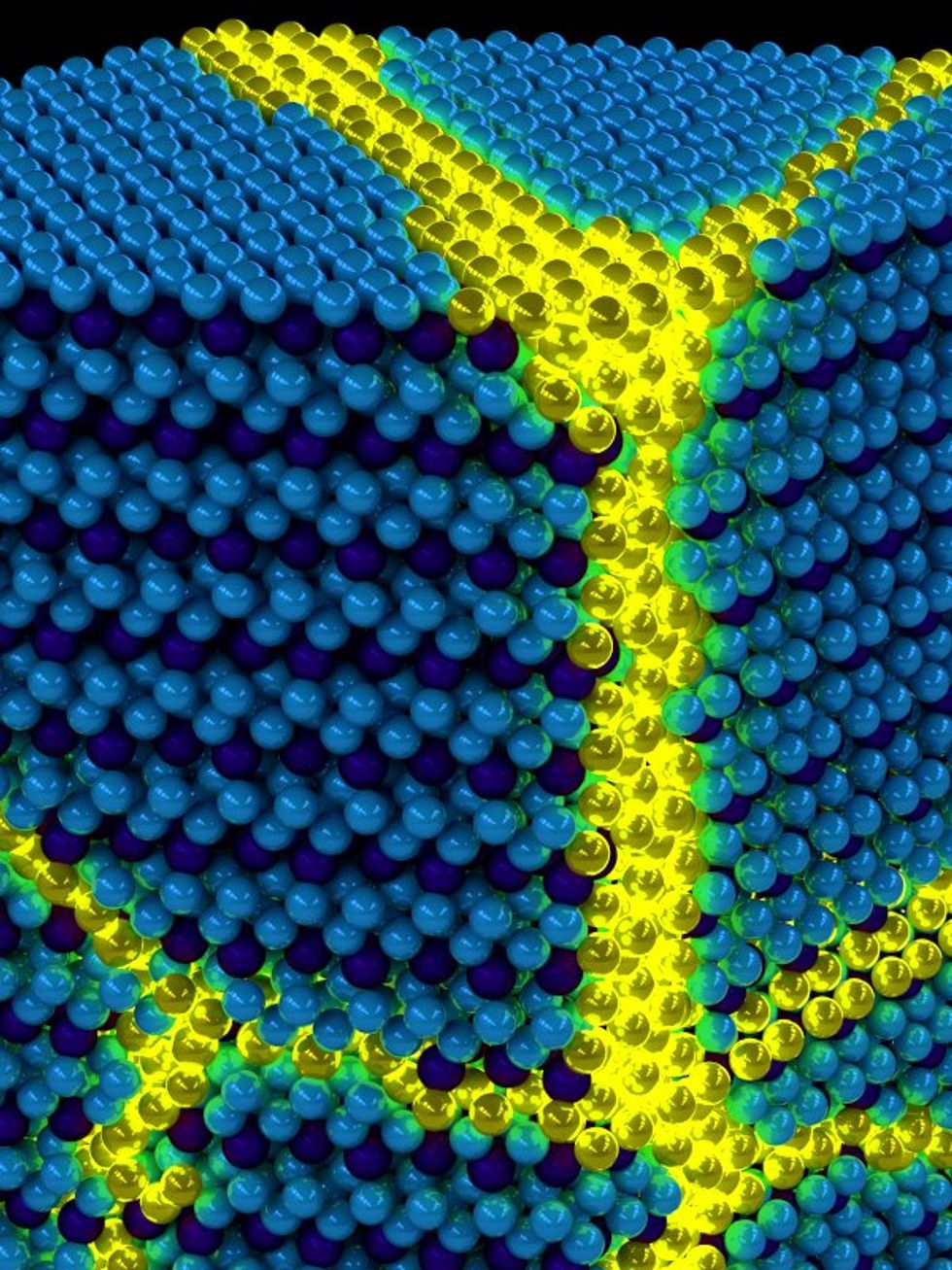 An artist's depiction of the collective excitons in an excitonic solid. These excitations are propagating domain walls (yellow) in an ordered solid exciton background (blue). Credit: Peter Abbamonte, University of Illinois at Urbana-Champaign Department of Physics and Frederick Seitz Materials Research Laboratory.
The graduate student Kogar explained that discovering excitonium was not the original aim of the project but they'll take it.
While the discovery gives us a more detailed understanding of another mystery of quantum mechanics, the practical applications of excitonium are currently in a speculative stage.
You can read the team's paper here.
The big, unknowable questions in life are seductive, but without small, trivial questions as insulation, those large mysteries can consume us.
Novelist and author Yiyun Li has looked into the face of life's biggest questions. For two years, she lived in and out of psychiatric hospitals as she underwent treatment for suicidal depression. In this time, it was her love of literature that kept her afloat. One of Li's favorite writers, Isaac Babel, said, "If the world could write by itself it would write like Tolstoy." Li reflected on this. As Tolstoy wrote on the biggest topics, like war and peace, but also on the smallest trifles, she took it to mean that life's small questions are meant to insulate us from the big, unknowable ones. Tolstoy wrote the world as it is: a perfect balance of big and small, of answers and mystery. Too much big searching, says Li, and you can put yourself in a timeless trap. Yiyun Li's newest book is Dear Friend, from My Life I Write to You in Your Life. This video was filmed at the Los Angeles Hope Festival, a collaboration between Big Think and Hope & Optimism, a three-year initiative which supported interdisciplinary academic research into significant questions that remain under-explored.