A new MIT report proposes how humans should prepare for the age of automation and artificial intelligence.
Photo by Chris McGrath/Getty Images
A new report by MIT experts proposes what humans should do to prepare for the age of automation.
The rise of intelligent machines is coming but it's important to resolve human issues first.
Improving economic inequality, skills training, and investment in innovation are necessary steps.
Does the coming age of intelligent machines mean billions of humans are about to be out of work? Not necessarily, concludes a new report from MIT's Task Force on the Work of the Future. The two-and-a-half year study on technology and jobs concluded that while some jobs will disappear, innovations will also drive the creation of new jobs for the lower and middle class workers.
The report, "The Work of the Future: Building Better Jobs in an Age of Intelligent Machines," also highlighted growing economic inequalities and recommended specific policies governments should embrace to make sure the transition to a future rife with robots doesn't leave large segments of the population behind. Institutional changes must accompany the technological ones.
The Task Force that produced the document was co-chaired by MIT Professors David Autor and David Mindell and executive director Dr. Elisabeth Reynolds, while the expansive group of experts involved more than 20 faculty members from 12 departments, and over 20 graduate students.
One important note the study made is that while many expect automation to take over our lives in the near future, there is still time to prepare and make sure the transition to intelligent machines is in itself intelligent. Ultimately, it's not the machines we need to worry about, but the exacerbation of the existing human-made problems and deficiencies. Specific areas policy makers should focus on include investing into skills development and worker retraining, improving job quality, and expanding and shaping innovation.
Perhaps the central message of the study is that technology both takes away jobs and creates new ones. Around 63 percent of the jobs carried out in 2018 didn't even exist in 1940.
Here are the 10 ways humans should prepare for the rise of the role artificial intelligence will play in our lives:
1. Increase private sector investment in skills and training
The group pinpoints the importance of private sector investment in training employees, especially with the purpose of increasing the upward mobility for lower-wage and less-educated workers. This will particularly affect minority workers, who are overrepresented in this group. The report estimates only about half of employees get training from their employers in any given year.
2. Significantly increase federal funding for training programs
The report advocates getting the government to fund training programs that can help lead to middle-class jobs for workers who don't have a four-year college degree.
3. Support community colleges
The research team thinks community colleges should be supported by the federal government's money and policies to advance programs that connect employers to the education being received by students. The policies should be aimed at raising degree completion rates at community colleges.
4. Invest in innovative training methods
Demonstration and field testing programs that work out new retraining and reemployment ideas should be given particular focus, according to the MIT scientists.
"Innovation improves the quantity, quality, and variety of work that a worker can accomplish in a given time," wrote the report's authors. "This rising productivity, in turn, enables improving living standards and the flourishing of human endeavors. Indeed, in what should be a virtuous cycle, rising productivity provides society with the resources to invest in those whose livelihoods are disrupted by the changing structure of work.
5. Restore the real value of the federal minimum wage 
The report spotlights the growing economic disparity between low-paid workers and the rest of society. Compared to Canadians, for example, low-paid Americans earn 26 percent less. Government policy should make sure people in traditionally low-paid service jobs like cleaning, groundskeeping, food service, entertainment, recreation, and health assistance get adequate pay and some economic security. To that end, the researchers propose that the minimum wage should be raised to at least 40 percent of the national median wage. This value should also be indexed to inflation.
6. Modernize and extend unemployment insurance (UI) benefits 
Several measures are recommended to improve unemployment insurance and extend it to workers that aren't usually covered. The report suggests allowing workers to count their most recent earnings to determine eligibility, determining eligibility based on hours rather than earnings, dropping the requirement that unemployed seek full-time work (because many hold part-time jobs), and reforming partial UI benefits from the states.
7. Strengthen and adapt labor laws 
Labor laws need to be both improved and better enforced, states the report. Contraction of private sector labor unions makes it harder for rank-and-file workers to bargain for wage growth that matches the growth of productivity growth. How workers are represented needs to be innovated as much as the technologies. Current U.S. laws "retard the development of alternative approaches," write the researchers. For example, due to racial politics during the New Deal, sectors of the American workforce like domestic workers and agricultural workers are unable to participate in collective bargaining.
8. Increase federal research spending
In a proposal aimed at fostering innovation and making sure its benefits are experienced by workers, the MIT group thinks it's key to increase government spending on research, especially in areas not addressed by the private sector. These tend to involve longer-term research that addresses the social impacts of new technologies, zeroing in on major national problems, climate change, human health and similar larger research topics. Investing into research on human-centered AI, collaborative robotics and the science of education should be a part of this approach.
Small and medium-sized businesses should receive targeted government assistance to allow them to increase productivity via the new tech, advises the MIT team.
9. Expand the geography of innovation in the United States
Innovation is increasingly "concentrated geographically," think the researchers. For a country that has so many universities, entrepreneurs, and workers that are spread throughout, the benefits of innovation should be made available not only to more workers, but also to more of the country's regions. Each state can have its own Silicon Valley.
10. Rebalance taxes on capital and labor
Innovation is necessary in the tax law as well, according to the report. It's important to change the manner in which the current tax code "unduly favors investments in capital" by eliminating accelerated depreciation allowances, applying corporate income tax equally to all corporations, and instituting an employer training tax credit.
MIT and Google researchers use deep learning to decipher ancient languages.
Researchers from MIT and Google Brain discover how to use deep learning to decipher ancient languages.
The technique can be used to read languages that died long ago.
The method builds on the ability of machines to quickly complete monotonous tasks.
There are about 6,500-7,000 languages currently spoken in the world. But that's less than a quarter of all the languages people spoke over the course of human history. That total number is around 31,000 languages, according to some linguistic estimates. Every time a language is lost, so goes that way of thinking, of relating to the world. The relationships, the poetry of life uniquely described through that language are lost too. But what if you could figure out how to read the dead languages? Researchers from MIT and Google Brain created an AI-based system that can accomplish just that.
While languages change, many of the symbols and how the words and characters are distributed stay relatively constant over time. Because of that, you could attempt to decode a long-lost language if you understood its relationship to a known progenitor language. This insight is what allowed the team which included Jiaming Luo and Regina Barzilay from MIT and Yuan Cao from Google's AI lab to use machine learning to decipher the early Greek language Linear B (from 1400 BC) and a cuneiform Ugaritic (early Hebrew) language that's also over 3,000 years old.
Linear B was previously cracked by a human – in 1953, it was deciphered by Michael Ventris. But this was the first time the language was figured out by a machine.
The approach by the researchers focused on 4 key properties related to the context and alignment of the characters to be deciphered – distributional similarity, monotonic character mapping, structural sparsity and significant cognate overlap.
They trained the AI network to look for these traits, achieving the correct translation of 67.3% of Linear B cognates (word of common origin) into their Greek equivalents.
What AI can potentially do better in such tasks, according to MIT Technology Review, is that it can simply take a brute force approach that would be too exhausting for humans. They can attempt to translate symbols of an unknown alphabet by quickly testing it against symbols from one language after another, running them through everything that is already known.
Next for the scientists? Perhaps the translation of Linear A - the Ancient Greek language that no one has succeeded in deciphering so far.
You can check out their paper "Neural Decipherment via Minimum-Cost Flow: from Ugaritic to Linear B" here.
Noam Chomsky on Language's Great Mysteries
Noam Chomsky contemplates the basic, yet still unanswerable, questions of linguistics.
This MIT robot solves it faster than any human ever could. It's a world record.
A robot developed by MIT students Ben Katz and Jared Di Carlo has set the world record for solving the Rubik's Cube.
The fastest human record is held by Australian Feliks Zemdegs, who solved it in 4.22 seconds in 2018.
The original-size Rubik's Cube (3x3x3) has 43 quintillion possible combinations – and one solution.
There's a special place in our hearts for the Rubik's Cube. Pop culture icon and shorthand for intelligence, many dabblers have played around with this ingenious toy, and throughout the years there has been a number of competitions, challenges and variations for solving it.
The popularity of the Rubik's Cube can be attributed to the simplicity of its design combined with the mind-boggling complexity of the puzzle; there is one solution out of 43 quintillion possible combinations.
It was only a matter of time before the engineers and roboticists got to tinkering with it. Back in 2016, a robot set a new record for solving the cube in 0.637 seconds. But that wasn't fast enough for some. More recently, two MIT students, Ben Katz, a mechanical engineering graduate student, and Jared Di Carlo, a third-year electrical engineering and computer science student, thought they could one-up that.
"We watched the videos of the previous robots, and we noticed that the motors were not the fastest that could be used... We thought we could do better with improved motors and controls."
Giphy
They set up a motor actuating within each face of the Rubik's cube controlled by electronics for control. With the assistance of webcams pointed at the cube, custom software determines the initial state of each face. Then, utilizing pre-existing software to solve the Rubik's Cube, the robot was guided to solve the puzzle.
The result? Their robot solved the Rubik's Cube in 0.38 seconds. It's safe to say that no human is physically capable of beating this speed. And we can add another achievement to the list of robots outperforming humans.
The human who has the fastest world record for hand-solving is Feliks Zemdegs. He was able to solve a Rubik's Cube in 4.22 seconds. Which is also nothing to sneeze at. The skills and talents robots are displacing are vast and varied to say the least. Not to mention surprising.
Now, watch the video a few more times and let your inadequate human hands fathom that speed.
New insights into the role of water vapor may help researchers predict how the planet will respond to warming.
Just as an oven gives off more heat to the surrounding kitchen as its internal temperature rises, the Earth sheds more heat into space as its surface warms up. Since the 1950s, scientists have observed a surprisingly straightforward, linear relationship between the Earth's surface temperature and its outgoing heat.
But the Earth is an incredibly messy system, with many complicated, interacting parts that can affect this process. Scientists have thus found it difficult to explain why this relationship between surface temperature and outgoing heat is so simple and linear. Finding an explanation could help climate scientists model the effects of climate change.
Now scientists from MIT's Department of Earth, Atmospheric and Planetary Sciences (EAPS) have found the answer, along with a prediction for when this linear relationship will break down.
They observed that Earth emits heat to space from the planet's surface as well as from the atmosphere. As both heat up, say by the addition of carbon dioxide, the air holds more water vapor, which in turn acts to trap more heat in the atmosphere. This strengthening of Earth's greenhouse effect is known as water vapor feedback. Crucially, the team found that the water vapor feedback is just sufficient to cancel out the rate at which the warmer atmosphere emits more heat into space.
The overall change in Earth's emitted heat thus only depends on the surface. In turn, the emission of heat from Earth's surface to space is a simple function of temperature, leading to to the observed linear relationship.
Their findings, which appear today in the Proceedings of the National Academy of Sciences, may also help to explain how extreme, hothouse climates in Earth's ancient past unfolded. The paper's co-authors are EAPS postdoc Daniel Koll and Tim Cronin, the Kerr-McGee Career Development Assistant Professor in EAPS.
A window for heat
In their search for an explanation, the team built a radiation code — essentially, a model of the Earth and how it emits heat, or infrared radiation, into space. The code simulates the Earth as a vertical column, starting from the ground, up through the atmosphere, and finally into space. Koll can input a surface temperature into the column, and the code calculates the amount of radiation that escapes through the entire column and into space.
The team can then turn the temperature knob up and down to see how different surface temperatures would affect the outgoing heat. When they plotted their data, they observed a straight line — a linear relationship between surface temperature and outgoing heat, in line with many previous works, and over a range of 60 kelvins, or 108 degrees Fahrenheit.
"So the radiation code gave us what Earth actually does," Koll says. "Then I started digging into this code, which is a lump of physics smashed together, to see which of these physics is actually responsible for this relationship."
To do this, the team programmed into their code various effects in the atmosphere, such as convection, and humidity, or water vapor, and turned these knobs up and down to see how they in turn would affect the Earth's outgoing infrared radiation.
"We needed to break up the whole spectrum of infrared radiation into about 350,000 spectral intervals, because not all infrared is equal," Koll says.
He explains that, while water vapor does absorb heat, or infrared radiation, it doesn't absorb it indiscriminately, but at wavelengths that are incredibly specific, so much so that the team had to split the infrared spectrum into 350,000 wavelengths just to see exactly which wavelengths were absorbed by water vapor.
In the end, the researchers observed that as the Earth's surface temperature gets hotter, it essentially wants to shed more heat into space. But at the same time, water vapor builds up, and acts to absorb and trap heat at certain wavelengths, creating a greenhouse effect that prevents a fraction of heat from escaping.
"It's like there's a window, through which a river of radiation can flow to space," Koll says. "The river flows faster and faster as you make things hotter, but the window gets smaller, because the greenhouse effect is trapping a lot of that radiation and preventing it from escaping."
Koll says this greenhouse effect explains why the heat that does escape into space is directly related to the surface temperature, as the increase in heat emitted by the atmosphere is cancelled out by the increased absorption from water vapor.
Tipping towards Venus
The team found this linear relationship breaks down when Earth's global average surface temperatures go much beyond 300 K, or 80 F. In such a scenario, it would be much more difficult for the Earth to shed heat at roughly the same rate as its surface warms. For now, that number is hovering around 285 K, or 53 F.
"It means we're still good now, but if the Earth becomes much hotter, then we could be in for a nonlinear world, where stuff could get much more complicated," Koll says.
To give an idea of what such a nonlinear world might look like, he invokes Venus — a planet that many scientists believe started out as a world similar to Earth, though much closer to the sun.
"Some time in the past, we think its atmosphere had a lot of water vapor, and the greenhouse effect would've become so strong that this window region closed off, and nothing could get out anymore, and then you get runaway heating," Koll says.
"In which case the whole planet gets so hot that oceans start to boil off, nasty things start to happen, and you transform from an Earth-like world to what Venus is today."
For Earth, Koll calculates that such a runaway effect wouldn't kick in until global average temperatures reach about 340 K, or 152 F. Global warming alone is insufficient to cause such warming, but other climatic changes, such as Earth's warming over billions of years due to the sun's natural evolution, could push Earth towards this limit, "at which point, we would turn into Venus."
Koll says the team's results may help to improve climate model predictions. They also may be useful in understanding how ancient hot climates on Earth unfolded.
"If you were living on Earth 60 million years ago, it was a much hotter, wacky world, with no ice at the pole caps, and palm trees and crocodiles in what's now Wyoming," Koll says. "One of the things we show is, once you push to really hot climates like that, which we know happened in the past, things get much more complicated."
This research was funded, in part, by the National Science Foundation, and the James S. McDonnell Foundation.
Reprinted with permission of MIT News
Imagine reading by plant light, and glow-in-the-dark trees instead of street lamps. That's on the horizon thanks to these engineers.
Two nanobionic light-emitting watercress plants shine onto 'Paradise Lost'. Reflective paper was used to increase the glow here. (Photo: Seon-Yeong Kwak at MIT)
New research funded by the U.S. Department of Energy may produce plants that will eventually be able to provide enough light to replace street lamps. This could lead to serious energy savings given the fact that lighting currently accounts for about 20% of worldwide energy consumption.
In a paper published in the journal Nano Letters, scientists from MIT, University of California Riverside, and University of California Berkley, describe their process of using nanotechnology to deliver an enzyme found in fireflies to plant leaves in order to make them emit light.
So far, the researchers have managed to produce kale, arugula, spinach and watercress that can glow for almost four hours. Michael Strano, the Carbon P. Dubbs Professor of Chemical Engineering at MIT and senior author of the study says:
"The vision is to make a plant that will function as a desk lamp—a lamp that you don't have to plug in. The light is ultimately powered by the energy metabolism of the plant itself."
The scientists used three separate molecules and packaged them in different nanoparticle carriers that deliver them to the appropriate part of the plant. The reaction that produces the light requires an enzyme called luciferase (which is found in fireflies) that acts on a molecule called liciferin. Another molecule called co-enzyme A helps the process along by removing a reaction byproduct.
This approach is much more efficient and less laborious compared to past attempts to design glowing plants based on genetically engineering them to produce the chemical reaction. The new method requires simply soaking the leaves in liquid and thus can be applied to various types of plants. Imagine streetlights replaced by glowing trees or being able to quickly turn the nearby anthurium into a desk lamp.
This is not the first time MIT has been tinkering with plants. As Strano says, "Plants can self-repair, they have their own energy, and they are already adapted to the outdoor environment," which makes them great for experimentation with nanobionics. In the past his lab has designed plants that can detect explosives, as well as plants that can monitor drought conditions.
Currently, the light emitted from the plants is about a thousandth of the level required to read by, but the scientists are looking forward to further optimizing their technology. For the future versions they hope to make the light much brighter and to also develop a way to spray the nanoparticles onto plant leaves.
"Our target is to perform one treatment when the plant is a seedling or a mature plant, and have it last for the lifetime of the plant," Strano says. "Our work very seriously opens up the doorway to streetlamps that are nothing but treated trees, and to indirect lighting around homes."
Another feature the researchers have already demonstrated is turning the light off by introducing a fourth molecule. This could eventually create plants that can shut off their light in response to an outside stimulus like sunlight.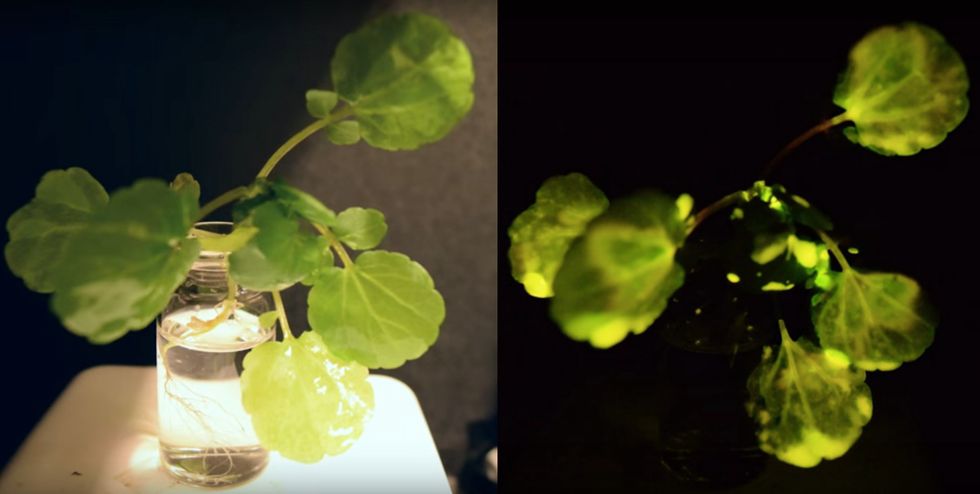 Plant lamps could also have a huge impact on education in developing nations, as technology entrepreneur Vivek Wadhwa explains:
"When people in remote parts of India, Africa, South America come home, they can't study because they don't have light. This is something we can't comprehend in America: that you don't have light, you can't study, therefore children don't get education. But this is a common problem in the developing world."
Watch Vivek Wadhwa's take on life in 2027 below: