The Field Medal was created to elevate promising mathematicians from underrepresented demographics. But has it followed through on that goal?
Credit: Fung et al.
In a recent study, researchers collected data on the backgrounds and academic genealogy of thousands of mathematicians.
The results revealed that mathematicians of certain backgrounds—namely, from Western countries—are significantly more likely to join elite circles in mathematics.
The researchers issued recommendations for how elite institutions could help the Fields Medal accomplish its original goal.
As the "universal language," mathematics is commonly considered to be an egalitarian field.
After all, there's far less room for subjectivity when judging works in algebraic geometry than, say, literature or sociology. The field's objectivity should have, in theory, helped foster something like a global meritocracy over time. But has that happened?
To shed light on this question, a recent study used big data to explore the relationships between mentorships, prizes, and inclusivity within mathematics. Published in Nature's Humanities and Social Sciences Communications, the study took a close look at winners of the Fields Medal over recent decades.
The Fields Medal is commonly considered to be the Nobel Prize of mathematics. It's awarded to up to four mathematicians under the age of 40, every four years. First awarded in 1936, the Fields Medal was created in the 1930s to help promote mathematicians from historically underrepresented demographics around the world; it was also part of a larger movement to ensure the destruction of WWII didn't rupture the international mathematics community.
In the study, researchers from Dartmouth College noted that the Fields Medal has helped elevate mathematicians from underrepresented groups, such as mathematicians from Germany and Japan. However, the results also showed that many Field Medalists came from the same "ancestral tree" of high-profile mentors, suggesting the existence of a "self-reinforcing behavior among the elites."
Fields MedalCredit: Stefan Zachow via Wikipedia
"There are many sources of inequality in elite-level math and academia," lead study author Herbert Chang, a research affiliate at Dartmouth's Fu Lab, said in a press release. "Our goal was to characterize how a single factor--mentorship--plays a role, while telling a comprehensive story about mathematics."
To get a better perspective of the composition and history of elite circles in mathematics, the researchers used data from the Mathematics Genealogy Project. The project contains detailed information about the academic genealogy — such as alma mater, doctoral advisor, doctoral students — of more than 260,000 mathematicians.
(Note: The researchers defined "elite" by measuring mathematicians' associations with Field Medalists.)
The researchers also collected data on mathematicians' home countries and lingo-ethnic categories, which helped create visualizations of the migration of mathematicians and the levels of pluralism in different nations. Pluralism was defined in the study as "the proportion of elite mathematicians that are not part of the majority lingo-ethnic identity."
Credit: Fung et al.
The results paint a visual history of the flow of mathematicians into seven key countries.
"By 1932, the Holocaust led to mass migration from Germany to the United States and other European countries, which accounts for the drop in green volume in Fig. 1a, including prominent scientist Albert Einstein," the researchers wrote.
"Similarly, we observe large amounts of outflow from Russia after the cold war, greatly diminishing the presence of Russia mathematicians after the 1990s, and the second Italian mass diaspora after WWII. Beyond forced immigration, flow analysis also reveals the movement of reintegration. Japanese mathematicians immigrated to the United States following WWII, and continued throughout the 1960s to the 1990s. Twenty years later, Japanese mathematicians flowed back toward Japan."
Credit: Fung et al.
The results revealed significant disparities when it comes to identity and membership in elite circles. For example, a mathematician who is French and attends a top-50 institution is 6.4 times more likely to join an elite circle.
Meanwhile, an East Asian mathematician who also attends a top-50 institution is 4.5 times less likely to join an elite circle than the French mathematician, while an Indian mathematician is 6 times less likely. In general, the results showed that mathematicians from Arabic, African, and East Asian language identities were underrepresented.
"It's a privilege for a young mathematician to inherit a powerful network of relationships from an influential academic advisor," Fu said in the press release. "The growing number of doctoral degrees awarded to international mathematicians in the U.S. indicates that mathematics can be a powerful integrative force in our common humanity."
To better promote the original goal of the Fields Medal — promoting promising mathematicians from underrepresented communities — the researchers issued two recommendations:
"First, elite institutions should continue to recruit from a diverse set of communities," they wrote. "Second, prizes that balance intellectual contribution, while simultaneously broadening community, would suit the vision of an equitable society that the Fields Medal once sought to do."
"Who is under-represented within a state shifts over geography, culture, and time. The vision of equitable scientific production demands constant evolution and reflection, especially at the elite level."
Here's what Einstein meant when he spoke of cosmic dice and the "secrets of the Ancient One".
Credit: Getty Images
To celebrate Einstein's birthday this past Sunday, we examine his take on religion and spirituality.
Einstein's disapproval of quantum physics revealed his discontent with a world without causal harmony at its deepest levels: The famous "God does not play dice."
He embraced a "Spinozan God," a deity that was one with nature, within all that is, from cosmic dust to humans. Science, to Einstein, was a conduit to reveal at least part of this mysterious connection, whose deeper secrets were to remain elusive.
Given that March 14th is Einstein's birthday and, in an uncanny coincidence, also Pi Day, I think it's appropriate that we celebrate it here at 13.8 by revisiting his relationship with religion and spirituality. Much has been written about Einstein and God. Was the great scientist religious? What did he believe in? What was God to Einstein? In what is perhaps his most famous remark involving God, Einstein expressed his dissatisfaction with the randomness in quantum physics: his "God doesn't play dice" quote. The actual phrasing, from a letter Einstein wrote to his friend and colleague Max Born, dated December 4, 1926, is very revealing of his worldview:
Quantum mechanics is very worthy of regard. But an inner voice tells me that this is not the true Jacob. The theory yields much, but it hardly brings us close to the secrets of the Ancient One. In any case, I am convinced that He does not play dice.
Einstein clearly had no qualms with the effectiveness of quantum mechanics as a tool to describe the results of laboratory experiments concerned with the world of the very small— the world of molecules, atoms, and particles. But his intuition (his "inner voice") would not gel with quantum physics as formulated then, that is, as a probabilistic theory: "The theory yields much, but it hardly brings us close to the secrets of the Ancient One." What could Einstein mean by the "secrets of the Ancient One"?
Taken at face value, this reads like the remarks of a mystic. The secrets of the Ancient One could well be the title of a documentary series on revelations from God. But to consider Einstein's quote literally would be misleading. Of course, no one knows what Einstein really thought (or anyone, for that matter); we are bound by his written and recorded words, and he could easily have kept his own "secrets of the Wise One" close to his heart. The more direct interpretation is that the 'Ancient One' was a symbolic representation of Einstein's own beliefs, which, in a telegram to a Jewish newspaper composed three years after the letter to Max Born, he related to a kind of all-pervading Spinozan God: "I believe in Spinoza's God who reveals himself in the harmony of all that exists, but not in a God who concerns himself with the fate and actions of human beings."
To Einstein, science's goal was to dig ever deeper into the causal machinery of the cosmos, unveiling its mechanisms one by one.
This "harmony of all that exists" represents Einstein's profound and unchanging position that there is a fundamental and all-encompassing causal order in nature that affects all that is:
Everything is determined… by forces over which we have no control. It is determined for the insect as well as for the star. Human beings, vegetables, or cosmic dust—we all dance to a mysterious tune, intoned in the distance by an invisible piper.
Einstein's worldview reveals a strange interplay between an over-arching causality that affects all that exists in nature (human beings, cosmic dust, vegetables, stars…) but whose deepest inner workings remain unreachable and mysterious to us and to science. The tune intoned in the distance by an invisible piper is barely audible by human ears. This reminds me of another quote, this one much older, from Democritus, the pre-Socratic philosopher from the 4th century BCE who came up with the notion of "atoms" as the building blocks of everything (with his mentor Leucippus.) Democritus wrote: "In reality, Truth is in the depths."
To Einstein, science's goal was to dig ever deeper into the causal machinery of the cosmos, unveiling its mechanisms one by one. In true Platonic fashion, to Einstein, every scientific discovery revealed a little more of this inner harmony of all things. No wonder he rejected the probabilistic nature of quantum physics! It went precisely in opposition to his worldview that nature was "rational," causal, and thus understandable as such by the human mind, even if imperfectly. If quantum physics worked as a probabilistic explanation, it was because there was a deeper one, underlying this randomness, that made sense from a causal perspective. Otherwise, nature wouldn't be harmonious, and the causal chain would be disrupted, deafening the tune from the invisible piper. To Einstein, an acausal world would be a senseless world, without harmony, without divine beauty. An acausal world would be lawless and godless.
Almost 100 years have passed since Einstein expressed his worldview, and we remain confused about the nature and interpretation of quantum physics. We have learned a lot since then, of course, and current knowledge indicates quite strongly that nature really is probabilistic at the fundamental level. It may be that the invisible piper is still there, but that, instead of one of Mozart's harmonious tunes that Einstein loved so much, the musical spirit of nature is keener on improvising, creating an unexpected harmony born out of dissonance.
New mathematics have shown that lines of energy can be used to describe the universe.
Photo by Usukhbayar Gankhuyag on Unsplash
Matter is what makes up the universe, but what makes up matter?
This question has long been tricky for those who think about it – especially for the physicists. Reflecting recent trends in physics, my colleague Jeffrey Eischen and I have described an updated way to think about matter. We propose that matter is not made of particles or waves, as was long thought, but – more fundamentally – that matter is made of fragments of energy.
From five to one
The ancient Greeks conceived of five building blocks of matter – from bottom to top: earth, water, air, fire and aether. Aether was the matter that filled the heavens and explained the rotation of the stars, as observed from the Earth vantage point. These were the first most basic elements from which one could build up a world. Their conceptions of the physical elements did not change dramatically for nearly 2,000 years.
Then, about 300 years ago, Sir Isaac Newton introduced the idea that all matter exists at points called particles. One hundred fifty years after that, James Clerk Maxwell introduced the electromagnetic wave – the underlying and often invisible form of magnetism, electricity and light. The particle served as the building block for mechanics and the wave for electromagnetism – and the public settled on the particle and the wave as the two building blocks of matter. Together, the particles and waves became the building blocks of all kinds of matter.
This was a vast improvement over the ancient Greeks' five elements, but was still flawed. In a famous series of experiments, known as the double-slit experiments, light sometimes acts like a particle and at other times acts like a wave. And while the theories and math of waves and particles allow scientists to make incredibly accurate predictions about the universe, the rules break down at the largest and tiniest scales.
Einstein proposed a remedy in his theory of general relativity. Using the mathematical tools available to him at the time, Einstein was able to better explain certain physical phenomena and also resolve a longstanding paradox relating to inertia and gravity. But instead of improving on particles or waves, he eliminated them as he proposed the warping of space and time.
Using newer mathematical tools, my colleague and I have demonstrated a new theory that may accurately describe the universe. Instead of basing the theory on the warping of space and time, we considered that there could be a building block that is more fundamental than the particle and the wave. Scientists understand that particles and waves are existential opposites: A particle is a source of matter that exists at a single point, and waves exist everywhere except at the points that create them. My colleague and I thought it made logical sense for there to be an underlying connection between them.
A new building block of matter can model both the largest and smallest of things – from stars to light.
Christopher Terrell, CC BY-ND
Flow and fragments of energy

Our theory begins with a new fundamental idea – that energy always "flows" through regions of space and time.
Think of energy as made up of lines that fill up a region of space and time, flowing into and out of that region, never beginning, never ending and never crossing one another.
Working from the idea of a universe of flowing energy lines, we looked for a single building block for the flowing energy. If we could find and define such a thing, we hoped we could use it to accurately make predictions about the universe at the largest and tiniest scales.
There were many building blocks to choose from mathematically, but we sought one that had the features of both the particle and wave – concentrated like the particle but also spread out over space and time like the wave. The answer was a building block that looks like a concentration of energy – kind of like a star – having energy that is highest at the center and that gets smaller farther away from the center.
Much to our surprise, we discovered that there were only a limited number of ways to describe a concentration of energy that flows. Of those, we found just one that works in accordance with our mathematical definition of flow. We named it a fragment of energy. For the math and physics aficionados, it is defined as A = -⍺/r where ⍺ is intensity and r is the distance function.
Using the fragment of energy as a building block of matter, we then constructed the math necessary to solve physics problems. The final step was to test it out.
Back to Einstein, adding universality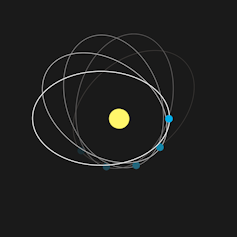 General relativity was the first theory to accurately predict the slight rotation of Mercury's orbit. (Rainer Zenz via Wikimedia Commons)
More than 100 years ago, Einstein had turned to two legendary problems in physics to validate general relativity: the ever-so-slight yearly shift – or precession – in Mercury's orbit, and the tiny bending of light as it passes the Sun.
These problems were at the two extremes of the size spectrum. Neither wave nor particle theories of matter could solve them, but general relativity did. The theory of general relativity warped space and time in such way as to cause the trajectory of Mercury to shift and light to bend in precisely the amounts seen in astronomical observations.
If our new theory was to have a chance at replacing the particle and the wave with the presumably more fundamental fragment, we would have to be able to solve these problems with our theory, too.
For the precession-of-Mercury problem, we modeled the Sun as an enormous stationary fragment of energy and Mercury as a smaller but still enormous slow-moving fragment of energy. For the bending-of-light problem, the Sun was modeled the same way, but the photon was modeled as a minuscule fragment of energy moving at the speed of light. In both problems, we calculated the trajectories of the moving fragments and got the same answers as those predicted by the theory of general relativity. We were stunned.
Our initial work demonstrated how a new building block is capable of accurately modeling bodies from the enormous to the minuscule. Where particles and waves break down, the fragment of energy building block held strong. The fragment could be a single potentially universal building block from which to model reality mathematically – and update the way people think about the building blocks of the universe.

Larry M. Silverberg, Professor of Mechanical and Aerospace Engineering, North Carolina State University
This article is republished from The Conversation under a Creative Commons license. Read the original article.
Think you can solve it? One mathematician has already offered about $1,000 and a bottle of champagne to whoever cracks it first.
pxfuel.com
The puzzle involves a particularly complicated type of magic square.
Magic squares are square arrays containing distinct numbers, and the sums of the numbers in the columns, rows and diagonals must be equal.
In 1996, the recreational mathematics writer Martin Gardner offered $100 to whoever could solve a 3x3 magic square — but using squared numbers.
Magic squares have fascinated mathematicians for thousands of years, with the earliest known example dating back to 2,800 B.C.E., in China. The idea behind magic squares is simple, though the puzzles can get mind-numbingly complex.
First, take a square array — say, a 3x3 grid divided into 9 squares — and put a unique number in each square. But you must arrange the numbers such that the sums of the numbers in each row, column and diagonal add up to the same number.
Here's an example of a partially completed magic square. Try to figure out which numbers you'd need to put in the blank spaces in order to complete it.
docdroid.net
Given that you need each column, row and diagonal to add up to 15, you'd need to fill in the empty squares with a 9, 7 and 8.
docdroid.net
That may be easy enough. But magic squares become far more difficult when they use squared numbers, a concept first exemplified by the 18th-century mathematician Leonhard Euler.
Since, mathematicians have generated various configurations of 4x4 magic squares of squares, including 5x5, 6x6 and 7x7 versions. But nobody has yet proven that a 3x3 magic square of squares is possible — or impossible, for that matter.
To date, there have been at least two prizes offered to whoever can solve this longstanding puzzle. Martin Gardner, a science and mathematics writer who was perhaps best known for devising recreational mathematics games that appeared for 25 years in a column published by Scientific American, offered a prize of $100 in 1996 to whoever could crack the code first.
"So far no one has come forward with a "square of squares"—but no one has proved its impossibility either," Gardner wrote in 1998 in Scientific American. "If it exists, its numbers would be huge, perhaps beyond the reach of today's fastest supercomputers."
Melancholia I. (A 4x4 magic square is depicted in the top right of the painting.)
Dürer's
In 2005, the mathematician Christian Boyer raised the stakes by offering €1,000 plus a bottle of champagne to anyone who could complete a 3x3 magic square of squares — using seven, eight or nine distinct squared integers. (Boyer also offered a prize for anyone who can show the puzzle is impossible, and he lists smaller prizes for other unsolved puzzles on his website.)
While both prizes remain unclaimed, some people have come close to solving the 3x3 magic square of squares, like this configuration listed on Christian Boyer's website.
To those unfamiliar with high-level mathematics, it may come as a surprise that there's no shortage of well-known unsolved math problems, from the inscribed square problem in Euclidean geometry, to the Bombieri–Lang conjecture in algebra. Solving some of the these puzzles could lead to useful applications in the real world. But cracking the magic square of squares problem? Not so much.
Still, that's unlikely to deter mathematicians from seeking solutions.
"Such a magic square would probably not have any practical use," Gardner wrote in Scientific American. "Why then are mathematicians trying to find it? Because it might be there."
Not to mention the champagne.
Logic puzzles can teach reasoning in a fun way that doesn't feel like work.

Credit: Shutterstock
Logician Raymond Smullyan devised tons of logic puzzles, but one was declared by another philosopher to be the hardest of all time.
The problem, also known as the Three Gods Problem, is solvable, even if it doesn't seem to be.
It depends on using complex questions to assure that any answer given is useful.
Despite the general dislike of mathematics that most profess to have, many people enjoy logic puzzles. This is strange, as many logic puzzles are just variations of math problems. Gleefully ignorant of this fact, many mathaphobes will try to solve riddles and puzzles of tremendous difficulty using reasoning tools they fear to employ when the subject is an equation.
Today, we'll look at a puzzle, the polymath who devised it, and why you should consider picking up a book of logical puzzles next time you are at the library.
This puzzle was written by the brilliant logician Raymond Smullyan. Born in New York 101 years ago, Smullyan earned his undergraduate degree at the University of Chicago and his doctorate in mathematics at Princeton, where he also taught for a few years.
An extremely prolific writer, he published several books on logic puzzles for popular consumption and an endless stream of textbooks and essays for an academic audience on logic. His puzzle books are well regarded for introducing people to complex philosophical ideas, such as Gödel's incompleteness theorems, in a fun and non-technical way.
Skilled in close-up magic, Smullyan once worked as a professional magician. He was also an accomplished pianist and an amateur astronomer who built his own telescope. Besides his interest in logic, he also admired Taoist philosophy and published a book on it for a general audience.

He also found the time to appear on Johnny Carson, where, as in many of his books, he argued that people who like his puzzles claim to dislike math only because they don't realize that they are one and the same.
The Three Gods Problem
One of the more popular wordings of the problem, which MIT logic professor George Boolos said was the hardest ever, is:

"Three gods A, B, and C are called, in no particular order, True, False, and Random. True always speaks truly, False always speaks falsely, but whether Random speaks truly or falsely is a completely random matter. Your task is to determine the identities of A, B, and C by asking three yes-no questions; each question must be put to exactly one god. The gods understand English, but will answer all questions in their own language, in which the words for yes and no are da and ja, in some order. You do not know which word means which."

Boolos adds that you are allowed to ask a particular god more than one question and that Random switches between answering as if they are a truth-teller or a liar, not merely between answering "da" and "ja."

Give yourself a minute to ponder this; we'll look at a few answers below. Ready? Okay.

George Boolos' solution focuses on finding either True or False through complex questions.
In logic, there is a commonly used function often written as "iff," which means "if, and only if." It would be used to say something like "The sky is blue if and only if Des Moines is in Iowa." It is a powerful tool, as it gives a true statement only when both of its components are true or both are false. If one is true and the other is false, you have a false statement.
So, if you make a statement such as "the moon is made of Gorgonzola if, and only if, Rome is in Russia," then you have made a true statement, as both parts of it are false. The statement "The moon has no air if, and only if, Rome is in Italy," is also true, as both parts of it are true. However, "The moon is made of Gorgonzola if, and only if, Albany is the capitol of New York," is false, because one of the parts of that statement is true, and the other part is not (The fact that these items don't rely on each other is immaterial for now).
In this puzzle, iff can be used here to control for the unknown value of "da" and "ja." As the answers we get can be compared with what we know they would be if the parts of our question are all true, all false, or if they differ.
Boolos would have us begin by asking god A, "Does "da" mean yes if and only if you are True if and only if B is Random?" No matter what A says, the answer you get is extremely useful. As he explains:

"If A is True or False and you get the answer da, then as we have seen, B is Random, and therefore C is either True or False; but if A is True or False and you get the answer ja, then B is not Random, therefore B is either True or False… if A is Random and you get the answer da, C is not Random (neither is B, but that's irrelevant), and therefore C is either True or False; and if A is Random...and you get the answer ja, B is not random (neither is C, irrelevantly), and therefore B is either True or False."

No matter which god A is, an answer of "da" assures that C isn't Random, and a response of "ja" means the same for B.
From here, it is a simple matter of asking whichever one you know isn't Random questions to determine if they are telling the truth, and then one on who the last god is. Boolos suggests starting with "Does da mean yes if, and only if, Rome is in Italy?" Since one part of this is accurate, we know that True will say "da," and False will say "ja," if faced with this question.
After that, you can ask the same god something like, "Does da mean yes if, and only if, A is Random?" and know exactly who is who by how they answer and the process of elimination.
If you're confused about how this works, try going over it again slowly. Remember that the essential parts are knowing what the answer will be if two positives or two negatives always come out as a positive and that two of the gods can be relied on to act consistently.
Smullyan wrote several books with other logic puzzles in them. If you liked this one and would like to learn more about the philosophical issues they investigate, or perhaps if you'd like to try a few that are a little easier to solve, you should consider reading them. A few of his puzzles can be found with explanations in this interactive.