Results from an experiment using the Large Hadron Collider challenges the accepted model of physics.
Credit: Imperial College London
Researchers working on the Large Hadron Collider experiments obtained unusual results.
The data suggests possible existence of new particles or interactions.
The findings aren't accounted for by the Standard Model of particle physics.
Scientists working on the Large Hadron Collider discovered new particles whose unusual behavior doesn't conform to the Standard Model of particle physics. The find may indicate the existence of entirely new particles or interactions and can result in new physics being formulated.
The Standard Model of particle physics, our best current theory, says that particles known as "beauty quarks" or "B mesons" should decay equally into muons or electrons. However, measurements from a new experiment on the Large Hadron Collider (LHC), the world's largest scientific instrument and its most powerful particle accelerator based at the CERN lab on the Franco-Swiss border, show that is not taking place. B mesons decaying in the LHC produced more electrons and less muons than the theory predicted. These measurements may mean that new, yet-to-be-detected particles are contributing to the imbalance.
The research, carried out by physicists from Imperial College London and the Universities of Bristol and Cambridge, was part of the LHCb experiment, one of the four particle detectors at the Large Hadron Collider.
One of the study's co-authors, Dr. Mitesh Patel from Imperial College, explained the significance of their achievement:
"We were actually shaking when we first looked at the results, we were that excited," shared Patel in a press release. "Our hearts did beat a bit faster. It's too early to say if this genuinely is a deviation from the Standard Model but the potential implications are such that these results are the most exciting thing I've done in 20 years in the field. It has been a long journey to get here."
The LHCb experiment at the Large Hadron Collider at CERN.
Credit: CERN
Imperial College Ph.D. student Daniel Moise, who was involved in the study, thinks the findings can lead to new discoveries:
"The result offers an intriguing hint of a new fundamental particle or force that interacts in a way that the particles currently known to science do not," said Moise. "If this is confirmed by further measurements, it will have a profound impact on our understanding of nature at the most fundamental level."
The scientists are looking next to verify their results in follow-up experiments.
This is not the only discrepancy with the Standard Model that physicists have uncovered. The nature of dark matter and the unequal distribution of matter and antimatter in the Universe have also been thrown wrenches into most accepted physics ideas.
Check out the new paper "Test of lepton universality in beauty-quark decays" published as a preprint.
A well-known cosmologist comes out with very stark warnings about particle accelerators.
Getty Images
Respected astrophysicist Martin Reese has serious misgivings about the safety of the Large Hadron Collider.
The collider could destroy us in 3 different ways, warns Reese.
Despite the dangers, innovation should continue but with caution.
The Large Hadron Collider (LHC), the world's biggest scientific instrument, is also the planet's most powerful particle accelerator. And that makes it a potential danger not just to itself or its immediate surroundings in Switzerland, but to Earth and maybe even our reality itself.
This warning comes not from an incorrigible luddite but the influential British astrophysicist Lord Martin Rees, who sees three ways in which the collider could cause a disaster of cosmic proportions.
1. A BLACK HOLE SUCKS US IN
For one, cautions Rees in his new book On The Future: Prospects for Humanity, it's possible for the experiments conducted at the LHC to form a black hole which would "suck in everything around it".
2. EARTH GETS SHRUNK
And if apocalypse by way of black holes doesn't come to pass, it's also conceivable that Earth could get compressed into a "hyperdense sphere about one hundred metres across," as writes Lord Rees, the Emeritus Professor of Cosmology and Astrophysics at the University of Cambridge.
That could happen due to the subatomic quarks generated by the Large Hadron Collider, which smashes particles against each other at super-high speeds to study the fallout. The quarks could reassemble themselves into appropriately named (and currently hypothetical) particles called strangelets, which, in turn, could transform everything in their way into a new highly-compressed form of matter. So Earth would become no larger than a football field.
Aerial view of CERN'S Large Hadron Collider.
3. SPACETIME GETS RIPPED
There is, unfortunately, a third way towards unimaginable disaster courtesy of the LHC and other particle accelerators like the new one being built in China which would be twice as large and 7 times as powerful as CERN's. Martin Rees thinks that there's a chance the colliders could cause a "catastrophe that engulfs space itself". That's certainly nothing to take lightly.
Rees explains that contrary to what might be popularly imagined, the vacuum of space is not really full of mostly nothing but emptiness. The vacuum, says Rees, has in it "all the forces and particles that govern the physical world." And it's possible that the vacuum we can observe is actually "fragile and unstable."
What this means is that when a collider creates concentrated energy by crashing particles together, it can cause a "phase transition" which would tear the fabric of space. "This would be a cosmic calamity not just a terrestrial one," notes Rees.
Professor Baron Martin Rees of Ludlow, speaks during a news conference in London on July 20, 2015.
Photo credit: NIKLAS HALLE'N/AFP/Getty Images
So, can it happen?

While dramatic fears have circled around the Large Hadron Collider from the start, the LHC has always maintained that the work carried out there is safe. CERN, which runs the LHC, states on its website that according to a 2003 report "LHC collisions present no danger and that there are no reasons for concern."
In fact, points out the European nuclear research organization, there's nothing being done at the lab that nature hasn't already "done many times over during the lifetime of the Earth and other astronomical bodies."
The LHC staff goes even so far as to specifically refute the threat from strangelets. They turn to a study done in 2000 that "showed that there was no cause for concern." The statement goes on to observe that the collider "has now run for eight years, searching for strangelets without detecting any."
"The second scary possibility is that the quarks would reassemble themselves into compressed objects called strangelets," writes Rees. "That in itself would be harmless. However under some hypotheses a strangelet could, by contagion, convert anything else it encounters into a new form of matter, transforming the entire earth in a hyperdense sphere about one hundred metres across."
Still, an argument that there's nothing to fear just because they haven't found anything too strange and extraordinary is not completely comforting.
What would Lord Rees, who sees such dangers, do to the collider? The scientist, known for carrying out important theoretical work on a variety of subjects – from black hole formation to extragalactic radio sources and the evolution of the Universe – is not necessary calling for the LHC to be shut down.
Rather he reminds that "innovation is often hazardous." That doesn't mean you shouldn't innovate but that "physicists should be circumspect about carrying out experiments that generate conditions with no precedent, even in the cosmos." Words to live by when nothing less than the continual existence of the world is at stake.
LHC researchers discover a double-heavy set of quarks that may reveal new insights into the strong force.
Taking a picture of a picture of the LHC (PETER MACDIARMID)
Researchers at the Large Hadron Collider at CERN have just discovered a particle that sheds an intriguing new light on the standard model of physics' strong force. One of the researchers, Paul Soler, describes the discovery as opening "a new frontier in understanding the strong force."
The strong force was proposed to explain something that seemed like it should happen but doesn't. Atomic nuclei are largely made up of particles called "hadrons": neutrons and protons, and electrons, each of which has a characteristic electrical charge. Protons are positive, electrons are negative, and neutrons are neutral. But why don't positively charged protons repel each other and cause nuclei to fly apart? A force, the "strong" force, must be holding them together.
Since that original finding, it's been discovered that the strong force also holds together the smaller particles, quarks, from which protons and neutrons are constructed. (Electrons are comprised of another particle type, leptons.)
Protons and neutrons are made up of baryons, sets of three quarks containing light quarks, along with, at most, one heavy quark.
In July 2017, LHC researchers announced at the EPS Conference on High Energy Physics in Venice the detection of a new kind of baryon they've named "Ξcc++" (pronounced Ksi-C-C-plus-plus) as part of the Large Hadron Collider "beauty" experiment (LHCb) looking at the moments just after the Big Bang. The baryon contains two heavy "charm" quarks and a single, light "up" quark. (There are six kinds of quarks.) It's got a mass of 3621 MeV, four times heavier than the proton, no doubt due to its double charms.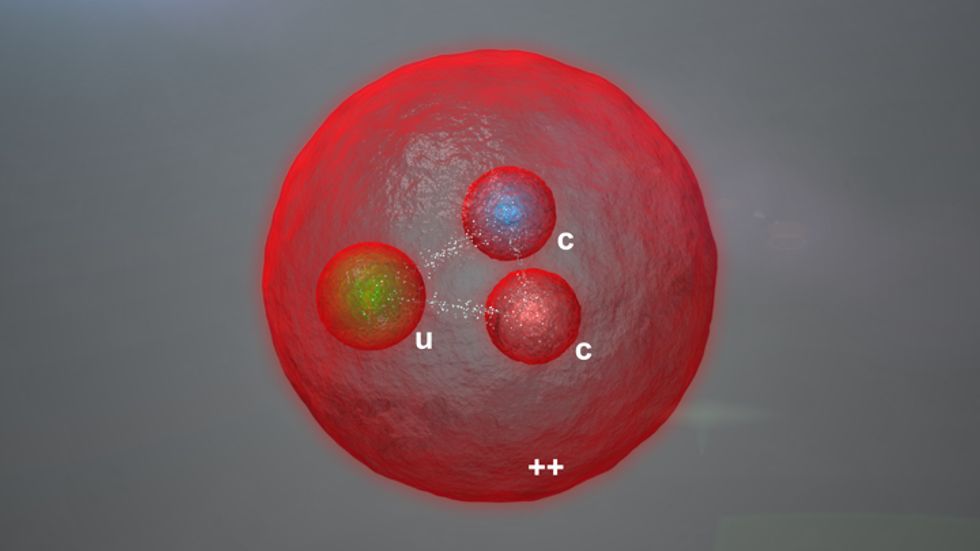 Ξcc++: "u" stands for "up," "c" stands for "charmed" (CERN)
This is the first baryon unequivocally detected that has two heavy quarks, and what's so intriguing about this is how they interact, and what it may reveal about the strong force. Guy Wilkinson of Oxford University explains:
"In contrast to other particles of this type, in which the three quarks perform an elaborate dance around each other, a particle with two heavy quarks is expected to act like a planetary system, where the heavy quarks are like two stars orbiting one around the other, with the lighter quark orbiting around this binary system."
LHCb spokesman Giovanni Passaleva tells phys.org, "Finding a doubly heavy-quark baryon is of great interest as it will provide a unique tool to further probe quantum chromodynamics, the theory that describes the strong interaction, one of the four fundamental forces. Such particles will thus help us improve the predictive power of our theories." The researchers also anticipate finding more double-charmed baryons.
The times in history when science was deadly and dangerous.
A masked ecologist militant is pictured with a barrel falsely contaminated during a demonstration against nuclear energy near the Tricastin nuclear power plant run by Areva in Bollene, southern France, on November 25, 2011, during a visit of France's Pres
Science is a force for good in our world, improving lives of people all across Earth in immeasurable ways. But it is also a very powerful tool that can become dangerous in some situations. Especially when it gets entangled in politics. At other times, science's inherent ambition to push boundaries of what is known can also lead to some heart-stopping moments. 
The following list is in no way exhaustive but gives us a place to start when thinking about the serious responsibility that comes with the march of science.
1. Project MKUltra 
The infamous project MKUltra was CIA's attempt at mastering mind control. The program started in the 1950s and lasted seemingly until 1966. Under MKUltra, often-unwilling subjects were given drugs, especially hallucinogenics like LSD. The people tested were also put through sleep and sensory deprivation, hypnosis, sexual abuse, and other kinds of psychological torture, while some tests proved lethal.
The supposed goal of the project was some combination of chemical weapons research and effort to create mind-controlling drugs to combat the Soviets. 
2. Weaponizing the Plague
The last time plague roamed around, it killed around half of Europe's population, reducing the amount of people in the world by nearly a 100 million during the 13th and 14th century. In the late 1980s, the Soviet Union's biological warfare research program figured out how to use the plague as a weapon, to be launched at enemies in missile warheads. What could go wrong? Besides the plague, defectors revealed that the Soviet bio-weapons program also had hundreds of tons of anthrax and tons of smallpox.
3. The Large Hadron Supercollider 
The Large Hadron Collider (LHC) in Switzerland, built to study particle physics, is the world's largest machine and single most sophisticated scientific instrument. Because of this and the cutting-edge research its involved in, the LHC has prompted more than its share of fears from the general public. It has been blamed for causing earthquakes and pulling asteroids towards Earth.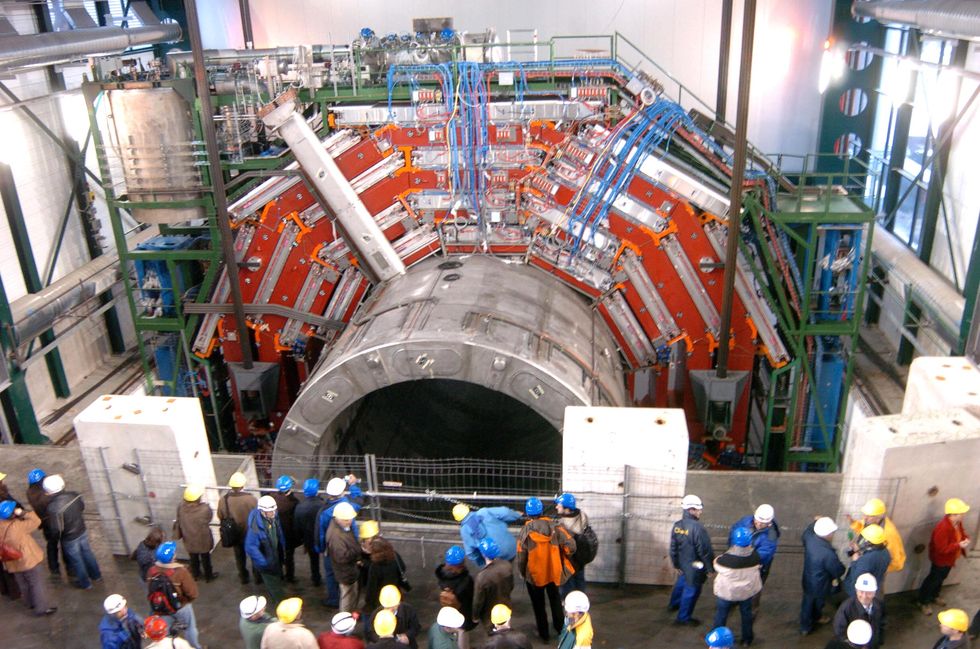 A giant magnet used in the Large Hadron Collider, weighing 1920 tonnes. 28 February, 2007 at the European Organization for Nuclear Research (CERN) in Geneva. (Photo credit: JEAN-PIERRE CLATOT/AFP/Getty Images)
While conspiracy theories around the LHC have generally been disproven, it has also been accused of potentially creating black holes that could swallow Earth, a possibility that was curiously not completely discounted by the CERN, the organization running the collider. 
CERN claimed the LHC is not dangerous, but also acknowledged that some type of black hole could be created. 
"The LHC will not generate black holes in the cosmological sense. However, some theories suggest that the formation of tiny 'quantum' black holes may be possible. The observation of such an event would be thrilling in terms of our understanding of the Universe; and would be perfectly safe," said CERN's statement.
A quantum black hole would be tiny. Don't you feel better?
4. The Tuskegee Syphilis Experiment
A government-funded "study" from 1932-1972 denied treatment for syphilis to 399 African American patients in rural Alabama, even as penicillin was found to be effective against the disease in 1947. The patients were actually not told they had syphilis, with doctors blaming their "bad blood" instead and given placebos.
The goal of the experiment, carried out by the U.S. Public Health Service, was to study the natural progress of syphilis if left untreated. 28 of the people in the study died directly from syphilis while 100 died from related complications.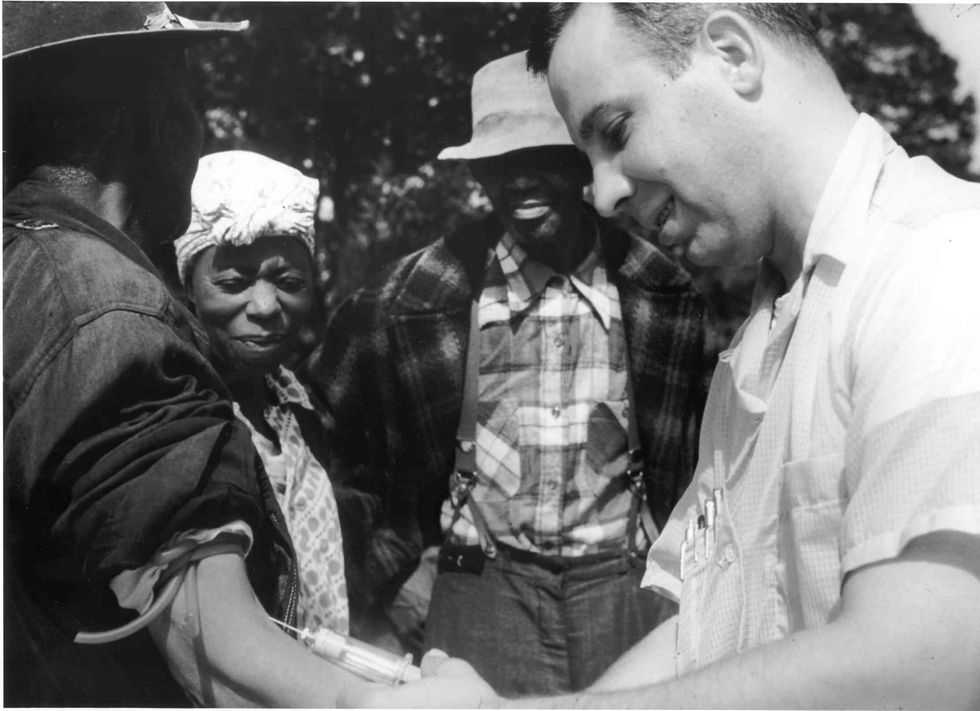 Doctor drawing blood from a patient as part of the Tuskegee Syphilis Study. 1932.
5. Kola Superdeep Borehole 
A Soviet experiment, started in 1970, sought to drill as deeply as possible into the crust of the planet. By 1994, they bore a 12-km-deep hole into the Kola Peninsula in Russia's far northwest. The record dig provided much scientific data, like the finding of ancient microscopic plankton fossils from 24 species.
While nothing negative happened, there were concerns at the time that drilling so deep towards the center of Earth might produce unexpected seismic effects. Like cracking the planet open.
The hole's site is currently closed. 
6. Guatemalan STD study
This horrid experiment is another instance of the U.S. government causing harm in the pursuit of "science". From 1945 until 1956, around 1500 Guatemalans were deliberately infected with sexually transmitted diseases, including syphilis and gonorrhoea. The subjects included orphans, prisoners, prostitutes and military conscripts. Researchers used disease-infected prostitutes, injections, and other unscrupulous methods to make their subjects sick. 
Subjects of the experiment are currently suing John Hopkins University for $1 billion for its role in the study.
7. The Aversion Project
A medical torture program was instituted in South Africa between 1971 and 1989 to "cure" homosexuality in military conscripts. The policy, carried out under apartheid, included forced "aversion therapy" treatments like electric shock therapy and chemical castration. The army also authorized as many as 900 sex change operations.
It was widely believed in the medical community at the time that homosexuality was a mental illness that could be cured. Dr. Aubrey Levin, in charge of the program as chief psychiatrist of the South African military, was eventually accused of human rights abuse by international organizations and received a prison sentence.  
8. Nazi Concentration Camp Experiments 
Nazis carried out medical experiments on thousands of prisoners in concentration camps, without any regard for human life. Some of their "research" involved purposefully inducing hypothermia, infecting people with malaria, using mustard gas on people, forced sterilization, giving prisoners different poisons, infecting wounds with bacteria and filling them with wood shavings and ground glass.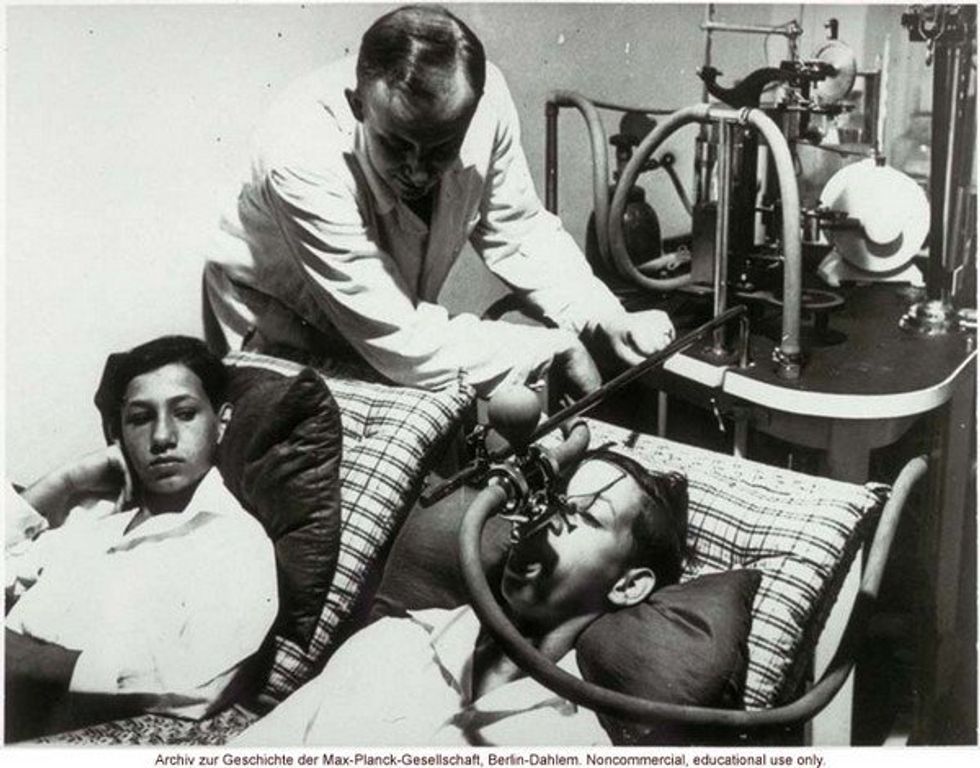 The Nazi doctor Josef Mengele was the prototypical "evil scientist," known for his concentration camp experiments, with a particular focus on twins, mostly Jewish or Roma ("Gypsy"). Supposedly in the interest of studying heredity, the SS physician Mengele was responsible for such atrocities as removing organs from people without anesthetics, injections with deadly bacteria, dismemberment and others.
Not surprisingly known as the "Angel of Death", Mengele collected the eyes of murdered victims for heterochromia research and attempted to prove through experiments the supposed resistance of Jews and Roma to a host of diseases.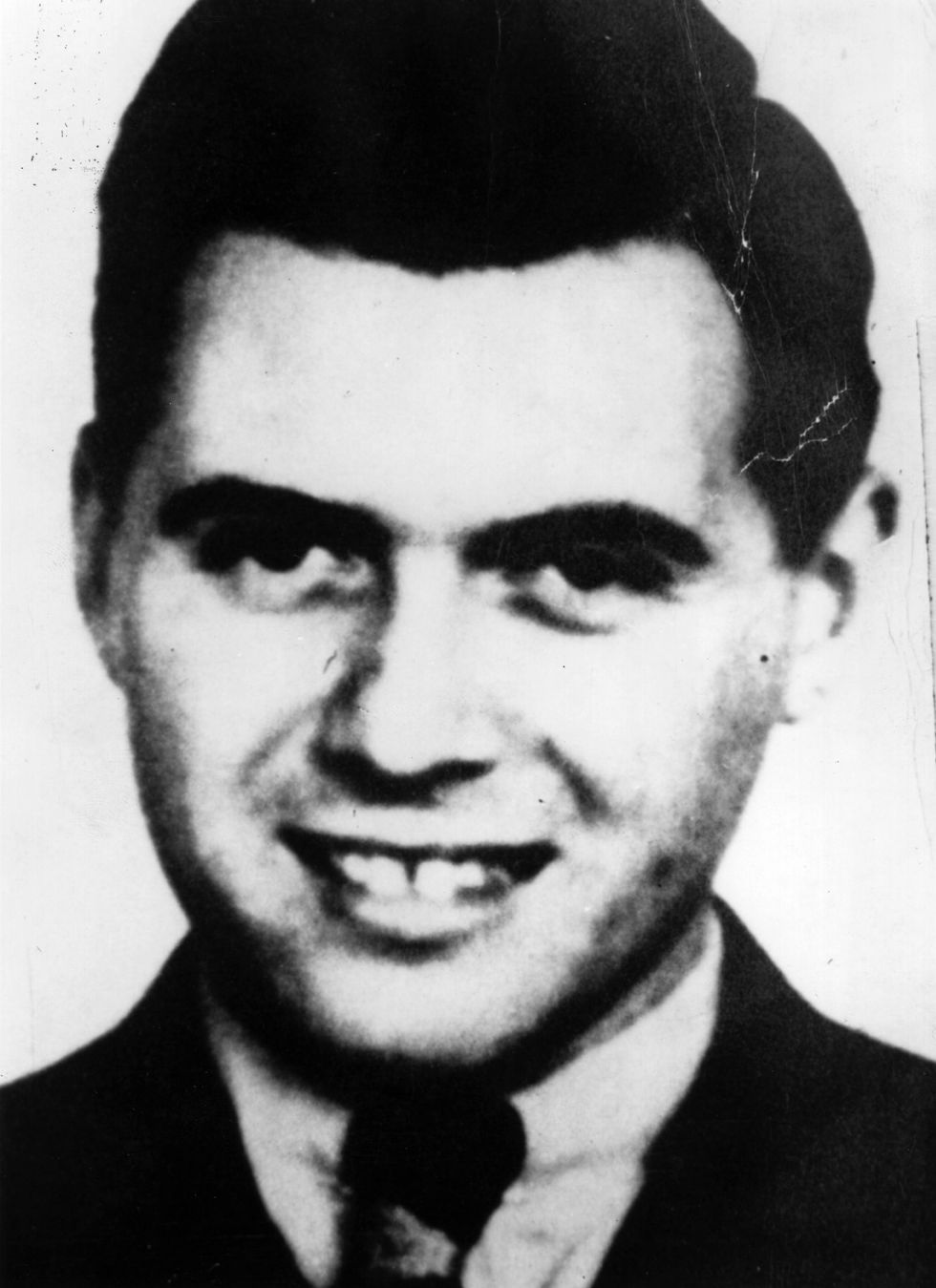 circa 1940: Joseph Mengele, before he became known as 'The Doctor of Auschwitz' and 'The Angel of Death' for his pseudo-scientific experiments on inmates in Nazi death camps. (Photo by Keystone/Getty Images)
9. Unit 731
Unit 731 was a secretive R&D unit of the Japanese Army that carried out horrendous experiments on humans during World War 2. Commanded by General Shiro Ishii, the unit experimented on an estimated 250,000 men, women and children. Most of the victims were Chinese, along with some prisoners of war from Russia and the Allies.
The forced medical procedures involved vivisections - cutting open subjects usually without anesthesia, unnecessary limb amputations, and removal of body organs like parts of brain, liver, lung and others. Victims were also subjected to biological warfare, frostbite testing, forced pregnancies, and even weapons testing by grenades or flamethrowers.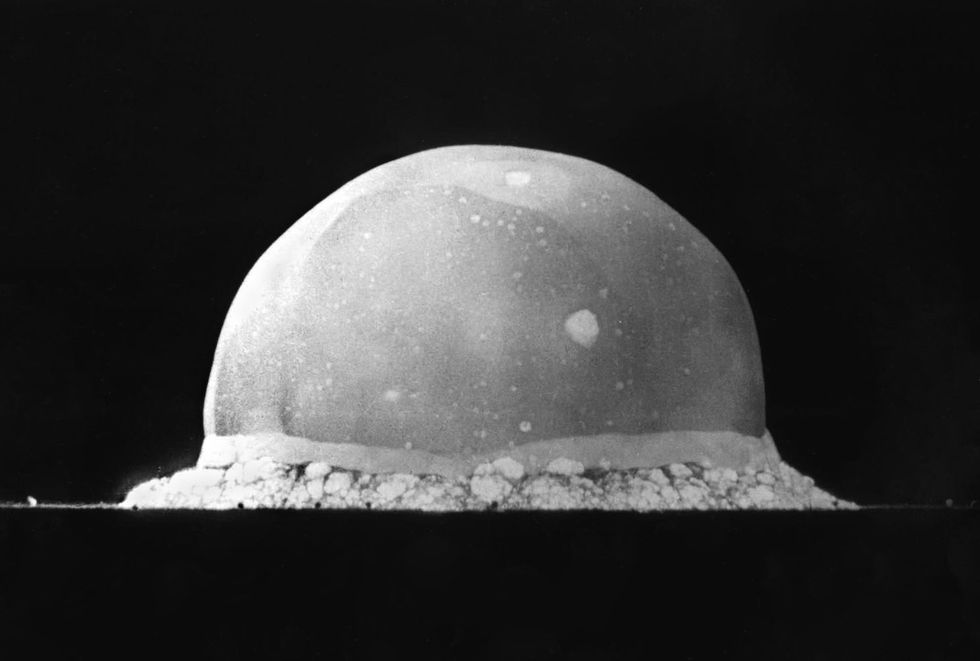 Trinity Site - 0.016 second after explosion, July 16, 1945. The highest point of the cloud in this image is about 200 meters high.
10. The Trinity Test
It's hard not to put the world's first nuclear test on such a list. In the mad rush to develop the atomic bomb and gain a military advantage in World War 2, America instituted the secretive Manhattan Project. This resulted in the Trinity Test, a detonation of the first-ever nuclear weapon in a New Mexico desert on July 16, 1945.
While the scientists were relatively confident in their work, there were some famous doubters who wondered if the bomb would even explode or if it would perhaps cause the end of the world as we know it.
Waiting for the bomb to go off, Nobel Prize-winning physicist Enrico Fermi, wagered others whether the bomb would just destroy New Mexico or the world, potentially setting the Earth's atmosphere ablaze. 
For once, beer is going to clarify your understanding. Theoretical physicist Lawrence Krauss lays down the empirical evidence for the mechanics of the Big Bang.
It's near impossible to comprehend the size of our universe without busting a mental cog or spraining your sense of awe. However, the origins of our universe has exactly the opposite problem: it was once mind-bogglingly small — tinier than a single particle. Physicist Lawrence Krauss explains the principle of inflation, and how within the first billionth of a second of the Big Bang, our universe increased in size by a factor of 10 to the 30th—for comparison, that's the size of a single atom, to the size of a basketball. How did it do this? It involves a 'frozen' Higgs field, some cooling, and then an enormous explosion. Krauss uses an analogy we've all been at the mercy of: putting a beer in the freezer and forgetting it for a few too many hours. Lawrence Krauss' most recent book is The Greatest Story Ever Told -- So Far: Why Are We Here?.