A small proof-of-concept study shows smartphones could help detect drunkenness based on the way you walk.
The legal blood alcohol concentration (BAC) limit for driving in the U.S is 0.08 percent. You can measure your BAC 15 minutes after your first drink and your levels will remain safe if you consume no more than one standard drink per hour.
Portable breathalyzers can be used to measure BAC, but not many people own these devices.
A small proof-of-concept study suggests that your smartphone could detect your drunkenness based on the way you walk.
The legal limit for driving within the United States is a blood alcohol concentration of 0.08 percent. According to BAC Track, you can measure your BAC (blood alcohol content) as soon as 15 minutes after your first drink. BAC Track suggests your BAC level will remain within safe limits if you consume one standard drink per hour.
According to BAC Track, one standard drink is half an ounce of alcohol, which can be:
One 12 ounce beer
One 5 ounce glass of wine
One 1.5 ounce shot of distilled alcohol
There are many things that influence a person's BAC, including how quickly you drink, your body weight, altitude, how much food you've eaten, whether you're male or female, and what kind of medications you're currently on.
A new study has found that your smartphone could actually tell you if your blood alcohol concentration exceeds the limit of 0.08 percent.
The small study that could mean big things for alcohol testing
Image by gritsalak karalak on Shutterstock
While devices such as portable breath analyzers are available, not many people own them due to how expensive they are and the social stigma surrounding them. This 2020 study suggests smartphones could be an alternative. According to PEW Research, up to 81 percent of people own a smartphone.
The study
For this small-scale study, there were 22 participants who visited the lab to consume a vodka-based drink that would raise their breath alcohol concentration to 0.02 percent.
Dr. Brian Suffoletto of the Stanford Medical School's Department of Emergency Medicine (and corresponding author of the study) explains to Medical News Today: "I lost a close friend to a drinking and driving crash in college," Dr. Suffoletto says. "And as an emergency physician, I have taken care of scores of adults with injuries related to acute alcohol intoxication. Because of this, I have dedicated the past 10 years to testing digital interventions to prevent deaths and injury related to excessive alcohol consumption."
How it works:
Before having the drink, each participant had a smartphone strapped to their back and was asked to walk 10 steps in a straight line and then back again. Every hour for the next 7 hours, the participants repeated this walk.
The sensors on the smartphone measured each person's acceleration and their movements (both from side to side and up and down).
This is not the first study of it's kind.
Previous research (such as this 2016 study) has used machine learning to determine whether a person was intoxicated. That data, gathered from 34 'intoxicated' participants, generated time and frequency domain features such as sway area and cadence, which were classified using supervised machine learning.
This 2020 study showed promising results of the smartphone analysis: over 90 percent accuracy.
Researchers found through analyzing the data that 92.5 percent of the time they were able to determine if a participant had exceeded the legal BAC limit.
Of course, the study had some limitations.
In real life, a person is very unlikely to keep their smartphone strapped to their back. Placing the phone in your pocket (or carrying it) could impact the accuracy.
This study also measured breath alcohol concentrations, which are on average 15 percent lower than blood alcohol concentrations.
The implications of this small-scale study are exciting.
While this was a relatively small study, it is being used as a "proof of concept" marker for further research. Researchers on this project explain that future research would ideally be done in real-world settings with more volunteers.
Dr. Brian Suffoletto explains to Medical News Today:
"In 5 years, I would like to imagine a world in which, if people go out with friends and drink at risky levels, they get an alert at the first sign of impairment and are sent strategies to help them stop drinking and protect them from high-risk events, like driving, interpersonal violence, and unprotected sexual encounters."
Start by reading the title, looking at the labels and checking the caption. If these are not available – be very wary.
Photo by Giacomo Carra on Unsplash
Since the days of painting on cave walls, people have been representing information through figures and images.
Nowadays, data visualization experts know that presenting information visually helps people better understand complicated data. The problem is that data visualizations can also leave you with the wrong idea – whether the images are sloppily made or intentionally misleading.
Take for example the bar graph presented at an April 6 press briefing by members of the White House Coronavirus Task Force. It's titled "COVID-19 testing in the U.S." and illustrates almost 2 million coronavirus tests completed up to that point. President Trump used the graph to support his assertion that testing was "going up at a rapid rate." Based on this graphic many viewers likely took away the same conclusion – but it is incorrect.
The graph shows the total cumulative number of tests performed over months, not the number of new tests each day.
When you graph the number of new tests by date, you can see the number of COVID-19 tests performed between March and April did increase through time, but not rapidly. This instance is one of many when important information was not properly understood or well communicated.
As a researcher of hazard and risk communication, I think a lot about how people interpret the charts, graphs and maps they encounter daily.
Whether they show COVID-19 cases, global warming trends, high-risk tsunami zones, or utility usage, being able to correctly assess and interpret figures allows you to make informed decisions. Unfortunately, not all figures are created equal.
If you can spot a figure's pitfalls you can avoid the bad ones. Consider the following three key questions the next time you see a graph, map or other data visual so you can confidently decide what to do with that new nugget of information.
What is this figure trying to tell me?
Start by reading the title, looking at the labels and checking the caption. If these are not available – be very wary. Labels will be on the horizontal and vertical axes on graphs or in a legend on maps. People often overlook them, but this information is crucial for putting everything you see in the visualization into context.
Look at the units of measure – are they in days or years, Celsius or Fahrenheit, counts, age, or what? Are they evenly spaced along the axis? Many of the recent COVID-19 cumulative case graphs use a logarithmic scale, where the the intervals along the vertical axis are not equally spaced. This creates confusion for people unfamiliar with this format.
A March 12 broadcast of 'The Rachel Maddow Show' included a graph with unlabeled numbers and a tricky horizontal axis.
For instance, a graph from " The Rachel Maddow Show" on MSNBC, showed coronavirus cases in the United States between Jan. 21 and March 11. The x-axis units on the horizontal are time (in a month-day format) and the y-axis units on the vertical are presumably cumulative case counts, though it does not specify.
The main issue with this graph is that the time periods between consecutive dates are uneven.
In a revised graph, with dates properly spaced through time, and coronavirus diagnoses plotted as a line graph, you can see more clearly what exponential growth in the rate of infection really looks like. It took the first 30 days to add 33 cases, but only the last four to add 584 cases.
What may seem like a slight difference could help people understand how quickly exponential growth can go sky high and maybe change how they perceive the importance of curbing it.
How are color, shape, size and perspective used?
Color plays an important role in how people interpret information. Color choices can make you notice particular patterns or draw your eye to certain aspects of a graphic.


Oregon landslide susceptibility. (Oregon Department of Geology and Mineral Industries)
Consider two maps depicting landslide susceptibility, which are exactly the same except for reversed color schemes. Your eye may be be drawn to darker shades, intuitively seeing those areas as at higher risk. After looking at the legend, which color order do you think best represents the information? By paying attention to how color is used, you can better understand how it influences what stands out to you and what you perceive.
Shape, size and orientation of features can also influence how you interpret a figure.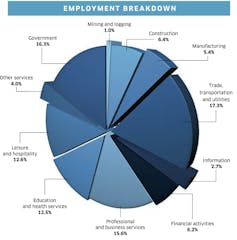 What industries employ Coloradans? (Hemispheres)
Pie charts, like this one showing employment breakdown for a region, are notoriously difficult to parse. Notice how hard it is to pull out which employment category is highest or how they rank. The pie chart's wedges are not organized by size, there are too many categories (11!), the 3D perspective distorts the wedge sizes, and some wedges are separate from others making size comparisons almost impossible.
A bar chart is a better option for an informative display and helps show which industries people are employed in.
Where do the data come from?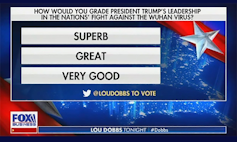 Survey posted on 'Lou Dobbs Tonight,' requesting viewers vote on Twitter about Trump's performance. (Fox Business Network)
The source of data matters in terms of quality and reliability. This is especially true for partisan or politicized data. If the data are collected from a group that isn't a good approximation of the population as a whole, then it may be biased.
For example, on March 18, Fox Business Network host Lou Dobbs polled his audience with the question "How would you grade President Trump's leadership in the nation's fight against the Wuhan Virus?"
Imagine if only Republicans were asked this question and how the results would compare if only Democrats were asked. In this case, respondents were part of a self-selecting group who already chose to watch Dobbs' show. The poll can only tell you about that group's opinions, not people in the U.S. generally, for instance.
Then consider that Dobbs provided only positive responses in his multiple choice options – "superb, great or very good" – and it is clear that this data has a bias.
Spotting bias and improper data collection methods allows you to decide which information is trustworthy.
Think through what you see
During this pandemic, information is emerging hour by hour. Media consumers are inundated with facts, charts, graphs and maps every day. If you can take a moment to ask yourself a few questions about what you see in these data visualizations, you may walk away with a completely different conclusion than you might have had at first glance.

Carson MacPherson-Krutsky, PhD Candidate in Geosciences, Boise State University
This article is republished from The Conversation under a Creative Commons license. Read the original article.
Flow Research Collective COO Rian Doris explains how to harness the power of your nervous system to find your flow during a pandemic.
Knowing the difference between healthy stress (eustress) and unhealthy stress (distress) can help you maximize your performance during difficult times.
The Flow Research Collective helps to decode the flow states of your mind so you can live (and work) in the zone, even during a pandemic.
COO of The Flow Research Collective, Rian Doris, explains how to find your maximum potential and harness the power of your nervous system to work for you instead of against you.
Not all forms of stress are bad for you. In fact, some forms of stress can be positive—healthy, even. Positive stress, called eustress, can drive us to be more productive, healthier, more active, and more engaging in our lives. Negative stress, called distress, is what leads to loss of productivity, declining physical and mental health, and exhaustion.
According to Rian Doris, COO at the Flow Research Collective, "There is absolutely nothing wrong with eustress - in fact, it's critical for the vast majority of function within our body and nervous systems. It's what allows us to improve our health, our fitness, our resilience. It's chronic stress that can have a very systemic negative impact on our health long term."
How to find your flow and maximize your performance during the COVID-19 pandemic
Finding your "flow channel" can help you maintain healthy stress and decrease unhealthy stress.
Image by Flow Research Collective
Increasing our capacity: What we perceive as stress goes down when we become more capable of coping with stressful situations.
When it comes to increasing our capacity for handling negative stress, there are a few ways we can accomplish this - most of them are what are referred to as "bottom-up approaches."
A bottom-up approach is like piecing together a puzzle made of our various systems to give a more complex and complete picture . We need to ensure all of our systems are working at optimal levels without being too overwhelmed so they can function better together.
Things you can do to achieve this kind of systemic functionality include:
Movement - exercising, running, jogging, or going for a walk.
Breathing exercises that help us practice mindfulness and achieve a calm state of mind.
Hot and cold therapy or other types of sensation therapy that can get us more in tune with our bodies.
Decreasing the impact: Manage how stress impacts our lives so the negative impact doesn't overwhelm our systems.
While decreasing the impact of stress is important, it's certainly not an easy thing to accomplish. After all, if we could simply decrease how negative stress impacts us then it would not be so much of a problem.
Especially in unprecedented times such as when we're dealing with a pandemic, it's not as easy to shield our system from the negative impacts of chronic stress.
Cognitive reframing is essentially changing the way you look at something, and as a result, changing your experience of it. This can turn a traumatic event (such as experiencing a pandemic or a major trauma in your life) into something that can be a challenge that is eventually overcome—or it can be as simple as depicting a really bad day as a "bump in the road" in your overall happy life.
Using certain reframing techniques can actually change how your body responds to negative stress. Your body's stress response is triggered by perceived information around that stress—change the perception, change the response.
The pattern to follow with cognitive reframing is:
Learn about thinking patterns (explanatory styles).
Notice your own thoughts as they come.
Challenge negative thoughts and trace them to their origins.
Replace the root negative thought with a more positive thought.
Cognitive reframing takes a lot of practice but you can do this as often as you'd like in your daily life and eventually it becomes easier to stop negative thoughts before they become chronic stressors.
Keep in mind the challenge/skill balance when dealing with stress.
According to Doris, a flow exists in the sweet spot between challenge and skill. This flow happens when we undertake challenges or goals in life that are optimally challenging for you to complete - not too easy that it requires no effort and not too difficult that it overwhelms your system.
Keeping this challenge/skill balance in mind for things in our daily lives can help us navigate our stressors, especially during a pandemic such as COVID-19. Anything too easy doesn't pose as a challenge and doesn't excite us. However, if the challenge is too difficult, it overwhelms us and becomes a source of unhealthy chronic stress instead of healthy eustress.
"The challenge level for almost everyone has been increased in a systemic way by COVID-19, which means what we should do is decrease the challenge level in our own lives and the things we have control over in order to get us back to that challenge/skill sweet spot."
Dr. Robert Emmons and other researchers dig into the positive mental and physical health benefits of expressing gratitude.
According to Dr. Robert Emmons, gratitude is an affirmation of goodness and a recognition that these sources of goodness exist outside of ourselves.
Various studies have proven there are physical benefits to expressing gratitude on a daily basis, some of which include positive interactions in the brain in the areas that control decision-making, metabolism, and hormone regulating.
Other studies have confirmed gratitude is beneficial for our mental health, even during a time of crisis.
Gratitude is an affirmation of goodness, according to Dr. Robert Emmons.
Photo by stockfour on Shutterstock
Dr. Robert Emmons is known as the "world's leading scientific expert on gratitude." He is a psychology profession from the University of California, Davis and also the founding editor-in-chief of the Journal of Positive Psychology. Emmons has dedicated his life to better understanding what role gratitude and thankfulness play, not just in our lives, but in our mental and physical health as well.
Many people are in need of motivation to practice gratitude for the good things in life, especially during a pandemic when stress-levels are at an all-time high. For the past decade, Emmons has been studying the effects of gratitude on our physical health and psychological well-being.
"It's an affirmation of goodness," Emmons explains. "We affirm that there are good things in the world, gifts, and the benefits that we've received. We recognize that the sources of this goodness are outside of ourselves and we acknowledge that other people - even higher powers, if you're of a spiritual mindset - give us many gifts, big and small, to help us achieve the goodness we have in our lives."
"I see it as a relationship-strengthening emotion," Emmons writes of the social dimension of gratitude, "because it requires us to see how we've been supported and affirmed by other people
According to sociologist Georg Simmel, gratitude serves as a way to personalize things that we all experience objectively. Simmel has often referred to gratitude as "the moral memory of mankind."
How does gratitude impact our mental and physical wellbeing?
Your brain on gratitude, according to fMRI images taken during a gratitude study lead by Glenn Fox.
Image by Glenn Fox
There have several studies investigating what gratitude and thankfulness look like within the human brain—what neural networks are being used and how does that positively impact us?
Gratitude makes you feel good mentally and physically.
The first fMRI images of a brain experiencing gratitude were taking in 2008. The scans showed that gratitude causes synchronized activation of multiple regions of the brain, including some of the brain's reward pathways and the hypothalamus, which plays a crucial role in releasing hormones throughout our bodies.
Later, in 2009, researchers realized that these higher levels of activity in the hypothalamus had a huge influence on metabolism and stress levels. This means that gratitude could have such wide-reaching positive effects that you begin to eat better and sleep more, which could ultimately lead to decreased depression and better physical health.
Gratitude helps improve the decision-making process in your brain.
A 2015 study from the University of Southern California hypothesized that gratitude spikes activity in the regions of the brain associated with moral cognition, value judgment, and theory of mind (the anterior cingulate cortex and medial prefrontal cortex, respectively). The FMRI data results of the study, which included 26 participants ranging in ages 18-28, confirmed activity spikes in those regions.
Gratitude can improve mental health (even when you're at an all-time low).
That same year, another study was conducted, this time on individuals who had pre-existing mental health concerns. These 293 people were recruited for this study at a time when their mental health was at an all-time clinical low, as they hadn't yet begun counseling sessions. The majority of these participants struggled with depression and/or anxiety.
The subjects were divided at random into three groups: a control group (psychotherapy), a group that underwent psychotherapy and expressive writing, and a third group that underwent psychotherapy and gratitude writing.
Within 4-12 weeks after the conclusion of their writing interventions, the participants who underwent psychotherapy and gratitude writing reported significantly better mental health than those in the expressive and control writing intervention groups.
The findings of this study (and others like it) suggest that gratitude writing can be beneficial not just for the healthy, well-adjusted mind, but for individuals who are struggling with mental health concerns.
Gratitude should be a long-term adaptation of your behavior to have the best impact on your physical and mental health.
It's important to note that in the writing study, the mental health benefits of gratitude weren't felt immediately after writing gratitude letters, but gradually accrued over time as participants of the study made gratitude writing a habit in their lives.
Not only that, but fMRI images (found here on page 5) taken of the participants' brains while completing a "pay it forward" task shows that their brain activity was distinct from brain activity related to guilt and the desire to help a cause. People who were more grateful tended to give more money to a cause they believed in and showed a greater neural sensitivity in their prefrontal cortex, the area of the brain associated with learning and decision making.
Your favorite color can be linked to various personality traits, motivation, and productivity levels in your life.
Color psychology has been used in marketing and branding for years, but research in the last decade has taken color psychology and applied it to human personality traits.
Colors aren't merely associated with various feelings but can actually shape our perceptions and personalities.
Various studies across multiple years have given us insight into what each color represents in regards to our personality, work ethic, and motivation levels.
What is color psychology?
Colors have been used strategically in branding for years.
Image by The Logo Company
Many people are unaware of the impact colors have on our thoughts, emotions, and behaviors in everyday life.
It's extremely likely that you have purchased something in a store or chosen one product over another due to what brands call color marketing: targeting brands, colors, and adverts based on colors that will influence you to buy.
You can see in the infographic above that companies that want to be associated with dependability (Dell, HP, IBM) use the color blue. Companies that want to be known for being exciting and fun (Fanta, Amazon, Nickelodeon) use a splash or orange.
Color psychology is being used around us every single day and not only in what brands we buy, but also in how we react to our environment. Extending color psychology into the realm of personalities is about proving that colors aren't just about what looks the best, but about what meaning we subconsciously attach to those colors, and how to use that to benefit our lives.
What your favorite color says about your personality
Photo by Kristin Brown on Unsplash
Various studies and experiments across multiple years (2010, 2014, 2015 and more recently in 2019) have given us more insight into color personality based on color psychology.
Red
Red is a bold color choice that's been associated with excitement, passion, danger, thrill, energy, and action. You may notice that some brands use red for their "call to action" buttons ("order now," "shop now," etc.). This is because red is an intense color that is able to provoke strong emotions which can encourage you to buy things.
Personality traits of red:
Bold
Thrill-seeker
Adventure-lover
Can be a little impulsive
Can be perceived as intimidating
Orange
Orange is often representative of creativity, happiness, freedom, success, and the balance that brings it all together. Marketers may use this color to draw your attention to a catchy heading or important note on their website (many "alerts" are orange to catch your eye) —but orange isn't nearly as bold and enticing as red.
Personality traits of orange:
Fun and playful energy that people admire
Social, perhaps an extrovert
You nurture things
Enjoys deep conversation
Cheerful
Loves to play the host at parties or events
In regards to productivity, you like to dive right into work and get things done
Yellow
Happiness, positivity, and warm summer sun is what yellow reminds us of. Brands may use a splash of yellow in their logo to make you feel happy when you see their products. Many "free shipping" icons on websites may be yellow to attract you to something that is cheerful and positive.
Personality traits of yellow:
A positive spirit
Optimistic
Cheerful
Adventurous
Calming for those around them
Infectious smiles and happiness that spreads to each person they encounter
Blue
Blue is stable, harmonious, peaceful, and trustworthy. Brands who want to be most well-known for their durability, strength, or reliability will use blue in their logos. Many popular computer companies (Dell and HP) and websites (Facebook, Twitter, Vimeo) are known for their predominately blue and white logos.
Personality traits of blue:
Dependable
Trustworthy
Gentle
Compassionate
Peaceful
Loyal
Strong
In regards to productivity, you like to strategize the best way to handle a task and can adapt when obstacles arise
Green
Two of the things that make the world go 'round are associated with the color green: nature and money. Green can signify growth, fertility, health, wealth, wellness, or generosity. Green can also be associated with negative connotations such as jealousy or envy.
Personality traits of green:
Practical
Down-to-earth
Loves to give advice
Loves to help others
Enjoys the outdoors and finds balance in life important
In regards to productivity, you like to analyze the situation before diving in, you're a problem solver and you can find inventive ways to think outside the box
Purple
Purple can be connected to royalty, power, privilege, wisdom, and spirituality. Purple can be something of a frustrating color as well, as it can cause feelings of frustration or be perceived as arrogant - this is why websites and brands (Hallmark, Yahoo) will use a splash of purple or mix purple with a warmer tone such as white.
Personality traits of purple:
Quick-witted
Craves own identity
Loves unique things and wants to stand out from the pack
Dances to the music no one else can hear
You thrive on creativity and inspiration strikes you randomly, allowing you to tune out the world and focus on it
Pink
Pink is often associated with femininity, playfulness, and love, but pink can also be perceived as a somewhat immature color. You will notice a lot of pink in a child's toy packaging or brands to signal playful, whimsical fun. Other brands (Victoria Secret for example) have signified the color to mean something cute, fun, playful and sexy.
Personality traits of pink:
Fun
Playful
Maybe a little naive
You wear your heart on your sleeve and aren't afraid to express your emotions
Love and family are important to you
White
White is often associated with purity - in Western cultures, white is for weddings and hospitals, often signifying purity, cleanliness, and order. Brands will often add a splash of white or use white to offset more intense colors (such as red).
Personality traits of white:
Calm
Peaceful
Innocent
Perhaps a bit naive
You like things clean and orderly
You like the thought of a "fresh start" or a blank canvas
Black
Black can mean so many different things: boldness, uniqueness, mystery, intrigue, and power. But it can also mean unhappiness, darkness, sadness, pain, or grief. Black is associated with death and mourning, but can also be associated with strength, luxury, and intensity.
Personality traits of black:
Bold
Risk-taker
Perhaps a little impulsive at times
Serious (maybe a little too serious)
You're strong and command a sense of respect from your peers
You're trustworthy
Perhaps a little intimidating