Democrats are wondering how to beat Trump. The only way might be to play his game.
The election of Donald J. Trump surprised many, most of all the Democrats. Jeremy Heimans, a political activist and the Founder of the online media company Purpose, explains it simply: Donald Trump won the internet, and thus won the presidency. Heimans is a political activist and the Founder of the online media company Purpose, explains it simply: Donald Trump won the internet, and thus won the presidency. It's largely the same way the NRA stays in the public eye: through dominating the conversation. Trump and the NRA, for all their foibles, are both masters at what Heimans calls "New Power" — being able to seize the moment and keep people talking — and anyone attempting to beat him needs to become a master at it, too. Jeremy's new book is the highly recommended New Power: How Power Works in Our Hyperconnected World-and How to Make It Work for You.
This incredible woman helped a community of women turn their lives around in the course of just a couple of weekends.
Agnes Igoye works as Uganda's Deputy National Coordinator for Prevention of Trafficking in Persons. She also initiated the Huts for Peace program with the Clinton Global Initiative. Here, Igoye tells us about the start of the idea: visiting a community in Uganda where 15 women had become homeless because of brutal acts of war in the region. She helped the women get organized and build huts on church land, turning their lives around in the course of just a couple of weekends. Through the Clinton Global Initiative University, Igoye is committed to building care centers for survivors of human trafficking and training law enforcement to better recognize and combat the illegal activity.
A careful analysis by two economists finds that phony journalism had little influence on voters and the outcome of the election.
Despite the high volume of fake news stories on social media, new insights suggest they did not influence the outcome of the election. Rather, their impact on voters was negligible, according to a study by economists Matthew Gentzkow of Stanford University and Hunt Allcott of New York University.
Indeed, many fake new stories performed very well online. An analysis by BuzzFeed News found that fake news stories about the election consistently performed better on Facebook than real ones: more people read, shared, and discussed them. BuzzFeed editor Craig Silverman reports:
During [the final three] months of the campaign, 20 top-performing false election stories from hoax sites and hyperpartisan blogs generated 8,711,000 shares, reactions, and comments on Facebook.
Within the same time period, the 20 best-performing election stories from 19 major news websites generated a total of 7,367,000 shares, reactions, and comments on Facebook. (This analysis focused on the top performing link posts for both groups of publishers, and not on total site engagement on Facebook.)
With respect to engaging the minds of readers, fake news stories seem to have outdone real ones.
Nevertheless, Allcott and Gentzkow's findings demonstrate how little the real impact of fake news stories was on voters and the outcome of the election. Their research draws from a robust and dynamic range sources, including multiple prominent fact-checking websites, empirical data on the relative popularity of various media outlets, existing research, and web-browsing data.
Much of the findings, however, turn on a 1,200-person post-election survey they conducted themselves online. Through it, they sought to discern a handful of key insights, including whether readers remembered the fake headlines and whether they thought the headlines were true.
The study found that, even though fake reports favoring Donald Trump vastly exceeded those favoring Hillary Clinton, fake headlines did not have a major role in swaying the election. Only 14% of respondents to the online survey reported social media as their primary source of news. Furthermore, the authors point out that those surveyed could hardly remember the fake headlines with which they were presented. The authors write:
[T]he average American saw and remembered 0.92 pro-Trump fake news stories and 0.23 pro-Clinton fake news stories, with just over half of those who recalled seeing fake news stories believing them.
Hits on social media aside, the lasting influence of these stories seems to have been nearly negligible. To put this into perspective, they note:
For fake news to have changed the outcome of the election, a single fake article would need to have had the same persuasive effect as 36 television campaign ads.
Perhaps, then, fake online news stories are not as big of a threat as they may seem to be. While they certainly can function to mislead and misinform, the study reminds us that television still remains a powerful force in the news media. Furthermore, it forces readers to resist easy, reductive answers to the question of how Trump earned so many votes.
The work of Kremlin-approved philosopher Alexander Dugin provides key insights on the longterm strategy behind Russian hacks of the American elections.
He has also been on the U.S. sanctions list following Russia's takeover of Crimea for advocating the murder of Ukrainians, among other things.
It's not that Dugin is personally responsible for the hacks that are currently being explained as Putin's personal vendetta against Clinton. But Dugin's influential philosophy aligns very well with what seems to have happened and provides a stunning window into this and future conflicts with Russia. There are likely much deeper motives behind Russian actions.
Alexander Dugin is at once a sociologist, historian and a philosopher. You can find many of his lectures online on Youtube, although it would help to know Russian. He himself speaks ten languages. Among his many controversial opinions, he has expressed deeply anti-scientific views, calling for the ban of chemistry and physics. He would also get rid of the Internet, an anti-technological view that actually stems from his his desire to ultimately upend the world as we know it.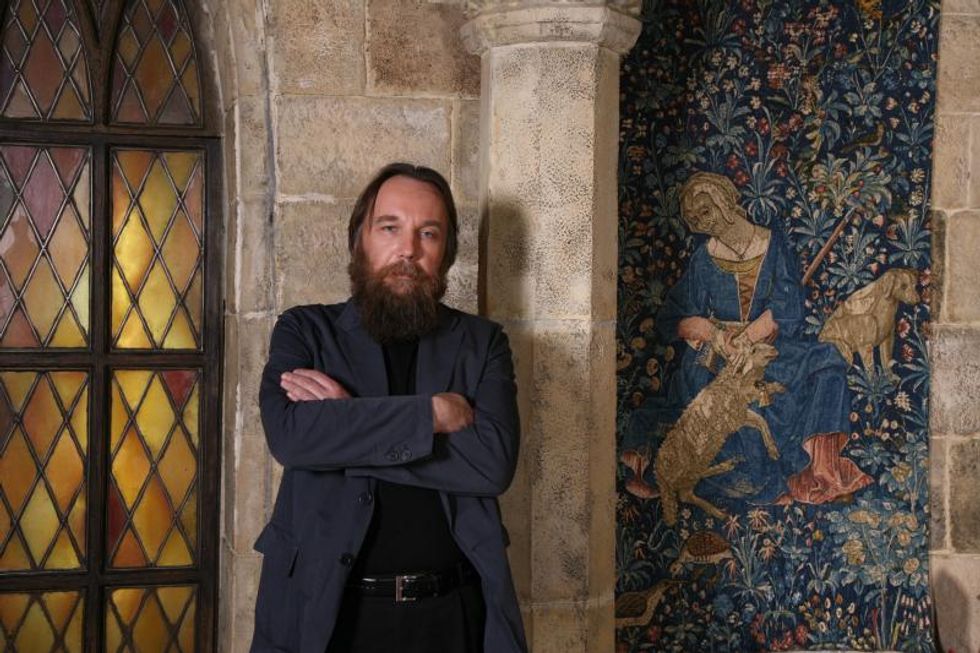 Credit: Dugin.ru
What he proposes is that there have been three leading political theories that impacted the world in the relatively recent past - liberal capitalism or "liberalism", communism and fascism. According to Dugin, the United States is the world's leader of liberalism, which offers individual liberty, a rationalist approach and market competition.
Even though liberalism has been the winning ideology so far, triumphing over fascism in 1945, and communism in 1991 (when the Soviet Union dissolved), Dugin thinks that it is now also experiencing a fatal crisis. He believes liberals themselves would the first to claim that. Dugin regards liberalism nearing a dead end, mired currently in a "nihilistic post-modern stage" because it is trying to liberate itself from rational thought and the oppression of the brain, which to a liberal is "something fascist in itself". Dugin takes this a step further, describing liberalism as now trying to free the organs of the body from the brain's control, alluding to its acceptance of the LGBT community.
Here's how he explains this rationale:
"The liberalism insists on the freedom and liberation from any form of collective identity. That is the very essence of the liberalism. The liberals have liberated the human being from national identity, religious identity and so on. The last kind of collective identity is gender. So there is time to abolish it making it arbitrary and optional."
What Dugin proposes instead of what he sees as three dead and dying ideologies is his "Fourth Political Theory". It would create an entirely alternative political model, set against "progress" of world history as is. It would not be based on the issues of individualism, race or nationalism. He sees this theory to be partially based on the work of the existential German philosopher Martin Heidegger, controversial for his association with Nazism. His philosophy calls for a root of a human being's self-awareness (called dasein by Heidegger) to be saved in the world, as it has been diluted in the modern space by essentially dehumanizing technology.
Since this root of being differs from person to person and from culture to culture, the world should feature a multipolar power division, instead of one superpower in the United States. Finding a way to implement such a new way of looking at the world would, per Dugin, return a sense of identity to humans who have been losing it all around the world. 
Dugin contrasts this theory of a multipolar world with what he (and conspiracy theorists worldwide) see as the movement towards creating a "world government," led by disingenuous "globalist elites" who are out to deprive people of a sense of identity and to subjugate them to their corporate needs.
In this world of a number of regional superpowers, what role would Russia play? Dugin sees Russia to be the leading nation in the Eurasian Union and has founded the International Eurasia Movement to make that happen.
What is Eurasia? Basically, it's the territory of the former Soviet Union. Dugin thinks the Soviet Union just took over the boundaries of a historical union of people and ethnicities that was there from the Russian Empire. As Russia is a country of a unique culture and destiny, it is its mission to create a center of power that has elements of both Europe and Asia, the two continents straddled by the expansive country.
"The West knows little or nothing at all about the real history of Russia. Sometime they think that the Soviet Union was purely a communist creation and the States as Ukraine, Kazakhstan or Azerbaidjan were independent before the USSR and conquered by Bolsheviks or forced into Soviet State," says Dugin. "The fact is they never existed as such and represented but administrative districts without any political or historical meaning inside Russian Empire as well as inside USSR. These countries were created in their present borders artificially only after the collapse of USSR and as the result of such collapse."
So the goal of establishing the Eurasian Union would be essentially to right a historical wrong and bring back a successful empire that existed even before the Soviet Union. Russia's recent takeover of Crimea and further designs on Ukraine seem to be a logical part of such a plan. 
Dugin digs even deeper into his very controversial historical analysis, claiming Eurasia's current opponent is not just the United States, but Atlanticism, the axis of cooperation between Europe, US and Canada that crosses the Atlantic Ocean. These maritime, liberal nations value individuality and market forces.
Eurasia, on the other hand, represents the conservative philosophy of land-locked continentalism, which according to Eurasians, has among its values a hierarchical structure, law and order, traditionalism and religion.
Thus we have Atlantis vs Eurasia. In fact, Dugin claims all history can be viewed as a battle between maritime and land-based nations. 
What does Dugin think about Trump's victory? He has been quite enthusiastic about Trump throughout the whole election process, to say the least, describing him this way to point out why Trump is a "sensation" that can stand up to globalist elites:
"[Donald Trump] is tough, rough, says what he thinks, rude, emotional and, apparently, candid. The fact that he is a billionaire doesn't matter. He is different. He is an extremely successful ordinary American…"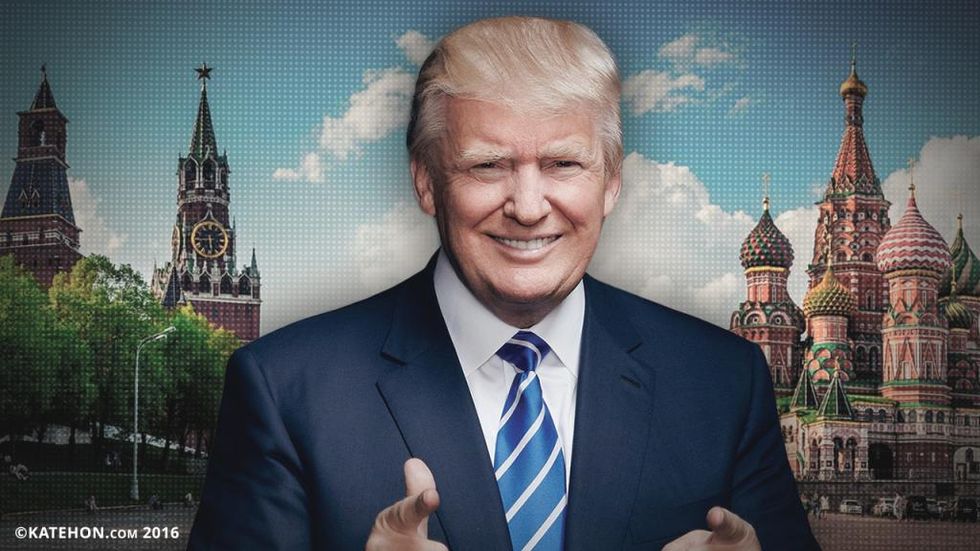 Dugin thinks Trump's victory is a monumental strike against the "globalists", whose candidate was Hillary Clinton - the same language that you can easily find peppering conservative American websites like Breitbart News, Drudge Report and conspiracy king Alex Jones (a particular favorite of Dugin's). He thinks Trump's victory was a kind of "revolution" started by American people and should lead to worldwide defeats of the globalist agenda, draining the proverbial "swamp" the world over.
Dugin doesn't stop there, however. His visions of what Trump's victory means go into the apocalyptic and civilization-changing:
"We need to return to the Being, to the Logos, to the foundamental- ontology (of Heidegger), to the Sacred, to the New Middle Ages - and thus to the Empire, religion, and the institutions of traditional society (hierarchy, cult, domination of spirit over matter and so on). All content of Modernity - is Satanism and degeneration. Nothing is worth, everything is to be cleansed off. The Modernity is absolutely wrong -- science, values, philosophy, art, society, modes, patterns, "truths", understanding of Being, time and space. All is dead with Modernity. So it should end. We are going to end it."
This certainly would not be the first time in recent history a Russian thought that everything is wrong and the world needs to be completely uprooted. We know how that turned out. And the occult-sounding elements of some of what Dugin is saying, along with his beard, perhaps earn the comparison to Rasputin. But does Dugin believe concrete measures should be taken to bring about his vision of the world? 
Interestingly, prior to Trump's victory, influential American conservative outlets like the National Review were warning about Russian intentions, specifically singling out the threat Dugin's ideology posed, calling Eurasianism "a satanic cult". Now that Trump won and Russia was implicated in election meddling, they are not so keen to bring that up. 
Does Putin really listen to Dugin? Scholars and commentators say his ideas are taken seriously by people in Putin's circle and their growing popularity matches up with Putin's evolving authoritarianism and actions. Notably, Dugin came out in 2008 in support of Russian troops taking over Georgia and very much fanned the flames during the 2014 Russia-Ukraine conflict, calling for massacring Ukrainians and annexing the Ukrainian lands that were part of the former Russian Empire.
To see what Dugin might advocate specifically, we can look in his bestselling book "The Foundation of Geopolitics" from 1997, which had particular success among Russian military and according to Foreign Policy (and Dugin's own words), is assigned as a textbook at Russian military universities. 
The book outlines a vision for Russia in the 21st century that would lead to Eurasia's formation, but also includes specific strategies for defeating or neutralizing the United States. These include destabilization and disinformation campaigns using Russian special forces and asymmetrical warfare, splitting alliances between U.S. and countries like Germany and France, as well as fermenting division within the country itself, specifically singling out race relations. On Page 367 of the first edition of the book, Dugin explains:
"It is especially important to introduce geopolitical disorder into internal American activity, encouraging all kinds of separatism and ethnic, social and racial conflicts, actively supporting all dissident movements – extremist, racist, and sectarian groups, thus destabilizing internal political processes in the U.S. It would also make sense simultaneously to support isolationist tendencies in American politics…"
After our hyper-divisive elections, full of calamities described above, facing an increasingly eye-opening investigation into Russian interference in our most cherished democratic institution, it's hard not to take Dugin's ideas seriously. With Trump's victory, Dugin has backed off somewhat from painting the U.S. as enemy number one. It's also been reported that the relationship between Dugin and Putin might have cooled off recently, with Dugin criticizing Putin for being "too slow" in bringing about his vision of the world. But looking at the facts on the ground it's possible to conclude that Putin may still be playing a Eurasia-oriented long game that is not going to end only at Wikileaking embarrassing emails. Especially in light of the fact that the United States now finds itself in a vulnerable position, looking for a unifying philosophy and a way forward of its own. 
Here's a paper on Dugin and his book by Hoover Institution's John B. Dunlop. If you know Russian, you can read the book here.
Cover photo: Alexander Dugin in South Ossetia, before the Russian-Georgian war, August 2008.
Slovenian philosopher Slavoj Žižek thinks the U.S. political machinery is truly broken. He guides a verbal tour through the failure of manufactured consent, the appeal of human baseness, and politics as a real struggle of life and death.
Prepare to traverse the U.S. political landscape, Slavoj Žižek style. It's wild, zig-zagging, and you can practically see the neurons fire when you ask the Slovenian philosopher for his take on the U.S. Presidential election results. Žižek begins by stating that America's political machinery is broken. Borrowing a term popularized by Noam Chomsky, Žižek states that the traditional media machine for manufacturing consent – all the platforms that support a certain propaganda and subtly build the public to a point of agreement – spluttered and came to a stop on November 8, 2016. At least, in the eyes of the liberals.
Žižek warns that he is in no way pro-Trump, going so far as to call him 'scum' and a 'dirty, disgusting human being', but there is something all those on the left should appreciate about the President Elect; he did what liberals have been trying to do for decades – he nearly single-handedly destroyed the Republican party. Compared to party members like Ted Cruz and Rick Santorum, Žižek argues that Trump is at least human next to those "aliens". Trump's vulgarity is different to theirs; he is wild and uncensored in a way that reveals a common human baseness. This is an appeal everyone but Trump supporters underestimated, the exhibition of bare humanity.
Alluring as it is to some, with it comes what Žižek calls 'the disintegration of public values, of public manners, this obscene situation where you can talk about whatever you want." Is political correctness the solution? No, says Žižek, legislating language and expression is a process he fears, especially when it's institutionalized. When the government stops saying torture and uses euphemisms like 'enhanced interrogation' it makes processes less transparent. The whole point is that if a behavior or a thing is deplorable, it should be called exactly what it is so the corresponding shame of speaking it, or enacting it, regulates that behavior. If you're afraid of war breaking out then breathe easy, because in Žižek's eyes it was actually Hillary Clinton, the "establishment" candidate compared to Trumps wildcard status, who would have brought us closer to that danger. She speaks the evolved and tricky language of politics, Trump speaks on the baseline.
Žižek weaves so much more between these points – watch it once, and then again, to catch onto the comet tail of his train of thought.
Slavoj Žižek's most recent book is Refugees, Terror and Other Troubles with the Neighbors: Against the Double Blackmail.