This remarkable breakthrough is sure to usher in a new generation of robots.
Credit: Getty Images.
Robots have mainly been used to do dangerous, dirty, or repetitive tasks. As such, they have often been hard, metal based, hulking monstrosities. The thing is, we have other sorts of needs for robots too, ones that require a gentler approach. Robots with soft, formable structures have been used to put eggs in a crate and other manual labor tasks. But roboticists hope to move beyond this.
 As is often the case, the goal is to develop robots modeled after organisms in the environment which are savvy at navigating the terrain and reaching objectives. Roboticists are even proposing soft robots that can grow, repair themselves, and even self-replicate.
While your traditional hard version of robotics has made great leaps forward recently, as anyone who's seen the video of a robot doing a backflip can attest, soft robots are still in their infancy. They've come a long way in the last decade or so. Yet, those in this sub-field still have a number of challenges to overcome. Scientists are just now beginning to experiment with different materials and more radical designs.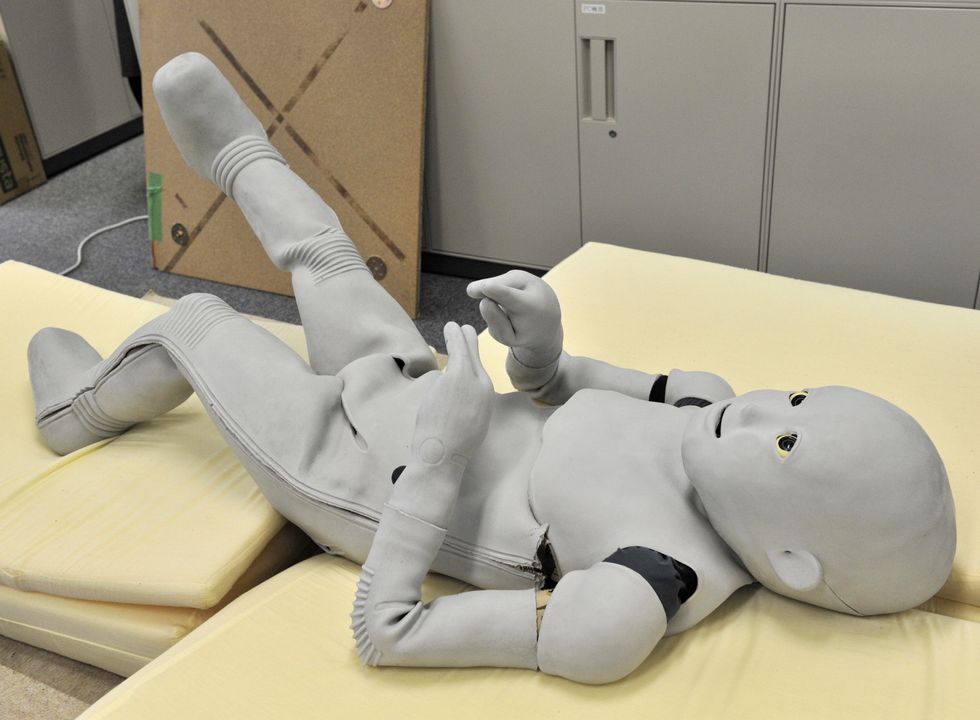 Soft robotic muscles can give future robots a more human-like look, greater strength, and more versatility. Credit: Getty Images.
How to make them and what tools are used hasn't been established yet. What's lacking is a precedent. The sub-field is just now being explored. Designers have a lot to think about. There's the cost of materials, scalability, strength, speed, and efficiency of movement. For instance, soft robots though more flexible and nimble, often lose strength and durability as a result. Creating artificial muscles or actuators has been particularly challenging.
Now, one team from MIT and Harvard are reporting a significant advancement, inexpensive soft robots that can lift many times their own body weight. Their results were published in the journal, Proceedings of the National Academy of Sciences (PNAS). Roboticists at the Wyss Institute at Harvard University and MIT's Computer Science and Artificial Intelligence Laboratory (CSAIL), developed what may not become the next generation of soft robots.
Ironically this cutting-edge innovation borrowed heavily from an art form that dates back almost two centuries, origami. The internal framework of these robots folds in and out. As such, they're able to life 1,000 times their own body weight.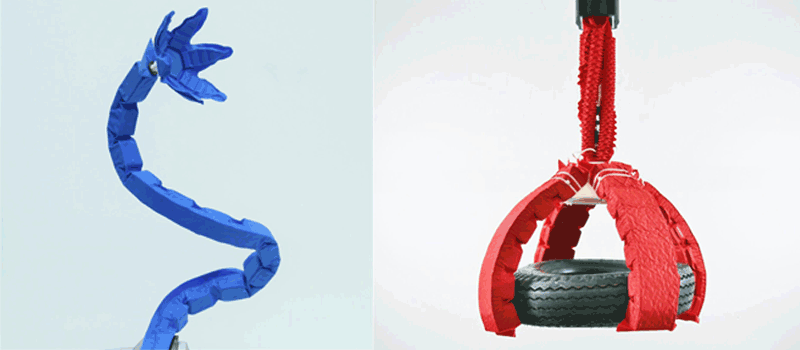 Two soft robots created by the team. Credit: Wyss Institute at Harvard University.
Daniela Rus, Ph.D, a professor of electrical engineering and computer science at MIT and a researcher on this study, said, "We didn't expect a thousand-fold increase (in strength). It's like giving these robots superpowers." With this, artificial muscles are now in the world, and robotics will be revolutionized as a result.
Rob Wood, Ph.D. is a co-author of the paper. He's a Founding Core Faculty member of the Wyss Institute, and a Professor of Engineering and Applied Sciences at Harvard. Wood said in a press release, "Now that we have created actuators (muscles) with properties similar to natural muscle, we can imagine building almost any robot for almost any task." The breakthrough comes from their unique approach.
Rus asked, "When creating robots, one always has to ask, 'Where is the intelligence – is it in the body, or in the brain?'" She went on, "Incorporating intelligence into the body (via specific folding patterns, in the case of our actuators) has the potential to simplify the algorithms needed to direct the robot to achieve its goal. All these actuators have the same simple on/off switch, which their bodies then translate into a broad range of motions."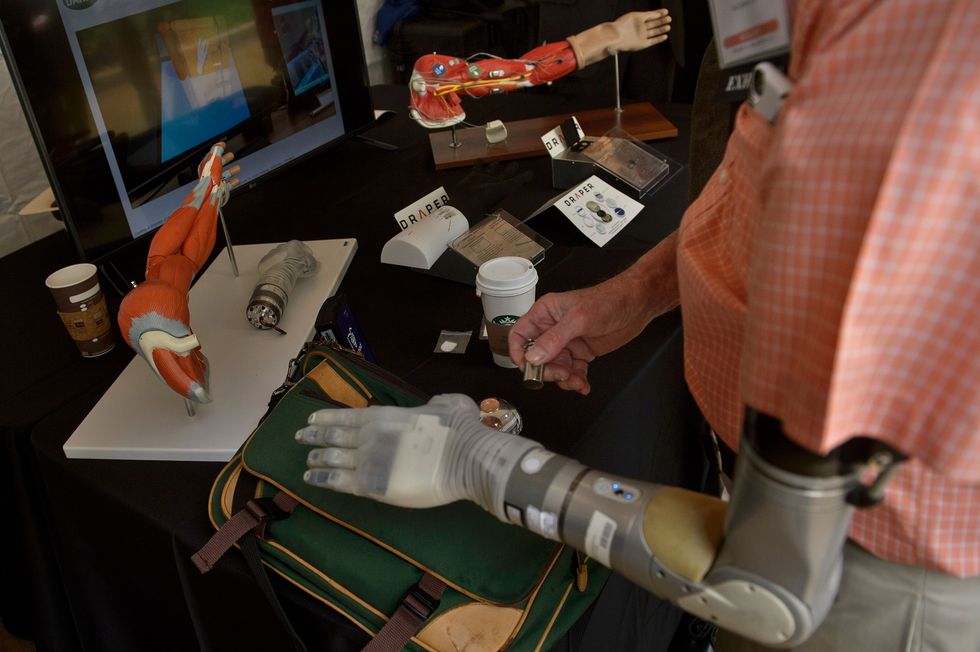 Soft robot technology could revolutionize medicine. Credit: Getty Images.
Each soft robot was designed from an inner structure or "skeleton" consisting of either a metal coil or plastic folded into a particular pattern. This lay inside a textile or polymer bag which made up its "skin." The bag is filled with air or a liquid, such as water. The muscle is then moved by applying a vacuum inside of it. This creates tension which results in motion. Since it's driven by the shape of its skeleton and vacuum pressure, no other human intervention or power source is needed to generate motion.
One of the most exciting aspects is that the muscle itself can be programmed. It's scalable too. The team made such robots between a few millimeters and up to a meter (3 ft.) long. They're also extremely inexpensive to make. One single robotic muscle takes only ten minutes to create and costs less than a dollar in materials.
Since its waterproof, it can be used out in the environment or made with a digestible material which can be swallowed, to release a drug in a targeted manner or at the proper time. Researchers believe that in the future, this technology can be used to create malleable architecture, tiny surgical tools, wearable robotic exoskeletons, and devices for deep sea research and space exploration.
"The possibilities really are limitless," Rus said. "But the very next thing I would like to build with these muscles is an elephant robot with a trunk that can manipulate the world in ways that are as flexible and powerful as you see in real elephants." She and colleagues say they hope to not only mimic nature but surpass it.
They may be on their way. Not only do these robots have uncanny strength and a versatility of movement, they can exact six times more force per area unit than a mammal's skeletal muscle can. Although lightweight, a 2.6 gram (0.09 oz.) soft robot muscle can lift a 3 kg (6.6 lb.) object. That's like a duck bench pressing a car!
To learn more about these soft robots, click here:
An Ivy League education without the Ivy League price tag. 
A recent graduate, wondering how he can easily continue his education at home for free.
We recently published an article outlining how you can take Yale University courses for free. Given the response to that article, we have decided to show you more classes that you can access at no cost. Just like last time, a certificate of completion is available for all of these classes for a fee, if you want to prove that you have bettered yourself this way. 

So, here are 8 Harvard University courses you can take right now, for free.

Introduction to Computer Science
Knowing how to code is a vital skill in in today's digital world. This entry level course teaches the basics of computational thinking, programming problem solving, data structures, and web development, among other things. It will leave the learner able to code in several languages including C, Python, and Java.

The class is self-paced, and consists of a time investment of 10-20 hours to finish nine problem sets and a final project, which is done online. This class will help you learn several of the five programming languages that Bjarne Stroustrup, inventor of C++, says you should learn in his Big Think interview.
The Architectural Imagination
Art and science are often viewed in opposition to one another, but in the field of architecture they meet in fantastic and beautiful ways. In this class, students will learn both the technical and cultural aspects of architecture, and gain a better understanding of how the buildings we inhabit relate to history, values, and pragmatic concerns.
The class is self-paced and consists of 3-5 hours of work over 10 weeks.


Super-Earths and Life
What life lies beyond our small world? Thirty years ago we only knew about nine planets; today we know of thousands orbiting nearby stars. In this course, students will learn about exoplanets, which ones might be the best candidates for harboring life, and why those planets are of the greatest interest. Combining concepts in astronomy and biology which have rarely been put together before, the class is an excellent introduction to one of the most interesting eras in astrobiology; today.

This class is self-paced and is offered over six weeks of 3-5 hours investment. What might life on those exoplanets look like? Jonathan Losos, also of Harvard, explains in his Big Think interview. 
Justice
What is the right thing to do in a given situation? Would you still act justly if you could get away with acting horribly? These are some of the oldest and most important questions in philosophy. In this class, students will learn differing perspectives of justice from thinkers like Aristotle, John Locke, Immanuel Kant, John Stuart Mill, and John Rawls. The class is taught in English, but subtitles are available in Chinese, German, Portuguese, and Spanish.

It requires a time commitment of 2-4 hours a week for 12 weeks.

Leaders of Learning
How do you learn? Why do you learn? Can you name three people who would share your answers? In this class, students will identify their own style of learning and find out how that style fits into the ever-changing landscape of education. Later lectures focus on how to apply that knowledge to leadership, organizational structure, and the future of learning.
This course is self-paced, and is taken for 2-4 hours per week for six weeks.

Using Python for Research
Do you want to learn to code, and then learn how to actually use it? In this course, students will review the basics of the Python coding language and then learn how to apply that knowledge to research projects by means of tools such as NumPy and SciPy. This class is an intermediate level course, and a basic understanding of the Python language is ideal before beginning.

This course is self-paced, and is taken for 4-8 hours a week for four weeks.


American Government
The federal government of the United States can seem like a far off and alien system, one which acts in strange ways; but it is a powerful force in the life of every American. To not understand how it works, and your place in it as a citizen and voter, is to be an irresponsible citizen. This course introduces students to the function, history, institutions, and inner workings of American government. No previous study or understanding of American politics is required, making the course ideal for non-American students who want to understand what exactly is going on there.

This course is self-paced and is taken for 3 hours per week for 16 weeks. It is a great start on issues that NYU law professor Kenji Yoshino finds can be remarkably difficult to interpret:
Humanitarian Response to Conflict and Disaster
We live in a world with staggering humanitarian crises, and responses to them that are often lacking. In this class, students will ask questions on how to deal with humanitarian disasters through the case studies of Zaire, Syria, The Balkans, and elsewhere. The history of humanitarian responses, and the frameworks that those responses past and present operate in, will be covered as well, and students will be challenged to ask if they remain sufficient.

This course lasts five weeks and requires 3-4 hours of time investment per week.


The Opioid Crisis in America
One of the greatest challenges facing the United States today is the spike in opioid addiction. In this course, medical experts explain the causes of the crisis, the science of getting hooked, the realities of addiction, treatment options, and more. The class is free, and currently offers credit for SHRM-CP.
This course requires a 1-2-hour commitment per week, for seven weeks. 

Many other great courses are available if these subjects aren't quite what you're looking for. They're free, they're great, and you're looking at them right now: what are you waiting for?
Don't settle for comfortable and familiar thoughts, reach for what you don't know, says Harvard professor Stephen Greenblatt.
The story of Adam and Eve and their eviction from paradise is one of the most famous origin stories on Earth, central to Judaism, Islam, and Christianity. But, it's full of holes. Harvard professor Stephen Greenblatt illuminates some of these: for example, how could the first humans, who had no prior concept of death, understand God's ultimatum—eat the forbidden fruit and you will die. And when they did eat the fruit, why didn't they die? The same questions have puzzled scholars for millennia, but it doesn't stop massive numbers of people all over the world believing it in a literal sense. This doesn't strike Greenblatt as stupid, or naive, or even surprising, it only strikes him as human. We have always needed the power of narrative to orient ourselves in the world, and the tale of Adam and Eve is one of the earliest and most powerful examples of good and evil on record. To understand why this story exists is to understand something fundamental about human nature, and to pick at the holes in its logic to think deeply. "Often the thing that seems incomprehensible is the place you want to start digging," he says. Stephen Greenblatt's latest book is The Rise and Fall of Adam and Eve.
Why do people have the same fights, over and over again? That's the repetition compulsion, a deeply ingrained psychological phenomenon—but not so deep that it can't be beaten.
Sigmund Freud initially thought humans operated on the 'pleasure principle'—that we run toward pleasure and run away from pain. However, this didn't quite align with what he saw in his office. There, he worked with people who escaped abusive relationships only to end up in a new relationship with the same dangerous dynamic. Many of us have the same fight with a coworker or a loved one, in different forms, over and over again. This led Freud to a turning point in his theory: he dubbed this phenomenon the repetition compulsion, a psychological trap where we repeat the same dysfunctional behavior or fall into the same traumatic circumstances, over and over again. In the video above, Harvard professor Dan Shapiro explains that there is a way to break this cycle of dysfunction and have healthier relationships. It's not easy, but it's worth doing to live a happier and less stressful life. As Sam Harris describes in his book, Waking Up: "My mind begins to seem like a video game: I can either play it intelligently, learning more in each round, or I can be killed in the same spot by the same monster, again and again." Understanding the way that you fight, and what your conflict triggers are, will stop you living the same destructive patterns on a loop. Dan Shapiro's latest book is Negotiating the Nonnegotiable: How to Resolve Your Most Emotionally Charged Conflicts.
Haggling over a number? That's a terrible way for people to negotiate, says Harvard International Negotiation Project head honcho Dan Shapiro.
Negotiation is part of life. Whether we're talking about something as grandiose as healthcare or as personal as buying a car, we often spend the vast majority of the negotiation process haggling over the numbers. This is often a bad way to look at it, says Dan Shapiro. And he should know: he's head of the Harvard International Negotiation Project and knows an awful lot about getting two opposing sides to see eye to eye. So what's the best way to do so? Perhaps talking about why each party wants what they want and negotiating from there. When polarized debates come to a head over "use vs them" mentalities, looking at it from this angle—i.e. the nuts and bolts of a position and less so the end result—can humanize each side to the other. Dan Shapiro's latest book is Negotiating the Nonnegotiable: How to Resolve Your Most Emotionally Charged Conflicts.