A meteorite that smashed into a frozen lake in Michigan may explain the origins of life on Earth, finds study.
Credit: T. Masterson and the American Meteor Society | Robert Ward
A new paper reveals a meteorite that crashed in Michigan in 2018 contained organic matter.
The findings support the panspermia theory and could explain the origins of life on Earth.
The organic compounds on the meteorite were well-preserved.
A meteorite that blasted through the night sky over Michigan and crashed into a frozen lake had another surprise in store. A new study found that it contained 2,600 "pristine" organic compounds of extraterrestrial origins and can provide clues about the beginning of life on our planet.
Researchers employed weather radar to track down the pieces of the space rock that landed on Strawberry Lake by Hamburg, Michigan on January 16, 2018. The meteorite hunters were able to gather up the scattered parts before they changed their chemical constitution by being exposed to liquid water.
The paper's lead author, Philipp Heck, a curator at the Field Museum and associate professor at the University of Chicago, shared that the meteorite was unique in that it fell onto a frozen lake and was quickly found. That kept it as close to how it was in space as we could hope.
"We could see the minerals weren't much altered and later found that it contained a rich inventory of extraterrestrial organic compounds," said Heck. "These kinds of organic compounds were likely delivered to the early Earth by meteorites and might have contributed to the ingredients of life."
Check out this video of the meteorite streaking across the Michigan sky –
Meteor streaks through Michigan sky
Where did the meteorite come from in the first place? The scientists think it broke off from an asteroid that was orbiting between Mars and Jupiter. While it started as a 6-foot rock above Earth, the part of it that hit the ground was just the size of a peach pit.
As it got to Michigan, the scientists tracked the meteorite with NASA's weather radar, which can detect hail and rain. "These pieces of meteorite fell into that size range, and so weather radar helped show the position and velocity of the meteorite," explained Heck. This resulted in the meteorite being quickly located. It took meteorite hunter Robert Ward just two days to find the first piece of the celestial intruder on the frozen surface of the lake.
The meteorite that smashed into Strawberry Lake carried pristine extraterrestrial organic compounds.
Credit: Field Museum
The finding of organic materials on the meteorite is certainly not quite like coming upon a full-fledged alien, but the presence of carbon-containing compounds supports the theory of panspermia. It proposes that ingredients necessary for life are spread throughout the Universe by such space rocks.
Check out the new paper in Meteoritics & Planetary Science.
New research proposes possible origins of the interstellar object 'Oumuamua.
Credit: YU Jingchuan from Beijing Planetarium
A new paper suggests a star's tidal forces could have created 'Oumuamua.
The interstellar object 'Oumuamua was first spotted in 2017.
The object is known for its elongated shape and unusual trajectory.
Scientists may have discovered the origins of 'Oumuamua, the first interstellar object that was spotted visiting our Solar System. The reddish, dry, and strangely-elongated 'Oumuamua, known to move in unexpected ways, has been a subject of much speculation. Some have, of course, brought up the idea it might an extraterrestrial spacecraft, possibly a probe. Now, scientists propose that tidal forces, gravitational interactions similar to those on Earth, are responsible for its existence and unusual behavior.
The cigar-shaped 'Oumuamua is 400 meters (1,300 feet) in length and was first discovered on October 19, 2017 by the Hawaii-based Panoramic Survey Telescope and Rapid Response System 1 (Pan-STARRS1). Scientists and armchair astronomers the world over have since wondered about where it came from, especially in light of factors like its acceleration away from the Sun in a trajectory that is not explainable simply by the effects of gravity.
Simulation showing the interstellar object 'Oumuamua as a collection of fragments in an elongated shape.
Credit: ZHANG Yun/background by ESO/M. Kornmesser
The new study, which was carried out by by Zhang Yun from National Astronomical Observatories of Chinese Academy of Sciences (NAOC) and Douglas N. C. Lin from University of California, Santa Cruz, says the object of mystery is natural. Clues pointing to that include the space body's colors and the lack of any radio emissions coming from it.
While scientists expect an interstellar visitor to be icy, like a comet, Oumuamua is dry and has a rocky body like an asteroid, leading the researchers to conclude that there are more such rocky objects flying in between solar systems than they previously considered.
How did such an object come into existence? Zhang and Lin believe it's a piece ripped off of another space body by a larger object. They conducted computer simulations, focusing on the example of the tidal disruption imposed by Jupiter on the comet Shoemaker-Levy 9 in 1992 to show that when a star is involved in such a fly-by, an outcome is possible that could create the elongated fragment like 'Oumuamua's.
The effects of a tidal disruption by a star on a space object.
Credit: NAOC/Y. Zhang
The researchers showed that after a space body is pulled apart by the star's tidal forces, its fragments would melt and stretch into a cigar-shaped arrangement. The resulting parts would cool off as the object moves away from the star, hardening into a crust. It is subsequently propelled farther into space.
The scientists also have an explanation for the acceleration of an object like this, proposing that the Sun's heating up of water ice under its surface can result in a release of gas that would act as a propellant.
"The tidal fragmentation scenario not only provides a way to form one single 'Oumuamua, but also accounts for the vast population of rocky interstellar objects," said Zhang. He thinks that all types of space objects, like long-period comets, debris disks, and possibly even planets, can be turned into 'Oumuamua-size bodies upon getting close to a star.
"'Oumuamua is just the tip of the iceberg," said Lin, adding "We anticipate many more interstellar visitors with similar traits will be discovered by future observation with the forthcoming Vera C. Rubin Observatory."
You can read the study in Nature Astronomy.
Was Oumuamua an alien spaceship? No. Here's what it is.
First contact movies had their Golden Age in 1980s America – now they're going global.
The first extra-terrestrial to make contact (in a movie) appeared in 1920s Germany.
ET set off a wave of 'first contact' movies in the 1980s.
Many recent alien-landing movies are set in China and India – the future of the genre may well be Asian.
Until humanity makes contact with some genuine extra-terrestrials, the aliens we invent will say more about us than about them. By extension, the same goes for where we first encounter these imaginary off-worlders.
These maps show the locations of alien first contacts on Earth in almost a century of popular films, from Algol (1920), a Faust-from-outer-space parable made in Weimar Germany; to Annihilation (2018), a reflection on America's loss of faith in the future of humankind.
The rules: Each dot shows the first appearance of (outer-space) aliens at specific locations in films. Excluded: Inter-dimensional aliens and global alien invasions (hence no War of the Worlds).

Alien landings in the U.S.
Credit: Dylan_Mq. Find his maps on Reddit, Twitter and Etsy.
If the maps are anything to go by, ET will flock to the U.S., and preferably to places with well-established movie industries: Los Angeles and New York, mainly. Don't do it, guys – you'll just end up waiting tables!
A few other locales seem to attract more than their average share of UFO landings: The Bay Area, certain parts of the Southwest (Arizona and New Mexico), the Midwest (Chicagoland and Ohio), and the South (particularly Alabama and Florida). Unsurprisingly, California is the most ET-friendly state (14 landings), followed by New York (7) and Illinois (5).
Some parts of the U.S. remain curiously alien-free. The Pacific Northwest, for example. Well, who ever heard of an alien craft landing in rain? If it weren't for two sightings in Montana and Wyoming each, that no-UFO zone would extend all the way to Minnesota. New England is also virtually extra-terrestrial-less, as is that row of states just west of the Mississippi.
The mapmaker has kindly provided dates for each movie, which tells us something about the peaks and troughs of alien-landing excitement in the U.S.
It all started so well in the 1950s, with six touchdowns – and then none in the 1960s. Things picked up slightly in the 1970s, with 5 first-contact films. Close Encounters of the Third Kind (1977) inspired a lot of what came after.
The 1980s were the Golden Age of Alien First Contacts. The first and perhaps most influential one was Spielberg's ET, the Extraterrestrial (1982). In all, the map shows no less than 19 first-contact films from this decade. After the long climax, a slow decline: 15 landings in the 1990s, 10 in the 2000s and 9 in the 2010s.

Alien landings in the rest of the world
Credit: Dylan_Mq. Find his maps on Reddit, Twitter and Etsy.
Even if the U.S. gets preferential treatment, it doesn't have exclusive rights to alien first contacts. As this map shows, UFOs do land in other parts of the world as well.
One particular invasion is more 'globalist' than others. The aliens in Arrival (2016) touched down in Montana, Russia, Pakistan, Greenland, China, Sudan and Venezuela, among other places. That's how they do 'Shock and Awe' on Rigel 5.
In general, however, non-American aliens are more discriminating in their choice of landing locations. They have a strong preference for London, the rest of the UK and western Europe (in that order, but keep in mind this is pre-Brexit) over the rest of the world. Mind you, being a rest-of-the-worlder could be a good thing. As this map also indicates, the aliens' intentions aren't always benevolent.
Take for instance Grabbers (2012), the only film set in Ireland that made it onto the map, and providing what may be a uniquely Irish take on the genre. The movie features human-eating monsters which fortunately prove allergic to high blood-alcohol levels. In order to survive the attack, the townspeople have to get drunk in the local pub.
With the exception of two Arrival landings, two first contacts in Egypt (Stargate, 1994; and The Fifth Element, 1997), and two South African ones (Nukie, 1987 – set in Kenya; and District 9, 2009), aliens stay clear of the Mother Continent. This despite the rich seam of African sci-fi usually grouped under the header 'Afrofuturism'.
Latin America doesn't fare much better, with the exception of Mexico. A charming example is La Nave de los Monstruos (1960), which tells of an expedition from Venus to recruit males to help repopulate their all-female planet. The titular ship is filled with male 'monsters' from all corners of the galaxy. On Earth, the Venusian crew fall for Lauriano, a singing Mexican cowboy.
Mexico's sci-fi production also includes The Incredible Invasion (1971), a low-budget flick featuring Boris Karloff, set in 1890s Germany.
Science fiction was big in Soviet times, but only First Spaceship on Venus (1960) and This Merry Planet (1973) get a mention here. In the latter movie, an alien delegation lands in the middle of a New Year's costume party in a Soviet House of Culture. They fail to convince anyone of their extra-terrestrial origin. When the clock strikes midnight, they realize they've landed on the most beautiful planet in the universe (and, as is undoubtedly implied, the country with the best ideological system on that planet).
One of the most remarkable post-Soviet sci-fi movies is Abdullajon (1991), judged by many to be the greatest film ever made in post-USSR Uzbekistan, as well as (probably) the only sci-fi one. A local Uzbek farmer discovers a crash-landed alien – a white boy – when looking for a lost cow. Dubbed Abdullajon, the alien can perform miracles, but doesn't always understand his hosts. When asked to produce 'big money', he fashions a giant one-ruble coin, for example. He does succeed in making the hens lay 50 eggs per minute, though. The alien manages to escape back to space before the Russian Army captures him.
Looking at the dates for first-contact movies set outside the U.S., there is a definite trend: Back in the 1950s and 1960s, aliens most often landed in Europe, Japan and Mexico. From the 1970s to the early 2000s, the U.S. hogs the scene. But then, ET starts visiting other places, including non-western ones, such as India, China, the Philippines.
Unless and until the first real extra-terrestrial lands, the future of alien first-contact movies could very well be Asian. Meanwhile, I've got to check out what must be Greece's definitive contribution to the genre: Attack of the Giant Moussaka (1999).
Many thanks to Dylan_Mq for providing these maps. He describes himself as a "DataViz, Map and Pop Culture enthusiast (who creates) maps & designs about things I like". Find them on Reddit, Twitter and Etsy.
Strange Maps #960
Got a strange map? Let me know at strangemaps@gmail.com.

Researchers discover extraterrestrial origins of a chemical essential for human DNA and other cell processes.
Comet 67P/Churyumov-Gerasimenko. Credit ESA/Rosetta/NAVCAM
Scientists create interstellar icy grains in a super-cold experiment.
They show that phosphates forms under these conditions.
Phosphates are crucial building blocks in molecular biology.
Life on Earth would not be possible without a key ingredient that came from an extraterrestrial source, claims new research. Scientists identified that phosphorus, an important component for life, was created in outer space and delivered to Earth by comets or meteorites in the first billion years of the planet's existence. Once here, phosphorus compounds got incorporated in biomolecules which can be found in the cells of all living creatures on Earth.
Phosphorus, specifically as the derivative phosphates, is essential in the creation of DNA and cell membranes as well as the functioning of other major cellular processes. It's also necessary for the creation of bone and teeth. Needless to say, it's a big deal for us, humans. Yet, relative to its importance in biology, it is the least abundant element cosmically.
According to Cosmos Magazine, phosphorus is believed to have formed in supernovas, amid exploding stars. It spread to gas and dust from which new stars and solar systems were condensed. But to become a phosphate, the element had to go through a transformation, which the researchers say likely happened in interstellar dust clouds, courtesy of the chemical phosphine, derived from phosphorus. Tantalizingly, this chemical can also be found in the atmospheres of Jupiter and Saturn, and also in the gas jets from the comet 67P/Churyumov-Gerasimenko - explored in 2014 and 2016 by the Rosetta probe.
Surface science setup in the University of Hawaii's Manoa's W.M. Keck Research Laboratory in Astrochemistry that carried out the experiment.
Credit: University of Hawaii at Manoa.
To probe the mystery, the researchers could not work with phosphine directly as it's highly toxic. So they used an ultra-high vacuum chamber that was cooled to 5K (-450°F) and recreated interstellar icy grains. After coating the grains with carbon dioxide, water, and phosphine, and exposing them to ionizing radiation that simulated cosmic rays you'd find in space, the scientists found that various phosphate-like chemicals like phosphoric acid and diphosphoric acid were formed. These chemicals are crucial building blocks in molecular biology.
Thus created in deep space, nanoparticles likely became parts of larger objects – comets or asteroids – which eventually found their way to Earth. Here the phosphates added key ingredients to the primordial cocktail that eventually produced life.
The international research team included the lead author Andrew Turner (graduate student at the time, now assistant professor at the University of Pikeville) and chemistry Professor Ralf Kaiser from the University of Hawaii at Manoa, Cornelia Meinert from the University of Nice in France, as well as Agnes Chang of National Dong Hwa University in Taiwan.
"On Earth, phosphine is lethal to living beings," said Turner. "But in the interstellar medium, an exotic phosphine chemistry can promote rare chemical reaction pathways to initiate the formation of biorelevant molecules such as oxoacids of phosphorus, which eventually might spark the molecular evolution of life as we know it."
Check out the new study "An Interstellar Synthesis of Phosphorus Oxoacids", published in the Nature Communications magazine.
Want to see what it's like to live on the comet 67P/Churyumov-Gerasimenko? Watch this video from the Rosetta probe:
An MIT astronomer famously explained why aliens haven't contacted us yet.
Credit: Pixabay
Recent revelations that the Pentagon had an actual alien-hunting division have rocked conspiracy theorists everywhere, adding fuel to the long-held beliefs of many that the government is hiding the truth from us. Luis Elizondo, the military intel official who headed the now-defunct "Advanced Aviation Threat Identification Program," which ran from 2009 until 2012, was so convinced by what he saw that he continued his search for E.T. until this day. He now has a UFO-research startup and alerted CNN that there's "compelling evidence" we are not alone.  
While Elizondo's evidence may be based on being privy to a number of unexplained encounters with flying objects, the aliens haven't made their presence very clear. If the universe contains at least two trillion galaxies full of billions of stars like our sun, shouldn't there be other complex life forms out there by now? It would only make sense. So "where is everybody?" as the Nobel laureate physicist Enrico Fermi famously asked about the absence of evidence and the high probability of alien existence.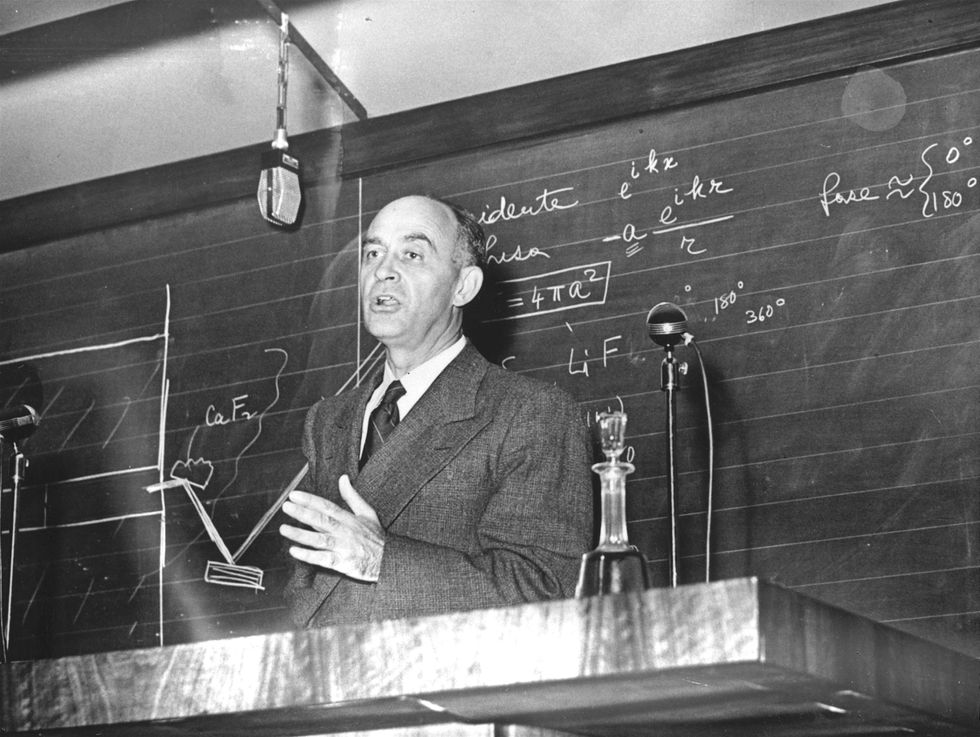 Professor Enrico Fermi (1901-1954), known for achieving the first controlled nuclear reaction, lecturing on the optical characteristics of neutrons at the Domegani Institute in Milan. (Photo by Keystone/Getty Images)
There are certainly many speculations about the possibility of aliens and their potential motives. It could be that there's been no contact because they are too far away, and we need for our technologies to catch up before we meet up. They could look like something else entirely so we can't even perceive them yet. Or maybe we underestimate the uniqueness and preciousness of humanity and we really are alone. But an idea formulated in the 70s takes a different swing at this compelling issue. 
The Zoo Hypothesis, proposed by the MIT radio astronomer John A. Ball in 1973, says that aliens may be avoiding contact with us on purpose, so as not to interfere with our evolution and the development of our societies. The human civilization could be essentially living in a "zoo" or a space wildlife sanctuary, where others populating the cosmos dare not go. By staying clear of us, they avoid interplanetary contamination.
Perhaps the aliens are waiting for us to reach a certain technological or moral point before they will talk to us. Or they may be simply trying to protect us and themselves. You've seen "Independence Day" - there may be a similar movie made thousands of light years away about us.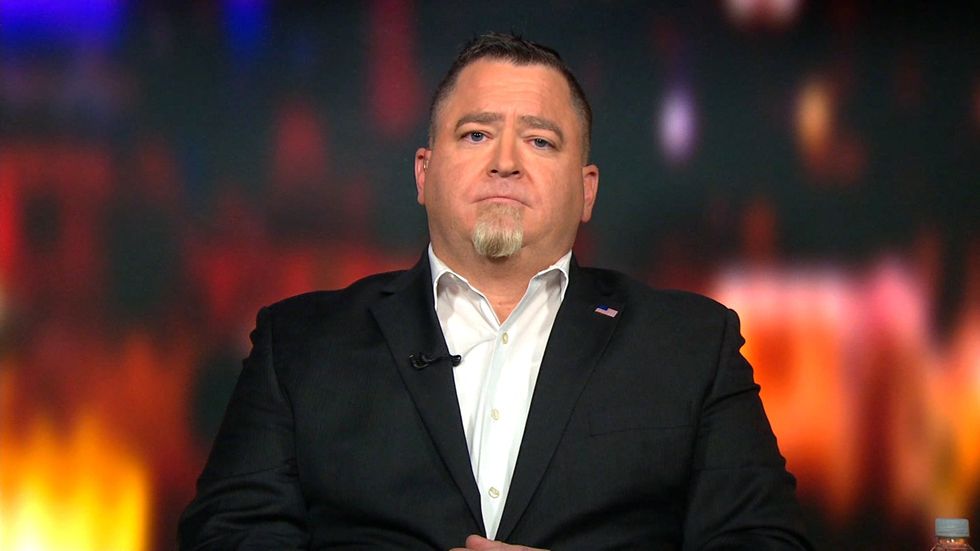 Luis Elizondo, former head of "Advanced Aviation Threat Identification Program, Credit: CNN.
This idea of the zoo hypothesis presumes that aliens would want to have some relatively benevolent system of belief - perhaps a universally-accepted law about how to treat lower-level cosmic inhabitants. One explanation could be that a higher intelligence would not want to limit the diversity of paths in the universe by somehow interfering with other beings.  
The hypothesis makes the most sense in a crowded universe, if there are many civilizations which set up rules by which they govern their coexistence. Of course, if there are many extraterrestrial players, it is also doubtful that one of them wouldn't have somehow contacted us, even if by accident. Maybe that's what the Earth's alien hunters are picking up on - random, unsanctioned interactions. 
Of course, if we put our tinfoil hats on, it also stands to reason that if there is some kind of Universe-wide law of non-interference with other species, someone at the Pentagon could be in on it.
For a more in-depth explanation of the zoo hypothesis, check out John A. Ball's paper "Extraterrestrial Intelligence:Where is Everybody?"
And here's what theoretical physicist Brian Greene thinks about the Fermi Paradox and the existence of intelligent life beyond Earth: