"Such studies will lead to a better understanding of brain development in both autistic and typical individuals."
Credit: azurita on Adobe Stock
Autism spectrum disorder (ASD) is a neurodevelopmental condition that can cause significant social, communication, and behavioral challenges.
Although a diagnosis of autism can typically be made around the age of 2, the average age for diagnosis in the United States is after 4 years old.
A new study shows that the atypical development of autism in human brain cells starts at the very earliest stages of brain organization, which can happen as early as the third week of pregnancy.
Autism spectrum disorder (ASD) is a neurodevelopmental condition that can cause significant social, communication, and behavioral challenges. According to the CDC, a diagnosis of autism now includes several conditions that used to be diagnosed separately (autistic disorder, pervasive developmental disorder, and Asberger syndrome). These conditions are now wrapped into the ASD diagnosis.
The American Academy of Pediatrics recommends that all children be screened for autism at 18 months and at 24 months, yet only about half of primary care practitioners in the United States screen for autism. Although a diagnosis of autism can typically be made around the age of 2, the average age for diagnosis in the United States is more than 4 years old.
Nerve cells in the autistic brain differ before birth, new research finds
A new study shows that the atypical development of autism in human brain cells starts at the very earliest stages of brain organization, which can happen as early as the third week of pregnancy.
The study was performed by scientists at King's College London and Cambridge University.
The study used induced pluripotent stem cells to recreate the development of each sample in the womb.
The researchers isolated hair samples from nine autistic people and six typical people. By treating the cells with an array of growth factors, the scientists were able to drive the hair cells to become nerve cells (or neurons), much like those found in either the cortex or the midbrain region.
These induced pluripotent stem cells (referred to as IPSCs) retain the genetic identity of the person from which they came, and the cells restart their development as it would have happened in the womb. This provides a look into that person's brain development.
At various stages, the researchers examined the developing cells' appearance and sequenced their RNA to see which genes the cells were expressing. On day 9 of the study, developing neurons from typical people formed "neural rosettes" (an intricate, dandelion-like shape indicative of typically developing neurons). Cells from autistic people formed smaller rosettes (or did not form any rosettes at all), and key developmental genes were expressed at lower levels.
Days 21 and 35 of the study showed cells from typical and autistic people differed significantly in a number of ways, proving that the makeup of neurons in the cortex differs in the autistic and typically developing brains.
John Krystal, Ph.D., Editor-in-Chief of Biological Psychiatry, explains: "The emergence of differences associated with autism in these nerve cells shows that these differences arise very early in life."
Along with the variations, there were some things that proved similar.
Additionally, cells directed to develop as midbrain neurons (a brain region that's not implicated in autism dysfunction) showed only negligible differences between typical and autistic individuals. The similarities are just as important as the differences, as they mark how the autistic brain and typical brain develop uniquely from the earliest stages of growth.
"The use of iPSCs allows us to examine more precisely the differences in cell fates and gene pathways that occur in neural cells from autistic and typical individuals. These findings will hopefully contribute to our understanding of why there is such diversity in brain development," said Dr. Dr. Deepak Srivastava, who supervised the study.
The intention of this study is not to find ways to "cure" autism, but to better understand the key genetic components that contribute to it.
Simon Baron-Cohen, Ph.D., Director of the Autism Research Centre at Cambridge and the study's co-lead, added that "some people may be worried that basic research into differences in the autistic and typical brain prenatally may be intended to 'prevent,' 'eradicate,' or 'cure' autism. This is not our motivation, and we are outspoken in our values in standing up against eugenics and in valuing neurodiversity. Such studies will lead to a better understanding of brain development in both autistic and typical individuals."
In "Douglas," the Australian comedian opens up about her autism diagnosis.
Photo by Charley Gallay/Getty Images for AFI
In her new Netflix special, "Douglas," comedian Hannah Gadsby targets anti-vaxxers.
Diagnosed with autism four years ago, Gadsby discusses the dangers of believing vaccinations cause autism.
Some high-profile anti-vax activists use their platform in order to sell supplements and books.
Hannah Gadsby couldn't understand why people kept telling her she might have autism. She believed the developmental disorder mostly applied to young boys. Then the Australian comedian was diagnosed with autism and ADHD four years ago, fitting a lot of pieces into the puzzle of her life, including her response to constant noise and motion while on stage and the feeling of being sober in a room full of drunk people (or vice-versa) all of the time.
The diagnosis came shortly after her comedy special, "Nanette," was receiving critical praise around the planet. Growing up lesbian in a conservative Tasmanian community, "Nanette" is a powerful social commentary merging with raw storytelling. Her emotional roller coaster makes it difficult to distinguish tears from laughter or despair. That's the point.
After considering quitting comedy, Gadsby returned with "Douglas." As with "Nanette," it's difficult to label it comedy. Pure and simple, Gadsby is a masterful storyteller. While she touches upon a number of issues in her latest special—the pouch of Douglas, patriarchy, Renaissance art—grappling with autism and, specifically, anti-vaxxers, is the highlight.
Anti-vax rhetoric is thriving during this pandemic; its trajectory had already been rising. A Gallup poll from January found the number of American adults that believe vaccinating their children is "extremely or very important" dropped 10 percentage points from 2001. This is still a far cry from a suspect survey by an osteopathic group claiming 45 percent of adults are vaccine-hesitant. Still, the number is moving in the wrong direction.
How Hannah Gadsby's High-Functioning Autism Works | Netflix Is A Joke
In a scathing yet hilarious indictment of the anti-vax movement, Gadsby says activists are highly organized and coordinated. They're also prone to "willfully manipulate statistics," as the osteopathic study proves. This doesn't change the fact that anti-vaxxers are woefully outnumbered, however loud social media seems. Tragically, the loudest voice in the room gets taken seriously, sometimes.
After discussing her autism diagnosis, Gadsby begins the skit.
"Do you know what causes autism? No, you f***ing don't. If you honestly think you do, your confidence is making you stupid."
She's aware anti-vaxxers are likely in the room. Her core demographic is wealthy, entitled white women, which is "a Venn diagram with a lot of crossover." Gadsby holds no hope in changing minds, because that's not how closed minds work: "They don't work; they're closed for business."
She then pretends vaccines cause autism, although "pretending is not science." She's not upset about being on the spectrum. That doesn't mean having autism is easy; quite the contrary. It's difficult to always be the odd one out. That said, Gadsby brilliantly advocates for autism.
"As difficult as this life is, it's nice to have a life. And it's particularly nice to have this life in a world without polio. Polio is bad, and that is a fact, not a feeling."
Text on a screen will never compare to Gadsby's delivery: the crescendo of "polio," the playful yet serious expression on her face when delivering this information. Her critique doesn't stop there.
"I would rather have autism than be a sociopath like you."
Tough statement, which she qualifies. Believing your child is more important than all other children means you're not playing for the team. You've wrapped yourself up so tightly in a belief system that self-righteousness has become your creed. Far from being a posture on Twitter, this mindset has real-world consequences.
First, there's the economic angle. Discredited physician Andrew Wakefield, who was paid to falsify data in his infamous measles vaccine-autism study, filed a patent for a single-jab measles vaccine as the same time he was decrying vaccines. His objective appears to have been financial from day one.
Protesters hold banners against the 5G technology and vaccines as others shout slogans during an anti-government protest in front of the parliament in Sofia on May 14, 2020.
Photo by Nikolay Doychinov/AFP via Getty Images
Wakefield isn't the only opportunist. Osteopath Joseph Mercola's net worth has grown to over $100 million as he promotes his products to anti-vaxxers. Then there's Judy Mikovits, the subject of the discredited film, "Plandemic," whose book became a bestseller after the film's release. Her book was published by a house whose sole focus is promoting anti-vaccination rhetoric.
Second, the health consequences. As Gadsby says, anti-vaxxers are coordinated. Two case studies: Samoa and Orthodox Judaism.
Recently anti-vax rhetoric has rooted in Samoa. The result: over 4,000 children were infected with measles last fall. At least 70 died. An anti-vax advocate promoted the use of papaya leaf for treating measles; he was later arrested. The situation was so bad, the Samoan government declared a state of emergency and banned children under the age of 17 from gathering publicly.
Anti-vax rhetoric also hit Orthodox Jewish communities hard last year. In March, 2019 over 275 cases of measles were confirmed in New York state. The funding for this effort was provided by a wealthy Manhattan couple that has donated over $3 million to anti-vax organizations. One group is Informed Consent Action Network, an anti-vax organization run by a former television producer that specifically targets Orthodox Jewish communities in Brooklyn and Rockland County.
"Douglas" is a masterful piece of common sense propaganda. Gadsby is ready for the vitriol certain to come her way for exposing the public to basic science. She snacks on hate. Following that statement, she stares out into the crowd to ask if they understand why she would eat the bluster of haters. Her response is priceless.

"It builds immunity; it's called microdosing. Your hate is my vaccine."
A slight pause.
"What are you going to do? I already have autism."
--
Stay in touch with Derek on Twitter, Facebook and Substack. His next book is "Hero's Dose: The Case For Psychedelics in Ritual and Therapy."
More vaccine-autism facts for the fact-averse.
(Robin Utrecht/AFP/Getty Images)
A massive new study finds absolutely no link between MMR vaccination and autism.
Some question the expenditure of yet more research money on convincing conspiracy theorists.
There are already 206 measles cases this year in the U.S., and the disease is up by 30% globally, despite previous near-eradication.
Measles were eliminated in the U.S. in 2000. Those were the days. Now it's back, with 206 cases in 11 states already confirmed this year. Measles' return is due to an increasing number of parents opting not to vaccinate their kids with the MMR vaccine, a 97% effective treatment against measles, mumps, and rubella. It's a frustrating and frightening development for other parents who have done their part by having their own children vaccinated to keep these highly communicable diseases from spreading to everyone's kids. The anti-vaxxer movement is based on research from a single UK-based doctor, Andrew Wakefield, who erroneously linked vaccinations to a rising incidence of children with autism. By 2010, more scrupulous researchers had completely debunked his claims. Yet widespread belief in his claims has proven remarkably resilient.
A comprehensive study just published in Annals of Internal Medicine and based on 10 years of data and half a million people hopes to finally, authoritatively, put Wakefield's spurious and dangerous claims to rest. Of course, with anti-vaxxers motivated by paranoia, blame-shifting, a distrust of experts, or just stubbornness, it's anyone's guess if it will help.
The 2019 Danish vaccine-autism study
The study from scientists at Denmark's Statens Serum Institut finds no statistical link whatsoever between the administration of MMR doses and the likelihood of developing autism. It also found no correlation between areas in which vaccines are administered and clusters of autism diagnoses occur. In fact, as the anti-vax movement has grown, so has the incidence of autism, from 1 out of 68 eight-year-olds having it in 2016, to 1 out of 59 in 2018.
The researchers studied the medical histories of Danish children born between 1999 and the end of 2010. Using population registries, they were able assess other risk factors — including sibling histories of autism — and look for correspondences between vaccinations and the occurrence of autism. Speaking of the statistics presented in the study, global health expert Saad Omer tells the Washington Post, "The appropriate interpretation is that there's no association whatsoever."
Money well spent or wasted?
(Fred Tanneau/AFP/Getty Images)
Dispositive as the new study's evidence is, Omer and others consider it questionable to use research money sorely needed elsewhere to convince anti-vaxxers. As bioethicist Syd M Johnson says, "They are immune to facts." Alongside the study in Annals is an editorial by Omer decrying this waste of time, effort, and money on people living in what he calls a "fact-resistant" world.
Omer's concerned that anti-vaxxer beliefs undermine general public faith in vaccines, so he sees value in spending some money on continuing to gather contrary evidence, but only "if the cost, including the opportunity cost, of these studies is not too high." By "opportunity cost," Omer refers to the lost chance of developing cures with these funds, warning, "continuing to evaluate the MMR-autism hypothesis might come at the expense of not pursuing some of the more promising leads."
A teen leading the way
Ethan Lindenberger addresses the U.S. Senate.
(Jim Watson/AFP/Getty Images)
The new report coincides with last week's worrying hearing in the U.S. Senate at which 18-year-old Ethan Lindenberger testified about his decision to get himself vaccinated against the wishes of his parents. He's written on Reddit that his mother became convinced from Facebook posts that vaccinations "are some kind of government scheme." His Reddit thread says, "I have an appointment in a few weeks to get my shots! My mom was especially angry but my dad said because I'm 18 he doesn't care that much. Although my mom's trying to convince me to not do it and saying I don't care about her, I know that this is something I need to do regardless."
Facebook claims to have "taken steps to reduce the distribution of health-related misinformation on Facebook, but we know we have more to do." On March 6, Facebook announced a new plan.
Your child or mine?
It's understandable that anti-vaxxer parents expect to be able to control the health decisions regarding their own children, but unfortunately, their kids — and the other with whom they come in contact — are not immune to infectious diseases.
As a result, everyone else has no choice but to sit by and watch the unwarranted return of serious diseases. Many U.S. states allow "religious" exemptions that allow parents to opt out of vaccinating their children, but it's not just a U.S. problem. With the prevalence of measles up by 30% globally, the World Health Organization ranks "vaccine hesitancy" among the top 10 threats to global health in 2019, at a cost of 1.5 million lives annually .
Musical savants have "enhanced pitch discrimination" and "increased auditory perceptual capacity." But why?
Do those with autism experience music as a richer experience? Getty Images.
We often see in the media autistic savants who can write and play music like grand masters with incredible talent and flourish. In fact, of autistic savants and savants in general, having extraordinary musical talent is one of the most common advantages. A new study published in the journal Cognition, suggests a reason for it. Those with autism spectrum disorder (ASD) have superior hearing. 
Some of the advantages include "enhanced pitch discrimination" and "increased auditory perceptual capacity." Even so, ASD people often find normal, neutral sounds grating. This may be because their auditory system takes in more sound than neurotypical people. Said differently, they have a higher capacity.
Investigators conducted two behavioral experiments to discover these differences in auditory perception and how it led to certain advantages and challenges for those with ASD. Anna Remington and Jake Fairnie were the two researchers who conducted the study. They hail from the Centre for Research in Autism and Education, at the UCL Institute of Education, in the UK.
The study participants were 20 young adults with ASD and 20 neurotypical young adults, all between the ages of 17 and 34. They each participated in two computer-based tests. In the first, an audio file with a bunch of animal sounds was played and the listener had to determine if they heard a dog barking or a lion roaring within the jumble. Those with better auditory perception would have an advantage in this task. Participants with autism ended up scoring much higher than those in the control group, Remington and Fairnie found.
In the second task, participants listened to a recording of people at a party. They overheard a conversation and had to answer questions about it at the end. To rankle autistic participants, a portion of the recording had a man come in and say repeatedly "I'm a gorilla, I'm a gorilla..." 47% of those with ASD were thrown off by this, compared to only 12% of the typical group. So it seems that increased perception has advantages and disadvantages.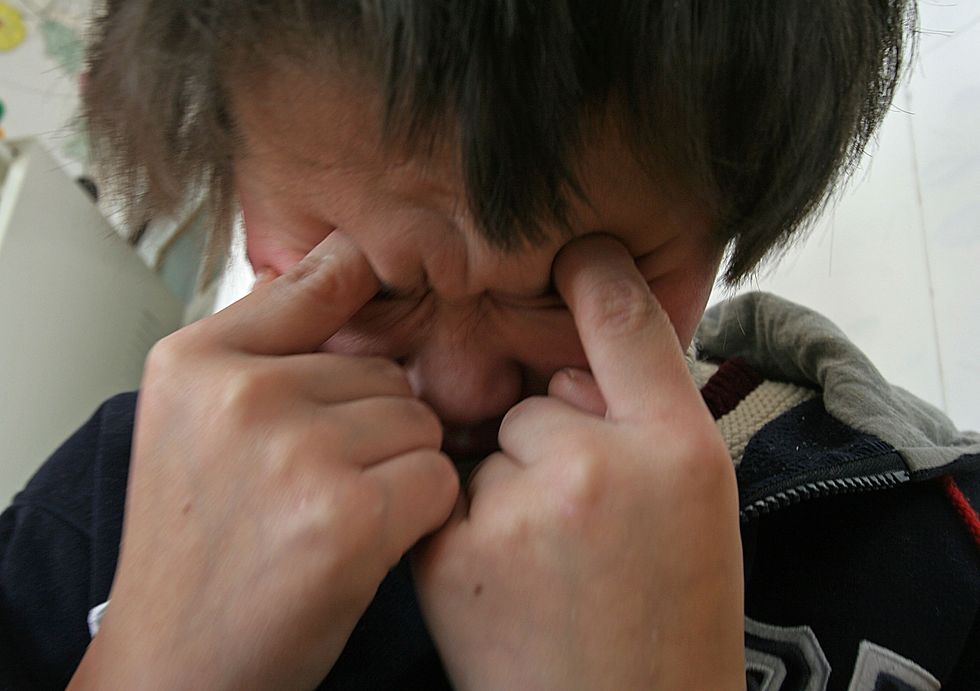 The disadvantage is seemingly innocuous sounds can be very irritating to those with ASD. Getty Images.
Originally, we thought that those with autism didn't like innocuous sounds, merely because they had difficulty filtering them out. Now we know: it's because they process auditory information differently and such sounds overload their circuits, so to speak.
This information might help us develop better strategies to cater to their needs. It can also help children with ASD learn and cope with difficulties better in and out of the classroom. In addition, this discovery could also help experts tailor interventions for those with ASD who find themselves struggling in certain environments or situations. 
In recent years, we've noticed that sensory information is processed differently in those who are autistic. But this isn't in actuality a disadvantage. In fact, many people with ASD can perform visual or auditory tasks far better than neurotypical people can.
To hear a leading emerging theory on what might cause autism, click here: 
The study might also help us to identify the prodigy gene, should it exist.
British autistic savant Daniel Tammet. Getty Images.
If you find these results strange, consider the large numbers of scientists and engineers known to have Asperger's syndrome. There are autistic savants as well, as the movie Rain Man can attest, which was based on a true story. Or perhaps you've seen the work of mind-blowing artist Stephen Wiltshire, who can draw panoramic scenes of whole cities with perfect detail, from his memory alone.
This was a genome-wide study, zeroing in on gene variants associated with ASD. Researchers examined 5,000 cases of autism and analyzed the genome of each participant. They focused on evolutionary gene selection, particularly on which genes were positively selected. One clue which led researchers to these findings was that, more genes associated with autism were preserved by evolution than would have been through sheer randomness.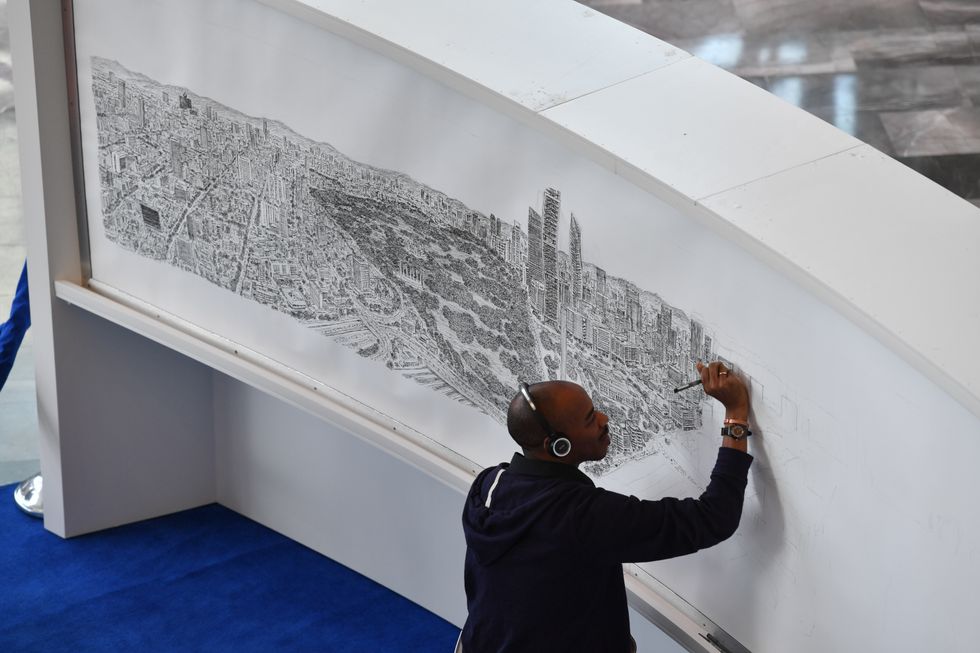 British autistic savant Stephen Wiltshire. Getty Images.
That's not all. Through molecular testing, scientists discovered that such genes were associated with more neuronal connections and the prodigious growth of new neurons. The more neurons or connections a person has within their brain, the greater their intellectual performance. Those genes which negatively impact reproduction are usually axed from the genome, as per the laws of natural selection. Some gene variants have a muted effect. These can be positive or negative. Variants which aid survival are usually carried forth, and passed down through the generations. It's thought that many of the genes related to ASD are of this variety.
Professor Joel Gelernter was the study's co-author. He is a professor of psychiatry, genetics, and neuroscience, at the Yale School of Medicine. He said, "It might be difficult to imagine why the large number of gene variants that together give rise to traits like ASD are retained in human populations — why aren't they just eliminated by evolution?" He went on, "The idea is that during evolution these variants that have positive effects on cognitive function were selected, but at a cost — in this case an increased risk of autism spectrum disorders."
This isn't the only study linking higher intellectual aptitude with ASD. A 2015 Ohio State University study found that geniuses and their autistic relatives share a particular genetic feature. A certain peak on chromosome 1 increases the likelihood either of autism or an advanced intellect. One theory is that geniuses may have a certain gene that protects them against ASD. Theoretically, a drug mimicking the protein produced by that gene could tamp down or even eliminate autistic behaviors. But researchers haven't discovered a prodigy gene, thus far.
To see one autistic savant in action, click here: