One man studied apes for 50 years. He says nature isn't as cruel as you think.
Image by <a href="https://pixabay.com/users/3887894-3887894/?utm_source=link-attribution&utm_medium=referral&utm_campaign=image&utm_content=3200366">นายพิพัฒน์ศักดิ์ ไชยวงษ์</a> from <a href="https://pixabay.com/?utm_source=link-attribution&utm_medium=referral&utm_campaign=image&utm_content=3200366">Pixabay</a>
Primates practice altruism all the time and demonstrate a basic morality.
These actions appear to be unmotivated by a hidden desire for self-interest.
Indeed, altruism is necessary for the survival of social animals.
It is rather common to think of nature as an endless competition between animals for survival. Idioms like "survival of the fittest" or "it's a jungle out there" remind us that the state of nature is one of cutthroat competition where the altruistic are doomed and the heartless win.
But is it? What if nature isn't quite as cruel as we imagine it to be? In a recent interview with Big Think, primatologist Dr. Frans de Waal discusses animal morality, their capacity for altruism, and how our evolutionary history matters to us today.
Dr. Frans de Waal on animal altruism
Dr. Franciscus Bernardus Maria "Frans" de Waal is a Dutch primatologist who has spent his life studying the social behavior of primates. His work has shed light on our closest evolutionary cousins and their cognitive abilities.
It is through his work that the gentler side of our evolutionary relatives has become known. He has long maintained that empathy and altruism are common features of all apes, humans included, and that endless examples of animal altruism can be found by observation.
In an example he provides in a recent interview with BigThink, he describes the ability of primates to work together for the good of all group members:
"The primates are a very cooperative society in general. The reason they live in groups is that on their own they cannot survive. So they have to have companions from whom they get support, with whom they live together, who help them find food, who warn them against predators. And they have long-term friendships in their society just like humans have. There's a lot of studies on how animals do favors for each other. And if you think about how this works it has to be based on gratitude. Like you do something for me, and I do something back to you. There must be some sort of emotional mechanism in there."
Dr. de Waal has argued that these behaviors are based on genuine empathy, altruism, and the placing of value on interpersonal relationships by these animals. While his proposals earned more than a few objections early in his career, many researchers have come around to his ways of thinking and largely agree with the idea that the great apes do have these capacities.
Animal morality or just delayed self-interest?
It is easy to suppose that these cases are just egoism in disguise. Perhaps these seeming cases of altruism are really just animals playing the long game. Perhaps they help each other now only in expectation of favors in the near future.
However, it is important to remember that the notion of psychological egoism — the idea that all actions are always self-interested even if they appear not to be — is a controversial notion often criticized for being unfalsifiable, contrary to most people's experience, and likely an ineffective tool for evolution.
Dr. de Waal also points out that it becomes increasingly difficult to apply the notions of egoism to primate behavior when you see more and more of it. One such example he gives is the increasing number of known cases of chimp adoption:
"...in Tai forest, in Ivory Coast, there is a documentation of 10 cases of adoption by males, adult males, who have adopted an orphaned chimpanzee. So the chimpanzee loses its mother, chimpanzees are dependent on their mother for at least eight years of their life. So if you lose your mother at three years of age, you may be able to survive on solid food, but you still need to be carried and protected. And someone needs to explain to you what to eat and what not to eat. And adult males are willing to do that. And so they spend an enormous amount of time and energy into individuals that they don't get much back from. And I find that very interesting cases, these cases of altruism that don't fit any evolutionary scenario but nevertheless occurred."
If the chimps are only doing this out of self-interest, exactly what that interest is goes beyond what a leading primatologist can imagine.
Does morality come from within us?
What, then, can be said of animal morality? Like many of our primate and mammalian relatives, we have evolved a sense of moral understanding, with the capacity for altruism and a focus on reciprocity being part of this complex phenomenon. Interestingly, though acts of altruism have been documented in other animals, it is notable that humans are far more altruistic than any other species.
Understanding our evolutionary history, therefore, may allow us to better grasp how we forge moral codes in our societies. As Dr. de Waal put it in a previous interview with Big Think:
"Our current religions are just 2,000 or 3,000 years old, which is very young. And our species is much older and I cannot imagine that, for example, a hundred thousand years or two hundred thousand years our ancestors did not have some type of morality. Of course they had rules about how you should behave, what is fair, what is unfair, caring for others — all of these tendencies were in place already so they had a moral system and then at some point we developed these present day religions which I think were sort of tacked on to the morality that we had. And maybe they served to codify them or to enforce them or to steer morality in a particular direction that we prefer.
So religion comes in for me secondarily. I'm struggling with whether we need religion. So personally I think we can be moral without religion because we probably had morality long before the current religions came along."
Dr. de Waal has suggested in several of his books that our morality comes from within us, driven by our primate tendencies rather than externally as with religion. Luckily, Dr. de Waal's research suggests that the morality of our evolutionary relatives include elements of "fairness, empathy, caring for others, helping others, following rules, [and] punishing individuals who don't follow the rules."
If he is right, then perhaps we all could use a little more animal morality in our lives.
Ultimately, this is a fight between a giant reptile and a giant primate.
The 2021 film "Godzilla vs. Kong" pits the two most iconic movie monsters of all time against each other. And fans are now picking sides.
Even the most fantastical creatures have some basis in scientific reality, so the natural world is a good place to look to better understand movie monsters. I study functional morphology – how skeletal and tissue traits allow animals to move – and evolution in extinct animals. I am also a huge fan of monster movies. Ultimately, this is a fight between a giant reptile and a giant primate, and there are relative biological advantages and disadvantages that each would have. The research I do on morphology and biomechanics can tell us a lot about this battle and might help you decide – #TeamGodzilla or #TeamKong?
Larger than life
First it's important to acknowledge that both Kong and Godzilla are definitely far beyond the realms of biological possibility. This is due to sheer size and the laws of physics. Their hearts couldn't pump blood to their heads, they would have temperature regulation problems and it would take too long for nerve signals from the brain to reach distant parts of the body – to name just a few issues.
However, let's assume that somehow Godzilla and Kong are able to overcome these size limitations – perhaps because of their radiation exposure they have distinctive mutations and characteristics. Based on how they look on the big screen, let's explore the observable differences that might prove useful in a fight.
Kong: the best of ape and human
At first glance, Kong is a colossal primate - but he's not simply a giant gorilla.
Cliff/Wikimedia Commons, CC BY
One of the most striking things about Kong is his upright, bipedal stance – he mostly walks on two legs, unlike any other living nonhuman apes. This ability could suggest close evolutionary relationship to the only living upright ape, humans – or his upright stance could be the result of convergent evolution. Either way, like us, Kong has thick muscular legs geared toward walking and running, and large free arms with grasping hands, enabling him to use tools.

Humanity's bipedal, upright posture is unique in the animal kingdom and provides a slew of biomechanical abilities that Kong might share. For example, human torsos are highly flexible and particularly good at rotation. This feature – in addition to our loose shoulder girdle – makes humans the best throwers in the animal kingdom. Throwing is helpful in a fight, and Kong could probably throw with the best of them.
Kong is also, of course, massive. He absolutely dwarfs the largest known primate, an extinct orangutan relative called Gigantopithecus that was a bit bigger than modern gorillas.
Kong does have many gorillalike attributes as well, including long muscular arms, a short snout with large canine teeth, and a tall sagittal crest – a ridge of bone on his head that would be the anchor point for some exceptionally strong jaw muscles.
Strong, agile, comfortable on land and with the unparalleled ability to use tools and throw, Kong would be a brutal force in a fight.
Kenneth Carpenter/Wikimedia Commons, CC BY-SA
Godzilla: An aquatic lizard to be reckoned with
Godzilla appears to be a giant, semiaquatic reptile. Like Kong, Godzilla has the traits of a few different species.
Recent Godzilla movies show him decently mobile on land, but seemingly much more comfortable in the water despite his lack of overt aquatic features. Interestingly, Godzilla is depicted with gills on his neck – a trait that land vertebrates lost after they emerged from the sea about 370 million years ago. Given Godzilla's terrestrial features, it's likely that his species has land-dwelling reptile ancestors and reevolved a mostly aquatic lifestyle – kind of like sea turtles or sea snakes, which can actually absorb oxygen through their skin in water. Godzilla may have uniquely reevolved gills.
Godzilla's tail is what really separates him from Kong. It is massive, and anchored and moved by huge muscles attached to his legs, hips and lower back. Dinosaurs like Tyrannosaurus rex stood horizontally and used their tails for balance and to help them walk and run. Godzilla, in contrast, stands vertically and keeps his tail low to the ground, probably for a different type of balance. This vertical posture is unique for a two-legged reptile and more resembles a standing kangaroo. Godzilla stands on two muscular, pillarlike legs similar to those of a sauropod dinosaur. These would provide stability and help support his gargantuan mass but would also bolster the strength of his tail.
In addition to his powerful tail, Godzilla carries three rows of sharp spikes going down his back, thick scaly skin, a relatively small head full of carnivorous teeth and free arms with grasping hands, all built onto a muscular body. Taken together, Godzilla is a terrifying and intimidating adversary.
Tim Simpson/Flickr, CC BY-NC
Ready, fight!
So now that we've looked a little closer at how Godzilla and Kong are built, let's imagine who might emerge victorious in battle.
Though Kong is a little bit smaller than Godzilla, both are more or less comparably massive in size and neither has a clear advantage here. So what about their fighting abilities?
Godzilla would likely favor his robust tail for both offense and defense – much like modern-day large lizards that use their strong tails as whips. Scale up that strength to Godzilla's size, and that tail becomes a lethal weapon – which he has used before.
However, Kong is more comfortable on land, faster and more agile, can use his strong legs to jump, and possesses much stronger arms than Godzilla – Kong probably packs a walloping punch. And as an ape, Kong would also likely use tools to some degree and might even capitalize on his throwing ability.
Both would have a gnarly bite, with Kong likely getting a slight advantage. However, Godzilla's bite is by no means weak, and all of his teeth are flesh-piercing, similar to crocodile and monitor lizard teeth.
On defense, Godzilla has the edge, with thick scaly skin and sharp spikes. He might even act like a porcupine, turning his back to a rapidly approaching threat. However, Kong's superior agility on land should be able to offer him some protection as well.
I will admit I am #TeamGodzilla, but it's very close. I may give a slight edge to Kong in broad terrestrial battle ability, but Godzilla's general mass, defense and tail would be hard to overpower. And lest we forget, the tipping point for Godzilla is that he has atomic breath! Until researchers find evidence of a dinosaur or animal with something like that, though, I will have to reserve my scientific judgment.
Regardless of who emerges victorious, this battle will be one for the ages, and I am excited as both a scientist and monster movie fan.
This article has been updated to use more inclusive language

.
Kiersten Formoso, PhD Student in Vertebrate Paleontology, USC Dornsife College of Letters, Arts and Sciences
This article is republished from The Conversation under a Creative Commons license. Read the original article.
On the list of animals at risk are several endangered species.
SARS-CoV-2 enters our cells by binding with ACE2 receptors.
A study finds many animals may provide a similar point of entry for the infection.
COVID-19 has already been seen in a range of non-humans.
Big brains come at a big cost, however.
Credit: Lisa Maree Williams/Getty Images
A recent study examined the relationship between brain size and the development of motor skills across 36 primate species.
The researchers observed more than 120 captive primates in 13 zoos for over seven years.
The results suggest that primates follow rigid patterns in terms of which manipulative skills they learn first, and that the ultimate complexity of these skills depends on brain size.
Some animals waste no time developing. A baby giraffe, for example, can stand and even run from predators on its first day of life. A megapode chick can fly just hours after hatching. But human babies are late bloomers, requiring at least a couple years of care before they're able to do much else besides stumble and cry.
This prolonged period of helplessness serves evolutionary functions, however. For one, it allows our comparatively large brains time to develop, enabling us to eventually learn complex skills, like the ability to manipulate objects with our hands. And it turns out that other primates share a similar development schedule in terms of handy abilities, called manipulative skills.
A new study explores the progression of manipulative skills across 36 primate species. The results, published in Science Advances: Evolutionary Biology, suggest that primates tend to develop increasingly complex manipulative skills in a specific order, and that primates with more sophisticated brains develop more sophisticated skills.
Fig. 1 Eight food manipulation categories and their order of emergence during ontogeny. Ninety-seven percent of all observed species (N = 36) and 82% of all observed individuals (N = 128) strictly followed this ontogenetic sequence.
Heldstab et al.
"Our results show that the neural development follows extremely rigid patterns -- even in primate species that differ greatly in other respects," Sandra Heldstab, an evolutionary biologist in the Department of Anthropology at the University of Zurich, said in a press release.

For the study, the researchers observed 128 primates in 13 European zoos over seven years, recording more than 10,000 observations from the time the animals were born until they reached adult-level dexterity. The team found that smaller-brained primates, like lemurs, start learning simple motor skills at an earlier age than larger-brained primates, like chimpanzees.
Heldstab et al.
But the wait pays off for larger-brained primates: They're eventually able to perform more complex tasks with their hands, like using tools, or moving both hands simultaneously to move multiple objects.
"It is no coincidence that we humans are so good at using our hands and using tools, our large brains made it possible," Heldstab said. "A big brain equals great dexterity."
It seems inefficient that primates, like chimps and humans, undergo such a long period of learning and dependency. But the researchers suggest this represents a fitness tradeoff: primate parents and children spend more time on development, but it leads to complex skills that help them get more food, and survive longer. In other words, animals don't evolve to perform complex manipulative tasks unless it significantly prolongs lifespan.
Congo's Artwork
William Vanderson / Stringer
So, what does this mean for the evolution of other animals? The researchers say their findings imply that if a species is going to make and use tools, it needs to have "reached a sufficiently slow life history pace to permit such a change in their foraging niche." In other words, the baby giraffe that hits the ground running might be good at escaping predators, but don't expect it to do something like build a primitive fishing rod to "fish" for algae.
"Our study shows once again that in the course of evolution, only mammals that live a long time and have enough time to learn were able to develop a large brain and complex fine motor skills including the ability to use tools," Heldstab said. "This makes it clear why so few species could follow our path and why humans could become the most technologically accomplished organism on this planet."
Some fish evolved legs and walked onto the land. Right?
DEA PICTURE LIBRARY/De Agostini via Getty Images
Evolution explains how all living beings, including us, came to be. It would be easy to assume evolution works by continuously adding features to organisms, constantly increasing their complexity.
Some fish evolved legs and walked onto the land. Some dinosaurs evolved wings and began to fly. Others evolved wombs and began to give birth to live young.
Yet this is one of the most predominant and frustrating misconceptions about evolution. Many successful branches of the tree of life have stayed simple, such as bacteria, or have reduced their complexity, such as parasites. And they are doing very well.
In a recent study published in Nature Ecology and Evolution, we compared the complete genomes of over 100 organisms (mostly animals), to study how the animal kingdom has evolved at the genetic level. Our results show that the origins of major groups of animals, such as the one comprising humans, are linked not to the addition of new genes but to massive gene losses.
The evolutionary biologist Stephen Jay Gould was one of the strongest opponents of "the march of progress", the idea that evolution always results in increased complexity. In his book Full House (1996), Gould uses the model of the drunkard walk. A drunkard leaves a bar in a train station and clumsily walks back and forth over the platform, swinging between the bar and the train tracks. Given enough time, the drunkard will fall in the tracks and will get stuck there.
The platform represents a scale of complexity, the pub being the lowest complexity and the tracks the maximum. Life emerged by coming out of the pub, with the minimum complexity possible. Sometimes it randomly stumbles towards the tracks (evolving in a way that increases complexity) and other times towards the pub (reducing complexity).
No option is better than the other. Staying simple or reducing complexity may be better for survival than evolving with increased complexity, depending on the environment.
But in some cases, groups of animals evolve complex features that are intrinsic to the way their bodies work, and can no longer lose those genes to become simpler - they become stuck in the train tracks. (There are no trains to worry about in this metaphor.) For example, multicellular organisms rarely go back to become unicellular.
If we only focus on the organisms trapped in the train tracks, then we have a biased perception of life evolving in a straight line from simple to complex, mistakenly believing that older lifeforms are always simple and newer ones are complex. But the real path to complexity is more tortuous.
Together with Peter Holland from the University of Oxford, we looked into how genetic complexity has evolved in animals. Previously, we have shown that the addition of new genes was key to the early evolution of the animal kingdom. The question then became whether that was the case during the later evolution of animals.
Studying the tree of life
Most animals can be grouped into major evolutionary lineages, branches on the tree of life showing how the animals alive today evolved from a series of shared ancestors. In order to answer our question, we studied every animal lineage for which a genome sequence was publicly available, and many non-animal lineages to compare them against.
One animal lineage is that of the deuterostomes, which includes humans and other vertebrates, as well as sea stars or sea urchins. Another is the ecdysozoans, comprising the arthropods (insects, lobsters, spiders, millipedes), and other moulting animals such as roundworms. Vertebrates and insects are considered some of the most complex animals. Finally, we have one lineage, the lophotrochozoans, that includes animals such as molluscs (snails, for example) or annelids (earthworms), among many others.
We took this diverse selection of organisms and looked to see how they were related on the tree of life and what genes they shared and didn't share. If a gene was present in an older branch of the tree and not in a younger one, we inferred that this gene had been lost. If a gene wasn't present in older branches but appeared in a younger branch, then we considered it a novel gene that had been gained in the younger branch.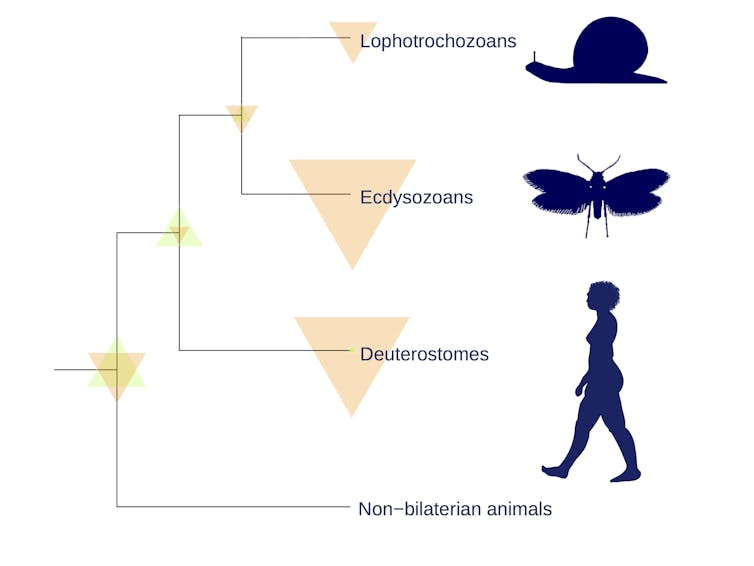 The results showed unprecedented numbers of genes lost and gained, something never seen before in previous analyses. Two of the major lineages, the deuterostomes (including humans) and the ecdysozoans (including insects), showed the largest number of gene losses. In contrast, the lophotrochozoans show a balance between gene novelties and losses.
Our results confirm the picture given by Stephen Jay Gould by showing that, at the gene level, animal life emerged by leaving the pub and making a large leap in complexity. But after the initial enthusiasm, some lineages stumbled closer to the pub by losing genes, while other lineages drifted towards the track by gaining genes. We consider this the perfect summary of evolution, a booze-induced random choice between the bar and the train track. Or, as the internet meme says, "go home evolution, you are drunk".

Jordi Paps, Lecturer, School of Biological Sciences, University of Bristol, University of Bristol and Cristina Guijarro-Clarke, PhD Candidate in Evolution, University of Essex.
This article is republished from The Conversation under a Creative Commons license. Read the original article.