Nietzsche's ideas were used by the Nazi's to justify their atrocities, but did Nietzsche actually support Fascism?
Nietzsche, by Munch
If there was one philosopher the fascists of the mid-20th century loved, it was Nietzsche. He was so adored by them that Hitler gifted Mussolini the complete works of Nietzsche for his birthday. The Nietzschean ideals of anti-egalitarianism, the Superman, and the will to power inspired them to act, and millions died because of it. They adored his ideas, and anointed him as the prophet of their ideology.

And most of it was due to misunderstandings and willful changes.
Nietzsche's philosophy is purposefully difficult to read. His criticisms of the "Slave Morality" he credits the Jewish people with inventing can seem like an anti-Semitic rant from time to time. When in reality, he saw the Jews as a powerful people with a fine culture, his attacks are on their ideas: not on the people. His idea of the Superman was not a racial concept but rather a spiritual one.
He claimed that the Germans were great because of the "Polish blood in their veins", and saw German nationalism as a dangerous joke. He ended relationships over his disapproval of anti-Semitism, including ones with his sister and the composer Richard Wagner. After he went mad, he wrote letters urging the great powers of Europe to attack Germany before it was too late.

Then, how did he become the Nazi Philosopher?

How Nietzsche was hijacked is a curious story, and a powerful warning. It begins with his sister, Elizabeth Förster-Nietzsche. She was reportedly an unintelligent woman; when she asked philosopher Rudolf Steiner to help her understand her brother's philosophy he was forced to give up after several excruciating attempts to educate her. He sent so far as to write that she, "lacks any sense for fine, and even for crude, logical distinctions; her thinking is void of even the least logical consistency; and she lacks any sense of objectivity." Her husband was a famed anti-Semite who Friedrich couldn't stand.
She took over her brother's estate after his descent into madness. She was then able to selectively edit new versions of his works, and created the entire book The Will to Power with his unused notes, in a way as to emphasize the bits that fit in with her political ideology. She withheld his work Ecce Homo from publication for years as it had a great deal in it that would derail her attempts to frame him in her image. In conversation, she developed a remarkable ability to remember conversations with her brother that supported her ideology.
To put not too fine of a point on things, she even met Hitler in the early 1930s when he visited the Nietzsche museum she operated. Hitler attended her funeral in 1935.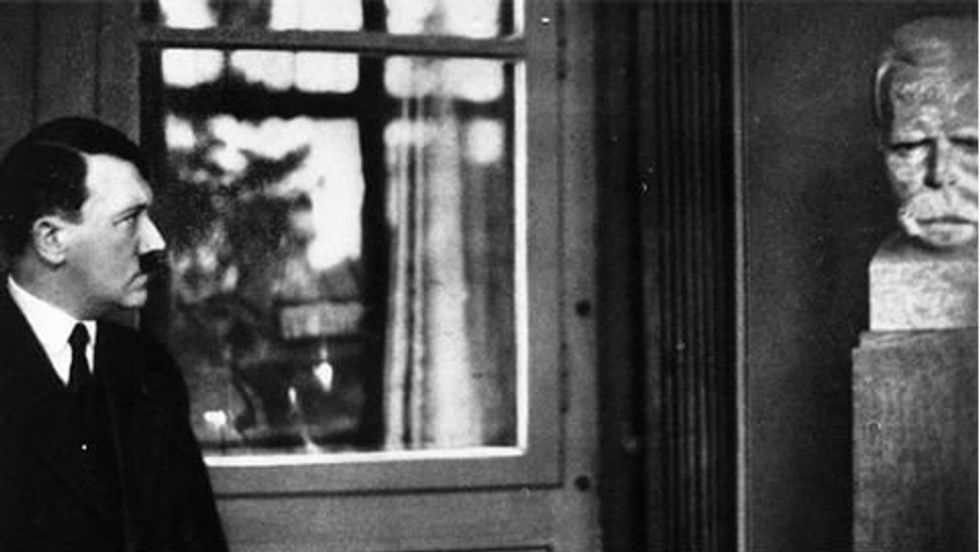 Adolf Hitler at the Nietzsche museum. 
How did Nietzsche get used by the Nazis?

Just as American politicians like to reference the ideas of dead American heroes like Washington and Jefferson, the Nazis sought great Germans to reference when justifying their new regime. Nietzsche, with the tweaks made to his philosophy by his sister, became the primary thinker for those Nazis looking to justify their beliefs with philosophy.
German universities taught Nietzsche as part of courses on the new order, references to soldiers being the Ubermensch were common, and the will to power was adopted by the Nazis as a key psychological insight. The philosopher Alfred Baeumler claimed Nietzsche had prophesied the rise of Hitler and fascism in Germany.
After the war, the warping of his ideas to suit the ideologies of his sister and later of the Nazis was corrected in large part due to the works of Jewish-American philosopher Walter Kaufmann. The notion that Nietzsche was a proto-fascist can be said to be long debunked.
So, Nietzsche was really a kind and nice philosopher who gave out candy to children?

To give the devils their due, Nietzsche did have incredibly reactionary views on women, viewing the ideal women as little more than a broodmare for potential Ubermenschen. This was a point where the fascists could just run with what they had. Similarly, Nietzsche did reject egalitarianism, democracy, and occasionally ventured into rhetoric that verged on "let's eat the poor". He was no saint, but he wasn't a Nazi either. If reading Nietzsche doesn't shock you, something went wrong.
Nietzsche's philosophy is easy to misunderstand and almost as easy to purposefully misinterpret. Even today, the far right is still using bad readings of it to justify their politics. Nietzsche was anti-nationalistic, considered the Jews worthy opponents, despised Christianity, and mass movements of all kinds; it takes a bad reading to consider him a goose-stepping fascist instead of the champion of individual genius that he was.
So, what does this mean for us today?

Almost any philosophy can be hijacked liked this. It's really not that hard. Examples come to mind without having to try. Every Marxist would claim that at least one of the communist regimes of the last century had twisted the philosophy in a way to promote selfish goals. Utilitarianism can be used to argue that every action imaginable is for the greater good. It might go without saying that the Bible has been used to justify pretty much everything; slavery, abolitionism, war, peace, and so on ad infinitum.
The real thing you should take away form this story is how easy it was to do it. Elizabeth Förster-Nietzsche was able to pull it off without understanding the ideas involved; all she had was the proper legal rights and some convenient events working for her. All of it happened despite Nietzsche's friends objecting to it, and people who had lectured on his works before he went mad did nothing. It could happen to any school of thought, and that should terrify you. Always make sure you get the full story before you make any decisions, philosophically speaking. 
Four-year-old Leo Griffin leaves a protest against the alt-right movement in Charlotesville, Virginia. (Photo by Scott Olson/Getty Images)
A string of terror attacks across the globe have shaken the world's most powerful nations to their core. As a result of these tragic events, and the fear-mongering from politicians hoping to exploit them, many feel that an existential threat is nigh.
To make matters worse, a highly influential and experimentally verified theory from social psychology predicts that, as long as an existential threat looms, the world will grow ever more divided and increasingly hostile. Terror management theory (TMT) explains how and why events that conjure up thoughts about death cause people to cling more strongly to their cultural worldviews – siding with those who share their national, ethnic or political identity, while aggressively opposing those who do not.
Consequently, sharp increases in deadly terror attacks around the world serve to create a sweeping psychological condition that sets the stage for waves of far-Right nationalist movements that encourage prejudice, intolerance and hostility toward dissimilar others.
Europe's nationalist surge, Brexit in the United Kingdom and the presidency win for Donald Trump in the United States are just the most recent demonstrations of TMT, first proposed by social psychologists in the 1980s and derived from cultural anthropologist Ernest Becker's Pulitzer Prize-winning work of philosophy and psychology, The Denial of Death (1973).
Becker's big idea was that much of human action is motivated by a fear of death. Unlike other animals, which lack higher cognition and the ability to reflect, humans recognise the inevitability of their own death. The conflict that results from this realisation and the natural desire to live produces cognitive dissonance that causes profound terror and anxiety. According to Becker, humans invented culture as a buffer for the terror. By adopting cultural worldviews that instil life with meaning and value, one can effectively manage the subconscious dread that is always bubbling below the surface.
While religions offer a path to literal immortality through the belief in an afterlife, non-religious cultural worldviews – such as political ideologies and national identities – provide paths to symbolic immortality. Symbolic immortality refers to being part of something larger that will ultimately outlive the individual, such as a great nation or a movement with a collective identity and pursuit. Much of human effort is dedicated to acts that might help one be remembered by groups or society long after death.
Of course, no matter how logical or intriguing a theory might sound, it is merely speculation if it makes no testable predictions that can be confirmed or disproven by experiment and measurement. What might be most impressive about TMT is how much success it has had in the laboratory. Hundreds of empirical studies have provided support for the theory by confirming something called the mortality salience hypothesis.
According to this hypothesis, if we do in fact adopt cultural worldviews to curb a fear of death – as TMT posits – then reminders of our mortality should produce actions that serve to strengthen faith in our worldviews. Specifically, death reminders should motivate individuals to invest more in groups to which they belong and, conversely, to act more aggressively towards those with different cultural worldviews and national or ethnic identities.
A particularly amusing experiment used hot sauce to measure the phenomenon. Students were broken into two groups and asked to write an essay about their own death or another, more benign topic. They were then presented with someone who did or did not disparage their political views, and asked to decide on the amount of mouth-burning hot sauce that person should have to consume. In line with TMT and the mortality salience hypothesis, participants who'd written about death allocated a large dollop of hot sauce to those who didn't share their worldview, while those in the control condition did not.
Another mortality salience study on aggression conducted on both Iranian and US college students shows disturbing results. One group of students was asked to 'jot down, as specifically as you can, what you think will happen to you as you physically die,' and to describe the emotions aroused. Participants in the control condition were given similar questions related to dental pain. The results showed that Iranian students who were made to think about death were more supportive of martyrdom attacks against the US, while those in the control condition opposed them. Similarly, death reminders made US students who identified as politically conservative more supportive of extreme military attacks on foreign nations that could kill thousands of civilians.
From these findings, it is easy to see how nations under attack can quickly grow more divided and increasingly hostile towards those from outside cultures. In fact, studies have shown that mortality salience can amplify nationalism and intensify bias against other groups. Evidence suggests that reminders of death can even influence elections, pushing voters to favour candidates on the Right. Five weeks before the 2004 US presidential election, scientists conducted studies on New Jersey voters to see whether mortality reminders influenced voting directly. Participants were given the same questions about death as the Iranian students in the previously mentioned study, while those in the control condition received parallel questions about watching television. What they found was pretty astonishing. Those voters prompted to think of death said they intended to vote for George W Bush, the hawkish conservative president, by a three-to-one margin; those prompted to think about TV strongly favoured the Left-wing challenger, John Kerry. Such results could help to explain why, after the terror attacks of 11 September 2001, Bush went from having some of the lowest approval ratings ever to being extremely popular with both Republicans and Democrats.
So what does this all mean for the world today? If massively destructive terror attacks continue, terror management theory predicts that societies will grow exponentially more chaotic and divided. Heightened aggression towards dissimilar others produces a tendency to favour war over peace. Right-wing nationalism will thrive along with prejudice and intolerance. Islamic fundamentalism will flourish while terror attacks grow more frequent. Raised tensions between nations, ethnicities and political groups will lead to further conflict, creating a devastating feedback loop of suspicion and violence.
But it is critical that we not lose optimism in these challenging times. By becoming cognisant of the inflammatory and divisive effect that death reminders and perceived existential threat have on all of us, we can begin to take steps toward defending against it. After each terrorist attack we must actively work to unite groups with different nationalities, ethnicities and cultural worldviews. We must help build bridges between dissimilar communities, and discourage ideas such as immigration bans. And we must be conscious of the way some politicians use fear-mongering and propaganda to manipulate voters. Such efforts, combined with a calm and cool temperament, can help manage the terror of mortality in ways that preserve rationality, compassion and peace.

Bobby Azarian
--
This article was originally published at Aeon and has been republished under Creative Commons.
Among other things, researchers found that there are two subgroups of the Alt-Right, but that the more economically motivated members may buy into White Supremacy over time.
Hundreds of white nationalists, neo-Nazis and members of the 'alt-right' march during the 'Unite the Right' rally August 12, 2017 in Charlottesville, Virginia. (Photo by Chip Somodevilla/Getty Images)
Now that the prefix "alt" is being thrown in front of anything one opposes, a new study investigates the characteristics of people affiliated with the Alt-Right. The paper offers insight into what this collection of individuals and small movements really thinks about the state of the union. 
Two assistant professors—Patrick S. Forscher, in the Department of Psychological Science at the University of Arkansas, and Nour S. Kteily, in the Department of Management and Organizations at Kellogg School of Management, Northwestern University—used Amazon's mTurk platform, in which people post bulletins to recruit human intelligence for tasks computers cannot perform, for data collection. Members affiliated with the Alt-Right were paid $3 while a comparison group of non-Alt-Right members received $2. 
While trusting online replies by self-identifying members of any group is tricky, a two-tier verification system offered at least some semblance of honesty. After discarding a number of responses, the researchers analyzed 447 members of the Alt-Right with 382 non-Alt-Right respondents in the comparison group. While we'll look more deeply into the methods, this summation from their conclusion is perhaps unsurprising: 
Our Alt-Right sample reported high levels of social dominance orientation, strong support for collective action on behalf of White people, and strong opposition to collective action on behalf of Black people… they were quite willing to blatantly dehumanize both religious/national outgroups and political opposition groups, reported high levels of the motivations to express prejudice towards Black people, and reported high levels of harassing and offensive behavior.
In last week's Real Time, Bill Maher mentioned the Alt-Right could not exist without the Internet. Indeed, many groups would not have formed without this powerful device. (I've previously written about another such phenomena, misophonia.) Forscher and Kteily wanted to better understand if the Alt-Right leaned more populist, focused on anti-globalist and anti-establishment issues, or were truly the products of White Power. It turns out a little of both, with the latter expressed more forcefully. 
The Method
In this study, members of the Alt-Right were first asked questions regarding the gap between elites and non-elites, attitudes toward the economy, trust in various media outlets, and notions of supremacy, including social dominance orientation, Right-Wing Authoritarianism, and Dark Triad (narcissism, Machiavellianism, psychopathy) characteristics. Measures of self-reported aggression and extremist philosophies also played a role. 
The comparison group described their own political ideologies and feelings on the Alt-Right. Both groups were asked if the Alt-Right is racist. Importantly, they left out comments about Trump and his potential affiliations with the Alt-Right during analysis.
Then they dove into minutia. Respondents had to measure friendships and moral foundation traits, including equality, fairness, loyalty, authority, and purity. Intergroup allegiance was rendered, as well ideas about dehumanization. In perhaps the most telling aspect of the study, the famous chimp-to-human evolution drawing was presented. Respondents were asked to identify where along the timeline the following three subgroups were located: Alt-Right members, such as Americans, Europeans, Swedes, and Whites in general; religious and ethnic groups like Arabs, Muslims, Mexicans, and Blacks; political opposition groups, such as Democrats, feminists, journalists, and Republicans who refused to vote for Trump. You can read all the questions asked here.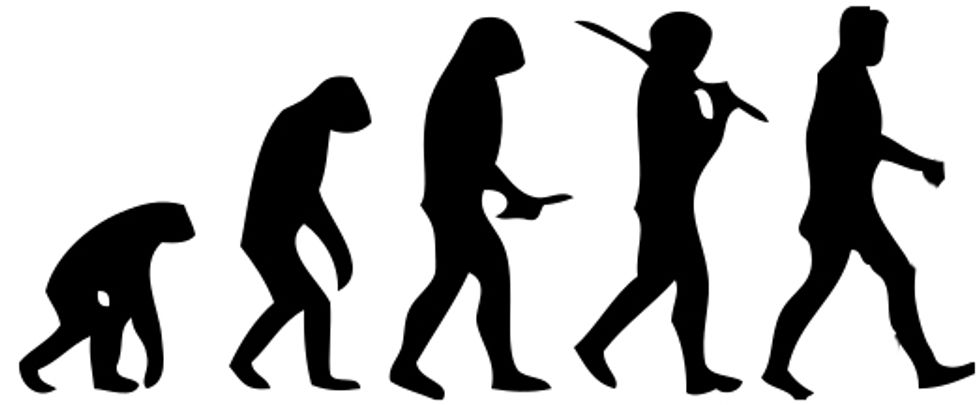 Image used for the ascent scale anchor points in the study (page 32 of the survey).

Next measured was self-reported aggressive behavior, including online and offline name calling, physical threats, harassment, and willingness to make statements because others find them offensive. Economic issues followed, including perceptions of disadvantage among ten groups. Feelings of in-group and out-group political affiliations were discussed, followed by support for the police, governmental and economic corruption, trust in both mainstream and alternative media sources, and finally, feelings on race-based collective action, such as Black Lives Matter. 
The Results
Members of the Alt-Right display low trust in mainstream media and moderate trust in alternative media sources like Breitbart and Alex Jones. They measured at the midpoint on Dark Triad traits, Social Dominance Orientation, Right-Wing Authoritarianism, and dehumanization of religious and ethnic groups and their political opposition groups. They generally believe some groups of people are "simply inferior to other groups."
The Alt-Right scored much higher on motivations and willingness to express prejudice and to harass others. They support the organization of Whites but claim Black Lives Matter has been harmful to the country. Their respect for the police was higher, and they derived more pleasure from dehumanizing others—non-members were notable for not dehumanizing members of the Alt-Right. The two groups shared similar scores regarding the moral outlooks of their friends (in-group mentality), economic evaluations, and concerns about governmental corruption. 
We found some evidence for the populist portrayal, as Alt-Right supporters expressed suspicion of mainstream media and trust in alternative media. Interestingly, we found little evidence that this populism extended to economic issues: Alt-Right supporters were more optimistic about the current and future states of the economy than non-supporters. 
The authors recognize limitations. As a cross-sectional study, this paper only speaks to correlates rather than causes of Alt-Right membership. They only measured a subset of potential variables, leaving out anxiety about social status and other markers. As their recruitment process was through convenience sampling, the dangers of self-reporting are apparent, including people lying about their affiliations. 
One of the more interesting aspects of this paper is the authors' belief that members of the Alt-Right sometimes begin with populism and get pulled toward supremacism as they befriend more White Power advocates—again, in-group mentality. This makes sense given how tribalism is expressed in many aspects on both sides of this study. 
But no, that does not give credence to the notion that "both sides are to blame" for incidents like Charlottesville. This paper clearly shows increased levels of hostility and aggression as well as willingness to harass and dehumanize on the Alt-Right. Perhaps most sadly, though, is that both sides do express distrust in the government and economic forces ruling America. A united effort could produce substantial change, but so long as the tribes battle that seems impossible.
In his book, Behave: The Biology of Humans at Our Best and Worst, Robert Sapolsky writes:
Almost by definition, you can't have a society with both dramatic income inequality and plentiful social capital. Or translated from social science-ese, marked inequality makes people crummier to one another.
Bigotry, ethnocentrism, and oppression speak to our lowest, basest instincts. The biological mechanisms of out-group hostility played an important role in human development, but that time is over. So long as the fighting remains aimed at other ethnicities instead of the forces stoking nationalist flames, progress is impossible.
There are arguments amongst evolutionary biologists about whether evolution is gradual or has sudden jumps and fits. As this paper shows, we need a serious social jump right now, biology be damned. 
--
Derek is the author of Whole Motion: Training Your Brain and Body For Optimal Health. Based in Los Angeles he is working on a new book about spiritual consumerism. Stay in touch on Facebook and Twitter.
The newest viral video is from... 1947?
A still from the War Department's "Don't Be a Sucker" educational video.
Imagine a world where Nazis were just in the streets. Where violence shocked society to its core. A place where the specter of racial bigotry and demagoguery was ever present. Where the US military is fighting with an army that discriminates not on merit, but on social policy.
No this wasn't 2017, it was 1947. 
Against this background, the War Department re-released an educational film entitled Don't Be A Sucker, first produced in 1943. It tells of the dangers of racism and fascism, and for reasons that must be all too obvious, the short film has struck a chord with viewers today. 
The film begins with the most 1940s-sounding narrator possible explaining that some people are suckers. They buy into what is clearly a racket because it looks like a good deal. He takes us from these suckers to a typical American man listening to a racist speaker, attacking every minority in the book. The listener is fine with it, until his minority group is mentioned as a menace. Then, and only then, does he reject it.
Seeing this, a Hungarian professor and immigrant to the United States tells him of how the Nazi Party came to power in Germany. Turning the population against minority groups and any other group that could oppose them, burning facts that were inconvenient and declaring the truth according to the Party to be the only real news. This series of events lead to the deaths of millions of suckers who bought the Nazi Party's promises, and tens of millions of their scapegoats.
The film gives a happy ending, but warns us that it can happen here. It needn't though, says the Hungarian professor, we are all minorities in some way if we live in America, and we all need to stand up for our minority rights. Otherwise, we'll be the suckers.  
Why is it so popular now?
The film has been shared on social media hundreds of thousands of times in the last few days.
With the recent march to Unite the Right and the resultant deaths, spiking numbers of anti-Semitic and anti-Islamic acts of vandalism, and an increasing selection of fake news sources, the world of today shows more than a passing resemblance to the world of the 1930s. The number of hate groups in the United States is increasing rapidly, and the far right is better organized than ever.
Uhh, about that happy ending….
While the video shows us the horrible effects of race baiting and fascism, it does also show us why people buy into them, and suggests a solution. The Germans who agreed to the Nazi's platform don't start by hating the Jews, they started by wanting a better life and were suckered into thinking that religious and ethnic minorities stood in their way.
The film suggests that we can all take some action to prevent the horrible events of the 1930s in Germany at the individual level. "It started here," the professor says, referring to a park with a Nazi speaker. He encourages us to end it there. He reminds us that people are taught hatred, that they were unable to see through the lies of the fascists, and how easy it is to be drawn into a soothsaying conman.
But, with even a little dedication, we can prevent the horrors of history.


Richard Dawkins responds to the Alt-Right, Trump's policies, and discusses the evil potential of ideology.
What's it like to be worshipped by the Alt-Right? Not good, especially if you're a passionate rationalist like Richard Dawkins. He was very recently accused of Islamophobia by KPFA radio—which is why some of the Alt-Right have flocked toward him—however Dawkins released a statement calling any alleged "abusive speech" by him preposterous, and clarified his views: "I have indeed strongly condemned the misogyny, homophobia, and violence of Islamism, of which Muslims—particularly Muslim women—are the prime victims. I make no apologies for denouncing those oppressive cruelties, and I will continue to do so." Here he responds to how unpleasant it is to have your rational thoughts and your name hijacked by political extremists, and he expresses his disdain for President Trump's policies, specifically the 'Muslim ban'. With that as context, he proceeds to do what he does best: use science to investigate the idea of supernatural gods as the creators of the universe—which is a scientific hypothesis, he states, but one of the failed kind. Dawkins explains that we already have a superb theory of why living things have come into being—Darwinian evolution—and the evils that can come from too much faith. Richard Dawkins' most recent book is Science in the Soul: Selected Writings of a Passionate Rationalist.