Pinpointing the Ponderosa Ranch
Probably the most recognisable map from the latter half of the 20th century - if you like tv westerns.
Frank Jacobs
From a young age, Frank was fascinated by maps and atlases, and the stories they contained. Finding his birthplace on the map in the endpapers of Tolkien's Lord of the Rings only increased his interest in the mystery and message of maps.
While pursuing a career in journalism, Frank started a blog called Strange Maps, as a repository for the weird and wonderful cartography he found hidden in books, posing as everyday objects and (of course) floating around the Internet.
"Each map tells a story, but the stories told by your standard atlas for school or reference are limited and literal: they show only the most practical side of the world, its geography and its political divisions. Strange Maps aims to collect and comment on maps that do everything but that - maps that show the world from a different angle".
A remit that wide allows for a steady, varied diet of maps: Frank has been writing about strange maps since 2006, published a book on the subject in 2009 and joined Big Think in 2010. Readers send in new material daily, and he keeps bumping in to cartography that is delightfully obscure, amazingly beautiful, shockingly partisan, and more.
26 August, 2014
This is probably the most recognisable map of the latter part of the 20th century. It's certainly the only one guaranteed to provoke outbursts of humming in viewers of a certain age. But where is the Ponderosa exactly? 
---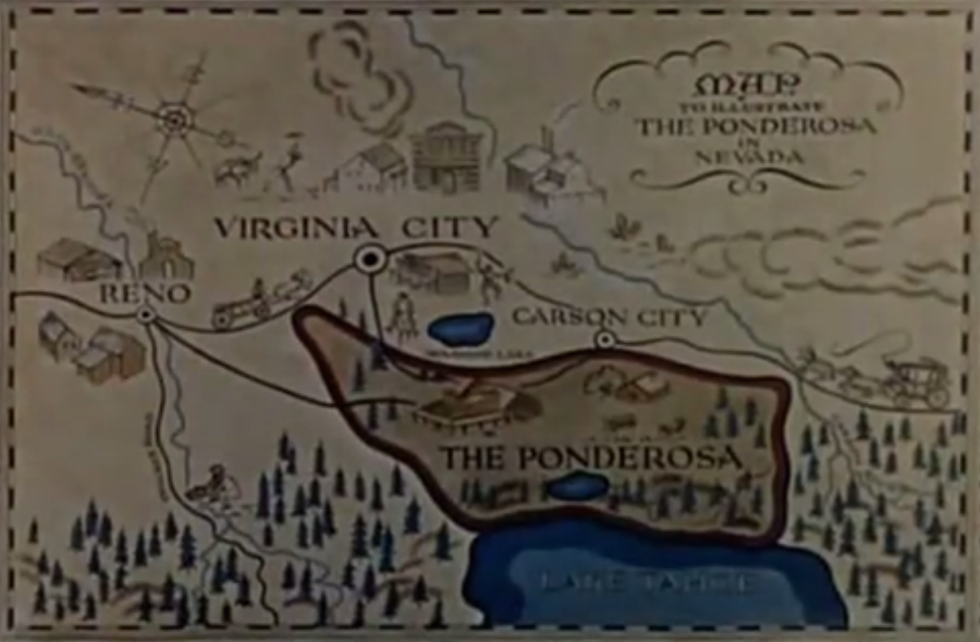 Screen grab from Bonanza's opening credits (via YouTube)
From September 1959 to January 1973, this Map to Illustrate the Ponderosa in Nevada was standard Sunday evening fare on millions of American television screens. The opening visual for Bonanza was paired with the show's ridiculously catchy theme tune (hence all that pavlovian humming). Ten seconds in, the map dissolved in a ring of fire, revealing the show's four horsed protagonists – Ben Cartwright and this three sons.
Bonanza was the first prime-time western to air in color. The pilot episode wasn't well received however, and NBC considered axing the series after 6 episodes, also because colour TV content was 25% more expensive to produce. But Bonanza soon proved true to its name, and became a hit show for the network – America's highest-rated show for three consecutive seasons (1965-'67). Its popularity helped boost the sale of colour TV sets. Bonanza ran for 14 seasons, totalling 430 episodes, thus becoming the second-longest running TV western (after Gunsmoke's 20 seasons). It still runs in syndication today.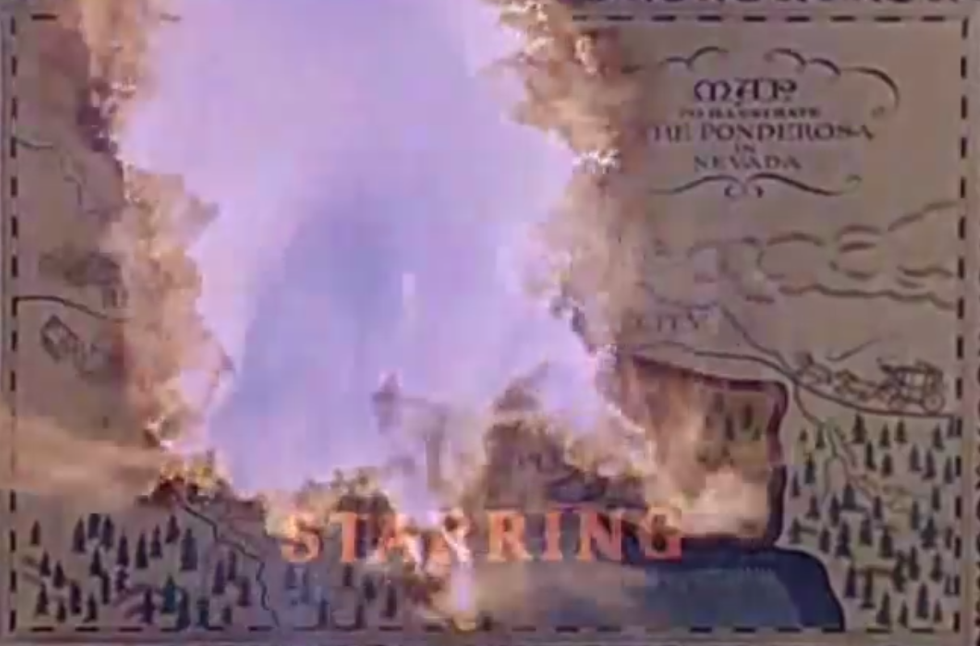 The map dissolving into a shot of the protagonists (via YouTube)
The series was was set in the 1860s, during and after the American Civil War and centred on the Ponderosa, a ranch on the Nevadan shore of Lake Tahoe, a two-hour horse ride from Virginia City. It focused on the dealings of the ranch's owners, the Cartwright family clan, led by patriarch Ben (played by Lorne Greene) and his three sons, one from each of this three marriages: Adam (Pernell Roberts), Hoss (Dan Blocker) and Little Joe (Michael Landon). Its popularity derived from its focus on family values over gunfights, and its attention to contemporary social issues.
The burning map in the opening credits does more than just provide a geographical framework for the series. In the grand tradition of cartography as narrative device, dating back to Treasure Island (#378) and even Utopia (#51), the map of the Ponderosa adds an air of excitement and adventure.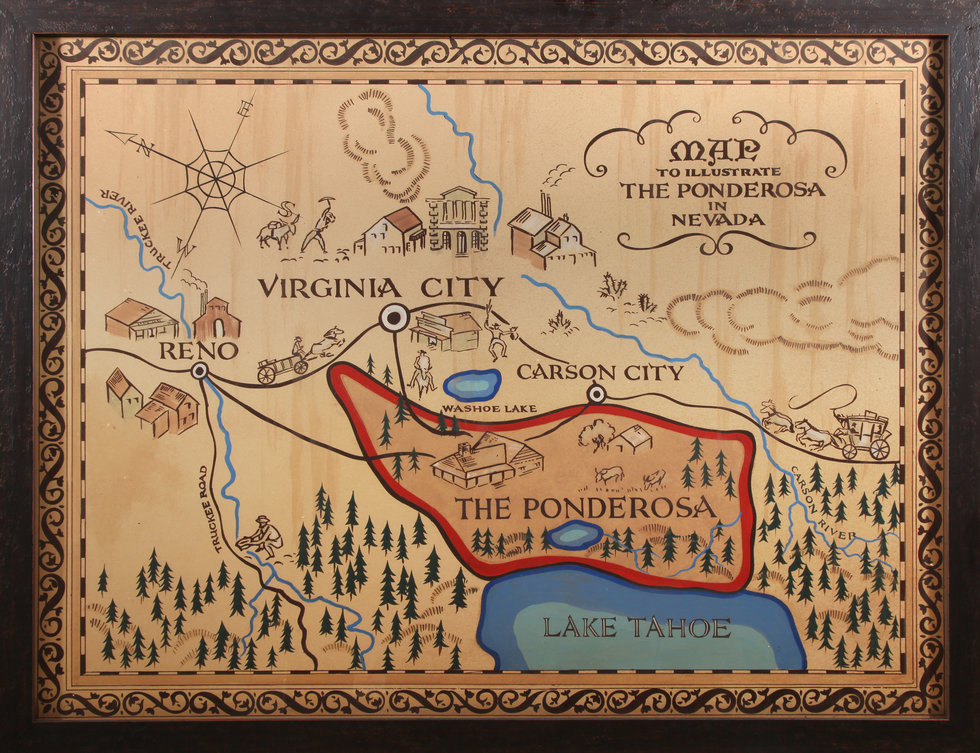 The original map in its full glory, now on permanent display at the Autry Center (image: Autry Center)
The map was designed by Robert Temple Ayres (1913-2012), a cousin of Shirley Temple. The Lansing, Michigan native started out illustrating The Golden Treasury of Bible Stories for the Southern Publishing Association in Nashville, but soon switched to a more secular line of work, as artist and set illustrator for a string of Hollywood studios. At MGM, he helped design the chariots for Ben Hur. He also worked for Paramount, Warner Brothers and Universal, among others. Ayres worked on hundreds of films. He completed his career at Disney Studios; his last project before retirement was providing artwork for restaurants and other venues at Florida's Epcot Center.
While at Paramount in 1959, the artist was asked to produce a map for Bonanza's opening credits. Ayres used the actual geography of northwestern Nevada as the basis for his map of the (fictional) Ponderosa ranch. The map, however, is not oriented to true north, as most maps traditionally are, but rather east-northeast. The artist later explained that this was done "so it would go good on the screen".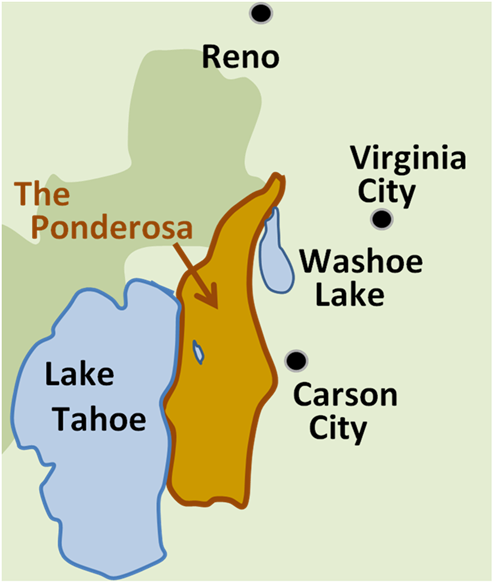 Approximate location of the Ponderosa on a north-oriented map (Image: Brews ohare via Wikimedia Commons)
The Ponderosa ranch is represented by a red-edged area bordering the eastern shore of Lake Tahoe. The ranch almost touches the Reno to Virginia City highway, Washoe Lake, Carson City and the Carson River. The map also shows a stage coach speeding towards Carson City, a miner panning for gold in the Truckee River, and high up in the Sierra Nevada some of the ponderosa pines for which the ranch is named.
For decades, Mr. Ayres' famous map of the Ponderosa hung in the home of David Dortort, creator and producer of Bonanza. After his death in 2010, his family donated it to the Autry National Center of the American West, at Griffith Park in Los Angeles, where it has been on permanent display since May 2011.
The Autry invited the artist to revisit his work more than 50 years after he made it. His reaction: "Oh, for goodness' sake! I had no idea where it had gone!" Also, he couldn't believe how big the original was. Mr. Ayres made the trip to the Autry three times in total, the last time on February 23, 2012, with his grand-nephew visiting from Michigan. He died two days later at his home in Cherry Valley, east of Los Angeles.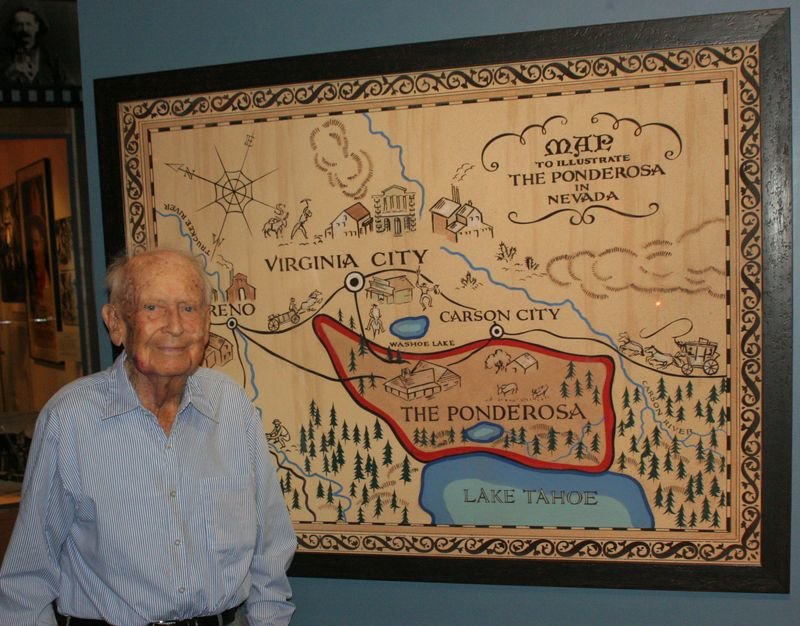 After more than half a century, the artist reunited with his work (Image: LA Times)
Interestingly, Mr. Ayres' original map differs in small details from the one seen in the opening credits of Bonanza. Obviously, since the original survived, it wasn't the one burning up. In all likelihood, the show's production crew made a few (imperfect) copies until they had one that 'burned right'.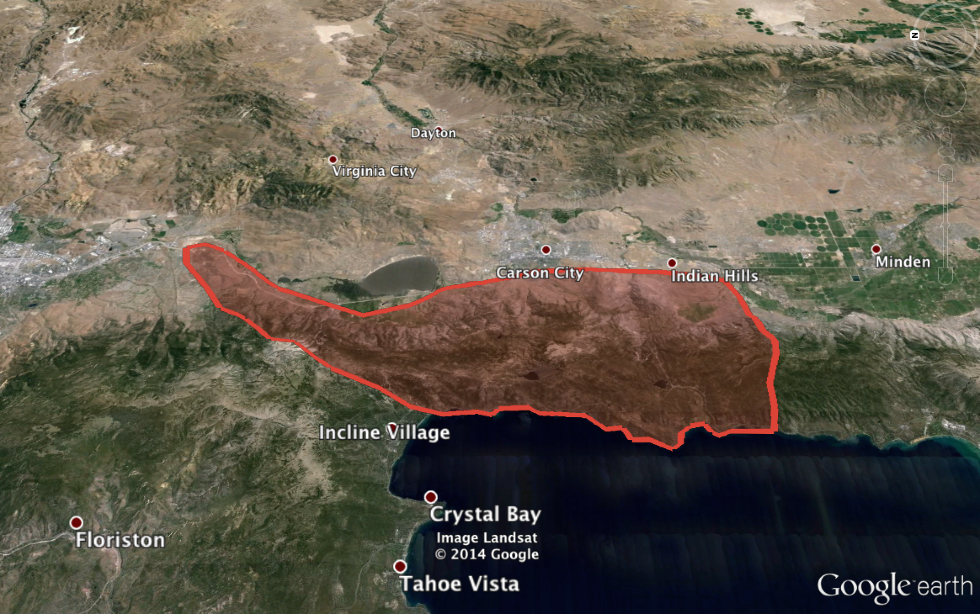 The fictional Ponderosa superimposed on its actual surroundings (Image: Ruland Kolen via Google Earth)
The Ponderosa ranch is one of only a handful of cartographic fictions that managed to become actual, tangible reality – another example being the 'paper town' of Agloe (#643). Sensing a business opportunity, a small family ranch near Incline Village, located in the area on the map designated as the Ponderosa, requested and received permission in 1967 to turn itself into the Ponderosa Ranch theme park. The park featured sets from the series: the ranch building and Virginia City. In fact, some episodes of the last 5 seasons and three TV movies were shot at the theme park instead of at the show's usual backdrop: Stages 16 and 17 at Paramount Studios. The Ponderosa Ranch survived its fictional counterpart by more than three decades, closing only in 2004.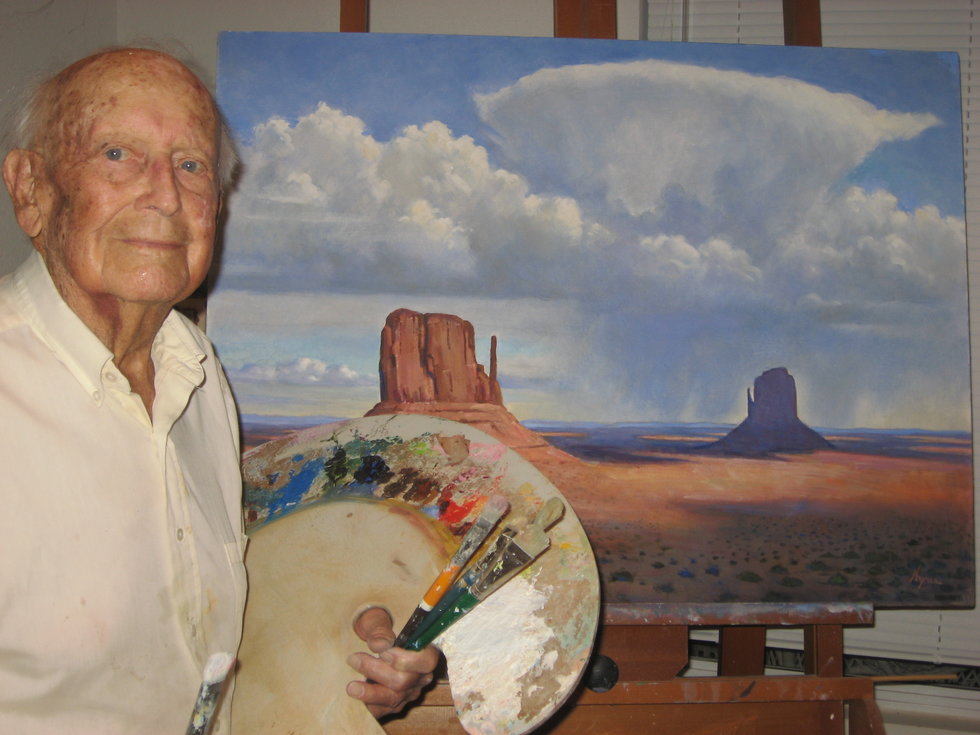 Mr. Ayres was an accomplished painter; prints for some of his works are for sale at his website.
Strange Maps #676
Got a strange map? Let me know at strangemaps@gmail.com.
Related Articles
The exploding popularity of the keto diet puts a less used veggie into the spotlight.
Purple cauliflower. (Photo: Shutterstock)
Surprising Science
The cauliflower is a vegetable of choice if you're on the keto diet.
The plant is low in carbs and can replace potatoes, rice and pasta.
It can be eaten both raw and cooked for different benefits.
Some say the proliferation of sex robots could lead to less demand for prostitution, but not all agree.
Will the proliferation of sex robots be a net good or bad for society? (Photo: Shutterstock)
Sex & Relationships
A Toronto-based sex robot brothel plans to open another location in Houston.
Some critics argue that the proliferation of sex robots would lead to increases in prostitution and sex trafficking.
Others say that such technology could help some people find a degree of much-needed companionship.
There are currently no laws against opening a sex robot brothel in Houston, though recently announced plans to open one inspired some residents to say there should be.
The owner of Kinky S Dolls, a Toronto-based company where $120 gets customers 80 minutes alone with a robotic sex doll that moves and talks, plans to open another location in the Houston area. It would be the first sex robot brothel in the U.S.
On advice from counsel, owner Yuval Gavriel doesn't call his business a 'sex robot brothel' but rather a kind of try-it-before-you-buy-it shop for realistic sex dolls, which he sells for $2,000 to $5,000.
"I consulted with a lawyer and the lawyer said, 'Listen, there are no rules to it, but if you are smart you don't go out and say you are operating a brothel,'" Gavriel told the Washington Examiner. "He went through all the laws and all of the regulations and currently there are no regulations for this kind of service. The States is a bigger market, and a healthier market, and God bless Trump."
A sex doll sold by Kinky S Dolls for about $3,500.

Sex dolls and toys may be legal in the U.S., but some believe that establishing what's essentially a robot sex brothel would cross a line. In response to Gavriel's plans, Elijah Rising, a Christian organization in Houston that combats sex trafficking, published a petition titled 'Keep Robot Brothels Out Of Houston'.
"As a nonprofit whose mission is to end sex trafficking we have seen the progression as sex buyers go from pornography to strip clubs to purchasing sex—robot brothels will ultimately harm men, their understanding of healthy sexuality, and increase the demand for the prostitution and sexual exploitation of women and children," reads the petition, which currently has nearly 6,000 signatures.
Elijah Rising's argument is based on a paper written by Kathleen Richardson, a professor of ethics and culture of robots at De Montfort University.
"I propose that extending relations of prostitution into machines is neither ethical, nor is it safe," Richardson argues in the paper. "If anything the development of sex robots will further reinforce relations of power that do not recognise both parties as human subjects. Only the buyer of sex is recognised as a subject, the seller of sex (and by virtue the sex-robot) is merely a thing to have sex with."
How would sex robots affect rates of prostitution?
One argument, to which Gavriel subscribes, says that increased availability of sex robots would lower the demand for human prostitutes. It's an idea tangentially related to the longstanding body of research that shows countries tend to see decreases in sexual assaults and rape after they legalize porn.
In his bestselling book Love and Sex with Robots, A.I. researcher David Levy explores the future of human relationships with robots and suggests that sex robots could lower prostitution or even someday render it obsolete.
But that's "highly speculative philosophy," according to Richardson.
"The reality is that it will just become a new niche market within the pornography industry and within the prostitution trade," she said in an interview with Feminist Current. "If people buy into the idea that you can have these dolls as part of your sexual fetish, it will become another burden that actual living human beings will have to undergo in the commercial sex trade."
A sex doll sold by Kinky S Dolls.

Richardson elaborated on this idea in her paper.
"...studies have found that the introduction of new technology supports and contributes to the expansion of the sex industry," she wrote. "Prostitution and pornography production also rises with the growth of the internet. In 1990, 5.6 percent of men reported paying for sex in their lifetime, by 2000, this had increased to 8.8 percent."
However, those rates aren't necessarily causally linked.
Richardson also wrote that if sex toys, such as RealDolls and blow-up dolls, actually led to lower prostitution demand then we would have already seen decreases, but "no such correlation is found."
Still, that last point might soon become invalid as a sort of apples-to-oranges comparison if technology can produce artificially intelligent and lifelike sex robots unlike anything the industry has seen before.
An illusion of companionship
Image: Film4, from the 2015 film 'Ex Machina'
Critics argue that the proliferation of sex robots would serve to reinforce the objectification of women in men's minds, and also reduce the ability for some men to empathize, a necessary component of healthy social interaction.
Houstonian Andrea Paul voiced a simpler objection to the brothel:
"There's kids around here and it's a family-oriented neighborhood and I live right here and to have that here is just gross."
Gross, sure. But to Matt McMullen, creator of the RealDoll, the future of sex robots looks a bit more uplifting.
"My goal, in a very simple way, is to make people happy," McMullen told CNET. "There are a lot of people out there, for one reason or another, who have difficulty forming traditional relationships with other people. It's really all about giving those people some level of companionship—or the illusion of companionship."
Are university safe spaces killing intellectual growth?
Videos
Why you should want your ideological opposites on campus
Universities must be safe—but they cannot be censored
Don't be afraid of being offended. Be afraid of never changing your mind.
Big think's weekly newsletter.
Get smarter faster from the comfort of your inbox.
See our newsletter privacy policy
here
Most Popular
Most Recent
Big think's weekly newsletter.
Get smarter faster from the comfort of your inbox.
See our newsletter privacy policy
here
© Copyright 2007-2018 & BIG THINK, BIG THINK EDGE,
SMARTER FASTER trademarks owned by The Big Think, Inc. All rights reserved.