53% of millennials expect to be millionaires. The data suggest that's delusional.
Reports show that millennials are making and saving less than previous generations, likely setting them up to retire later in life—or not at all.
24 July, 2018
---
Most millennials aren't worried about their future finances despite data suggesting they should be.
A 2018 survey conducted by TD Ameritrade shows 53 percent of millennials expect to become millionaires, and they expect to retire, on average, by age 56. That optimism doesn't seem to reflect the reality of other numbers showing that social security won't be able to pay out full benefits by 2034, the group has a collective student loan debt of more than $1 trillion, and young people are now earning relatively less than previous generations.
"I'm not exactly sure where all of this positive sentiment is coming from," Yahoo Finance's Ethan Wolff-Mann said. "I'm not sure whether the stagnant wages are contributing to this or anything like that. I do think … people [are] just hoping that something comes along that they walk into luck."
thisisfine.gif pic.twitter.com/JkxefxfM39

— Austen Allred (@AustenAllred) April 5, 2018
In 2016, the median American born in the 1980s had 34 percent below the level of family wealth than earlier generations had at the same age, according to a report from the Federal Reserve Bank of St. Louis.
Millennials are also less likely and able to save for retirement than previous generations. On average, millennials don't plan to start saving for retirement until age 36, according to the TD Ameritrade survey. Starting to save at that age would mean they'd miss out on crucial years during which compound interest could help build a sizable retirement fund. (See: How to become a millionaire)
Still, not all millennials wield a blind optimism: 28 percent said they don't plan to retire, while about 20 percent said they'd never be able to pay off student loans.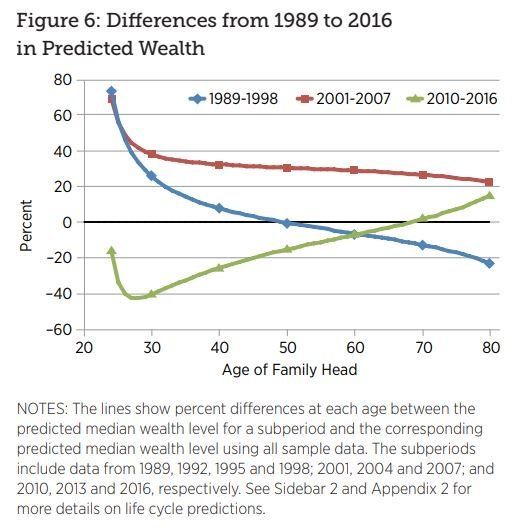 In a Politico article on millennial retirement, Alicia H. Munnell, director of the Center for Retirement Research at Boston College, writes that millennials face three major setbacks compared to previous generations: the declining availability of retirement plans offered by employers, greater student debt, and a lower rate of home ownership, which is a valuable retirement asset.
It's not all a grim forecast, though. Millennials could be reasonably optimistic about the fact that lifespans are generally increasing, meaning a slightly later retirement age wouldn't necessarily mean less golden years, and also that increasing rates of young people are obtaining higher education.
"Millennials are graduating at record rates, and it's great to see that like most previous generations of college students, young people are optimistic about the future. On average, survey respondents expect to land a job in their chosen field and be completely financially independent by age 25," notes JJ Kinahan, chief strategist for TD Ameritrade. "This is a financially optimistic group that's feeling positive about the economy, the job market and their own plans. However, they will need to develop saving and investing habits that will help them reach some pretty big goals."
As long as younger people are prepared to work hard and retire a bit later, there's still room for optimism.

"...My research shows that the vast majority of millennials will be fine if they work to age 70," writes Munnell. "And although that might sound old, it's historically normal in another sense: Retiring at 70 leaves the ratio of retirement to working years the same as when Social Security was originally introduced."
What can 3D printing do for medicine? The "sky is the limit," says Northwell Health researcher Dr. Todd Goldstein.
Northwell Health
Sponsored by Northwell Health
Medical professionals are currently using 3D printers to create prosthetics and patient-specific organ models that doctors can use to prepare for surgery.
Eventually, scientists hope to print patient-specific organs that can be transplanted safely into the human body.
Northwell Health, New York State's largest health care provider, is pioneering 3D printing in medicine in three key ways.
Torn between absolutism on the left and the right, classical liberalism—with its core values of compassion and incremental progress whereby the once-radical becomes the mainstream—is in need of a good defense. And Adam Gopnik is its lawyer.
Think Again Podcasts
Liberalism as "radical pragmatism"
Intersectionality and civic discourse
How "a thousand small sanities" tackled drunk driving, normalized gay marriage, and could control gun violence
Irish president believes students need philosophy.
Personal Growth
President of Ireland Michael D. Higgins calls for students to be thought of as more than tools made to be useful.
Higgins believes that philosophy and history should be a basic requirement forming a core education.
The Irish Young Philosopher Awards is one such event that is celebrating this discipline among the youth.
The lost practice of face-to-face communication has made the world a more extreme place.
Videos
The world was saner when we spoke face-to-face, argues John Cameron Mitchell. Not looking someone in the eye when you talk to them raises the potential for miscommunication and conflict.
Social media has been an incredible force for activism and human rights, but it's also negatively affected our relationship with the media. We are now bombarded 24/7 with news that either drives us to anger or apathy.
Sitting behind a screen makes polarization worse, and polarization is fertile ground for conspiracy theories and fascism, which Cameron describes as irrationally blaming someone else for your problems.
Big think's weekly newsletter.
Get smarter faster from the comfort of your inbox.
See our newsletter privacy policy
here
Most Popular
Most Recent
Big think's weekly newsletter.
Get smarter faster from the comfort of your inbox.
See our newsletter privacy policy
here
© Copyright 2007-2019 & BIG THINK, BIG THINK EDGE,
SMARTER FASTER trademarks owned by The Big Think, Inc. All rights reserved.