53% of millennials expect to be millionaires. The data suggest that's delusional.
Reports show that millennials are making and saving less than previous generations, likely setting them up to retire later in life—or not at all.
24 July, 2018
---
Most millennials aren't worried about their future finances despite data suggesting they should be.
A 2018 survey conducted by TD Ameritrade shows 53 percent of millennials expect to become millionaires, and they expect to retire, on average, by age 56. That optimism doesn't seem to reflect the reality of other numbers showing that social security won't be able to pay out full benefits by 2034, the group has a collective student loan debt of more than $1 trillion, and young people are now earning relatively less than previous generations.
"I'm not exactly sure where all of this positive sentiment is coming from," Yahoo Finance's Ethan Wolff-Mann said. "I'm not sure whether the stagnant wages are contributing to this or anything like that. I do think … people [are] just hoping that something comes along that they walk into luck."
thisisfine.gif pic.twitter.com/JkxefxfM39

— Austen Allred (@AustenAllred) April 5, 2018
In 2016, the median American born in the 1980s had 34 percent below the level of family wealth than earlier generations had at the same age, according to a report from the Federal Reserve Bank of St. Louis.
Millennials are also less likely and able to save for retirement than previous generations. On average, millennials don't plan to start saving for retirement until age 36, according to the TD Ameritrade survey. Starting to save at that age would mean they'd miss out on crucial years during which compound interest could help build a sizable retirement fund. (See: How to become a millionaire)
Still, not all millennials wield a blind optimism: 28 percent said they don't plan to retire, while about 20 percent said they'd never be able to pay off student loans.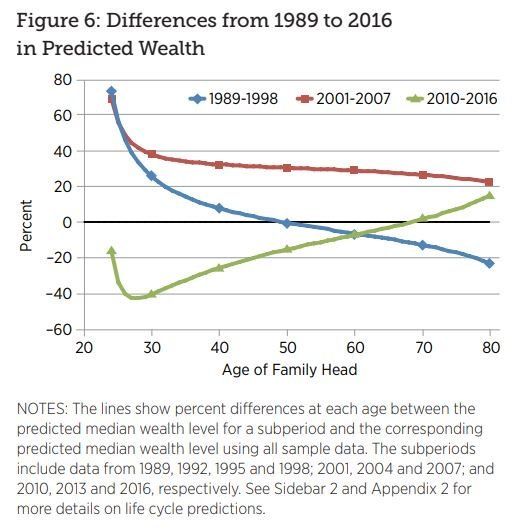 In a Politico article on millennial retirement, Alicia H. Munnell, director of the Center for Retirement Research at Boston College, writes that millennials face three major setbacks compared to previous generations: the declining availability of retirement plans offered by employers, greater student debt, and a lower rate of home ownership, which is a valuable retirement asset.
It's not all a grim forecast, though. Millennials could be reasonably optimistic about the fact that lifespans are generally increasing, meaning a slightly later retirement age wouldn't necessarily mean less golden years, and also that increasing rates of young people are obtaining higher education.
"Millennials are graduating at record rates, and it's great to see that like most previous generations of college students, young people are optimistic about the future. On average, survey respondents expect to land a job in their chosen field and be completely financially independent by age 25," notes JJ Kinahan, chief strategist for TD Ameritrade. "This is a financially optimistic group that's feeling positive about the economy, the job market and their own plans. However, they will need to develop saving and investing habits that will help them reach some pretty big goals."
As long as younger people are prepared to work hard and retire a bit later, there's still room for optimism.

"...My research shows that the vast majority of millennials will be fine if they work to age 70," writes Munnell. "And although that might sound old, it's historically normal in another sense: Retiring at 70 leaves the ratio of retirement to working years the same as when Social Security was originally introduced."
Former president of the ACLU Nadine Strossen discusses whether our society should always defend free speech rights, even for groups who would oppose such rights.
Sponsored by Charles Koch Foundation
Former ACLU president Nadine Strossen understands that protecting free speech rights isn't always a straightforward proposition.
In this video, Strossen describes the reasoning behind why the ACLU defended the free speech rights of neo-Nazis in Skokie, Illinois, 1977.
The opinions expressed in this video do not necessarily reflect the views of the Charles Koch Foundation, which encourages the expression of diverse viewpoints within a culture of civil discourse and mutual respect.
Going back to the moon will give us fresh insights about the creation of our solar system.
Videos
July 2019 marks the 50th anniversary of the moon landing — Apollo 11.
Today, we have a strong scientific case for returning to the moon: the original rock samples that we took from the moon revolutionized our view of how Earth and the solar system formed. We could now glean even more insights with fresh, nonchemically-altered samples.
NASA plans to send humans to a crater in the South Pole of the moon because it's safer there, and would allow for better communications with people back on Earth.
Pugs and bulldogs are incredibly trendy, but experts have massive animal welfare concerns about these genetically manipulated breeds. 
Photo by terriermandotcom.blogspot.com
popular
Pugs, Frenchies, boxers, shih-tzus and other flat-faced dog breeds have been trending for at least the last decade.
Higher visibility (usually in a celebrity's handbag), an increase in city living (smaller dogs for smaller homes), and possibly even the fine acting of Frank the Pug in 1997's Men in Black may be the cause.
These small, specialty pure breeds are seen as the pinnacle of cuteness – they have friendly personalities, endearing odd looks, and are perfect for Stranger Things video montages.
Jokesters and serious Area 51 raiders would be met with military force.
Politics & Current Affairs
Facebook joke event to "raid Area 51" has already gained 1,000,000 "going" attendees.
The U.S. Air Force has issued an official warning to potential "raiders."
If anyone actually tries to storm an American military base, the use of deadly force is authorized.