4 landmark decisions from Supreme Court Justice Anthony Kennedy, who retires in July
Supreme Court Associate Justice Anthony M. Kennedy, 81, announced on Wednesday his upcoming resignation, marking the end of a three-decade tenure on the high court.
27 June, 2018
Justice Anthony Kennedy (Photo by Eric Thayer/Getty Images)
---
Supreme Court Associate Justice Anthony M. Kennedy, 81, announced on Wednesday his upcoming resignation, marking the end of a three-decade tenure on the high court.
The court said he will retire effective July 31.
Kennedy was an influential and moderate justice whose vote was often decisive. Although he sided with conservatives more often than not, Kennedy was known at times for displaying a more liberal temperament, such as when he ruled against overturning the 1973 Roe vs. Wade decision and wrote the majority opinion in the 2015 case that legalized same-sex marriage.
His resignation leaves President Donald Trump an opportunity to tilt the court to the right by appointing a more conservative justice, as the president did in 2017 when he appointed Justice Neil M. Gorsuch to succeed Justice Antonin Scalia. Such an appointee would give conservatives a solid 5-4 majority in the court.
Here's a look at some of the most important decisions by Justice Anthony M. Kennedy, who was appointed in 1987 by former President Ronald Reagan.
Planned Parenthood v. Casey
Planned Parenthood v. Casey was the first Supreme Court case that had the potential to overturn the Roe v. Wade decision.
It almost did. Kennedy had initially sided with conservative justices in a majority, but had a change of heart and later joined justices Sandra Day O'Connor and David Souter in a plurality that reaffirmed Roe.
"These matters, involving the most intimate and personal choices a person may make in a lifetime, choices central to personal dignity and autonomy, are central to the liberty protected by the Fourteenth Amendment," the plurality opinion read. "At the heart of liberty is the right to define one's own concept of existence, of meaning, of the universe, and of the mystery of human life. Beliefs about these matters could not define the attributes of personhood were they formed under compulsion of the State."
Citizens United v. Federal Election Commission
In this highly controversial landmark case, Kennedy wrote a majority opinion in which the court ruled that political spending, from organizations like for-profit corporations and labor unions, for campaign advertisements is a form of protected speech under the First Amendment.
The court had regarded political spending as a form of protected speech in the past, though it upheld certain restrictions on spending out of an interest to prevent corruption—or the appearance of corruption.
"The right of citizens to inquire, to hear, to speak, and to use information to reach consensus is a precondition to enlightened self-government and a necessary means to protect it," Kennedy wrote in the opinion. "The First Amendment "'has its fullest and most urgent application' to speech uttered during a campaign for political office."
The decision upended campaign finance laws, paving the way for corporations to donate virtually endless amounts of money to politicians, typically through third-party organizations dubbed super PACs (political action committees).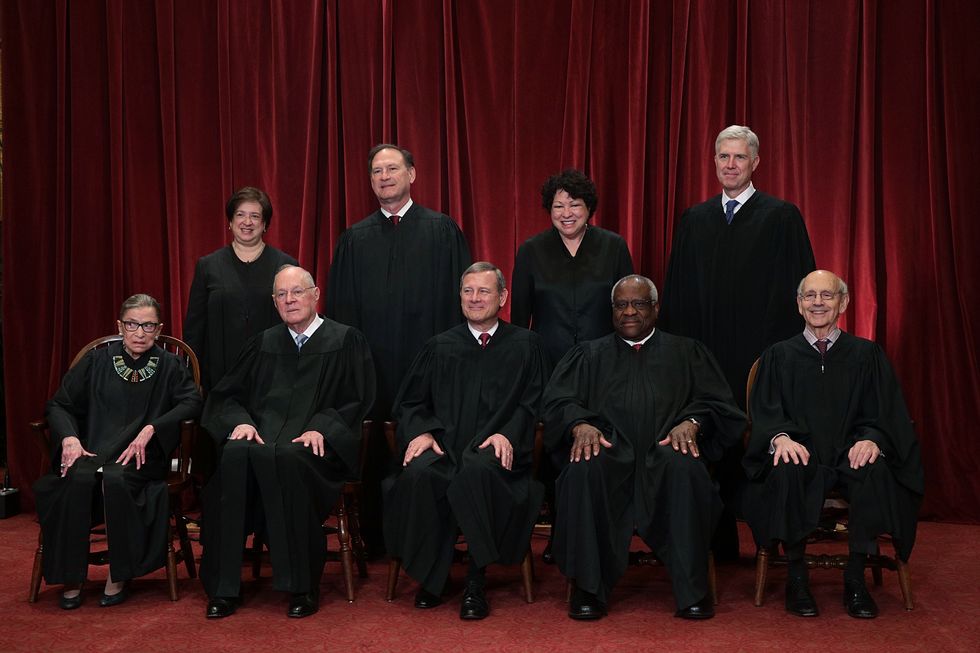 (Photo by Alex Wong/Getty Images)
Bush v. Gore
Kennedy's vote was again decisive in this monumental decision that ultimately granted former President George W. Bush a seat in the White House.
In Florida, state law mandated that a hand recount occur when the margin of victory in an election was less than 0.5 percent. After the remarkably close results of the 2000 presidential election came in, a recount was ordered. The validity of the recount was contested at state and federal levels until the Supreme Court ultimately ruled in a 5-4 decision that a recount couldn't be completed by the December 12 "safe harbor" deadline. The decision meant the initial election results were final.
As New Yorker legal analyst Jeffrey Toobin wrote, the decision was surprising because it was the work of conservative justices who had traditionally deferred to the "preëminence of states' rights," but in this case chose to override the Florida courts.
The decision "didn't just scar the court's record, it damaged the court's honor," Toobin wrote.
Justice Ruth Bader Ginsburg would likely agree—she famously ended her dissenting opinion with "I dissent" instead of the traditional "I respectfully dissent."
Obergefell v. Hodges
In 2015, Kennedy joined four liberal justices to form a majority in this landmark case that struck down state bans on same-sex marriage in the U.S.
Kennedy famously wrote:
"No union is more profound than marriage, for it embodies the highest ideals of love, fidelity, devotion, sacrifice, and family. In forming a marital union, two people become something greater than once they were. As some of the petitioners in these cases demonstrate, marriage embodies a love that may endure even past death. It would misunderstand these men and women to say they disrespect the idea of marriage. Their plea is that they do respect it, respect it so deeply that they seek to find its fulfillment for themselves. Their hope is not to be condemned to live in loneliness, excluded from one of civilization's oldest institutions. They ask for equal dignity in the eyes of the law. The Constitution grants them that right."
The decision was the culmination of Kennedy's decades-long track record of expanding rights for the LGBTQ community. Previously, he had authored several majority opinions in cases involving gay rights, including 1996's Romer v. Evans, 2003's Lawrence v. Texas, and 2013's United States v. Windsor.
But Kennedy wasn't always in line with gay rights advocates. Most recently, he voted in favor of Masterpiece Cakeshop, a bakery that refused service to a same-sex couple in Colorado.
Still, it's easy to see how a more conservative justice could slow, or even reserve, the expansion of LGBTQ rights in the U.S.  
To create wiser adults, add empathy to the school curriculum.
Sponsored by Charles Koch Foundation
Stories are at the heart of learning, writes Cleary Vaughan-Lee, Executive Director for the Global Oneness Project. They have always challenged us to think beyond ourselves, expanding our experience and revealing deep truths.
Vaughan-Lee explains 6 ways that storytelling can foster empathy and deliver powerful learning experiences.
Global Oneness Project is a free library of stories—containing short documentaries, photo essays, and essays—that each contain a companion lesson plan and learning activities for students so they can expand their experience of the world.
Philosophers like to present their works as if everything before it was wrong. Sometimes, they even say they have ended the need for more philosophy. So, what happens when somebody realizes they were mistaken?
Numerous U.S. Presidents invoked the Insurrection Act to to quell race and labor riots.
Photo by Michael Ochs Archives/Getty Images
Politics & Current Affairs
U.S. Presidents have invoked the Insurrection Act on numerous occasions.
The controversial law gives the President some power to bring in troops to police the American people.
The Act has been used mainly to restore order following race and labor riots.
It looks like a busy hurricane season ahead. Probably.
Surprising Science
Before the hurricane season even started in 2020, Arthur and Bertha had already blown through, and Cristobal may be brewing right now.
Weather forecasters see signs of a rough season ahead, with just a couple of reasons why maybe not.
Where's an El Niño when you need one?
Welcome to Hurricane Season 2020. 2020, of course, scoffs at this calendric event much as it has everything else that's normal — meteorologists have already used up the year's A and B storm names before we even got here. And while early storms don't necessarily mean a bruising season ahead, forecasters expect an active season this year. Maybe storms will blow away the murder hornets and 13-year locusts we had planned.
NOAA expects a busy season
According to NOAA's Climate Prediction Center, an agency of the National Weather Service, there's a 60 percent chance that we're embarking upon a season with more storms than normal. There does, however, remain a 30 percent it'll be normal. Better than usual? Unlikely: Just a 10 percent chance.
Where a normal hurricane season has an average of 12 named storms, 6 of which become hurricanes and 3 of which are major hurricanes, the Climate Prediction Center reckons we're on track for 13 to 29 storms, 6 to 10 of which will become hurricanes, and 3 to 6 of these will be category 3, 4, or 5, packing winds of 111 mph or higher.
What has forecasters concerned are two factors in particular.
This year's El Niño ("Little Boy") looks to be more of a La Niña ("Little Girl"). The two conditions are part of what's called the El Niño-Southern Oscillation (ENSO) cycle, which describes temperature fluctuations between the ocean and atmosphere in the east-central Equatorial Pacific. With an El Niño, waters in the Pacific are unusually warm, whereas a La Niña means unusually cool waters. NOAA says that an El Niño can suppress hurricane formation in the Atlantic, and this year that mitigating effect is unlikely to be present.
Second, current conditions in the Atlantic and Caribbean suggest a fertile hurricane environment:
The ocean there is warmer than usual.
There's reduced vertical wind shear.
Atlantic tropical trade winds are weak.
There have been strong West African monsoons this year.
Here's NOAA's video laying out their forecast:
But wait.
ArsTechnica spoke to hurricane scientist Phil Klotzbach, who agrees generally with NOAA, saying, "All in all, signs are certainly pointing towards an active season." Still, he notes a couple of signals that contradict that worrying outlook.
First off, Klotzbach notes that the surest sign of a rough hurricane season is when its earliest storms form in the deep tropics south of 25°N and east of the Lesser Antilles. "When you get storm formations here prior to June 1, it's typically a harbinger of an extremely active season." Fortunately, this year's hurricanes Arthur and Bertha, as well as the maybe-imminent Cristobal, formed outside this region. So there's that.
Second, Klotzbach notes that the correlation between early storm activity and a season's number of storms and intensities, is actually slightly negative. So while statistical connections aren't strongly predictive, there's at least some reason to think these early storms may augur an easy season ahead.
Image source: NOAA
Batten down the hatches early
If 2020's taught us anything, it's how to juggle multiple crises at once, and layering an active hurricane season on top of SARS-CoV-2 — not to mention everything else — poses a special challenge. Warns Treasury Secretary Wilbur Ross, "As Americans focus their attention on a safe and healthy reopening of our country, it remains critically important that we also remember to make the necessary preparations for the upcoming hurricane season." If, as many medical experts expect, we're forced back into quarantine by additional coronavirus waves, the oceanic waves slamming against our shores will best be met by storm preparations put in place in a less last-minute fashion than usual.
Ross adds, "Just as in years past, NOAA experts will stay ahead of developing hurricanes and tropical storms and provide the forecasts and warnings we depend on to stay safe."
Let's hope this, at least, can be counted on in this crazy year.
Technology & Innovation
Got any embarrassing old posts collecting dust on your profile? Facebook wants to help you delete them.
Scroll down to load more…