Is April the cruelest month? What T.S. Eliot really meant
Is April the cruelest month? What did T.S. Eliot mean by that?
10 April, 2018
Sometimes beautiful poetry can make little sense when we first read it. Overly abstract metaphors, vague descriptions of events, and references to other works that we might not have read can combine to make something that sounds pretty but has no meaning to the casual reader. This is an all too common occurrence and it can discourage people from trying to tackle some of the greatest poetry ever written. This is a shame.
---
An example of an excellent work that can be daunting to read is T.S. Eliot's The Waste Land. Published in 1922, it is often considered one of the greatest poems ever written in the English language and a masterpiece of modern literature. In hopes of encouraging a few of you to try to tackle it yourselves, today we are going to go over the first lines and examine their meaning.  
The opening lines of the poem are well known but vexing:
April is the cruellest month, breeding
Lilacs out of the dead land, mixing
Memory and desire, stirring
Dull roots with spring rain.
Winter kept us warm, covering
Earth in forgetful snow, feeding
A little life with dried tubers.
But, what does it mean?
The opening stanzas are strange. They refer to the blooming of flowers and the coming of spring in gloomy tones. Meanwhile, winter is viewed nostalgically; with snow keeping us warm. This is in contrast to most people's stances on spring and winter, and the idea that winter keeps us warm is a paradox. Why is April cruel? Is it because of tax season? No wonder people get a few lines in and then quit.
Don't worry, we're here to help.
Eliot is reminding us that contrast can have a great effect on our happiness. As April arrives with promises of spring, sun, beauty, and growth the despairing person is placed in stark contrast to the bright world around them. In winter, however, everything is dead, cold, barely alive and doesn't show a contrast to the inner life of a man in despair.  
This idea of contrast fostering unhappiness was shared by the philosopher Epicurus, who argued that the happiest life was one of moderation. To indulge in luxury was to make the mundane seem dull in comparison and make us unhappy in the long run. Epicurus would agree with Eliot that the sadness of the narrator would be made worse by the world around them being so full of life.
Throughout the poem, references are made to memories and how they are triggered. Winter helps us forget, spring starts to pull them back out, characters discuss what they can and can't remember in between seemingly random tangents down memory lane. Memory contrasts past with the present in the same way winter is contrasted with spring. Here, memory shows decay over time. Spring rekindles these memories and brings pain; the numbness of winter is a welcome alternative for the speaker.
What might have inspired him to write this?
Eliot, like many great artists you've heard of, had an often-chaotic personal life. When we wrote this poem his marriage to Viviane Eliot was falling apart, and she had a slew of physical and mental health problems that didn't make it any easier. The strain lead to him devolving a "nervous disorder" of his own. She was also probably cheating on him with the philosopher Bertrand Russell during this time.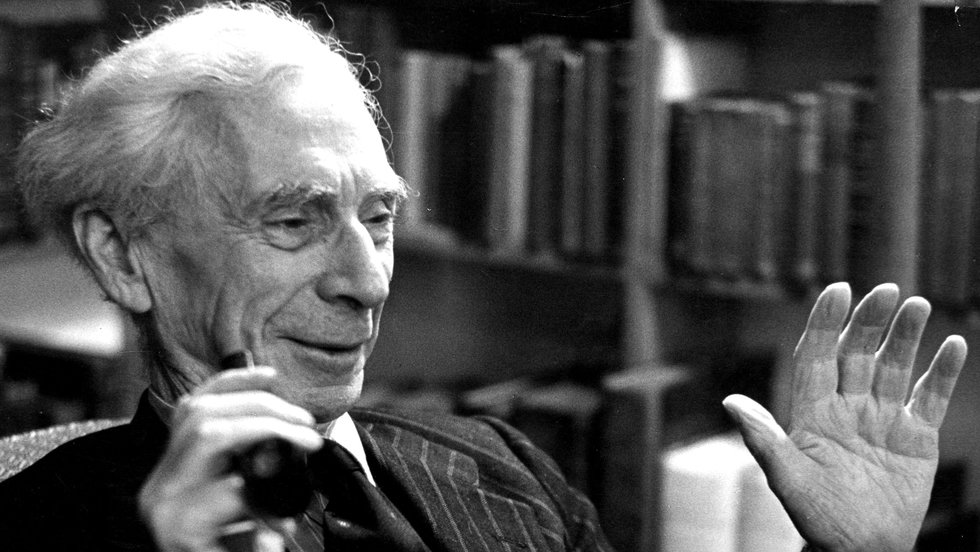 Russell's bold, modern ideas on love might be seen as evidence that he would have an affair or two (which he did). (Getty Images)
Eliot would later separate from her after years of strain. She went mad and was found in the street in the early hours of the morning asking if Eliot had been decapitated yet. Her brother had her locked away in a mental hospital where she died nine years later. Despite still being legally married to her during the time she was in the hospital, Eliot never visited her. He later admitted that the unhappy marriage fueled the emotions that lead to The Waste Land.
Why is this poem important?
As we mentioned, this poem is considered to be one of the greatest ever written. It's numerous perspectives, themes of memory, decay, and post-war despair, are juxtaposed and scrambled to give a chaotic view of the world. It is also known for its structural complexity, which bounces between different times, people, and places. This gives it a wide scope and creates feelings of unfamiliarity as you read along. It is frequently compared to the works of James Joyce, who was exploring similar themes and modernist approaches to literature at the same time.
Is April the cruelest month? Perhaps, perhaps not. However, to the person in despair, the things which bring others joy can only exacerbate feelings of pain and misery and bring up forgotten memories. It can help us to remind ourselves of how the world can work that way from time to time, and poetry can help make these concepts more real. If only we can get past the first lines.
If you would like to read the entire, nearly 500-line poem, you can find it here. You can also listen to it here. 
Swipe right to make the connections that could change your career.
Getty Images
Sponsored
Swipe right. Match. Meet over coffee or set up a call.
No, we aren't talking about Tinder. Introducing Shapr, a free app that helps people with synergistic professional goals and skill sets easily meet and collaborate.
Research by neuroscientists at MIT's Picower Institute for Learning and Memory helps explain how the brain regulates arousal.
Photo by CHARLY TRIBALLEAU / AFP/ Getty Images
Mind & Brain
The big day has come: You are taking your road test to get your driver's license. As you start your mom's car with a stern-faced evaluator in the passenger seat, you know you'll need to be alert but not so excited that you make mistakes. Even if you are simultaneously sleep-deprived and full of nervous energy, you need your brain to moderate your level of arousal so that you do your best.
A disturbing interview given by a KGB defector in 1984 describes America of today and outlines four stages of mass brainwashing used by the KGB.
Politics & Current Affairs
Bezmenov described this process as "a great brainwashing" which has four basic stages.
The first stage is called "demoralization" which takes from 15 to 20 years to achieve.
According to the former KGB agent, that is the minimum number of years it takes to re-educate one generation of students that is normally exposed to the ideology of its country.
When these companies compete, in the current system, the people lose.
Politics & Current Affairs
When a company reaches the top of the ladder, they typically kick it away so that others cannot climb up on it. The aim? So that another company can't compete.
When this phenomenon happens in the pharmaceutical world, companies quickly apply for broad protection of their patents, which can last up to 20 years, and fence off research areas for others. The result of this? They stay at the top of the ladder, at the cost of everyday people benefitting from increased competition.
Since companies have worked out how to legally game the system, Amin argues we need to get rid of this "one size fits all" system, which treats product innovation the same as product invention. Companies should still receive an incentive for coming up with new products, he says, but not 20 years if the product is the result of "tweaking" an existing one.
Big think's weekly newsletter.
Get smarter faster from the comfort of your inbox.
See our newsletter privacy policy
here
Most Popular
Most Recent
Big think's weekly newsletter.
Get smarter faster from the comfort of your inbox.
See our newsletter privacy policy
here
© Copyright 2007-2018 & BIG THINK, BIG THINK EDGE,
SMARTER FASTER trademarks owned by The Big Think, Inc. All rights reserved.