Are Blue States Better at Exemplifying Red State Values? The Data Might Surprise You.
Who actually practices what they preach? Various studies suggest that blue states do a better job at staying married and avoiding teen pregnancy—but like all data, it's not so simple.
30 November, 2017
Anybody watching the news today will hear that Americans are engaged in a great culture war, with fronts ranging from football to what news we watch to questions of whose rights are at risk. As we all know must be true, the blue states are full of liberals who smoke dope, sleep around, and watch Modern Family, while the red states are full of bible thumpers who drink Tennessee whiskey, are loyal to their spouses, and enjoy Duck Dynasty.
---
It stands to reason that the two camps would have different views on issues such as sex, marriage, divorce, and morality. Since red states in the U.S. are the more conservative, and base their worldviews on traditional Christian values, one might suppose that they are exemplifying their worldview at the macroscale.  
However, the data on who is better able to exemplify conservative values might surprise you.
The National Campaign to Prevent Teen Pregnancy data shows that teenagers in Mississippi, the reddest of red states, are more sexually active than the teens of any other state. While the teenagers of liberal New York are the least active. Similar data can be found for teen pregnancy, with nine of the ten worst states for teen pregnancy rates being "red" states.
The same can be found for the divorce rate. Of the states with the ten highest divorce rates, eight of them are solid red, while the state with the lowest divorce rate is bright blue Massachusetts. This study shows the five states with the highest rates of divorce for women all being red, with four of the five lowest rates found in the bluest states.
Perhaps most amusingly, while blue states watch more pornography per capita than red states, the state that watches the most by far, is blood red Kansas. (This statistic, while fun, is an outlier. As you can predict which way a state will vote based how much pornography it watches: the more they watch the bluer they vote. But it does give new meaning to the question "What's the matter with Kansas?")

But, why is this?
The reasons for this are still unknown, but many ideas have been suggested. Cahn Naomi and June Carbone, authors of Red Families vs. Blue Families, propose that:
"Blue family values bristle at restrictions on sexuality, insistence on marriage or the stigmatization of single parents. Their secret, however, is that they encourage their children to simultaneously combine public tolerance with private discipline, and their children then overwhelmingly choose to raise their own children within two-parent families".
Their book posits two models of family life in the modern United States. The "Blue" model which has families start later and is less opposed to premarital sex. While the "Red" model encourages families that are started much earlier. June Carbone argues that the older age of marriage in blue states is a determining factor in the lower divorce rate to be found there. 

Along the same line of thought, a study by Jennifer Glass and Philip Levchak found that individual religious conservatism correlates positively to individual divorce risk, by means of "earlier transitions to adulthood and lower incomes of conservative Protestants," even after accounting for other factors. As the reddest states are often both the most religiously conservative and the poorest, the data suggests they have a poor starting position for marital stability.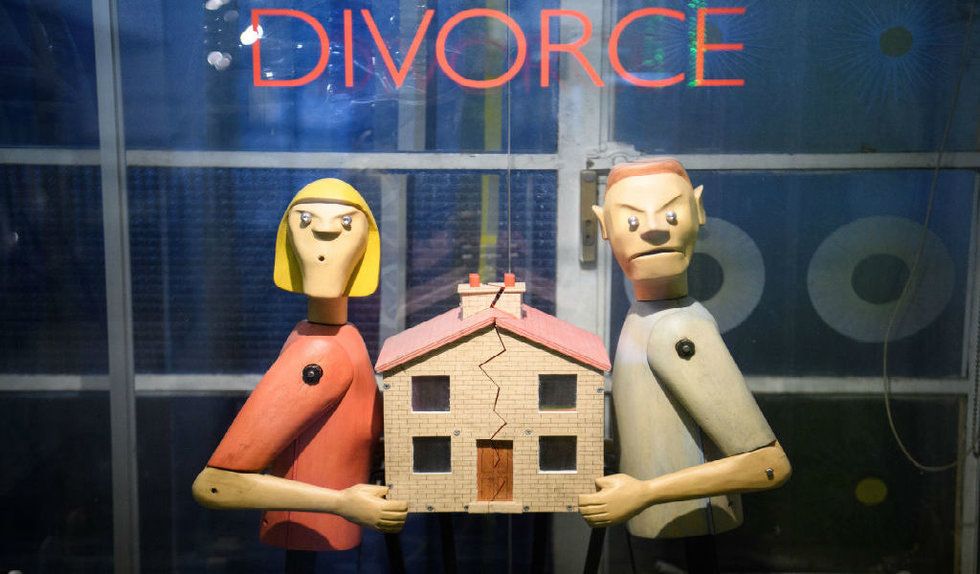 Was their home state to blame?
Is it that cut and dried?

Of course not! Nothing like this ever is! W. Bradford Wilcox, the Director of the National Marriage Project at the University of Virginia, argues that while the data is true for states, when you zoom in to the county level the data reverses, with red counties across the country having more stable marriages and fewer divorces. The worst statistics, given this analysis, are to be found from blue voters in red states.
And, to make it even more confusing for you, Dr. Wilcox also shows that the states with the greatest family stability overall are the most extreme ones, both the bluest of the blue and the reddest of the red. With the "Blue model" and the "Red model" of family stability having stories of both success and failure.

For example, the state of Utah stands out as a bright red exception to the state by state trends mentioned above. It has the highest rate of teens who are living with their married biological parents, and has a teen birth rate on par with the bluest of states. Bucking the state by state trend, but falling in line with the success of the extremes.

And, of course, the teenagers who are most likely to have a stable family in the United States are the children of well off, intact, families, while poor, non-white teenagers are the least likely to be in a home with married parents. There is more to the story than mere ideology.

What can we learn from all this?

Firstly, that no statistic should be taken at face value. Secondly, it should remind us that most Americans really do want many of the same things, like a lower teen birth rate and the benefits of a stable family. However, we can see that while the one model of the proper family life works well in many places, it doesn't work well in all places. When a common goal is shared, ideas that work should be considered from all sources—even if they originate on the other side of the culture war. 
Big Think Edge
The meaning of the word 'confidence' seems obvious. But it's not the same as self-esteem.
Confidence isn't just a feeling on your inside. It comes from taking action in the world.
Join Big Think Edge today and learn how to achieve more confidence when and where it really matters.
If you're lacking confidence and feel like you could benefit from an ego boost, try writing your life story.
Personal Growth
In truth, so much of what happens to us in life is random – we are pawns at the mercy of Lady Luck. To take ownership of our experiences and exert a feeling of control over our future, we tell stories about ourselves that weave meaning and continuity into our personal identity.
What do the inventions of the future look like?
(Photo Credit: Rick Guidice/NASA)
Technology & Innovation
Self-sustaining space colonies and unlimited fusion energy would bring humanity to a new point in our evolution.
Flying cars and robot butlers could be the next paradigm shift in our tech appetite for change.
Death and consensus reality might soon become obsolete.
A space memorial company plans to launch the ashes of "Pikachu," a well-loved Tabby, into space.
GoFundMe/Steve Munt
Culture & Religion
Steve Munt, Pikachu's owner, created a GoFundMe page to raise money for the mission.
If all goes according to plan, Pikachu will be the second cat to enter space, the first being a French feline named Felicette.
It might seem frivolous, but the cat-lovers commenting on Munt's GoFundMe page would likely disagree.
Big think's weekly newsletter.
Get smarter faster from the comfort of your inbox.
See our newsletter privacy policy
here
Most Popular
Most Recent
Big think's weekly newsletter.
Get smarter faster from the comfort of your inbox.
See our newsletter privacy policy
here
© Copyright 2007-2019 & BIG THINK, BIG THINK EDGE,
SMARTER FASTER trademarks owned by The Big Think, Inc. All rights reserved.