Non-Monogamous Relationships on the Rise Among Young Americans
How open are you to your partner having sex with other people? The answer may depend on your age.
21 October, 2016
How open are you to your partner having sex with other people? The answer may depend on your age.
---
A new poll from YouGov.com indicates that young Americans are more likely to accept non-monogamous relationships than their elders. Nearly a fifth of people under 30 had some kind of sexual activity with someone else while their partner knew about it. This is not to say that the youngsters are rejecting monogamy outright, as 56% of them still think it's the only way to go. That number rises to 74% for people between 45-64 and 78% in folks 65+. 
Perhaps this is not very surprising as people under 30 are less likely to be married and are still looking for a partner. It's even less surprising once you consider the rise of what has been described as "hookup culture", courtesy of the proliferation of apps like Tinder, which streamline the process of finding a temporary sexual partner.
Notably, the median age for marriage in 1970 was 21 for women and 23 for men. By 2010, that's risen to 27 and 29, respectively. Marrying later certainly increases the opportunity for premarital sexual encounters. On the larger scale, a bit over half of Americans are not married at all, so that creates quite a few singles.
The overall number of Americans who are not ok with their partner stepping out on them is at 68%. Still, some certainly do it. About 11% of Americans report having had sexual relations with someone else with their partner's consent, and 19% have done so on the sly (basically, cheated).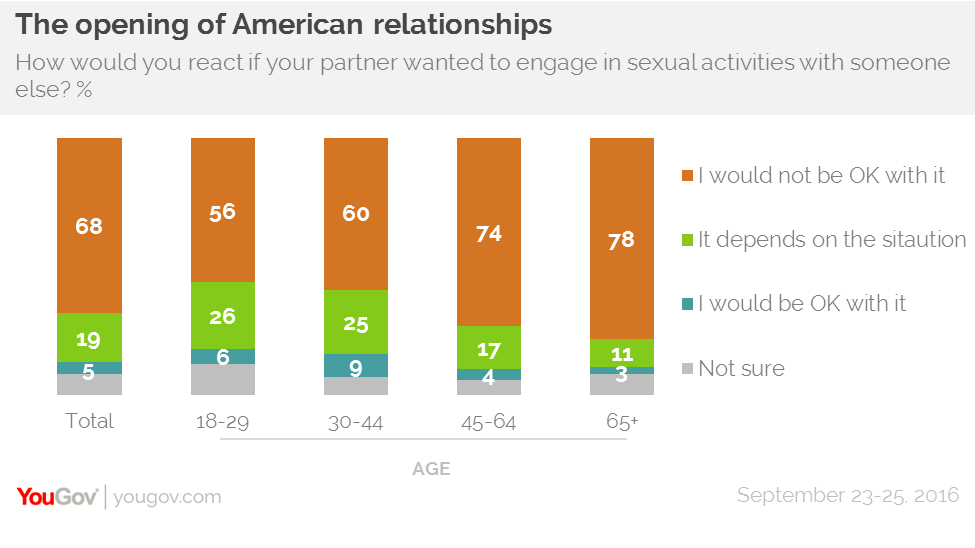 Again, younger Americans are more likely to cheat, with 17% of under-45s reporting such activity, while only 3% of over 65s admitted to having sex with someone without their partner's knowledge. This last statistic can also be explained by generational mores. It's likely the older folks aren't as open about such behavior as the much more open younger generation, which grew up in the era of social media and reality TV.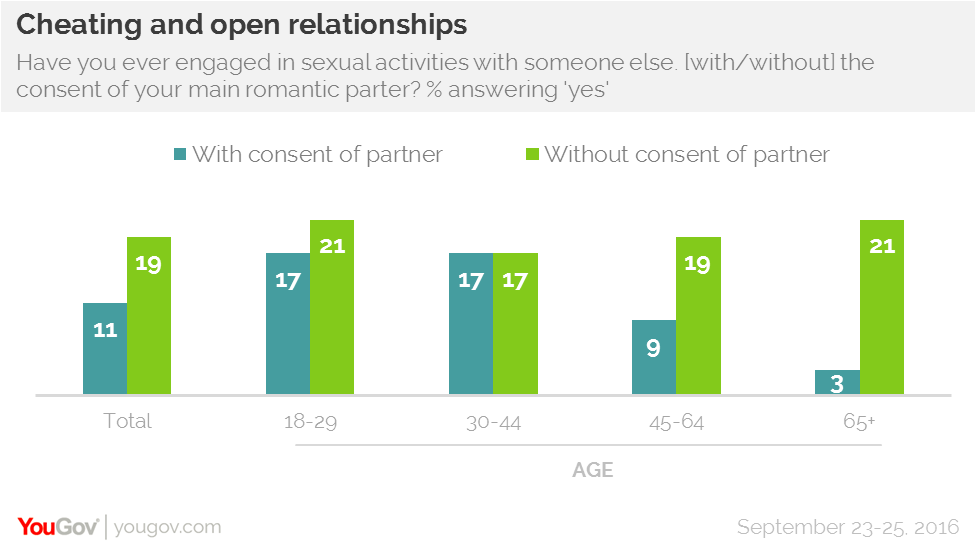 Other studies have found that, puzzlingly, even though millennials may have a more open attitude towards sex than their parents, the average number of sexual partners for Americans has actually decreased. The number of sexual partners for baby boomers (born between 1946 and 1964) was mostly the same, clocking in at 11.68, as the number of partners for those born in 1980s and 1990s. This number for millennials? 8.26.
If you are in a non-monogamous relationship, what rules should you follow to make it work for you? Certainly, each situation is different, but research has shown that key components of what's being called "ethical non-monogamy" should be trust and communication.
Without honesty, such a relationship is just cheating, and openness can go a long way towards defining the boundaries of what is acceptable to you and your partner. Non-monogamous partners are less likely to experience jealousy if the situation is properly discussed. They know that what their partner finds in another relationship (especially if it's merely sexual) may be the kind of fulfillment they are not willing or able to provide.
Pfizer's partnerships strengthen their ability to deliver vaccines in developing countries.
Susan Silbermann, Global President of Pfizer Vaccines, looks on as a health care worker administers a vaccine in Rwanda. Photo: Courtesy of Pfizer.
Sponsored
Community healthcare workers face many challenges in their work, including often traveling far distances to see their clients
Pfizer is helping to drive the UN's sustainable development goals through partnerships.
Pfizer partnered with AMP and the World Health Organization to develop a training program for healthcare workers.
It's the first time the association hasn't hired a comedian in 16 years.
(Photo by Anna Webber/Getty Images for Vulture Festival)
Culture & Religion
The 2018 WHCA ended in controversy after comedian Michelle Wolf made jokes some considered to be offensive.
The WHCA apologized for Wolf's jokes, though some journalists and many comedians backed the comedian and decried arguments in favor of limiting the types of speech permitted at the event.
Ron Chernow, who penned a bestselling biography of Alexander Hamilton, will speak at next year's dinner.
A glass of juice has as much sugar, ounce for ounce, as a full-calorie soda. And those vitamins do almost nothing.
popular
Quick: think back to childhood (if you've reached the scary clown you've gone too far). What did your parents or guardians give you to keep you quiet? If you're anything like most parents, it was juice. But here's the thing: juice is bad for you. 
A study on flies may hold the key to future addiction treatments.
Scott Barbour/Getty Images
Mind & Brain
A new study suggests that drinking alcohol can affect how memories are stored away as good or bad.
This may have drastic implications for how addiction is caused and how people recall intoxication.
The findings may one day lead to a new form of treatment for those suffering from addiction.
Big think's weekly newsletter.
Get smarter faster from the comfort of your inbox.
See our newsletter privacy policy
here
Most Popular
Most Recent
Big think's weekly newsletter.
Get smarter faster from the comfort of your inbox.
See our newsletter privacy policy
here
© Copyright 2007-2018 & BIG THINK, BIG THINK EDGE,
SMARTER FASTER trademarks owned by The Big Think, Inc. All rights reserved.