Non-Monogamous Relationships on the Rise Among Young Americans
How open are you to your partner having sex with other people? The answer may depend on your age.
21 October, 2016
Photo: Unsplash / @an_taylor
How open are you to your partner having sex with other people? The answer may depend on your age.
---
A new poll from YouGov.com indicates that young Americans are more likely to accept non-monogamous relationships than their elders. Nearly a fifth of people under 30 had some kind of sexual activity with someone else while their partner knew about it. This is not to say that the youngsters are rejecting monogamy outright, as 56% of them still think it's the only way to go. That number rises to 74% for people between 45-64 and 78% in folks 65+. 
Perhaps this is not very surprising as people under 30 are less likely to be married and are still looking for a partner. It's even less surprising once you consider the rise of what has been described as "hookup culture", courtesy of the proliferation of apps like Tinder, which streamline the process of finding a temporary sexual partner.
Notably, the median age for marriage in 1970 was 21 for women and 23 for men. By 2010, that's risen to 27 and 29, respectively. Marrying later certainly increases the opportunity for premarital sexual encounters. On the larger scale, a bit over half of Americans are not married at all, so that creates quite a few singles.
The overall number of Americans who are not ok with their partner stepping out on them is at 68%. Still, some certainly do it. About 11% of Americans report having had sexual relations with someone else with their partner's consent, and 19% have done so on the sly (basically, cheated).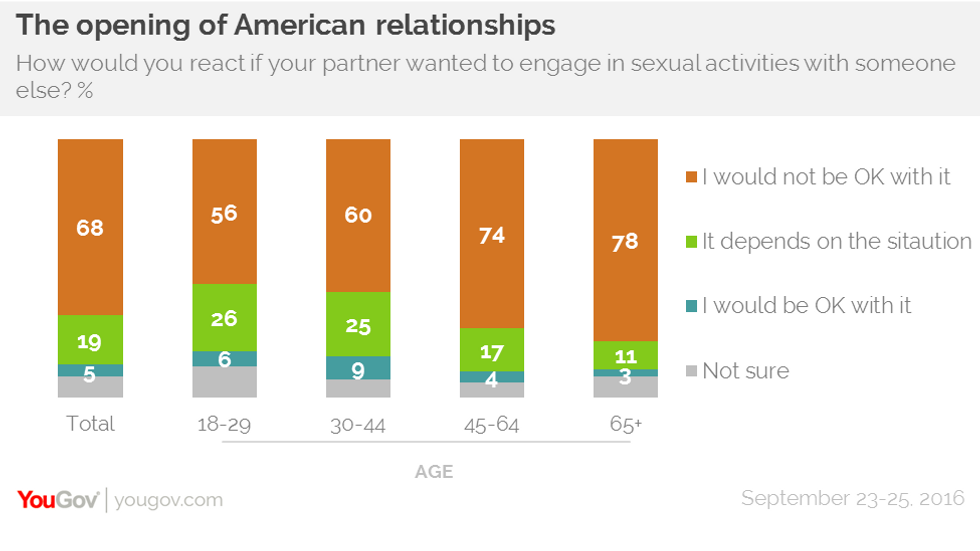 Again, younger Americans are more likely to cheat, with 17% of under-45s reporting such activity, while only 3% of over 65s admitted to having sex with someone without their partner's knowledge. This last statistic can also be explained by generational mores. It's likely the older folks aren't as open about such behavior as the much more open younger generation, which grew up in the era of social media and reality TV.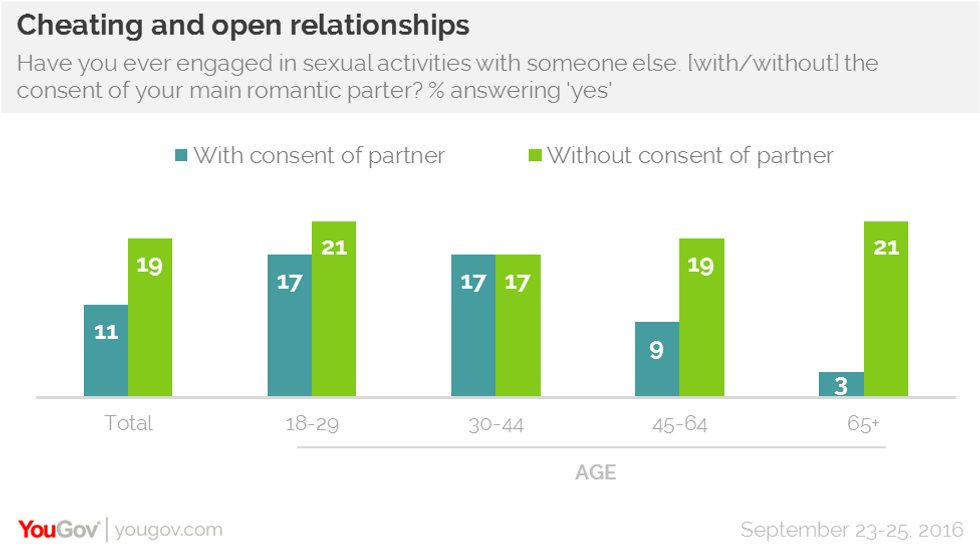 Other studies have found that, puzzlingly, even though millennials may have a more open attitude towards sex than their parents, the average number of sexual partners for Americans has actually decreased. The number of sexual partners for baby boomers (born between 1946 and 1964) was mostly the same, clocking in at 11.68, as the number of partners for those born in 1980s and 1990s. This number for millennials? 8.26.
If you are in a non-monogamous relationship, what rules should you follow to make it work for you? Certainly, each situation is different, but research has shown that key components of what's being called "ethical non-monogamy" should be trust and communication.
Without honesty, such a relationship is just cheating, and openness can go a long way towards defining the boundaries of what is acceptable to you and your partner. Non-monogamous partners are less likely to experience jealousy if the situation is properly discussed. They know that what their partner finds in another relationship (especially if it's merely sexual) may be the kind of fulfillment they are not willing or able to provide.
Young people could even end up less anxiety-ridden, thanks to newfound confidence
Photos: Courtesy of Let Grow
Sponsored by Charles Koch Foundation
The coronavirus pandemic may have a silver lining: It shows how insanely resourceful kids really are.
Let Grow, a non-profit promoting independence as a critical part of childhood, ran an "Independence Challenge" essay contest for kids. Here are a few of the amazing essays that came in.
Download Let Grow's free Independence Kit with ideas for kids.
Philosophers like to present their works as if everything before it was wrong. Sometimes, they even say they have ended the need for more philosophy. So, what happens when somebody realizes they were mistaken?
The future of learning will be different, and now is the time to lay the groundwork.
Future of Learning
The coronavirus pandemic has left many at an interesting crossroads in terms of mapping out the future of their respective fields and industries. For schools, that may mean a total shift not only in how educators teach, but what they teach.
One important strategy moving forward, thought leader Caroline Hill says, is to push back against the idea that getting ahead is more important than getting along. "The opportunity that education has in this moment to really push students and think about what is the right way to live, how do we do it and how do we do it in a way that doesn't hurt or rob the dignity of other people?"
Hill also argues that now is the time for bigger swings and for removing the barriers that limit education. The online space is boundary free and provides educators with new opportunities to connect with students around the world.
Remaining silent is being complicit.
Photo by Scott Heins/Getty Images
Politics & Current Affairs
Protests around the world are demanding an end to police discrimination and violence against black citizens in America.
Author and activist Dax-Devlon Ross offers advice on how white people can help during this moment.
Ross's suggestions include thinking and voting locally, supporting black-owned businesses, and practicing self-reflection.
Surprising Science
On Friday, the moon will pass through the Earth's outer shadow, known as the penumbra.
Scroll down to load more…