Non-Monogamous Relationships on the Rise Among Young Americans
How open are you to your partner having sex with other people? The answer may depend on your age.
21 October, 2016
How open are you to your partner having sex with other people? The answer may depend on your age.
---
A new poll from YouGov.com indicates that young Americans are more likely to accept non-monogamous relationships than their elders. Nearly a fifth of people under 30 had some kind of sexual activity with someone else while their partner knew about it. This is not to say that the youngsters are rejecting monogamy outright, as 56% of them still think it's the only way to go. That number rises to 74% for people between 45-64 and 78% in folks 65+. 
Perhaps this is not very surprising as people under 30 are less likely to be married and are still looking for a partner. It's even less surprising once you consider the rise of what has been described as "hookup culture", courtesy of the proliferation of apps like Tinder, which streamline the process of finding a temporary sexual partner.
Notably, the median age for marriage in 1970 was 21 for women and 23 for men. By 2010, that's risen to 27 and 29, respectively. Marrying later certainly increases the opportunity for premarital sexual encounters. On the larger scale, a bit over half of Americans are not married at all, so that creates quite a few singles.
The overall number of Americans who are not ok with their partner stepping out on them is at 68%. Still, some certainly do it. About 11% of Americans report having had sexual relations with someone else with their partner's consent, and 19% have done so on the sly (basically, cheated).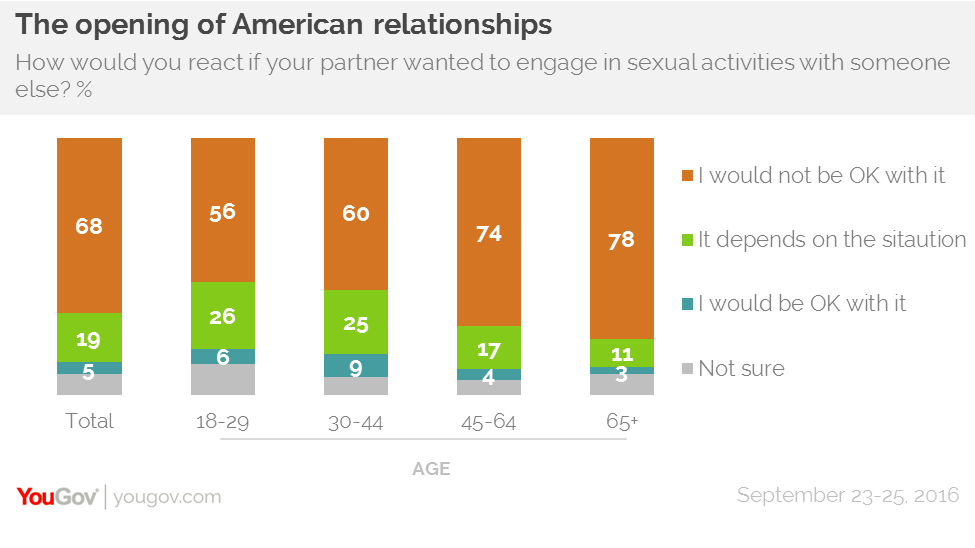 Again, younger Americans are more likely to cheat, with 17% of under-45s reporting such activity, while only 3% of over 65s admitted to having sex with someone without their partner's knowledge. This last statistic can also be explained by generational mores. It's likely the older folks aren't as open about such behavior as the much more open younger generation, which grew up in the era of social media and reality TV.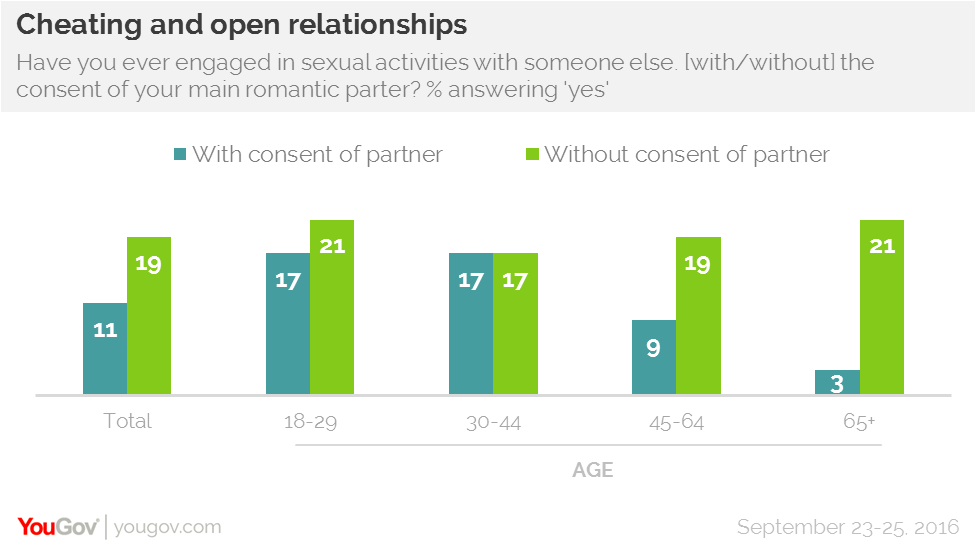 Other studies have found that, puzzlingly, even though millennials may have a more open attitude towards sex than their parents, the average number of sexual partners for Americans has actually decreased. The number of sexual partners for baby boomers (born between 1946 and 1964) was mostly the same, clocking in at 11.68, as the number of partners for those born in 1980s and 1990s. This number for millennials? 8.26.
If you are in a non-monogamous relationship, what rules should you follow to make it work for you? Certainly, each situation is different, but research has shown that key components of what's being called "ethical non-monogamy" should be trust and communication.
Without honesty, such a relationship is just cheating, and openness can go a long way towards defining the boundaries of what is acceptable to you and your partner. Non-monogamous partners are less likely to experience jealousy if the situation is properly discussed. They know that what their partner finds in another relationship (especially if it's merely sexual) may be the kind of fulfillment they are not willing or able to provide.
Big Think Edge
The meaning of the word 'confidence' seems obvious. But it's not the same as self-esteem.
Confidence isn't just a feeling on your inside. It comes from taking action in the world.
Join Big Think Edge today and learn how to achieve more confidence when and where it really matters.
If you're lacking confidence and feel like you could benefit from an ego boost, try writing your life story.
Personal Growth
In truth, so much of what happens to us in life is random – we are pawns at the mercy of Lady Luck. To take ownership of our experiences and exert a feeling of control over our future, we tell stories about ourselves that weave meaning and continuity into our personal identity.
What do the inventions of the future look like?
(Photo Credit: Rick Guidice/NASA)
Technology & Innovation
Self-sustaining space colonies and unlimited fusion energy would bring humanity to a new point in our evolution.
Flying cars and robot butlers could be the next paradigm shift in our tech appetite for change.
Death and consensus reality might soon become obsolete.
A space memorial company plans to launch the ashes of "Pikachu," a well-loved Tabby, into space.
GoFundMe/Steve Munt
Culture & Religion
Steve Munt, Pikachu's owner, created a GoFundMe page to raise money for the mission.
If all goes according to plan, Pikachu will be the second cat to enter space, the first being a French feline named Felicette.
It might seem frivolous, but the cat-lovers commenting on Munt's GoFundMe page would likely disagree.
Big think's weekly newsletter.
Get smarter faster from the comfort of your inbox.
See our newsletter privacy policy
here
Most Popular
Most Recent
Big think's weekly newsletter.
Get smarter faster from the comfort of your inbox.
See our newsletter privacy policy
here
© Copyright 2007-2019 & BIG THINK, BIG THINK EDGE,
SMARTER FASTER trademarks owned by The Big Think, Inc. All rights reserved.