The average commuter is stuck in traffic 41 hours a year
Infographics present data about how much we commute, how much time and money we spend in traffic, and what we think should be done about it.
01 September, 2018
97.1% of the U.S. workforce commutes to and from work. 86% do it every day. It takes the average commuter 26 minutes to get to work, and the same to get home. Many of us aren't that lucky, and the whole thing, as we probably don't need to tell you, feels like a tremendous waste of our personal time. And it is. Especially when there's traffic, in which that same average driver spends 41 frustrating hours a year, blowing about $1,642 annually in commuting-related costs. This is according to statistics compiled by Auto Insurance Center. They've just published their research as illuminating infographics we're happy — well, maybe "aggravated" is a better word — to present. Auto Insurance Center used data from INRIX, American Factfinder, and Census.gov combined with the results of an Amazon Mechanical Turk survey.
---
All of the infographics in this article are by Auto Insurance Center.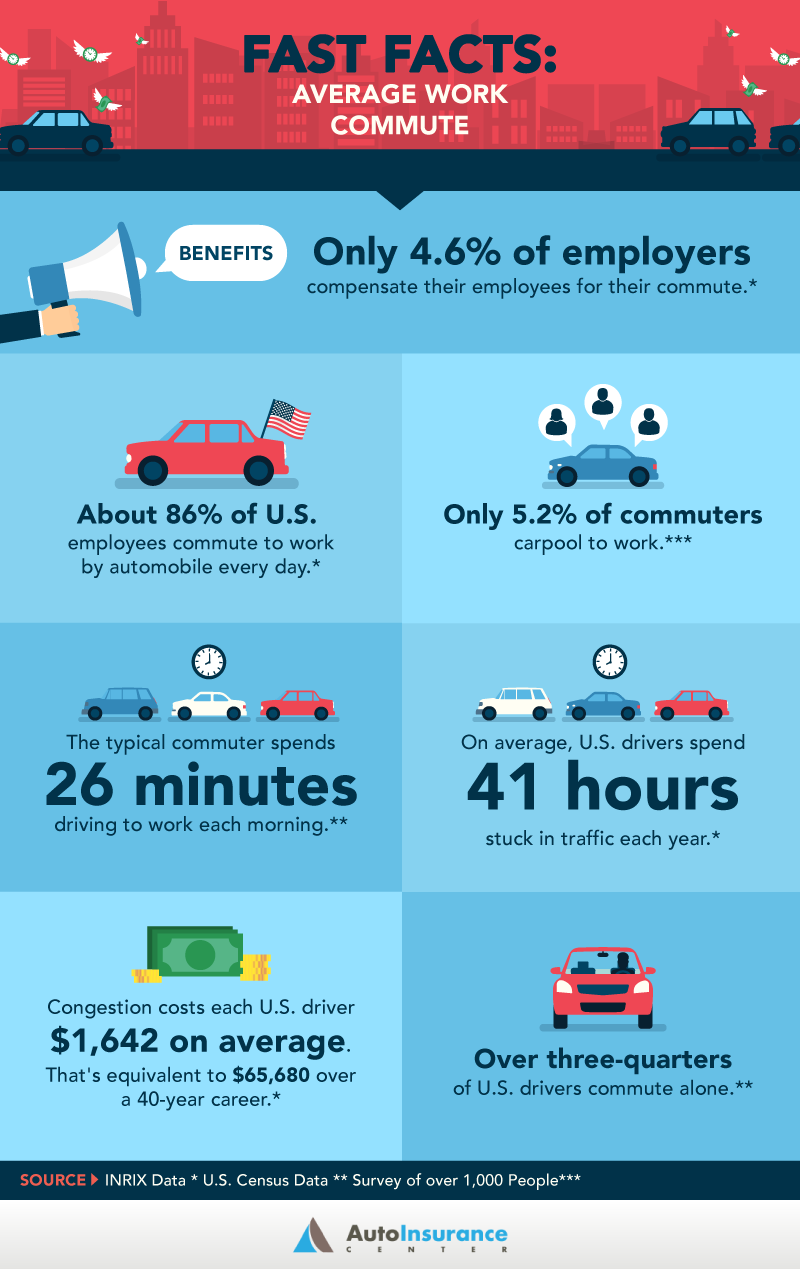 Sharing is caring
Three-quarters of us drive completely alone to and from work, suffering in solitude. Of course, if you're already on-edge about commuting, having to deal with other passengers may just be asking too much. On the other hand, where there are people, there's the possibility of being entertained. Just ask the shockingly few 5.2% of commuters who carpool.
The worst U.S. cities for commuting
It's not just time you're spending behind the wheel as you travel to your job and back: You're also spending money for fuel, tolls, wear and tear on your car, and insurance. Some places cost more for commuters than others. They're mostly our coastal megalopolises (megalopoli?), with the exception of booming Atlanta.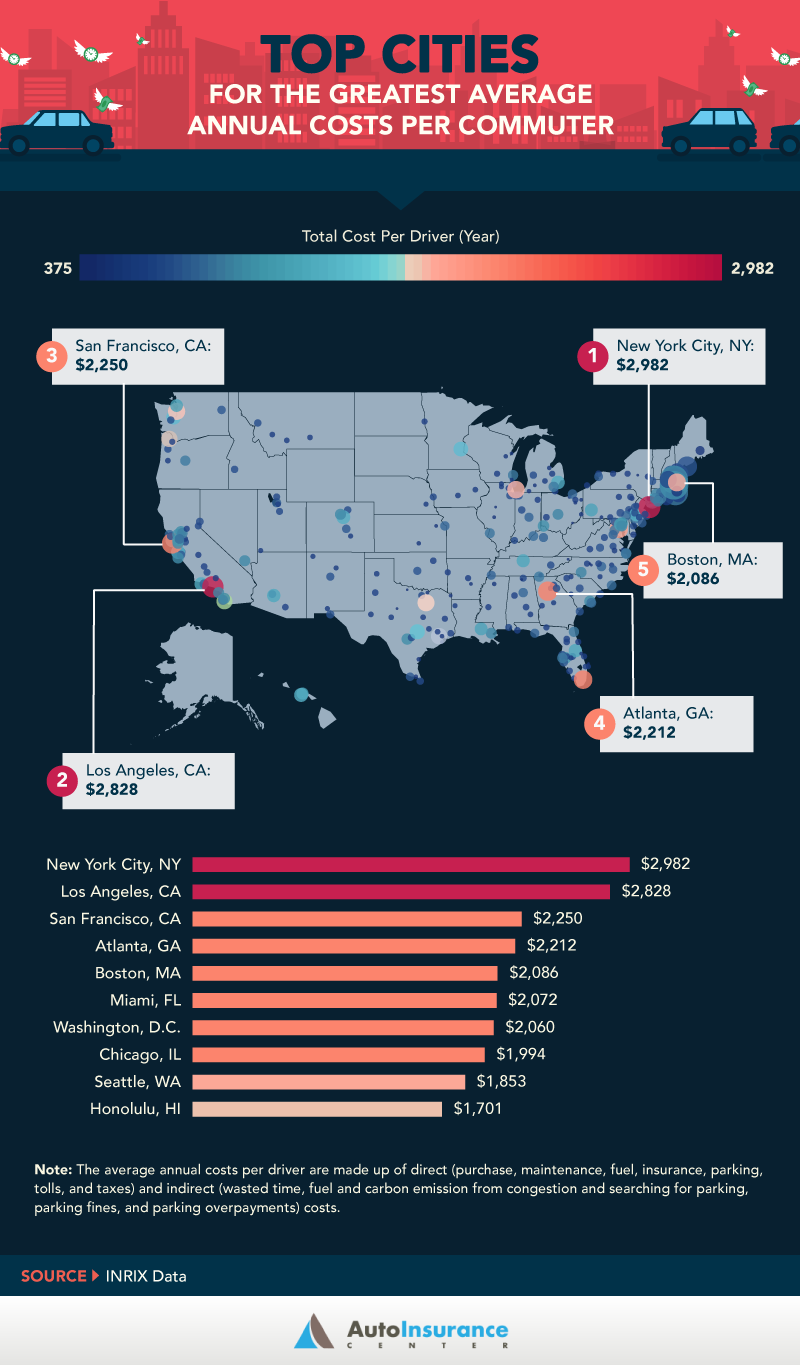 For those commuters who have to deal often with traffic, it's a long, depleting exercise in:
patience
staying calm or at least not giving in to road rage
looking out for those who aren't so good at #2 above
As with expense, the coastal areas of the U.S. plus Hotlanta are the most packed with the automobile and its nasty cousin, traffic.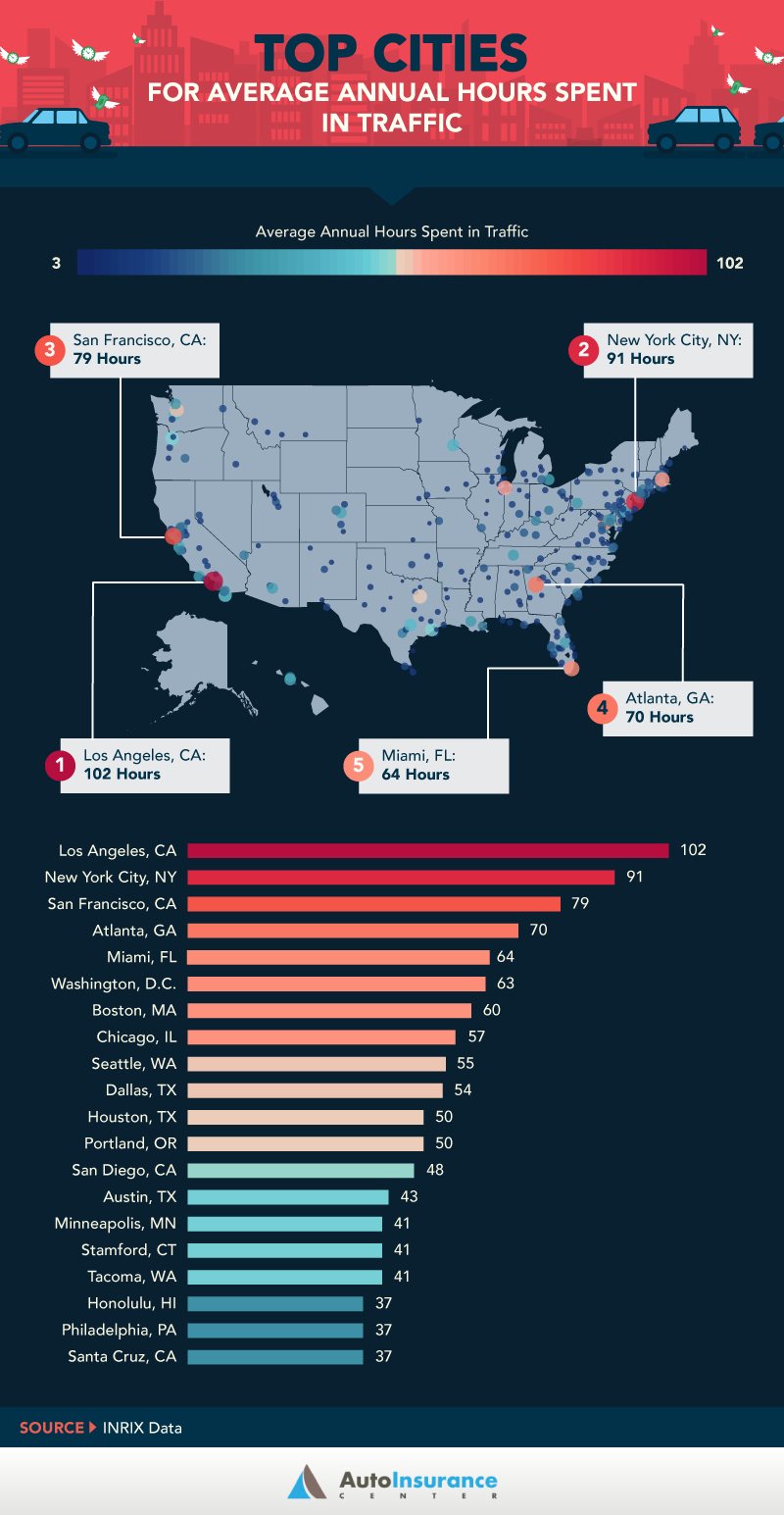 Employer Compensation?
As you may have noticed above, just 4.6% of employers compensated their commuters. And those who did weren't really handing out the big bucks anyway.

On top of that, few employers actually allow employees to shift their schedules to avoid heavy-traffic times and such.

Should employers compensate us for commuting?
Compensation by employers isn't actually something that most employees feel they're entitled to, actually. Just 34% — it would be interesting to see if this coincides with commuters who regularly deal with congestion, though Auto Insurance Center doesn't provide that figure.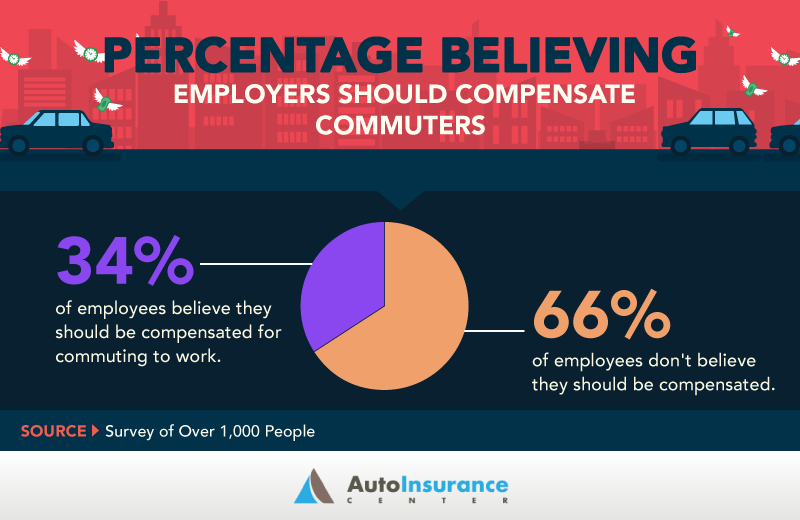 It doesn't matter where the employees live. The figures are pretty consistent.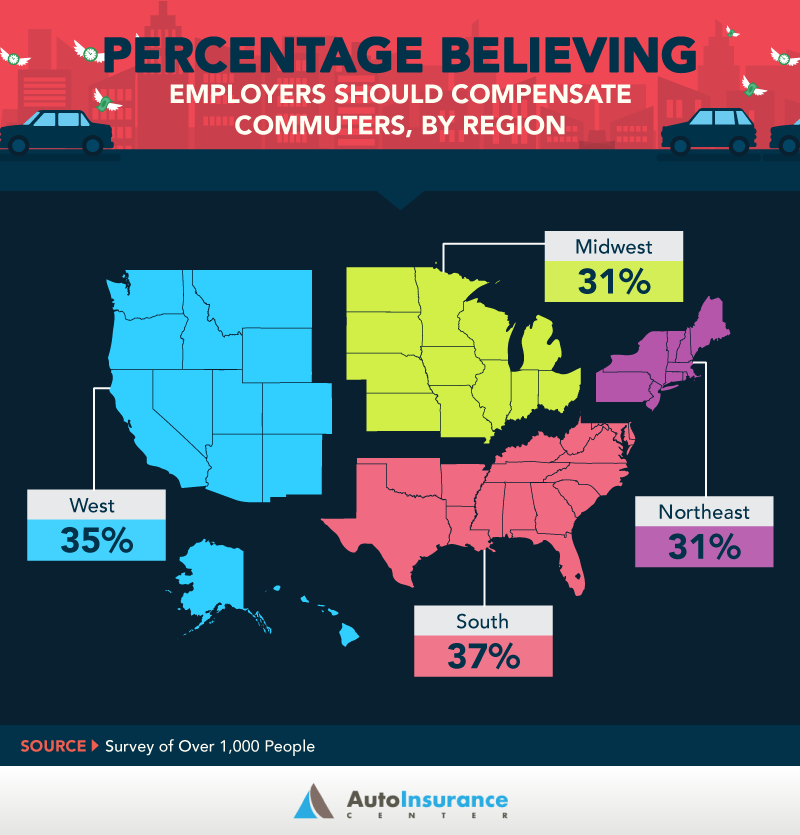 What kind of compensation
What kind of employer compensation does the third of Americans who think employers should step up have in mind? Well, basically, fuel, time, and wear and tear. 43% of those surveyed felt that they should just generally be paid a bit better if they commute, which is another way of saying they think lousy-no-good telecommuters should be paid less.
It is what it is
Hey, if it was all enjoyable they wouldn't call it "work". Telecommuting has its downsides, too — it's lonely and hard to get ahead — so it's not like commuters are getting an especially raw deal. Carpooling is something that everyone really should consider doing more of. It's not just good for the environment and more economical, but it also offers more potential for filling that time on the road than just sitting there, muttering behind the wheel.
Step inside the unlikely friendship of a former ACLU president and an ultra-conservative Supreme Court Justice.

Sponsored by Charles Koch Foundation
Former president of the ACLU Nadine Strossen and Supreme Court Justice Antonin Scalia were unlikely friends. They debated each other at events all over the world, and because of that developed a deep and rewarding friendship – despite their immense differences.
Scalia, a famous conservative, was invited to circles that were not his "home territory", such as the ACLU, to debate his views. Here, Strossen expresses her gratitude and respect for his commitment to the exchange of ideas.
"It's really sad that people seem to think that if you disagree with somebody on some issues you can't be mutually respectful, you can't enjoy each other's company, you can't learn from each other and grow in yourself," says Strossen.
The opinions expressed in this video do not necessarily reflect the views of the Charles Koch Foundation, which encourages the expression of diverse viewpoints within a culture of civil discourse and mutual respect.
French newspapers report that the trial hasn't lived up to expectations.
Image source: Charly Triballeau / AFP / Getty Images
Technology & Innovation
The French government initially invested in a rural solar roadway in 2016.
French newspapers report that the trial hasn't lived up to expectations.
Solar panel "paved" roadways are proving to be inefficient and too expensive.
Erik Verlinde has been compared to Einstein for completely rethinking the nature of gravity.
Photo by Willeke Duijvekam
Surprising Science
The Dutch physicist Erik Verlinde's hypothesis describes gravity as an "emergent" force not fundamental.
The scientist thinks his ideas describe the universe better than existing models, without resorting to "dark matter".
While some question his previous papers, Verlinde is reworking his ideas as a full-fledged theory.
Scientists make an important discovery for the future of computing.
Pixabay
Surprising Science
Researchers find a new state of matter called "topological superconductivity".
The state can lead to important advancements in quantum computing.
Utilizing special particles that emerge during this state can lead to error-free data storage and blazing calculation speed.