Infographics show jobs most likely to be lost to robots
Infographics look at jobs 95% likely to be taken by robots and the working hours that will be lost.
06 April, 2018
There's little disagreement about it: Robots and other forms of automation are coming for our jobs. Your job, maybe. According to a McKinsey Global Institute report, some 375 million jobs worldwide will vanish by 2030. An Oxford study in 2017 predicted job losses of up to 47% within 50 years. A report by the U.S. Bureau of Labor Statistics says a startling 1.4 million jobs in the U.S. will be gone in just eight years. After digging through some Bureau of Labor Statistics (BLS) numbers, researchers at CreditLoan have concluded that some 48 billion hours of work a year in the U.S. will soon be done by robots instead of humans. That's the equivalent of 300,000 working lifetimes — gone. In a Big Think exclusive, CreditLoan has turned the raw data into infographics that help clarify what we should expect.
---
What about your job?
The CreditLoan researchers supplemented the BLS numbers with their own survey of 1,001 people. They were asked how likely they thought it was that their own jobs would be lost to automation. 54% thought their job was safe. Sorry. CreditLoan's estimate was far more alarming: Only 3.1% are likely to survive the transition.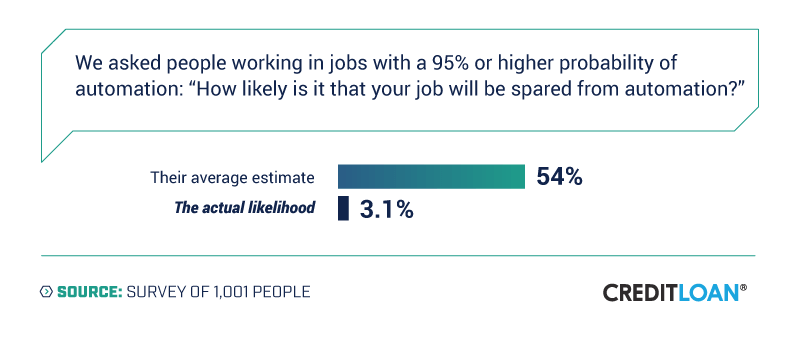 Respondents were more on-target in their assumptions that the more education they had, the more likely it was that they stood a chance of not being replaced by robots.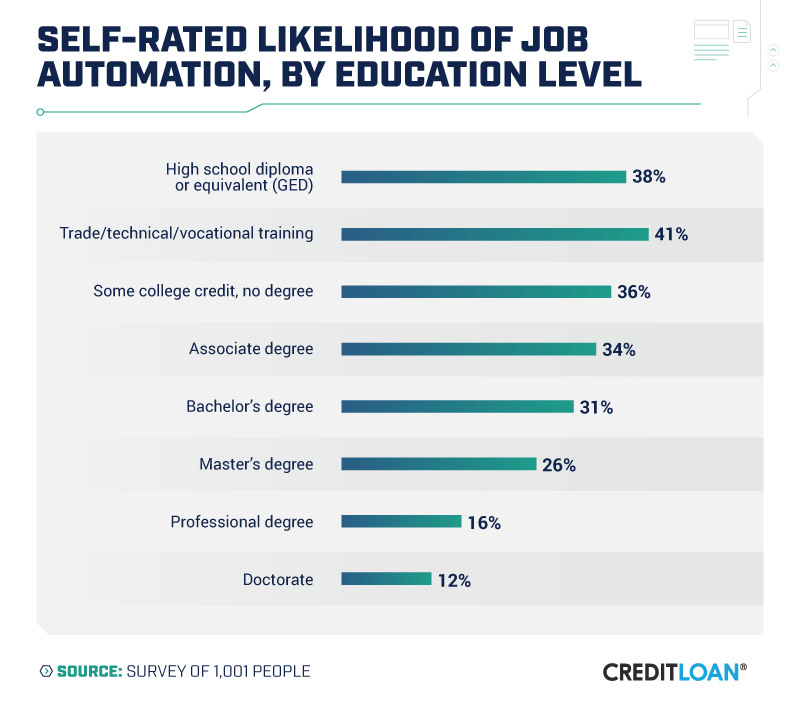 Work most likely to disappear
The researchers focused on jobs that were 95% or more likely to be replaced by automation, along with the hours lost and their equivalent in working lifetimes. This is not to say these are the only occupations in jeopardy — they're just the ones whose future looks least promising.

Altogether, the researchers estimate the time people currently spend working in these jobs at 48,553,260,000 hours. Here's a way to visualize what those numbers mean.

Time to chill or panic?
Not everyone agrees with all the dire predictions. Employment expert Michael Bernick suggests the concern is overblown for three reasons. He says:
Since the 1960s, nearly all warnings about automation and higher unemployment have proved incorrect (though this time could be different).
The workforce system in the United States has succeeded well over the years in adapting to technology and automation, though going forward it will be challenged to increase its response time.
Policy entrepreneurs are rushing forward to advance guaranteed income schemes and other "end of work" schemes; experience suggests we be cautious, very cautious.
Still, World Economic Forum asks, "Will this Fourth Industrial Revolution lead to a jobless future for manufacturing or will the 'traditional' response of education and training allow workers to remain employable?" They suspect, though, that the exponential advances in technology may simply be too swift for human workers to adapt to.
If this is so, Bernick's last point is worth thinking about. It implies the prospect of a guaranteed universal basic income (UBI). After all, as robotics bring tremendous economic benefits, what will happen to all of the people left out? Societies are already being torn apart by extreme income inequality as it is. Will the underemployed be left to simply starve and die, or supported through enhanced governmental safety nets? Nations are already beginning to take the idea of a UBI more seriously, though the idea has some tricky aspects. Finland is testing a limited form of UBI. The Swiss soundly voted down a UBI referendum in 2016.
Fewer work hours = more play hours?
So let's imagine for the moment that all of these displaced workers will be okay. With over 43 billion additional hours returned to our personal use, what kind of things could we accomplish? CreditLoan has some thoughts.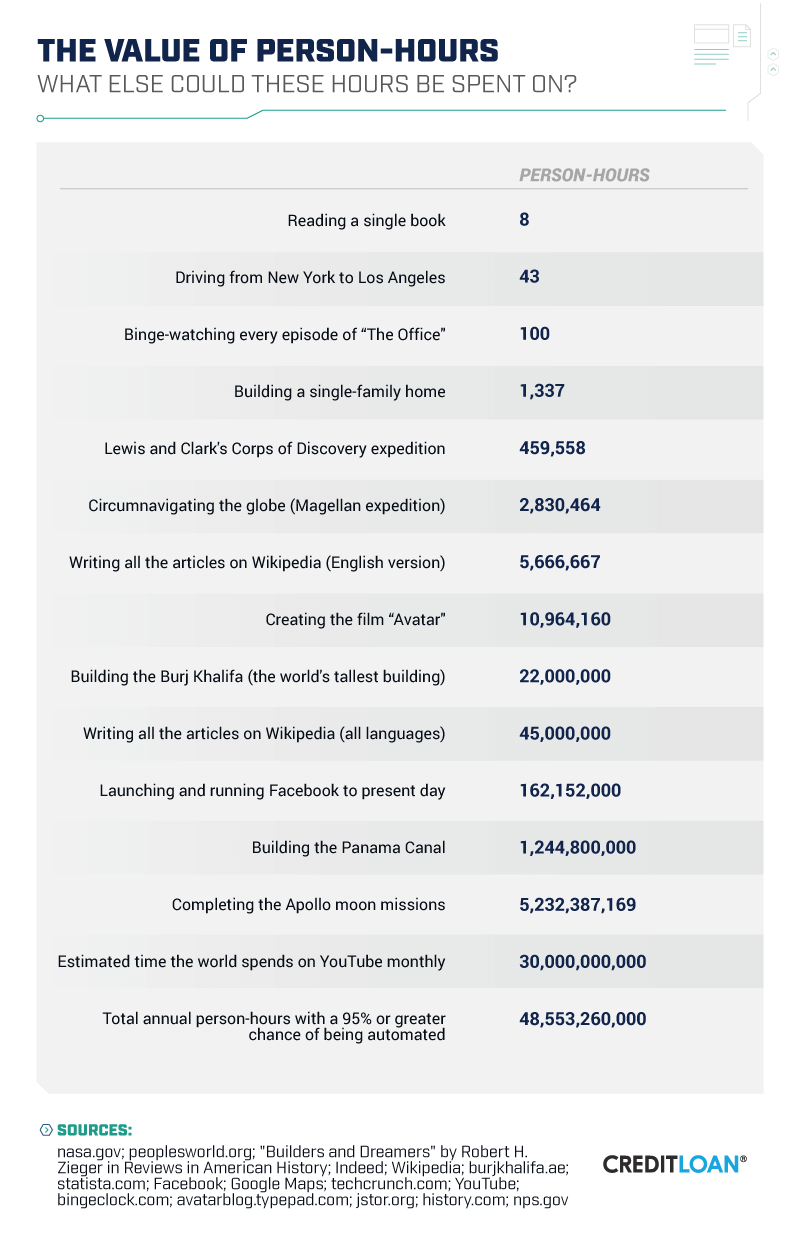 Tell you what: You go ahead and build the world's tallest building; we'll re-watch The Office. Or maybe we should all just think about what this next industrial revolution will look like, and, if need be, start cultivating a new career. Right now.
Swipe right to make the connections that could change your career.
Getty Images
Sponsored
Swipe right. Match. Meet over coffee or set up a call.
No, we aren't talking about Tinder. Introducing Shapr, a free app that helps people with synergistic professional goals and skill sets easily meet and collaborate.
Research by neuroscientists at MIT's Picower Institute for Learning and Memory helps explain how the brain regulates arousal.
Photo by CHARLY TRIBALLEAU / AFP/ Getty Images
Mind & Brain
The big day has come: You are taking your road test to get your driver's license. As you start your mom's car with a stern-faced evaluator in the passenger seat, you know you'll need to be alert but not so excited that you make mistakes. Even if you are simultaneously sleep-deprived and full of nervous energy, you need your brain to moderate your level of arousal so that you do your best.
A disturbing interview given by a KGB defector in 1984 describes America of today and outlines four stages of mass brainwashing used by the KGB.
Politics & Current Affairs
Bezmenov described this process as "a great brainwashing" which has four basic stages.
The first stage is called "demoralization" which takes from 15 to 20 years to achieve.
According to the former KGB agent, that is the minimum number of years it takes to re-educate one generation of students that is normally exposed to the ideology of its country.
When these companies compete, in the current system, the people lose.
Politics & Current Affairs
When a company reaches the top of the ladder, they typically kick it away so that others cannot climb up on it. The aim? So that another company can't compete.
When this phenomenon happens in the pharmaceutical world, companies quickly apply for broad protection of their patents, which can last up to 20 years, and fence off research areas for others. The result of this? They stay at the top of the ladder, at the cost of everyday people benefitting from increased competition.
Since companies have worked out how to legally game the system, Amin argues we need to get rid of this "one size fits all" system, which treats product innovation the same as product invention. Companies should still receive an incentive for coming up with new products, he says, but not 20 years if the product is the result of "tweaking" an existing one.
Big think's weekly newsletter.
Get smarter faster from the comfort of your inbox.
See our newsletter privacy policy
here
Most Popular
Most Recent
Big think's weekly newsletter.
Get smarter faster from the comfort of your inbox.
See our newsletter privacy policy
here
© Copyright 2007-2018 & BIG THINK, BIG THINK EDGE,
SMARTER FASTER trademarks owned by The Big Think, Inc. All rights reserved.