A Bot Wrote a New Harry Potter Chapter, and It Is Utterly Crazy
A predictive-keyboard app has just written an utterly crazy new Harry Potter chapter and the internet loves it.
14 December, 2017
---
"Harry could tell Voldemort was standing right behind him. He felt a great overreaction. Harry tore his eyes from his head and threw them into the forest. Voldemort raised his eyebrows at Harry, who could not see anything at the moment."
Thus transpires the confrontation between Harry Potter and He Who Must Not Be Named in a just-published new chapter, 'The Handsome One', from Harry Potter and the Portrait of What Looked Like a Large Pile of Ash. This new tome—of which only the one chapter so far exists—is so not from the mind of J.K. Rowling. It's not quite from anyone's, actually. It's the result of an experiment by the Botnik organization, and it's hilariously stupid. Naturally, it's going viral.
Botnik describes itself as "a community of writers, artists and developers collaborating with machines to create strange new things." Mission accomplished. Botnik's core members include computer scientist Elle O'Brien, creative developer Joseph Parker, Jamie Brew, former head writer at Clickhole, and Bob Mankoff, who for years was the cartoons editor at The New Yorker, and as such was the main subject of the HBO documentary Very Semi-Serious. Anyone is welcome to join the Botnik community.
'The Handsome One' is the product of a predictive keyboard app Botnik developed. Predictive keyboard apps attempt to guess the word or phrase a user is typing so the user can simply tap the displayed word or phrase for entry, instead of typing it out.
Brew has been playing with predictive keyboard creations for a while, with his Batman Loves Him a Criminal posted to Tumblr a while back. Others have created poetry with such apps.
The predictive algorithm in Botnik's app is based on the language in the actual Harry Potter books. Botnik distributed the app to members for them to experiment with, and their favorite results were submitted for compilation as the insane Harry Potter chapter.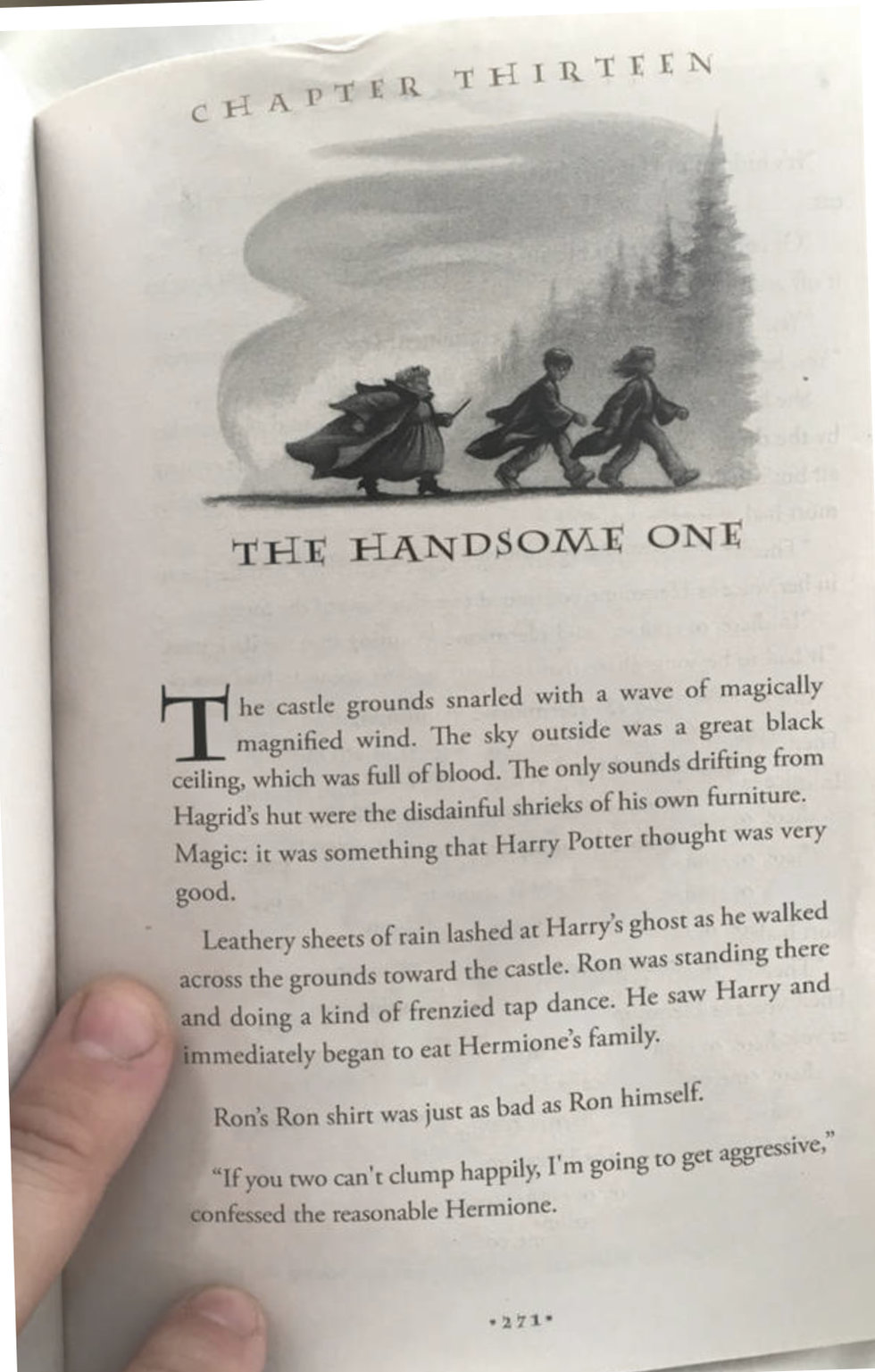 (BOTNIK)
Everyone who reads 'The Handsome One' will have their favorite passages. Here are some of ours:
Leathery sheets of rain lashed at Harry's ghost as he walked across the grounds toward the castle. Ron was standing there doing a kind of frenzied tap dance. He saw Harry and immediately began to eat Hermione's family.
To Harry, Ron was a loud, slow and soft bird.
"Locked," said Mr. Staircase, the shabby-robed ghost. They looked at the door, screaming about how closed it was and asking it to be replaced with a small orb. The password is "BEEF WOMEN," Hermione cried.
Mountains of mice exploded. Several long pumpkins fell out of McGonagall.
"I'm Harry Potter," Harry began yelling. "The dark arts better be worried, oh boy!"
In any event, it looks like carbon-based authors and poets are safe from obsolescence for now. Not so much Voldemort, though, who is a "very bad and mean wizard," according to The Handsome One's best friend.
Read the full chapter over at Botnik.
A federal judge ruled that the Trump administration likely violated the reporter's Fifth Amendment rights when it stripped his press credentials earlier this month.
WASHINGTON, DC - NOVEMBER 16: CNN chief White House correspondent Jim Acosta (R) returns to the White House with CNN Washington bureau chief Sam Feist after Federal judge Timothy J. Kelly ordered the White House to reinstate his press pass November 16, 2018 in Washington, DC. CNN has filed a lawsuit against the White House after Acosta's press pass was revoked after a dispute involving a news conference last week. (Photo by Alex Wong/Getty Images)
Politics & Current Affairs
Acosta will be allowed to return to the White House on Friday.
The judge described the ruling as narrow, and didn't rule one way or the other on violations of the First Amendment.
The case is still open, and the administration may choose to appeal the ruling.
Protected animals are feared to be headed for the black market.
(VL.ru)
Politics & Current Affairs
Russian news network discovers 101 black-market whales.
Orcas and belugas are seen crammed into tiny pens.
Marine parks continue to create a high-price demand for illegal captures.
New research identifies an unexpected source for some of earth's water.
Surprising Science
A lot of Earth's water is asteroidal in origin, but some of it may come from dissolved solar nebula gas.
Our planet hides majority of its water inside: two oceans in the mantle and 4–5 in the core.
New reason to suspect that water is abundant throughout the universe.
Big think's weekly newsletter.
Get smarter faster from the comfort of your inbox.
See our newsletter privacy policy
here
Most Popular
Most Recent
Big think's weekly newsletter.
Get smarter faster from the comfort of your inbox.
See our newsletter privacy policy
here
© Copyright 2007-2018 & BIG THINK, BIG THINK EDGE,
SMARTER FASTER trademarks owned by The Big Think, Inc. All rights reserved.