When You Can't Afford to Make a Mistake, This'll Keep You Sharp
20 cognitive biases in a chart that could keep you from making a bad decision.
19 April, 2016
Peter Baumann suggests that our biases can get a bad rap, but that they're essential. He sees them as unconscious inclinations that we've developed over time, and most of the time, they reflect actual knowledge we've acquired about how the world works. They set the frameworks within which we live our lives. Our bias toward feeling safe, for example, keeps us (mostly) out of trouble, while a bias towards certain flavors sets us parameters for selecting the dish we'd like to eat at a restaurant. Of course, our biases are only as intelligent as we are, so occasionally they're pretty stupid.
---
There's a category of not-so-helpful mental habits and inclinations called "cognitive biases." The problem with these biases is that when we incorrectly apply them to decision-making, they prejudice our thought process and keep us from thinking, and deciding, clearly.
Researchers have identified a number of these mind traps. In this video, Baumann zeroes in on confirmation bias, where we ignore any evidence that doesn't support what we've already concluded, and only find things that prove it. He also nominates the uniqueness bias as maybe the most amusing cognitive bias.
Julia Galef has a great method for avoiding another common bias, the commitment effect. It's the one where you keep doing what evidence suggests may not be working anymore because either you don't want to feel your investment up until now has been wasted, or because the behavior has become tied up in who you feel you are. Her tip? Ask yourself what you would do if you were just coming to the problem from the outside. 
At Business Insider, Samantha Lee put together a great infographic showing 20 cognitive biases that can get in the way of solid decision-making.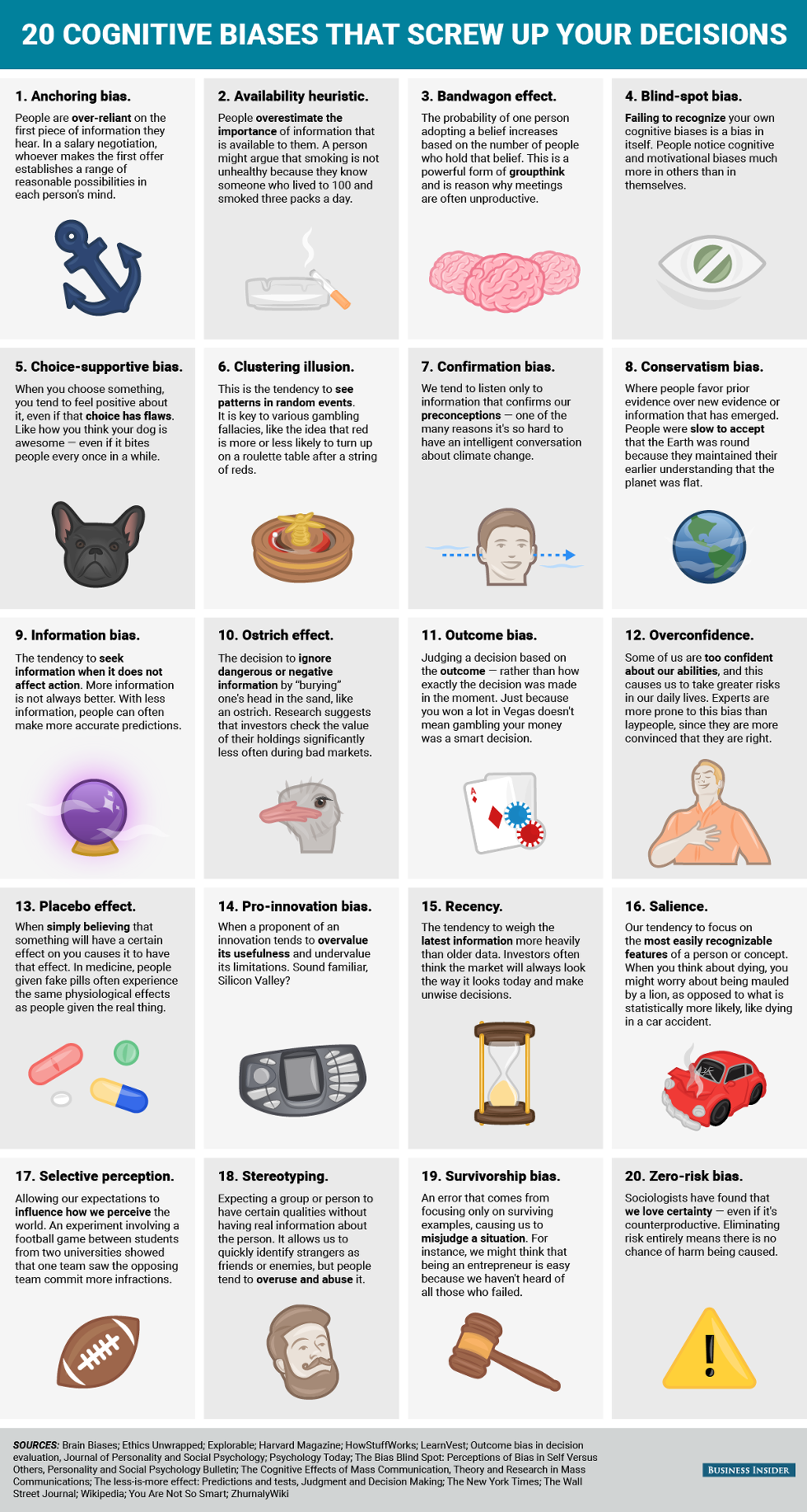 If you make a lot of decisions, this seems like a fantastic tool to have available so you can double-check the integrity of your thought process at those times when it's absolutely critical that your cognitive biases don't prevent you from thinking clearly.
New research links urban planning and political polarization.
Pixabay
Politics & Current Affairs
Canadian researchers find that excessive reliance on cars changes political views.
Decades of car-centric urban planning normalized unsustainable lifestyles.
People who prefer personal comfort elect politicians who represent such views.
Progressive America would be half as big, but twice as populated as its conservative twin.
Image: Dicken Schrader
Strange Maps
America's two political tribes have consolidated into 'red' and 'blue' nations, with seemingly irreconcilable differences.
Perhaps the best way to stop the infighting is to go for a divorce and give the two nations a country each
Based on the UN's partition plan for Israel/Palestine, this proposal provides territorial contiguity and sea access to both 'red' and 'blue' America
Science and the squishiness of the human mind. The joys of wearing whatever the hell you want, and so much more.
Flickr / 13winds
Think Again Podcasts
Why can't we have a human-sized cat tree?
What would happen if you got a spoonful of a neutron star?
Why do we insist on dividing our wonderfully complex selves into boring little boxes
Big think's weekly newsletter.
Get smarter faster from the comfort of your inbox.
See our newsletter privacy policy
here
Most Popular
Most Recent
Big think's weekly newsletter.
Get smarter faster from the comfort of your inbox.
See our newsletter privacy policy
here
© Copyright 2007-2018 & BIG THINK, BIG THINK EDGE,
SMARTER FASTER trademarks owned by The Big Think, Inc. All rights reserved.