When You Can't Afford to Make a Mistake, This'll Keep You Sharp
20 cognitive biases in a chart that could keep you from making a bad decision.
19 April, 2016
Peter Baumann suggests that our biases can get a bad rap, but that they're essential. He sees them as unconscious inclinations that we've developed over time, and most of the time, they reflect actual knowledge we've acquired about how the world works. They set the frameworks within which we live our lives. Our bias toward feeling safe, for example, keeps us (mostly) out of trouble, while a bias towards certain flavors sets us parameters for selecting the dish we'd like to eat at a restaurant. Of course, our biases are only as intelligent as we are, so occasionally they're pretty stupid.
---
There's a category of not-so-helpful mental habits and inclinations called "cognitive biases." The problem with these biases is that when we incorrectly apply them to decision-making, they prejudice our thought process and keep us from thinking, and deciding, clearly.
Researchers have identified a number of these mind traps. In this video, Baumann zeroes in on confirmation bias, where we ignore any evidence that doesn't support what we've already concluded, and only find things that prove it. He also nominates the uniqueness bias as maybe the most amusing cognitive bias.
Julia Galef has a great method for avoiding another common bias, the commitment effect. It's the one where you keep doing what evidence suggests may not be working anymore because either you don't want to feel your investment up until now has been wasted, or because the behavior has become tied up in who you feel you are. Her tip? Ask yourself what you would do if you were just coming to the problem from the outside.
At Business Insider, Samantha Lee put together a great infographic showing 20 cognitive biases that can get in the way of solid decision-making.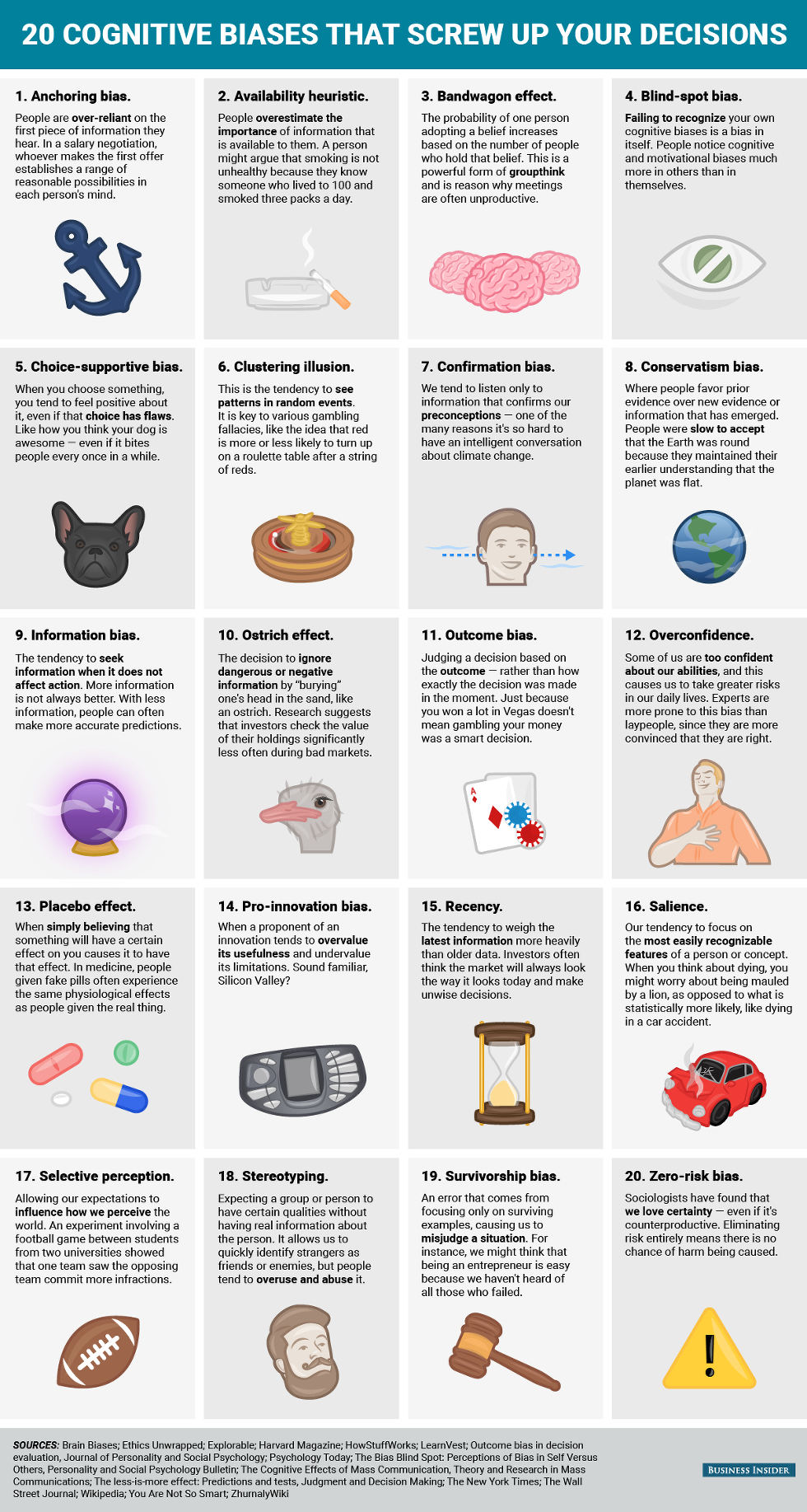 If you make a lot of decisions, this seems like a fantastic tool to have available so you can double-check the integrity of your thought process at those times when it's absolutely critical that your cognitive biases don't prevent you from thinking clearly.
The Russian-built FEDOR was launched on a mission to help ISS astronauts.
Most people think human extinction would be bad. These people aren't philosophers.
Shutterstock
Politics & Current Affairs
A new opinion piece in The New York Times argues that humanity is so horrible to other forms of life that our extinction wouldn't be all that bad, morally speaking.
The author, Dr. Todd May, is a philosopher who is known for advising the writers of The Good Place.
The idea of human extinction is a big one, with lots of disagreement on its moral value.
Picking up where we left off a year ago, a conversation about the homeostatic imperative as it plays out in everything from bacteria to pharmaceutical companies—and how the marvelous apparatus of the human mind also gets us into all kinds of trouble.
Think Again Podcasts
"Prior to nervous systems: no mind, no consciousness, no intention in the full sense of the term. After nervous systems, gradually we ascend to this possibility of having to this possibility of having minds, having consciousness, and having reasoning that allows us to arrive at some of these very interesting decisions."

"We are fragile culturally and socially…but life is fragile to begin with. All that it takes is a little bit of bad luck in the management of those supports, and you're cooked…you can actually be cooked—with global warming!"