Big ideas.
Once a week.
Subscribe to our weekly newsletter.
Why Socialism Is Back as a Political Force That Will Only Grow
The political and economic ideas of socialism are coming back into fashion.
25 June, 2017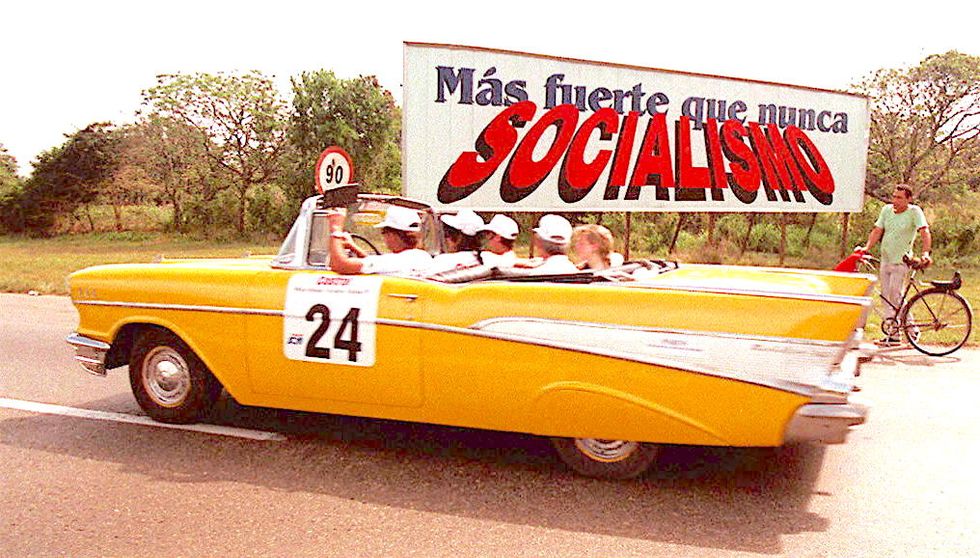 ---
Socialism saw its heyday in the 20th century when its ideas were adapted by a number of countries, in a variety of bastardizations of its message. In fact, some would argue that a pure socialism never existed. Now it is experiencing a tremendous resurgence in the 21st century due to the growing economic disparity, anger at the establishment and charismatic older socialist politicians like Bernie Sanders in the U.S. and Jeremy Corbyn in the U.K. who gathered massive support from the young. A new wave of socialist thinkers is also beginning to emerge that looks to distance the movement from the historical stigma to formulate a new socialism that speaks to the challenges of today.
What is socialism? In the most basic definition, it is a political and economic system where the means of production and essential resources are owned by the community. Socialism comes in many different forms and has been practiced with great variety around the world. 
Jacobin, a magazine that's gained popularity for "offering socialist perspectives" on political and cultural topics, published a guide on how to redefine socialism for the modern age. In it, the publication's editor Bhaskar Sunkara describes socialism as, fundamentally, a way to build the kind of world where people don't take advantage of others for gain but rather for the benefits of cooperation. To Sunkara, socialism is "abolishing private ownership of the things we all need and use — factories, banks, offices, natural resources, utilities, communication and transportation infrastructure — and replacing it with social ownership, thereby undercutting the power of elites to hoard wealth and power." 
Private property would not exist, but personal property would remain. The government will not take away your "Kenny Loggins records," jokes Sunkara.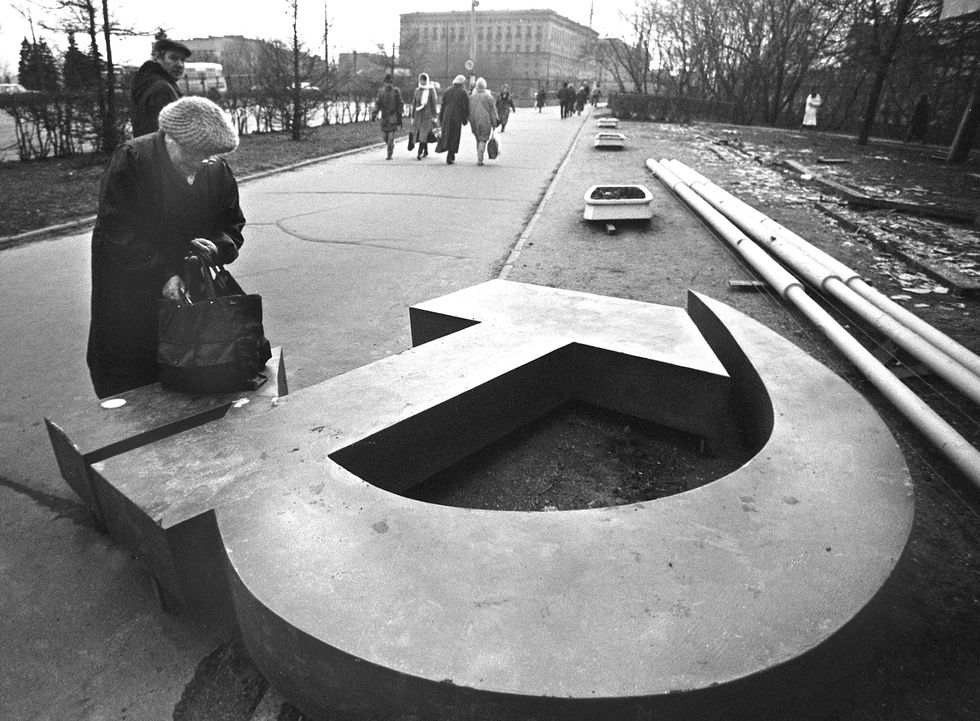 An old Russian woman fixing her belongings on a vandalized symbols of the Communism, the Hammer and Sickle, on an avenue of Moscow, on November 1990. At the time of creation, the hammer stood for industrial labourers and the sickle for the peasantry; combined they stood for the worker-peasant alliance for socialism and against reactionary movements and foreign intervention. (Photo credit: ALEXANDER NEMENOV/AFP/Getty Images)
In their guide, the writers and editors of Jacobin also try to dispel some of the confusion related to socialism. In particular, they argue, many people tend to associate any kind of government institution, even the DMV, with socialism. But just because it's a part of the government doesn't make it socialist. In fact, an average person has so little say politically due to the stronghold of corporate interests on the government, that any "state action will disproportionately benefit capitalist interests at the expense of everything else," writes Chris Maisano in the Jacobin's guide.
The journal also offers a defense against the charge that socialism inevitably ends up in authoritarian governments. Joseph M. Schwartz writes how Marxists and European socialists could not anticipate that revolutionary parties would try to create socialism in "predominantly agrarian, autocratic societies" like Russia and China. 
"In many ways, one-party Communist states shared more in common with past authoritarian capitalist "developmentalist" states — such as late nineteenth-century Prussia and Japan, and postwar South Korea and Taiwan —than with the vision of democratic socialism. These governments prioritized state-led industrialization over democratic rights, particularly those of an independent labor movement," writes Schwartz.
Jacobin's prescription for building a more socialist country - mobilize the people through education and direct participation in the government.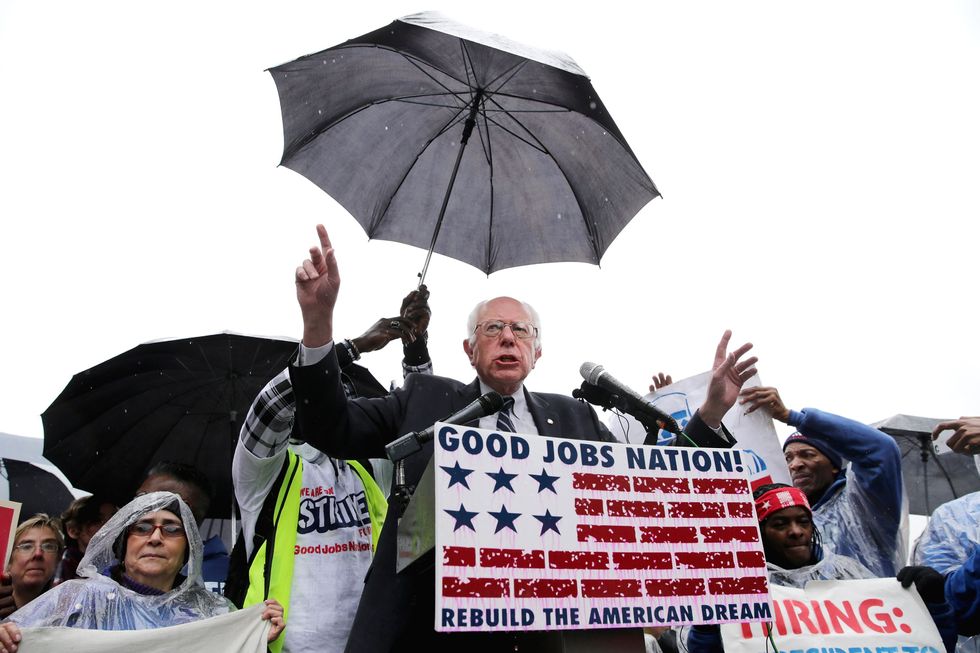 Democratic presidential candidate Sen. Bernie Sanders (I-VT) (C) addresses a rally with protesters calling for higher wages for federal contract workers in the rain on Capitol Hill November 10, 2015 in Washington, DC. (Photo by Chip Somodevilla/Getty Images)
Is Bernie Sanders a socialist? He is the country's most popular active politician according to the polls, but he's not socialist enough, according to the editors of the Jacobin. Noam Chomsky famously called him "a decent, honest New Dealer." Sanders himself draws the distinction, calling his politics - democratic socialism. He often refers to Scandinavian countries as models for what he would like the United States to become.  Sanders's key themes of reducing economic inequality and the influence of politics in money appeals to a cross-section Americans from the left and the right.
To combat the negative stereotypes of socialism, Sanders invokes the New Deal policies of Franklin Delano Roosevelt that were called "socialist" like establishing social security and the minimum wage. Sanders also links the way he sees the world to Martin Luther King's calls for social and economic justice.  
To Sanders, education, affordable housing and universal health care are the public's right rather than private commodities that can be used to turn a profit. Still, he has not called for nationalizing any industries, saying specifically "I don't believe government should own the means of production."
He defined "democratic socialism" himself in 2015 as a necessary adjustment in an increasingly unequal society.
"Democratic socialism means that we must create an economy that works for all, not just the very wealthy. Democratic socialism means that we must reform a political system in America today which is not only grossly unfair but, in many respects, corrupt.," said Sanders, adding "In my view, it's time we had democratic socialism for working families, not just Wall Street, billionaires and large corporations."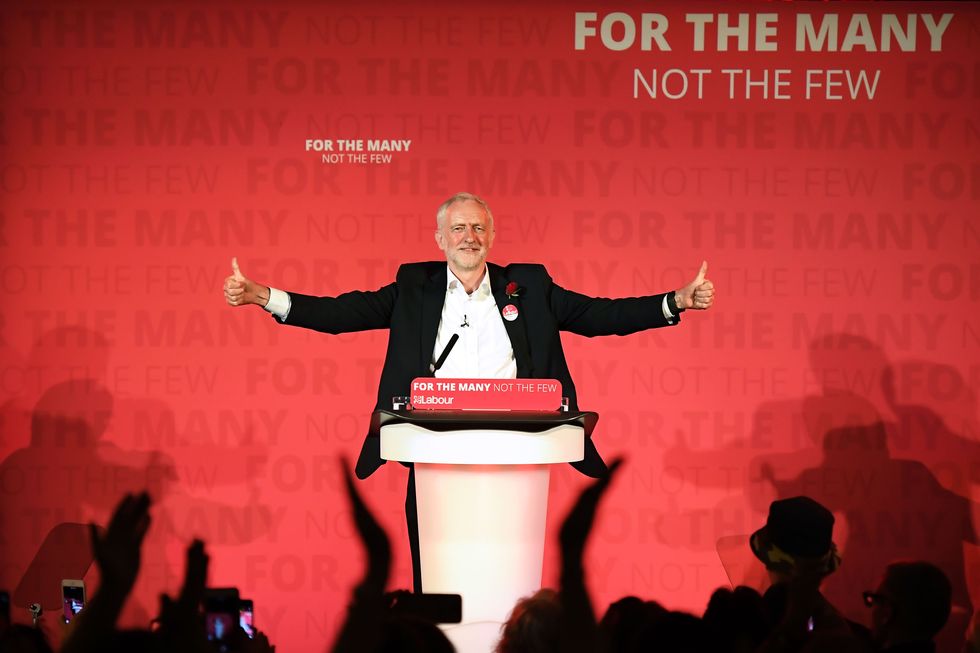 Jeremy Corbyn, Leader of the Labour Party speaks during a campaign rally at Union Chapel Islington on June 7, 2017 in London, United Kingdom. (Photo by Leon Neal/Getty Images)
Is Jeremy Corbyn a socialist? The leader of UK's Labour Party, which won a surprising number of seats against the ruling Conservative Party in recent elections, also identifies as a "democratic socialist." Labour's 2017 manifesto, titled "For the Many, Not the Few" includes plans to re-nationalize the rail, postal and water services, abolish college tuition fees, increase the minimum wage and spending on national healthcare, as well as upping the tax on the wealthy. Many of these ideas are certainly more to the left of what's been proposed by Sanders for the U.S.
Corbyn's message has energized young voters in particular, with close to 70% of those 18 to 24 supporting Labour. How much more support can these kinds of ideas gain?  The latest polls show the party's appeal growing wider still, now 5% ahead of the Tories at 46%. Corbyn's personal approval is also high, better than the Prime Minister Theresa May's.
To consider why the ideas of socialism continue to have followers in our times, let's turn to Albert Einstein. One of the world's most brilliant thinkers who had seen the effects of socialism in his lifetime, Einstein wrote an essay called "Why socialism" in 1949 that still resonates in some of its themes.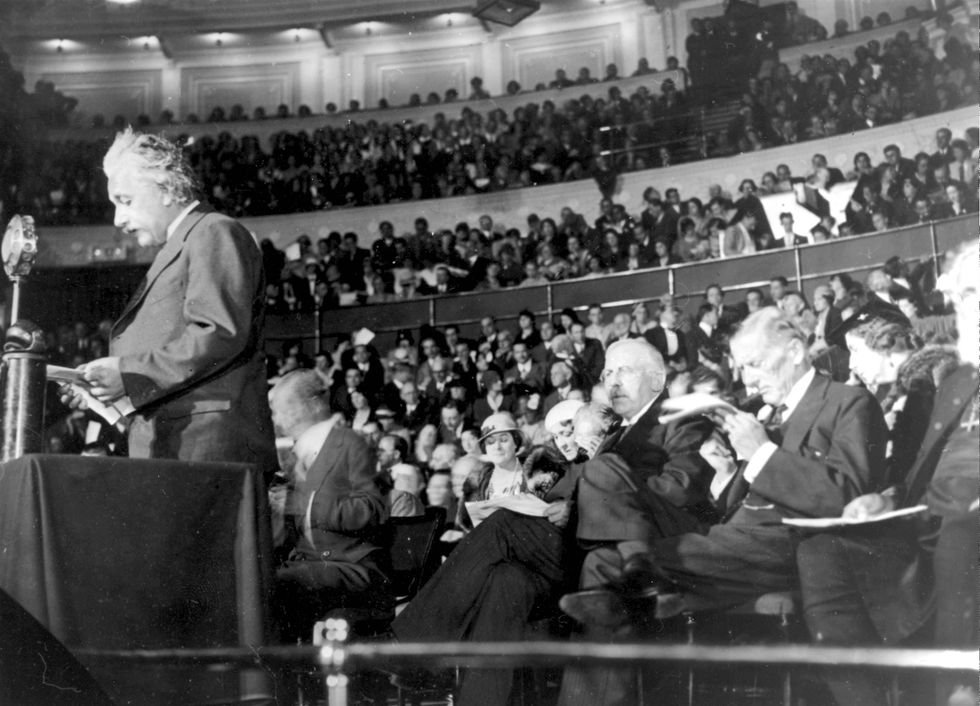 German-born American physicist Albert Einstein (1879 - 1955) speaking during his Science And Civilization lecture at the Royal Albert Hall, London. (Photo by Keystone/Getty Images)
Einstein critiques capitalism as having a tendency towards becoming an oligarchy where "private capital tends to become concentrated in few hands" that cannot be "effectively checked even by a democratically organized political society". This happens because the capitalists control the main mass media sources (including education) while the members of the government come from political parties that are "largely financed or otherwise influenced by private capitalists who, for all practical purposes, separate the electorate from the legislature." As as a result of that, according to Einstein, these representatives do not "sufficiently protect" the interests of the underprivileged.
Sounds familiar? If similar challenges present themselves almost 70 years later, it is no surprise solutions like socialism come back. Of course, there are now also fears of fascism returning to fashion.
Einstein saw the establishment of a "socialist economy" with an accompanying educational system that's oriented towards social goals as the only way forward for society.
"In such an economy, the means of production are owned by society itself and are utilized in a planned fashion. A planned economy, which adjusts production to the needs of the community, would distribute the work to be done among all those able to work and would guarantee a livelihood to every man, woman, and child. The education of the individual, in addition to promoting his own innate abilities, would attempt to develop in him a sense of responsibility for his fellow men in place of the glorification of power and success in our present society," wrote Einstein.
Einstein did caution, however, perhaps with an eye towards the Soviet Union, that a planned economy might result in "the complete enslavement of the individual" by the bureaucracy and saw it essential for socialism to resolve the problem of protecting the rights of the individual. 
Historical lessons aside, socialism is a rejuvenated force. Polls show that somewhere between 30 to 60% of Democratic voters have a favorable view of its ideas. Over 50% of millennials have a positive opinion of socialism. As automation is sure to put a major portion of the world out of work, the issues around ownership of necessary resources and distribution of wealth are sure to stay vital.
Check out this video from mathematician and economist Eric Weinstein on how capitalism can use socialist principles to cure what ails it:
Cover photo: A US-made 1957 Chevrolet Bel Air races past a billboard that reads,'Stronger than ever, Socialism' 14 February near Santa Maria del Mar, Cuba. (Photo credit: ADALBERTO ROQUE/AFP/Getty Images)
Inventions with revolutionary potential made by a mysterious aerospace engineer for the U.S. Navy come to light.
Credit: Getty Images
Surprising Science
U.S. Navy holds patents for enigmatic inventions by aerospace engineer Dr. Salvatore Pais.
Pais came up with technology that can "engineer" reality, devising an ultrafast craft, a fusion reactor, and more.
While mostly theoretical at this point, the inventions could transform energy, space, and military sectors.
The U.S. Navy controls patents for some futuristic and outlandish technologies, some of which, dubbed "the UFO patents," came to life recently. Of particular note are inventions by the somewhat mysterious Dr. Salvatore Cezar Pais, whose tech claims to be able to "engineer reality." His slate of highly-ambitious, borderline sci-fi designs meant for use by the U.S. government range from gravitational wave generators and compact fusion reactors to next-gen hybrid aerospace-underwater crafts with revolutionary propulsion systems, and beyond.
Of course, the existence of patents does not mean these technologies have actually been created, but there is evidence that some demonstrations of operability have been successfully carried out. As investigated and reported by The War Zone, a possible reason why some of the patents may have been taken on by the Navy is that the Chinese military may also be developing similar advanced gadgets.
Among Dr. Pais's patents are designs, approved in 2018, for an aerospace-underwater craft of incredible speed and maneuverability. This cone-shaped vehicle can potentially fly just as well anywhere it may be, whether air, water or space, without leaving any heat signatures. It can achieve this by creating a quantum vacuum around itself with a very dense polarized energy field. This vacuum would allow it to repel any molecule the craft comes in contact with, no matter the medium. Manipulating "quantum field fluctuations in the local vacuum energy state," would help reduce the craft's inertia. The polarized vacuum would dramatically decrease any elemental resistance and lead to "extreme speeds," claims the paper.
Not only that, if the vacuum-creating technology can be engineered, we'd also be able to "engineer the fabric of our reality at the most fundamental level," states the patent. This would lead to major advancements in aerospace propulsion and generating power. Not to mention other reality-changing outcomes that come to mind.
Among Pais's other patents are inventions that stem from similar thinking, outlining pieces of technology necessary to make his creations come to fruition. His paper presented in 2019, titled "Room Temperature Superconducting System for Use on a Hybrid Aerospace Undersea Craft," proposes a system that can achieve superconductivity at room temperatures. This would become "a highly disruptive technology, capable of a total paradigm change in Science and Technology," conveys Pais.
High frequency gravitational wave generator.
Credit: Dr. Salvatore Pais
Another invention devised by Pais is an electromagnetic field generator that could generate "an impenetrable defensive shield to sea and land as well as space-based military and civilian assets." This shield could protect from threats like anti-ship ballistic missiles, cruise missiles that evade radar, coronal mass ejections, military satellites, and even asteroids.
Dr. Pais's ideas center around the phenomenon he dubbed "The Pais Effect". He referred to it in his writings as the "controlled motion of electrically charged matter (from solid to plasma) via accelerated spin and/or accelerated vibration under rapid (yet smooth) acceleration-deceleration-acceleration transients." In less jargon-heavy terms, Pais claims to have figured out how to spin electromagnetic fields in order to contain a fusion reaction – an accomplishment that would lead to a tremendous change in power consumption and an abundance of energy.
According to his bio in a recently published paper on a new Plasma Compression Fusion Device, which could transform energy production, Dr. Pais is a mechanical and aerospace engineer working at the Naval Air Warfare Center Aircraft Division (NAWCAD), which is headquartered in Patuxent River, Maryland. Holding a Ph.D. from Case Western Reserve University in Cleveland, Ohio, Pais was a NASA Research Fellow and worked with Northrop Grumman Aerospace Systems. His current Department of Defense work involves his "advanced knowledge of theory, analysis, and modern experimental and computational methods in aerodynamics, along with an understanding of air-vehicle and missile design, especially in the domain of hypersonic power plant and vehicle design." He also has expert knowledge of electrooptics, emerging quantum technologies (laser power generation in particular), high-energy electromagnetic field generation, and the "breakthrough field of room temperature superconductivity, as related to advanced field propulsion."
Suffice it to say, with such a list of research credentials that would make Nikola Tesla proud, Dr. Pais seems well-positioned to carry out groundbreaking work.
A craft using an inertial mass reduction device.
Credit: Salvatore Pais
The patents won't necessarily lead to these technologies ever seeing the light of day. The research has its share of detractors and nonbelievers among other scientists, who think the amount of energy required for the fields described by Pais and his ideas on electromagnetic propulsions are well beyond the scope of current tech and are nearly impossible. Yet investigators at The War Zone found comments from Navy officials that indicate the inventions are being looked at seriously enough, and some tests are taking place.
If you'd like to read through Pais's patents yourself, check them out here.
Laser Augmented Turbojet Propulsion System
Credit: Dr. Salvatore Pais
The research also raises an intriguing question: Can we get around the Heisenberg uncertainty principle?
Credit: Aalto University.
Surprising Science
New experiments with vibrating drums push the boundaries of quantum mechanics.
Two teams of physicists create quantum entanglement in larger systems.
Critics question whether the study gets around the famous Heisenberg uncertainty principle.
Recently published research pushes the boundaries of key concepts in quantum mechanics. Studies from two different teams used tiny drums to show that quantum entanglement, an effect generally linked to subatomic particles, can also be applied to much larger macroscopic systems. One of the teams also claims to have found a way to evade the Heisenberg uncertainty principle.
One question that the scientists were hoping to answer pertained to whether larger systems can exhibit quantum entanglement in the same way as microscopic ones. Quantum mechanics proposes that two objects can become "entangled," whereby the properties of one object, such as position or velocity, can become connected to those of the other.
An experiment performed at the U.S. National Institute of Standards and Technology in Boulder, Colorado, led by physicist Shlomi Kotler and his colleagues, showed that a pair of vibrating aluminum membranes, each about 10 micrometers long, can be made to vibrate in sync, in such a way that they can be described to be quantum entangled. Kotler's team amplified the signal from their devices to "see" the entanglement much more clearly. Measuring their position and velocities returned the same numbers, indicating that they were indeed entangled.
Tiny aluminium membranes used by Kotler's team.Credit: Florent Lecoq and Shlomi Kotler/NIST
Evading the Heisenberg uncertainty principle?

Another experiment with quantum drums — each one-fifth the width of a human hair — by a team led by Prof. Mika Sillanpää at Aalto University in Finland, attempted to find what happens in the area between quantum and non-quantum behavior. Like the other researchers, they also achieved quantum entanglement for larger objects, but they also made a fascinating inquiry into getting around the Heisenberg uncertainty principle.
The team's theoretical model was developed by Dr. Matt Woolley of the University of New South Wales. Photons in the microwave frequency were employed to create a synchronized vibrating pattern as well as to gauge the positions of the drums. The scientists managed to make the drums vibrate in opposite phases to each other, achieving "collective quantum motion."
The study's lead author, Dr. Laure Mercier de Lepinay, said: "In this situation, the quantum uncertainty of the drums' motion is canceled if the two drums are treated as one quantum-mechanical entity."
This effect allowed the team to measure both the positions and the momentum of the virtual drumheads at the same time. "One of the drums responds to all the forces of the other drum in the opposing way, kind of with a negative mass," Sillanpää explained.
Theoretically, this should not be possible under the Heisenberg uncertainty principle, one of the most well-known tenets of quantum mechanics. Proposed in the 1920s by Werner Heisenberg, the principle generally says that when dealing with the quantum world, where particles also act like waves, there's an inherent uncertainty in measuring both the position and the momentum of a particle at the same time. The more precisely you measure one variable, the more uncertainty in the measurement of the other. In other words, it is not possible to simultaneously pinpoint the exact values of the particle's position and momentum.
Quantum skepticism
Big Think contributor astrophysicist Adam Frank, known for the 13.8 podcast, called this "a really fascinating paper as it shows that it's possible to make larger entangled systems which behave like a single quantum object. But because we're looking at a single quantum object, the measurement doesn't really seem to me to be 'getting around' the uncertainty principle, as we know that in entangled systems an observation of one part constrains the behavior of other parts."
Ethan Siegel, also an astrophysicist, commented, "The main achievement of this latest work is that they have created a macroscopic system where two components are successfully quantum mechanically entangled across large length scales and with large masses. But there is no fundamental evasion of the Heisenberg uncertainty principle here; each individual component is exactly as uncertain as the rules of quantum physics predicts. While it's important to explore the relationship between quantum entanglement and the different components of the systems, including what happens when you treat both components together as a single system, nothing that's been demonstrated in this research negates Heisenberg's most important contribution to physics."
The papers, published in the journal
Science
, could help create new generations of ultra-sensitive measuring devices and quantum computers.
As bad as this sounds, a new essay suggests that we live in a surprisingly egalitarian age.
Getty Open Content
Politics & Current Affairs
A new essay depicts 700 years of economic inequality in Europe.
The only stretch of time more egalitarian than today was the period between 1350 to approximately the year 1700.
Data suggest that, without intervention, inequality does not decrease on its own.
Economic inequality is a constant topic. No matter the cycle — boom or bust — somebody is making a lot of money, and the question of fairness is never far behind.
A recently published essay in the Journal of Economic Literature by Professor Guido Alfani adds an intriguing perspective to the discussion by showing the evolution of income inequality in Europe over the last several hundred years. As it turns out, we currently live in a comparatively egalitarian epoch.
Seven centuries of economic history
Figure 8 from Guido Alfani, Journal of Economic Literature, 2021.
This graph shows the amount of wealth controlled by the top ten percent in certain parts of Europe over the last seven hundred years. Archival documentation similar to — and often of a similar quality as — modern economic data allows researchers to get a glimpse of what economic conditions were like centuries ago. Sources like property tax records and documents listing the rental value of homes can be used to determine how much a person's estate was worth. (While these methods leave out those without property, the data is not particularly distorted.)
The first part of the line, shown in black, represents work by Prof. Alfani and represents the average inequality level of the Sabaudian State in Northern Italy, The Florentine State, The Kingdom of Naples, and the Republic of Venice. The latter part, in gray, is based on the work of French economist Thomas Piketty and represents an average of inequality in France, the United Kingdom, and Sweden during that time period.
Despite the shift in location, the level of inequality and rate of increase are very similar between the two data sets.
Apocalyptic events cause decreases in inequality
Note that there are two substantial declines in inequality. Both are tied to truly apocalyptic events. The first is the Black Death, the common name for the bubonic plague pandemic in the 14th century, which killed off anywhere between 30 and 50 percent of Europe. The second, at the dawn of the 20th century, was the result of World War I and the many major events in its aftermath.
The 20th century as a whole was a time of tremendous economic change, and the periods not featuring major wars are notable for having large experiments in distributive economic policies, particularly in the countries Piketty considers.
The slight stall in the rise of inequality during the 17th century is the result of the Thirty Years' War, a terrible religious conflict that ravaged Europe and left eight million people dead, and of major plagues that affected South Europe. However, the recurrent outbreaks of the plague after the Black Death no longer had much effect on inequality. This was due to a number of factors, not the least of which was the adaptation of European institutions to handle pandemics without causing such a shift in wealth.
In 2010, the last year covered by the essay, inequality levels were similar to those of 1340, with 66 percent of the wealth of society being held by the top ten percent. Also, inequality levels were continuing to rise, and the trends have not ended since. As Prof. Alfani explained in an email to BigThink:
"During the decade preceding the Covid pandemic, economic inequality has shown a slow tendency towards further inequality growth. The Great Recession that began in 2008 possibly contributed to slow down inequality growth, especially in Europe, but it did not stop it. However, the expectation is that Covid-19 will tend to increase inequality and poverty. This, because it tends to create a relatively greater economic damage to those having unstable occupations, or who need physical strength to work (think of the effects of the so-called "long-Covid," which can prove physically invalidating for a long time). Additionally, and thankfully, Covid is not lethal enough to force major leveling dynamics upon society."
Can only disasters change inequality?
That is the subject of some debate. While inequality can occur in any economy, even one that doesn't grow all that much, some things appear to make it more likely to rise or fall.
Thomas Piketty suggested that the cause of changes in inequality levels is the difference in the rate of return on capital and the overall growth rate of the economy. Since the return on capital is typically higher than the overall growth rate, this means that those who have capital to invest tend to get richer faster than everybody else.
While this does explain a great deal of the graph after 1800, his model fails to explain why inequality fell after the Black Death. Indeed, since the plague destroyed human capital and left material goods alone, we would expect the ratio of wealth over income to increase and for inequality to rise. His model can provide explanations for the decline in inequality in the decades after the pandemic, however- it is possible that the abundance of capital could have lowered returns over a longer time span.
The catastrophe theory put forth by Walter Scheidel suggests that the only force strong enough to wrest economic power from those who have it is a world-shattering event like the Black Death, the fall of the Roman Empire, or World War I. While each event changed the world in a different way, they all had a tremendous leveling effect on society.
But not even this explains everything in the above graph. Pandemics subsequent to the Black Death had little effect on inequality, and inequality continued to fall for decades after World War II ended. Prof. Alfani suggests that we remember the importance of human agency through institutional change. He attributes much of the post-WWII decline in inequality to "the redistributive policies and the development of the welfare states from the 1950s to the early 1970s."
What does this mean for us now?
As Professor Alfani put it in his email:
"[H]istory does not necessarily teach us whether we should consider the current trend toward growth in economic inequality as an undesirable outcome or a problem per se (although I personally believe that there is some ground to argue for that). Nor does it teach us that high inequality is destiny. What it does teach us, is that if we do not act, we have no reason whatsoever to expect that inequality will, one day, decline on its own. History also offers abundant evidence that past trends in inequality have been deeply influenced by our collective decisions, as they shaped the institutional framework across time. So, it is really up to us to decide whether we want to live in a more, or a less unequal society."
Scroll down to load more…