Here's when machines will take your job, as predicted by A.I. gurus
An MIT study predicts when artificial intelligence will take over for humans in different occupations.
04 June, 2017
While technology develops at exponential speed, transforming how we go about our everyday tasks and extending our lives, it also offers much to worry about. In particular, many top minds think that automation will cost humans their employment, with up to 47% of all jobs gone in the next 25 years. And chances are, this number could be even higher and the massive job loss will come earlier.
---
So when will your job become obsolete? Researchers at the University of Oxford surveyed the world's best artificial intelligence experts to find out when exactly machines will be better at humans in various occupations.
Katja Grace from Oxford's Future of Humanity Institute led the team that gathered responses from 352 academics and industry experts in machine learning. Then they calculated the median responses to come up with some concrete numbers.
In the next 10 years, we should have A.I. do better than humans in translating languages (by 2024), writing high-school-level essays (by 2026), writing top 40 songs (by 2028) and driving trucks. And while the consensus may be that driving trucks may come by 2027, it's easy to predict that this could happen even sooner, with top tech entrepreneurs like Elon Musk constantly pushing the envelope and promising these innovations earlier.
A chore that would take less time - folding laundry should be a breeze for A.I. by 2022. Other tasks might take longer, but still within the foreseeable future. It's likely you'll be around for these. We should get A.I.-driven machines in retail by 2031. By 2049, A.I. should be writing New York Times bestsellers and performing surgeries by 2053.
Overall, A.I. shoud be better than humans at pretty much everything in about 45 years.
Here's the full chart: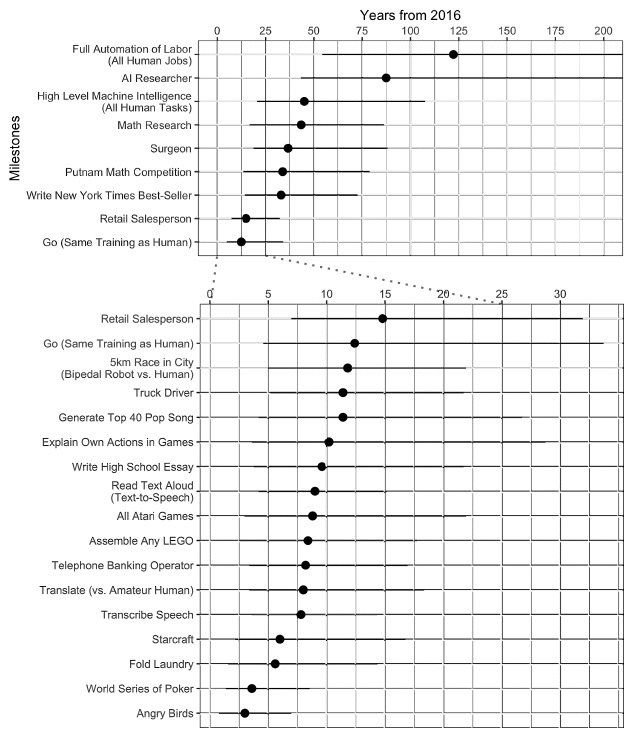 As MIT Technology Review points out, these predictions have a way of coming earlier. A.I. wasn't supposed to beat humans at the game of Go until 2027 and that happened back in 2015. In fact, it took Google's DeepMind just two years to come up with the necessary tech, instead of the 12 that was predicted.
On the other hand, as 40 years is an average person's working life, predictions that extend past that might be unreliable as they are based on technology in which the experts might not have enough practical knowledge.
Interestingly, there is a difference in how experts from different parts of the world view the future. Asian researchers put the A.I. takeover in just 30 years, while their North American counterparts see that happening in about 74 years. Full automation of labor is expected in under 125 years.
You can check out Grace's paper here.
Many believe that the internet has made it easier for us to participate in political activism. But is that really true?
Videos
Protesting in person is costly in terms of money and resources; some people have children to take care of, jobs that can't be away from, or may not have time to attend a planning event.
The internet was supposed to be a way to sidestep this barrier to political activism. But this doesn't consider the other barriers preventing poor and working-class folks from participating in digital activism.
In particular, these people lack ASETs: access to computers, the skills to use them, the empowerment necessary to feel that using Twitter or other social media is for them, and the time to make use of digital platforms in an effective way.
Some games are just for fun, others are for thought provoking statements on life, the universe, and everything.
(Photo from Flickr)
Culture & Religion
Video games are often dismissed as fun distractions, but some of them dive into deep issues.
Through their interactive play elements, these games approach big issues intelligently and leave you both entertained and enlightened.
These five games are certainly not the only games that cover these topics or do so well, but are a great starting point for somebody who wants to play something thought provoking.
The bid to buy Greenland is unlikely to become seriously considered.
Politics & Current Affairs
Greenland and Danish officials alike think the idea is ridiculous.
The island is an autonomous state, and it's unlikely the Danish would sell it because of yearly subsidies costs.
After hearing the Danish Prime Minister call the idea absurd, Trump cancelled their forthcoming meeting.