These Brain Scans Prove You Should Study Music from a Young Age
New research shows how studying music helps the brain create new connections.
22 November, 2016
It's probably worth it to stick with the piano lessons when you are young, as new research provides proof that music instruction can boost brain growth.
---
"Experiencing music at an early age can contribute to better brain development, optimizing the creation and establishment of neural networks, and stimulating the existing brain tracts,' said the study's lead author Dr. Pilar Dies-Suarez about her team's conclusions.
Studies have already shown that learning music can be beneficial to children with brain development disorders like autism. Researchers from the Hospital Infantil de México Federico Gómez in Mexico City wanted to understand more specifically what changes happen in the brain due to musical instruction.  
The research involved 23 healthy children between five and six years of age. The children did not have any previous musical schooling or history of brain disorders. They were also all right-handed. 
An advanced MRI technique (DTI or "diffusion tensor imaging") was used to scan their brains before and after music lessons, which took nine months.  DTI can identify microstructural changes in the brain's white matter.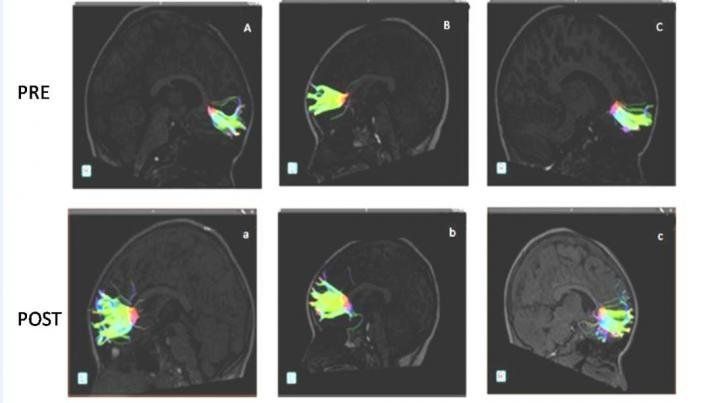 Fibers belonging to the greater forceps pre-musical training are observed (A, B, C). Fibers belonging to the same patients after 9 months of musical training are observed below (a, b, c). Credit: Radiological Society of North America
The reason the scientists focused on white matter is because it's made up for millions of nerve fibers (axons) which connect different brain regions. Measuring how water molecules move through the axons by DTI scanning can show if the child has developmental issues.
Connections between different parts of the brain like motor and auditory areas should improve with age and growth of abilities. Reversely, studies have linked autism and ADHD to lowered amount of such connections.
The study revealed improvement in connections after the nine months of studying music.  Water molecules moved along the fibers better and the fibers themselves were longer, most significantly in the "minor forceps" - a part of the frontal cortex of the brain, which was associated with autism in prior studies.
"When a child receives musical instruction, their brains are asked to complete certain tasks. These tasks involve hearing, motor, cognition, emotion and social skills, which seem to activate these different brain areas. These results may have occurred because of the need to create more connections between the two hemispheres of the brain," explained Dr. Dies-Suarez.
The kids studied using percussion tubes called Boomwhackers, which are tuned to musical pitches.
This new study adds to the growing research on the benefits of music training. A study earlier in 2016 by USC researchers showed that music instruction speeds up how the auditory pathway in the brain matures and makes it more efficient. 
The study by Mexican researchers is being presented at the annual meeting of the Radiological Society of America.
As religious diversity increases in the United States, we must learn to channel religious identity into interfaith cooperation.
Sponsored by Charles Koch Foundation
Religious diversity is the norm in American life, and that diversity is only increasing, says Eboo Patel.
Using the most painful moment of his life as a lesson, Eboo Patel explains why it's crucial to be positive and proactive about engaging religious identity towards interfaith cooperation.
The opinions expressed in this video do not necessarily reflect the views of the Charles Koch Foundation, which encourages the expression of diverse viewpoints within a culture of civil discourse and mutual respect.
"Having a high level of patience often isn't something that comes naturally; instead, it is something that improves over time"
Personal Growth
You're waiting for the elevator at the office, sitting in a meeting that's late to start, or checking your phone with the hope that a co-worker finally responds to your email.
Here's why you might eat greenhouse gases in the future.
Technology & Innovation
The company's protein powder, "Solein," is similar in form and taste to wheat flour.
Based on a concept developed by NASA, the product has wide potential as a carbon-neutral source of protein.
The man-made "meat" industry just got even more interesting.
When it comes to sniffing out whether a source is credible or not, even journalists can sometimes take the wrong approach.
Sponsored by Charles Koch Foundation
We all think that we're competent consumers of news media, but the research shows that even journalists struggle with identifying fact from fiction.
When judging whether a piece of media is true or not, most of us focus too much on the source itself. Knowledge has a context, and it's important to look at that context when trying to validate a source.
The opinions expressed in this video do not necessarily reflect the views of the Charles Koch Foundation, which encourages the expression of diverse viewpoints within a culture of civil discourse and mutual respect.