A disturbing 1995 prediction by Carl Sagan accurately describes America of today
A quote from a 1995 book by astronomer Carl Sagan describes a world many find disturbingly similar to ours.
25 January, 2017
Astronomer Carl Sagan was a great science communicator, most widely known for the original "Cosmos" television series. He was also a prolific writer and in 1995 wrote the book "The Demon-Haunted World: Science as a Candle in the Dark" that touches on a variety of topics, from debunking hoaxes like alien abductions to spirituality, but ultimately serves as a passionate argument for science and the scientific method.
---
What's noteworthy is that a quote from the book has been picked up recently all over social media, based on its description of a future America that is eerily similar to its current state. While Sagan generally projected optimism, the quote talks about a possible dystopian society, with much division, confusion, mistrust of authority, a growing gap between the haves and have nots under an increasingly authoritarian leadership. Of course, you might quibble with some parts of this based on your politicial leanings, but there are even shades here of Trump's own dystopian Inauguration address.
Here's what the inimitable Carl Sagan wrote: 
"Science is more than a body of knowledge; it is a way of thinking. I have a foreboding of an America in my children's or grandchildren's time—when the United States is a service and information economy; when nearly all the key manufacturing industries have slipped away to other countries; when awesome technological powers are in the hands of a very few, and no one representing the public interest can even grasp the issues; when the people have lost the ability to set their own agendas or knowledgeably question those in authority; when, clutching our crystals and nervously consulting our horoscopes, our critical faculties in decline, unable to distinguish between what feels good and what's true, we slide, almost without noticing, back into superstition and darkness."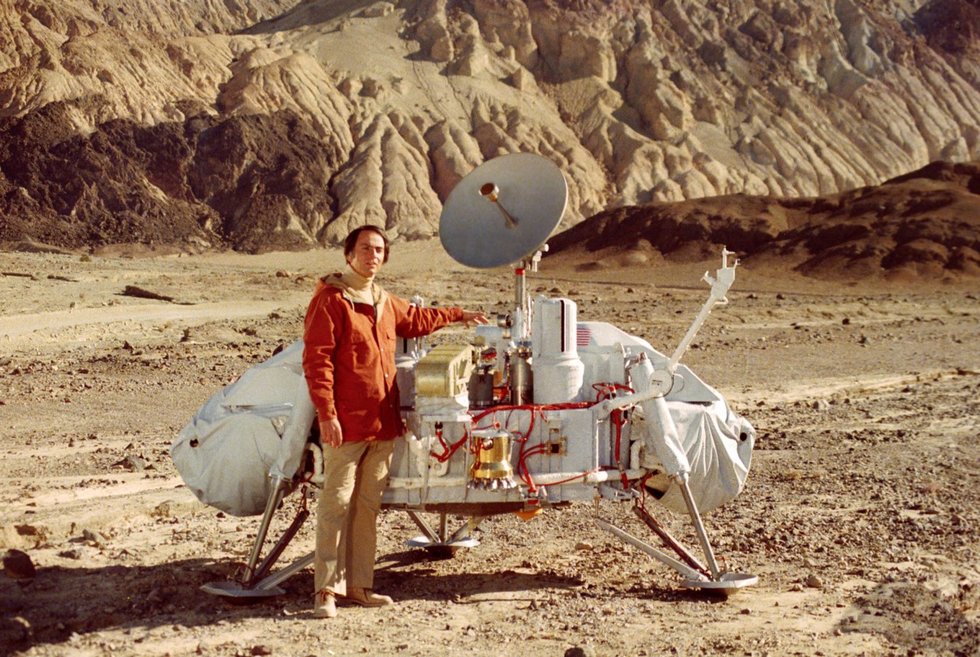 Suspecting Carl Sagan had either a time machine or a crystal ball.

Ok, probably the time machine. pic.twitter.com/zpKH1HUYhz

— Charles Bergquist (@cbquist) January 23, 2017
Notably, in the chapter that includes the quote, Carl Sagan continued talking about some American cultural debacles of that time (from his point of view) like the tv show "Beavis and Butthead" and the movie "Dumb and Dumber". He uses these as examples of the "dumbing down" of America. One can only wonder how he would update his take on America's future if he was alive today.
You can read the selection from Carl Sagan's book and the rest of the chapter here.
Here's Carl Sagan talking about the future of humanity in "Cosmos" (1980):
Cover photo: Sharon Bennett (photographer). Carl Sagan giving a speech in Rockefeller Hall, 1995. Cornell University Faculty Biographical Files. Courtesy of the Cornell University Archives, Division of Rare and Manuscript Collections, Cornell University Library
Journaling can help you materialize your ambitions.
Videos
Organizing your thoughts can help you plan and achieve goals that might otherwise seen unobtainable.
The Bullet Journal method, in particular, can reduce clutter in your life by helping you visualize your future.
One way to view your journal might be less of a narrative and more of a timeline of decisions.
Progressive America would be half as big, but twice as populated as its conservative twin.
Image: Dicken Schrader
Strange Maps
America's two political tribes have consolidated into 'red' and 'blue' nations, with seemingly irreconcilable differences.
Perhaps the best way to stop the infighting is to go for a divorce and give the two nations a country each
Based on the UN's partition plan for Israel/Palestine, this proposal provides territorial contiguity and sea access to both 'red' and 'blue' America
New research links urban planning and political polarization.
Pixabay
Politics & Current Affairs
Canadian researchers find that excessive reliance on cars changes political views.
Decades of car-centric urban planning normalized unsustainable lifestyles.
People who prefer personal comfort elect politicians who represent such views.
Big think's weekly newsletter.
Get smarter faster from the comfort of your inbox.
See our newsletter privacy policy
here
Most Popular
Most Recent
Big think's weekly newsletter.
Get smarter faster from the comfort of your inbox.
See our newsletter privacy policy
here
© Copyright 2007-2018 & BIG THINK, BIG THINK EDGE,
SMARTER FASTER trademarks owned by The Big Think, Inc. All rights reserved.