A disturbing 1995 prediction by Carl Sagan accurately describes America of today
A quote from a 1995 book by astronomer Carl Sagan describes a world many find disturbingly similar to ours.
25 January, 2017
Astronomer Carl Sagan was a great science communicator, most widely known for the original "Cosmos" television series. He was also a prolific writer and in 1995 wrote the book "The Demon-Haunted World: Science as a Candle in the Dark" that touches on a variety of topics, from debunking hoaxes like alien abductions to spirituality, but ultimately serves as a passionate argument for science and the scientific method.
---
What's noteworthy is that a quote from the book has been picked up recently all over social media, based on its description of a future America that is eerily similar to its current state. While Sagan generally projected optimism, the quote talks about a possible dystopian society, with much division, confusion, mistrust of authority, a growing gap between the haves and have nots under an increasingly authoritarian leadership. Of course, you might quibble with some parts of this based on your politicial leanings, but there are even shades here of Trump's own dystopian Inauguration address.
Here's what the inimitable Carl Sagan wrote:
"Science is more than a body of knowledge; it is a way of thinking. I have a foreboding of an America in my children's or grandchildren's time—when the United States is a service and information economy; when nearly all the key manufacturing industries have slipped away to other countries; when awesome technological powers are in the hands of a very few, and no one representing the public interest can even grasp the issues; when the people have lost the ability to set their own agendas or knowledgeably question those in authority; when, clutching our crystals and nervously consulting our horoscopes, our critical faculties in decline, unable to distinguish between what feels good and what's true, we slide, almost without noticing, back into superstition and darkness."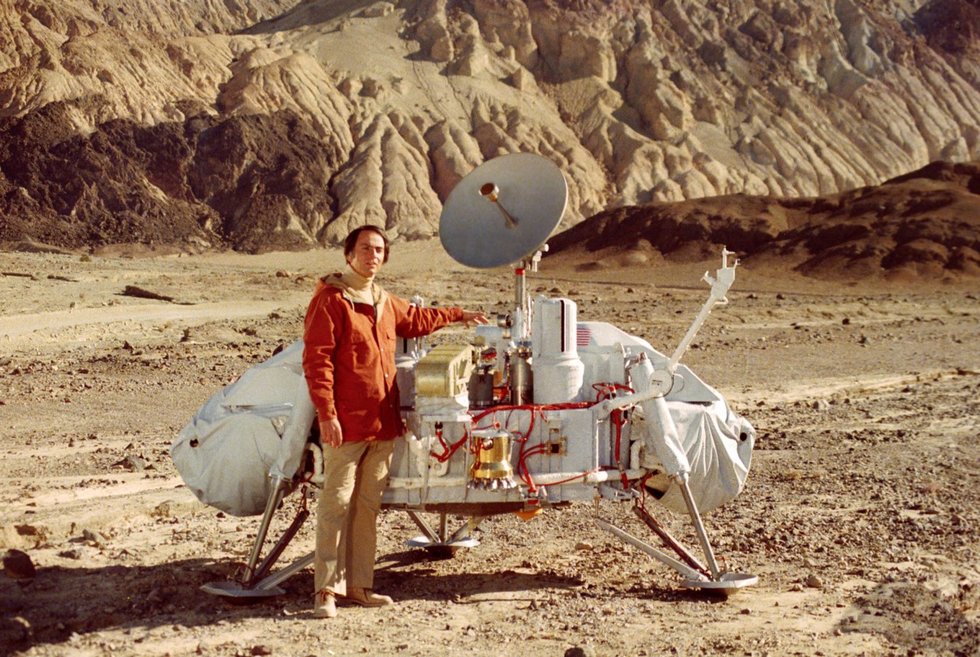 Suspecting Carl Sagan had either a time machine or a crystal ball.

Ok, probably the time machine. pic.twitter.com/zpKH1HUYhz

— Charles Bergquist (@cbquist) January 23, 2017
Notably, in the chapter that includes the quote, Carl Sagan continued talking about some American cultural debacles of that time (from his point of view) like the tv show "Beavis and Butthead" and the movie "Dumb and Dumber". He uses these as examples of the "dumbing down" of America. One can only wonder how he would update his take on America's future if he was alive today.
You can read the selection from Carl Sagan's book and the rest of the chapter here.
Here's Carl Sagan talking about the future of humanity in "Cosmos" (1980):
Understanding thinking talents in yourself and others can build strong teams and help avoid burnout.
Big Think Edge
Learn to collaborate within a team and identify "thinking talent" surpluses – and shortages.

Angie McArthur teaches intelligent collaboration for Big Think Edge.

Subscribe to Big Think Edge before we launch on March 30 to get 20% off monthly and annual memberships.
Archeologists had been doubtful since no such ship had ever been found.
(Christoph Gerigk/Franck Goddio/Hilti Foundation)
Surprising Science
In 450 BCE, Greek historian Herodotus described a barge that's never been found.
When the ancient port of Thonis-Heracleion was discovered, some 70 sunken ships were found resting in its waters.
One boat, Ship 17, uncannily matches the Herodotus' description.
The blood of horseshoe crabs is harvested on a massive scale in order to retrieve a cell critical to medical research. However, recent innovations might make this practice obsolete.
Credit: Business Insider (video)
Surprising Science
Horseshoe crabs' blue blood is so valuable that a quart of it can be sold for $15,000.
This is because it contains a molecule that is crucial to the medical research community.
Today, however, new innovations have resulted in a synthetic substitute that may end the practice of farming horseshoe crabs for their blood.
The Canadian professor has been on the Joe Rogan Experience six times. There's a lot of material to discuss.
Personal Growth
Jordan Peterson has constantly been in the headlines for his ideas on gender over the last three years.
While on Joe Rogan's podcast, he explains his thoughts on the gender differences in society.
On another episode, Peterson discusses the development of character through competition.
Big think's weekly newsletter.
Get smarter faster from the comfort of your inbox.
See our newsletter privacy policy
here
Most Popular
Most Recent
Big think's weekly newsletter.
Get smarter faster from the comfort of your inbox.
See our newsletter privacy policy
here
© Copyright 2007-2018 & BIG THINK, BIG THINK EDGE,
SMARTER FASTER trademarks owned by The Big Think, Inc. All rights reserved.