A disturbing 1995 prediction by Carl Sagan accurately describes America of today
A quote from a 1995 book by astronomer Carl Sagan describes a world many find disturbingly similar to ours.
25 January, 2017
Astronomer Carl Sagan was a great science communicator, most widely known for the original "Cosmos" television series. He was also a prolific writer and in 1995 wrote the book "The Demon-Haunted World: Science as a Candle in the Dark" that touches on a variety of topics, from debunking hoaxes like alien abductions to spirituality, but ultimately serves as a passionate argument for science and the scientific method.
---
What's noteworthy is that a quote from the book has been picked up recently all over social media, based on its description of a future America that is eerily similar to its current state. While Sagan generally projected optimism, the quote talks about a possible dystopian society, with much division, confusion, mistrust of authority, a growing gap between the haves and have nots under an increasingly authoritarian leadership. Of course, you might quibble with some parts of this based on your politicial leanings, but there are even shades here of Trump's own dystopian Inauguration address.
Here's what the inimitable Carl Sagan wrote:
"Science is more than a body of knowledge; it is a way of thinking. I have a foreboding of an America in my children's or grandchildren's time—when the United States is a service and information economy; when nearly all the key manufacturing industries have slipped away to other countries; when awesome technological powers are in the hands of a very few, and no one representing the public interest can even grasp the issues; when the people have lost the ability to set their own agendas or knowledgeably question those in authority; when, clutching our crystals and nervously consulting our horoscopes, our critical faculties in decline, unable to distinguish between what feels good and what's true, we slide, almost without noticing, back into superstition and darkness."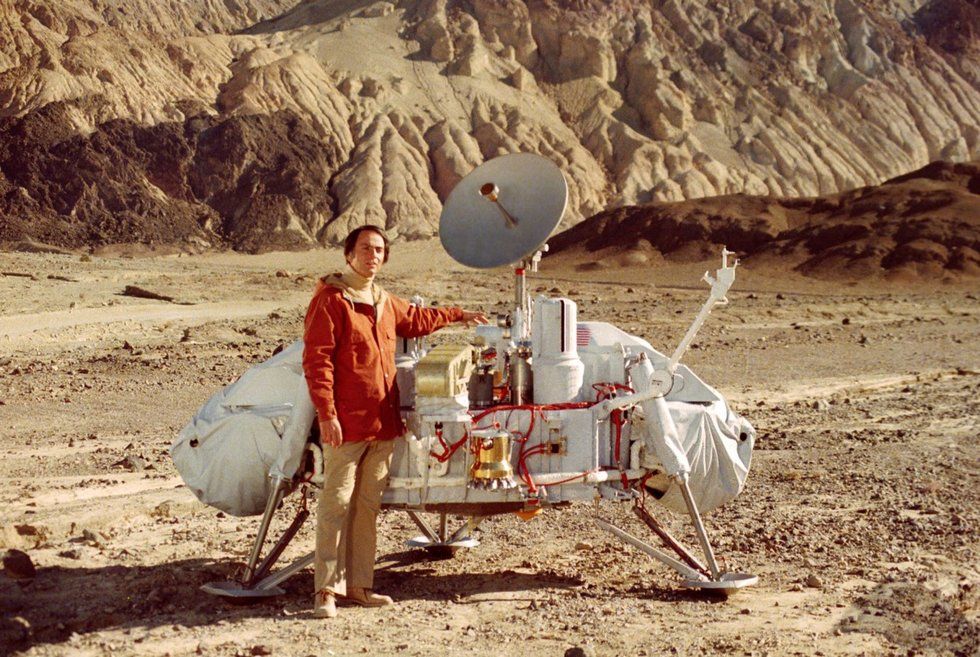 Suspecting Carl Sagan had either a time machine or a crystal ball.

Ok, probably the time machine. pic.twitter.com/zpKH1HUYhz

— Charles Bergquist (@cbquist) January 23, 2017
Notably, in the chapter that includes the quote, Carl Sagan continued talking about some American cultural debacles of that time (from his point of view) like the tv show "Beavis and Butthead" and the movie "Dumb and Dumber". He uses these as examples of the "dumbing down" of America. One can only wonder how he would update his take on America's future if he was alive today.
You can read the selection from Carl Sagan's book and the rest of the chapter here.
Here's Carl Sagan talking about the future of humanity in "Cosmos" (1980):
What can 3D printing do for medicine? The "sky is the limit," says Northwell Health researcher Dr. Todd Goldstein.
Northwell Health
Sponsored by Northwell Health
Medical professionals are currently using 3D printers to create prosthetics and patient-specific organ models that doctors can use to prepare for surgery.
Eventually, scientists hope to print patient-specific organs that can be transplanted safely into the human body.
Northwell Health, New York State's largest health care provider, is pioneering 3D printing in medicine in three key ways.
Mega-rich entrepreneurs are taking us where no human being has gone before.
Videos
During the first golden era of space exploration, we went to the moon. Then we sort of dropped the ball for 50 years.
The problem is space travel is very expensive, especially the way governments do space travel.
Because it costs $10,000 to put a pound of anything into orbit around the planet, we need to have an infusion of public and private funds. That's where billionaires such as Elon Musk and Jeff Bezos come into the picture. With their help, we have new energies, new strategies, and new plans to go back into outer space.
Some books had a profound influence on Einstein's thinking and theories.
Getty Images
Culture & Religion
Einstein had a large library and was a voracious reader.
The famous physicist admitted that some books influenced his thinking.
The books he preferred were mostly philosophical and scientific in nature.
Cook's commencement speech at Tulane University urges students to take action.
Getty Images
Technology & Innovation
Apple CEO Tim Cook gave a commencement speech at Tulane University on May 18th.
Cook cautioned the graduates to not get caught up in echo chambers and algorithms.
He acknowledged the failures of his generation.
Big think's weekly newsletter.
Get smarter faster from the comfort of your inbox.
See our newsletter privacy policy
here
Most Popular
Most Recent
Big think's weekly newsletter.
Get smarter faster from the comfort of your inbox.
See our newsletter privacy policy
here
© Copyright 2007-2019 & BIG THINK, BIG THINK EDGE,
SMARTER FASTER trademarks owned by The Big Think, Inc. All rights reserved.