How will Denver change if it decriminalizes magic mushrooms?
Psilocybin doesn't just make you trip; it can have lasting effects on how you see the world.
05 February, 2019
In May, Denver will vote on whether or not to decriminalize magic mushrooms.
In addition to their ability to combat depression and anxiety, magic mushrooms can also affect people's perspective, including their political positions.
If Denverites begin to use more magic mushrooms, how will this change their community?
---
The Mile-High City might be about to get a bit higher. In May, the citizens of Denver, Colorado, will vote on whether or not to decriminalize magic mushrooms, the colloquial name given to a group of mushroom species that contain the psychoactive compound psilocybin.
In the US, psilocybin is classified as a Schedule I drug, taking a place alongside heroin and ecstasy, ostensibly as one of the most dangerous drugs around. However, this classification doesn't seem to jibe with the scientific consensus on magic mushrooms.
Drugs get placed in different schedules according to their potential for abuse, whether they have any medical applications, and the drug's safety and addictiveness. Magic mushrooms were scheduled in the early 1970s, and the dearth of research at the time resulted in their misclassification. Instead, modern assessments suggest that magic mushrooms should be Schedule IV drugs, alongside Ambien, Ativan, and Xanax.
Psilocybin is typically not abused and is not addictive (in fact, some research has shown it to reduce addiction to other drugs). Furthermore, it does indeed have some medical purposes. Research has shown that its impact on depression, anxiety, and other psychological conditions is profound.
But Denverites aren't talking about legalizing magic mushrooms purely for their medicinal properties; rather, they will be voting on whether or not to decriminalize the drug. First, decriminalization does not mean legalization—buying and selling the drug will still be illegal, but using and possessing it will simply not be prosecuted. Since this means the infrastructure to support its medical use won't exist, we can assume that more Denverites will be using the drug recreationally.
If decriminalization and eventual legalization go ahead in Denver, what will this mean? Well, in addition to hallucinations, a distortion of time, and a sense of connectedness to the universe, magic mushrooms also have some more interesting long-term effects. First, some studies show that psilocybin usage can make people experience greater personal meaning, spiritual significance, and life satisfaction even six months after their initial dose.
Flickr user kooikkari
So, let's assume that magic mushroom usage increases as a result of decriminalization. Visitors to the Mile-High City might expect to see young adults in sunglasses having difficulty navigating a staircase or staring blankly up into the trees. Instead, they might see happier, friendlier, more satisfied people.
What's even more interesting is how magic mushrooms affect one's world view. It's a stereotype to imagine magic mushroom users as tree-hugging hippies; as it turns out, magic mushrooms actually make people more invested in nature and more anti-authoritarian over the long term. While right-wing politics are more often associated with authoritarianism in American politics, it's important to remember that authoritarian tendencies can show up in both right-wing and left-wing politics. But regardless of the dominant political party in Colorado, authoritarians might find that their biggest critics are those who use psychedelic mushrooms.
In today's political climate, a broader acceptance of magic mushroom usage may encourage more activism and political engagement. In a state like Colorado, famous for its natural beauty, sweeping environmental deregulation may sit poorly with any Denverites who've suddenly developed an appreciation for nature from taking psilocybin. Aspects of American politics, too, have become increasingly authoritarian for decades now—perhaps the citizens of Denver will also become more inclined to combat that tendency.
The unfortunate truth is that there is simply not enough research out there on the effects of magic mushrooms. It's always difficult to research illegal drugs, and what research has been done has focused on psilocybin's medicinal benefits. This is important, to be sure, but few studies have focused on how psilocybin's activity in a social sense, which is strange considering that the drug has predominantly played a social role throughout humanity's thousands of years using magic mushrooms. Now is a good time to start paying attention to Denver; if the drug is decriminalized and later legalized, how will it affect Denver as a whole?
Gerald Heard on the value of psychedelics
"To do this in two minutes, eternity in an hour; it's almost impossible of course, as all the patients say, to describe it. You can only say, 'It isn't, it isn't, it isn't,' trying to tell people what it is.
Well, of course, I don't know any of our friends that have taken it but haven't said this one thing in common: 'Well. I never knew anything like that in the whole of my life.' And one or two people have said to me, and I've said it to myself, 'That's what death is going to be like; and oh what fun it will be...' There are the colors and the beauties, the designs, the beautiful way things appear; people themselves, dull people – that I thought dull – appeared fascinating, interesting, mysterious – wonderful. But that's only the beginning.
A man was saying it this afternoon, who was taking it: Suddenly you notice that there aren't these separations, that we're not on a separate island shouting across to somebody else and trying to hear what they're saying and misunderstanding. You know. You used the word yourself: empathy. These things flowing underneath. We're parts of a single continent, that meets underneath the waters. And with that goes such delight. The sober certainty of waking bliss." – Gerald Heard
Malcolm Gladwell teaches "Get over yourself and get to work" for Big Think Edge.
Big Think Edge
Learn to recognize failure and know the big difference between panicking and choking.

At Big Think Edge, Malcolm Gladwell teaches how to check your inner critic and get clear on what failure is.

Subscribe to Big Think Edge before we launch on March 30 to get 20% off monthly and annual memberships.
It's one of the most consistent patterns in the unviverse. What causes it?
Videos
Spinning discs are everywhere – just look at our solar system, the rings of Saturn, and all the spiral galaxies in the universe.
Spinning discs are the result of two things: The force of gravity and a phenomenon in physics called the conservation of angular momentum.
Gravity brings matter together; the closer the matter gets, the more it accelerates – much like an ice skater who spins faster and faster the closer their arms get to their body. Then, this spinning cloud collapses due to up and down and diagonal collisions that cancel each other out until the only motion they have in common is the spin – and voila: A flat disc.
It turns out, that tattoo ink can travel throughout your body and settle in lymph nodes.
17th August 1973: An American tattoo artist working on a client's shoulder. (Photo by F. Roy Kemp/BIPs/Getty Images)
popular
In the slightly macabre experiment to find out where tattoo ink travels to in the body, French and German researchers recently used synchrotron X-ray fluorescence in four "inked" human cadavers — as well as one without. The results of their 2017 study? Some of the tattoo ink apparently settled in lymph nodes.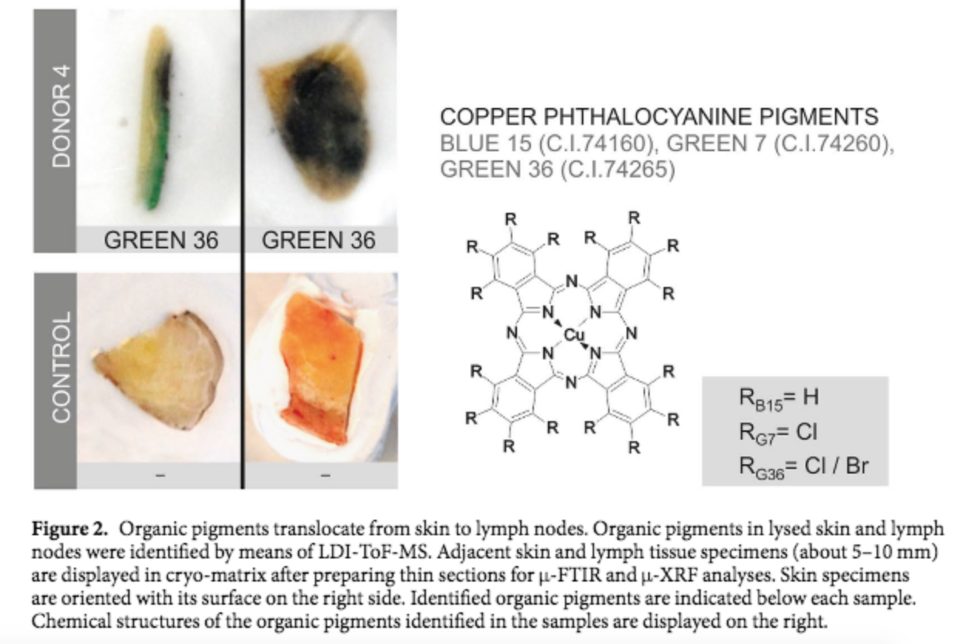 Image from the study.
As the authors explain in the study — they hail from Ludwig Maximilian University of Munich, the European Synchrotron Radiation Facility, and the German Federal Institute for Risk Assessment — it would have been unethical to test this on live animals since those creatures would not be able to give permission to be tattooed.
Because of the prevalence of tattoos these days, the researchers wanted to find out if the ink could be harmful in some way.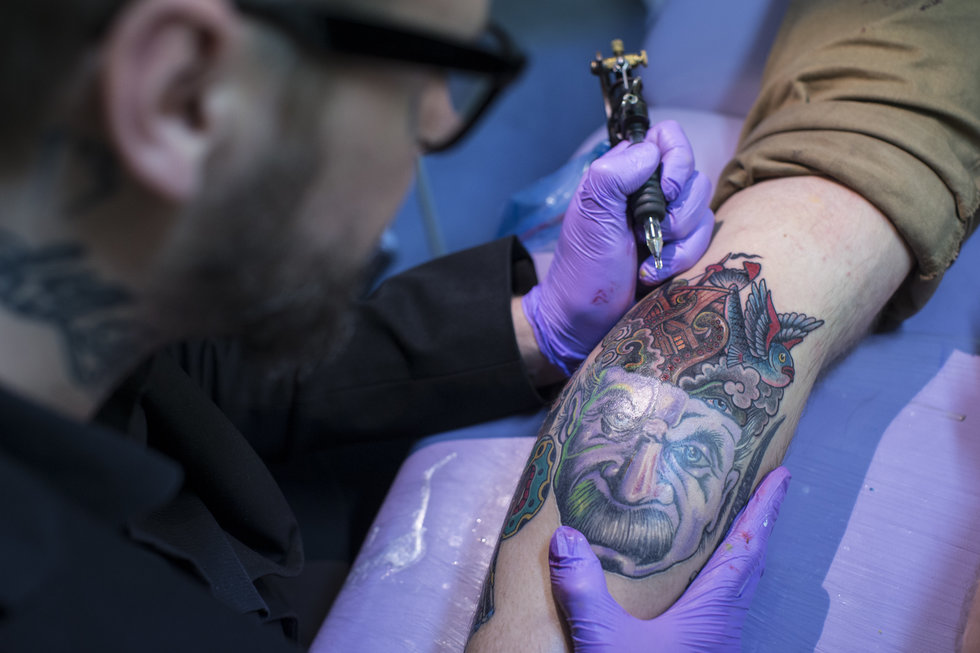 "The increasing prevalence of tattoos provoked safety concerns with respect to particle distribution and effects inside the human body," they write.
It works like this: Since lymph nodes filter lymph, which is the fluid that carries white blood cells throughout the body in an effort to fight infections that are encountered, that is where some of the ink particles collect.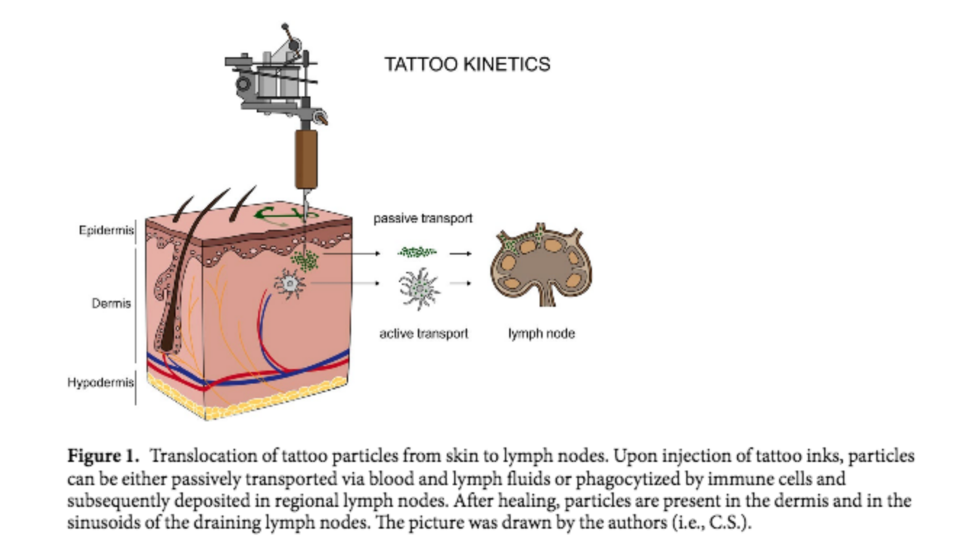 Image by authors of the study.
Titanium dioxide appears to be the thing that travels. It's a white tattoo ink pigment that's mixed with other colors all the time to control shades.
The study's authors will keep working on this in the meantime.
"In future experiments we will also look into the pigment and heavy metal burden of other, more distant internal organs and tissues in order to track any possible bio-distribution of tattoo ink ingredients throughout the body. The outcome of these investigations not only will be helpful in the assessment of the health risks associated with tattooing but also in the judgment of other exposures such as, e.g., the entrance of TiO2 nanoparticles present in cosmetics at the site of damaged skin."
Do you have a magnetic compass in your head?
Big think's weekly newsletter.
Get smarter faster from the comfort of your inbox.
See our newsletter privacy policy
here
Most Popular
Most Recent
Big think's weekly newsletter.
Get smarter faster from the comfort of your inbox.
See our newsletter privacy policy
here
© Copyright 2007-2018 & BIG THINK, BIG THINK EDGE,
SMARTER FASTER trademarks owned by The Big Think, Inc. All rights reserved.