The first space nation, Asgardia, is accepting applications for citizenship. But is it a hoax?
Now's your chance to become part of an exciting new venture. Or to think about it. Maybe just think about it for now.
29 July, 2018
---
If you believe that the technology to live in space will be available to you within your lifetime; if you agree with the political philosophy outlined by the 'World Passport'; if you find yourself in China, India, the U.S., Indonesia, or Brazil with a hankering to take to the stars, then perhaps you should consider becoming a citizen of Asgardia, an organization that hopes to be the first 'country in space.'
What do you need to do to become a citizen of Asgardia?
Read the Asgardian Constitution. If you agree with it, then you can apply.
Where is Asgardia located?
 Stubenring 2/8-9, 1010 Wien, Austria.
How big is Asgardia?
They currently claim around 200,000 citizens -- many of them Russian.
Where will Asgardia be eventually?
Asgardia seeks to live in space stations circling the earth and on a moon base, perhaps in the next twenty-five years. There are no current designs for the space stations or moon base at this time.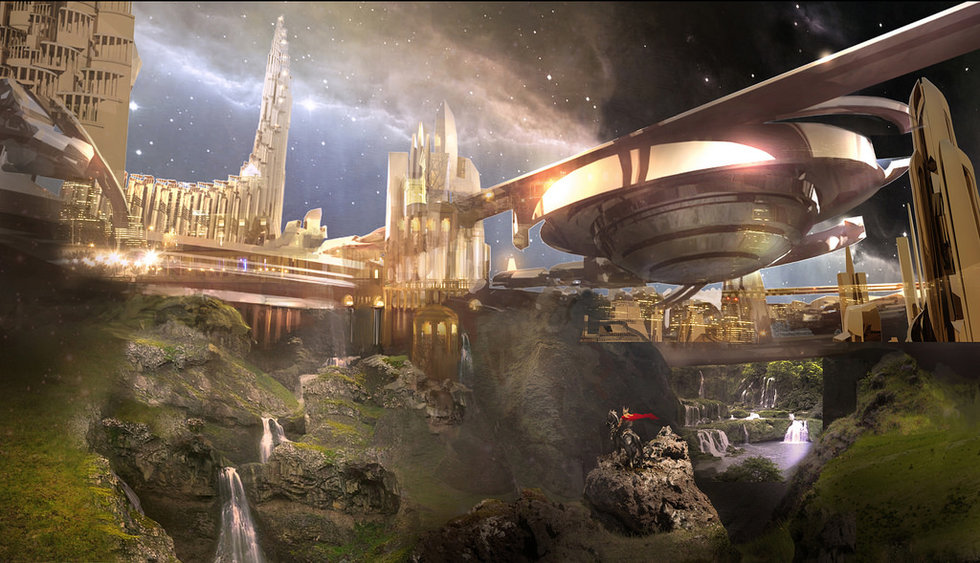 That's it? All I need to become a citizen of Asgardia is to read something and then apply?
Once you join -- and they are accepting applications -- they ask for your information: where you live, your education, the best way to contact you, and that's pretty much it. 
The Independent has reported that Asgardia might consider an IQ test for prospective citizens, but the potential of citizens having to take an IQ test sets up a decent (and relevant) follow-up question.
Is this all a scam?
There's not an implausible chance. Outsiders being offered IQ tests and then being told that they either have 'just the intelligence' needed for a 'special project' or that there's something wrong with them that only someone else can fix -- as Scientology has done for years -- sounds like a scam.
The website Stop Fake -- a collection of Ukranian journalists seeking to point out Russian propaganda -- notes that Asgardia "encourages people to buy shares in its joint stock company, Asgardia AG" and invest in their own cryptocurrency.
There's also a not implausible chance that this might also be a Russian thing.
The… Russians?
The Russians. The current President of Asgardia -- Igor Ashurbeyli -- is the former head of the arms manufacturer that made the missile that shot down MH-17. Despite the ideals espoused by Asgardia -- "Access to outer space should be a human right," he told the crowd at Asgardia's launch in Vienna -- he thinks Russia should be ruled by a Tsar. (He also noted that -- per Stop Fake once again -- "Asgardian women are the happiest because 84 percent of the population are men." It's a tone that seems more in line with the Asgardian complaint regarding 'ethical boundaries' regarding research and science, as one writer noted.) One of the country's claimed 'citizens' is the official portrait painter of Vladimir Putin.
But what do you do if you still want to live in a new country? 
The Canadian Dennis Leigh once said—and it's something the Scottish writer Alasdair Gray co-opted and made famous—"Work as if you live in the early days of a better nation," and there's no reason why that still can't hold true for you.
And there's no reason to think that a new country won't emerge in your lifetime either: we have seen independence votes in Quebec, Catalonia, and Scotland, and there's no reason to think that something like that -- hopefully pursued with kindness and care -- won't happen again.
Antimicrobial resistance is growing worldwide, rendering many "work horse" medicines ineffective. Without intervention, drug-resistant pathogens could lead to millions of deaths by 2050. Thankfully, companies like Pfizer are taking action.
Image courtesy of Pfizer.
Antimicrobial-resistant pathogens are one of the largest threats to global health today.
As we get older, our immune systems age, increasing our risk of life threatening infections. Without reliable antibiotics, life expectancy could decline for the first time in modern history.
If antibiotics become ineffective, common infections could result in hospitalization or even death. Life-saving interventions like cancer treatments and organ transplantation would become more difficult, more often resulting in death. Routine procedures would become hard to perform.
Without intervention, resistant pathogens could result in 10 million annual deaths by 2050.
By taking a multi-faceted approach—inclusive of adherence to good stewardship, surveillance and responsible manufacturing practices, as well as an emphasis on prevention and treatment—companies like Pfizer are fighting to help curb the spread.
Sponsored
No, the Syrian civil war is not over. But it might be soon. Time for a recap
Strange Maps
The War in Syria has dropped off the radar, but it's not over (yet)
This 1-minute video shows how the fronts have moved – and stabilised – over the past 22 months
Watching this video may leave you both better informed, and slightly queasy: does war need a generic rock soundtrack?
Sarco assisted suicide pods come in three different styles, and allow you to die quickly and painlessly. They're even quite beautiful to look at.
The Sarco assisted suicide pod
Technology & Innovation
Death: it happens to everyone (except, apparently, Keanu Reeves). But while the impoverished and lower-class people of the world die in the same ol' ways—cancer, heart disease, and so forth—the upper classes can choose hip and cool new ways to die. Now, there's an assisted-suicide pod so chic and so stylin' that peeps (young people still say peeps, right?) are calling it the "Tesla" of death... it's called... the Sarco! 
Entrepreneur and author Andrew Horn shares his rules for becoming an assured conversationalist.
content.jwplatform.com
Videos
To avoid basing action on external validation, you need to find your "authentic voice" and use it.
Finding your voice requires asking the right questions of yourself.
There are 3-5 questions that you would generally want to ask people you are talking to.
Big think's weekly newsletter.
Get smarter faster from the comfort of your inbox.
See our newsletter privacy policy
here
Most Popular
Most Recent
Big think's weekly newsletter.
Get smarter faster from the comfort of your inbox.
See our newsletter privacy policy
here
© Copyright 2007-2018 & BIG THINK, BIG THINK EDGE,
SMARTER FASTER trademarks owned by The Big Think, Inc. All rights reserved.