The first space nation, Asgardia, is accepting applications for citizenship. But is it a hoax?
Now's your chance to become part of an exciting new venture. Or to think about it. Maybe just think about it for now.
29 July, 2018
---
If you believe that the technology to live in space will be available to you within your lifetime; if you agree with the political philosophy outlined by the 'World Passport'; if you find yourself in China, India, the U.S., Indonesia, or Brazil with a hankering to take to the stars, then perhaps you should consider becoming a citizen of Asgardia, an organization that hopes to be the first 'country in space.'
What do you need to do to become a citizen of Asgardia?
Read the Asgardian Constitution. If you agree with it, then you can apply.
Where is Asgardia located?
 Stubenring 2/8-9, 1010 Wien, Austria.
How big is Asgardia?
They currently claim around 200,000 citizens -- many of them Russian.
Where will Asgardia be eventually?
Asgardia seeks to live in space stations circling the earth and on a moon base, perhaps in the next twenty-five years. There are no current designs for the space stations or moon base at this time.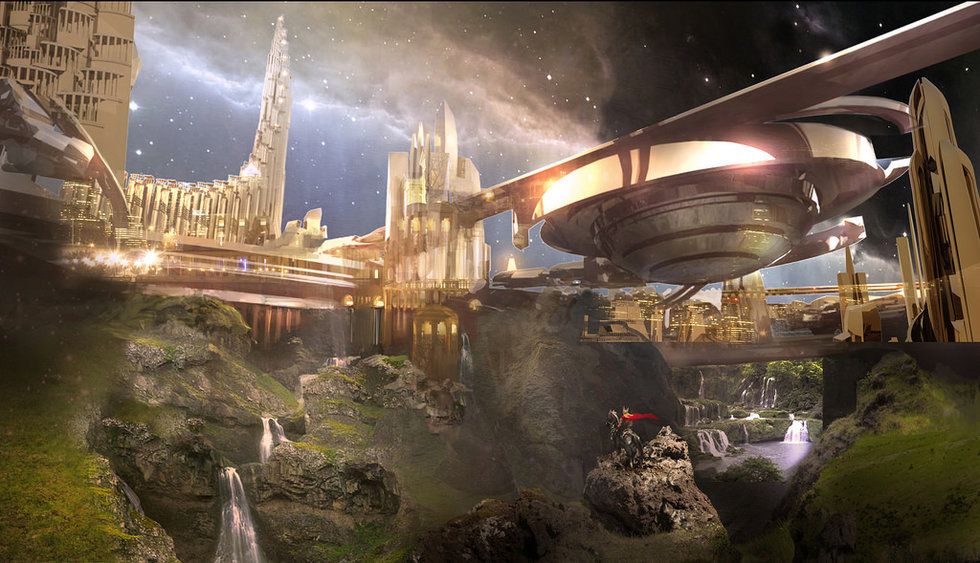 That's it? All I need to become a citizen of Asgardia is to read something and then apply?
Once you join -- and they are accepting applications -- they ask for your information: where you live, your education, the best way to contact you, and that's pretty much it. 
The Independent has reported that Asgardia might consider an IQ test for prospective citizens, but the potential of citizens having to take an IQ test sets up a decent (and relevant) follow-up question.
Is this all a scam?
There's not an implausible chance. Outsiders being offered IQ tests and then being told that they either have 'just the intelligence' needed for a 'special project' or that there's something wrong with them that only someone else can fix -- as Scientology has done for years -- sounds like a scam.
The website Stop Fake -- a collection of Ukranian journalists seeking to point out Russian propaganda -- notes that Asgardia "encourages people to buy shares in its joint stock company, Asgardia AG" and invest in their own cryptocurrency.
There's also a not implausible chance that this might also be a Russian thing.
The… Russians?
The Russians. The current President of Asgardia -- Igor Ashurbeyli -- is the former head of the arms manufacturer that made the missile that shot down MH-17. Despite the ideals espoused by Asgardia -- "Access to outer space should be a human right," he told the crowd at Asgardia's launch in Vienna -- he thinks Russia should be ruled by a Tsar. (He also noted that -- per Stop Fake once again -- "Asgardian women are the happiest because 84 percent of the population are men." It's a tone that seems more in line with the Asgardian complaint regarding 'ethical boundaries' regarding research and science, as one writer noted.) One of the country's claimed 'citizens' is the official portrait painter of Vladimir Putin.
But what do you do if you still want to live in a new country? 
The Canadian Dennis Leigh once said—and it's something the Scottish writer Alasdair Gray co-opted and made famous—"Work as if you live in the early days of a better nation," and there's no reason why that still can't hold true for you.
And there's no reason to think that a new country won't emerge in your lifetime either: we have seen independence votes in Quebec, Catalonia, and Scotland, and there's no reason to think that something like that -- hopefully pursued with kindness and care -- won't happen again.
Big Think Edge
The meaning of the word 'confidence' seems obvious. But it's not the same as self-esteem.
Confidence isn't just a feeling on your inside. It comes from taking action in the world.
Join Big Think Edge today and learn how to achieve more confidence when and where it really matters.
The controversial herbicide is everywhere, apparently.
Surprising Science
U.S. PIRG tested 20 beers and wines, including organics, and found Roundup's active ingredient in almost all of them.
A jury on August 2018 awarded a non-Hodgkin's lymphoma victim $289 million in Roundup damages.
Bayer/Monsanto says Roundup is totally safe. Others disagree.
The team caught a glimpse of a process that takes 18,000,000,000,000,000,000,000 years.
Image source: Pixabay
Surprising Science
In Italy, a team of scientists is using a highly sophisticated detector to hunt for dark matter.
The team observed an ultra-rare particle interaction that reveals the half-life of a xenon-124 atom to be 18 sextillion years.
The half-life of a process is how long it takes for half of the radioactive nuclei present in a sample to decay.
Big think's weekly newsletter.
Get smarter faster from the comfort of your inbox.
See our newsletter privacy policy
here
Most Popular
Most Recent
Big think's weekly newsletter.
Get smarter faster from the comfort of your inbox.
See our newsletter privacy policy
here
© Copyright 2007-2019 & BIG THINK, BIG THINK EDGE,
SMARTER FASTER trademarks owned by The Big Think, Inc. All rights reserved.