Scientists Create Asgardia, the First Ever Nation in Space, and You Can Join
Asgardia, an unprecedented space-based nation state, is proposed by an international team of scientists and businessmen.
16 October, 2016
If you had enough of the often-depressing world events and the seemingly unresolvable conflicts they engender, you might want to head for space and join the first-ever "nation state in space" that's been announced by a team of scientists and legal experts. It's called Asgardia and anyone can become its citizen.
---
As the site for the project explains, Asgardia is a name that comes from Norse mythology, where Asgard was the name of a city in the sky. In the Marvel universe, Asgardia was built was Tony Stark and ruled by the All-Mother (since Odin was in exile).
Asgardia is the brain-child of the accomplished Russian scientist and businessman Igor Ashurbeyli, who describes the motivation behind this endeavor as an attempt to create a nation founded on "Peace in Space, and the prevention of Earth's conflicts being transferred into space." The idea is to create a "mirror of humanity in space" in low-Earth orbit that would be devoid of Earthly divisions based on borders and religions. As Ashurbeyli says: "In Asgardia we are all just Earthlings!" 
Besides avoiding Earth-linked divisions, another key goal for the nation would be to protect Earth from space threats, like comets, asteroids, debris, cosmic radiation and infection by extraterrestrial microorganisms.
To make this space nation a reality, Ashurbeyli wants it to achieve recognition from the United Nations, aiming to have a million people sign up to become the new country's citizens via their website. The initial citizens are likely to be those who work in the space industry already, but anyone can join. The initial goal for the founders was to get 100,000 citizens to sign up, but the number of interested people hit 300K in less than a week and is going up rapidly.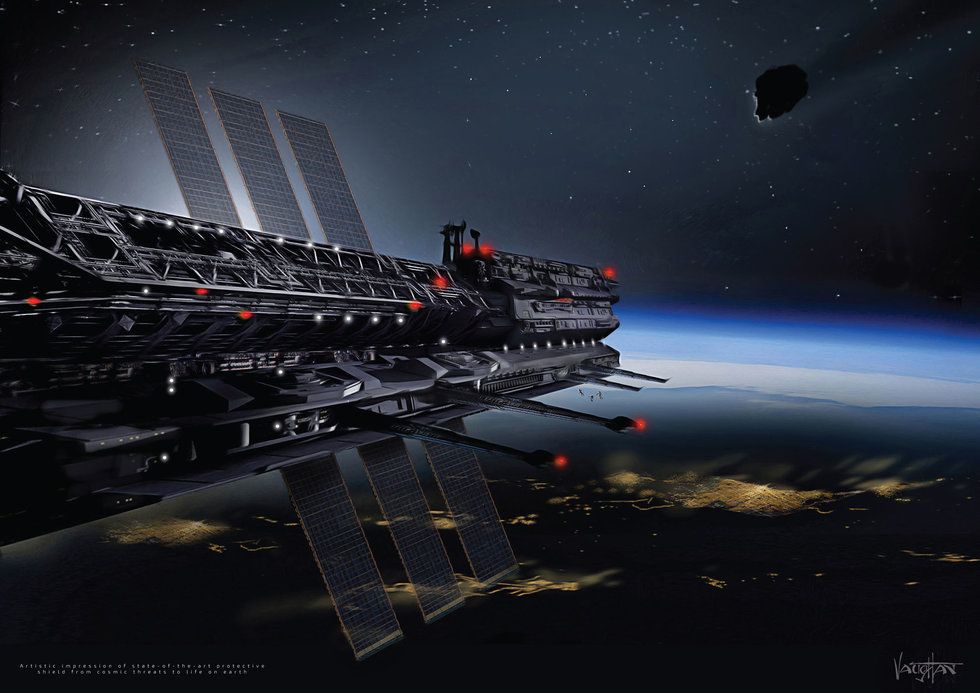 An artist's rendering of Asgardia space station and its protective shield over Earth. Credit: James Vaughan, asgardia.space. 
The next step for Asgardia - launching its first satellite in 2017. This will become its first outpost in space, while its citizens will still be Earth-bound. A space station would eventually follow. 
As Igor Ashurbeyli explained to the Guardian:
"Physically the citizens of that nation state will be on Earth; they will be living in different countries on Earth, so they will be a citizen of their own country and at the same time they will be citizens of Asgardia."
The new country will be democratic but not ruled by Earthly laws or the existing space laws. Its founders envision the need for a new "'Universal space law' and 'astropolitics'. 
"The existing state agencies represent interests of their own countries and there are not so many countries in the world that have those space agencies," elaborated Ashurbeyli. "The ultimate aim is to create a legal platform to ensure protection of planet Earth and to provide access to space technologies for those who do not have that access at the moment."
Whether this effort succeeds, especially in light of the existing space treaty, is of course open to debate, while legal minds are not dismissing it outright. 
The Asgardia team's legal expert Ram Jakhu, the director of McGill University's Institute of Air and Space Law in Montreal, told Space.com their plan is for Asgardia to have the minimum number of citizens, a government, and an inhabited spacecraft that would be its territory. This would hit 3 of the 4 criteria by the U.N. to become a nation state. The last hurdle is recognition by other U.N. members.
To learn more about Asgardia, to sign up as one of its first citizens, or to come up with the new space nation's flag and anthem, head here. 
Cover photo: An artist's rendering of Asgardia's first satellite. Credit: James Vaughan, asgardia.space.
What can 3D printing do for medicine? The "sky is the limit," says Northwell Health researcher Dr. Todd Goldstein.
Northwell Health
Sponsored by Northwell Health
Medical professionals are currently using 3D printers to create prosthetics and patient-specific organ models that doctors can use to prepare for surgery.
Eventually, scientists hope to print patient-specific organs that can be transplanted safely into the human body.
Northwell Health, New York State's largest health care provider, is pioneering 3D printing in medicine in three key ways.
Elon Musk took issue with recent ideas for space exploration from Jeff Bezos.
Getty Images
Technology & Innovation
Elon Musk and Jeff Bezos have sparred over space exploration previously.
Musk wants to focus on Mars while Bezos has the moon and space colonies as goals.
In a recent tweet, Musk called out Bezos's plans for space colonies as unrealistic.
If you don't want to know anything about your death, consider this your spoiler warning.
Culture & Religion
For centuries cultures have personified death to give this terrifying mystery a familiar face.
Modern science has demystified death by divulging its biological processes, yet many questions remain.
Studying death is not meant to be a morbid reminder of a cruel fate, but a way to improve the lives of the living.
Big Think Edge
Push Past Negative Self-Talk: Give Yourself the Proper Fuel to Attack the World, with David Goggins, Former NAVY SealIf you've ever spent 5 minutes trying to meditate, you know something most people don't realize: that our minds are filled, much of the time, with negative nonsense. Messaging from TV, from the news, from advertising, and from difficult daily interactions pulls us mentally in every direction, insisting that we focus on or worry about this or that. To start from a place of strength and stability, you need to quiet your mind and gain control. For former NAVY Seal David Goggins, this begins with recognizing all the negative self-messaging and committing to quieting the mind. It continues with replacing the negative thoughts with positive ones.
Big think's weekly newsletter.
Get smarter faster from the comfort of your inbox.
See our newsletter privacy policy
here
Most Popular
Most Recent
Big think's weekly newsletter.
Get smarter faster from the comfort of your inbox.
See our newsletter privacy policy
here
© Copyright 2007-2019 & BIG THINK, BIG THINK EDGE,
SMARTER FASTER trademarks owned by The Big Think, Inc. All rights reserved.