Scientists Create Asgardia, the First Ever Nation in Space, and You Can Join
Asgardia, an unprecedented space-based nation state, is proposed by an international team of scientists and businessmen.
16 October, 2016
If you had enough of the often-depressing world events and the seemingly unresolvable conflicts they engender, you might want to head for space and join the first-ever "nation state in space" that's been announced by a team of scientists and legal experts. It's called Asgardia and anyone can become its citizen.
---
As the site for the project explains, Asgardia is a name that comes from Norse mythology, where Asgard was the name of a city in the sky. In the Marvel universe, Asgardia was built was Tony Stark and ruled by the All-Mother (since Odin was in exile).
Asgardia is the brain-child of the accomplished Russian scientist and businessman Igor Ashurbeyli, who describes the motivation behind this endeavor as an attempt to create a nation founded on "Peace in Space, and the prevention of Earth's conflicts being transferred into space." The idea is to create a "mirror of humanity in space" in low-Earth orbit that would be devoid of Earthly divisions based on borders and religions. As Ashurbeyli says: "In Asgardia we are all just Earthlings!" 
Besides avoiding Earth-linked divisions, another key goal for the nation would be to protect Earth from space threats, like comets, asteroids, debris, cosmic radiation and infection by extraterrestrial microorganisms.
To make this space nation a reality, Ashurbeyli wants it to achieve recognition from the United Nations, aiming to have a million people sign up to become the new country's citizens via their website. The initial citizens are likely to be those who work in the space industry already, but anyone can join. The initial goal for the founders was to get 100,000 citizens to sign up, but the number of interested people hit 300K in less than a week and is going up rapidly.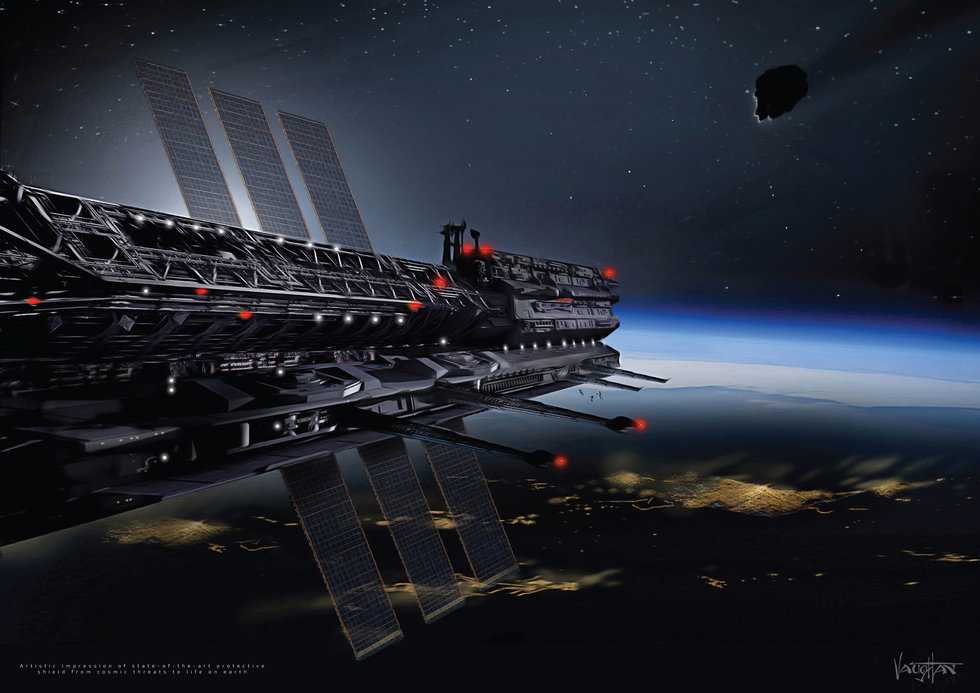 An artist's rendering of Asgardia space station and its protective shield over Earth. Credit: James Vaughan, asgardia.space. 
The next step for Asgardia - launching its first satellite in 2017. This will become its first outpost in space, while its citizens will still be Earth-bound. A space station would eventually follow. 
As Igor Ashurbeyli explained to the Guardian:
"Physically the citizens of that nation state will be on Earth; they will be living in different countries on Earth, so they will be a citizen of their own country and at the same time they will be citizens of Asgardia."
The new country will be democratic but not ruled by Earthly laws or the existing space laws. Its founders envision the need for a new "'Universal space law' and 'astropolitics'. 
"The existing state agencies represent interests of their own countries and there are not so many countries in the world that have those space agencies," elaborated Ashurbeyli. "The ultimate aim is to create a legal platform to ensure protection of planet Earth and to provide access to space technologies for those who do not have that access at the moment."
Whether this effort succeeds, especially in light of the existing space treaty, is of course open to debate, while legal minds are not dismissing it outright. 
The Asgardia team's legal expert Ram Jakhu, the director of McGill University's Institute of Air and Space Law in Montreal, told Space.com their plan is for Asgardia to have the minimum number of citizens, a government, and an inhabited spacecraft that would be its territory. This would hit 3 of the 4 criteria by the U.N. to become a nation state. The last hurdle is recognition by other U.N. members.
To learn more about Asgardia, to sign up as one of its first citizens, or to come up with the new space nation's flag and anthem, head here. 
Cover photo: An artist's rendering of Asgardia's first satellite. Credit: James Vaughan, asgardia.space.
The ability to speak clearly, succinctly, and powerfully is easier than you think
Former U.S. President Barack Obama speaks during a Democratic Congressional Campaign Committee rally at the Anaheim Convention Center on September 8, 2018 in Anaheim, California. (Photo by Barbara Davidson/Getty Images)
Personal Growth
The ability to communicate effectively can make or break a person's assessment of your intelligence, competence, and authenticity.
Antimicrobial resistance is growing worldwide, rendering many "work horse" medicines ineffective. Without intervention, drug-resistant pathogens could lead to millions of deaths by 2050. Thankfully, companies like Pfizer are taking action.
Image courtesy of Pfizer.
Sponsored
Antimicrobial-resistant pathogens are one of the largest threats to global health today.
As we get older, our immune systems age, increasing our risk of life threatening infections. Without reliable antibiotics, life expectancy could decline for the first time in modern history.
If antibiotics become ineffective, common infections could result in hospitalization or even death. Life-saving interventions like cancer treatments and organ transplantation would become more difficult, more often resulting in death. Routine procedures would become hard to perform.
Without intervention, resistant pathogens could result in 10 million annual deaths by 2050.
By taking a multi-faceted approach—inclusive of adherence to good stewardship, surveillance and responsible manufacturing practices, as well as an emphasis on prevention and treatment—companies like Pfizer are fighting to help curb the spread.
The climate change we're witnessing is more dramatic than we might think.
Surprising Science
A lazy buzz phrase – 'Is this the new normal?' – has been doing the rounds as extreme climate events have been piling up over the past year. To which the riposte should be: it's worse than that – we're on the road to even more frequent, more extreme events than we saw this year.
Big think's weekly newsletter.
Get smarter faster from the comfort of your inbox.
See our newsletter privacy policy
here
Most Popular
Most Recent
Big think's weekly newsletter.
Get smarter faster from the comfort of your inbox.
See our newsletter privacy policy
here
© Copyright 2007-2018 & BIG THINK, BIG THINK EDGE,
SMARTER FASTER trademarks owned by The Big Think, Inc. All rights reserved.