Driverless Cars Will be a Social Rather Than Technological Revolution
Driverless cars are nothing short of a revolution – not a technological revolution, but a social one, that will determine how fast we can accept, adapt and trust these new systems to change our lives.
Driverless cars may be borne out of science fiction, but they are fast becoming realities on tomorrow's roadways. The transition from driver to robot is nothing short of a revolution. Not a technological revolution, but a social one, that will determine how fast we can accept, adapt and trust these new systems to change how and where we live, work, play and interact with each other.
Joseph F. Coughlin
Joseph F. Coughlin is director of the Massachusetts Institute of Technology AgeLab (http://agelab.mit.edu). His research explores how demographic change, technology and consumer behavior drive innovations in business and society. Coughlin teaches in MIT's Department of Urban Studies and Planning and the Sloan School's Advanced Management Program. He is author of the new book The Longevity Economy: Unlocking the World's Fastest-Growing, Most Misunderstood Market (Public Affairs, 2017).
31 October, 2016
If you've sat in a new vehicle over the last decade, odds are that you've come into contact with a computer that assists in the act of driving. That assistance might have been as simple as a beep from the console that tells you when you're about to back up into a light pole -- a mundane, accessory, maybe slightly annoying tool, not what anybody would put under the banner of science fiction. But that little beep is a harbinger for a coming revolution that will change the design of our cities and neighborhoods, our fundamental relationship with technology, and the way we work and live.
---
When I mention autonomous vehicles to people outside of the tech and transportation worlds, I'm usually either met with near-complete incomprehension or bordering-on-overwhelming excitement. One either hasn't heard or even dreamed that self-driving cars might be imminent, and is given to imagine them as futurist babble; or else one has been exposed to news of the rapid progress by tech and automotive companies in developing autonomous vehicles, has heard tell of a timeline to have such vehicles all over the road by 2021, and so has the vague conviction that the world is going to look quite a bit more like The Jetsons in the next five years or so. 
Neither of these types has quite the right idea, although the latter, excitable viewpoint is the one closest to the truth: Self-driving cars are coming, make no mistake, but we shouldn't expect them to suddenly, explosively appear en masse on America's roads, doing away with the act of driving in one fell swoop. Instead, we might look to that modest cautionary computer beep as a way to understand how self-driving cars will make their way into our lives: the technology will not come to us in a single wave, but in small cumulative increments, increasing in frequency, adding up, finally, into a revolutionary impact.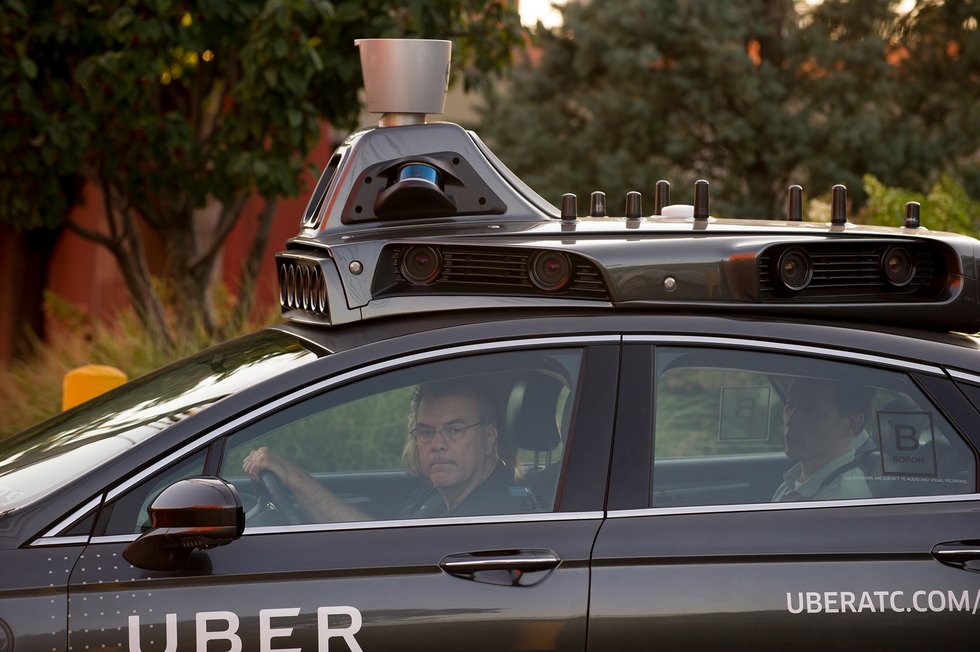 An Uber driverless Ford Fusion drives down Smallman Street on September, 22, 2016 in Pittsburgh, Pennsylvania. Uber has built its Uber Technical Center in Pittsburgh and is developing an autonomous vehicle that it hopes will be able to transport its millions of clients without the need for a driver. (Photo by Jeff Swensen/Getty Images)
Everybody is familiar with the first-ever form of driver-assistance technology. That honor goes to the automatic transmission, introduced to consumers in 1939, the same year as General Motors' "Futurama" presentation at the New York World's Fair, which brought the ideas of mass vehicle ownership, the interstate highway system, and self-driving cars into the popular consciousness, all at once. But it has taken 70 years for tech companies to view fully autonomous vehicles as a realizable goal, and with that clarion call has come a veritable slew of computerized driver-assistance tools that evolved over nearly a century, that have a dual purpose: first, the utilization of rapidly evolving information technologies to make driving safer and easier; second, and far more implicit, to help consumers grow comfortable with the idea of giving over their driving -- and their safety -- to a machine that is effectively a robot.
Here's a vague, speculative roadmap for how self-driving cars will make their way onto our roads. First, we will see (and are already seeing) the deployment of advanced driver assistance in luxury and commercial vehicles. Consequently, and perhaps counterintuitively, older drivers -- those most likely to buy high-end cars or to drive for a living -- will wind up being the first users of autonomous vehicle technologies. Next, we might expect freight and public transit networks to adopt the technology. The first fully autonomous vehicle on our streets will probably be a city bus or delivery truck.
At the same time, private companies like Uber and Lyft will be racing to develop their own autonomous fleets -- indeed, Uber is already testing the waters in Pittsburgh. It gets harder to make predictions beyond that point. Complete transition from the science fiction of driverless cars to science fact where nobody drives will be a series of transitions over time (See SAE Automation Levels) will, in fact, be a revolution that will change fundamentally how our society looks. How exactly those movements will be carried out is anyone's guess.
The thing of it is that near-fully autonomous vehicles already exist, and have already racked up hundreds of millions of miles on our roads. The technology is already here. But for it to be used to its fullest potential, and for the radical future that self-driving cars portend to become reality, we must wait for government, business, infrastructure, and all of us to become receptive to it. This slow, messy process of adaptation is where the revolution will be found, in the social rather than the technological sphere. Autonomous vehicles will bring disruptions in the labor force, in the design of our urban and suburban spaces, the idea of 'driver licensing,' our notion of trust and where we put it, in our concept of "ownership" and how we define ourselves by it, and, ultimately, the amount of mobility we enjoy.
MIT AgeLab's Adam Felts contributed to this article.
Here's an interesting crash course on computational ethics with Jerry Kaplan: 
In a breakthrough for nuclear fusion research, scientists at China's Experimental Advanced Superconducting Tokamak (EAST) reactor have produced temperatures necessary for nuclear fusion on Earth.
Credit: EAST Team
Surprising Science
The EAST reactor was able to heat hydrogen to temperatures exceeding 100 million degrees Celsius.
Nuclear fusion could someday provide the planet with a virtually limitless supply of clean energy.
Still, scientists have many other obstacles to pass before fusion technology becomes a viable energy source.
Military recruits are supposed to be assessed to see whether they're fit for service. What happens when they're not?
Politics & Current Affairs
During the Vietnam War, Robert McNamara began a program called Project 100,000.
The program brought over 300,000 men to Vietnam who failed to meet minimum criteria for military service, both physically and mentally.
Project 100,000 recruits were killed in disproportionate numbers and fared worse after their military service than their civilian peers, making the program one of the biggest—and possibly cruelest—mistakes of the Vietnam War.
The 116th Congress is set to break records in term of diversity among its lawmakers, though those changes are coming almost entirely from Democrats.
(Photo: MANDEL NGAN/AFP/Getty Images)
Politics & Current Affairs
Women and nonwhite candidates made record gains in the 2018 midterms.
In total, almost half of the newly elected Congressional representatives are not white men.
Those changes come almost entirely from Democrats; Republican members-elect are all white men except for one woman.
Big think's weekly newsletter.
Get smarter faster from the comfort of your inbox.
See our newsletter privacy policy
here
Most Popular
Most Recent
Big think's weekly newsletter.
Get smarter faster from the comfort of your inbox.
See our newsletter privacy policy
here
© Copyright 2007-2018 & BIG THINK, BIG THINK EDGE,
SMARTER FASTER trademarks owned by The Big Think, Inc. All rights reserved.